April 08, 2008
Whoppin' Good Eats in Southwest Washington State
All photos by Matt Rosenberg, copyright 2008
Waikiki Beach was still dusted with the last night's late March snow when we arrived. That'd be Waikiki Beach in Washington's Cape Disappointment State Park, (left).
A loop route takes you back out either way into Ilwaco, Washington. It's a fishing village in the state's far southwest corner, perched at the nexus of the mighty Columbia River and the Pacific Ocean, on the famed Lewis and Clark Trail.
Offshore are harvested Dungeness crab, salmon and halibut, while northeast is Willapa Bay, known for fresh oysters. Big tankers going between the Port of Portland and the ocean traverse this stretch of the Columbia; and the harrowing bones of many lesser ships lie scattered in the deep, roiling waters. Ilwaco is just a few miles south of the city of Long Beach and eponymous peninsula, a worthy if overrun vacation destination favored by some Washingtonians.
After exploring the state park, head to the Port Bistro at the east end of Ilwaco's waterfront promenade and prepare for a heaping slice of foodie nirvana. The intimate space is graced with water views taking in the marina and Cape, plus white tablecloths, hammered brass counters and muted pastels, with sightlines into the kitchen. Your well-behaved kids will be welcome.
A clam chowder far exceeded the serviceable yet goopy norm proffered at so many Northwest establishments. A medium-thin, fresh-made creamy broth was kissed with white wine and garlic, and studded with achingly fresh whole Willapa Bay clams cooked open in their shells, and potatoes, bracketed by thick, savory slices of garlic toast. Another fan of the bistro's chowder is Seattle Times travel writer/blogger Brian Cantwell.
But there's quite a bit more. An exquisite special of fresh Ahi was dusted with cumin, and plated astride a red pepper puree and a smooth, avocado and green chile-spiked creme fraiche. Lissome bites of halibut with chipotle sour cream, fire-roasted tomato salasa and julienned green and red cabbage informed the fish tacos, served with a white rice timbale and black beans. Our daughter's burger was savory and perfectly cooked, as were the accompanying Yukon Gold fries. A homemade truffle, sorbet and biscuit assortment - shared by all for dessert - was revelatory.
It's certain we'll find our way back to Ilwaco to delve further into Cape Disapointment's beaches, trails, Lewis and Clark Interpretive Center, lighthouses (right),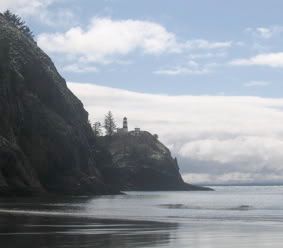 the town's waterfront shopping district, and the Port Bistro's menu. It features light and inventive salads with market-fresh regional ingredients, local fish and seafood appetizers and entrees, as well as meat and vegetarian dishes.
Some of the choices on the current, spring menu:
mixed greens with roasted asparagus tips, spiced almonds, goat cheese and sherry vinaigrette;
Pink Lady apples and bacon in a buttermilk blue cheese dressing;
pan-fried Willapa Bay oysters crusted with potato and chive and served with apple coleslaw and tarragon tartar;
fresh Dungeness crab on Asparagus pot de creme with marinated asparagus and roasted red peppers;
free-range chicken and sage biscuits with sauteed baby spinach and green peppercorn-apple gravy;
Colorado lamb shank slow cooked in red wine and served over garlic mashed potatoes with braised greens;
potato and garlic goat cheese cannoli baked in a wild mushroom cream sauce with roasted root vegetables.
Read more on the bistro in this 2007 feature and 2006 review, both in the Daily Astorian.
We happened upon the Port Bistro en route to a week-long stay in Manzanita on the north Oregon Coast, having decided to spend the previous night on the Long Beach Peninsula in Seaview, at the Shelburne Inn bed and breakfast.
On the way back home to Seattle from Manzanita, again traversing the Astoria-Megler Bridge across the Columbia, we set off in the direction opposite Ilwaco, east toward Cathlamet, declining the opportunity shortly thereafter to eat under a mossy-roofed picnic table
at the Dismal Nitch rest area, seen (left) with the bridge in the background. The spot, where Lewis and Clark's exploration party sat out a storm for six days in 1803, was later home to a dock for the Astoria ferry until it was demolished upon completion of the bridge in 1966.
Continuing east on State Route 4, we came upon Duffy's Irish Pub, a funky roadside gem. Confronted with signs announcing smoked salmon chowder and red beans and rice, plus Irish stew and homemade pie, resistance was futile.
What food! What atmo. What a back story.
Chef and owner Al Salazar in the 70s and 80s ran one of Portland's premier live music venues, the Pine Street Theater, and for 30 years operated Salazar's restaurant in Zig Zag, near Mount Hood, Oregon.
He later opened Duffy's 1.0 in Portland, but seeking the country life, bought an old and then-badly-neglected road house in tiny Gray's River, Washington, that he remembered as a vibrant joynt from childhood hunting trips with his father. Purchased by Salazar in 1996, Duffy's 2.0 finally opened in 2001 after extensive renovations and a major go-round with the Environmental Protection Agency over rendering the river's edge drainage field sufficiently salmon-sensitive.
It's a homey feel outside, what with the antique ornamental outhouse perched above the town's namesake river (below, right).
Inside are vintage lamps, wood everywhere, a pool table, Christmas lights, and on the cluttered small live music stage, Pine Street Theater rock concert posters covering ceiling and walls. They're hyping shows of yore by West Coast-based acts such as Camper Van Beethoven, Los Lobos, The Wipers and Fetchin' Bones.
Kids are allowed in the dining room, while it's adults-only in the bar, where Guinness and a host of other fine beers and Northwest wines are served. There's a back deck for use in warmer weather, looking directly onto Gray's River.
Our lunch was relished by all four in our group; two parents and our often-finicky-eater kids.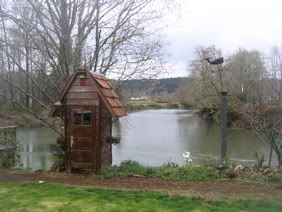 An impressive if meal-sized opener was - as at Port Bistro - a made-to-order, light-touch chowder, this one liberally studded with moist, superbly-flavored morsels of smoked salmon. Perfectly moist, freshly-baked cornbread redolent of melted butter came on the side. Also starring in the Sunday repast were red beans and rice with grilled sausage, a Reuben with mustardy, eggy homemade potato salad on the side, a half dozen breaded pan-fried Willapa Bay oysters, and finally, homemade apple pie topped with vanilla ice cream. Other choices include the afore-mentioned Irish Stew, catfish, grilled T-bone steaks, burgers, and daily specials.
Service was warm, informative, attentive and prompt. A steady stream of lunch customers kept the kitchen busy.
Everything was fresh and made to order. It's hard to recall a more satisfying yet relaxed meal out.
Places like Duffy's are exactly why you want to get off the Interstate highways and meander a while. Especially in the Pacific Northwest, where there's no better way to go local than trawling through the great landscapes and the great, off-the-beaten-path eats.
Port Bistro, in Ilwaco Harbour Village, 235 Howerton Way, Ilwaco, WA; 360-642-8447.
Duffy's Irish Pub, 3779 State Route 4 West, Gray's River, WA; 360-465-2898.
TECHNORATI TAGS: >ILWACO, WASHINGTON, GRAY'S RIVER, PORT BISTRO, DUFFY'S IRISH PUB, CAPE DISAPPOINTMENT STATE PARK, LEWIS AND CLARK, COLUMBIA RIVER>
Posted by Matt Rosenberg at 02:08 PM | Comments (0)