July 23, 2007
A Polebridge State Of Mind
Some restaurants attach old farm implements to the wall for rustic flavor. In Polebridge, Montana - a small settlement just outside the northwest reaches of Glacier National Park - the very same sort of rusty gizmos lie in a natural habitat on the grass between Polebridge Mercantile and the Northern Lights Saloon. There the menu includes buffalo tips, elk and salmon burgers, microbrews and to-die-for homemade peach-blueberry pie a la mode -- all accented by a piquant and varied soundtrack. Also strewn about outside are barstool seats liberated from their legs. A cadre of mellow, leashless local dogs, including one with three legs, and a big black fellow named Underfoot, seem to be in charge, by default.
There's a communal volleyball court; picnic tables used by saloon and store patrons; and an outdoor soundstage behind the Northern Lights, where local kids cavort in their skeleton-patterned jammies during concerts and the sound crisply pumps from Mackie speaker towers which belie the ramshackle surroundings. Between sets, you may see a tipsy urbanista find succor in, and photograph with enthusiastic declamations, a shuttered outhouse. Small wonder the "Montana Sucks" initiative is underway, though it's destined to fail. Time to walk through a nearby meadow with your beer to a campfire circle and grok the mountains looming to the north against the dusk. Electricity in Polebridge is by generator only. The roads aren't paved and the locals like it that way.
Polebridge is off the grid in more ways than one. The scenic heart of Glacier, along Going To The Sun Highway, is jaw-droppingly beautiful, as we learned last summer. But it's jammed to the gills. Polebridge is a respite along a road less travelled, 25 miles north of the main western entrance to Glacier in the town of West Glacier. During Glacier's high season last week we didn't encounter more than a few dozen people in town, and far fewer on the trailheads from Bowman Lake.
Your first stop in town should be Polebridge Mercantile, an old-fashioned general store and bakery where notoriously scrumptious cookies, breakfast pastries and sandwiches on homemade bread are made daily. Here's a picture I took of the Merc.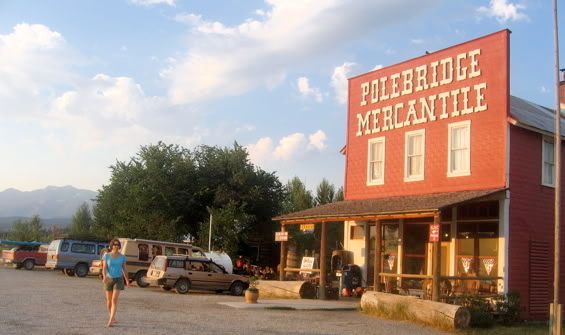 My wife and I stayed in a cozy cabin with a backwoods chic interior, that sleeps five. The kitchen was first-rate, likewise the mountain views from the covered front porch. The generator was on a 60-minute timer switch, to be re-set as needed. Polebridge is along the North Fork of the Flathead River, seen below in a photo I took looking north from Inner North Fork Road just above the Polebridge Ranger Station.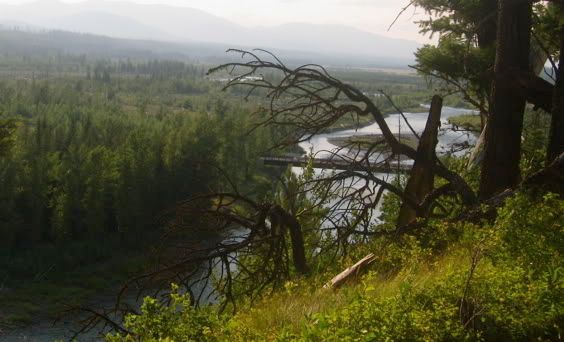 Six miles up the road from the ranger station is Bowman Lake, from where several hiking trails start. There's a campground, a low bank grassy waterfront, and a pebbly beach. The few visitors who shared Bowman Lake with us lazed about on the shore or idled on innertubes, reading. The latter is probably best for extending hanging out at the lake, as flies on shore in summer are big and hungry. Here's the backdrop.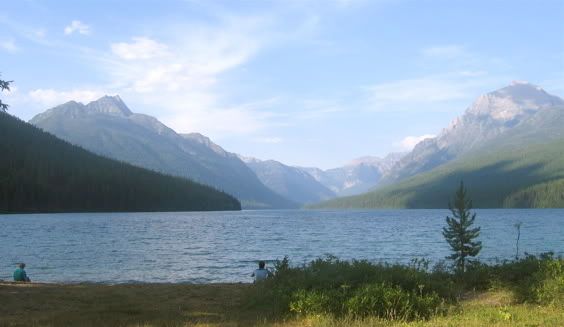 Comfortable and secluded lodging options in the vicinity of Polebridge can be identified online. Two noteworthy choices for larger groups come via the Vacation Rental By Owner network, which I've used successfully a number of times. They are Lupine Meadow Lodge and this "Wild and Scenic River Vacation Home" inside Glacier. An excellent Glacier vacation resource is the Glacier Country Montana site, for lodgings, acitivites and more.
TECHNORATI TAGS: >MONTANA, GLACIER NATIONAL PARK, POLEBRIDGE, POLEBRIDGE MERCANTILE, NORTHERN LIGHTS SALOON, BOWMAN LAKE>
Posted by Matt Rosenberg at 10:49 PM | Comments (2)