March 16, 2007
San Diego's Point Loma, And Ocean Beach
Our second day in San Diego, while my wife confabbed with mortgage lenders, the kids and I explored city's western reaches, along the Pacific, far away from our downtown nest. We took a cab - but could have taken the trolley - to the Old Town Transit Center, where we caught the #28C bus to Cabrillo National Monument at Point Loma. There, from high atop the bluff you look back east across the bay at San Diego's skyline. Of course, I had my digicam.

Point Loma's history is bound up in naval defense. Still today, Pacific Air Fleet craft on maneuvers from nearby Naval Station Coronado are a constant presence. At the monument's national park complex, museum exhibits detail the journeys of Spanish Catholic conquistadores in Mexico and what's now the southwestern U.S., including the discovery of Spanish captain Juan Cabrillo and his crew by the local Kumeyaay Indians after those foreign agents of a foreign deity landed and christened San Diego as San Miguel.
Here's Juan in statuary with the city skyline to the southeast across the bay.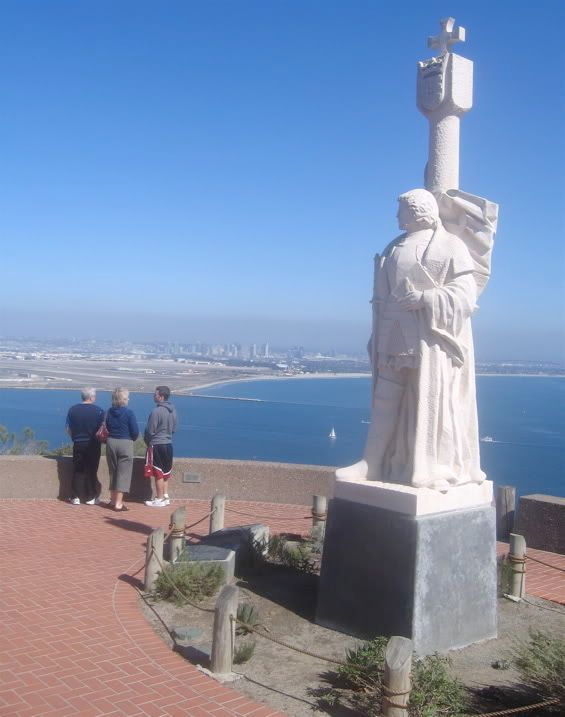 A nature path leads one-and-one quarter miles down the bluff side, and if you visit in your own vehicle a road leads to what's described by the park service in their brochure as "one of the last rocky intertidal areas open to the public in southern California." The bluff uplands at Cabrillo National Monument are known for gray whale sightings on the ocean side; you'll want to bring strong binoculars and some patience to the viewing platform just west of the Old Point Loma Lighthouse. That restored structure was used for its original purpose from 1855 to 1891, then fell into disrepair before being restored. It's open to visitors, with rooms rendered in authentic historical detail, and historical text and photos on early lighthouse keeper families. Here's the view looking northwest back toward the lighthouse from closer to the bayside bluff's edge.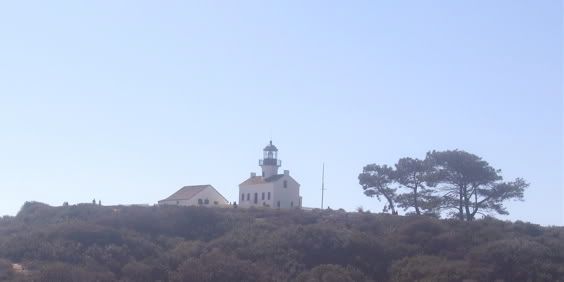 The grandness of Point Loma is simply the place itself, where strong breezes and warm sun complement sweeping views of the city, naval base and planes, ships in the bay, Coronado Bridge, the 10-mile-long Silver Strand spit at Coronado's southern end, and the ocean. You're somewhat boggled to eventually recall you're still within San Diego city limits.
After viewing an excellent 25-minute film on tidal critters and conditions, we headed from Point Loma back past the vast hillside military graves of the nearby Fort Rosecranz National Cemetery to the San Diego hippie haven neighborhood of Ocean Beach. From the national park, we caught the 28C back to Rosecranz and Nimitz, where we transferred to the #923 bus to Ocean Beach. Along Cable Ave. we debarked at Newport Street, the palm-tree lined main drag of the neighborhood, leading right down to the beach.
Ocean Beach, or OB as some call it, is intensely laid back - if such a thing is possible. You may wander into The Newport Pizza and Ale House one afternoon, as we did, and find a bunch of young patrons with complicatedly disheveled hair engaged in a sinewy melodic jam utlizing acoustic guitar, tablas and wood flute, while gourmet pizzas pop hot out of the ovens. Yes, there's a hostel across the street.
However, just a few doors down comes a subtle reminder that even San Diego's Trustafarian Good Vibes hub is home to blatantly heterosexual carnivores lacking the PC gene. That'd be way-surfadelic Hodad's, where I ate the truly penultimate double bacon cheeseburger, and where along with walls full of vanity license plates from all over the U.S., a sticker on the counter at the cash register proclaims "Straight Pride," showing a generic man and woman holding hands.
BurgerLust ensued - and hey, I used to write about great cheap eats for The Seattle Times, so I'm no pushover. Hodad's monster sported finely shredded lettuce, ethereal bacon, cheese, sliced tomato, ridge-cut pickle slices, meaty sliced sweet onions, mayo and ketchup bracketing two fat char-grilled quarter pound all beef patties on a triple-decker bun. Spritz on some California "Just Chili" chili sauce tableside and carefully engineer your conquest. Even so, you're gonna wear some of it on your face and forearms, no way around that. Do not under any circumstances fail to order some "frings," a combo basket of superb onion rings and battered fries.
At the beach, Ava absorbed the universal aura of the Sand God. Her brother is out of the frame, building something.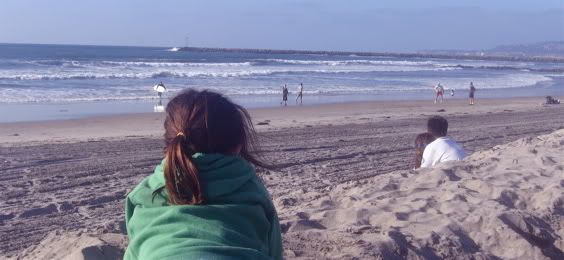 Kids cavorted with kelp, as they are wont to do. Dolphins came and went; surfers surfed.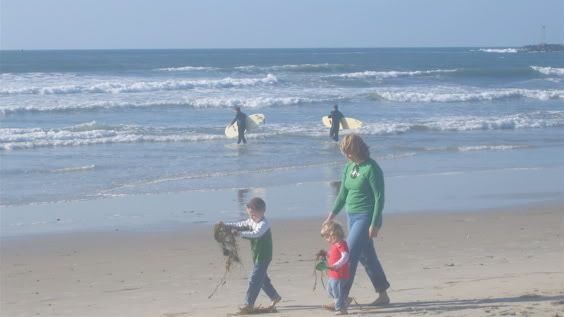 The North San Diego County branch of the Twelve Tribes (dolphins in previous lives) made a showing in their multi-hued bus.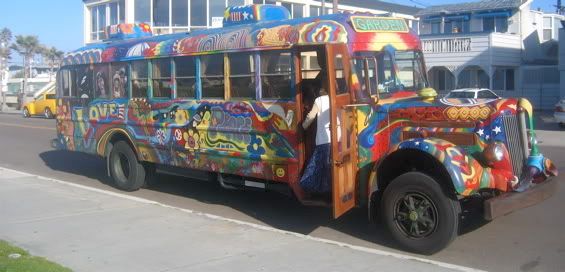 These "mature, middle-aged ex-hippies" are unabashedly religious, communitarian, hard-working and non-materialistic. Me and my family; we need our space, our bathrooms and our personal computers. But these folks know how to breathe deeply, walk slowly, and savor a sunset, so they're probably several steps ahead of the game.
We bought some scrumptious organic grapefruit from them at the Ocean Beach Farmer's market later that afternoon, along with some transcendent strawberries from a Carlsbad vendor. Then took a long walk down the long pier, and just hung for a while.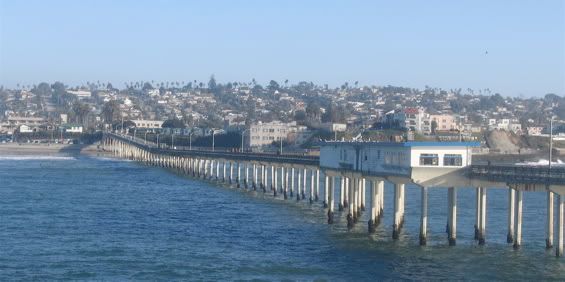 You might even stop in at Ocean Beach Pier Cafe right on the pier for some mango pancakes, a lobster omelette, lobster tacos or clam chowder. They say the food's good, but there are flies.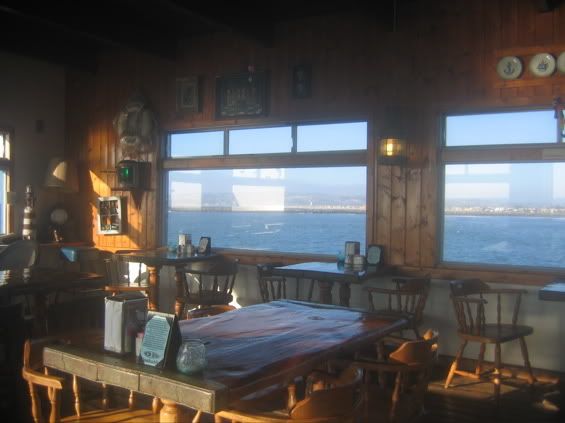 From Newport Avenue and Cable Street, the #923 will take you back downtown.
You're either on the bus, or off the bus.
TECHNORATI TAGS: SAN DIEGO, POINT LOMA, POINT LOMA LIGHTHOUSE, OCEAN BEACH, SURFING, HODAD'S, NEWPORT PIZZA AND ALE HOUSE, TWELVE TRIBES, OCEAN BEACH PIER CAFE, TOURISM BLOGGING>
Posted by Matt Rosenberg at 12:38 PM | Comments (4)