February 28, 2007
Hello, Coronado
UPDATED: Some years ago when my wife and I were in a San Francisco bookstore preparing for a trip up the coast to Oregon, I asked where to find a related guidebook and a very gay sales clerk unabashedly teased me about being non-spontaneous. He'd have clearly relished a reply to the effect that yes, I was just a hellbent and clueless tourista automaton, but I nonetheless bought an Oregon travel guide and it proved a useful orienting tool, as such volumes tend to do. So long as you don't take all the recommedations too seriously. Looking back now, and still a buyer of the occasional travel book, I realize that smart-aleck sales fella had a point.
Disintermediated tourism is the best kind. Don't let anyone set your agenda. Get a map, maybe thumb through a guidebook, and then feel your own way, always stopping to smell the breeze, watch the birds and make sand angels. That last part is learned from my especially ebullient and wonderful daughter, who just turned seven.
Communities, the land itself, and a sense of adventure are far more essential than standard tourist attractions.
Not that the latter are without merit. On a recent trip south from Seattle, I took my kids to the famed San Diego Zoo. As zoos go, it was excellent - if you don't mind paying $110 basic admission for two adults and two kids, plus dealing with serious crowds, do go. The gloriously cognizant and curious meerkats and the stolid hippo, raising its grand snout from underwater only occasionally for oxygen refueling, were my favorites. San Diego's Sea World was an utterly spectacular and fun treat for the whole family. I would highly recommend a visit, especially at off-peak times. We lucked out by going on a low traffic Monday in February, and getting freebie tix from a local friend. Normal cost for two adults and two kids age 10 or older is a whopping $204. That's the same price for season tix, but once is all you really need. Parking and food are extra.
My conclusion: consider the zoo and Sea World, but center your San Diego vacation around other than heavily-trafficked, pricey tourist attractions. Even with special ticket deals, the tyranny of crucial tourist sites should be heartily eschewed, or before you know it you'll be one of the sad, brainwashed many trudging en masse through one after another.
Our first full day in San Diego, we took the passenger ferry to the Coronado peninsula from the Embarcadero promenade on the city's downtown waterfront: the ticket booth and entrance are just north of Broadway on Harbor Avenue. As we traversed the harbor the sun was shining, the breeze was fresh, and the city skyline in view, along with the U.S.S. Midway and the Coronado Bridge.
After debarking at the Coronado ferry landing, we got some excellent sandwiches at Boney's Bayside Market on Orange Ave., the main cross-peninsula artery, on which a 20-minute stroll or an even quicker shuttle bus ride leads to the swank downtown and then the Hotel Del Coronado and the Pacific Ocean. Ms. Mom had to get back to the city for work right after lunch so we saw her off at the ferry dock. The kids dug in the sand while I contemplated - and photographed - sandpipers.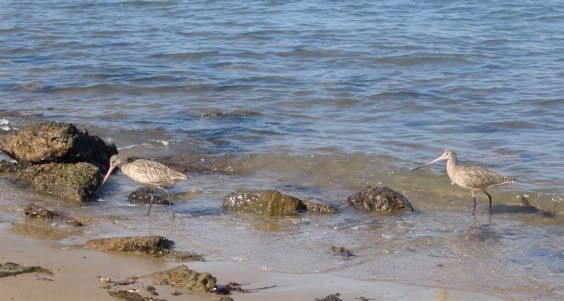 We finally got going down Orange Ave., toward the village, the hotel and Silver Strand Beach, first passing a plaque in front of the library honoring Coronado residents Adm. James Stockdale (1923-2005) and his wife Sybil for his heroic advocacy for his fellow POWs during the Vietnam War and for her tireless efforts stateside on behalf of Vietnam POWs. Stockdale certainly took some flack for his 1992 debate performance as Ross Perot's Reform Party vice-presidential candidate, asking - perhaps quite sensibly for an audience unfamiliar with him - "Who am I?" and "Why am I here?". The resulting kerfuffle was overhyped and reductive. Here is Adm. James Bond Stockdale's official memorial site. Click on the links therein to his bio, the photo gallery and his publications to get a broader sense of this remarkable man, who called Coronado home.
The peninsula is home not only to an upscale village, ocean beaches, and resorts, but also on the north end, Naval Base Coronado. When Orange Ave. starts to curve to the south, you'll soon see the National Historic Landmark Hotel Del Coronado and its signature red-roofed bell tower. We gravitated toward the public beach behind the hotel, where my junior partners set to work.
Later, on the hotel's front side, we stumbled past the famed 108-year-old Dragon Tree from the Canary Islands. The tree and hotel were featured - along with Marilyn Monroe, Jack Lemmon, Tony Curtis and Billy Wilder in supporting roles - in the 1958 film classic "Some Like It Hot."
Here it is.
And again here in the lower right foreground, looking northwest against the splendid backdrop of the Hotel Del's front side.
The public spaces of the hotel are easily explored by non-guests. There's a beautiful cocktail lounge, and tony small shops. Get some superb locally-made ice cream at Moo Time on the lower level plaza, then head back out to the beach, where if you're lucky you'll spot a four-propeller Navy P-3 Orion flying overhead (below).
We also noticed a group of young U.S. Marines being worked over hard by two drill sergeants. Lined up in two teams, they were running a relay race in the sand: sprint; drop and crawl; sprint again; drop and do 20 push-ups; then do it all over again on the way back to the starting point before the next man in line goes.
We spent another hour-plus on the beach playing with kelp and engaging in various other feats of silliness and advanced engineering, before catching a shuttle bus to the ferry, getting back to the hotel, ordering some carry-out barbeque and falling asleep happily exhausted.
More to come - including San Diego's Point Loma/Cabrillo National Monument, the city's Rasta-fied Ocean Beach neighborhood, and adventures in bus riding.
Related: My tourism blogging portfolio, covering excursions in British Columbia, Washington State, Oregon, Northern California, Montana, Chicago, and Michigan's Upper Peninsula.
TECHNORATI TAGS: SAN DIEGO, VACATION, CORONADO, HOTEL DEL CORONADO, JAMES STOCKWELL, TOURISM BLOGGING>
Posted by Matt Rosenberg at 11:57 PM | Comments (3)
February 12, 2007
Carte Blanche For "Mentally Incompetent" Perps
Citing the defendant's mental incompetence to understand charges and assist her defense, King County Superior Court Judge Helen Halpert recently dismissed a dual murder rap against a woman who drank herself stuporous while two of her kids died of starvation and dehydration. She claims to think they're still alive. So, Leemah Carneh will have company at Western State Hospital. More uplifting news: Judge Halpert today ordered a mental competency hearing for a man who set a woman's hair afire in downtown Seattle, with lighter fluid and matches. He too may be unable to understand what he did. Apparently, it is possible to dreamily set a stranger's head aflame, and evade responsiblity.
It gets better. An Olympia man charged with raping an 11-year-old girl was acting strange at his arraignment, and - imagine - will be sent to Western State for a mental competency evaluation. Although if he is found not capable of understanding the charges against him, it will be difficult to explain why he allegedly wrote in his journal that he wanted to kick his "child hunting" habit.
A Clark County judge has also ordered to Western State for a mental competency evaluation a defendant charged with two counts of first-degree murder, who matter-of-factly phoned in his confession to 911.
Meanwhile, a Vancouver, Washington man has pled guilty to Social Security fraud for falsely pretending to be mentally ill. The Columbian reports that for two decades, at his mother's direction, he sat in the corner and picked his nose when social service workers visited, helping her scam Social Security of $220,000 for her two "disabled" children. His sister is believed to have put on a similar act, but cannot be located. It turns out the man - supposedly unable to drive - was working at an auto body shop, had Oregon, Washington and Alaska drivers licenses under false names, and lived with a girlfriend and her two kids. He was finally busted when caught on court video cogently enough appealing a traffic offense.
At least the government, nearly a quarter-million dollars later, did due diligence on this man's claims of mental incapacity. Some people will try to get away with whatever they can. Whether they are stealing money from taxpayers, killing, raping, or setting pedestrians afire, defendants need to be held accountable by facing trial. The increasingly utilized "mental competency" evaluation represents a disturbing trend, in which perpetrators become classified as victims and sidestep criminal justice.
A colleague of the sidewalk arson attack victim asks, "What is going on downtown?"
Is it open season for the "mentally incompetent?"
I blame society.
TECHNORATI TAGS: CRIME, MENTAL COMPETENCE, SEATTLE, WASHINGTON STATE>
Posted by Matt Rosenberg at 09:00 PM | Comments (1)
February 05, 2007
The Super Bowl Of TV Ads
UPDATED: Ah, the Super Bowl. As an official Boomer geezer I can remember the very first few, though I was but a child. Including when "Broadway Joe" Namath led the upstart AFL's New York Jets to victory over the NFL's Baltimore Colts in, lemme see, Super Bowl III, circa 1969. And as a young man living in Chicago, how could I forget my then-beloved Bears romping past the New England Patriots in the January 1986 Super Bowl, 44-10, thanks to punky QB Jim McMahon, fleet but butter-fingered wide receiver Willie Gault, and double-wide defensive lineman cum running back William "Refrigerator" Perry? Those '85 Bears: what a team. And ex-Bears tight end Mike Ditka of Aliquippa, Pennsylvania, what a coach. Often endearingly cranky with the press, and a wonderful Grade B philosopher who began roughly every other sentence with the phrase, "In Life...." I'm still sorry he didn't run for U.S. Senate.
Well anyway, like the heartbreaking Cubs in the 2003 N.L. championship series against the Florida Marlins, the Bears really stunk up the joint yesterday. How they got so far with a tepid quarterback such as Rex Grossman says a whole lot about the rest of their team. But the Super Bowl TV commercials weren't all bad. This truncated AP round-up isn't much use, truth be told; but this Seattle Times compendium is much better. Here's the YouTube rundown.
Still: who can really zero in on the best of the best like your very own Man From Mars?
The following Super Bowl 41 ads struck me as most notable. I'm leaving out a lot of the ones that I thought tried too hard, or were plain trite. Plus, I take issue with some that made the cut.
Bud Light Diversity: A quite multi-hued English As A Second Language class learns how to ask for a Bud Light in various ethnic dialects. Such as East L.A.: "Yo, Homes...you got a Bud Light, man?" But if asked for a Bud Light, class members are taught to reply "No Speak English." How'd this get past the thought police? Maybe we're all a bit more tolerant of ethnic humor than we're supposed to be? Cut to the end: a very dark-skinnned Asian guy is holding a can of Bud Light, and being instructed by a compadre on how to pronounce "Bud Light." Four or five times in, he still botches it every time. Who's writing these bits anyway? Ex-College Republicans? Corrective legislation seems necessary.
Coke "Grand Theft Auto" Gone Good: Animated hero traverses gritty, dysfunctional cityscape, silently dispensing social justice and mad love at breakneck pace while drinking Coke. Great spot, great anthemic ending. But in the end: it's still about fizzy sugar water. Ick!
Bud Light - A Dog's Life: A white dog eyes a butcher shop window, and is shooed away. Then he's barked at by a nasty Rottweiler. He sees a Dalmation on a Clydesdale-drawn wagon at the head of a parade enjoying the adulation of the crowd, sparking envy. He's splashed with dirty water by a speeding vehicle, leaving Dalmation spots on his fur. He eyes himself in a store window and mutters, "Hmmmmn." Then he ambles over to the parade and hops aboard lead wagon opposite the Dalmation, winks at same, and smartly basks in the love of the cheering throng. On the soundtrack, Dean Martin comes in with, "Ain't That A KIck In The Head." Nice. Never mind - for just a moment at least - that Bud Light is a bland and watery affront to the essence of beer.
Doritos = Sex: A grotty 70s-vintage fellow with a thick mustache comes to a grocery store checkout counter, placing four different-flavored bags of Doritos on the conveyor belt, sequentially. A dark-haired, heavyset female cashier offers thoughtfully salacious commentary on each of his choices. You are what you aim to munch, apparently. With the temperature heating up, chips somehow end up strewn about; checker-gal has to exhale and straighten her glasses before soldiering on.
Chevy HHR Lady Sex Bomb: Some very foxy gals of color in a vehicle described as a Chevy HHR are swarmed at a stop light. Inspired by the Mad Sex Appeal of said vehicle, all of the guys - young and way too old - are stripped down to their skivvies, gyrating around the ride and buffing the windshields with their squeegees. Where's Rudy Giuliani when you need him? Tagline: "Guys Can't Keep Their Hands Off It." Just ill, mon.
General Motors Quality Assurance: A beak-faced assembly-line robot drops a part and has a horrid vision of getting fired, being forced to work minimum wage jobs, and finally jumping to his death off a bridge. He flashes back to reality in the stock-still GM plant as co-workers stare, and an announcer intones, "The GM 100,000-mile warranty has everyone at GM obsessed with quality." If only. GM's ongoing quality issues continue to haunt them. GM lost me in the 1970s, as I saw my Dad's Olds 88 disintegrate. They lost me again in the 1990s, as his Buick went to pieces. I'm a Honda guy, tried and true.
Fed Ex On The Moon: A manager gives a tour of a Moon space station office, with several employees in tow. Workers are floating free, papers and coffee too. Someone asks: how will we get our goods to customers? The office bunch is out on surface of moon by this point. The boss turns to "Fred" for an answer. Why, Fed Ex, of course, he replies. A Fed Ex space shuttle then awesomely swoops down to the surface for a freight pickup. A fellow gives Fred a hearty slap on the back, and Fred floats into space, murmuring appreciatively at the view. He's then quickly zapped into nothingness by a red bolt of light. A nice nihilist touch.
Emerald Mixed Nuts Mental Alert: Some say that around 3 p.m., when your blood sugar is low, washed-up 70s Vegas lounge singer Robert Goulet appears, wreaking havoc in the office. Cut to Goulet in office, shredding documents, and trashing desks and computers as sapped late-afternoon cubicle dwellers snooze. Goulet creeps up on the one standing survivor, in his office, hyper-alert and on guard, snarfing Emerald Mixed Nuts. Goulet slinks away upside down on adjacent ceiling in frustration. Nuts are an excellent source of energy, actually.
All in all, the ads proved better than the game.
TECHNORATI TAGS: SUPER BOWL, ADS, FED EX, GM, CHEVY, DORITOS, COKE, BUD LIGHT>
Posted by Matt Rosenberg at 11:59 PM | Comments (1)
February 01, 2007
New Report Confirms Live, Forced Organ Harvesting In China
There are several reasons Chinese citizens need intestinal fortitude to join the quasi-religious movement known as Falun Gong. One being the ruling Communist government's thought control imperative. Falun Gong adherents have long been subject to imprisonment, torture, and even execution for no greater an offense than their non-mainstream beliefs. One recent report is here, from no less a bunch of right-wing conspiracy-mongers than Amnesty International. But then, mysterious deaths of jailed state enemies in China are almost old hat now.
However, for at least five years, according to an updated report released today in Canada, some have also been forced to sacrifice their internal organs for lucrative transplants for foreign patients in Chinese state hospitals.
The Australian's Ottowa correspondents report this morning on the findings, from the new report by Canada's former Asia Pacific region Secretary of State David Kilgour, and human rights lawyer David Matas.
Mr. Matas and Mr. Kilgour's second report, released today, includes interviews with organ recipients in 30 countries and Canadian hospital staff who cared for more than 100 patients who had undergone suspicious transplant surgeries in China. "The involvement of the People's Liberation Army in these transplants is widespread,'' Mr. Kilgour said at a press conference. Like many civilian hospitals in rural China, military hospitals turned to selling organs to make up for government funding cuts in the 1980s, the report said. But military personnel could operate with much more secrecy, it said. "Recipients often tell us that even when they receive transplants at civilian hospitals, those conducting the operation are military personnel,'' the report said.

Hospitals in Canada's biggest cities - Vancouver, Calgary and Toronto - confirmed "a substantial number'' of Canadians had travelled to China for dubious organ transplants, Mr. Kilgour said. "We're in the three digits, up over 100 (from Canada each year), and the trend is accelerating,'' Mr. Matas said. To curb what they called a "disgusting form of evil", the pair asked pharmaceutical firms to stop selling organ anti-rejection drugs to China. They also asked countries to post travel advisories warning about China's alleged organ harvest, asked states to cease offering follow-up care for patients who had dubious organ transplants in China and asked foreign doctors to cut ties with their Chinese counterparts suspected of such practices.
The Epoch Times has followed the matter closely, all along. It is a Web and print newspaper with bureaus in 30 countries, and is published in 17 languages, The paper highlights Chinese human rights issues. Last week, The Epoch Times summarized earlier reports that a Chinese health ministry spokesperson admitted to organ harvesting from executed Chinese prisoners, but denied any Falun Gong ties. That article also includes links to the original Kilgour/Matas report of July, 2006. An Epoch Times story today includes a link to the updated report. The paper also reported two weeks ago here that transplant surgeons attending a January symposium in swank Marco Island, Florida got an earful from protestors about Chinese organ harvesting from live and unwilling Falun Gong followers.
I'd like to say all of this a big surprise to me, but it's not. Despite making important progress toward economic modernity and despite a slight easing of strictures against political dissent, the ruling Chinese communist regime continues to indulge in many fulsome violations of human rights. Such as Internet censorship (see here and here), denial of legal rights for plaintiffs against the government, property confiscation, use of hired thugs against reformers, and forced abortions.
The Kilgour/Matas investigation of organ harvesting for transplant by Chinese authorities from unwilling live Falun Gong detainees adds even greater weight to ethical concerns around the plastinated Chinese corpses on display in Seattle, for which no documentation of permisssion for posthumous display exists. It seems even more likely now that they too may have been Falun Gong practitioners, or political prisoners of another stripe.
TECHNORATI TAGS: CHINA, ORGAN HARVESTING, FALUN GONG>
Posted by Matt Rosenberg at 10:22 AM | Comments (14)