October 31, 2006
From Manny's To The Shedd, Via Chicago Sardine Authority
A week ago today in the midst of a family trip to Chicago, I set out with my two children from the Fairmount Hotel in downtown Chicago (morning coffee in your room $11, thank you very much), to the ultimate Chicago Jewish comfort food emporium. That's Manny's, at 1141 S. Jefferson St. on the city's near southwest side, just off Roosevelt Road (1200 S.). As per our standard operating procedure, we cabbed it over, and were planning to take a bus back east for further adventures. The bus ride turned out to be a grand sociopolitcal adventure, but more about that in a moment.
Chicago's Roosevelt Road is a major arterial street which leads out west to nightclubs where performers like Muddy Waters, Howling Wolf and Little Walter spawned Chicago's famous, post-WW II electric blues sound, which subsequently inspired so many other players. Also on Roosevelt, but closer to Chicago's eastern border of Lake Michigan, near Halsted St. (800 W.), was a hub of Jewish-owned retail establishments. A few of them remain, selling hats, clothes, and shoes. The famous Maxwell Street Market, which survived for years in the shadow of the newer University of Illinois Chicago "Circle" Campus, was nearby as well. Known to some as "Jewtown," Maxwell Street was home to a famed outdoor flea market, live electric blues in empty lots, and the best hot dogs and Polish sausages you could get anywhere. These were slathered with succulent, greasy grilled onions and handed to you through the sliding window of a mobile home trailer perched on cinderblocks. My dad took me to Maxwell Street many a time when I was a kid, and I went back as a young adult living in Chicago. That's gone now, but for an ex-pat visitor in Chicago, Manny's is a real tonic to the flash and hype of downtown.
Downtown and in the adjacent River North area, restaurants are either way over the top or hyper-hip, which is apparently just what the tourists, conventioneers and monied players want. In contrast, Manny's is where locals go, and looks like it's in a time capsule sealed in 1958. A bunch of regular guys - cops, politicians, salesmen, bagmen, high-risk finance specialists - belly up to the cafeteria line, trays in hand, and choose from an array of downhome hot entrees and classic deli fare. I captured a digicam shot the day of my visit; behind the sandwiches waiting to be snatched from the counter is the late Manny's son Ken Raskin (center). He presides over the cutting board with flair and friendly wisecracks.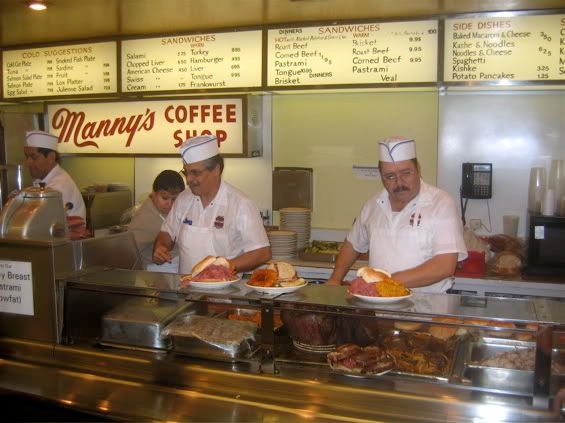 Every day Manny's offers five or six hot lunch specials, a different homemade soup, hot and cold deli sandwiches, and don't hold up the line, okay? Here's the menu, some reviews, and a little bit of Manny's history. Manny's has been in business 50 years.
I got a half a peppered pastrami sandwich on rye, with a crunchy garlic dill pickle slice, a hefty potato pancake and a bowl of chicken kreplach soup. My kids had a typically bewildering lunch of hot dogs, rice and jello.
At Manny's, people are in a hurry to eat, even if they do often linger over the rice pudding. The first cashier quickly rings you up and hands you a ticket, which you present at a separate station on the way out.
Afterward, we parked ourselves on the corner of Roosevelt and Jefferson to wait for the #12 Chicago Transit Authority (CTA) bus back east toward Michigan Avenue, from where pathways lead under Lake Shore Drive to "Museum Campus" housing the Field Museum Of Natural History, The Shedd Aquarium, and the Adler Planetarium. Here's a view of my old home town, from the bus stop. That'd be Sears Tower looming large. I tinted it a bit purple because that's the shade it really ought to be. Manny's is the place with the reddish sign out front.
Well, the bus finally came, and I can safely say that as nice as it was to go back to Manny's, this was when the real fun began. People were standing from front to back, and they weren't in the least moving to make more space, although there was just enough to squeeze in some more riders. My kids and I had been waiting in the cold a good 15 minutes, and we were NOT going to wait for another bus, which for all I knew could be slow to arrive and just as packed. The driver was defeated, not saying a word. I somehow pushed us up a few steps, and then applied some of my soft-spoken Seattle charm, while channeling my Inner Chicagoan.
Matt, in a booming friendly voice: "Hey people, c'mon now, we gotta make this work, okay? Think New York subway. Sardines, sardines, sardines, serious sardines. YOU know. We're gonna get to know each REAL well, alright?" And so on. Grudging half-smiles. some mild grumbling, some shuffling. Space is created. We squeeze on. As we're pulling away, a guy runs up and bangs on the door, wanting to get on. The lady driver, heretofore mute, loses it, and starts yelling at him. I start chatting up my neighbors. "Whaadaya think? Jesse Jackson Jr. for mayor? He'll fix this, won't he?" Digital camera in hand, I realize it's important to secure documentation. Okay, here ya go. The Roosevelt #12 bus, at somewhere between 12 noon and 1 p.m. on Tuesday Oct. 24, 2006 in Chicago, Illinois.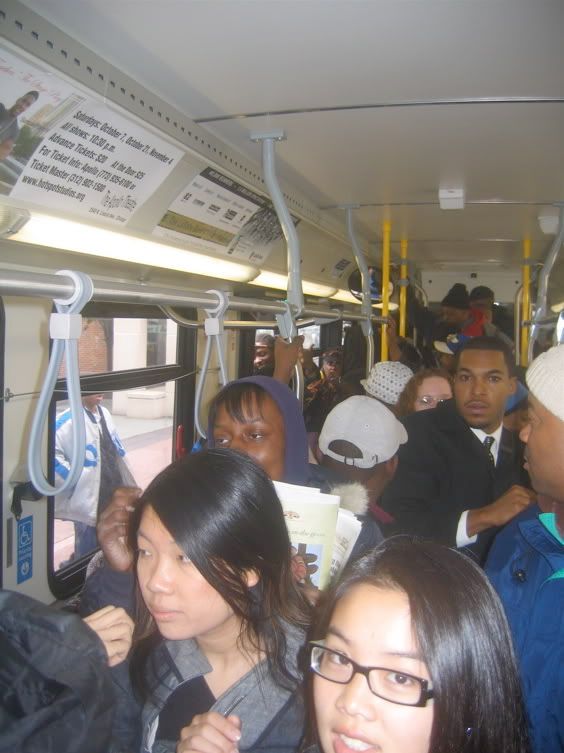 Cozy, huh? As it happens, overcrowding on the CTA has become a serious problem. In a post titled, "Living Like Sardines," Chicago blogger "CTA Sound Off" writes:
For years, the CTA has received tons of complaints about unsafe transit conditions which will eventually contribute to many serious injuries or mass loss of life during a train or bus accident, should one occur while overcrowded conditions are present. At the least in the current day, it contributes to people being involuntarily groped, exposed to foul breath, body odor, and the criminal minded who know just how to take advantage of the situation. This situation causes more than just unwanted physical friction: passengers become irate and verbal hostilities take place, fights even break out. Another problem this causes: passengers miss their stops because they can't get off, and CTA personnel are instructed to just ignore the overcrowding because the CTA wants their money! For $2.00 a ride, this is NOT worth it!
Nearly two and a half years ago, the Chicago Tribune noted:
Twenty minutes pass and still no sign of the bus. More commuters crowd the curb, peering up the street. Someone gets frustrated and flags down a cab. Then from around the bend, three buses on the same route appear all at once, lined up like train cars. Sound familiar? In addition to bus bunching, many CTA bus and "L" passengers complain of unreliable schedules, overcrowding, impractical routes and dirty facilities, according to interviews.
Mission statements are a fine thing. Assuming you can take them seriously. Under "values,"The CTA's states:
Professional - We will provide transit service with the highest standards of quality and safety for our customers and ourselves.

Reliable - We will be dependable for our customers and fellow employees, and will maintain the highest standards of trust.
Uh huh. Even on my brief visit to Chicago, I noticed not only absurd overcrowding on the bus, but also wasteful bus bunching. Coming back east toward the lake another day on Chicago Ave. with my kids, I espied another bus with the same route number literally right behind us at the stop, as we boarded. Both were scantly filled. What a crummy allocation of resources.
On the very same day last week that my kids and I were doing the Sardine Tango with everyone else aboard that CTA Route #12 on Roosevelt Road, the Tribune's transit columnist Kyra Kyles was urging the agency to bring back more field supervisors to ensure a better flow of buses. Good suggestion, but how can the cash-strapped agency do that? Here's a thought. Deadwood political hacks filling CTA middle management chairs and lesser clout-driven sinecures can take early retirement with no bennies. Politically-connected "consultants" can be shown the door for good. All management salaries can be cut, say, 12 percent because system performance stinks. Annual outside performance audits would monitor progress on resource allocation within the agency and service improvements. How's that for starters?
When I lived in Chicago as an adult between 1983 and 1994, I gave the CTA farly high marks for having train lines that get you nearly anywhere in the city, and especially to both airports. We still haven't managed that in Seattle, or even a second airport. But the chronic financial problems of the CTA have forced some ugly cuts and lowered the quality and reliability of bus service starkly. Trains aren't doing so hot, either. The necessary reforms - involving public employee pensions, labor agreements, and CTA and city staffing and budget priorities - are unfortunately anathema to the entrenched local Democratic hoodlums still running the show in Chicago. People more or less get the government they deserve. So, people of Chicago, you've got to take the first step.
The #12 crowd had thinned out considerably by the time we got off at Michigan Ave. and took the nearby path to the museum campus, and then on into the Shedd to see fish, sea creatures, Amazon yellow toads and a highly entertaining river otter. Chicago is great for pathways and civic flower beds and amusements. In fact, that's the Ferris Wheel (far right, below) at The Navy Pier entertainment complex. But I'd much prefer to ride a bus where you don't have to body surf to get out the door.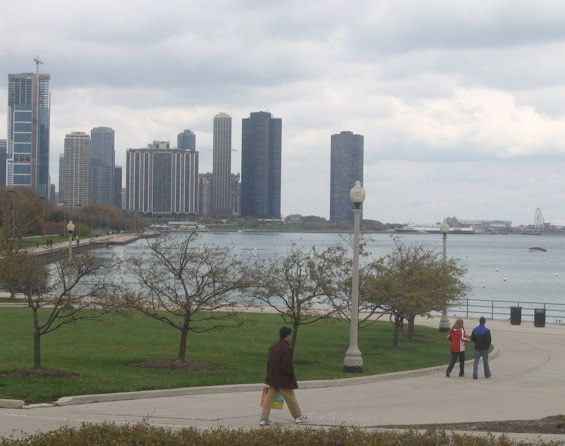 TECHNORATI TAGS: CHICAGO, TOURISM, MANNY'S, PASTRAMI, CTA, BUSES, OVERCROWDING, POLITICS, JESSE JACKSON JR. SHEDD AQUARIUM
Posted by Matt Rosenberg at 01:45 PM | Comments (0)
October 30, 2006
Savor The Flavor Of Chicago's Puerto Rican Epicenter - Humboldt Park
Huge, street-spanning red and blue scultured gateways modeled after the Puerto Rican flag bracket the ends of the Paseo Boricua local business district along Division Street (1200 N.) in Chicago's Humboldt Park. Chicago's "Little Puerto Rico" is bordered by Western Ave. (2400 W.), Pulaski Road (4000 W.), Chicago Ave. (800 N.) and Armitage Ave. (2000 N.) Modern-day European settlers named the neighborhood after Alexander von Humboldt, the Prussian naturalist. Like a lot of white Chicagoans in recent decades, he never set foot in the place.
Neither had I, growing up in a bubble on the city's southeast side in Hyde Park, or even footloose and fancy-free in later kid-free adult years while living in Rogers Park, Edgewater and Lakeview before moving to Seattle in 1994. In Chicago last week with my kids, 10 and 6, in tow, I hailed a cab to Humboldt Park from the Fairmount Hotel downtown, where we were ensconced for several days while my wife attended a business convention. We got out right at the eastern gateway of Paseo Boricua, at Western and Division. Here's a picture I took.
Long considered dicey, crime-ridden turf, Humboldt Park has been on the upswing in the last several years and is a great "off the beaten track" day-trip for visitors.
Growing up in Chicago's Puerto Rican neighborhood, Enrique Salgado only knew of a deteriorating and crumbling Paseo Boricua. The...stretch near downtown Chicago's skyscrapers and economic muscle was on a fast decline. Vacancies ballooned, infrastructure wilted and crime rose. "The holes were so big in the sidewalk that we could play in them," Salgado, 25, said. It appeared that Chicago's Puerto Rican community–the second largest Latino population in the city behind Mexicans–was about to be lost. Those who could moved to the suburbs, while others assimilated into different neighborhoods. But in 1995, Paseo Boricua found new life when city officials and Latino leaders offered a symbolic gesture to recognize the neighborhood and the residents' roots. They installed two, metal Puerto Rican flags–each weighing 45 tons, measuring 59 feet vertically and stretching across the street–at each end of the strip.

Under the flags, the blighted neighborhood transformed into one of the hottest Latino neighborhoods in Chicago, uniting the once fragmented Puerto Rican community. Since the community banded, the occupancy rate of the neighborhood rose to about 90 percent, home prices stabilized and Chicago's 150,000 Puerto Ricans have a place they call their own.
All true, though there are still some empty storefronts to fill and a bit of loose trash found on the streets and sidewalks. The litter is partly just a mindless habit endemic to most parts of Chicago; but a little more pride needs to shine through in Humboldt Park even if the neighborhood is clearly on the rebound. Realtor Online magazine notes what a draw is the neighborhood's sprawling namesake park.
Despite its edgy reputation, Humboldt Park is a magnet for newcomers because it offers amenities that few other communities possess—a 207-acre park with a beach, a swimming pool, lagoons for fishing and boating, 15 baseball diamonds, 11 tennis courts, several playgrounds, bike paths, sprinklers, and formal gardens, among other perks.
Strolling the Paseo, it wasn't long before we spotted Lily's Records (2733 W. Division St., 773-252-7008, no Web site). Lily's specializes in all manner of Latin-inflected tunes and sells a range of percusion instruments, including conga drums decorated with the Puerto Rican flag motif. The blank-faced stare of one the Latino proprietors directed toward this gringo melted pretty quickly when I asked if Lily's had any CDs by the Cuban jazz bandleader and bassist Israel Lopez, a.k.a. Cachao. They did, but not what I was looking for. Spotting some promising-sounding Latin Boogaloo CDs on the wall racks behind the counter, I asked my new friend to engage his musical Cheez Whiz detector - always handy when filtering Latin musics. With his help, I eventually opted for some primo Latin Boogaloo picks. Salsaroots.com explains the genre.
Boogalu (a.k.a. Boogaloo), a fusion of Rhythm and Blues and Cuban son montuno, was popular in the United States from 1966-69. Boogalu was the first contemporary Latin music form that captured my attention because of its funky sounds, engaging choral chants by the audience, English lyrics, references to symbols of African American culture ("cornbread, hog maws and chitlins"), and background sounds of raucous party goers. Boogalu was a highly successful crossover musical style, capturing the attention of audiences who were previously not familiar with Latin music.

Boogalu resonated particularly with African American audiences. Performers such as Jimmy Sabater and Joe Cuba clearly state that Boogalu was inspired by the interaction between African-American dancers and Latin musicians in New York at nightclubs such as Palm Gardens Ballroom. They recount stories of how the structure and tone of Boogalu songs such as "Bang, Bang" were developed in an effort to appeal to African-American dancers who were not responding to their traditional mambos and cha cha chas. Many of the Boogalu musicians report that they were also deeply influenced by the R+B, jazz and Doo Wap bands of that era.
Pete Rodriguez was one of the pioneers of Latin Boogaloo; thanks to Lily's excellent selection, I'm now enjoying his 1969 greatest hits package titled "Mr. Boogaloo." It's hard to find online, but shares a number of cuts with this similar Pete compilation offered for sale by Amazon. I also bought Ricardo Ray's essential "Jala Jala y Boogaloo," originally released in 1967 and then reissued this year; and a sampler on the Fania label titled, "Latin Soul, Descarga & Boogaloo." It's a real throwdown. All three CDs livened up some already-lively dinners with friends in Evanston on two subsequent nights.
On a second visit to Humboldt Park during our week in Chicago, and right across the street from Lily's, we happily stumbled upon La Bruquena Restaurant, probably the best and most nicely furnished Puerto Rican joynt in Chicago. Their motto: "con sabor a patria." (Consumer reviews here; and a Chicago Tribune Metromix review with map, address, hours and contact info. here). La Bruquena didn't seem open for lunch when I stuck my face up to the window early one afternoon last week. We were in need - the kids in low-blood-sugar mode, all three of us having walked a mile or more from the Ukranian Village neighborhood to the south, where lunch options proved dissapointingly thin. The first of La Bruquena's two front doors I tried was locked, and an employee was carrying in a large load of groceries through the other while clutching a handfill of dollar bills. I sidled in behind as she went off to the kitchen, and an older man gave a friendly sort of "why not, sure" reply when I asked if we could get some lunch. Even though they weren't quite ready to get going, they nonetheless did, promptly. Nice.
And what a meal it was. We started with pastelillos; crisp turnovers filled with meat or shrimp. They're also known as empanadas. (Here's a recipe; to lower the calorie count down, try baking these on a cookie sheet at 400 or 425 and flipping them midway, instead of deep frying them). Then, my son had savory fried chicken with crisp pan-fried flattened plantain slices; my daughter a tender steak sandwich on a toasted Hoagie roll with grilled onions and mayo. It's okay, it's okay. They're young and thin. Me, I had a sort of open-topped Peurto Rican shrimp pot pie. A silver pewter serving dish was lined with a "dough" made of mofongo, or coooked, mashed green plantain studded with little bits of crispy pork meat. It's a P.R. staple, and figures into many preparations, either as a side dish or otherwise. Inside was a stew of perfectly cooked, flavorful large shrimp, bathed in a light tomato sauce. On the side in a small cup was a light homemade chicken broth with some tender thigh meat. We drank acerola cherry and pineapple juices. There were blond wood floors, nice artwork, salsa music on the jukebox, and a steady flow of neighborhood regulars dropping to eat, kibbitz, and in one case, enjoy a lunchtime tequila eye-opener.
The Paseo Boricua ends at Division and California Ave. (2800 W.), the latter being another one of those Chicago arterial streets that run through a series of increasingly multi-ethnic enclaves and thus warrant much investigation. Beyond the Paseo's flag gateways, there's still a lot more of Humboldt Park to explore. On our first day there, from Lily's we aimed west by northwest, for the nearby namesake park. The 1906-vintage Prairie School style boathouse perched on the lagoon in Humboldt Park is a Chicago landmark. Here's a picture I took of it.
Fall in Chicago; yes, it can be lovely. A wide boulevard runs through the park on the north-south axis, part of a city-wide boulevard system linked to some of Chicago's larger green expanses. There are a number of eateries in Humboldt Park the neighborhood and even one - albeit seasonal - in the park itself, as detailed in this brief but useful guide to the area from the Office of Minority Student Affairs at the University of Chicago. After a jungle gym workout on the playground north of the lagoon, we headed northwest across the park in search of some eats, passing a lively dice game, a popular taco truck and an apparent drug deal along the way. It was a bit chilly and the kids were - surprize, surprize - H-O-N-G-R-Y. So we chose the first plausible restaurant we spotted on North Ave. (1600 N.) west of Kedzie Ave. (3200 W.), just beyond the park.
Happily, La Perla Tapatia turned out to be a real find (map, address and phone here; a truncated yet enticing-to-burrito-lovers online review here). Never mind the fluorescent lights, the loud buzzing coming from the soft-drink cooler, or the gang graffiti covering the inside of the men's room door. For mere pesos we ate quite well. My daughter ordered her Mexican restaurant classic: rice, refried beans and the cinnamon-flavored rice milk called horchata, the last two especially sublime. My son enjoyed an horchata and a succulent steak taco with sliced avocado. I had one of those, plus a chicken tostada and a sope al pastor. A sope (pron. "so-pay") is a steamed, smallish, round, flat, firm cornmeal cake with raised edges. You can buy them in cylindrical ten-packs in most any respectable Mexican grocery, then steam or oven-warm them (covered in foil) at home and add any sort of bite-sized filling, from a picadillo to refritos and cooked, crumbled chorizo, to...juicy slices of "al pastor" meat. At La Perla Tapatia "al pastor" refers to spit-roasted pork sliced thin, although in my experience, the term is also sometimes applied to spit-roasted or grilled beef. I had it all topped with avocado slices, tomatoes and shredded lettuce. Hold the cheese and sour cream on eveything, thanks. Just ladle on some of the zingy and fresh cilantro-laced house salsa. It's a glorious mess, no question. Eighth year of marriage food, not first-date stuff.
Before catching a bus, we walked back east about two miles along North Avenue, passing this Halloween porch decoration on the stoop of a greystone three-flat across from the park.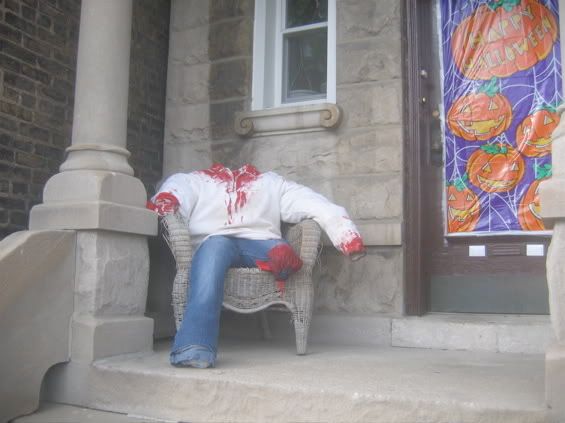 Humboldt Park, still just a little bit edgy. It's a large chunk of the city's near Northwest side, hard to fully experience even in two day-trips. Next time I'm back in town, I'll want to explore the parts of the neighborhood I missed last week - from North Ave. up to Armitage; Kedzie west to Pulaski along Division St. and North Ave., and more of the park. I'm thinking that a Saturday afternoon and early evening in May, June or mid-September are probably peak times.
Neighborhood excursions are the best way to experience great American cities. Downtowns ought to have a vital energy and in our nation's bigger cities usually do; but neighborhoods and their own business districts are where you find a city's soul. Wherever you're going, do a bit of homework first to identify neighborhoods worth a visit, and maybe a few top attractions in each. But for the able-bodied and curious, I'd suggest leaving some open space in your itinerary. Go with the flow once you get there; knowing that some local eats should figure in to the outing, and hopefully also exploration of some some parks and residential streets.
Humboldt Park is just one of many parts of Chicago demonstrating the rewards of drilling deeper than many leisure travellers do. This guide to Chicago neighborhoods will help get you started.
TECHNORATI TAGS: CHICAGO, NEIGHBORHOODS, HUMBOLDT PARK, SOPES, PUERTO RICO, MOFONGO, TOURISM, TOURISM BLOGGING, LATIN BOOGALOO>
Posted by Matt Rosenberg at 11:22 AM | Comments (0)
October 26, 2006
Rehov Gets Inside Minds Of Suicide Killers
UPDATE: Jonathan Curiel of the San Francisco Chronicle interviews Pierre Rehov, director of the controversial new documentary "Suicide Killers," which explores the Palestinian militant death wish.
Rehov interviews Palestinians imprisoned for trying to detonate suicide bombs and concludes they're influenced by a religious culture that represses sexual desires and channels the resulting frustration into homicidal rage....The question of what motivates some Palestinians to strap on explosives and try to kill Israeli citizens has been debated intensively in the past five years, while a string of attacks has resulted in the deaths of 1,000 Israelis. ...The Chronicle interviewed Rehov by phone from his home in Paris. Here are excerpts:

.....Q: You interview Palestinians in Israeli jails who tried to detonate suicide bombs or who abetted would-be attacks. Only one of them seems to regret what he tried to do. Did this surprise you?

A: Every single one of them tried to convince me it was the right thing to do for moralistic reasons....Every one of them said that all our behaviors on Earth are impure, and they were trying to reach purity. They said they were "invaded" by Israeli culture. When they turn on the television, they see half-naked dancers. They were offended by that. They wanted me to understand that all this was forbidden on Earth, but if you did something great for God -- like blowing yourself up and killing a bunch of innocent Israelis because they are Jews and don't believe the same thing you believe -- you end up being forgiven for all of your sins and will go to heaven and find 72 virgins waiting for you.
Rehov also remarks:
I travel a lot in Arab countries. Palestinians live much better, even under occupation, than most Arabs do. If you want to talk about real misery in the Muslim world, go to Libya, or go even to the suburbs of Cairo -- then you'll see real misery. Palestinians in the streets of Jenin are complaining about occupation, but they are complaining about it on a cell phone. (Also) the ones who blow themselves up, when they talk about occupation, Tel Aviv is occupation.
Rehov offers insight into broader problems facing Islam in modernity.
Q: Until you were 9, you were raised in Algeria. Why have you said that Muslim culture is in crisis?

A: To make it simple, I witnessed the culture for many, many years. I used to go on vacation in Morocco and Tunisia. Lately, I went back to Algeria for the first time in 40 years. I was born in this culture. I was used to being surrounded by Arabs and by Muslims. I feel very comfortable when I'm with them. I have no problem at all. It's a very warm civilization where solidarity is at a very high level. There's a lot of good aspects about Islam.

Unfortunately, what is going on right now is that Islam itself was not capable of going to the 21st century. Islam didn't have its enlightenment, didn't (lead to) new technologies, didn't participate in the modern world. I'm not saying the modern world is good or bad. Islam didn't participate in the modern world for many reasons, one of them being the level of corruption of the (political) leaders in Islam. In order to stay in place, they promoted for decades this theory that the West, especially Israel, is responsible for all the misery of their people. I don't recognize the Islam of my childhood. I don't recognize the Islam of my vacations 25 years ago to south Morocco, where there is a lot of poverty and where people consider Islam as a very generous and nonviolent religion.
The longer that Western apologists brandish the gospel of "multiculturalism" to excuse the heinous aims and practices of the Islamists, the deeper into the abyss our world sinks. Here is what I would like to know: what are the actual texts used in Islamic schools in the United States, in Seattle? Can I be assured there is no Wahhabist influence, anywhere? If not, where does it exist and to what extent? Let's clear the air, to everyone's benefit. What are the actual, truthful translations of the discourses by Islamic religious leaders given in American mosques? What, if anything, is said about Jews, Judaism, and Israel in these Arabic-language discourses? Like, one posted on the Web site of the Islamic Center of The Eastside on the topic: "Claims By The Kuffar That The Prophet PBUH Fabricated The Quraan." (MP3 file here). "Kuffar" is the Arabic word used to denote those who do not follow the religion of Islam. A common usage is "dirty kuffar", one prominent example being this jihadist music video. The term is roughly equivalent to the Christian denotation of "the heathen." I find it both offensive and worrisome. The division of people into camps of "believers" and "unbelievers" by adherents of any religion is inimical to the concepts of "diversity" and "tolerance" that multiculturalists are so quick to espouse when it suits them.
Any bona-fide translators are urged to send me a transcript of the above-linked MP3 file, at the e-mail address listed on my main page under "Contact." Perhaps - and hopefully - this recorded discourse will prove utterly harmless. Yet if we are to worry about "hate speech" directed toward minorities, we must also root out the marginalization of "unbelievers," a loaded phrase under any circumstances. People should be judged on the basis of how they live their lives, how they realize their own potential, treat others, and regard the world and communities in which they live. They should not in any way be judged by the religion - if any - to which they swear allegiance. How sad that this needs to be said to anyone, including some of those newer arrivals to the U.S. who enjoy the great freedoms our nation grants - and which their lands of origin did not.
TECHNORATI TAGS: PIERRE REHOV, SUICIDE KILLERS, DOCUMENTARY, PALESTINE, ISRAEL, ISLAMISM, KUFFAR>
Posted by Matt Rosenberg at 04:09 PM | Comments (1)
October 23, 2006
"Welfare Reform Isn't Working"
That's what U Penn law professor Amy Wax says in today's Los Angeles Times.
Under the 1996 federal law, states can offer generous "income disregards" (which allow women to keep earnings while receiving some aid) as well as an array of in-kind and earmarked benefits and refundable tax credits. All this government help is designed to make up the difference between what a person can earn on her own and what is needed to get by. In the case of single-mother families, such a gap is virtually certain to exist. As scholar Charles Murray stated long ago, the mother-child family is not, and will never be, a viable economic unit. A single parent must play two roles — caring for children and earning a living — that wives and husbands traditionally assumed together. As a result, most such families end up poor.

....As in the past, a woman can still command public assistance simply by choosing to have a child she knows she cannot support. Similarly, a man can qualify his child for public aid simply by abandoning it. Under the 1996 law, the public — including those people who avoid government handouts at great personal sacrifice — are still left paying for others' failures. In this respect, welfare reform changes little. The old social rules that once defined out-of-wedlock childbearing as irresponsible — and paternal abandonment as exploitative — are gone, and the change has been cheered on by some left-wing thinkers, who attack the very foundations of the old rules. Academics such as Cass Sunstein, Liam Murphy and Thomas Nagel have repeatedly assured us that self-reliance is a cruel hoax. According to these scholars, the economy cannot operate without the government, and we all lean on each other. Taken to its logical conclusion, their argument is that there is no coherent difference between private property and collective resources. Because no one is entitled to anything, what individuals possess is nothing more than what government allows them to keep. There can thus be no objection to taxing hard-won earnings and transferring them to others.

Feminists add their voices by asserting that all dependencies are alike, so living on welfare is no worse than relying on a husband's support. And anyway, because child care is a form of work as worthy as any other, they argue, the government should pay single moms to care for their own kids. Finally, left-leaning economists tell us that tax breaks of any kind — including those for the rich and for corporations — are just another form of welfare. So in the end, everyone's on the dole.....Once the old distinctions collapse and the value of self-reliance goes out the window, all bets are off and moral vertigo sets in.
Sometimes it's the mom who's the rolling stone, but far more often it's the dad. The "missing dad" affliction undeniably affects black children "disproportionately."
If welfare reform isn't working, neither is birth control. Teenage pregnancy rates are down, but too many young black women are letting themselves get pregnant with no commitment from fathers. As Wax notes, government still fills the gap. These young, under-educated moms then raise children who, lacking a father, are too often destined to repeat the cycle themselves. At the same time, there's a growing cadre of upwardly mobile professional black women who define self-worth through education and professional achievement, and refuse to settle for a "playa." It's just too bad more of them won't have a chance to breed.
Interracial marriages are one way out for black women. Church-based and non-profit campaigns to encourage responsible black fatherhood are well-intentioned and effective to a degree. It's culture that's the cancer. Misogynistic rap CDs and videos aren't going away.There are too many culturally-slumming young white male consumers of the genre and too many playas "keeping it real" for that to happen. But white-controlled media - including many urban daily newspapers, need to stop qeausily validating gangsta and ho narratives - turning resources to validating black fatherhood, two-parent black families and black professional and educational achievement. Daily newspaper coverage of troubled urban school districts, such as in my hometown of Seattle, needs to get away from the evavise racial "disproportionality" shtick and musty NAACP race-baiting, and instead squarely pin responsibility for academic failure where it belongs: on parents.
TECHNORATI TAGS: WELFARE REFORM, SINGLE PARENT FAMILIES, POVERTY, EDUCATION, BLACK WOMEN, BLACK MEN>
Posted by Matt Rosenberg at 09:08 AM | Comments (1)
October 22, 2006
Terrorism Or Trade: Palestine Must Speak With One Voice
The Boston Gobe reports today that a year after Israel pulled out of the Gaza strip and all Israeli settlers there left, things are worse than ever for the 1.4 million Palestinians who live in the 28-mile long, five-mile wide territory. Gaza relies heavily on trade with Israel, but as The Globe reports today, legitimate Israeli security concerns have tightened border security. Palestine's current leadership furthers the stalemate by continuing to deny Israel's right to exist, discouraging trade and economic growth, and failing to redevelop Gaza.
Not even the land once reserved for 9,000 Israeli settlers -- the most tangible gain from Israel's pullout -- has been put to public use. Chunks of concrete and steel still litter the demolished settlements, where Palestinian leaders had promised to build houses and schools. Much of the one-third of Gaza that was controlled by settlers and Israeli troops has been seized by powerful families or militant groups.......So economic progress for Gaza after Israel's departure depended on Israel's cooperation. That required a precarious balance: Israel wouldn't open its gates unless it felt safe from attack; Palestinian leaders wouldn't crack down on armed groups unless they could show their people hope for progress....After Israel withdrew, Gaza militants continued to fire Qassam rockets nearly daily into Israel. At the same time, citing security problems, Israel kept Gaza locked down tight instead of increasing the flow of goods. Things got worse when Hamas won a surprise election victory in January that placed the party, whose charter calls for absorbing Israel into an Islamist Palestinian state, at the helm of the Palestinian government. Israel and the United States consider Hamas, the pioneer of suicide bombings in the Israeli-Palestinian conflict, a terrorist organization.

Israel cut off more than $50 million in taxes it collects each month for Palestinians. The United States, Europe, and other countries cut off tens of millions more in aid to the Palestinian Authority. Gaza's third stage of misery began June 25, when militants, including some from Hamas, tunneled under the fence, captured an Israeli soldier, Gilad Shalit, and killed two others. Israel called it an act of war, bombed Gaza's only power station, and sent troops back into Gaza. Shalit is still missing. Militants have since fired hundreds of homemade rockets into Israel; Israel has launched 300 missile strikes and fired hundreds more artillery shells. Israeli troops periodically take over parts of Gaza.

.....The Hamas-led government -- the first Islamist government popularly elected in the Arab world -- failed to deliver the better life it had promised would come with its anti corruption stand and toughness on Israel....For Abdel Shafi, the UN official, the depth of the crisis hit home this month when a beggar approached him as he left a grocery store. The UN insignia on his car signaled that Abdel Shafi, 46, was among the few people in Gaza still earning money...He said the Gaza withdrawal aimed to serve Israeli interests, to escape the military drain of holding Gaza and instead strengthen Israel's hold on the West Bank. "However," he said, "Palestinians should have used the opportunity, at least . . . to prove to the whole world that they can make something out of it."
The Palestinian economy is in freefall because Palestine insists on being a political pariah. Jihadists clinging to a perverse Bedouin take on Islam currently subjugate the mass of Palestinians to a life of darkness and despair. Scapegoating Israel for the systemic failure of Palestinian society as a whole to face modernityis morally bankrupt.
TECHNORATI TAGS: ISRAEL, GAZA, PALESTINE, HAMAS>

Posted by Matt Rosenberg at 12:50 PM | Comments (0)
October 17, 2006
10-Year Old's Travel Blogging Highlights Glacier National Park
My son Max, age 10, has a new post up at his blog Max Planet, titled, "Glacier National Park; Hikes And Wildlife." It's based on part of our family's trip to Montana late this summer, and includes some excellent pictures, and links-a-plenty. Read the whole thing, and feel free to leave Max some comments there, as well.
TECHNORATI TAGS: TRAVEL BLOGGING, GLACIER NATIONAL PARK, MONTANA, MAX PLANET>
Posted by Matt Rosenberg at 09:30 AM | Comments (0)
October 16, 2006
Envision.....An Actual Democratic Agenda
UPDATED: Mucking about recently in the target-rich environment that is my beloved home despite its leftist whack-a-nut politics - um, yes that would be Seattle - I spotted a bumper sticker that boldly proposed: "Envision Bush Out Of Office." Well, why yes, that's not terribly hard to do, now is it? Come January 2009, it's assured, as third terms for U.S. presidents are not allowed. I was already quite familiar - how could anyone not be? - with the tendency of Democrats in recent years to focus nationally on little but fevered Bush-loathing and attendant memes of the Iraq Quagmire, the horrors of our nation's domestic police state, and the benefits of still more income redistribution. Yet all the same, I was appalled at the evident lack of vision, and of thought for the country's future.
Is this it? "Envision Bush Out Of Office"? I'll grant you it slides of the tongue more easily than "Envision Managed Outcomes," or "Envision Civil Rights For Terror Suspects," or "Envision Higher Taxes," or "Envision Single-Payer Health Care," or "Envision Cultural Diversity." None of these are really election-winning themes in America these days. And so, lacking any more compelling thoughts from Democrats, we get declarations such as "Somewhere In Texas, A Village Is Missing Its' Idiot." Or "Arms Are For Hugging," which I saw yesterday. And "Envision Bush Out Of Office."
Dumb Dem bumper stickers are only a leading indicator of a far greater problem. This "Envisioning" deficit is one big reason why, even with everything else going their way; poised to take back the U.S. House and possibly even the Senate as well, that Democrats could still manage to fall short. So postulates John Heilmann, at least, in the current issue of New York Magazine.
The (GOP's) Contract (With America, circa 1994) was a silly, obvious gimmick, its planks ranging from the merely hoary to the plainly unconstitutional. But it also embodied a clear, coherent, and specific governing agenda—something the Democrats have failed utterly to offer in this campaign cycle. "A lot of people don't leave unhappy marriages until they find someone they want to have an affair with—they need an attractive alternative," says a Democratic consultant who worked in the Clinton White House. "And we haven't done very well at offering one—at defining the positive case for change."

The twisted thing is that this failure was a conscious choice by some, though not all, of the Democratic leadership....So maybe the GOP has dug itself a hole so deep that the Democrats will finally win. Maybe they won't be hurt by the absence of an agenda—though, even in the short run, (GOP pollster Frank) Luntz reserves some doubt. "They'll probably win narrowly in the House," he says. "But if they had a positive message, they could probably take ten more seats."

And what of the longer run? What happens if the party is restored to power after running a campaign where the essence of its appeal was, Bush and his enablers blow? Here's hoping that its members realize that more is needed to cement a durable Democratic revival. Here's hoping they grasp that pursuing a nonstop strategy of investigation and prosecution—gloriously cathartic though it would be—is a sure way to turn whatever victory they might win this year into something that Pyrrhus would be proud of.
If Dems somehow manage - in spite of themselves - to do as well as the polls predict they will next month, they'll be well advised to heed a warning from fellow Democrat Mark Warner, who impressed many with his campaign and governance in his term as Governor of conservative-leaning Virginia. Warner just last week surprised many political handicappers by opting out the party's primary elections scrum for the '08 presidential nomination, citing what may have actually been - for once - a truthful "family" excuse. John Dickerson, In Slate, characterizes what Warner's candidacy might have meant, and why his slant is one the party ignores at its own risk.
Whether he had a shot, Warner would have been an interesting candidate to have in the race. He was running to Hillary's right and saying the kind of moderate things that would have picked a fight with the party's liberal activists. Party fights are good: They work things out, and the Democrats could use the debate. At one point, Warner said the finger-pointing about Bush misleading America into Iraq wasn't helpful and that the party needed to move on. He said tax cuts were not a universal evil and that when Democrats talk about taxing the rich, they offend those people who want to be rich themselves someday. He was not a fan of what he called the party's "class warfare" populism that many Democrats think is the key to winning back the White House.
As a generally Libertarian-leaning Republican very interested in seeing a better, smarter Republican party, I realize the importance of stronger competition. So I hope Democrats are smart enough to see the wisdom in Warner's words. But I doubt they are. And in the end, it will be their undoing. They're just too damn angry. Even their court scribes have got Dengue Fever.
TECHNORATI TAGS: SEATTLE, DEMOCRATS, PLATFORM, ELECTIONS, 2006, GEORGE W. BUSH, NEW YORK MAGAZINE, JOHN HEILEMANN, FRANK LUNTZ, SLATE, JOHN DICKERSON, MARK WARNER, VIRGINIA, PRESIDENT, 2008>
Posted by Matt Rosenberg at 09:21 PM | Comments (1)
October 09, 2006
Hamas Is Palestine's Worst Enemy
Despite the high stakes globally, the Palestinian-Israeli conflict has always been somewhat of an eye-glazing topic for many people who should care more. So many charges and counter-charges, so much anger and emotion, so much looking backward and blamecasting, so many talking heads in "Crossfire" mode. Oy! This much is clear. Israel is not going away anytime soon. Or probably anytime before the planet Earth is eventually consumed by the sun. The Palestinian territories, on the other hand, cannot have any hope of achieving their putatively desired state of nationhood unless and until there is a clear consensus among the Palestinian people and their political leaders that Israel is recognized as a state; that Israel has a continued right to exist; and that Palestinians must forever forswear further suicide bombings against Israel. Further, it should be understood that Israel will retain the right to control immigration. As the only Mid-East democracy, Israel already exerts a powerful pull on many Arabs, quite a few of whom have gone to great lengths to become Israeli citizens; and some of whom hold elected office. Yet Israel will insist on retaining the right to control immigration by dint of its democratic process, even after any settlement creating a Palestinian nation is reached. Unhindered "right of return" for any and all comers is out of the question.
Due to centuries-old grievances on both sides, all of this is a bitter pill for some Palestinian radicals to follow. But it how things are, like it or not. The current voice of reason in Palestine's government is Palestinian Authority President Mahmoud Abbas of the Fatah party, that of the late and deservedly controversial Yasser Arafat. Fatah has had its own problems with corruption, and lost majority control of the government in elections last January to the radical Islamists of Hamas. How mule-headed and hateful is Hamas? Here is Palestine's Prime Minister, a Hamas adherent, speaking to a large crowd just the other day:
Palestinian Prime Minister Ismail Haniyeh told a huge, cheering crowd Friday that his Hamas movement will not give in to international pressure that has crippled his government, and said the group still has no intention of recognizing Israel. "I tell you with all honesty, we will not recognize Israel, we will not recognize Israel, we will not recognize Israel," Haniyeh said to thunderous applause from tens of thousands of supporters, many waving green Hamas flags, at the Yarmouk soccer stadium in Gaza City.
The cheers are largely for show, to the Western infidel media. International sanctions are taking a heavy toll, the territories are grinding into severe dysfunction, and Hamas' days in majority power may be numbered. Matthew Kalman of the SF Chron files a story today headlined, "Palestinians Losing Faith In Hamas - Trade Has Dwindled, Government Unable To Fulfill Its' Functions." He reports:
Before it won parliamentary elections, Hamas earned its popularity among ordinary Palestinians because it ran schools, hospitals and other social services without the corruption that riddled Fatah. In the West Bank and Gaza Strip, more than 140,000 government workers -- about one-third of the working population -- have not received salaries since March, the result of an economic boycott imposed on Hamas by Israel, the United States and most Western countries because of its refusal to recognize Israel, give up terrorism or honor past peace agreements. The Hamas government thought it would be able to bypass the boycott with support from sympathetic governments led by Iran, but the cash has not lived up to the promises.

Government schools have been shut since the start of the new school year in early September, the result of a strike by teachers who have not been paid since before the summer. Unpaid police are eking out a living by moonlighting or running protection rackets and debt-collection services. The price of diesel has almost doubled in the past year, and gasoline has gone up by 20 percent. Crime is rising. Armed, unemployed men -- some of them nurtured during the intifada -- have begun using their weapons to hold up gas stations and other easy prey.

For months, Palestinian Authority President Mahmoud Abbas of Fatah and Prime Minister Ismail Haniyeh of Hamas have been engaged in fruitless talks on a unity government, but Hamas refuses to recognize Israel -- a position Haniyeh emphasized in a fiery speech Friday in Gaza City. "We will not change our position on the issue of recognizing Israel, and any member of Hamas who recognizes Israel will leave the movement," said Mahmoud Zahar, the Hamas foreign minister. A poll conducted by the Jerusalem Media and Communications Center in late September suggested Hamas was losing the support it gained in January's election. The poll showed that 55.9 percent of Palestinians support the formation of a national unity government as the best way out of the current crisis. Moreover, 32 percent said they would vote for Fatah if elections were held today, while 21.9 percent said they would vote for Hamas.
Hamas' charter makes it fairly clear how they view Jews (Article 28).
The Zionist invasion is a vicious invasion. It does not refrain from resorting to all methods, using all evil and contemptible ways to achieve its end. It relies greatly in its infiltration and espionage operations on the secret organizations it gave rise to, such as the Freemasons, The Rotary and Lions clubs, and other sabotage groups. All these organizations, whether secret or open, work in the interest of Zionism and according to its instructions. They aim at undermining societies, destroying values, corrupting consciences, deteriorating character and annihilating Islam. It is behind the drug trade and alcoholism in all its kinds so as to facilitate its control and expansion.
This sort of poison cannot be a core value of any 21st Century government, much less one in territories locked in geopolitical dispute with a powerful adversary such as Israel. In fact, such values are a core reason for the continuance of the stand-off. It is also interesting to note, as cited in the above pull-quote from Kalman's article, that government workers comprise one-third of the working population in the Gaza Strip and West Bank. That's a pretty striking percentage. A greater emphasis on secular education, economic development, technology and global fertilization of the economy and intellectual sphere in Palestine would result in a greater balance between public and private sector employment, and boost opportunity for many of the young Palestinian men who have little hope of a decent life now.
The enemy of Palestine is not Israel, but the religious demagogues of Palestine who preach hate toward Jews and toward the nation of Israel. As a practical matter, Israel is an established political force that real grown-ups in Palestine would recognize, and seek the best possible deal with, rather than foolishly wish it away. The terms of the deal aren't going to get any better as time passes; but rather, worse. Abbas has the power to dismiss the Hamas-led parliament. He should exercise it very soon, unless there is a sudden turnabout on the part of Hamas.
TECHNORATI TAGS: PALESTINE, ISRAEL, HAMAS, FATAH, ISMAIL HANIYEH, MAHMOUD ABBAS>
Posted by Matt Rosenberg at 10:10 PM | Comments (0)
Rosenblog Opinion Review, Vol. 27
Fred Hiatt, Washington Post: "China's Iron Grip - Beijing Harrasses Dissidents, Even In The U.S."
Max Boot, Los Angeles Times: "Muslims' Complicity With Violence."
Jonathan Last, Philadelphia Inquirer: "Post 9/11 Conflicts Rooted In History: It's Not Just Iraq, Afghanistan and A "War On Terror. It's The West vs. The Islamic World, A Clash That Has Never Abated."
Dennis Byrne, Chicago Tribune: "Terror Report Fight Misses Big Picture: National Intelligence Estimate Also Hints At Ways To Beat Jihadists, Promote Democracy."
Lee Smith, Weekly Standard: "Fighting The Over There....Iraq Is Not A Breeding Ground For Terrorists - It's A Dumping Ground."
Charles Krauthammer, Seattle Times: "Iraq And Terrorism - A Rebuttal."
Vic Fingerhut, Washington Post: "Iraq Is A Loser For Dems, Too."
New York Times, editorial: "Protecting A Freedom To Insult." (New regulations restricting freedom of speech and the press in Iraq are badly misguided).
Mansoor Ijaz, Christian Science Monitor: "End The Blame Game And Start Fighting Terror."
Robert Satloff, Washington Post: "The Holocaust's Arab Heroes."
John Kass, Chicago Tribune: "Like Father Like Son? (Jesse) Jackson (Jr.) Disagrees."
Timothy Burgess, Seattle Times: "Sidewalks Without Children."
Los Angeles Times, editorial: "Angelides Vs. Bush: Gubernatorial Candidate Might Consider Campaigning For Governor, Instead Of Against The President."
Chip Johnson, San Francisco Chronicle: "Oakland's Daily Tragedies Surpass School Shootings - City's Soaring Homicide Tally Fails To Elicit The Public Outcry, Official Action It Deserves."
Tacoma News Tribune, editorial: "$4 Drugs? Wal-Mart Has The Rx for Millions."
Mark Morford, San Francisco Chronicle: "Attention Liberals, Please Breed - Conservatives Are Outbirthing Libs By A Wide Margin - How Soon Can You Get Knocked Up?"
Yakima Herald Republic: "Transfats Are Bad - So Are Laws Against Serving Them."
Jonah Goldberg, Los Angeles Times: "Foley Flap Hights Dems' Hypocrisy."
TECHNORATI TAGS: CHINA, HUMAN RIGHTS, IRAQ, TERRORISM, ISLAMISM, DEMOCRATS, HOLOCAUST, JESSE JACKSON, JR., CHICAGO, OAKLAND, MURDERS, SEATTLE, CHILDREN, POPULATION, PUBLIC SCHOOLS, WAL-MART, PRESCRIPTION DRUGS, BIRTH RATES, LIBERALS, CONSERVATIVES, TRANSFATS, MARK FOLEY>
Posted by Matt Rosenberg at 10:38 AM
October 06, 2006
Anti-Reptilians Must Hie To High Desert Battleground
Honestly, these people are so clueless. If they want the "Reptilians" outta D.C., well, they should be spending their organizing capital on phone-banking and other GOTV activities. But it feels so much better to vent, over and over.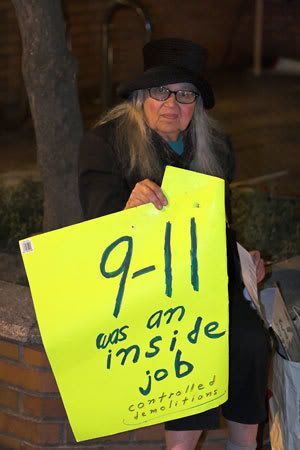 One big theme at the "World Can't Wait" Impeach Bush protests yesterday was controlled demolitions. Bush-ites apparently blew up the levees in New Orleans.
And the Twin Towers, as we learn in this pic (right) from Woodinville photoblogger Byron Dazey's great post on the Olympia and Seattle protests.
In San Francisco, protesters were planning to jail a 40-foot-high statue of Bush, for war crimes. The Chron reports:
(World Can't Wait) national coordinator Debra Sweet said, "The Bush regime is leading us in such a dangerous direction that the only thing you can do is literally pull people out on the streets to express the sentiments that aren't being expressed in any other way."
The problem, Debra, is that those sentiments were expressed in '04, and didn't work. Neither more anti-Bush bile, nor grasping at things like the Foley scandal, is how Dems win the House and Senate in '06, or any other year.
Strategically, renegade conservative author Ryan Sager is right: these folks ought to continue moving to the Inland West en masse if they want to put Congress and the White House in Democratic hands.
In his seminal book, "The Elephant In The Room" (full 1st chapter excerpt here) Sager postulates the real Achilles Heel of the GOP, over coming years, will be its Big Gummint pandering to social conservatives. Smart Dems will take note, with the key, libertarian-minded Inland West electorate - already beginning to embrace their party - at top of mind.
TECHNORATI TAGS: SEATTLE, OLYMPIA, SAN FRANCISCO, WORLD CAN'T WAIT, PROTESTS, OCT. 5, BUSH, IRAQ, TORTURE, CIVIL RIGHTS, CONGRESS, SENATE, ELECTIONS, INLAND WEST, RYAN SAGER, ELEPHANT IN THE ROOM>
Posted by Matt Rosenberg at 10:39 AM | Comments (0)
October 05, 2006
Iran's Ayatollah Khameini: Unintentional Masturbation OK During Ramadan
UPDATED: As MadMullah In Charge Of The Country At The Behest Of The Fundamentalists And Brownshirts (his official Western title), Iran's Ayatollah Sayyid Ali Khameini is asked many weighty questions on matters relating to Islamic law. Ynet reports:
Khameini, who is Iran's most powerful political and religious figure, was asked on his website: "If somebody masturbates during the month of Ramadan but without any discharge, is his fasting invalidated?" (Answer:) "If he do(es) not intend masturbation and discharging semen and nothing is discharged, his fasting is correct even though he has done a ḥarām (forbidden) act. But, if he intends masturbation or he knows that he usually discharges semen by this process and semen really comes out, it is a ḥaram intentional(ly) breaking fasting," the Iranian leader said, posting the reply on his website.
I'm glad he's cleared that up. (Recommended soundtrack: Fleetwood Mac's "Rattlesnake Shake" - circa '71, when they still had balls). There's no shortage of online queries to imams ersatz and otherwise about the permissibility of this and that. Earlier this year, Islamic clerics debated a pronunciamento from one of their number in Egypt that it was contrary to their religious laws for a husband and wife to have intercourse fully naked.
I sort of wish they would all wrestle with these strictures, though: Is it even remotely permissible for any imam anywhere to preach forced conversion of non-Muslims to Islam? Or second-class citizenship with a special tax for non-Muslims? Or death to "unbelievers"?
Anyone who answers "yes" is a real......jerk-off.
Hat tip: Eric.
TECHNORATI TAGS: IRAN, KHAMEINI, SHARIA, RAMADAN, MASTURBATION, FORCED CONVERSION, DEATH TO INFIDELS, FLEETWOOD MAC>
Posted by Matt Rosenberg at 04:08 PM | Comments (1)
October 03, 2006
Islamist Insanities Intensify
"Racist!" "Islamophobe!" These are among the word-weapons with which critical discourse about growing Islamic extremism is stifled. But this is no time to retreat to an ostrich colony of Islamophobiaphobia. There's really not a helluva lot of negotiation to be done with these fellahs.
It is Ramadan, the month of jihad and martyrdom, claims al-Qaeda In Iraq leader Abu Hamza al-Muhajeer in a newly released video. He urges al-Qaeda followers in Iraq to kidnap Westerners in an attempt to force release of Sheik Omar Abdel Rahman, imprisoned for masterminding the 1993 bombing intended to topple the World Trade Center's twin towers in New York City eight years before bin Laden's jhadists pulled it off with hijacked U.S. commercial jets in an act of war which left 3,000 dead. But al Qaeda's new Iraq ops chief is winning scant mindshare, especially with the majority of the Sunni Muslim swing constituency. He urges their rerturn to what he calls their true religion, al-Qaeda's convert-or-die brand of Islam known as Wahhabism. Among Sunnis already so aligned are Jaish al-Mujahideen, which recently posted a celebratory video at YouTube showing U.S. soliders being killed by explosives, and a sniper.
An AP report on the al-Muhajeer video notes he also issues a call to Islamist scientists to develop chemical, biological and nuclear weapons for deployment against the Western menace in Iraq and elsewhere. Killing infidels with enriched uranium is a smart career move for ambitious scientists, he says.
The fugitive terror chief said experts in the fields of "chemistry, physics, electronics, media and all other sciences - especially nuclear scientists and explosives experts" should join his group's jihad, or holy war, against the West. "We are in dire need of you," said the speaker, who identified himself as Abu Hamza al-Muhajir - also known as Abu Ayyub al-Masri. "The field of jihad can satisfy your scientific ambitions, and the large American bases (in Iraq) are good places to test your unconventional weapons, whether biological or dirty, as they call them."
So the IEDs and suicide bombers just aren't doing it. Because neither we nor the Iraqis will turn tail. Plus he's losing the Sunnis to the hard-road Democratic process. Worse, it turns out jihadists are no more than 10 percent of an Iraq "insurgency" which the Brookings Instiution estimates at 20,000 or less, a tiny fraction of the country's population. Thus the continuing desperation of the freelance holy warriors, and the minority Sunni and Baathist rebels. Yet still emboldened by quavering public opinion in the U.S., they hope their continuing and cowardly terrorist attacks on police recruits, nurses or schoolteachers, or the next counterattack by Iraqi Shi'ites against them will return the U.S. Congress to Democratic control and all U.S. troops home. The war in Iraq WILL fuel global jihadism precisely IF we leave on their schedule, rather than ours.
Says Walid Phares, senior fellow at the Foundation For The Defense Of Democracies, and author of "Future Jihad: Terrorist Strategies Against The West," in a New York Post interview:
The debate in the U.S. today is about whether the terrorists are getting stronger because of U.S intervention in Iraq. But...the jihadists have been in the Middle East for decades, and have been spreading their Wahhabi ideology for years. They will move to any country that moves toward democracy. That is the real battle in Iraq: future democracy. Americans need to understand that the jihadists are international; they travel from spot to spot to conduct their war. In the past it was Afghanistan and Iraq. Soon it will be Somalia and Sudan. The only serious threat to Iraq is the sectarian incidents. But when terror is reduced, mainstream politicians will understand that further destruction and killings don't serve the interests of a stable Iraq.
In the meantime: Ansar Al Suna (Kurdish allies of al-Qaeda) threaten to bring down the wall of Rome; and The FBI eyes with concern emergent alliances ties between U.S. organized crime and jihadists.
What's it all about Alfie? World domination, that's all. In case you missed this, from Paul Sperry in Front Page;
"Islam isn't in America to be equal to any other faith, but to become dominant," CAIR (Council on American-Islamic Relations) co-founder Omar Ahmad once told a Muslim audience in Fremont, Ca. "The Quran should be the highest authority in America." Lest anyone think he was misquoted, CAIR's own spokesman, Dougie "Ibrahim" Hooper, let it slip to the Minneapolis Star Tribune that he essentially wants the same thing: "I wouldn't want to create the impression that I wouldn't like the government of the United States to be Islamic sometime in the future."

They aren't alone: The former head of the American Muslim Council -- supposedly the "most mainstream Muslim organization in America" -- exhorted Muslims to turn the U.S. into an Islamic nation ruled by Quranic law even if it takes "a hundred years," according to federal court records. Popular New York imam Siraj Wahhaj told his flock in a taped sermon available at his mosque: "In time, this so-called democracy will crumble, and there will be nothing. And the only thing that will remain will be Islam." Another so-called moderate cleric, Zaid Shakir, admitted in a recent interview with the New York Times: "I would like to see America become a Muslim country."

These quislings aren't part of the fringe. They represent the Muslim establishment in America. And they are on record wishing America would be ruled by Islamic law and not the Constitution.
The shrilly illiberal isolationists and musty paleocons who insist the U.S. should just back off on Islamic extremism are palpably delusional. Truth is getting at least as strange as fiction. Ferrigno is on to something.
TECHNORATI TAGS: ISLAM, MUSLIMS, ISLAMISM, ISLAMOPHOBIAPHOBIA, AL QAEDA IN IRAQ, IRAQ, ROME, NEW YORK, INSURGENCY, KIDNAPPINGS, CHEMICAL WEAPONS, BIOLOGICAL WEAPONS, WALID PHARES, FUTURE JIHAD, ANSAR AL-SUNA, ROME, FBI, ORGANIZED CRIME, SHARIA, UNITED STATES, ROBERT FERRIGNO, PRAYERS FOR THE ASSASSIN>
Posted by Matt Rosenberg at 01:23 PM | Comments (1)
October 02, 2006
Life Is Harder Today For Texas Dildo Peddlers
In a blow to Texas dildo salesmen and a certain cohort of that state's female populace, the U.S. Supreme Court today declined to hear an appellant's claim of federal unconstitutionality against a state law barring the manufacture, dissemination and marketing of devices shaped like sex organs. More here via The Washington Post. Left standing without further challenge is an appeals court ruling stipulating the law does not interfere with the right and ability of an individual to use a dildo in private.
Yeahbut, if making, disseminating and marketing them are illegal in Texas, what are you supposed to do? Smuggle one in across state lines in your Jimmy's glove compartment? Or maybe, men - just keep a lot of squid and sardines around. With a hat tip to the broader issues analysis by columnist and author Ryan Sager in his excellent new book, "The Elephant In The Room," anti-dildo marketing legislation smacks of hardcore Big Gummint southern conservatism versus the more sane libertarian brand practiced out West. Yet politically, I can see where the Supremes would pretty much have to leave matters of dildo dissemination to the states. As the WaPo notes:
Colorado, Kansas and Louisiana have held such laws unconstitutional, while Georgia, Mississippi and Texas have upheld them, said (plaintiff Ignacio Sergio) Acosta's lawyer in urging the Supreme Court to take the case.
I think this one's a natural for freewheelin' Texas gubernatorial candidate Kinky Friedman, who already clearly speaks to the pro-dildo constituency. And I say that in the nicest possible way.
TECHNORATI TAGS: U.S. SUPREME COURT, SEX TOYS, DILDOS, TEXAS, ACOSTA V. TEXAS, RYAN SAGER, ELEPHANT IN THE ROOM, KINKY FRIEDMAN, GOVERNOR>
Posted by Matt Rosenberg at 06:00 PM | Comments (1)
News Of The Skewed, Vol. 8
UPDATED: There was this guy from Pasco, Wa. named Altravis Champagne Bethea, but the sub-ironic playa didn't even have a beer budget. Dog. The Tri-Cities Herald reports:
Altravis Champagne Bethea is scheduled for trial Nov. 15 on second-degree robbery. Pasco police responded Sept. 21 to a panic alarm at Atomic Foods after a clerk became concerned as owner Gurbans Singh Bains confronted Bethea. Bains told officers he'd heard Bethea had two quart-size beers in his pocket and asked if he had a receipt, according to court documents. Bethea reportedly said, "Dog, I have no beers," then pushed Bains hard on the chest. Bains then ordered an employee to call police. Bethea walked out of the store but was arrested a short time later on West Court Street and was identified by witnesses as the suspect, documents said.

Jorge Sanchez, who was delivering beer to the store, told police Bethea approached him in the parking lot before going into the store. Bethea reportedly said to him: "What's up dog? I want to get a job with you. It would be nice to have all this beer and get drunk all day. I got something for you." Sanchez said he thought Bethea was going to rob him, but Bethea went into the store.
Altravis Champagne versus Gurbahn Singh Bains in a convenience store called Atomic Foods. Straight Outta The Simpsons, dog. Altravis Champagne Anybody is almost certainly going to have been raised poorly, and to have thus missed a lot along the way. Better to give your kid a dippy name inspired by a state (i.e. Montana), or geographic feature (Sierra) than an alcoholic product, as also indicated by sad Seattle saga of the drug-addled bus hijacker Courvoisier Carpenter.
Meantimes, Ars Technica reports that in a new study conducted by the Pew Survey On The Internet And American Life:
...FirstGov developer Martin Kwapinski (predicted) that "random acts of senseless violence and destruction (ed.- against Internet infrastructure, perpetrated by lo-tech misfits) will continue and expand due to a feeling of 21st century anomie, and an increasing sense of of lack of individual control." Some of the respondents sympathized with the Luddites. Respondent Denzil Meyers said, "we need some strong dissenting voices about the impact of this technology in our lives. So far, it's been mostly the promise of a cure-all, just like the past 'Industrial Revolution.'"

This particular theme is examined at length in Star Trek Deep Space Nine season two, episode fifteen, "Paradise," in which Captain Sisko and Miles O'Brien become stranded on a planet populated by the followers of an extreme Luddite philosopher who believes technology is detrimental to human growth. One is also reminded of season five, episode two, "Let He Who is Without Sin...," in which a group of "Essentialists" sabotages the weather control system on the planet Risa in order to convince vacationers that dependence on technology has weakened them.
Here on earth, kids are increasingly telling their friends face-to-face conversations are too complicated; instant messaging is preferable. But as the report in the SF Chron notes, there's always e-therapy.
MySpace.com hopes to open a Chinese site. Sample entry (not): "Rural property rights advocate, against forced abortions and Internet monitoring, worried about government-sponsored thuggery targeting dissidents, but supporting full nationhood for Taiwan...invites like-minded compatriots to regular private gatherings in wiretap-proof room. Amenities to include North Carolina BBQ, Dixie Beer, Nashville jams, much political discussion, and especially, planning to fully dismantle Chinese Communist Party and organize people's revolution for free elections to the national assembly. E-mail yan@liberalizationmychineseass.org."
Vermont wants to secede from the United States. Or at least some people there want it to. Hey! Wouldn't that get Bernie Sanders out of the Senate? And what could be more fitting than officially acknowledging that Democratic National Committee Chairman Howard Dean of Vermont really does come from a foreign country?
TECHNORATI TAGS: ALTRAVIS CHAMPAGNE BETHEA, PASCO, COURVOISIER CARPENTER, PEW SURVEY ON THE INTERNET AND AMERICAN LIFE, TECHNO-LUDDITES, SABOTAGE, MYSPACE.COM, CHINA, VERMONT, SECESSION, BERNIE SANDERS, HOWARD DEAN>
Posted by Matt Rosenberg at 10:22 AM | Comments (1)