September 28, 2006
Rosenblog Opinion Review, Vol. 26
Mick Hume, Times Of London: "Call Me Negative, But Positive Images Are The Last Refuge Of The Incompetent."
Jonathan Finer, Washington Post: "A Dishonest Debate On The Iraq War."
Newsweek Interview With Iraqi President Jalal Talibani, Washington Post: "Iraq Is Not In Chaos."
Thomas Sowell, Human Events: "Suicidal Handwringing."
Joshua Muravchik, Los Angeles Times: "Weakening Rights To Save Them."
Ruth Marcus, Washington Post: "All The King's Earmarks."
Jack Fuller, Chicago Tribune: "Truth A Key Weapon For Fighting Poverty."
Editorial, The Oregonian: "In Spinach Scare, Nutrition Loses, Too."
Debra J. Saunders, San Francisco Chronicle: "Lifestyles Of Lear Jet Liberals."
Ryan Sager, Los Angeles Times: "Californians - The GOP's Real Migrant Problem."
Ismael Wolff, New York Times: "The Silk Revolution."
Robert J, Samuelson, Washington Post: "A Web Of Exhibition."
Rob Lyons, Spiked: "Jamie Oliver - What A 'Tosser.'"
Jerry Large, Seattle Times: "Teacher Tried Some Real 'New Math.'"
TECHNORATI TAGS: POSITIVE IMAGES, WOMEN, MUSLIMS, IRAQ, JALAL TALIBANI, UNITED STATES, TERRORIST DETAINEES, INTERROGATION, TORTURE, CIVIL LIBERTIES, U.S. CONGRESS, EARMARKS, GLOBAL POVERTY, PAUL WOLFOWITZ, SPINACH, E. COLI, INTERNET EXHIBITIONISM, JAMIE OLIVER, FOOD POLICE, MINORITY STUDENTS, MATH, HIGH EXPECTATIONS>
Posted by Matt Rosenberg at 09:50 AM
September 26, 2006
Animal Rights Wrongs, Vol. 6
In a June post, I critiqued the caving in of British Columbia education officials to litigious activists by granting them K-12 review of public school curricula for gay-friendliness, and by agreeing to initiate a Grade 12 "social justice" course to validate gay, lesbian, bi-sexual and transgendered sexual orientations. Now, as far as I'm concerned, the Gs, Ls, Bs and Ts can be as G, L, B and T as they like; so long as their sexual expressions of self occur between consenting adults and their behavior in public meets broader community standards of decency and legality. But as I wrote:
I think there is a problem here. Certain other constituencies receive only lip service, if that. It is clear that the transgendered community, the bondage community, the leather fetishist community, and especially the polyamorous and non-gendered communities won't be granted adequate consideration under the settlement. It will be necessary to appoint additional curriculum overseers to ensure these groups - whose members also have made important contributions to history - are likewise given their due in the lessons taught to B.C's public school students. Otherwise they might also suffer human rights violations. Moreover, sexuality is hardly the only important diversity teachings criterion. Following the logic displayed in this settlement, coursework will also need community review to ensure it is appropriately inclusive and respectful to different racial and religious groups.
In this post-modern age, religion effectively encompasses moral crusaders in thrall to the high priests and priestesses of animal rights. The Vancouver Sun reports that the "social justice" course about which I earlier blogged must now, according to the urgings of a Vancouver Humane Society representative, also ventilate the tyranny of humans over animals because something called "speciesism" is alleged to be the moral equivalent of racism and sexism. Cows, pigs and chickens, you see, are not only subjugated cruelly by human animals. They aso lack parity with preferred domestic species such as cats and dogs. This despite the occasional unguent tale of a legally victorious, condo-dwelling potbellied pig.
When you espouse the gospel of "speciesism" and are confused about the differences between animals and humans, you may well engage in confused or even heinous actions as a result. You might merely protest cockroach-eating contests; or take fake blood, animal costumes and animal face masks to staged "die-ins." Fairly harmless. Then again, you might instead morph at a recently former girlfriend's behest from animal lab researcher and newly-minted molecular biology PhD to a jailed animal rights vandal. You might be sentenced to two years in prison for death threats made on behalf of......guinea pigs. Or you might or tell lawmakers that animal researchers deserve to die.
Animals were put on earth; not into a vacuum. Animals have sometimes preyed on man, and have always preyed on one another. They have also formed strategic alliances with each other, and with man. To humans, animals have provided companionship, meat, labor, and warm fur pelts for protection against the elements. For millenia.
Now they are also subjects for scientific research.
They are animals. We are humans.
We and animals have some things in common, but also have enough differences that humanoids should on balance be very comfortable with our species taking the upper hand.
To equate the rights of the animals with the civil and legal rights of humans is ultimately quite dehumanizing.
TECHNORATI TAGS: ANIMAL RIGHTS, VANCOUVER, SPECIESISM, COCKROACH EATING, DIE-INS, ANIMAL TESTING, VANDALISM, DEATH THREATS>
Posted by Matt Rosenberg at 11:47 AM | Comments (1)
September 25, 2006
Seattle September Sunset
Autumn days in Seattle often start with a thick mist and the sound of ferry horns on Puget Sound. Then - just maybe - the fog lifts completely. Today, our third straight day of clear blue skies by mid-morning, balmy temperatures and stupendous sunsets. Like this, which I shot after dinner. Those are the Olympic Mountains, and in the foreground, Puget Sound.
TECHNORATI TAGS: SEATTLE, PHOTOGRAPHER, SUNSET, PUGET SOUND, OLYMPIC MOUNTAINS>
Posted by Matt Rosenberg at 09:34 PM | Comments (2)
Japan Wants to Increase Births, But What's The Pitch?
UPDATED: Japan just isn't making babies like it used to. It's true that in August, the nation's health ministry reported an uptick in births for the first six months of 2006 versus a year ago, but then again, '05 saw Japan's birth rate reach its lowest ever: 1.25 per woman, on average. As BBC reports, a rate of 2.1 is needed to keep the population from shrinking further. From an international geopolitical perspective, what would be the effect of a Japan one day lacking a Japanese majority? Worth chewing on, along with parallel questions regarding Europe. But never fear. The Japanese government is here to help by setting a new target rate for total fertility: each Japanese woman on average and over the full course of her life, should have 1.4 kids instead of the current 1.25. It's hard to imagine that pronouncement of this new magic number will be much more help than government-sponsored hiking trips and cruises for Japanese singles.
TOKYO - The Health, Labor and Welfare Ministry is determined to set a numerical target for the total fertility rate - the average number of children that a woman gives birth to during her lifetime - aiming to raise the figure from the current 1.25 to around 1.4, as part of measures to prevent a further decline in the number of births, government sources said Saturday. The ministry plans to officially announce the figure in December, and to research practical measures for achieving the goal.
Hmm, let's see. Any ideas, anybody? Here's one, for starters. I think they'd really better leave .4 out of the marketing campaign, in favor of the number 4 - meaning, of course, mom, dad and two kids.
Actually it turns out the biggest reason mentioned for trying to increase Japanese fertility, according to the latest story (second link, above), is to fund pensions for the growing ranks of Japanese retirees. But this is a pretty crass way to compel more births, so I think they're gonna have to come up with something else.
They might start with exploring the root causes of why so many Japanese women choose not to get married at all, or get hitched so late that having more than one kid is unlikely. In the U.S., that's due in large part to the "who-needs-a man?" post-feminist line peddled to females from college onward, and to a lesser extent, environmentalism in extremis. But in Japan there's another factor, beyond the sharp decline in arranged marriages since the mid-1950s. A great many men are still forced to show unnatural devotion to their work lives, including mandatory and heavy after hours drinking and dining with co-workers and clients, and may not even come home several nights a week, checking into "salaryman" hotel cubicles near the office. This used to work OK in days gone by, but no more.
In this August, 2004 BBC report, correspondent Jonathan Head observes:
For half a century, Japan built the world's most successful industrial society on the back of a relentless work ethic which rigidly separated the roles of men and women. Women were tied to looking after the home and children. But the Japanese salaryman was expected to devote every waking hour to his company, even if that meant being a stranger to his own family. It's a formula which is now being rejected by younger women in their millions, leaving the more traditionally minded men bewildered and confused. In desperation, these young men have formed a group calling themselves The Cherry Boys. A throwback to a bygone age of chivalry, they have taken a vow of chastity until they find the woman of their dreams.
Yes, but if their dream is that of their fathers', then Japan's birth rates will only continue to slide.
"Two Marriage Partners + Two Children = Happy Family." There's a rough start for the fertility push. Notice I didn't say "equal" partners; the word is too loaded in this context. The modern idea of marriage as an evolved partnership which can allow for a wife's career and which requires an active contribution to parenting and family life from the father is a big part of what Japan will have to promote, to re-charge the popularity of marriage and births over coming decades. And it is private sector executives and managers who will have to set the family-friendly tone. Meanwhile, the government must 86 the lame "save the pensioners" motif.
TECHNORATI TAGS: JAPAN, BIRTH RATE, FERTILITY, MARRIAGE, SEX ROLES, SINGLE WOMEN, SINGLE MEN, FAMILY SIZE, PENSIONERS>
Posted by Matt Rosenberg at 06:30 PM | Comments (3)
September 20, 2006
Life Without Bagged Spinach Is Simply Implausible
UPDATE II: No one really knows yet what caused the national outbreak of E. coli poisoning from bagged spinach. California's spinach industry is taking a real economic hit, as sales of the product are still banned nationwide. One death is definitely tied to the bagged spinach E. coli outbreak; another may be. Most victims simply got sick; 130 cases have been reported. Public health authorities are trying to figure it all out, and contaminated irrigation water is one possible culprit. In such instances, washing the spinach won't help, but boiling it will likely kill the germs, according to the Centers For Disease Control.
Which would at least leave us with goma ae, the fine Japanese spinach dish, in which the spinach leaves are boiled; drained and chilled with soy and sesame seed; and served up as an appetizer or side dish. Perhaps alongside your tonkatsu pork cutlet in a crisp Panko breading napped with that special plum sauce; perhaps accompanying your mackerel teriyaki; or with Korean gal-bi ribs.
Spinach is about: balancing the ingredients in your meals; nutrition and health; and richly varied preparations from all corners of the globe.
It is only natural, in an unnatural way I suppose, that the modern quest for convenience has led to the proliferation of the bagged, pre-washed variety of spinach now at the center of the mysterious E. coli outbreak. It is far preferable for the time-pressed home cook, as rinsing unbagged spinach leaves takes ages and doesn't really work too well. There's always serious grit you missed, somehow, even after the third, soggy go-round. I swore off that years ago.
I had some of the bagged stuff in my fridge right when the E. coli scare hit, and my family had been eating it right along. In a Chinese soup one night, and I was going to put some in a dinner salad the day I heard the news. Almost didn't dump it, as no one here had gotten ill, but decided to play it safe. Right now, some unscrupulous grocers are reportedly selling banned bagged spinach out of the bags. I hope at present that people are steering clear of all but certified organic and homegrown.
The E. coli mystery will eventually be solved, with necessary corrections. If the growers have been skating around health issues, the state and feds will have to ensure otherwise, although regaining marketshare should be motivation enough for growers to go all out. I am counting on a bagged spinach revival because of the financial stakes; and because to me, life without it is simply not plausible.
Collards, mustard greens and turnip greens are all fairly wonderful, but they have their peculiarities and limitations. Escarole, endive and especially frisee are sublime, but face it, they're an aquired taste and far less versatile than spinach. Broccoli rabe I love but its bitter taste, like that of mustard greens, is offputting to some. Mesclun is too fancy-pants; sugar-pea vine wonderful in stir fries but typically available only in Asian markets and then a heck of a lot of work to stem, partly because the leaves are so small.
All of which is to say that other greens tend to have their pecadillios.
A few preparations help demonstrate why spinach, most particularly the handy bagged kind, is of primal importance in the larger scheme of things.
Sag Paneer. This classic Indian dish (pictured below, left) is made with bagged spinach finely chopped in a food processor, then eased into a basic white sauce jazzed up with basic Indian spices such as ground cumin, cayenne, coriander, clove, Kosher salt, and a small pinch of fenugreek if you have it.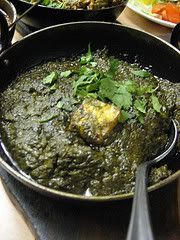 After simmering over a low heat for about 20 minutes, you add pre-browned cubes of the pale white, looks-like-tofu vegan Indian cheese called paneer; mix it in thoroughly and cook another 15 or so minutes. Hit the concoction with a bit of cream, stirred in during the last minutes of cooking. Serve as part of an Indian feast.
I still remember a dinner at cozy, funky Moti Mahal on Belmont Avenue in Chicago's Lakeview neighborhood, just down the street from the then-abode of my bride and I, when the wonderfully mad and manic Mumbai George (where are you now dude?) upscaled my order of sag paneer at no extra cost by substituting chicken for paneer in the velvety spinach. Where he came from, that was a real sign of favored treatment.
Sag lamb is another option; the meat should be lean and tenderly cooked.
Stir-fried spinach, Chinese style. With plenty of chopped garlic, and chicken or Chinese BBQ pork. Use loads of spinach, because of course it shrinks a lot when you cook it.
Good-old fashioned creamed spinach. Can't beat it. Bagged leaves chopped finely in the food processor are crucial here.
Hedonistic Spinach Salad. With crumbled bacon, blue cheese, hard-boiled egg slices, marinated beets, candied pecans and a zesty garlic-mustard vinaigrette. Without the bagged pre-washed leaves, this is a virtual non-starter, sorry to say. It's just not the same with Romaine, either.
Anyway. We'll get to the bottom of this spinach imbroglio BEFORE there appears a ponderous five-part series in some some frumpy MSM daily titled: "Spinach - An Industry In....(wait for it now)......CRISIS."
We'd damn well better, anyway.
TECHNORATI TAGS: SPINACH, GREENS, BAGGED SPINACH, E. COLI, CALIFORNIA, CENTERS FOR DISEASE CONTROL GOMA AYE, SAG PANEER, CHICAGO, BELMONT AVE., MOTI MAHAL, LAKEVIEW, STIR FRY, CREAMED SPINACH, SPINACH SALAD>
Posted by Matt Rosenberg at 04:48 PM | Comments (0)
September 19, 2006
Pope Benedict Hits His Mark
UPDATE II: Although he has conditionally apologized to calm outraged zealots, Pope Benedict has proven his point. The leader of the Catholic Church's controversial remarks on violent extremists hijacking the religion of Islam have spawned calls for conversions under threat of death from al-Qaeda jihadists in Iraq and for "capital punishment" from a radical imam in England; plus heated condemnations from many other quarters. Yet there is real value in the dialog which has begun, and in the blowback to the blowback, if you will. For starters, The Australian does a public service by printing Benedict's remarks to the German university audience, which launched the whole flare-up. The Pope stated, in part:
I read the edition by Theodore Khoury of part of the dialogue carried on, perhaps in 1391, by the erudite Byzantine emperor Manuel II Palaeologus and an educated Persian on the subject of Christianity and Islam, and the truth of both. The dialogue ranges widely over the structures of faith contained in the Bible and in the Koran.

The emperor touches on the theme of the holy war. The emperor must have known that Sura (Koranic chapter) 2, 256 reads: "There is no compulsion in religion." According to the experts, this is one of the suras of the early period, when Mohammed was still powerless and under threat. But naturally the emperor also knew the instructions, developed later and recorded in the Koran, concerning holy war ... He addresses his interlocutor with a startling brusqueness on the central question about the relationship between religion and violence, saying: "Show me just what Mohammed brought that was new, and there you will find things only evil and inhuman, such as his command to spread by the sword the faith he preached."

The emperor, having expressed himself so forcefully, goes on to explain ... why spreading faith through violence is something unreasonable....The decisive statement in this argument against violent conversion is this: not to act in accordance with reason is contrary to God's nature. Khoury observes: For the emperor, as a Byzantine shaped by Greek philosophy, this is self-evident. But for Muslim teaching, God is absolutely transcendent. His will is not bound up with any of our categories, even that of rationality. At this point, as far as understanding of God and thus the practice of religion is concerned, we are faced with an unavoidable dilemma. Is the conviction that acting unreasonably contradicts God's nature merely a Greek idea, or is it always and intrinsically true? ...

...The West has long been endangered by this aversion to the questions that underlie its rationality and can only suffer great harm thereby. The courage to engage the breadth of reason, and not the denial of its grandeur, this is the program with which a theology grounded in biblical faith enters into the debates of our time. "Not to act reasonably, not to act with logos, is contrary to the nature of God," said Manuel II, according to his understanding of God. It is to this great logos, this breadth of reason, that we invite our partners in the dialogue of cultures.
Note first that the controversial snippet (italicized above) is described by Benedict as "startlingly brusque," and then again as "forceful." Secondly, The Pope goes on to clearly state the dichotomy which concerns him and many others today: between the rational word of God and "spreading faith through violence" by relying on the word of an "absolutely transcendent" God "not bound up" with rationality. This, unfortunately, describes a great many Islamic terrorist attacks upon Western targets. Benedict is simply drawing a universal line in the sand about what religion can and cannot be. As leader of the Catholic Church, he is so entitled. Those who disagree with his analysis are free to respond in kind.
That is, with reason, not death threats or even angry denunciations.
In today's Washington Post, Anne Applebaum writes:
...Western politicians, writers, thinkers and speakers should stop apologizing -- and start uniting....in our support for freedom of speech...and of the press. And we can also unite, loudly, in our condemnation of violent, unprovoked attacks on churches, embassies and elderly nuns. By "we" I mean here the White House, the Vatican, the German Greens, the French Foreign Ministry, NATO, Greenpeace, Le Monde and Fox News -- Western institutions of the left, the right and everything in between. True, these principles sound pretty elementary...but in the days since the pope's sermon, I don't feel that I've heard them defended in anything like a unanimous chorus.

...nothing the pope has ever said comes even close to matching the vitriol, extremism and hatred that pour out of the mouths of radical imams and fanatical clerics every day, all across Europe and the Muslim world, almost none of which ever provokes any Western response at all. And maybe it's time that it should: When Saudi Arabia publishes textbooks commanding good Wahhabi Muslims to "hate" Christians, Jews and non-Wahhabi Muslims, for example, why shouldn't the Vatican, the Southern Baptists, Britain's chief rabbi and the Council on American-Islamic Relations all condemn them -- simultaneously?
William Rees-Mogg adds this in today's FrontPage mag:
The question is whether the (Byzantine) emperor (quoted by Pope Benedict) is justified in what he said. His main thrust was at least partly justified. There is a real problem about the teaching of the Koran on violence against the infidel. That existed in the 14th century, and was demonstrated on 9/11, 2001. There is every reason to discuss it. I am more afraid of silence than offence....(In) "The Qur'an, a Biography" ...Bruce Lawrence, who is the Professor of Islamic Studies at Duke University, makes several relevant points. (Osama) Bin Laden selects only those (Koran) verses that fit his message....He collapses the broad spectrum of Koranic teaching into a double requirement: first to believe; and then to fight....Violence is a fault from which no major religion has historically been free....Yet nowadays Islam is the only major religion in which violence is a serious doctrinal issue....A significant proportion of the Islamic community does believe that suicide bombers are martyrs carrying out a religious duty. Suicide bombing causes Islamophobia....Those imams who preach al-Qaeda's view of the duty of jihad are not required to answer to any authority, even the authority of reason.

Islam has only partially experienced the modern process of enlightenment and reform, which was, after all, resisted by a number of pre-Vatican II Popes. Pope Benedict will have done Islam a service if he has started a debate within Islam and between Islam and the critics.
Finally, AP's 25-year Vatican correspondent Victor L. Simpson notes in a story just published that Benedict's concerns about violent extremism marring Islam and global relations run deep.
Pope Benedict XVI's remarks on Islam and holy war that have angered much of the Muslim world are in line with his efforts to spare religion from violence and extremism. During his 17-month papacy, Benedict has lectured Muslims on the need to teach their young to shun violence, suggested that violent as well as peaceful strains are part of Islam and pressed for religious freedom — part of efforts to extend rights to Christians in Saudi Arabia and elsewhere in the Middle East.

While Benedict's comments on Islam and holy war may not have been "politically correct," said former Vatican diplomat John-Peter Pham, "today much of our dialogue is fruitless because we feel constrained from saying what we really think."....."The violent reactions in many parts of the Islamic world justified one of Pope Benedict's main fears," said Australian Cardinal George Pell. "They showed the link for many Islamists between religion and violence, their refusal to respond to criticism with rational arguments, but only with demonstrations, threats and actual violence," Pell said Monday.

In the Vatican's first response to the Muslim criticism, papal spokesman the Rev. Federico Lombardi said it was clear that Benedict sought to "cultivate an attitude of respect toward other religions and cultures, including of course Islam." But he also said it was important to the pope that there be a "clear and radical rejection of the religious motivation of violence."
The list of things which must first occur is daunting: economic, educational, political, religious and social reforms in a host of Middle East, African and Asian nations; settlement of the Israeli-Palestinian dispute; and especially, eradication of a cancerous liberal Western moral relativity. It is not Benedict's job to spell out how we arrive at the destination; that is for us workaday souls and our putative leaders to figure. But Benedict is right to point to the place on the map at which we need to arrive; and to provide a few big signposts. If tolerance, religious freedom and peace are to mean anything at all, they must have a common meaning based on common values of reason, good and evil. These are not "whatever...dude" constructs, although that is essentially what learned professors teach our children at community colleges and the nation's most esteemed universities, and what legions of Western parlor revolutionaries today believe. Rather, these are values which any God worthy of the name - and any deserving bearers of His word - would define properly and uphold firmly.
TECHNORATI TAGS: POPE BENEDICT, SPEECH, TEXT, ISLAMIC EXTREMISM, PROTESTS, REASON, RELIGION, FREEDOM OF SPEECH, THE AUSTRALIAN, WASHINGTON POST, ANNE APPLEBAUM, FRONT PAGE, WILLIAM REES-MOGG, ASSOCIATED PRESS, VICTOR L. SIMPSON>
Posted by Matt Rosenberg at 04:50 PM | Comments (3)
Tumescence In Transit
UPDATED: In my old hometown of Chicago, the most venerable institution - apart from the eternally and venally corrupt Democratic political machine; the wind off Lake Michigan; the Cubs; and the combo sandwich at Mr. Beef - is probably the elevated commuter train lines known as "The El." The El is run by the Chicago Transit Authority, or CTA. Actually, the El is part subway, but the name sticks, because the elevated tracks loom large downtown and elsewhere. Starting with a very user-friendly extension of one line out to O'Hare Airport in the 80s, the El system has been expanding. There've been service cutbacks on some lines, and since 1995 a hare-brained "all stops" policy that along with poor track conditions has markedly slowed the heavily used Red Line which runs through North Side neighborhoods bordering the lake. Moreover, as the Chicago Tribune reports today, system communications with users are pretty crummy. Things are always happening - trains running late, stops being changed, trains breaking down, crippling blizzards, you name it. But related announcements aired on the platforms and in the trains are often so badly garbled, passengers can't understand them; sometimes these helpful notifications aren't even made. When the temperature is -28 or 112 (it's usually one or the other in Chicago - by the way), such niceties are helpful.
These mishaps are just one indication among many that Chicago government isn't really about the business of delivering value to taxpayers, but instead as in years past, of ladling up the gravy for "connected" Democratic political hacks in consulting, trucking, construction, maintenance, disposal and a slew of other industries. Thundering newspaper exposes have changed little over the decades; and there are flowerpots, bike paths and odd public art everywhere now, so things must be good, right? Anyway: eventually an El train comes, and you still get where you're going, without a soul-sucking parking hunt. You're entirely free to make up the lost time with obnoxiously loud cell phone conversations about not much at all, as Chicagoans so often do on the El. No one hands out citizen cell-phone citations in Chicago, you'd get a fist in the kisser.
And so while not exceedingly pleasant, one must grudgingly admit the El reflects well the tarnished but obdurate spirit of Chicago.
Now though, a twain has been crossed. As the Tribune reports in another article today, a 10-foot high, erect double phallus will grace a Brown Line Station at Kimball Square (see smaller-scale model, below at right). In the name of public art; funded by the federal government. Some Chicagoans, bless them, have arisen to express their concern. However the artist Josh Garber has a very different explanation. He also says if you find the thing a bit raunchy, well, you're the perv, not him.
Struck by the neighborhood's diversity, Garber decided to do something that would include as many people from as many different backgrounds as possible. He settled on an abstract sculpture of a plant. "In Cambodia, the idea of planting a flower signifies hope and renewal and the flower is a symbol of growth and opportunity," Garber explained. "So I thought in that area where there are a lot of immigrants and a lot of refugees that it would be appropriate to design something that gives some sense of optimism, of growth or hope, to kind of uplift the community without being too literal." He proposed a piece that has two structures, each standing 10 feet high and 46 inches wide. The structures represent plants with blossoms at the top and four petals, which can be used as seats, at the bottom.
Yes, the alderman who described the piece as having a "pornographic nature" is - as longtime Chicagoans will know - indeed a notorious chucklehead. Less so, however, the many lay-persons with essentially the same reaction after images of the sculpture were e-mailed about.
Garber found the comments ridiculous. No one who has seen the models of the sculptures thought they were phallic, he said. "If you see the pieces in person, it's absolutely untrue," he said. "It takes a very, very peculiar imagination to come up with that kind of association."
Well color me peculiar, Josh. But I see two great big schlongs with humungous balls (is this a gay thing, maybe?). I see a government-subsidized scam artist snickering and high-fiving his artiste-y pals in a loft somewhere, over glasses filled with Campari, soda and lime slices. (I'm "visioning" - OK?) Finally, I see the values of modern-day performance art seeping into public art, albeit modulated just a wee bit. I do not propose censorship; I propose the application of marketplace economics to art. Let Harper craft his gleaming members, his vivid vulvas, his penultimate Turd On The Plaza. But guardians of the public purse strings should let - nay, compel - him and all other artists to sell their fine works exclusively to non-government entities. Aren't there corporate rubes enough for this kind of stuff? Or are the shafts planned for the Kimball Square El station meant to represent the CTA's current service ethic?
TECHNORATI TAGS: CHICAGO, PUBLIC ART, EL, CTA, SCULPTURE, PHALLIC, JOSH GARBER, KIMBALL SQUARE>
Posted by Matt Rosenberg at 11:01 AM | Comments (0)
September 18, 2006
Making The Most Of The Oregon Coast: Port Orford Heads & Pistol River Parks
Catching up a bit, as reality rudely intruded on my fond recollections of this summer's adventures. Our family's July expedition to the Oregon Coast also included a day trip from our Bandon base that took us as far as Brookings, just north of the California border. The highlights were some great, easy hiking and views at Port Orford Heads State Park; and one of the southern Oregon coast's best beaches, at Pistol River State Park. Port Orford Heads State Park is easy to miss. Coming from the north on Route 101, turn right at 9th St. in the small town of Port Orford, left shortly at Coast Guard Road, and the rest is easy. (Directions and a descriptive overview of the park here).
From the parking lot, you'll espy the modest trail network quickly. Keep bearing right, all the way out to the viewpoint. This picture I took is looking north back up the coast, toward Cape Blanco.
A zoom-in on the coastline, from the same spot.
Up atop a steep rocky cliff, wind blowing, looking out at the ocean and coastline, you'll imagine you're in Scotland. Or something. We then wandered over to the former location of the old lookout tower, and then along The Cove Trail, past the cove where the famed Port Orford Lifeboat Station rescue vessels were launched by the Coast Guard from 1934 until the station's closure 1970. One look at the churning Pacific Ocean beyond the cove and you'll see why these guys were busy. The historic station is now a museum; and one of the old, unsinkable rescue boats is on display.
Back on Route 101, just a few blocks south of 9th St., the road makes a big bend to the left. Continue straight (onto Oregon Street), and you'll see a small-ish house on the right. That's the Rick Cook Gallery. Don't miss it: the personable Cook makes beautiful, yet highly functional handcrafted furniture from cherrywood, maple, and Port Orford Cedar. You may be tempted to buy something; he'll make the shipping arrangements.
Heading further south from Port Orford on 101, past Humbug Mountain State Park, and the town of Gold Beach with its wondrous bookstore; we came to Pistol River State Park. It's a large of expanse of beach, with imposing sea stacks where surf meets sand. Easily accessible, wide open and beautiful.
I call this one Keyhole Rock.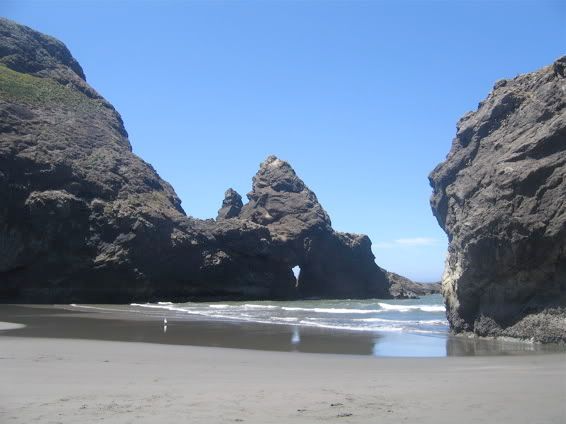 Great place to wander about for an hour or two, or pop out the beach chairs and chill.
Related "Making The Most Of The Oregon Coast" blog posts:
Bandon, New River & Cape Blanco
TECHNORATI TAGS: OREGON, OREGON COAST, TOURISM, VACATION, PORT ORFORD, PORT ORFORD HEADS STATE PARK, RICK COOK GALLERY, GOLD BEACH BOOKS, PISTOL RIVER STATE PARK>
Posted by Matt Rosenberg at 01:30 PM | Comments (0)
We're Not Violent, And We'll Kill You To Prove It
Is there something just a little bit off, here? From today's wires, via The Houston Post:
CAIRO, Egypt — An al-Qaida-linked extremist group warned Pope Benedict XVI on Monday that he and the West were "doomed," as protesters returned to the streets across the Muslim world to demand more of an apology from the pontiff for his remarks about Islam and violence. The Mujahedeen Shura Council, an umbrella organization of Sunni Arab extremist groups that includes al-Qaida in Iraq, issued a statement on a Web forum vowing to continue its holy war against the West. The authenticity of the statement could not be independently verified.

The group said Muslims would be victorious and addressed the pope as "the worshipper of the cross" saying "you and the West are doomed as you can see from the defeat in Iraq, Afghanistan, Chechnya and elsewhere. ... We will break up the cross, spill the liquor and impose head tax, then the only thing acceptable is a conversion (to Islam) or (killed by) the sword." Islam forbids drinking alcohol and requires non-Muslims to pay a head tax to safeguard their lives if conquered by Muslims. They are exempt if they convert to Islam.
Stephen Brown, in FrontPage mag today:
Pope Benedict released a storm of outrage in the Muslim world last week during his six-day trip to his native Bavaria when he quoted a medieval Byzantine emperor during a lecture at Regensburg University. The supposedly offensive passage the Pope cited occurred in an exchange the medieval Christian Emperor Paleologus II had with a Persian scholar, in which he called the Mohammed's teachings regarding Holy War "evil and inhumane." Benedict XVI went even further in his lecture, saying that to spread a faith through violence is against reason and therefore against God, since God is a rational being. As with the Danish cartoon scandal earlier this year, the Muslim world erupted into almost uncontrollable fury against the German pope, charging that he had insulted Islam. Besides numerous demonstrations accompanied by demands for an apology, an Italian nun has been shot dead in Somalia and three churches have been firebombed in the West Bank and Gaza. A leading representative of Turkey's ruling party, Salih Kapusuz, also compared the Catholic leader with Hitler and Mussolini.

.....Vatican and other European security officials also now fear an attempt may be made on the pope's life. A Turkish Muslim extremist severely wounded Pope John Paul II in an assassination attempt in 1981, while an al-Qaeda plot to kill him with a bomb on a visit to the Philippines was broken up in 1995.

Observers say what Pope Benedict actually intended with his comments in Regensburg was to invite Muslims into a dialogue of religions, specifically on the subject of violence -- which is needed at the moment, considering the Islamist terrorist cells constantly being uncovered in Western countries and the large number of Muslims living in the West, who want Shari'a law. The violence referred to, however, just doesn't include Holy War, but also concerns such matters as the stoning to death of adulterous couples or executing those who convert from Islam to another religion. Benedict has always stated he is against any use of violence in the name of religion.
Does it not seem as though Muslim extremists are proving his point, even as he has apologized amidst the outrage? Where are the many good, majority Muslims who eschew violence, threats, forced conversions, and Holy War; who welcome constructive dialog and rapprochement with The West? Why do they not speak out against the rage, the burnings in effigy in response to Benedict's concerns, such as that pictured above right - in Basra, Iraq? Are they afraid?
TECHNORATI TAGS: POPE BENEDICT, VIOLENCE, ISLAM, MUJHAHEDEEN SHURA COUNCIL, FORCED CONVERSIONS, HEAD TAX, HOLY WAR>
Posted by Matt Rosenberg at 08:36 AM | Comments (1)
September 17, 2006
Out Of Many; Many More
UPDATED: U.S. population will reach 300 million next month, and is projected to number 600 million by the end of this new century, at present rates. Our population has grown from 100 million in 1915 and 200 million in 1967. New births outpace immigration as a factor, but growing immigration nonetheless means Americans of European descent will make up less than 50 percent of the nation's population by 2050, according to one expert. Immigrants are currently 12.4 percent of the U.S. population, more than ever before. Our population growth is - and will continue to be - to the South and West. And if you stood all 300 million U.S. residents in a circle, that circle's radius would be only about 2.3 miles, says a prominent demographer. All this and more in a Philly Inquirer piece today by the paper's Washington correspondent Steve Goldstein.
Immigrants keep voting with their feet for the United States, Muslims included. A legitimate worry to conservatives noting assimilation and border enforcement problems, but also a bitter pill for the ACLU and the moonbat Left. To paraphrase Sally Field at the Oscars, "they really, really like us." And not just because we're OK with Muslim ladies' swimtimes.
Samuel Preston, the eminent demographer at the University of Pennsylvania, says that our population growth "is an indicator of our success as a society" due to increased longevity and the nation's capacity to absorb migrants.
That passive-voiced "capacity to absorb" migrants gives short shrift to what attracts them here. Namely, economic and educational opportunities; plus, for some, freedom of speech, religion and political association - which are diminished or do not exist in their old homelands.
The political implications of Goldstein's story are worth chewing on. Breeders and immigrants, many of the latter Hispanic, are driving the population growth. The latter group, partly because some are illegal, but for other reasons as well, does not vote much yet. But the Bush presidential campaign won 44 percent of the Hispanic vote in '04, 9 percent more than in '00, and more than double Republican presidential contender Bob Dole's 21 percent in 1996, as journalist Jim Geraghty notes in his new book about the GOP and terrorism, titled "Voting To Kill." This enhanced GOP appeal to Hispanics is more likely due to the party's social conservative leanings more than its terrorism stance, however.
As for those couples making babies in the South and West, let's remember the fastest-growing counties are in the ex-urbs, the land of cul-de-sacs which urban liberals loathe. And let's just say that having children and owning a home tend to make your politics more pragmatic and value-focused - if not more overtly libertarian or conservative.
Bottom line: long-term population growth trends in the U.S. are good for Republicans, bad for Democrats. Here's a sci-fi kicker that ought to worry Dems to death, if Algore and his doomsaying cohorts are right about global warming. The heartland dries up, and all those icky conservatives from Flyover Country move toward West Coast outposts of liberalism such as Seattle, Portland, San Francisco and Los Angeles. Most would settle in the ex-urbs and suburbs of course, spawning huge growth battles (picture a water desalination plant for Puget Sound, among other things) and vastly changing regional political landscapes. Urban archipelagos? Maybe we ain't seen nothin' yet!
TECHNORATI TAGS: UNITED STATES, POPULATION GROWTH, BIRTHS, IMMIGRATION, HISPANICS, MUSLIMS, FREEDOM, REPUBLICANS, DEMOCRATS, SEATTLE, PORTLAND, SAN FRANCISCO, SUBURBS, WATER SUPPLY, GROWTH>
Posted by Matt Rosenberg at 09:20 PM | Comments (0)
September 14, 2006
Rosenblog Opinion Review, Vol. 25
Ryan Sager, TCS Daily: "Is There An Elephant In Here?" Engrossing first chapter of Sager's new book, "Elephant In The Room: Evangelicals, Libertarians, And The Battle To Control The Republican Party." Sager explores the tensions between the younger, more socially-libertarian but fiscally conservative wing of the party and hardline social conservatives. This against the backdrop of the Bush/Rove-ite imperative that the party's current policies, if continued, will enable the GOP to retain control of the legislative and executive branches in Washington for years to come. Sager in his first chapter defines that as ongoing assault on core GOP tenets of small government and limited spending; and social conservative posturing geared to win more support from receptive minority blocs such as blacks and Latinos.
Michael J. New, National Review Online, "So Much For Small Government." Review of the new book by Stephen J. Slivinski of the Cato Institute, titled, "Buck Wild: How Republicans Broke The Bank And Became The Party of Big Government."
Stephen Slivinski, Cato Institute: "The Grand Old Spending Party: How The Republicans Became Big Spenders"
Cinnamon Stillwell, San Francisco Chronicle, "African American Figures Break From The Pack." In a typically link-rich piece, the Chron's young online guest columnist notes the controversial new book by moderate Democrat journalist/commentator Juan Williams underscores the growing movement away from blaming racism for ills still besetting too many American blacks.
Juan Williams, Washington Post, "Banish The Bling: A Culture Of Failure Taints Black America."
Jabari Asim, Washington Post, "In Baltimore, Staying Home From School."
Peter Z. Grossman, Indianapolis Star, "It's Not Wal-Mart, Stupid; How About The Important Issues?"
Gov. Arnold Schwarzenegger, Los Angeles Times, "Keep The Immigration Debate Civil."
John Morlino, San Francisco Chronicle, "Darfur Activists Are Much Too Polite About Genocide."
Harvey Mansfield, Boston Globe, "At Universities, Little Learned From 9/11."
Max Boot, Los Angeles Times, "Democracy, Our Protector - Until Every Muslim Can Live And Vote Freely, There Will Always Be Men Jumping At The Chance To Be A Terrorist."
Natan Sharansky, Los Angeles Times, "Proxy Terrorism From Iran - It's Time To Bring The Fight Against Terrorists To The Countries That Arm And Fund Them."
Brendan Conway, The Daily Standard (daily online site of the Weekly Standard), "The Myth Of The Fightin' Dems."
Kevin Shapiro, Commentary, "Global Warming - Apocalypse Now?"
TECHNORATI TAGS: REPUBLICANS, SPENDING, RYAN SAGER, STEPHEN SLIVINSKI, BUCK WILD, JUAN WILLIAMS, BLACK SELF-RESPONSIBILITY, BALTIMORE, SCHOOLS, SEPT. 11, AMERICAN UNIVERSITIES, RADICALISM, DEMOCRACY, MIDDLE EAST, IRAN, DEMOCRATS, TERRORISM>
Posted by Matt Rosenberg at 09:44 PM | Comments (1)
New Frontiers In Theatre: Princess Diana As Nazi Dwarf
It's a hard job keeping up with all that is hermetic, sophomoric, utterly gross, startlingly banal, pretentiously destructive, graspingly transgressive and vulgarly partisan in the aligned universes of "performance art" and avant-garde theatre. But goodness knows, I do try. This one, though, just about takes the fruit tart. The Times Of London reports:
A play about Diana, Princess of Wales, was always going to be controversial, but it becomes an even tougher sell when the Queen is played by a circus dwarf giving a Hitler salute and the Queen of Hearts is tormented by two men with Down Syndrome. It was all too much for the audience at Wednesday night's premiere of Kaprow City, directed by Christoph Schlingensief, Germany's leading theatrical provocateur.....this week's premiere prompted a mass flight of the audience. "Bulls***!" chatted the couple in the third row of Berlin's venerable Volksbuhne theatre. "Disgusting," yelled others.

It was difficult to determine exactly what tipped the theatregoers over the edge. It could have been the sight of the squeaky-voiced dwarf Queen baking sausages in the shape of a swastika and giving the Hitler salute - an illegal act in Germany that is nevertheless permitted on the stage. Or perhaps it was witnessing a mentally disturbed woman with a dead hare draped over her shoulders vomiting for no less than 10 minutes. Diana, played by socialite actress Jenny Elvers, clutched the woman as she crouched over the toilet bowl. The actress playing the Duchess of Cornwall was splattered with animal blood. Two young men with Down Syndrome tormented Diana. The Queen forced a grumbling Duke of Edinburgh through a dark hole. An anonymous kilted Scot had his pubic hair shaved.
Engrossing, or gross-out? I think it's pretty evident. There's a fine deconstructionist twist to the staging, as well.
...The action is conducted out of the view of most of the audience, behind the theatre curtain. Most of the audience sees the play in the form of a gritty black and white film that relays the action. Some are allowed to see the actors in the flesh, but neither do they get the whole picture. "That's the point," said the 46-year-old director. "No spectator sees everything." The aim of the play appears to be to make the audience into voyeurs of Diana's life and demonstrate that public fascination with her contributed to her death.
If I went to see live theatre and got a grainy black and white film, I'd ask for my money back. Even if it was good. But obviously the auteur had to take his latest work to a new level, in terms of both content and context.
Patrons of Herr Schlingensief's past productions have, over the years, endured masturbation scenes slipped into Shakespeare, dead swans thrown into the stalls and unpopular critics chased through the aisles by angry actors....In Zurich, he sparked uproar by enlisting six former neo-Nazis to act in Hamlet. When Helmut Kohl, the former German Chancellor, was holidaying in Austria, the director organised several hundred actors to swim naked in the lake outside his cottage and shout "kill Helmut Kohl".
Perhaps knowing there are few frontiers left, Schlingensief (whose name, by the way, is German for exloding pustule) will stage his own dismemberment in upcoming production. In the meantime, here's my favorite work of fiction about Princess Di, written before her tragic death. Read it and see if you agree with me that Di deserved a break just like what she gets at the end of the tale.
TECHNORATI TAGS: CHRISTOPH SCHLINGENSIEF, KAPROW CITY, PRINCESS DIANA, NAZIS, BERLIN, THEATRE, PERFORMANCE ART, DI AND I>
Posted by Matt Rosenberg at 08:21 PM | Comments (0)
September 13, 2006
News Of The Skewed, Vol. 7
UPDATED: After 35 years, the West Hollywood gay pride parade has lost its luster, the LA Times reports today. Frilly-wigged musclemen dressed as pompom girls, basketball-boobed drag queens in sequined gowns...it's all so....1970s. So a city-sponsored task force of marketing and finance experts, along with gay activists, is recommending a gay Pride Month of arts, film and social and cultural activities. Mayor John Heilman says the local celebration must embody the "latest hippest, coolest." He asks: "How do we make it appealing to to somebody who went to gay pride 20 years ago and doesn't have any compelling reason to come back?' Maybe, Mr, Mayor, you don't because you can't, or - radical thought here - because it is not government's job to scheme bigger and better celebrations of gayness. Quite a few gays, especially those who went to pride parades 20 years ago, have grown up and moved on. Many younger gays see gay "pride" celebrations for what they are - a bunch of tired sad old queens with lives that are just a bit too empty. There's only so much glory you can wring out of celebrating sexual orientation, no matter how you dress it up. I think most gays these days are frankly more interested in living life in all its rich variety - than celebrating what brand of sex they happen to practice. Why don't you go check with your city manager on the pothole backlog and municipal bond yields, Mr. Mayor?
Shades of Tonya Harding and Nancy Kerrigan, only minus the surrogate. The Rocky Mountain News reports today that Mitch Cozad of Wheatland, Wyoming, the University of Northern Colorado's second-string punter, has been charged with second-degree assault after allegedly stabbing the kicking leg of his rival, the team's starting punter Rafael Mendoza. What were you thinking Mitch? I don't really see that pigskin coming your way, in official play, ever again. You shanked it, bub.
Another success story about Canadian socialized medicine, from today's Vancouver Sun. People in Vancouver have to wait several months for Magnetic Resonance Imaging tests, an often crucial diagnostic tool used for brain scans, tumor detection and much more. Unsatisfied with the enforced wait, some are breaking the law barring them from paying for their own medical care. They're forking over about $755 a pop to the private provider Timely Medical Alternatives, Inc. (nice name, huh?) to skip the wait and get MRIs done at a local hospital during off-hours. However, the government has come to rescue, ordering the "qeue-jumping" to cease. All is right again in Canada.
So-called "parents" mired in drugs and often criminally neglecting or mistreating their children were the root cause of the more than 55,000 mostly very alarming reports to Oregon child welfare authorities last year. But statist salves are running thin: money for parenting instruction has been cut, state-funded foster parents are too few, treatment for addictions is not readily available, and legally-mandated government-funded special advocates for neglected children under state care are not provided in about 70 percent of the cases. All this and more is reported by The Oregonian, which declares in the story's headline, "Too Many Cases, Not Enough Workers." Not enough workers? There's not one state child welfare system in the U.S. that really works; some simply stink a bit less than others. For the at-risk-of-idiocy population of meth-snorting moms and felonious far-away fathers, the cycle has to be broken by acts of personal will, and the intervention of other family members, private charities and religious communities. The more state involvement in the affairs of dysfunctional families, the more outsourcing of family responsibility for child welfare. Haven't we learned that yet?
Members of the gay rights group Soulforce tried to enlist in the military in a coordinated 30-city action, but failed. Police were called in Shreveport to haul away would-be gay and lesbian Marines who wouldn't leave after being refused. They were protesting the miltary's "Don't Ask, Don't Tell" policy barring questions about or acknowedgements of any member's gay or lesbian orientation. There are actual gay conservatives, gay foreign policy hawks, gay military (who haven't told), and gay ex-military (who did tell). And then there are the members of Soulforce, who for the most part despise the military and engaged in the stunt only to score publicity points. As if these protestors really want to head for Iraq or Afghanistan. I think this is more their speed.
Eat The State is a Seattle-based print and online publication that bills itself as "a forum for anti-authoritarian political opinion, research and humor." The Web address Eat The State has chosen for its blog is especially humorous. Almost as funny as the new movie about President Bush, and the name of this cafe in Mumbai (a.k.a. Bombay), which has now been changed.
A teacher in Kent, south of Seattle, told a student to cover up a Starbucks commemorative coffee cup featuring the company's iconic mermaid logo in its original topless rendition. No word if the teacher was an evangelical Christian or a devout Muslim. It would kinda have to be one or the other, I think.
Meanwhile in Uttar Pradesh, a young man underwent an almost unimaginable corrective surgical procedure. It is not clear whether his significant other was pleased or displeased.
It IS clear, though that even if you ARE the chief of police in Snyder, Oklahoma, you cannot stop your 6'3, 300-pound, tattooed wife from posing nude on the Internet, and that political repercussions will certainly follow.
TECHNORATI TAGS: WEST HOLLYWOOD, GAY PRIDE, UNIVERSITY OF NORTH COLORADO, PUNTER STABBING, VANCOUVER, CANADA, SOCIALIZED HEALTH CARE, PRIVATE PROVIDERS, OREGON, CHILD NEGLECT, UNDERFUNDING SOULFORCE, PROTEST, GAYS IN THE MILITARY, EAT THE STATE, BLOG, STARBUCKS, BREASTS, DIPHALLUS, SNYDER, OKLAHOMA, DORIS OZMUN>
Posted by Matt Rosenberg at 01:30 PM | Comments (0)
September 12, 2006
Hollywood Boutique, Kitson, Sues "Us" Mag Over....Being Ignored
UPDATED: Here is a guy who truly needs to take a leave of absence and go on a humanitarian mission to Sudan - so as to regain his perspective, and humanity. His name is Fraser Ross. The Los Angeles Times reports today that the Hollywood clothing boutique Kitson, owned by Ross, is suing Us magazine, alleging lack of publicity in the publication has cost the store $10,000 per week. "It" girls such as Paris Hilton, Lindsay Lohan and Denise Richards (who?) sport Kitson togs and accessories, and the store used to get loads of ink in Us. But due to a legal spat, Kitson finds itself decidely "C"-listed in the mag's pages, its merchandise cropped out of pictures and its coverage nil.
The lawsuit alleges the magazine now refuses to name or show the Kitson brand in credits, captions or celebrity photographs. As an example, the suit cited the magazine's cropping of a picture in such a way that its blue shopping bags, "generally known to readers, did not display the name Kitson on it." Not long ago, Us Weekly gushed that Kitson was "L.A.'s hippest hot spot." But now, according to the lawsuit, the magazine refuses to mention the store. Evangeline Lilly, one of the stars of the ABC show "Lost," was pictured in the magazine attending a private Kitson launch party. But the suit says Kitson was never mentioned. The suit says the same was true for California First Lady Maria Shriver and her daughter Katherine, who were pictured leaving Kitson even though the store was left out of the credit. In the same August issue, the suit says, Nicole Kidman's photograph stated she was leaving rival retailer Fred Segal.
The sheer, blatant, venal, toxic....malevolence of it all. One can hardly summon the requisite outrage, the injustice is so staggering. To the depositions, barristers!
Meanwhile, according to the Times' article today, the FBI is investigating allegations that a former Us staffer was hired by Kitson's Ross to hack into the magazine's computer system and learn more about planned celebrity coverage.
When Brad Pitt left Jennifer Aniston for Angela Jolie, Kitson brought out "Team Aniston" and "Team Jolie" shirts. So obviously, these guys are an earned media machine, or would be, if only Us would leave score-settling out of its editorial decisions.
The imbroglio is certainly a twist on the old paradigm of libel suits for deleterious press coverage. Imagine getting sued for NOT writing about something, or for how you captioned or cropped a photo. Inquiring minds want to know: After Ross returns from Darfur, will Kitson get smart and start a blog? This much I can tell you Fraser: your Web site is like....sooooo....1997. Dja'know? That includes the lame e-mail newsletter sign-up. E-mailed newsletters anymore are about as "now" as videocassettes.
TECHNORATI TAGS: HOLLYWOOD, KITSON, US, FRASER ROSS, PARIS HILTON, LINDSAY LOHAN, JENNIFER ANNISTON, BRAD PITT, ANGELA JOLIE, SUDAN. DARFUR>
Posted by Matt Rosenberg at 12:26 PM | Comments (0)
September 11, 2006
That's NOT An I-Pod In My Boxers
Welcome to my house. There is no microwave; never has been. I own no wireless headset, not even a common cell phone. I have no Blackberry. The TV is in the basement. The number of cable TV channels is the utmost fewest possible; the cable is really for the high-speed Internet connection. Which, yes, is very important. The living room is graced with custom-installed shelves holding 1,123 round slabs of hard black circular vinyl in paper slipcovers within distinctive cardboard jackets. These are called "record albums" or "LPs." It appears there are a great many CDs, as well; and there is music stored on the iMacG5. I have no iPod. But if I DID, I would have to say "no thanks" to iPod-bearing underpants, and the surfboard iPod.
I am going to get some of these, though. How can I resist?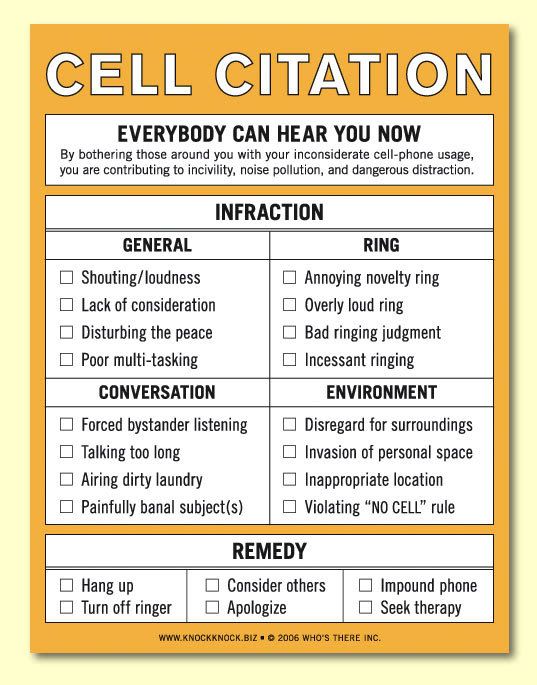 TECHNORATI TAGS: iPOD, UNDERPANTS, SURFBOARD, WIRELESS HEADSET, CELL PHONE, MICROWAVE, TELEVISION, RECORD ALBUMS, CELL PHONE CITATIONS>
Posted by Matt Rosenberg at 05:28 PM | Comments (0)
Seattle Should Take Lessons From New York, On Fighting Crime
UPDATED: Over the weekend, Seattle Post-Intelligencer columnist Robert Jamieson bemoaned recent crimes and disturbances in Seattle's vibrant Lower Queen Anne neighborhood, near the Space Needle and Seattle Center. The Queen Anne News had earlier reported on violence at the iconic Dick's Drive-In in LQA. Things have been getting out of hand, so Jamieson's general point is well-taken, But Aurora Avenue North and points west of there are even worse, and Jamieson missteps badly with an attempted cute outro suggesting that LQA is becoming more like New York. Hey: if only Seattle would emulate New York on crimefighting.
City population figures and categorical reported crime totals I extracted from (Table 6 in) the mammoth FBI document "Crime In The United States - 2004" show New York City has a remarkably low annual rate of property crime, 21.1 per thousand residents, versus Seattle's rate of 74.3, and versus the national property crime average rate of 49.6 per thousand residents in cities 250,000 or larger (Table 16).
Remarkably, New York's 2004 motor vehicle theft rate is the second lowest in the nation among cities 250,000 or larger - a scant 2.6 per 1,000 residents, trailing only Virginia Beach in its size class, and markedly lower than both the national average of 8.73 per thousand residents for cities 250K+ and Seattle's worrisome rate of 16 per thousand. (Law enforcement sources tell me the Seattle drug dealing rings and drug users are involved in many local car thefts).
New York's 2004 violent crime rate was 6.87 per thousand versus 6.59 for Seattle, essentially a wash. (National average for top-tier cities: 9.32 violent crimes per thousand residents). Of course, understaffed Seattle police sometimes actively discourage reporting of muggings.
(The 2005 "Crime In the United States" final report is not out yet; the full-year version is typically issued in October of the following year. But the FBI's 2005 Preliminary Annual Uniform Crime Report was released in June, and the table for cities 100,000 population and greater titled "Offenses Known To Law Enforcement" shows crime rising in Seattle and dropping in New York).
Effective urban policing is multi-facted. Operational anti-crime strategies, use of computer technology, arrest rates and police manpower all factor in to keeping the neighborhoods and streets of major American cities safe. New York does particularly well on all counts. In terms of manpower, Detective John Sweeney, of the NYPD's Office of the Deputy Commissioner of Public Information, tells me New York City has 37,000 sworn police personnel. Factored into a population of 8.1 million, that's 4.5 per 1,000 residents, significantly exceeding the 2004 national average of 2.8 per thousand for first-tier cities (Table 71, Crime In The United States, 2004), and doubling Seattle's weak per capita commitment of 2.25 sworn officers per thousand residents.
Of course in all larger cities, many sworn personnel are on special assignments, not beat patrol; but generally speaking, the more sworn (non-civilian) police personnel, the better.
In contrast to New York, Seattle does a poor to middling job utilizing technology to boost its crime-fighting capabilities, based on my interviews of department and mayoral staff. The Seattle Police Department gamely compiles monthly data on reported violent and property crimes. These include murder, rape, robberies, different types of burglaries and thefts, and aggravated assaults. Top police brass, commanders, the mayor and some city council members participate in monthly "Crimewatch" meetings - internal reviews of the last month's crime data, analyzed versus a year ago, citywide and in each of the city's five broadly-drawn police precincts. Monthly crime data is also provided for individual census tracts. Additionally, limited real-time mapping of crime hot spots is done at police headquarters, mainly by the department's narcotics unit.
Still, all this is a far cry from actual implementation of one key component of best-practices urban police management: the Compstat system. Pioneered in New York City under then-Police Chief William Bratton and then-Mayor Rudolph Giuliani starting in 1994, Compstat can be used to provide weekly reports on crime in each of a city's patrol sectors, providing greater flexibility and demanding greater accountability from commanders for crime prevention.
In contrast to Seattle's once-monthly crime strategy meetings, the NYPD holds twice-weekly crime strategy sessions in the department's high-tech command center, with top command, precinct and other unit commanders (including those representing schools, housing and transit agencies). They have available the weekly crime data for the city's 76 precincts, on a week-to-date, prior 30 days, and year-to-date basis, all compared to the previous year. Hot spots, immediate management objectives and successful strategies are shared.
Notably, integration of week-to-date figures on misdemeanor crimes is considered an essential part of the data pool at the twice-weekly NYPD crime strategy sessions. The NYPD's Compstat Web site states: "Summons and arrest activity are also captured. Arresting or issuing summonses to those who engage in such minor violations and quality of life offenses as public drinking and public urination, panhandling, loud radios, prostitution and disorderly conduct, ensures that those behaviors are deterred even as a message of intolerance for any other incivilities is expressed. Aggressive enforcement of all statutes has been shown to restore a sense of order."
New York's robust approach to policing illustrates a civic truth that Seattle has sidestepped under at-large council elections which insulate members from neighborhood concerns: A city can successfully declare war on crime if its political leaders have the spine to do so.
TECHNORATI TAGS: SEATTLE, NEW YORK, CRIME, LOWER QUEEN ANNE, POLICE MANPOWER, PROPERTY CRIMES, MOTOR VEHICLE THEFTS, FBI, COMPSTAT, SEATTLE CITY COUNCIL, ELECTIONS, ROBERT JAMIESON, SEATTLE POST-INTELLIGENCER>
Posted by Matt Rosenberg at 04:47 PM | Comments (0)
September 08, 2006
AP Hypes Race Angle On Home Loan Data: Oops!
UPDATED: The Seattle Post-Intelligencer and numerous other newspapers nationwide today carry an Associated Press story by reporter Jeannine Aversa which pointedly highlights race as a factor in home mortgage costs. The Federal Reserve's just-released Home Mortgage Disclosure Act 2005 data show - among many things - that a higher percentage of blacks (54.7 percent) and Hispanics (46.1 percent) paid "higher than typical" rates for their mortgages, than did whites (17.2 percent). The P-I's version of the story does note the percentages are up markedly for all three racial groups for '05 versus '04, but cites as the primary explanatory factors: higher mortgage rates in general; higher-cost adjustable-rate mortgages; and greater prevalence of higher-priced "piggyback" loans. There is a passing mention near the end of the P-I's version of the AP story that blacks are turned down for loans more often than other groups; but no explanation of why.
Another version of the same story at the MSNBC site includes an important warning from the study that credit histories of borrowers are not factored into the data but are an important loan cost factor. But there's quite a bit more to it than that. Here is the Federal Reserve report upon which the AP story is based. The nub of the matter is stated on page 32:
Higher-priced lending is most common in Census tracts with lower incomes, a high percentage of minorities, depreciating real home values, low educational attainment, low credit scores and high application denial rates.
On page five of the report, the Federal Reserve pointedly warns: "Elevated credit risk for loans in the higher-priced mortgage market results in substantially higher default and foreclosure rates and costs and, consequently in higher price levels....Lenders focused on the higher-priced market segment may face steeper funding costs, may incur higher marketing expenses" and may end up granting many more loan extensions "than...lenders that deal primarily with borrowers with few credit problems or the ability to make large down payments."
Yet here is the AP lede by Aversa, repeated in papers across the nation:
WASHINGTON -- Black and Hispanic home buyers pay more for their mortgages than do whites, according to a Federal Reserve report released Friday.
And this hed in the P-I, repeated verbatim elsewhere: "Blacks, Hispanics Pay More For Mortgages."
This might be almost tolerable if the story spelled out the Fed study's above declarations regarding census tract factors, default risks and loan cost impacts. But it does not. Do Blackness and Hispanicity serve as convenient proxies - in AP's defacto political style book - for necessarily impecunious and disadvantaged? Are we to suppose that living in poor neighborhoods with declining property values and low educational acheivement, and having a poor credit history is a largely unavoidable, societally-driven outcome of being Black or Hispanic? In the post-millenial United States? I can think of no other reason for AP lazily leading with a racial explanation of the mortgage cost data.
Next time, Ms. Aversa, read the report more thoroughly, and say what it says, not what you want it to say. This is shoddy work. And online editors: ALWAYS include a link to the report in such instances. Unless of course you don't want to make a closer look at the source document too easy for your readers.
TECHNORATI TAGS: ASSOCIATED PRESS, HOME LOANS, COST, RACE, MEDIA BIAS, SEATTLE POST-INTELLIGENCER>
Posted by Matt Rosenberg at 02:02 PM | Comments (1)
Matt Rosenberg's Tourism Blogging Portfolio
I've continued to do a lot of tourism blogging. Because I like to; because I have a nifty digicam now; and because I entertain the rash idea I may be able to eventually convince state and regional tourism promotion agencies or magazines here and there to fund some travel blogging expeditions by me. In any event, leisure travel and sometimes even business travel can be a real window into our country's splendor and foibles. And frank first-person travel writing geared toward tourists and recreationists fills a void on the Internet, which is chock-full of tourism "advertorial" that is either bland, vague, frothy, specious or some combination thereof. Print press travel articles are often helpful, and I've written some myself, for major daily U.S. newspapers, and glossy magazines. Some such pieces wind up online, and some don't. Newspapers and magazines often cover travel locations that align with the interests of advertisers, rather than where you may want to go. If I see another spread on glorious Wisconsin in a Chicago newspaper, I'll.....retch. (And yes, I know all about Door County, Wisconsin - it's a far damn cry from the Pacific Northwest or even the Upper Peninsula of Michigan, OK?)
Overall, the Internet is rather short on travel reportage and commentary from unbiased sources.
My travel posts are typically geared toward the tourist or daytripper - but may include personal, cultural, political and even public policy observations that struck me either at the time or later when writing up my adventures.
So.....for my own purposes and for the convenience of any interested readers, here's a compendium of links to my travel writing over the last few years here at Rosenblog. Just added this summer is the four part series, "Making The Most Of The Oregon Coast;" plus Montana posts on Glacier National Park and Flathead Valley; and more Washington material. I've arranged everything by state, and will update the link list here periodically.
UPDATE, 12/06/06: Today, I'm adding to this compendium some recent Chicago travel blogging posts, published at Rosenblog this fall.
UPDATE: 4/27/07: I'm adding some recent SoCal tourism posts.
SEATTLE AND WASHINGTON STATE
"In Seattle's Muck And Mire." (Low tide at Alki Beach).
"Puget Sound: Western Washington's Highway On The Water."
"Touring Like A Local: West Seattle's Lincoln Park."
"I Ain't Got No Big Itch For Greenlake." (Seattle's Greenlake Park, and namesake neighborhood, from the perspective of a local, and a tourist).
"Cruising For Produce On Vashon Island."
"The Zen Of Horse Dung." (Day trip from Seattle to Joemma Beach State Park, Key Peninsula).
"Marrowstone Musings." (Vacationing on Marrowstone Island, in Puget Sound).
"Washington State Ferries: The Good Wait."
"Wringing The 'Soaked Seattle' Meme Dry" (How we hoodwink the world about our "rain").
"Northeast Tacoma's Hidden Gem: Dash Point Park."
"Family-Friendly Hike To Barclay Lake." (An excellent day-hike within driving distance of Seattle).
"Seattle Hiking Guide: Snow Lake." (And another).
"Touring Like A Local: The Magic Of Mountain Loop Highway." (And another still, off one very scenic and trail-rich gateway to Mount Baker-Snoqualmie National Forest).
"That Near-Death Buzz." (An opinionated take on hyper-risky winter sports expeditions in the Northwest).
"Index, Washington Needs A Shot In The Arm."
"Malay Satay Hut Rules!" (Casual, outstanding Malaysian restaurant in Seattle's International District).
"Middle Fork On My Mind." (A hike along the Middle Fork of the Snoqualmie River - and a trip back in time. Blame it on Ray Charles).
"God Bless America, And Western Washington." (A July 4 weekend photo essay of a Hood Canal circle tour).
BRITISH COLUMBIA
"Splendiferous British Columbia." (Guest essayist Charlie Hoff, on Bella Coola and Barkerville).
"Is There Any Fixing Vancouver's Gastown?"
"The Best And Worst Of Vancouver."
"Best And Worst Of Vancouver: Part Two."
"A Vancouver Shopkeeper's Death Wish For Bush."
"Canadian English Dictionaries Are Vestigial."
"Statist Confiscation Of Property Rights Eyed On Saltspring Island." (Vacation home rentals as a menace to society).
OREGON
"Making The Most Of The Oregon Coast: Charleston And Environs."
"Making The Most Of The Oregon Coast: Cape Perpectua And Heceta Head."
"Making The Most Of The Oregon Coast: Newport."
"Making The Most Of The Oregon Coast: Bandon, New River And Cape Blanco."
"Making The Most Of The Oregon Coast: Port Orford Heads & Pistol River Parks."
CALIFORNIA
"Hello, Coronado" (on the "disintermediated" tourism ethos; Playa Coronado flava; historic landmark hotel pix)
"San Diego's Point Loma And Ocean Beach" (big high views of S.D.; history; nature; a great hippie 'hood; foodie fun)
"Living Large In Orange County" (recreational sociology + Laguna Beach tidepooling, Dana Point)
"Touring Like A Local." (San Francisco's neighborhoods - not its' stale tourist attractions - are what make for a great visit. Same deal in Seattle).
"Subsidizing Incuriousity." (Why San Francisco's cable cars are a waste of time for visitors; and why fare hikes trump public subsidies as a means of covering operating losses).
"The Hike To Heart Lake, Near Mount Shasta."
MONTANA
"Montana's St. Ignatius Frescoes, And Mission Falls."
"Glacier National Park: The Hike To Hidden Lake.
"Glacier National Park: Hiking The Highline Trail."
CHICAGO
"Chicago, Chicago." (Promontory Point, Hyde Park, the Nile Restaurant, the Gold Coast).
"Rosenblog's Chicago Restaurant Guide, Vol. 2." (El Nuevo Leon, Gene & Georgetti's, The Mirabel, more).
"Turd On The Plaza - Exhibit #1 - Chicago." (On unfortunate urban outdoor sculture).
"Notes From Chicago." (Art Institute, Wrigely Field, Lincoln Park, The Mexican neighborhood of Little Village; Los Candiles restaurant).
"Panhandlers Overtake Chicago."
"Savor The Flavor Of Chicago's Puerto Rican Epicenter - Humboldt Park"
"From Manny's To The Shedd, Via Chicago Sardine Authority"
"The Sphinxes See All, From Chicago's Willoughby Tower"
MICHIGAN
"Mystery Blogger Stalks Grand Rapids."
"Meijer Gardens Tropical Conservatory: Just The Place In July."
"Community Responsibility Theme At Grand Rapids Black Summit."
"San Chez Bistro's Tapas: Pride of Grand Rapids."
"Beach Pole-Vaulting In Grand Haven."
"Grand Haven Musical Fountain Needs New Music."
"Sleeping Bear Dunes Adventure."
"From Elberta To Grand Marais."
"Pictured Rocks National Lakeshore, Marquette and Petosky."
"Germfask, Michigan: It Can Only Get Better."
TECHNORATI TAGS: TOURISM, TRAVEL, BLOGGING, SEATTLE, WASHINGTON, OREGON, BRITISH COLUMBIA, CALIFORNIA, MONTANA, CHICAGO, MICHIGAN, HIKING>


Find vacation rentals such
as a lovely beach house in
Oregon, Washington state
or California. You'll also find
Florida Keys vacation rentals
and Caribbean villa rentals
at BeachHouse.com.
Posted by Matt Rosenberg at 10:56 AM | Comments (1)
September 07, 2006
How To Obliterate Islamic Terrorism
Yousef Ibrahim is a former Middle East correspondent for the New York Times and former energy editor for The Wall Street Journal. He is now a political risk consultant based in the United Arab Emirates and New York. And he is a truth teller who ought to be invited - among other places - to Seattle's Town Hall to add some balance to the next smugly condemnatory Leftist-dominated panel discussion on the role of the U.S. and The West in battling global Islamicist terrorism. In the New York Sun, Ibrahim lays it out in an op-ed titled, "The West Needs To Fight Islamofascists With Big Ideas" (hat tip - Melanie Phillips). As the anniversary of 9-11 approaches, Ibrahim's sweeping proposal deserves serious discussion.
Ibrahim argues that G-8 member nations, NATO and EU parliaments can and must hasten the "obliteration of an ideology that reduces Islam to a cult of mass murder and suicide...by withholding (from hard and soft national allies of Islamicists) Western commerce, the Internet, arms, machinery and know-how....Imagine a ban on weapons and technology, on Microsoft and IBM, on Boeing, Ilyushin transport planes and Airbus spares.." Ibrahim continues:
Draconian sanctions such as these should be applied in unison with Russia and China and clearly framed within the U.N. code. Islamic so-called moderate or client states including Pakistan, Saudi Arabia, Egypt, and Indonesia, among others, as well as enemies such as Iran, should be provided with a yardstick to define the dismantling of the infrastructure and software of terror at home — in mosques, in schools, in theocratic institutions, and inside government itself. That will demand total elimination of the madrassa rote systems, the restructuring of religious teachings, and the outlawing of political groups such as Hezbollah, Hamas, and the Muslim Brotherhood, which adopt religion as political vehicles.

In the West itself, the last vestiges of tolerance toward Islamic fundamentalism must be removed. Laws targeting extremist speech, Islamic dress, storefront unregulated mosques, and the traffic of immigrant Muslims who do not speak the language nor share the values of freedom must surface in the legal codes of America, Europe, and Australia. The West must clearly process the fact that it is facing an existential threat to its core values, and it cannot be shy about installing tools of war in its democratic practices....the people responsible for those burning towers in Manhattan were only small filaments of a spider's web encompassing millions of Muslims. Beyond towers, their aim is a freeze on freedom, democracy, and secularism — foundations that took centuries to develop, requiring the defeat of communism in order to prevail.

Long before 9/11, jihadist adherents and sponsoring secular states, even communist states, had been stretching cobwebs into the suburbs of London and Islamabad, the streets of Baghdad and Kabul, the valleys between Syria and Lebanon, Iran and Iraq, and inside Western Europe and across Africa. Enablers include our closest allies in Egypt, Saudi Arabia, tribal leaders in Afghanistan and Pakistan, the merchants of Dubai and Kuwait, all the way into the Indian Ocean, Indonesia, and Asia. So, just imagine a world where the likes of Muammar Gadhafi of Libya, President Chavez of Venezuela, Bashar Al-Assad of Syria, Fidel Castro of Cuba, President Ahmadinejad of Iran, King Abdullah of Saudi Arabia, along with Hosni Mubarak and his sons in Egypt, the Muslim Brotherhood movements of Hamas in Palestine, Hezbollah in Lebanon, and carbon copies in Indonesia, Pakistan, and across Asia all join hands. This is the perspective that the larger strategy requires. It's the big picture.
The strategies advanced by Ibrahim dovetail with objectives highlighted in a section titled "Strategic Vision For The War On Terror," within the National Strategy For Combatting Terrorism that President George W. Bush released earlier this week. The Bush plan says that regarding terrorists, we must "cut off their sources of funding and other resources they need to survive," and must facilitate "the creation of a global envirnment inhospitable to violent extremists and all who support them." Great vision, but empty words - unless meshed with dead-serious implementation of strategies such as those highlighted above by Ibrahim. Bush is not in a position globally to lead such a charge. A President Rudy Giuliani would be, however.
For general background purposes, here are a few additional op-eds by Ibrahim, well worth reading:
"Will The Mideast Bloom?" (2005, Washington Post);
"To My Arab Brothers: The War With Israel Is Over - And They Won. Now Let's Finally Move Forward" (2006, Jewish World Review);
"Finally, It Seems, Iran Has Overplayed Its' Hand" (2006, USA Today);
"The Road To Beirut Leads Straight To Damascus" (2006, New York Sun).
TECHNORATI TAGS: TERRORISM, YOUSEF IBRAHIM, TECHNOLOGY, WEAPONRY, SANCTIONS, ASSIMILATION, MADRASSAS, SEATTLE, GEORGE W. BUSH, STRATEGIC VISION FOR THE WAR ON TERROR, RUDY GIULIANI, G8, EUROPEAN UNION>
Posted by Matt Rosenberg at 11:31 AM | Comments (3)
September 05, 2006
Ahmadinejad's Jew-Baiting Is Best Ignored
Iranian President Mahmoud Ahmadinejad has been on quite a roll lately, continuing to enrich uranium for possible use in nuclear weaponry, and launching a battalion of political and cultural missiles. He told German Chancellor Angela Merkel that the WW II Holocaust - in which six million Jews died at the hands of German Nazi captors - may have actually been a made-up excuse to keep the Germans feeling guilty and to propel formation of a Middle Eastern homeland for Jews. That would be Israel, of course, the nation Ahmadinejad has said is a "disgraceful blot" that should be "wiped from the face of the earth." Currently Iran is hosting a cartoon exhibition on the Holocaust, redolent with anti-Israeli and anti-Semitic themes. In a recent visit to Tehran, United Nations Secretary General Kofi Annan, in accordance with concerns raised by the American Jewish Committee, objected to the Holocaust cartoon exhibition. But to no end. Fair enough. Let the works be judged on their merits, and the thoughtfulness of the responses - as was the case with the Danish cartoons prompting months-delayed, stage-managed outrage from Islamicist zealots.
Ahmadinejad is also hoping to his regime will hold a conference in Iran on the Holocaust, including revisionist takes that it is all a myth, or at least "greatly exaggerated." And what campaign of autocratic lunacy is complete without dark mutterings of an academic purge? Ahmadinejad is urging Iranian students to mount a campaign for removal of secular and liberal university professors, who of course would not subscribe to his blatant anti-Semitism and hatred for Israel.
The proper laissez-faire response to the cartoons should also guide the broader reaction to Ahmadinejad's mounting public relations offensive against Jews, secular academics in Iran, the state of Israel and the reality of the Holocaust. Ahmadinejad's Jew-baiting is best ignored.
In a New York Times op-ed (free reg. req.), Poet and memoirist Roya Hakakian writes that growing up Jewish in Iran (formely known as Persia), she learned that:
...one could, by wit or by wisdom, overcome every bigot. President Mahmoud Ahmadinejad's rhetoric about the Holocaust may terrify people who don't know Iran. But those who do, find it, above all, tragic. By resuscitating symbols like the swastika and other Nazi-era relics, he is contaminating the Iranian social realm, where such concepts have scarcely existed. No doubt Jews have been mistreated in Iran throughout their long history, but to a degree incomparable to that suffered by Russian and European Jews.

...Water fountains and toilets at my high school were segregated, some marked with signs that read "For Muslims Only." But by and large, Iranians were not receptive to such bigotry. We crisscrossed among the stalls until the signs became meaningless. The post-revolutionary regime has had the misfortune of ruling a people reluctant to embrace its radical message. That is why Iran remains home to the second-largest community of Jews in the Middle East — second only to Israel.
Ahmadinejad's domestic agenda also seems suffused with unreality - it includes interest-free government loans to newlyweds for apartment security deposts; forced minimum wage hikes that have driven small manufacturers out of business; and envisioned privatization of state industries with proceeds supposedly to be distributed to the populace. Quite the failing socialist welfare state; it would appear - and the natives are restless, as the Indian Express reports.
Ahmadinejad's nuttery may give ideological succor to jihadists doing Iran's bidding in Lebanon, Palestine and Iraq, but they've pretty much bought the package already. Methinks 'ol Mahmoud just wants the ink. One wonders to what extent Ahmadinejad's bid to develop nuclear weaponry is also a cry for attention, and status. If and when he develops an itchy trigger finger, he should remember this: you don't f*** with Israel.
In one Seattle Times op-ed earlier this year, Iranian native and Seattle-area writer Faye Farhang buttresses Hakakian's argument in the NYT that most Iranians don't share the anti-Semitism of (what Farhangs terms) the nation's "self-elected leaders." In another Seattle Times op-ed a month later, Farhang suggests Ahmadinejad can categorically not be trusted to honor any negotiated pledges to use nuclear technology for purely non-military purposes. Farhang urges a bottom-up swell within Iran for democracy, nimbly assisted by the U.S. and Western allies. Much, much easier said than done at this point - true. But if Ahmadinejad and the Mad Mullahs who pull his puppet strings keep playing true to form, the effort could launch sooner rather than later.
TECHNORATI TAGS: IRAN, AHMADINEJAD, HOLOCAUST, CONFERENCE, JEWS, ISRAEL, CARTOONS, ANTI-SEMITISM, IRANIAN JEWS, ROYA HAKAKIAN, FACULTY, NUCLEAR WEAPONS, NEGOTIATIONS, DEMOCRACY, FAYE FARHANG>
Posted by Matt Rosenberg at 11:28 AM | Comments (0)
September 01, 2006
Glacier National Park: The Highline Trail
UPDATED: In my first post on our family's recent trip to Glacier National National Park in Montana I focused on the hike to Hidden Lake and mentioned only in passing the nearby Highline Trail, which you can pick up right across from the Logan Pass Visitors' Center on Going to The Sun Road. But it deserves your full attention if you visit Glacier, especially if rewarding day hikes are your holy grail.
As bigskyfishing.com explains, the full Highline Trail runs 20 miles from Logan Pass to 50 Mountain Campground and then feeds into the Waterton Valley Trail running to Canada's Waterton Lakes National Park. BUT, there's a far shorter one-way option geared for day hikers seeking minimal pain and maximum scenery. That's the 7.6-mile "Garden Wall" stretch of the Highline Trail running from Logan Pass to the Granite Park Chalet, which accurately bills itself as "a national historic landmark hotel reached only by trail." You can then either stay overnight at the Chalet, with advance reservations (the whole idea sounds great to me); or hike another 3.8 miles downhill via the Loop Trail to the Loop Trail parking lot on Going To The Sun Road. Keep in mind that the Glacier shuttle bus is a great resource in planning one-way or even carless hiking excursions in the park. The 2006 season shuttle schedule here will give you an idea of locations and frequencies. More here on the Highline Trail from about.com.
From the second you set out on the Highline, you can tell you're in for a treat. Here's a digipic I took shortly after we entered the trail near Logan Pass. That's the Garden Wall formation looming above.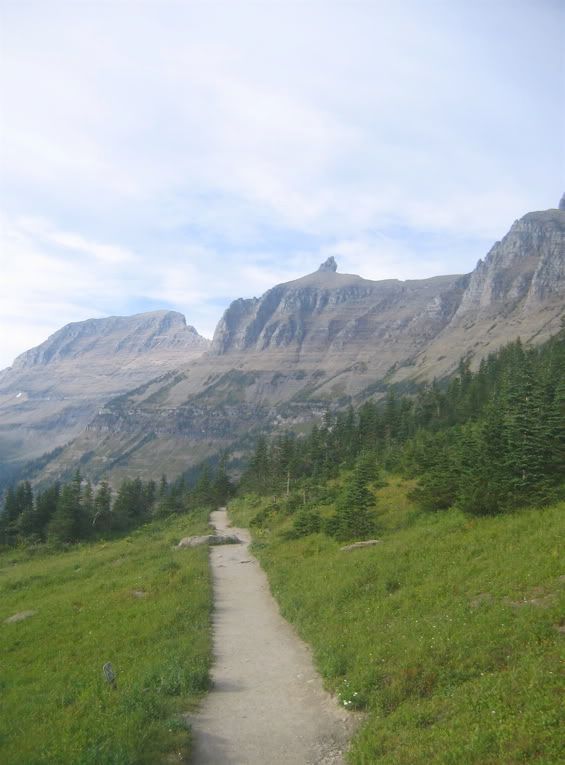 Below is a wider-angle shot I took of the Garden Wall. It's technically described as an arete, which according to Wikipedia means a sharp edge has resulted from the erosion of two glaciers forming parallel U-shaped valleys. The small pointy peak is named Bishop's Cap.
Along the way, we encountered an adult Mountain Goat and one kid. They were lounging right above the trail. Here's the Big 'Un, transmitting a weary, "Yes, Can I Help You?" On our way back, the two were doing some al fresco dining on local vegetation.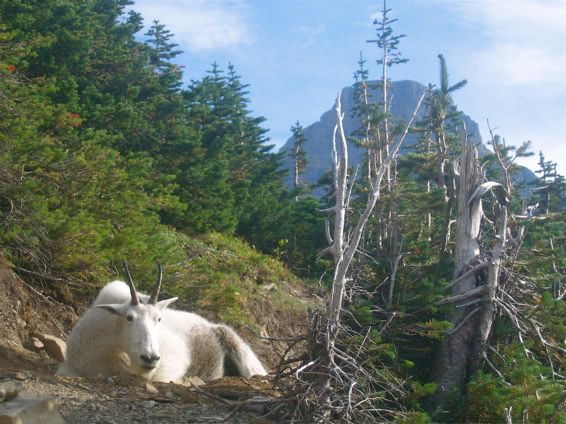 We only hiked briefly on the Highline Trail during our recent visit to Glacier, after a full day of excursions elsewhere in the park. But we saw enough to know it's at the top of our list when we return.
TECHNORATI TAGS: MONTANA, TOURISM, VACATION, GLACIER NATIONAL PARK, HIKING, HIGHLINE TRAIL, GARDEN WALL, GRANITE PARK CHALET, WATERTON LAKES NATIONAL PARK>
Posted by Matt Rosenberg at 02:30 PM | Comments (0)