August 31, 2006
Off-Road Vehicle Blight In National Parks Won't Expand
Near the end of one of several fairly recent posts here on Oregon coastal travel, I sounded off about some long-held views I've had on motorized recreational contraptions in national parks and other natural settings. Regarding so-called off-highway vehicles - also known as off-road vehicles - in the Oregon Dunes, I wrote:
It seems extraneous and inappropriate to subject the sands of a prime national dunes park to the whims of motorized thrill seekers. True, this is one of those recreational land use controversies that will never die. I understand that jet-skiers, dune-scaling OHVers and riders of All Terrain Vehicles (or ATVs) in our national forests have become a force to contend with and fiercely defend their interests, dubiously framed as "rights." I think that beyond passenger vehicles traversing known roads, internal combustion engines should not intrude in any designated recreation area within local, state or national parks, or any on beaches, as is the case in southwestern Washington state. Mountain bikes and horses on hiking trails ignite similar tussles, but I'd grant both some slack, as they're not spewing gas and noise. As for the dunes: the silence, the wind, the environment, contemplation of the geologic history, examination of plant life, walking, bonfires, wading in the surf, natural solitude - this is what the experience should be about. If you want revving engines, go to a monster truck rally, or take to the road in your Harley.
Little did I know then that a related controversy was already on its way to being solved. Current national park restrictions limiting the use of OHVs, ATVs and motorized boats, jet-skis and snowmobiles were threatened last year during an official revisitation of established policy; as a later-re-assigned assistant to then-U.S. Interior Sec. Gale Norton plotted with manufacturers of OHVs and ATVs to weaken protections and open up more national parklands to the heinous class of hopped-up motor-gizmo jockeys who think life is just one big exhaust pipe. But the grassroots response was fierce, as apparently many people understood the hideous impact of off-road vehicles and other motorized recreation devices on the environment of our nation's treasured national parks. Leading the charge was National Parks Conservation Association; here is some especially salient testimony to a Congressional subcommittee just last June by NPCA's president Thomas C. Kiernan.
The Los Angeles Times reports the park service was today to issue final rules upholding the original restrictions: there will be no weakening of current protections limiting areas in national parks where off-road vehicles, all-terrain vehicles, jet-skis and motorboats can be used.
Having just returned from Glacier National Park with an even deeper appreciation of quiet, majestic natural spaces that are best traversed by foot; by passenger vehicles on paved and parks roads; and bicycle; I say "Bravo." I especially appreciate Glacier's policy of barring the preternaturally oversized critters known as recreational vehicles from major byways in the park such as Going to the Sun Road. RVs would be not only a desecration of the viewlines for other drivers but dangerous as well on the curving, mountainous Glacier thoroughfare. Having driven extensively on coastal Route 101 along the Oregon Coast earlier this summer, I can't claim that the many RVs seemed to be in danger of driving off a scenic cliff. But they slowed down traffic horribly, even for easygoing tourists like my wife and I, and noticeably blighted the visual environment.
I'd be quite happy to see RVs banned from coastal stretches of Route 101 in Oregon and California. The industry would beat back any such attempt, I'm sure. But many of the RVs I saw in coastal Oregon - and it was hundreds - were hauling sport utility vehicles behind them for tooling around more easily later. Does anyone really need to take TWO vehicles on vacation at once? Cripes, folks, just take your SUV, and rent an efficiency unit or vacation cottage/home. These places don't have to be crummy at all; many can be had in great settings and for reasonable prices, even. I speak from experience. It'd be a lot more civic-minded than carting your fat cottage on wheels along the Pacific Coast, and probably cheaper too, considering the price of gas these days.
TECHNORATI TAGS: OFF-ROAD VEHICLES, NATIONAL PARK SERVICES, NATIONAL PARKS CONSERVATION ASSOCIATION, GLACIER NATIONAL PARK, RECREATIONAL VEHICLES, OREGON COAST>
Posted by Matt Rosenberg at 06:48 PM | Comments (1)
Montana's St. Ignatius Frescoes, And Mission Falls
St. Ignatius Mission was established by Jesuits in 1854 in what is now St. Igantius, Montana. The church was built in 1891 on the Flathead Indian Reservation, serving a population including some the of Confederated Salish and Kootenai tribal members who call the reservation home now. In an out-of-the-way rural location roughly an hour north of Missoula, off Route 93, the church continues to draw visitors from all over the world to see its remarkable series of 58 frescoes handpainted by the Mission's cook, Br. Joseph Carignano, a self-taught artist.
During our family's recent vacation stay nearby, north of St. Ignatius and south of Flathead Lake outside the town of Ronan, we visited the church and then nearby Mission Falls and Mission Reservoir. They're both in the foothills of the Mission Mountains which run north to south along the eastern edge of the Flathead Valley. Most of the Mission peaks are in the 7,000-foot range, though some rise higher than 9,000 feet.
I knew to expect mountains, but not gorgeous church frescoes in Montana. Here's a shot I took which partially reveals the sweep of the artwork inside St. Ignatius.
A close-up of one, depicting St. Joseph carring baby Jesus; note the teepee in the foreground: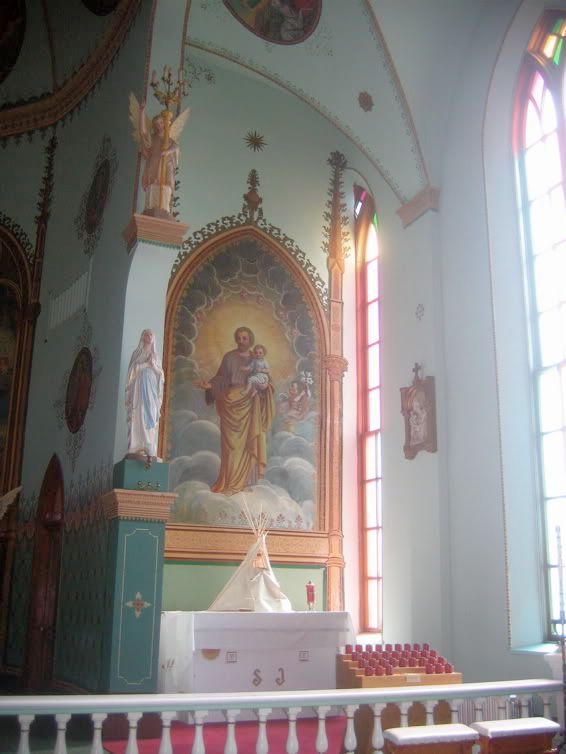 Looking back toward the entrance, light streams in through the stained-glass windows.
In a boosterish local publication out of Bigfork, Montana called The Lake County Journal, writer Jan Krause has an informative piece on the history of St. Ignatius Mission and the frescoes. In American Profile, a magazine "celebrating hometown life," Alice Ross has more on St. Ignatius
After viewing museum-like exhibits in the historcal outbuildings on mission grounds, we set off to find Mission Falls, nestled at the base of the nearby Mission Mountains which dominate the valley's vistas. At the longhouse community center in St. Ignatius I was walking toward the building from my parked car as a Native-American guy also approached. He gave me a continuing look that might be thought of a "hard," so I figured I had better state my business directly. He turned out to be perfectly helpful and friendly, if not effusive - giving me detailed directions to the falls and answering a few questions about the region. I noticed he didn't engage in direct eye contact, which I've read is somewhat of a taboo among many Native-Americans. So we both sort of stood side by side, gazing out at the horizon, talking about the land. It felt very, ah, Western.
From St. Ignatius, you drive north from just east of the community center, on Foothills Road, to Mission Dam Road, where you turn right and proceed east, eventually going straight through a bucolic six-way intersection on a one-lane bridge, then past the big Mission Reservoir on the right, and on several miles via a bumpy, gravel surface deeper into the woods until you can drive no further. When you get out in the shaded parking area, you'll hear Mission Falls right away.
I've been to a lot of beautiful waterfalls in Washington and Oregon but this one was different from most. You could get closer to the source at a shorter distance from the falls than is typical, by safely perching on a huge rock right above where the rushing creek tumbles into the falls. It was a fine place to enter into a Zen-like trance.
On the way back, we stopped to bask briefly in the still and peaceful aura of the Mission Mountains, from the shores of Mission Reservoir, where picnic tables, shaded grassy areas and swimming invite longer stays.
Driving back north along bucolic Foothills Road toward our rental in Ronan, we exchanged friendly waves with a man sporting a bushy beard, black hat and old-fashioned garb and riding a bicycle in the opposite direction. He must have been one of the traditionally-inclined Amish, Mennonites or Hutterites whose colonies dot the state. We had bought a naturally-raised Montana Hutterite chicken at the Harvest Market in Ronan and cooked it up for dinner a night earlier. Quite scrumptious. The (Anabaptist) Hutterite sect has 49 colonies in Montana; and live fully self-suffiicient and pared-down lives, in accordance with their religious beliefs. They make their own clothes, furnishings and build their own homes; and raise chickens, other animals and produce, and sell eggs - a great many eggs, actually - as part of their well-developed business operations.
Hutterite chicken is highly-regarded. As Blaine Harden notes in a Washington Post Montana travel essay published earier this month, it graces the tables of some the trendiest restaurants in Montana, a state where an ongoing influx of "New Westerners" seeking greater quality of life accents sharp demographic variances in the population.
UPDATE: My son Max has a new post up at his blog, about our trip to Montana. There's a dog he'd like to introduce you to, for starters.
TECHNORATI TAGS: MONTANA, TOURISM, VACATION, ST. IGNATIUS MISSION, FRESCOES, MISSION FALLS, MISSION RESERVOIR, MISSION MOUNTAINS, HUTTERITES>
Posted by Matt Rosenberg at 01:22 PM | Comments (1)
August 30, 2006
CBS' Couric Fauxtography Portends Vast Paradigm Shift
Emerging technology for a la carte bodies, faces, will gird Deconstructionist power bid
UPDATED: Newsday reports CBS-TV's incoming evening news anchor Katie Couric lost about 20 pounds...in the Photoshop. A network promotional magazine titled Watch! recently carried a digitally-altered photo of a very slimmed-down Couric. Compared to real life, that is.
Here's the real Katie in a May network promo photo distributed to the media (left), and the computer-skinnified Couric shot used in the CBS magazine (right).
Watch! has a circulation of 400,000, and is distributed on American Airlines flights and at CBS stations. So fauxtography not only brings us bigger, smokier explosions in Lebanon, but smaller, more narrow-waisted network anchors. Me, I just shade my digipix a bit if the sun was too bright, maybe dial up the sharpness a smidge, or crop bland edges. If I want to really have some fun I might turn Mount Rainier a bit purple or blue. But that's it. I use Apple iPhoto and if there's a doctoring capability, as there is with Adobe's Photoshop, I haven't discovered it yet.
As noted in the eponymous link above, fauxtography - unspoken and fraudulent image additions to a digital photo, and overt staging of war or disaster photos for political effect - poses yet another serious credibility issue for the mainstream media. But the personal will trump the political in the end.
Ethical concerns will eventually be subsumed as it becomes clear that other types of "real" image transmissions will frequently be doctored, too. The little Couric dust-up is instructive, actually. In time, most television and video cameras in use will have built-in controls allowing instant slimming, erasure of crow's feet, and so forth. After-the-fact alterations of photos done now with software will be done live during broadcast. Just dial in the "20 pounds slimmer, 20 years younger" pre-set. Or "full head of hair." It will be a Godsend to aging anchors, and actors. More comprehensive options will come to include a full range of facial and body types. The live-cam will become a transformational tool.
Subsequently there will be mass-market deployment of invisible image transmitter shields that all people will be able to wear, achieving the same sort of visual makeover in everyday life. Wafer thin, pinky-fingernail-sized chips plugged into the invisible image transmitter shields will deliver various ethnic facial features, body types and even celebrity look-alike packages. Amazon.com will corner the market; sales will dwarf all other online retail combined. Skin cream hawkers and liposuctionists will become obsolete; but beauty magazines will adapt swiftly with slavish hype.
The dramatic third-stage breakthrough, not long afterward, will allow the "feel" of the menu-selected facial and body images to match the look. Dating and sex will be greatly enhanced. Health club membership and exercise will decline dramatically in popularity, rejected by all but the most principled purists.
At that point the deconstructionists will have finally won. No one will even care whether Reuters has doctored "news" photos from Lebanon, or North Korea, or Iran. All "realities" will be seen as manufactured.
You read it first at Rosenblog.
TECHNORATI TAGS: CBS-TV, KATIE COURIC, PHOTO, FAUXTOGRAPHY, REUTERS, LEBANON, PHOTOSHOP, iPHOTO, VIRTUAL REALITY, DECONSTRUCTIONISM>
Posted by Matt Rosenberg at 07:19 PM | Comments (1)
August 29, 2006
Lakehead, Shmakehead
Lakehead University of Thunder Bay and Orillia in Ontario has unveiled a new $100,000 marketing campaign featuring a picture of Yale grad and U.S. President George W. Bush emblazoned with the words "Yale Shmale." The broader theme is that an Ivy League education isn't all it's cracked up to be, and that savvy students who choose Lakehead will emerge better prepared for professional life and more ethical than Bush has proven to be as President of the U.S.
University youth ambassadors are also promoting the campaign in cafes. In a related effort to draw attention to the Bush-bashing enrollment initiative, the school is giving away a smart car lease and some portable video games. The ad copy at the university's Web site states:
There are universities and then there are universities. So let's not beat around the bush. Lakehead is different. We believe the person you become after you graduate is even more important than the person you were when you enrolled. Our professors and staff will prepare you to meet the challenges of your chosen profession. Experience a dynamic university in a unique environment. Make the smart choice. Go to a university that cares how well you do after you leave.
At right above (via The Toronto Star) we see Lakehead's Bush-head "Yale-Shmale" banner on display curbside. The paper reports that copies of another "Yale Shmale" campaign poster are also being put up by Lakehead operatives, and that it states, "Graduating from an Ivy League university doesn't necessarily mean you're smart. Choosing Lakehead does."
Um. Well. Actually there may be quite a few smarter choices than Lakehead. The MacCleans' magazine Canadian University Rankings put Lakehead 17th out of 21 primarily undergraduate institutions listed.
That's probably charitable, considering that to stand out from the pack of competitors seeking the same limited pool of enrollees, the school has stooped to running contests for prospective students to win an auto lease or a mobile video gaming device. What a thing for a new enrollee to be able to say - "I'd never really thought of Lakewood, but after their video game giveaway caught my eye, I decided to give them a good look-see." What a ringing endorsement of the school's academic quality and general reputation that would be.
Considering the stiff Canadian federal income tax rates AND the robust additional provincial income taxes, the smartest thing an ambitious young Canadian can do is not to go to Lakehead, but to get the hell out of Canada before he or she begins to approach peak earning power.
TECHNORATI TAGS: LAKEHEAD UNIVERSITY, ONTARIO, GEORGE W. BUSH, YALE SCHMALE, MARKETING CAMPAIGN, CANADIAN UNIVERSITIES, CANADIAN INCOME TAX>
Posted by Matt Rosenberg at 04:05 PM | Comments (0)
Glacier National Park: The Hike to Hidden Lake
Montana's Glacier National Park is a real kick in the pants. As a Seattle-ite, I live just about in the shadow of Mount Rainier. Since moving to the great Northwest from Chicago in 1994, I've hiked and driven through much of the the rest of the grand Cascade Range - which runs from northern Washington down through Oregon to northern California. As my Brooklyn-via-Ukraine ancestors might say, I know from mountains. My appreciation is probably enhanced a lot by growing up a Flatlander. But as wondrous and beautiful as are the Cascades, I'd not seen anything like the concentration of jaw-dropping mountain vistas, mountain lakes and wildlife that are packed into Glacier. For six days ending last Friday morning, our family rented a swank but reasonably-priced Flathead Valley vacation home near the Mission Range 90 minutes southwest of Glacier, which we shared with another family. We visited Glacier once during that stay. Then, tantalized by our first taste, we lodged for two more days in Essex, Montana at a modest roadside motel, much closer to The Glacier Church of the Great Outdoors. Driving the entire 580.4 miles from Essex back to West Seattle on Sunday was a small price to pay.
Our three days in Glacier occasioned a bunch of different hikes, explorations of the million-acre park's different regions, tourist amenities and its great scenic byway, Going To The Sun Road. All this left me with a big itch to return as soon as possible. If you're going to be planning a trip there, a good place to start is at the official Glacier National Park Web site.
Like many other visitors, our first Glacier excursion was to popular Hidden Lake, from the visitors center at Logan Pass on Going To The Sun Road. Logan Pass lies smack dab along the Continental Divide.
After a few minutes tooling around in our trusty Honda sport utility vehicle and stalking departing vistors heading toward their cars, we actually scored a parking space in the large but completely packed lot at Logan Pass. It's best to arrive before 10 a.m. or after 3 p.m., but we didn't. We weren't so lucky a few days later, and couldn't find a spot even after 10 minutes of lurking about. It all turned out well, though. We simply drove on a short distance to the St. Mary's Falls trailhead and hiked to St. Mary's Falls and Virginia Falls, then returned to Logan Pass later when parking was plentiful, and got a taste of the gorgeous Highline Trail. Another approach: the park shuttle service allows you to get to and from Logan Pass without parking hassles. Relying on the shuttle, you can also plan some great one-way hikes in the park.
Before getting started on our hike to Hidden Lake, we ate our sandwiches sitting on benches up above the vistors center. One of the first things you see from the parking lot is Reynolds Mountain. Here's a picture I took of it shortly after arrival. At the lower left is an odd-shaped peak called Bishop's Cap - one small part of the larger Garden Wall arete.
After fueling up, and accompanied by streaming hordes of tourists, we launched upon the 1.5-mile boardwalk portion of the Hidden Lake hike, to the overlook. I shot this at the outset, looking toward Mount Clements.
Back across a meadow a bit further on down the boardwalk, a bunch of Bighorn Sheep came into view. Here's one with Haystack Butte in the immediate background, and behind that, part of the famous Garden Wall.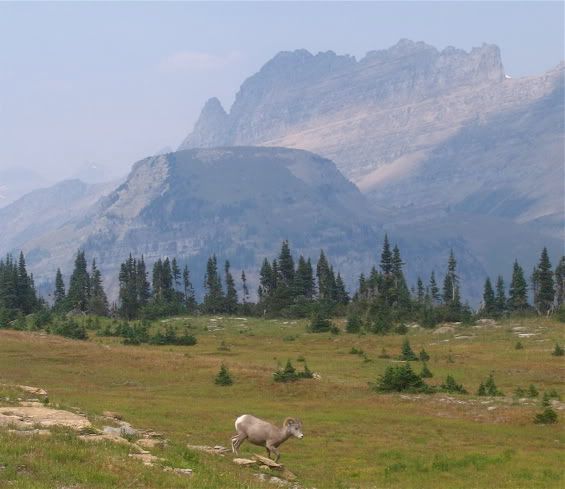 Not only do the vistas shift as you proceed along the boardwalk, so do the foreground colors. Another view of Mount Clements, rimmed in red rock just below the base.
Upon reaching the overlook, most visitors see the moderately steep descent toward the lake, and head back to the visitors center. Fair enough. To that point, it's a great scenic walk with only a very modest elevation gain. Our party of eight (four adults, four kids) proceeded all the way down to the shores of Hidden Lake, a descent of another 1.5 miles and 700 feet. ( Hike description here from Trails.com, and here from BigSkyFishing.com). On the way down, Bearhat Mountain came into view over a corner of the lake.
On the way back up, I spotted Sperry Glacier (center right, in background).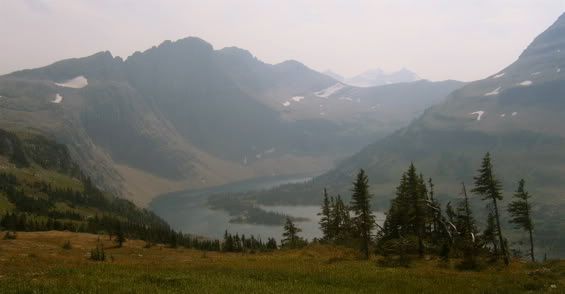 I lingered behind, observing unflustered mountain goats, beefy marmots, ptarmigans and grouse up close and personal. Along the Hidden Lake trail you tend to easily fall into conversations with other visitors. Something about all those sociable critters nearby seems to engender humanoid fraternity. The trip in reverse also revealed some other new vistas. This is Piegan Mountain Going-To-The-Sun Mountain in the center.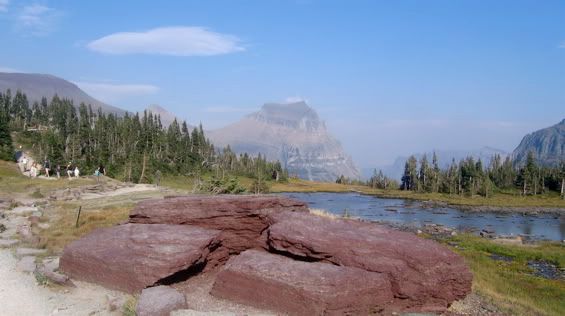 By the time we were done, the parking lot was nearly empty and we were hungry for a good hot dinner, knowing a dining room in one of the park lodges wasn't going to work for four sweaty, dusty adults with four kids in tow. If only we'd known that night about Eddie's Restaurant (406-888-5361, no Web site), a great casual spot in Glacier's Apgar Village serving fresh pan fried mountain trout, broasted chicken, roast sirloin, roast pork, and homemade huckleberry-peach pie. Our family discovered Eddie's a few nights later. But alas, on this evening we made the long drive back toward our rental south of Flathead Lake searching in vain for a joint that didn't look too touristy or crummy. Not much luck. Our friends were in another car behind us, and after we turned south from westbound Route 2, heading toward Bigfork on a sparsely-populated stretch of Route 206, they detoured back north to Columbia Falls and ended up - they told us later - in a serviceable greasy spoon with 18 beers on tap in an adjoining tavern.
We continued on, resigned to 10 p.m. spaghetti back at the vacation rental. I know, I know, life is hard. But then at the intersection of Routes 206 and 35, north of Bigfork, we happily stumbled upon the Frontier Roadhouse, a classy log lodge with a packed parking lot. They feature pit-smoked BBQ, southern fare, and nighttime golfing out back with glow-in-the-dark balls. I had a pile of lean and tender BBQ brisket, which I nappped with pepper vinegar and the great tangy, smoky house sauce; plus a stellar cornbread muffin, tangy BBQ beans and a small Romaine salad with huckleberry vinaigrette. My wife had a nice Caesar salad with a bit of brisket on the side. The kids did their usual restaurant thing, which used to irritate me and I have now learned to accept: order a smidgen of food, poke it around on the plate a lot, describe its physical properties in detail, and finally eat just enough of it to earn dessert. In this case, dessert was a warm and scrumptious homemade cobbler of huckleberries and peaches. Yeah, I poached some. Turns out these Frontier Roadhouse fellas have a Seattle location. Similar menu, but more Northwest around the edges.
We got back in around 11 p.m., and spent the next day in Riverside Park in the town of Polson, doing a whole lot of nothing under the Montana sun.
TECHNORATI TAGS: MONTANA, TOURISM, VACATION, GLACIER NATIONAL PARK, HIKING, HIDDEN LAKE, EDDIE'S RESTAURANT, FRONTIER ROADHOUSE, FLATHEAD LAKE, POLSON>
Posted by Matt Rosenberg at 09:35 AM | Comments (1)
August 28, 2006
Let Us Give Praise (Not)
UPDATED. Life is good. Really. Great country, all in all. Great people, mostly. Great places, open spaces. America The Beautiful; seriously. (I just got back from Glacier National Park, you'll have to excuse me). But in order to preserve what we've got, it's necessary to identify with alacrity those things which rend the social fabric and violate common standards of decency. As you know by now (see here, here, here, and here), I am not one to shirk that duty.
So, let us unabashedly pile heaps of opprobrium upon some - just some, mind you - of those who deserve it. Such as......
Washington State Corrections Department officials and the judge who engineered the early release from prison of chronic hoodlum Mary Jane Rivas. A Seattle cop is dead as a result of officaldom's undue lenience, and Rivas' subsequent drugged driving.
The federal tax code, cheating corporate lobbyist-lawyers, and the Capitol Hill Republicans and Democrats who enable them.
Meth moms. You see these uber-skanky, emaciated to the bone, hollow-eyed, peroxided train wrecks in public places, with kids in tow. Like the old drugstore in the very nice town of Wallace, Idaho last weekened, during the Huckleberry Festival with no huckleberry vendors. You know what's going on. So does anyone who knows anything. It's damned scary.
Guys on hiking trails, drenched in cologne. I'm actually a small governnment type. but I wonder: ought there to be a law?
Foreshortened handshakes, no palm allowed. Message: I really do think you have cooties.
That unbenighted soul I espied yesterday using the Sprague Lake Rest Stop, past Spokane on Westbound I-90. He was wearing Everlast shorts, knee-high white athletic socks, and.....sandals.
His "life partner" - I'd guess that was probably the preferred term. She was wearing a bright tie-dyed T-shirt, tucked into shorts that had a resplendent.........elastic waist band. Doubtless their kids - yes there were kids attached to these sartorial felons - go to an iffy public school in Seattle, for the sake of "diversity." Some lame-brained Seattle progressives are especially easy to identify. The ones with money and good taste are a bit harder to detect. Until they open their mouths. Anyway, at least along with their hurtful vestments, these two have each other. See you at Folklife, guys.
1960s- and 1970s-vintage Volkswagen microbus vans, struggling weakly up a slight incline on the highway at about 40 mph less than all the other vehicles. No War For Oil, sure, bro. But remember the upside of American Cultural Imperialism: horsepower.
Those smarmy ads on the radio where after the great offer is hyped, the announcer reads all the weasel-word fine print in a breathtaking 10-second rush at the end which makes you immediately want to wrap his entire head tightly in gauze and then coat it with tar. Or something. The hyperfast shtick is typically along the following lines: "Offer good only on alternate Tuesdays and Thursdays in Illinois, Wyoming, Rhode Island, New Mexico and secondary markets where no less than 72 percent of households practice recycling and attend a Latter Day Saints church; users must sign disclaimer acknowledging substantial risk of blindness, impotence, Malignant Compassion Disorder, rabies or death; special federal mitigation-fund tax of 136 percent charged on all transactions; qualifying participants must comply with escrow fund stipulations and credit equirements, both to be determined at a later date; offer does not apply to Chicago Cubs fans, people who go bowling or are known to watch 'The Apprentice.'"
Lumbering, mammoth Recreational Vehicles, a.k.a. RVs. A pox on humanity and our nation's scenic byways. If I see many more, I am going to join the Green Party.
Front-seat passengers in moving vehicles with their feet jauntily sticking out the lowered window. Never has looking carefree required such contortion. Besides which, it's just plain vulgar, as any Muslim can attest. For all so inclined, may Allah grant a speedy amputation by a passing truck. Your dawgs want to breathe? Go to the beach.
Gals walking around in shorts with the word "juicy" in large print, right on the buttocks. Ladies - if that is the word: a nice bottom truly speaks for itself. Don't be cheap.
Speaking of which. Parents know there is only so much they can do once their kids get older. Here is one way to know you have not entirely failed. Your daughter does NOT, ever, in her entire life, get one of those distressingly prevalent tattoos on the back of her waistline, a.k.a. the "Tramp Stamp."
The entire self-help industry. How can it be self-help if someone has to tell you what to do?
TECHNORATI TAGS: MARY JANE RIVAS, FEDERAL TAX CODE, METH MOMS, BAD HANDSHAKES, RADIO ADS, VOLSWAGEN MICROBUS, TRAMP STAMP, SELF-HELP>
Posted by Matt Rosenberg at 09:31 AM
August 16, 2006
More Troops Needed To Secure Baghdad?
Both U.S. Sen. Maria Cantwell (D-WA) and her GOP challenger Mike McGavick are engaging in some fancy footwork lately on Iraq, to woo suburban Seattle and other swing voters. The Seattle Times today urges both to reveal more about whether our decision to invade Iraq was right, and what lessons they've learned. But what to actually do now in Iraq is paramount. Charles Krauthamer notes a hasty retreat is stupid, and inimical to Democrats. Conservative Rich Lowry says boost troop strength to secure chaotic Baghdad, as a crucial next step. He adds Bush's oft-stated resolve to win isn't nearly enough; policy is drifting badly; and Vietnam parallels ARE becoming apparent.
In the Weekly Standard, former Wall Street Journal editorial board member and current L.A. Times columnist Max Boot ultimately favors increased troops deployed to Baghdad, as well. But, he says U.S. forces have too often proved incapable of winning Iraqi hearts and minds and that a troop drawdown sooner rather than later is another option - with our personnel serving more in an advisory role to the Iraqi military. Top military brass see big cultural and tactical changes needed in U.S. troop training for guerilla conflicts such as Iraq.
I think Boot outlines the choices well for right now, IF we leave aside Iran's key role in Iraq and Lebanon. Perhaps what is most needed now are more U.S. troops in Baghdad, and when Hezbollah aggression soon resumes, Israel's destruction of Iran's nuclear capabilities.
UPDATE, 8/17/06: Here's an extended Q&A on Iraq with Cantwell and McGavick, from today's Seattle Times.
TECHNORATI TAGS: IRAQ, U.S. TROOP STRENGTH, STRATEGY, MARIA CANTWELL, MIKE MCGAVICK, GEORGE W. BUSH, RICH LOWRY, CHARLES KRAUTHAMER, DEMOCRATS, MAX BOOT, IRAN, NUCLEAR WEAPONS, ISRAEL, LEBANON, HEZBOLLAH>
Posted by Matt Rosenberg at 12:30 PM | Comments (1)
August 15, 2006
Seattle Hiking Guide: Snow Lake
UPDATED: A Monday yesterday and BlogWife had a well-deserved day off, at home with BlogDaughter. So Dad and BlogSon, a.k.a. kidgoat Max, got to ramble on high. The ramp to I-5 from the West Seattle Bridge was backed up a few miles, so never mind about Mount Pilchuck, as I had imagined. Instead we cut across Beacon Hill and via the Rainier Ave. on-ramp went out I-90 to Snoqualmie Pass and Snow Lake Trail #1013, hard by the Alpental ski area. We'd never been here before, though it's a quite popular hike. Even on a summer weekday, the trail is heavily used. Still, it's well worth it. Snow Lake is a six-mile round trip with an elevation gain of about 1,700 feet to a saddle, from which you descend a few hundred feet via switchbacks to a lovely alpine lake surrounded by Cascade mountain peaks. Picnic at one or another of the nooks on or perches just above the lake; and explore the camp area (marked, off the main trail) for additional vistas. If time permits, head a few miles further on to Gem Lake. As you traverse the saddle and head down into the lake basin, you enter the glorious and vast Alpine Lakes Wilderness Area, a place to which to return again and again.
Naturally, I took a few photos on our hike to and from Snow Lake. The trailhead is 45 minutes due east of Seattle (directions here).
The view on the way up, including Chair Peak.
Coming down from the saddle into the lake basin, some new peaks come into view.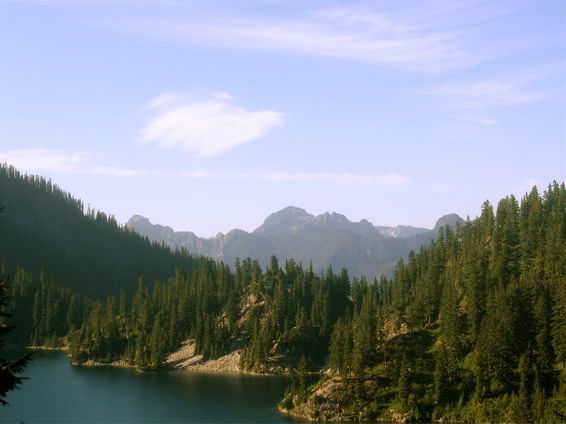 The backdrop for our picnic lunch, looking back again at Chair Peak.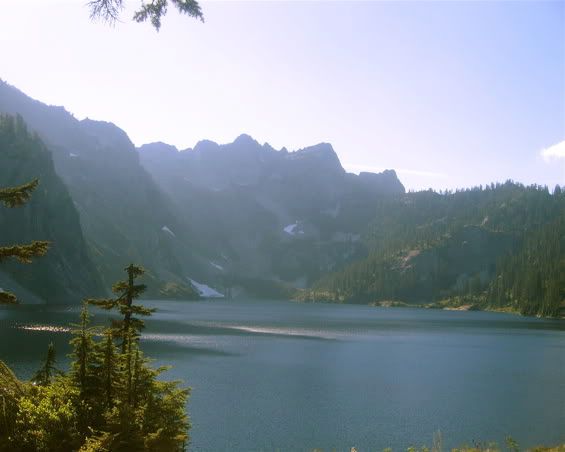 By the time we had finished eating and puttering around, there were few other visitors up at the lake or on the trail back down. It had been moderately hard going for Max at first, what with the heat and some flies, and no walk in the park for me either.
But Max bucked up and as always when hiking, welcomed the payoff upon arrival at the destination.
I know he's happy when he reverts into full-on junior biologist/geologist mode, or parks himself by a pond to make ripples in the water (below, left).
Our outing was capped as we drove back home, 40-plus miles west to Seattle, the orange-pink setting sun burning above.
We came out of the I-90 tunnel through north Mercer Island into Seattle from the last section of the floating bridge across Lake Washington.
A wailing tune from Jamaican jazz guitarist Ernest Ranglin's CD with Senagalese singer/guitarist Baaba Mal titled "In Search of the Lost Riddim," one that was on one of my not-quite-dessicated and most melodious cassettes, came to a sharp close.
Fluorescent-rimmed clouds over Puget Sound and the Olympic Mountains came quickly into view, above. Max looked up suddenly from his perusal of our invaluable "Beyond Mount Si" hiking book by John Zilly, and became spellbound.
As we continued on, turning south onto I-5 from eastbound I-90, toward the fast-approaching feeder into the West Seattle Bridge, Max - who though very dear, can nonetheless be a real tough sell a whole lot of the time - looked at the western sky and exulted, "Daddy, Daddy, if there were a definition of electric clouds, this would be it."
You really had to be there. But it looked somewhat like this - only the clouds were puffier.
For all its problems (and they are not inconsiderable) Seattle is a great place to live, and raise children. Especially children like Max.
TECHNORATI TAGS: SEATTLE, HIKING, SNOW LAKE, SNOQUALMIE PASS, ALPINE LAKES WILDERNESS AREA, HIKING WITH CHILDREN, GEM LAKE, ERNEST RANGLIN, IN SEARCH OF THE LOST RIDDIM, BAABA MAL, SENEGAL, BEYOND MOUNT SI, JOHN ZILLY>
Posted by Matt Rosenberg at 09:18 PM | Comments (2)
Suspect In Seattle Cop's Traffic Death Should Have Been In Jail
Commenting on the traffic death of young Seattle cop Joselito Barber - hit two days ago in a 80-mph "T-bone" crash by a drug-addicted repeat offender out of jail early under a state-approved "alternative sentencing" scheme - the Seattle P-I editorial board today comes down firmly against "poor driving decisions" and bravely exhorts "policymakers" to boost "safety measures and training." The Seattle Times reports today that Snohomish County prosecutors sought a one-year sentence for the suspect, Mary Jane Rivas, after Everett police confiscated crack cocaine from her in a traffic stop last September. She skipped out on a court hearing scheduled for two weeks later and wasn't collared until February, when she spent three months in jail awaiting sentencing. Then she served only two-and-a-half months on the crime before her early release, recommended by the State Department of Corrections and her public defender.
At the time of the crash Sunday, Rivas was wanted for prostitution, DUI, theft and malicious mischief; and had missed an Aug. 4 meeting with a parole officer. A P-I news article today notes Snohomish County Superior Court Judge James Allendoerferv ensured her early release, just 11 days before the fatal crash.
Police told the P-I she had cocaine in her system when admitted to the hospital after the crash.
Rivas may face vehicular homicide charges. I hope another early release under "alternative sentencing" won't be in the offing.
TECHNORATI TAGS: SEATTLE, POLICE, TRAFFIC DEATH, JOSELITO BARBER, MARY JANE RIVAS, COCAINE, DUI, REPEAT OFFENDER, ALTERNATIVE SENTENCING, EARLY RELEASE, WASHINGTON DEPARTMENT OF CORRECTIONS>
Posted by Matt Rosenberg at 12:45 PM | Comments (1)
August 10, 2006
Islamic Extremists Busted In Britain-U.S. Plane Bomb Plot
It is not yet clear whether they were "mentally ill" or put up to it by Bush, Blair and The Mossad, but The Australian reports British authorities have indicated the 21 suspects arrested so far in the ambitious Britain to U.S. in-flight bomb plot are "Islamic extremists" of Pakistani descent.
The plan to commit what police called "mass murder on an unimaginable scale" sparked the tightest security clampdown on international flights since the September 11, 2001 terror attacks in the US. Police indicated the suspects were Islamic extremists of Pakistani descent and said the plan involved smuggling explosives, believed to be "liquid chemicals", on to flights in hand luggage. It is believed the plan was to orchestrate several rounds of simultaneous attacks, with each round destroying three planes. The terrorists had targeted three US airlines - United, American and Continental - according to US counter-terrorism officials.
Police believe there are up to 50 participants in the plot. This article from the Seattle Times has more, including, at the time of this blog posting, the following:
President Bush said that the plot shows "this nation is at war with Islamic fascists who will use any means to destroy those of us who love freedom, to hurt our nation."
Meanwhile, Iranian Majlis Speaker Gholam-Ali Haddad-Adel shared his perspective on current events, in a note to the Azerbaijani parliamentary speaker:
In his message, Haddad-Adel referred to the 'Zionist' regime's extensive crimes and holocaust in Palestine's occupied territory and Lebanon and said, "Under the present conditions, we along with all world freedom-seekers are obviously bound to do our best to end such killings and establish immediate cease-fire."
Haddad-Adel's daughter, by the way is married to the son of Ayatollah Ali Khamenei, the "Islamic leader superior to all national and lawful organs." We can expect that the Iranian regime and its friends will continue to try to do their "best," as Haddad-Adel puts it, for quite some time. Iran is central as a sponsor of the terrorist group Hezbollah. Hezbollah fans global flames of Islamicism, supported by the distributed infrastructure of al-Qaeda AND a growing cadre of terrorists acting individually.
Perhaps, as Daniel Jonah Goldhagen of Harvard's Center For European Studies suggests in this L.A. Times Sunday op-ed, it really is time for Israel to brave more condemnation by going further than merely defending itself in the current conflict, which was initiated by Hezbollah and at Hezbollah's behest encompasses residential communities in Israel and southern Lebanon. Specifically, Goldhagen suggests Israel should closely consider direct military counter-measures against terrorism sponsors Syria and Iran. As Goldhagen notes, Iran has forthrightly declared that it might use its nukes against Israel. Is it possible that anything less than the neutering of Iran is just so much pissing in the wind? I don't know for sure. But as Goldhagen notes elsewhere, in an essential March '06 New Republic article, political Islam is increasingly flexing its muscle. The U.S. and the world are at continued and heightened risk, as recent events indicate. At home, we need a firmer commitment from the U.S. Congress, Senate and our President to the complex global objective of de-fanging the Islamic extremists.
If there were ever a time to send Republicans and right-minded Independents to Washington, D.C., this is it.
TECHNORATI TAGS: LIQUID EXPLOSIVES, ISLAMIC TERRORISTS, PLANE BOMB PLOT, PAKISTANI, LONDON, HEATHROW, BRITAIN, UNITED STATES>
Posted by Matt Rosenberg at 12:26 PM | Comments (2)
August 09, 2006
"Charlie Brown On Bass"
From six-string bassist supreme Fingers Moran of Vancouver, B.C.: "Charley Brown On Bass," via the people's free video bazaar, YouTube.com. Perhaps you're familiar with the lilting, bluesy and classic jazz number written and originally performed in the 60s by Bay Area pianist Vince Guaraldi - the Charlie Brown theme. It's been heard by generations on various Charlie Brown TV specials. Yes, Fingers misspells Charlie Brown's first name. So he's no copy editor, but he can play the livin' Bejesus out of that bass. A commenter at the YouTube link page to Fingers' performance video says this version is derived from a particular bass-playing instructional video. Let's hear it for the execution, though, including the simultaneous two-handed picking on different parts of the fretboard, and the phat chording. Great to see just what he's doing close-up, including the improv section at the end. Jump right to "play" by clicking on the right-pointing, circled triangle button in the middle of the embedded frame below, or on the smaller replica of the button at the lower left of the frame.
If you haven't been there before, YouTube offers a vast selection of independent videos, from political commentaries by jes' folks, to travelogues, musical performances, para-news coverage and pirated, choice snippets of news and entertainment footage from the networks, affiiliates, and cable TV. An internal site search engine makes it easy to zero in on preferred topics. Look for use and recognition of YouTube to grow in coming years. This site is a big part of the bottom-up content creation boom. There's plenty of crud, AND plenty of gems to be had, if you just poke around a bit. Plus topical new release notifications; community discussion groups; comment strings on the videos; and more. Best of all, for non-geeks, the videos are Flash, meaning they play right off the bat on both Windows-driven PCs and Apples. No pain-in-the-rear downloads of the media player you're missing are required, as is so often the case with video links posted at TV or newspaper sites.
TECHNORATI TAGS: CHARLIE BROWN ON BASS, CHARLIE BROWN THEME, VINCE GUARALDI, FINGERS MORAN, YOUTUBE, SIX-STRING BASS, VANCOUVER>
Posted by Matt Rosenberg at 11:38 PM | Comments (0)
Seattle Summer Evening Sun Shards
The long blast of hot weather in Seattle has cooled. Yesterday started out misty. Ferry foghorns bellowing in the near distance - a distinctly Seattle sound which helps define this place for me. Today was also misty at the start, and sunnier later, but with a nice protective cloud cover to keep the Bush-Rove Death Rays at bay. I must have gone totally native somewhere in the last few years, because I tire of too much sun after a few days. My son is the same way. Part of what's magical about living in Seattle are the shifting panoramas over Puget Sound. You might get a salmon in the sky, even. Tonight, high clouds let some sun peek through, the rays clearly isolated through the clouds, and lighting up the water. It looked like this.
TECHNORATI TAGS: SEATTLE, WEATHER, HEAT, WATER, PUGET SOUND, VIEWS, PHOTOGRAPHY>
Posted by Matt Rosenberg at 09:14 PM | Comments (1)
Are Crime Victims The Enemy, In Italy?
There's so much to love about Italy. The food, the wine, the land itself, the villages, the architecture, the appreciation of life's beguiling, sensate nature. That whole Dolce Vita thing, you know. But Italy is also a place full of communists, frequent public-sector labor strikes, nutbar anarchists, self-appointed guardians against American cultural imperialism, offensively fashion-forward fruity fake soldiers, and of course - still - organized crime.
It may be that last influence which accounts for yet another dismaying episode of a crime victim being chased and beaten by a crowd on the street, in this instance after seeking to track down thieves who stole his camera. This bizarre, "reverse vigilante squad" episode occured in Naples, and it wasn't the first time, either.
The tourist, identified by Italian police as 25-year-old Matthew Thomas Godfrey of Utah, was taking pictures of a church in central Naples Monday night, when two men snatched his camera and fled on a scooter. The American chased the thieves into a narrow alley when a group of local residents attacked him with punches and kicks, allowing the muggers to escape, Naples police said in a statement. Police arrived on the scene and took Godfrey to a hospital, where he was treated and released. Thanks to his description of the muggers, the suspects were later caught and police were working to identify the residents who took part in the assault. The American could not be reached for comment. His Naples hotel said he had already left.

The brawl is not unusual in a city that has occasionally seen large groups of residents siding with suspected criminals. Last year, a crowd of some 200 people threw stones, bottles and food at police injuring 12 officers who had attempted to arrest two men for stealing a motorcycle. The arrest of the son of an alleged crime boss near Naples last year also sparked protests by residents, mainly women, who hurled objects and insults at police.
In crime-ridden U.S. locales, there's a big problem with getting witness cooperation. The word out is "Stop Snitchin;" if you testify against a gangbanger you can be hunted down and killed, just as the Mafia has done in Italy and the U.S. for ages. Pretty horrifying stuff when urban crime control and community quality of life hang in the balance. Justice matters.
So maybe compared to all that, the Napoli chapter of Friends Of Criminals is just small zucchini.
Myself, I think they all need a good whack upside the head. Or perhaps better, about three months in a dark damp cell.
TECHNORATI TAGS: NAPLES, ITALY, CRIME, CRIME VICTIMS, WITNESS INTIMIDATION>
Posted by Matt Rosenberg at 03:47 PM | Comments (0)
August 08, 2006
"Killer Bees: They're Among Us"
At his blog Max Planet, my son Max has a new post up titled, "Killer Bees: They're Among Us." How did killer bees get introduced to the Americas? What should you do if threatened or stung by a killer bee? What risks do they really pose?
Max has done quite a bit of research. Feel free to leave him a comment on killer bees.
And don't miss his very last link to a compelling video on the vulnerability of honey bees. It almost makes me wish for a tougher strain. One cross-bred, with, say, killer bees.
TECHNORATI TAGS: KILLER BEES, HISTORY, PRECAUTIONS, TREATMENT, MAX PLANET, EUROPEAN HONEY BEES>
Posted by Matt Rosenberg at 11:33 AM | Comments (1)
Rosenblog Opinion Review, Vol. 24
Seth Masket, Denver Post: "Do Dems Need A Message?"
Kerry Howley, Newsday: "All The World's Not A Wal-Mart Stage"
Meghan Daum, Chicago Tribune: "Bigger Breasts, More Testosterone"
Jon Henke, A Chequerboard of Days And Nights (blog): "Output Inequality"
AskMom (Seattle blogger): "Fear And Pandering In Seattle"
New York Sun, editorial: "'Lone Individual'"
King County Journal, editorial: "No Answers To Senseless Acts, Only Grief"
Two little boys, a young mother and her sister, slaughtered and burned in their Kirkland (WA) home...A young man who lived across the street is suspected of the murders. He says he doesn't remember, he blacked out after heavy drinking....Six women apparently selected at random were gunned down in the Seattle Jewish Federation office. One woman died, five others injured, including one who is pregnant. A man who identified himself as a Muslim American angry at Israel surrendered at the scene. Some reports say he had suffered from a bipolar condition. We can expect in both situations the perpetrators' attorneys will claim that their clients are innocent — not because they didn't do the deeds, but because they were, or are, mentally impaired and therefore should not be held accountable. In the rhetoric of a courtroom, the lives that were lost will be overshadowed by the endless posturing and excuses.
Jeremy Lott, American Spectator: "Why Not Kill This Man?"
David Mamet, Chicago Tribune: "Bigotry Pins Blame On Jews"
Gerard Van der Leun, American Digest: (Seattle blogger) "The Weaponization Of Children"
Nadav Morag, Christian Science Monitor: "A Tale Of Two Failed Mideast States"
Daniel Jonah Goldhagen, Los Angeles Times: "Israel's Way Out"
Barbara Lerner, National Review Online: "We're Losing World War IV"
Nurse William (Seattle-area blogger), "Let's Get Something Straight"
George Weigel, Los Angeles Times: "No Tears For Fidel, Please"
William Ratliffe & Roger Fontaine, San Francisco Chronicle: "Change In Cuba Must Come From Cubans"
TECHNORATI TAGS: DEMOCRATS, WAL-MART, DOPING, SOCIAL JUSTICE, SEATTLE SHOOTING, NAVEED AFZAL HAQ, ISRAEL, PALESTINE, LEBANON, IRAN, HEZBOLLAH, CUBA, FIDEL CASTRO>
Posted by Matt Rosenberg at 08:47 AM | Comments (0)
August 07, 2006
Jeff Jacoby's Diagnosis: "Sudden Jihad Syndrome" In Seattle
Give the Seattle Post-Intelligencer opinion pages some credit for restoring a bit of balance that has largely eluded excuse-disposed daily local news reporters and news editors in covering Naveed Afzal Haq's Seattle Jewish Federation killings. A day after it appeared elsewhere, the P-I online runs columnist Jeff Jacoby's spot-on commentary arguing Haq represents another deadly and disturbing case of "Sudden Jihad Syndrome."
At a time when jihadist murder is a global threat and some of the most malevolent figures in the Islamic world -- Iranian president Mahmoud Ahmadinejad and Hezbollah chieftain Hassan Nasrallah, to name just two -- openly incite violence against Americans and Jews, the attack in Seattle should have been a huge story everywhere. Yet after six days, a Nexis search turned up only 236 stories mentioning Haq -- one-fourth the number dealing with (actor Mel) Gibson's drunken (and anti-Semetic) outburst. Why the disparity?

No doubt part of the answer is that Gibson is a celebrity, and that "The Passion," his 2004 movie about the crucifixion, was criticized by many as a revival of the infamous anti-Semitic motif of Jews as Christ-killers. Gibson, who belongs to a traditionalist Catholic sect, was already suspected of harboring ill will toward Jews. His crude remarks on July 28 confirmed it, and pushed the subject back into the spotlight. But if previous behavior and religious belief explain the burst of interest in the Gibson story, they only deepen the question of why the Seattle bloodshed was played down. After all, Haq is not the first example of what scholar Daniel Pipes has called "Sudden Jihad Syndrome," in which a seemingly nonviolent Muslim erupts in a murderous rampage.

Just this year, for example, Mohammed Taheri-azar, a philosophy major at the University of North Carolina, deliberately rammed a car into a crowd of students, saying he wanted to "avenge the death of Muslims around the world." Michael Julius Ford opened fire in a Denver warehouse, killing one person and injuring five. "I don't know what happened to him yesterday," his sister Khali told the press. "He told me that Allah was going to make a choice and it was going to be good and told me people at his job was making fun of his religion."

Other cases in recent years include Hasan Akbar, a sergeant in the 101st Airborne Division, who attacked his fellow soldiers at an American command center in Kuwait with grenades and rifle fire, killing one and wounding 15; Hesham Mohamed Ali Hadayet, who killed two people when he shot up the El Al ticket counter at the Los Angeles airport in 2002; and Ali Hasan Abu Kamal, who was carrying a note denouncing "Zionists" and others who "must be annihilated & exterminated" when he opened fire on the observation deck of the Empire State building.

If the Catholic Gibson's nonviolent bigotry is a legitimate subject of media scrutiny, all the more so is the animus that spurs Muslims like Haq and the others to jihadist murder. As The New York Sun asked the other day, how many more Haqs must erupt in a homicidal rage before we open our eyes "to the possibility that they are part of a war in which understanding the enemy is a prerequisite for victory?"
It has been the first instinct of Seattle's media and liberal monolith to emphasize Naveed Afzal Haq's previous but sporadic signs of mental instability. However, the vast majority of people who suffer mental illness and specifically bipolarity, do so without becoming killers. In the end - if his words are to believed - Haq's anger at Israel's defense of itself and at the U.S. presence in Iraq led him to target, kill one, and attempt to kill other innocent Jews and their co-workers in Seattle. That is quite some way, especially in peaceful Seattle, of expressing discontent about U.S. and Israeli military actions against Muslim opponents. Haq shows every indication of being a political Islamist, rather than an overtly religious one. Haq's muted religiosity, and his dabbling in Christianity, even, have been helpful in persuading Seattle's dithering, judgement-averse moral relativists he was likely just a troubled man who "snapped." But Haq's political extremism is no less deadly and more importantly, no less a manifestation of Jihadist sensibilities than if he had a Koran in his pocket when he pulled the trigger again and again.
TECHNORATI TAGS: JEFF JACOBY, DANIEL PIPES, SUDDEN JIHAD SYNDROME, SEATTLE, JEWISH FEDERATION NAVEED AFZAL HAQ, MEL GIBSON>
Posted by Matt Rosenberg at 12:18 PM | Comments (0)
August 04, 2006
Making The Most of The Oregon Coast: Bandon, New River & Cape Blanco
UPDATED: Many Northwesterners still reply "where?," when Bandon comes up in conversations about Oregon Coast destinations. While golfers are tuned in to the world-class Bandon Dunes golf resort, the town of 3,000 named Bandon By The Sea is a six-hour drive south of Seattle, and also a good bit farther from Portland than more popular coastal destinations to the north such as Seaside, Cannon Beach, Lincoln City, Newport and Florence. That's just fine: there's more room for me and my family on the long, deep, sea stack-filled beach in Bandon. It's on what to me is the most scenic stretch of the 320-mile long Oregon Islands National Wildlife Refuge. Access is off Beach Loop Drive in Bandon.
Simply put, Bandon's beach is not to be missed; and if you don't stay at least a couple of nights in a place on the bluffs above, well, you're just.....really.....blowing it. Hole up in a nice oceanfront efficiency unit with your sweetie (and as many as two kids); maybe try out a larger ocean view/beach bluff rental or stay in Old Town, in a nice guesthouse suite along the Coquille River. And get set for some deep chilling. That's a double-edged admonition. It's pretty cool and often quite windy in Bandon, even on sunny summer days, so bring your fleece pullovers. The great candy store named Cranberry Sweets is still there, the book store too, but the local Bandon Cheese factory and their famous curds are gone; some folks have not yet forgiven corporate parent Tillamook Cheese for the shut-down (see full comment string, here). Bandon Cheese was a great place to visit and the eight jobs mattered in the tough local economy. Additionally, the brand's integrity may indeed have been diluted by Tillamook, although they make some pretty good mass market cheeses.
However, as a Bandon visitor who always rents a place with cooking quarters, I'd be much more concerned if the one truly good local seafood market closed. Thankfully there are no signs of that. The retail market and processing plant of Bandon Pacific Seafoods down at the west end of First Street on the riverfront is the go-to place for fresh fish and seafood, and tasty smoked and packaged goodies. My choice is achingly fresh picked Dungeness crab meat. Make sure to ask for fresh, not previously frozen. I got to taste-test the two there recently, and the difference was huge. They also sell whole cooked Dungeness crabs, if you like making a mess.
I took these pix the day we rolled in to town; naturally we went straight down to the beach after check-in. From the north on Route 101, turn right on 11th St.; it takes you to Beach Loop Drive. You can either drive across Beach Loop Drive right to the end of 11th and park at the Coquille Point overlook, then walk down to the beach (a good idea); or turn left on Beach Loop and cruise a bit until you find a public parking space, and then head down the first public stairway you can find. They're scattered about. Give yourself at least an hour or two to become immersed in the magic.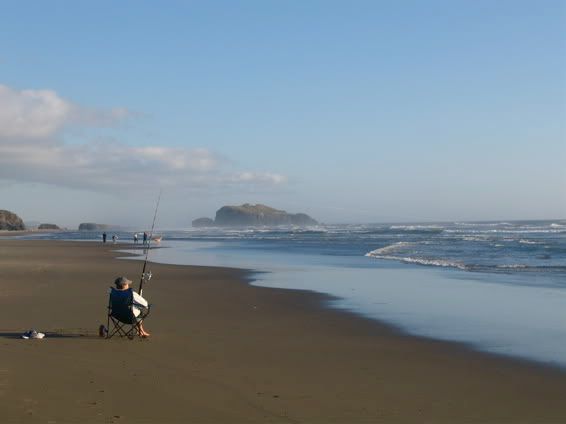 I'd been to Bandon four times already, my family thrice. So we were looking for some new places to go in addition to the beach. I can make several recommendations as a result. One is to visit the New River Area Of Critical Environmental Concern, south of town. The New River has grown greatly since floods in the 1890s. It runs north, parallel to the Pacific and separated from it only by a wide ridge of dune and beach. Lots of birding here, boating, fishing, and good family-friendly hiking. Follow easy directions here. More background on New River ACEC's habitats and wildlife here. Make sure you check in at the educational/visitors center first, for a trail map and orientation. It's a great place, with lichens and other doo-dads to view under microscopes. The ranger, a fellow from Virginia who had formely worked as a structural engineer, was very knowledgeable. We hiked the entire three-mile loop route, going counter-clockwise from the visitors center, on the Storm Ranch loop trail network. Make sure to take the short branch off the loop to the first river overlook. From there, I took this shot below, looking north up the river.
Though you can't quite see it, the ocean is just a long stone's throw away, up top over the dunes. Later on the loop circuit, make sure to stop at the boat ramp, where there's a picnic table and a different perspective, looking south (below), from the river's banks.
The ranch near New River, the Bandon beach, and (naturally) a shady Californian figured into a historic drug bust in 1977, when WW II-vintage "Duck" boat-vehicles stored at the ranch were used to transport nearly $17 million worth of high-grade pot pressed into so-called "Thai Sticks" from a Panamanian-registered ship lurking offshore near the mouth of the river to the beach in town. The story is detailed here in the online annals of The Oregon State Sherriff's Association. I can almost see the scene unfolding as part of movie (fictional, of course) about sinister doings in this sleepy, easy-to-miss coastal region several miles west of the main through-route (Route 101), and south of Bandon.
Another new discovery for us, again south of Bandon a few miles, was Cape Blanco, where 40 mph winds weed out the wimps fast. There's an historic home well worth touring (it was closed the Monday we came by). It's Hughes House, a late Victorian structure dating to 1898, and listed on the National Register of Historic Places. A gravel road leads from the house down to to the Sixes River; but after that, get back up on the main road in to Cape Blanco (which is well-marked off Route 101) and go to the end. Just to the left of a gate around the Coast Guard's Cape Blanco lighthouse complex is a short trail leading down to the great beach, where the winds are considerably dimished on the sheltered south side of the Cape.
Here's a shot I took of the path and the beach.
A distant rock formation out in the ocean includes one that looked to me an awful lot like popular images of a whale and tail. Or would that be two-thirds of a Pepperidge Farm Goldfish cracker?
Coming back up from the beach, the Cape Blanco lighthouse falls into view, along with an awful lot of wild onion in the foreground (it's easily mistaken for yarrow - a copy editing and naturalists' tip of the hat to my son Max).
You can tour the Cape Blanco lighthouse.
On the way back to Bandon from Cape Blanco, you'll pass (again) through the small town of Langlois. If it's a clear day, do yourself a big favor and drive east about three miles up Langlois Mountain Road off Route 101, into the high ranch country overlooking the Pacific. The views are pretty colossal. We drove past a place up there on some nice acerage, called The Langlois Mountain Retreat. It's mainly for groups of 14 to 20 at $500/night, but apparently the cabin or other components can sometimes be rented out by smaller groups at lower cost.
Next: Port Orford Heads and Pistol River state parks.
TECHNORATI TAGS: OREGON, OREGON COAST, TOURISM, VACATION, BANDON, LODGINGS, NEW RIVER, CAPE BLANCO, SIXES RIVER, LANGLOIS, BANDON DUNES GOLF, CRANBERRY SWEETS, BANDON CHEESE, TILLAMOOK CHEESE, DUNGENESS CRAB>
Posted by Matt Rosenberg at 09:32 PM | Comments (0)
August 03, 2006
Kevin Barrett Is An Inside Job
Although you may not grasp it at first glance, I have discovered that this Chicago Tribune report today bears the stealthy fingerprints of Karl Rove and presidential media operative Tony Snow. The article details the fulsome theories of one Kevin Barrett, a part-time lecturer at the University of Wisconsin in Madison, who will teach a class on Islam this coming fall. Already interviewed on a local radio show, he has revealed what he'll be discussing with students, and it has more to do with conspiracy theories than the history of Islam. The Trib asserts:
Barrett believes the U.S. government orchestrated the terrorist attacks on Sept. 11, 2001, to create support for a larger military budget and a long-term Middle East war. He believes the World Trade Center buildings fell after a controlled demolition and doubts that the hijacker believed to have flown the plane into the Pentagon had the skills to do it. He thinks Osama bin Laden is probably dead. Those views, part of what he plans to discuss with University of Wisconsin students this fall in a class about Islam, have created an uproar at the university and, a few blocks away, among lawmakers in the state Capitol. After Barrett discussed his views on a radio talk show, dozens of Republican lawmakers demanded that university administrators fire him, threatening to cut funding. University Provost Patrick Farrell called the outcry politically motivated and has said that he will allow Barrett, a Muslim convert, to teach "Islam: Religion and Culture," an elective four-credit course.
What the Tribune has not reported - but what I have learned through an unimpeachable intermediary whose identity I cannot disclose - is that Barrett's aunt went to college in New Mexico with Snow's wife's best friend's brother, who served as a regional coordinator for Bush 41's re-election campaign in 1992. Barrett, then 33 and adrift, was hired by the campaign to do GOTV outeach, and fell under the spell of conservative Christian co-workers. He has given his life to Jesus and the GOP ever since. There is a cleverly fabricated back-story (obseqiously parroted by The Tribune) that Barrett was raised by Unitarian parents, wrote a San Francisco travel guide under the name Dr. Weirde, played in two punk bands, and later converted to Islam.
With the GOP at great risk in coming mid-term Congressional elections, the party's political and media gurus are working overtime to gin up national outrage over Leftist excesses in the public sphere. Who could blame them? The threat to our Republic would be palpable if Dhimmocrats were to rule now. The very day that President Bush visited suburban Seattle earlier this year to headline a big-bucks fundraiser for vulnerable GOP freshman Congressman Dave Reichert (WA-8th), there were more of Barrett's cohorts at a public protest, posing for the cameras with their signs of an upside down American flag, and another stating "9/11 Was An Inside Job." Embedded RNC covert ops specialists have also taken over the San Francisco Board of Supervisors. While the SF electorate's voting patterns won't change much within the next decade, the national publicity - amplified by the mainstream media and the blogosphere - is nonetheless priceless for the GOP. Overall, the party's co-intelpro political campaign has been working well, within the expected and exploitable parameters of public opinion. Scripps Howard News Service today reports on a poll showing that more than one-third of those surveyed believe our government engineered or permitted the 9/11 terrorist attacks on America so as to have a pretext for declaring war in the Middle East. The emergence of this sizeable minority block of moonbats should be just enough to ensure that the GOP holds its majority in the U.S. Congress and Senate.
Godspeed to you, Kevin Barrett. And to both of you, Karl and Tony.
TECHNORATI TAGS: MADISON, WISCONSIN, KEVIN BARRETT, 9/11 WAS AN INSIDE JOB, UNIVERSITY OF WISCONSIN, GEORGE BUSH, KARL ROVE, TONY SNOW, DAVE REICHERT, REPUBLICANS, CONGRESS>
Posted by Matt Rosenberg at 09:17 AM | Comments (1)
August 02, 2006
Prosecutor Maleng: Haq Case "Aggravated" And "Heinous"
King County has filed charges against Seattle Jewish Federation killer Naveed Afzal Haq: one count of first-degree murder, five counts of attempted first-degree murder, and more. King County Prosecutor and moderate Republican Norm Maleng has 30 days to decide whether he'll seek life imprisonment or the death penalty. If Maleng truly means what he's quoted as saying by KING-5 TV, it would have to be the latter. Maleng said, "...this is one of the more aggravated cases and heinous and tragic cases that we've had in our community." The initial report in The Seattle Times includes no such remarks, the writer(s) instead opting for a far more generic anti-hate crime comment by Maleng; and citing a top Jewish Federation official saying the organization has no official position on the death penalty. "Aggravated" and "heinous" are exactly right, Mr. Maleng; and so is the death penalty for Haq.
TECHNORATI TAGS: SEATTLE, DEATH PENALTY, NORM MALENG, KING COUNTY PROSECUTOR, JEWISH FEDERATION, SHOOTING, KILLING, NAVEED AFZAL HAQ>
Posted by Matt Rosenberg at 12:58 PM | Comments (0)
Democrat Proxy & Bullitt Heir Sues Safeco Over McGavick Exit Pay
What matters most in the 06' contest between Repubican challenger Mike McGavick and Dem incumbent Maria Cantwell of Washington for U.S. Senate are issues and character. Issues such as as national security, social security, energy, immigration and federal spending. The character and integrity of the candidates, their campaigns and their supporters also matter. Now, a blood relative of some old-money Seattleites cum Cantwell and Democratic Party campaign contributors is the political proxy in a nasty bit of legal sniping underscoring McGavick's call for a new era of civility in national politics. Neil Modie of the Seattle Post-Intelligencer has more on the lawsuit that former waitress, University of Washington student and Safeco shareholder Emma Schwartzman filed against the company yesterday over McGavick's exit pay package.
Modie has done an exemplary job of connecting the dots, (In fact, as of 10:30 PST, 8/2/06, he has completely skunked the Seattle Times' Alex Fryer, whose take will doubtless be updated soon). So here goes, via the P-I's Modie, with some links I've woven in for additional background.
The plaintiff, Emma Schwartzman, 27, is a waitress, University of Washington student and a member of the Bullitt family, a wealthy business and political dynasty that gives generously to liberal crusades and candidates. She owns what was said to be "40 to 50" Safeco shares, which would have a total value of between $2,126 and $2,658.

Her great-great-grandfather, C.D. Stimson, co-founded General Insurance Co., which later became Safeco. Her grandfather is Stimson Bullitt, a prominent Seattle lawyer and businessman. One of Schwartzman's attorneys is Steve Berman, a nationally renowned litigator of securities, antitrust and shareholder lawsuits whose name strikes fear in corporate boardrooms.

Knoll Lowney, another of Schwartzman's lawyers and a prominent backer of local liberal causes, denied the suit was politically motivated. But it was the second time McGavick's Safeco compensation has emerged as a potential campaign issue. The state Democratic Party filed a complaint with the Federal Election Commission in April, alleging that the compensation package, coming after McGavick became a candidate, constituted an illegal corporate campaign contribution from Safeco.

....Lowney said Schwartzman and her mother, Ashley Bullitt of Port Townsend, contacted him about bringing the lawsuit. Although Schwartzman's prominent relatives have been big donors to Democratic and liberal causes, Lowney said she isn't politically active.

According to Federal Election Commission records, Stimson Bullitt has donated $1,500 to the Cantwell campaign this year, and his sister, Harriet Bullitt, of Leavenworth, has given Cantwell $4,000 since 2001 as well as $25,000 last year to Washington Senate 2006, a Democratic fund-raising committee.

.....Ashley Bullitt couldn't be reached for comment. But on his liberal Seattle political blog, David Goldstein wrote: "Are you a Safeco shareholder? Are you (upset) by the $17 million golden parachute Safeco gave Mike McGavick after he announced his resignation? If you're both, send me an e-mail." Goldstein didn't return phone calls Tuesday.
Laughably, Schwartzman's attorneys claim the suit is "non-political and non-partisan." Additional evidence of the Democratic party involvement is that Schwartzman's attorney Berman has donated $37,000 to national Democratic candidates and committees in the last four years. Schwartzman's attorney Lowney is a law partner of Richard Smith. Smith is not only another campaign contributor to liberal causes and candidates in Washington state. As my Sound Politics colleague and site founder Stefan Sharkansky has reported, Smith also recently was the second stalking horse candidate to add his very common surname to the ballot in a state supreme court contest that pits strong conservative challenger Stephen Johnson against threatened liberal incumbent Susan Owens.
The Democratic-inspired lawsuit against McGavick was filed a day after former President Bill Clinton headlined a pricey fundraising event for Cantwell in Puget Sound and told a Seattle audience at a fundraiser for U.S. Rep Jim McDermott (D-7th) that Republicans "favor attack over argument," are "tribal," and "need a divided America to win."
Thanks for putting it all in perspective, Mr. President.
TECHNORATI TAGS: SEATTLE, MIKE MCGAVICK, EXECUTIVE PAY, SHAREHOLDER LAWSUIT, DEMOCRATIC PARTY, MARIA CANTWELL, U.S. SENATE, EMMA SCHWARTZMAN, SAFECO, BULLITT, STEVE BERMAN, KNOLL LOWNEY, RICHARD SMITH, BILL CLINTON, JIM MCDERMOTT>
Posted by Matt Rosenberg at 11:54 AM | Comments (1)
August 01, 2006
Beware The Bipolar Defense And The 'Blackout Drinking' Defense
The Seattle P-I reports Spokane murder suspect Ryan Snow slashed his grandfather's throat but is stressing he's bipolar, a not uncommon tack. We'll see if defense attorneys pick up that theme, as seems likely. A "bipolar" defense seems increasingly likely for Naveed Afzal Haq in his alleged murder of one and attempted murder of five at the Jewish Federation of Greater Seattle offices Friday. Meanwhile "blackout drinking" looks like it will be central to the defense in the alleged killing of four in Kirkland earlier this month by Connor Schierman. Is something wrong here? I think so.
Both in prosecution and upon conviction, heinous murders beg the ultimate sanction, not weasely evasions of responsibility abetted by defense attorneys, psychiatric consultants, addled jurists and the media. Each time the perpetrator becomes a patient, the risk grows that the real victim(s) will become a footnote, a casualty of the liberal impulse for absolution.
A University of Washington expert offers some insight on bipolar killers in a P-I article today:
...said Wayne Katon, a psychiatry professor at the University of Washington....rarely is the disorder associated with this type of crime.....(he added) "It's very, very unusual for bipolars to be killing anybody, let alone five or six people. Data would suggest that in terms of violence, the homicide rate of bipolars is lower than the general population," he said.
Haq's bipolar excuse for shooting Jews, already being talked up by his lawyer Larry Stephenson (see above link) is null and void. Likewise Schierman's repugnant defense-to-be of "blackout drinking."
King County Prosecutor Norm Maleng, a moderate Republican, has two current high-profile cases - Schierman's and Haq's - in which his office must push for the death penalty, or risk looking disturbingly soft on murderers.
Let's keep in mind that life in prison isn't so bad for the type of pathological loser who gets convicted of first-degree murder: they get shelter from the elements, plus room and board, and a controlled environment free of disturbing challenges such as finding work, forming and maintaining relationships, and living life by society's rules. Each such inmate costs taxpayers aplenty, though.
It's a matter of morality, justice and lastly, cost control. Alleged murderers such as Haq and Schierman, if convicted, must certainly get the big Bee Sting.
No excuses.
TECHNORATI TAGS: MURDER, BIPOLAR DEFENSE, BLACKOUT DRINKING, SEATTLE, SPOKANE, RYAN SNOW, NAVEED AFZAL HAQ, CONNOR SCHIERMAN, NORM MALENG, KING COUNTY PROSECUTOR, JEWISH FEDERATION>
Posted by Matt Rosenberg at 10:54 AM | Comments (1)