July 31, 2006
Making The Most of The Oregon Coast: Charleston & Environs
UPDATE III: In writing about Charleston, Oregon - a place well worth your family's attention on any Oregon Coast vacation - due diligence is required regarding the nearby larger town through which you will likely pass en route, Coos Bay. I fear that what I have to say will not be at all to the liking of the Coos Bay Chamber Of Commerce. But then, you, dear reader, want the the real nitty-gritty, do you not? Well, there's plenty of that there in Coos Bay, let me tell you.
A late night foray for lodging on a 1989 trip up the West Coast was my first hint of the anomie and despair that is Coos Bay, Oregon. Surrounded by an all-encompassing dark, my wife and I couldn't get any clue at all as to whether we were on the correct road to that near-coastal burg, heading west off Interstate 5. There was not a single blessed sign of the usual variey, either confirming the route number after some confusing forks in the road, or stating the distance to town. No help whatever. At the time, I somewhat bleakly recalled a former Oregon governor - the late Tom McCall - who had once famously said outsiders should visit the state, but make not to move to Oregon. I wondered if perhaps xenophobic locals had carried things one step further, trying to actively discourage visitors as well, by removing helpful road signs of the sort I so badly needed to see that night. Stranger things have happened, but as I was to soon learn, sane and sober folk would need no special urgings to avoid Coos Bay, once exposed. We ended up in a cheap motel eating take-out pizza at midnight and I had my first encounter with MTV and the fine Dutch rock hip-hop group, Urban Dance Squad (I recommend their first CD, "Mental Floss For The Globe"). It was the best thing that ever happened to me in Coos Bay. Having seen the burg in the light of day and having passed through many times again since moving to Seattle from Chicago in 1994, I can now share some additional impressions. While there are some lovely waterways north and west of Coos Bay leading toward the ocean; while the Oregon Dunes (a mixed blessing, as I've recently discussed here) are nearby; and while there doubtless are many fine and hardworking people who live in Coos Bay; the town itself is a ghastly hellhole.
A lonely downtown boardwalk only highlights the post-industrial wasteland along the befouled waters bordering Route 101 to the east. The old adage about putting lipstick on a pig leaps to mind. The landscape in David Lynch's "Eraserhead" was cheery by comparison. A huge casino is the big attraction, for the many geezer-rubes all over Oregon who have apparently decided retirement should mean RVs, small time gambling, cheap buffets and obesity. (Perhaps Tom McCall should have suggested some aesthetic and environmental guidelines for visitors, as well?) The interior downtown of Coos Bay, which we recently had the misfortune of driving through, is a rueful collection of gravely dispirited emporiums, devoid of life even at mid-day. Believe me when I say, with every ounce of my being, and with deep, deep concern for the state of your chakra, that the best thing you can do in Coos Bay is.......to keep driving.
I am fairly sure the road signs I was looking for on the way into Coos Bay would not have been removed by anyone from that hard-up town, which was even then in decline, but perhaps instead by someone(s) from a very different and nicer place near Coos Bay such as the funky fishing village of Charleston. It serves as a gateway to what may be the best ocean beach in Oregon for families with young children. I can see why locals wouldn't want the place to be overrun by Californicators and obnoxious, rather opinionated outsiders.
Charleston is a pretty 45-minute drive north from tourist-friendly, beautiful Bandon By The Sea, where our family was staying for most of a recent nine-day Oregon Coast sojourn. In Charleston, the hot spot is the marina, where you can eat some take-out seafood and watch the commercial fishing boats come and go. I am writing here for fellow members of the non-boat owning class, so be forewarned - this isn't Motel 6 or Holiday Inn country, not by a long stretch. The local motel or two we spotted near the Charleston waterfront looked very much worth avoiding, but here's a special place I'd sure inquire about for next time - water views in central Charleston (despite the misleading Coos Bay address given); nice inside, sleeps 8 for $150/night, but you'd just want to ask about morning marina noises, I'm guessing, from one of the pix at the site.
Whether you stay in Charleston, or, more likely, Bandon, where you really want to go near Charleston is just a few miles south of town on the Cape Arago Highway, to Sunset Bay State Park. It's one of the few truly protected beaches on the Oregon Coast, bracketed by semi-circular cliff walls on the north and a forested ridge on the south that taken together radically mellow out the Pacific waves so kids can very safely wade and body surf. On the north face of the beach, up against some sandstone cliff walls, is a long platform of intriguingly shaped rocks ideal for climbing and tidepooling. Here are a few pix from our outing there.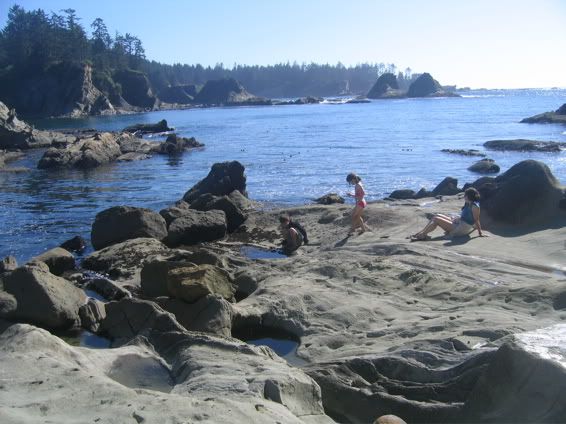 Just a few minutes south on Cape Arago Highway, a pleasant two-laner, are Shore Acres State Park and Cape Arago State Park. Also in the general vicinity is Seven Devils State Recreation Site, my official nominee for loneliest ocean beach in Oregon. We stopped by for a long walk on a mid-July day when inland temperatures were well into three digits. There was a couple prospecting for gold in the stream, agates as we walked south on the beach, and mist all about. It was ethereal (below). What better place to escape the venal climatological predations of Bush, Big Oil and the Trilateral Commission?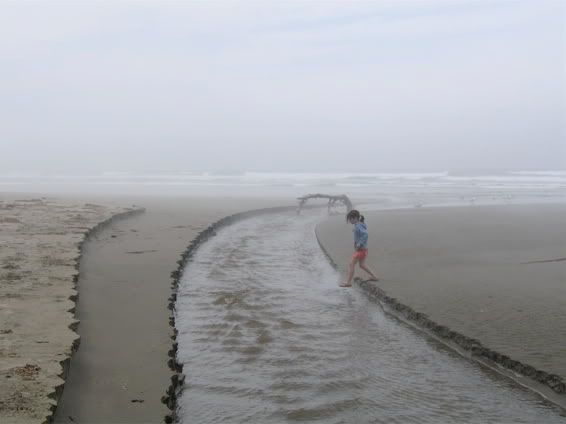 Well-marked signs on 101 lead to Seven Devils. From there you can continue northwest on the road that brought you there, until you are deposited on a paved, curving road a bit east of Charleston. On the way into town is the South Slough National Estuarine Research Reserve. Do watch the 10-minute video in the visitors center, and get some trail maps and suggestions from the staff on a suitable, low impact hike. You can enjoy a picnic lunch at tables outside. What exactly is the South Slough National Estuarine Research Reserve? Let them tell you:
The mission of South Slough National Estuarine Research Reserve is to improve the understanding and stewardship of Pacific Northwest estuaries and coastal watersheds. The 4,771 acre Reserve encompasses a mixture of open water channels, tidal and freshwater wetlands, riparian areas, and forested uplands. SSNERR actively supports and coordinates research, education, and stewardship programs which serve to enhance a scientific and public understanding of estuaries and contribute to improved estuarine management.
One of the best ways to experience the quiet majesty of the South Slough is a kayak excursion. Check with the office in advance by phone or e-mail to see when and where to do so, and from whom to rent kayaks if you don't bring your own (here is one local kayak guide/rental service, scroll down to "sea kayaking").
We opted for a hike down to the edge of the slough from the visitors center. It's billed as 3.5 mile round trip, but didn't even seem that long. It's a nice, forested, family-friendly trail, and when you get to the slough's edge (below) the silence fairly roars. Driving directions to South Slough here, minus the Seven Devils side-trip.
TECHNORATI TAGS: OREGON, OREGON COAST, TOURISM, VACATION, CHARLESTON, SUNSET BAY STATE PARK, SHORE ACRES STATE PARK, CAPE ARAGO STATE PARK, SEVEN DEVILS, SOUTH SLOUGH ESTUARINE RESEARCH RESERVE, COOS BAY, URBAN DANCE SQUAD, BANDON>
Posted by Matt Rosenberg at 09:32 PM | Comments (1)
Hezbollah Is Responsible For Current Civilian Deaths In Lebanon
Seattle's ever-present "Blame Israel First" contingent, and gullible readers who buy the deceptive blame-casting of incomplete reports such as this: heed Charles Krauthamer in today's Seattle Times: "Hezbollah hides its fighters, its rockets, its launchers, its entire infrastructure among civilians. Creating human shields is a war crime. It is also a Hezbollah specialty." A resident near Tyre tells the NYT: "Hezbollah came to Ain Ebel to shoot its rockets," said Fayad Hanna Amar, a young Christian man, referring to his village. "They are shooting from between our houses. Please,'' he added, "write that in your newspaper." (Hat tip: Dhimmi Watch).
TECHNORATI TAGS: HEZBOLLAH, CIVILIAN DEATHS, LEBANON, ISRAEL, SEATTLE, JEWISH FEDERATION, SHOOTING>
Posted by Matt Rosenberg at 08:20 AM | Comments (1)
July 30, 2006
Prosecutor Maleng Must Seek Death Penalty For Seattle Jew Killer Haq
King County Prosecutor and putative Republican Norm Maleng must seek the death penalty for the determined and successful Seattle Jew Killer Naveed Afzal Haq; anything less would be justice denied, including life in prison. Today's Seattle Times cites Maleng spokesman Dan Donohoe saying prosecutors will meet this week to decide whether capital charges - which could result in death or life imprisonment - will be sought in the murder case. Haq consciously chose to kill and maim innocents based on his foreign policy gripes with the U.S. and Israel. Heinous, and deserving of the ultimate sanction, if he's found guilty. Today's Times provides new details on what he said during the bloody attack.
"I want these Jews to get out. I'm not upset at people, I'm upset at your foreign policy," Haq said in a recorded conversation with police dispatchers that was detailed in court documents. "These are Jews and I'm tired of getting pushed around and our people getting pushed around by the situation in the Middle East. I just want us to get out of Iraq," Haq reportedly said. "I'm an American too, but I want our people out of Iraq."
Thus motivated, Haq broke into the offices of the Jewish Federation of Greater Seattle, holding a gun to the head of 13-year old to breach security, and once in the Jewish federation, began randomly spraying bullets, killing one woman and wounding five more. Norm Maleng: you're center stage. Don't flub this one. Anything less than a strenuous prosecution seeking the death penalty for Haq sends a clear message that anti-Israel and anti-Jewish hate is a valid excuse for murder and attempted murder of innocent civilians in a Seattle office.
TECHNORATI TAGS: SEATTLE, DEATH PENALTY, NORM MALENG, KING COUNTY PROSECUTOR, JEWISH FEDERATION, SHOOTING, KILLING, NAVEED AFZAL HAQ>
Posted by Matt Rosenberg at 10:50 AM | Comments (1)
July 29, 2006
Seattle Shooting: Yes, It Was Terrorism
It's insufficient to simply condemn the murder of one and the wounding of five at the Jewish Federation of Greater Seattle by Pakistani gunman Naveed Afzal Haq, who said he was a Muslim-American angry at Israel. Robert Jamieson is reminded of Tel Aviv detonations, but can't broach the "T" word regarding this specific incident. It was terrorism - let's get our heads around that. Today's Seattle Times update leads with a possible "mental illness" explanation for the suspect's alleged actions, but then notes the shooting came a day after "Hezbollah leaders in Lebanon and al-Qaida's second in command urged that the war raging in the Middle East be carried to the U.S." An FBI disclaimer of any links between Haq and any terrorist organization follows. Yet, as Andrew McCarthy of the National Review Online writes today:
...it could not conceivably be more clear that it is terrorism. If the FBI is saying they can't link him to any known terrorist group, that doesn't mean it's not terrorism....not all terrorism is committed by known groups...federal law recognizes the concept of lone-wolf terrorism. It is terrorism because it is a sneak attack -- in this case against civilians -- which is motivated by a purpose to affect government policy and/or further a political/social/religious cause.
Any crime of violence done to avenge a political grievance is an act of terrorism. Haq's murder of at least one employee of the Jewish Federation is an act of terrorism. What the public needs to know is the likelihood of other such acts being committed by similarly situated individuals.
It's of more than passing relevance in Haq's case to recall the conclusion of the FBI and Department of Justice regarding Hesham Mohamed Hadayet, the pro-Palestinian Egyptian gunman from SoCal who assasinated two Israelis and wounded four other people at the El-Al (Israeli airline) ticket counter at LAX in 2002. As CNN reported:
During the extensive worldwide investigation, sources said, investigators found no evidence linking Hadayet to any terrorist group. They characterized the shooting as an act of terrorism because Hadayet espoused anti-Israeli views and was opposed to U.S. policy in the Middle East, the sources said.
A recent Washington Post op-ed which ran in the Seattle Times discussed the growing advocacy of "individual terrorism" by jihadist opinion leaders. That is precisely what Haq, based on his own words and his reported actions, perpetrated in Seattle yesterday. Whether he drew inspiration from online jihadist preachers is of interest, but not necessarily crucial to the definition of individual terrorism.
How Haq is prosecuted - what punishment is sought, what excuses are made and accepted for his violence, and the outcome after all appeals are exhausted - will speak loudly to our society's true tolerance for terrorists in our own midst.
TECHNORATI TAGS: SEATTLE, JEWISH FEDERATION, SHOOTING, KILLING, TERRORISM, MENTAL ILLNESS, NAVEED AFZAL HAQ>
Posted by Matt Rosenberg at 12:05 PM | Comments (5)
July 26, 2006
Making The Most Of The Oregon Coast: Cape Perpetua & Heceta Head
The small Oregon Coast town of Yachats (motto: La De Da) is home to some 600 souls, and an annual Celtic music festival, among other things. Lying less than an hour's drive south of Newport, its own offbeat flavor and in-town beaches and parks are draws. But what clinches its status as a prime destination for visitors is its close proximity to one of the wildest and most scenic stretches of the state's Pacific coastline. The Cape Perpetua Scenic Area is something to behold. It should be a ticketable offense to drive past without stopping; the attractions are spread between mileposts 166 and 168 on Route 101.
In the best-of-class "Oregon Coastal Access Guide," author Kenn Oberrecht notes of Cape Perpetua:
This must-stop is a 2,700-acre scenic wonderland and coastal playground with a new view and different opportunity around every bend. Visitors can explore the old-growth rain forest, beaches, and rocky shores, where they will find picturesque picnic areas, ancient middens, tide pools among the volcanic rocks, abundant and varied wildlife, 26 miles of interconnected hiking trails, a 10-mile bike trail, a lofty lookout providing a 65-mile coastal view, and unlimited photographic possibilities.
Having merely dipped my toes in the waters of Cape Perpetua, I heartily concur, and will be back for much, much, more. A few impressions and photos, from our brief but rewarding visit. Huge waves advance on the rocks of Cape Perpetua. You can get up close without endangering your life, by following the short path to the Spouting Horn formation, from one of two small adjacent parking areas on the ocean side of Route 101. A thoroughly bracing experience, for man and dog alike.
The rocks extend out and are elevated and relatively flat, making for good tidepooling, and a bit of moisture.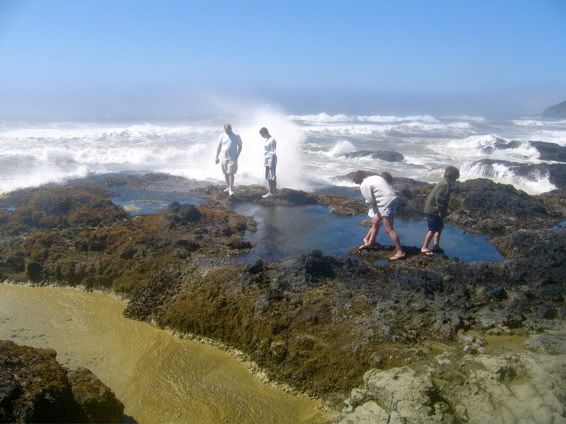 Just to the north, another trail from the northernmost of the two Route 101 water-side parking areas leads down to Cape Cove Beach, and on a brief distance to Devil's Churn. You can hike back to the beach along the rocks bordering its north wall (at right in picture below), and tidepool along the way. We spotted several dozen green sea anemones. As you can see, the beach is a great, secluded spot to kick back.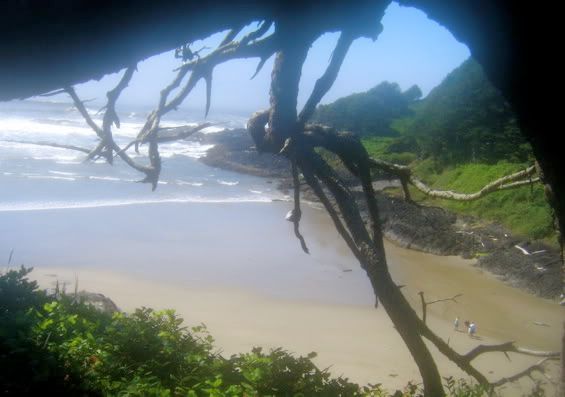 More information is available at the well-marked Cape Perpetua Visitors Center on 101, but a few tips are in order. The impressive trail system includes the St. Perpetua Trail to the scenic top of the head, and a trail to the giant, 600-year-old Sitka Spruce.
It can take a few days to really get your proper fill of Cape Perpetua, so a stay in Yachats is an excellent idea.
(By the way, it's pronouned Ya-HOTS. Oregonians, like Washingtonians, will mercilessly razz you for mispronouncing town names, as I once learned when as a Northwest Newbie recently arrived from Chicago I badly butchered Philomath - proper pronunciation fil-OH-muth. While we're on the subject....many BackEasters cluelessly refer to Oregon as OR-e-GAHN. Wrong-o, friends: it's OR-uh-gun, barely different from the sound of "Organ." So practice up, and....blend).
From a Ya-HOTS base you can also easily travel to Heceta Head State Park, a few minutes to the south along 101. Heceta Head's landmark lighthouse is seen here from the south in a shot I took on the way to Bandon from a pull-out on 101. On the right is the old lighthouse keeper's house.
On the way back north from Bandon, we stopped for lunch at the exceptional Heceta Head State Park beach, and spotted what had to be the most ambitious sandcastle of many we'd seen on our trip. In the parking lot were vehicles bearing license plates from British Columbia, Washington, California, Nevada, Montana and Idaho; plus the expected contingent of Oregonians.
At the foot of the beach is a picturesque bridge that's part of Route 101.
For lodgings, you can rent the lighthouse keeper's house - it's a deluxe Bed and Breakfast. A path from the beach leads up to the lighthouse, which you can tour.
Continuing south from Heceta Head, stop for a a few minutes at the Darlingtonia Botanical Wayside, for a gander at the insect-eating cobra lilies (below, right).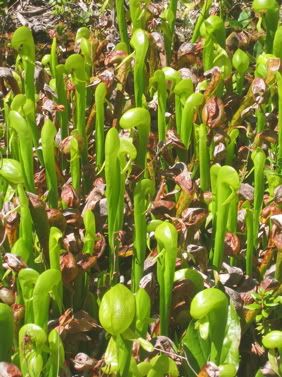 Then, keep driving right through Florence, an overhyped, too-touristy burg where the sidewalks of the main drag are badly clogged with very supersized, very white people momentarily escaping their very supersized RVs. For that matter, blow right on through the Oregon Dunes, which are bordered on the north by Florence. In summer, The Dunes, sad to say, are largely despoiled by OHVs or Off-Highway Vehicles. There are some nice lakes and small communities scattered through the Oregon Dunes National Recreation Area, but why subject yourself to the roar of the OHVs unless you're an enthusiast yourself?
It seems extraneous and inappropriate to subject the sands of a prime national dunes park to the whims of motorized thrill seekers. True, this is one of those recreational land use controversies that will never die. I understand that jet-skiers, dune-scaling OHVers and riders of All Terrain Vehicles (or ATVs) in our national forests have become a force to contend with and fiercely defend their interests, dubiously framed as "rights." I think that beyond passenger vehicles traversing known roads, internal combustion engines should not intrude in any designated recreation area within local, state or national parks, or any on beaches, as is the case in southwestern Washington state. Mountain bikes and horses on hiking trails ignite similar tussles, but I'd grant both some slack, as they're not spewing gas and noise. As for the dunes: the silence, the wind, the environment, contemplation of the geologic history, examination of plant life, walking, bonfires, wading in the surf, natural solitude - this is what the experience should be about. If you want revving engines, go to a monster truck rally, or take to the road in your Harley.
Killing some time before our scheduled arrival in Bandon, we nonetheless did stumble on to a stretch of beach adjacent to Horsfall OHV Campground at the very south end of the entire Dunes complex where - blessedly - no OHVs were allowed. Though their rumble across the boundary was audible, we got to sink into the dunes, literally, zoning out in the warm sand. The winds were strong (below, left) but we had some company from other, non-motorized throwbacks (below, right).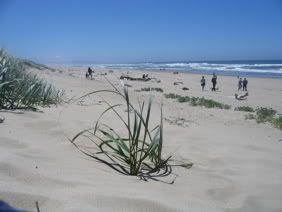 NEXT: Charleston and environs.
TECHNORATI TAGS: OREGON, OREGON COAST, TOURISM, VACATION, CAPE PERPETUA, HECETA HEAD, LIGHTHOUSE, YACHATS, TIDEPOOLS, BEACHES, OREGON DUNES, OFF-HIGHWAY VEHICLES, OHVs, DARLINGTONIA>
Posted by Matt Rosenberg at 03:18 PM | Comments (2)
July 25, 2006
Making The Most Of The Oregon Coast: Newport
UPDATED: Just lucky, I guess. A few days ahead of a 90-degree-plus Northwest heat wave that ended a day after we got back home to Seattle, our family took off on a long planned nine-day trip to the cool Oregon Coast. Our base for a week was Bandon By The Sea, where the Coquille River meets the Pacific, about a 90-minute drive from the California border. More on that in upcoming posts. But getting there - anywhere - in coastal Oregon is half the fun, or more. On the road to Bandon, we stopped for a night in the coastal town of Newport, a salty and bustling place where you can buy fresh fish off the docks, and hear ranchera music blasting from the bayside fish and seafood processing operations. Do yourself a favor and skip the Wax Museum, though.
Unlike a nearby tourist hub named Lincoln City which also lies on the coastal highway known as Route 101, there's a lot more character than meets the eye on the main through road in Newport. In contrast, going through Lincoln City my curiousity was dampened considerably by the tacky lighthouse replica, plethora of tourista rabbit warrens, bad traffic, outlet mall, and the huge billboard on the way into town promoting the hideously botoxed, facelifted-to-death 70s singer David Cassidy (ex of TV's The Partridge Family) at the local Chinook Winds Casino. Poor guy. He should be running a venture capital firm or something, not reprising his sad and sappy shtick at an Oregon coast casino, for God's sake. I may be selling Lincoln City short, but not by much, I think.
Anyhow, Newport is lovingly described in this recent Los Angeles Times profile. Our foursome stayed one night in the comfortable Spindrift suite of the Driftwood Village Motel north of town.
A short path leads to a beach from which the Yaquina Head Lighthouse is visible. You can tour the lighthouse and peruse the copious tidepools at the adjoining Yaquina Head Outstanding Natural Area. I took this picture on the beach down a short path from The Driftwood, looking south along the coast toward the lighthouse and Yaquina Head, shortly after our arrival.
After that it was south toward town and dinner, with a stop on the way to bask in a brutal sandstorm at Agate Beach. What fun! Seriously. Have you ever made sand angels? Can you arrange your lips and nostrils so no sand gets through? As you'll see in this photo of mine below, the Agate Beach winds sometimes create platform shapes from the sand, unlike the usual sloping dunes on many central and southern Oregon coast beaches. This is looking north toward the Yaquina Head Lighthouse.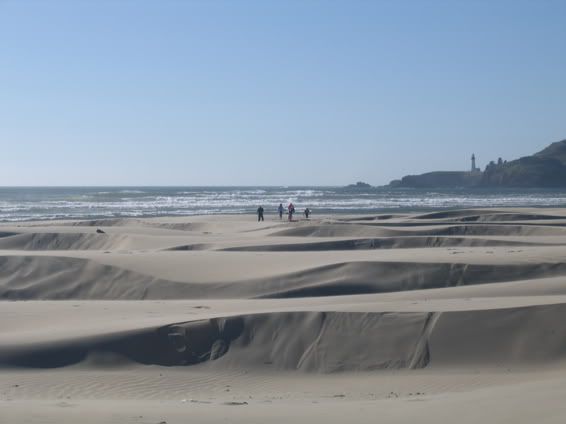 We dusted ourselves off and headed down to Newport's historic bayfront, where the classic Yaquina Bay Bridge - the subject of this Corvallis Times-Gazette article - looms large. Here the Yaquina River meets the ocean. A few of my pix follow: from near the marina (below, left), and another taken a bit closer to the bridge and later in the evening, from a pier in the heart of the bayfront (below, right).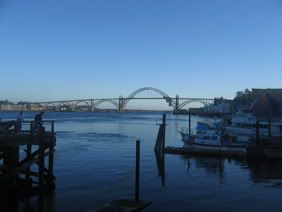 For dinner, there's a great alternative to the venerable, and jammed Mo's, and Mo's Annex. A bit east of Bay Street's hubub, back toward the marina, we stumbled upon a new-to-us Newport eatery named Local Ocean Seafoods. It's been open one year and a few months, and has a sleek but understated look that said to me, good fresh seafoood for locals. Perhaps it was the fish market inside with white salmon among the offerings, plus the open kitchen surrounded by counter seating (there are tables as well), and the roll-up clear glass garage door-ish front of the house, which lends a nice open-air feel to the whole place, weather permitting. We snagged a table just before the line started to run out the door.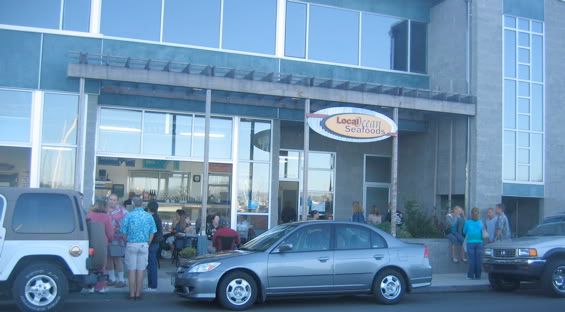 We were not disappointed.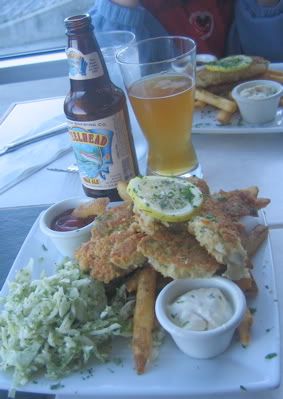 A garlic and Dungeness crabmeat soup was superb, as was my wife's New Orleans-inspired crab Po' Boy sandwich and my pan-fried oysters with fennel slaw (below, left).
Fresh halibut starred in the kids' fish and chips.
For dessert, the kids were somewhat overwhelmed by the sheer decadence of the homemade Kit Kat ice cream - very chocolately, with large shards of the crumbled namesake candy bar worked in. Their parents had to reluctantly do relief duty.
After dinner we went to the homey and sprawling Canyon Way Bookstore, which we've enjoyed before.
It still has a great atmosphere, a nice cafe, gifts, and some pretty good, if slightly dated CDs for sale.
The book selection is generally intelligent and eclectic, and the staff warm and knowledgable. That's why I was disappointed to notice the current events section was heavily weighted to uber-liberal titles and Bush-bashing tomes, with nary a conservative selection visible, save a lone work by P.J. O'Rourke.
Hey, it happens - but it left a bad taste. It's rather indulgent for the staff to impose its politics on the consumer.
Next time we go to Newport, I'll be trying to find lodgings overlooking or right near Nye Beach, a real hidden gem. With a feel light years removed from busy Route 101 and the tourist-thronged historic bayfront, Nye Beach is both a city neighborhood and prime destination for the discerning tourist. Classy small shops, restaurants and lodgings are concentrated in a tastefully low-key but chic local business district amidst quaint single-family homes; all of it bordered on the west by a huge, clean and beautiful Pacific Ocean beach great for tidepooling, kite flying, walking or lazing about. Here are a few shots I took the morning we left Newport for Bandon.
From the cliff above......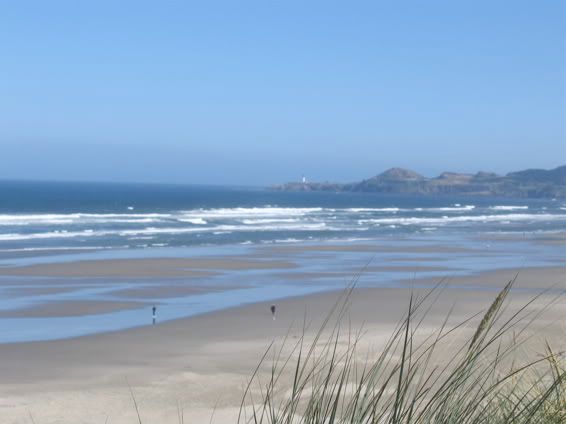 ......and on the beach.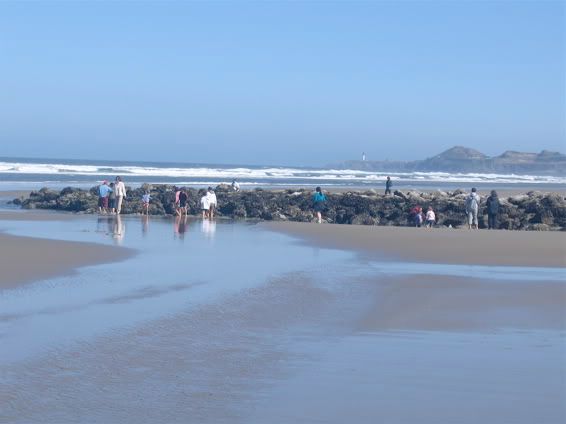 Additional Newport attractions include the Mark Hatfield Marine Science Center, the Rogue Ales Brewery tours, and Yaquina Bay State Park and lighthouse.
Coming next, as we work our way south along the Oregon Coast: Yachats, Cape Perpetua and Heceta Head.
TECHNORATI TAGS: OREGON, OREGON COAST, TOURISM, VACATION, NEWPORT, LODGINGS, RESTAURANTS, STATE PARKS, LIGHTHOUSE, BEACHES, YAQUINA HEAD, YAQUINA BAY, AGATE BEACH, NYE BEACH, LOCAL OCEAN SEAFOODS, CANYON WAY BOOKSTORE, DRIFTWOOD VILLAGE, LINCOLN CITY, DAVID CASSIDY>
Posted by Matt Rosenberg at 06:00 PM | Comments (0)
July 11, 2006
In Seattle's Muck And Mire
Gonzo TV chef and piquant culinary writer Anthony Bourdain recently played - make that worked - in the muddy sands of Puget Sound on Squaxin Island searching for huge geoduck clams which viewers will see rendered into sashimi, and also sauteed with wine and morel mushrooms. Exploring the South Sound is always a treat, but most often we end up at Seattle's premier sandy beach, Alki, in the neighborhood of West Seattle. It's hard by where Seattle's early white settlers landed and promptly named the place "New York Alki" - that last word being Chinook jargon for "bye and bye." As if.
Today was the lowest tide of the year in Seattle, a negative 3.18, which means it was officially way, way, way out there. With my son off at camp, my daughter and I went to play in muck and mire at Alki.
Here a few of the best pix, taken with my trusty Canon Power Shot A95, uploaded and edited with Apple's iPhoto software, and easily rendered into blog-friendly image code via my well-worth-it "premium" ($25 yearly for unlimited bandwidth) photobucket.com account.
Looking west by northwest across Alki's sands at Puget Sound. That ferry in the background is going between downtown Seattle and either Bainbridge Island or Bremerton.
More folks at play during low tide on Alki yesterday. We're looking north toward the tip of Duwamish Head, the name given to uplands of West Seattle's Duwamish Peninsula. Although the Space Needle looks like it's planted right there, it's actually north a mile or so as the crow flies, across the mouth of Elliott Bay, which connects the downtown waterfront to the Sound. To the left of the Space Needle is the city's Queen Anne Hill neighborhood, adorned by the landmark three radio transmission towers.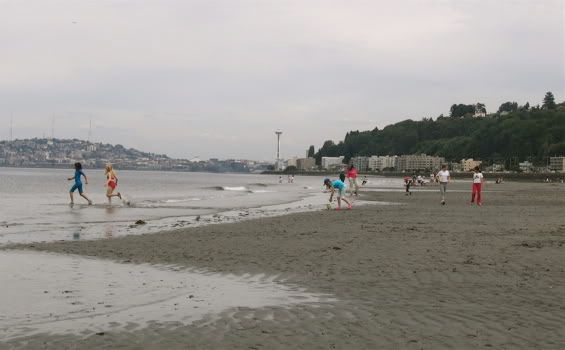 Exotic bird trolls for Sunfish goodies.
TECHNORATI TAGS: SEATTLE, WEST SEATTLE, ALKI BEACH, PUGET SOUND, LOW TIDE, ANTHONY BOURDAIN, SQUAXIN ISLAND, GEODUCK, WASHINGTON STATE FERRIES, CANON POWER SHOT A95, APPLE iPHOTO, PHOTOBUCKET, SUNFISH, FISH AND CHIPS>
Posted by Matt Rosenberg at 11:06 PM | Comments (3)
July 09, 2006
Rosenblog Opinion Review, Vol. 23
"Teacher's Unions And Public Schools: Who Needs 'Em?" Bob Sipchen, Los Angeles Times.
"County Proclamation Raises Questions," Jermey Clevenger, Port Townsend Leader.
"The Black Rebellion Against Fatherlessness," Eugene F. Rivers III, Boston Globe.
"No Political Party Can Contain Us," Bishop T.D. Jakes, CNN.com.
"Democrats Fundraising Letter Is Bankrupt On Ideas," Steve Lopez, Los Angeles Times.
"The 'Screw Them' Party," Rich Karlgaard, Forbes.com.
"Authenticity Admired Yet Rare In Politics," William Neikirk, Chicago Tribune ("The Swamp" Blog).
"Who Died And Left You President Of The United States?" (a letter To Bill Keller of the New York Times), David Reinhard, The Oregonian.
"The Media's War Against War Continues," Andrew C. McCarthy, National Review Online.
"Flying The Deadly Skies - Whistleblower Thinks The State Of U.S. Aviation Security Invites Another Deadly Attack," Bill Katovsky, San Francisco Chronicle.
"Pressure Putin To Get On Democratic Path," Lawrence J. Haas, Billings Gazette.
"Arab Blogs That Fight For Reform," Frida Ghitis, San Francisco Chronicle.
"Palestinians Prefer Playing The Victim To Getting Along," Charles Krauthammer, Everett Herald.
"Anti-Americanism's Deep Roots," Robert Kagan, Washington Post.
"Where A Beer Costs $150,000 - Inflation Is Strangling Zimbabwe," Douglas Rogers, Los Angeles Times.
"Gates' Money Alone Can't Cure Africa - Better Governance Must Accompany Better Drugs," G. Pascal Zachary, San Francisco Chronicle.
"A Long Hot Season Of Death: The Bodies Are Already Piling Up In The Badlands Along The Interior Mexican Border," Marc Cooper, Los Angeles Times.
"House Republicans Getting Tough On Illegal Immigration," editorial, Santa Cruz Sentinel.
TECHNORATI TAGS: SCHOOL CHOICE, GAY PRIDE, AFRICAN-AMERICANS, FATHERLESSNESS. DEMOCRATIC PARTY, GEORGE W. BUSH, TERRORISM, NEW YORK TIMES, BILL KELLER, AVIATION SECURITY, VLADIMIR PUTIN, ARAB BLOGS, REFORM, PALESTINE, ISRAEL, ZIMBABWE, ROBERT MUGABE, BILL GATES, MEXICO, ILLEGAL IMMIGRATION>
Posted by Matt Rosenberg at 09:36 PM | Comments (0)
July 08, 2006
Bicycle Saturdays And Sundays In Seattle....Rock!
UPDATED.....Loading up the family vehicle with three bikes on the rack and another in the trunk is hard to do, especially on a languid, beautiful weekend afternoon. But utterly worth it when it's Bicycle Saturday or Bicycle Sunday on Seattle's Lake Washington Blvd. The scenic lakeside drive is closed to vehicles for a stretch of several miles from 10 a.m. until 6 p.m., between Seward Park on the south and Mount Baker Beach on the North. (The above link gives remaining dates for this summer). And to think that in August the entire stretch is filled with racous yahoos on land and parked in their stinkpots on the lake, all watching the hideously vestigial Seafair hydro races, an embarrassing Seattle tradition that really ought to be granted a mercy killing muy pronto. Today's excursion was an exceedingly mellow and cardiovascular Lake Washington Blvd. experience. I highly recommend it to all Seattle bike riders and families, and enlightened bike-happy visitors - just as strongly as I urge one and all to avoid the piss-drunk numbskulls massed for the Seafair hydro races along the lake in August.
Some photos taken on our family's Bike Saturday excursion today follow. Starting at the end, in Seward Park, gazing southeast some 60-plus miles upon majestic Tahoma. That's the Native American name for Mount Rainier.
Our kids after a long bike ride, enjoying shaved ice in Seward Park's shade.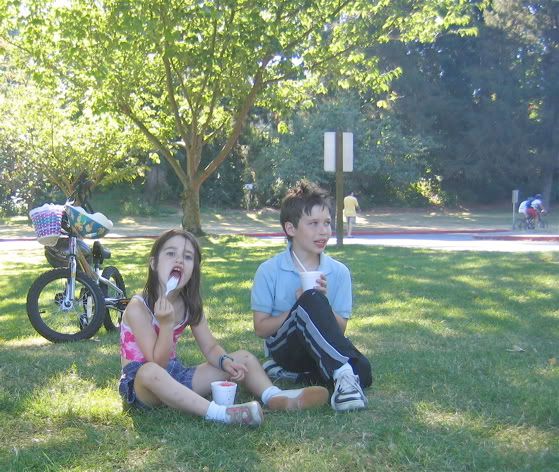 After our ride, my son Max and I walked back to get the car, and bring it around to load up the bikes. We espied this scenic bog along Lake Washington's southwestern shores, looking north toward the I-90 bridge.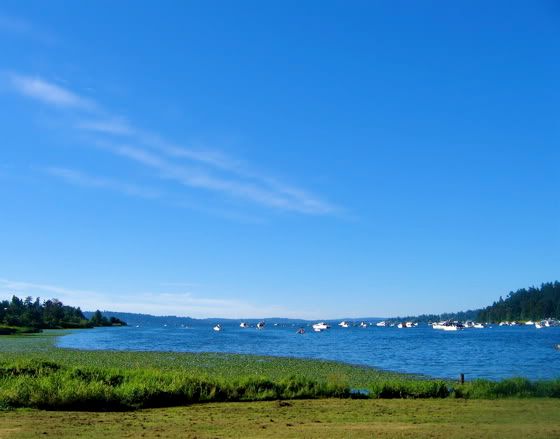 Our northernmost destination on the car-free Bike Saturday jaunt up and back from Seward Park on Lake Washington Blvd. was to Mount Baker Beach in Seattle, where we spent an hour lolling about. In the background here are a slice of the Cascade Mountains and the skyline of the suburban metropolis of Bellevue.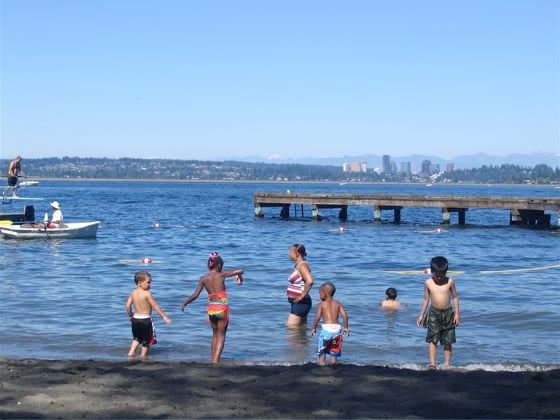 Sure enough, on the way back, it was time for a stop at the great southeast Seattle produce stand named MacPherson's, along Columbian Way. I will let you know whether the Temptation Melon we bought there lived up to its name.
Can you imagine a rock group called Temptation Melon? I can. That certainly beats Strawberry Alarm Clock, the Ultimate Spinach or the Apple Pie Motherhood Band.
TECHNORATI TAGS: SEATTLE, BICYCLE SATURDAY, SEWARD PARK, LAKE WASHINGTON BOULEVARD, SEAFAIR, MOUNT BAKER BEACH, MOUNT RAINIER, MACPHERSON'S; TEMPTATION MELON, STRAWBERRY ALARM CLOCK, ULTIMATE SPINACH,APPLE PIE MOTHERHOOD BAND>
Posted by Matt Rosenberg at 11:15 PM | Comments (3)
July 02, 2006
Sunset at Seattle's Lowman Beach - Take Two
Yes I've come before with digicam in hand to capture the sunset and also the day view at Lowman Beach in West Seattle. This time, right as the sun was setting. For non-Washingtonians, that's Puget Sound in the foreground and the Olympic Mountains in the background.
TECHNORATI TAGS: SEATTLE, WEST SEATTLE, SUNSET, LOWMAN BEACH, PUGET SOUND, OLYMPIC MOUNTAINS>
Posted by Matt Rosenberg at 12:06 PM | Comments (1)
Touring Like A Local: The Magic Of Mountain Loop Highway
UPDATED......Max and I joined some good friends - another dad and son - on a hike yesterday to Heather Lake in Washington's North Cascades. It's family-friendly; a mere 1,000-foot elevation gain in 1.9 miles to the lake. The trail is somewhat rocky and root-laden but very shaded and scenic. The payoff, after the usual "are we there yet?" grumbling from the kids, was an excellent lesson in deferred gratification. An attractive alpine lake surrounded by snow-napped mountains (below left), and a loop trail with a boardwalk offering more scenic vistas (below right).
At the insistence of the suddenly invigorated kids, we ended up going off-trail to the edge of a snowfield where three waterfalls high above on the cliffsides were visible. (You can see one just to the right of center at the very top of the second photo below, and another on the left of the same pic, running down into the snowline). Then we came back down to the trail on a dry creekbed, and found a waterside spot for lunch.
The Heather Lake trailhead is accessed from Seattle via Mountain Loop Highway, a gateway into the Mount-Baker Snoqualmie National Forest and many excellent hikes therein. The road, built by the Civilian Conservations Corps, now closes about 30 miles in, after Barlow Pass. In summer it used to go through to the northeast to the town of Darrington, and then continue on under another name to Route 20 - the North Cascades Highway - at Marblemount. You could still spend an entire summer exploring all the excellent hikes off MLH. You'll espy fine spots for picnics and fishing along the south fork of the Stillaguamish River; and can view ice caves (VERY carefully); plus hike to a ghost mining village called Monte Cristo. The Forest Service compendium of hikes off Mountain Loop is here (click on embedded links for more information on each). Updates on trail conditions are added regularly. One favorite of mine is Mount Forgotten Meadows. Lots of huckleberries to pick along the trail in late summer, and views of Glacier Peak at the top. A great workout, as well.
On our hike to Heather Lake yesterday, there was no snow on the way up, only above the lake. In a few weeks, the snow should be melted on the trail to Mount Pilchuck, a tougher hike that's still do-able with somewhat gonzo kids, and which boasts awesome Puget Sound and mountain views at the summit. The trailheads for Mount Pilchuck and Heather Lake are both reached from Mount Pilchuck Road, via Mountain Loop Highway. See below for full directions.
DIRECTIONS: From Seattle, take I-5 north into Everett, then Route 2 east. Exit shortly at Route 204 North toward Lake Stevens. At second light, turn left onto Route 9 North, continuing a mile or so to Route 92 East toward Granite Falls. Follow Route 92 about eight miles into the town of Granite Falls, making sure to stop at The Timberline Cafe (right side of street - can't miss it) for biscuits and gravy, with basted eggs on the side. As Route 92 ends at a "T," turn left. That becomes Mountain Loop Highway. After about 15 minutes or so, you'll pass the Forest Service's Verlot ranger station (on the left) and then the first bridge. Turn immediately right onto Mount Pilchuck Road (it is only signed on the left). About a mile up on the right, the first parking area is for Heather Lake (trailhead across the road). Another six miles up the road is the Mount Pilchuck trailhead.
TECHNORATI TAGS: HIKING, WASHINGTON, SEATTLE, MOUNTAIN LOOP HIGHWAY, HEATHER LAKE, MOUNT PILCHUCK, MOUNT FORGOTTEN MEADOWS, ICE CAVES, MONTE CRISTO, GRANITE FALLS, TIMBERLINE CAFE, MOUNT BAKER SNOQUALMIE NATIONAL FOREST>
Posted by Matt Rosenberg at 11:34 AM | Comments (0)