June 29, 2006
Black Mega-Churches Eschew Victimology
UPDATED......At a Dallas-area conference of black ministers attended by Jesse Jackson, Al Sharpton and the eminent scholar Cornel West, black mega-churches came in for criticism as being too preoccupied with personal growth and wealth accumulation. The Fort Worth Star-Telegram reports:
"The message of many churches has been co-opted by American capitalism," said the Rev. Frederick Haynes III of the Friendship-West Baptist Church in South Dallas. "A megachurch should not just be known for the traffic jam it creates on Sunday, but for doing something more in the community." The criticism came at a summit of about 100 black ministers - including the Revs. Joseph Lowery, Al Sharpton, Jesse Jackson and scholar Cornel West - held this week at Haynes' church.

Several popular black megachurch leaders and televangelists, such as Bishop T.D. Jakes in Dallas and the Rev. Creflo Dollar of Georgia, openly back President Bush. They preach to stadium-sized congregations that worshippers receive health and prosperity through their faith - a belief system called Word of Faith, said Lawrence Mamiya, professor of religion and Africana studies at Vassar College. Leaders often speak proudly of their own wealth and success, he said.

Jakes, who claims 30,000 churchgoers, said in a written response Wednesday that his church, The Potter's House, and his ministries give people the tools and mind-set to be successful. "Economic empowerment and family prosperity are crucial to our survival," he wrote. "The economic gulf that exists between people of color ... and European-Caucasians is a breach that remains too wide, a chasm that should and can be closed."

....Sharpton said Monday the leaders at the summit would combat Christian conservatives - megachurches in particular - for...ignoring what he called the immorality of the war, attacks on voting rights and the erosion of affirmative action. Haynes called the megachurches' conservative teachings "prosperity gospel" and said it turns Christianity on its head. Those teachings blame the poor for their circumstances and praise the pursuit of earthly riches, he said.
On one hand we have a gospel of self-empowerment, strong families and pursuit of economic security. On the other we have the elevation of failure over success, vilification of capitalism, a reliance on affirmative action, and the scapegoating of Republicans over Iraq and badly-needed election reforms. Hmmmm. Which priorities will benefit the poor more? Which message will resonate most deeply in the marketplace of modern Christianity? I think the answer is pretty clear. That Al Sharpton is still flogging the same dead horses is especially unfortunate for those who foolishly choose to give him a platform. I'm no biblical scholar. But I seem to remember something about how teaching a man to fish beats giving him a fish to eat. To be ready to learn self-survival, he must be raised right by his parents and make the right choices in his life. The time for washing the feet of beggars has passed.
TECHNORATI TAGS: DALLAS, T.D. JAKES, THE POTTER'S HOUSE, CREFLO DOLLAR, BLACK CHURCHES, MEGA-CHURCHES, AL SHARPTON, CORNEL WEST, SOCIAL JUSTICE, PROSPERITY GOSPEL>
Posted by Matt Rosenberg at 05:05 PM | Comments (4)
June 28, 2006
The Goat Mozzarella Paradigm
UPDATED.....If you give people a choice, a lot of them will choose the good stuff. Like fresh mozzarella, or wonderful goat mozzarella, over the bland and rubbery downmarket hunks or tasteless shredded bagfuls. Abominations also include one-handed food such as chili-macaroni on a stick - shudder. For healthier others, the appeal of dicing and slicing remains considerable. Oakland is abuzz, the San Francisco Chronicle reports today, with the opening of its first big gourmet supermarket. Farmer Joe's, owned by a Chinese imigrant who was first a fieldworker, began as a corner market and at customer request began stocking organic produce - something I buy periodically because it tastes great, not because it is always less free of chemicals. When a large grocery site became vacant in the Dimond district in Oakland's foothills, they were persuaded to open up there. These days, large grocery stores selling organic produce are apt to have a lot of other fine food items, which are in growing demand as consumer tastes become more discerning.
For years, Oakland residents who wanted fresh, high-quality produce had to drive out of town. But not anymore. Due to changing demographics and evolving tastes, several large, upscale grocery stores are setting up shop in Oakland, much of which until now has been served by chains and corner liquor stores. Fresh sushi, olive oil bar, heirloom tomatoes -- usually the hallmarks of Noe Valley, Mill Valley and Portola Valley -- can now be found in Oakland's decidedly unglamorous Dimond district....Residents were so excited about Farmer Joe's opening last weekend they threw an all-day festival, with live music, craft booths and face painting, and have pledged to keep cash registers humming. "It's been exciting, but I have to keep reminding myself of an old Chinese saying: 'It's easy to build something, but hard to keep it going,' " said owner Joe Tam, an immigrant from China, who started his career working in Bay Area flower and vegetable fields. "Now the hard part starts."

..."Oakland needs this place," Dawnelle Armstrong said as she surveyed the cantaloupes and nectarines Tuesday morning. "We need something positive like this. Until now, if you wanted good organic stuff, you had to drive" to Berkeley. Farmer Joe's isn't the end of the food revolution. Whole Foods will open its first Oakland store in summer 2007 at the former Cadillac dealer at the corner of 27th and Harrison streets near Lake Merritt....."What we're seeing is that gourmet foodies aren't the only ones who want fresh, high-quality produce. Everyone does," said Samee Roberts, Oakland's marketing manager.
At the same time American obesity is reaching alarming levels, the choices are ever more clear on diet. You can eat healthy or mainline crud that's high fat, salty, greasy or sugary. However, sometimes eating healthy is much harder based on your surroundings. While on vacation and staying in rented homes, I've been to grocery stores in the inland Northwest that were downright scary. Mushy brown produce, green-ish chicken, brown "red" meat. Thank goodness for the spaghetti carbonara fallback strategy. You can always get pasta, bacon, eggs and Parmesan; even in one of these gruesome shrines to food as an afterthought. Salad may have to be cucumbers though, when the lettuce is only wilted iceberg. During harvest season in rural areas and year-round near larger cities, at least you can opt for quality. Which doesn't have to entail upscale prices; just a decent produce stand. Like, say, MacPherson's on Columbian Way South in Seattle's Beacon Hill. No one in Birkenstocks there. Just a whole lot of different-colored folk buying up scads of ethnic and mainstream produce for rock-bottom prices. Not an organic anything in the house. For a true boutique experience, try a farm stand on an island a short ferry-ride from Seattle. Most convenient of all are the weekly farmer's markets all over many cities these days. Including Seattle.
Rainier Cherries, anyone?
TECHNORATI TAGS: OAKLAND, SEATTLE, VASHON ISLAND, HEALTHY FOOD, GROCERY STORES, FARMER'S MARKETS, PRODUCE STANDS, FARMER JOE'S, WHOLE FOODS, GOAT MOZZARELLA, RAINIER CHERRIES>
Posted by Matt Rosenberg at 08:55 AM | Comments (0)
June 27, 2006
"Forced Conscription Is Evil"
At his blog Max Planet, my son Max, age nine, has a new post up. It is titled "Forced Conscription Is Evil," and is about children being dragooned into war in Africa. Take a look.
TECHNORATI TAGS: MAX PLANET, KID BLOGGERS, SEATTLE, AFRICA, SUDAN, UGANDA, WAR, FORCED CONSCRIPTION>
Posted by Matt Rosenberg at 08:48 AM | Comments (0)
June 25, 2006
The Kids.....In Seahurst Park
So.....not too long ago, there we were. In beautiful Burien, at Seahurst Park. Down by The Sound.
Like This.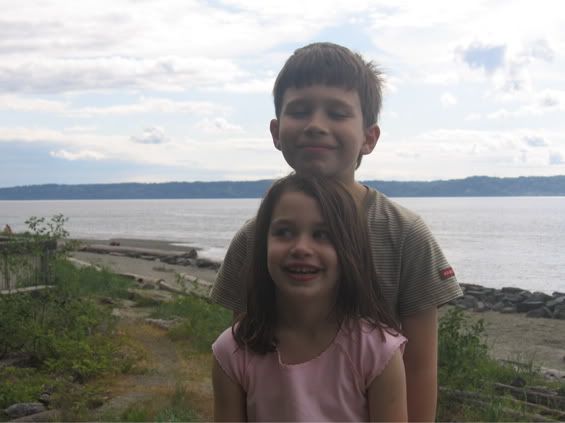 Ya shoulda been there.
The logs offer plenty of room for hatching plots.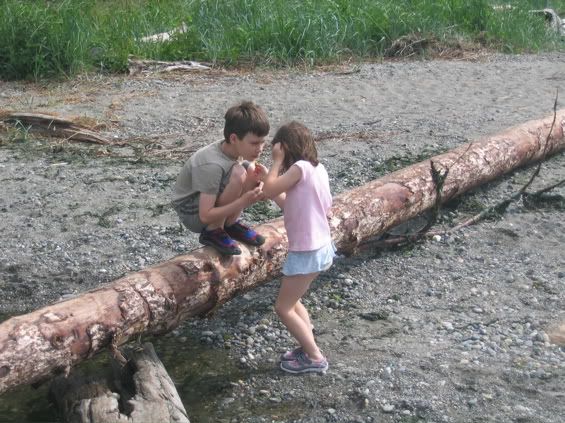 TECHNORATI TAGS: SEATTLE, SEAHURST PARK, PUGET SOUND, BEACH, VACATION>
Posted by Matt Rosenberg at 09:54 PM | Comments (0)
June 22, 2006
Jarrett T. Barrios And The Politics Of Fluff
UPDATED.....By now, Massachusetts State Sen. Jarrett T. Barrios realizes he has really stepped in it. His plan to sponsor a legislative amendment limiting the serving of Fluffernutters to once weekly in school lunchrooms has revealed this Democrat's true colors. Yea, verily: vulnerable kids - especially Barrios' own third-grader - must be protected by the state from the insidious appeal of Marshmallow Fluff! Not only have world-famous libertarian-leaning bloggers given Barrios whatfor, the Boston Globe reports today he's also taking a beating from fellow legislators because Marshmallow Fluff is an iconic Massachusetts-made product.
If he had still been running for district attorney, would he have have held his tongue about the social menace that is Marshmallow Fluff? Perhaps not. Because for "the first openly gay Hispanic Massachusetts state senator" overbearing statism is nothing new. In this 2005 Globe op-ed, Barrios and a fellow legislator argue the problem of school bullies requires intervention from schools, the state, trainers, experts, community leaders, police, district attorneys, and especially.......video game makers. The authors mention parents only in a dismissive manner at the very beginning, as if they have little bearing upon behavorial problems of their children.
The would-be Fluffbuster has degrees from Harvard and Georgetown Law, and embraced identity politics as an undergraduate in Cambridge. After he was elected in 1998 to the state house, this profile of Barrios appeared in the campus paper.
Barrios, who is originally from Tampa, Fla., said he first become interested in civil service through his involvement in community service and "issues politics" while at Harvard, including serving as chair of the bisexual, gay, lesbian student association and as a night supervisor of a Harvard Square homeless shelter....Affordable housing, quality child care and quality education are a few of the many issues to which Barrios says he will devoted his time.

....Barrios says he is the first openly gay man elected to the House as a non-incumbent and one of three first-term Latinos this year. Before this election, only one Latino had ever served in the House, and his last term ended in 1992. Barrios credits the activism of the gay community, which he estimates makes up about 15 to 20 percent of the voters in the district, for much of his support. "[My homosexuality] informs my agenda," he says. "It is important that we recognize the obligations of society to allow all citizens to participate fully in the political process," he says. In addition, Barrios says he hopes to be "a strong voice for people of color."
And now, at least until things quickly got messy, for kids victimized by Marshmallow Fluff.
TECHNORATI TAGS: JARRET T. BARRIOS, MARSHMALLOW FLUFF, GAY HISPANIC, ANTI-BULLYINGG, STATISM, IDENTITY POLITICS, MASSACHUSETTS STATE LEGISLATURE, CAMBRIDGE, MASSACHUSETTS, HARVARD, GEORGETOWN UNIVERSITY LAW SCHOOL>
Posted by Matt Rosenberg at 10:58 AM | Comments (1)
June 21, 2006
Marshmallow Fluff Is Already On Life's Daily Menu
The Chicago Tribune reports that a Massachusetts state legislator wants to ban schools from serving a regional favorite - sandwiches made of peanut butter and Marshmallow Fluff - more than once a week.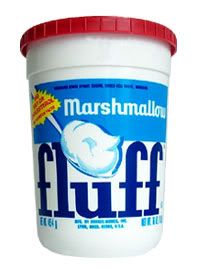 He believes that's necessary for the health of children. I say serve P.B. and Fluff sandwiches in school cafeterias every day, along with a range of other choices, and let the kids decide. It's not as if when they're home or elsewhere, and out of parental surveillance range, they can't indiscriminately snarf snacks, sweets and junk food. There's nothing like a bellyful of Cheetos and Pepsi, a meal from McDonald's, or a daily diet of Marshmallow Fluff sandwiches to teach a kid about healthy, good eating.
The central idea here is that unlike the socialist nutbars running the asylum in Sam Francisco, we should understand that we're all largely responsible for our own health, personal development, economic security and well-being. In a transcription of a 2004 speech that was just published on the Internet in the June 2006 issue of the libertarian journal Liberty, Whole Foods Founder John Mackey asserts we - not government in any manner - should take responsibility for our own health.
Mackey argues:
....health is not merely the absence of disease. It is vitality and a sense of well-being. Health is partly about eating a healthy diet. Regular daily exercise and minimizing the poisons we take into our bodies, such as sugar, alcohol, nicotine, and caffeine, are also very important. Health is about getting adequate sleep, and also about having a sense of personal life purpose and maintaining an optimistic and positive attitude. Most importantly, our health and well-being are our own responsibilities. Our doctors cannot assume these responsibilities. Nor can the bureaucratic "experts" controlling a health care system.

The freedom movement must first advocate the ideal of self-responsibility for health. We own our own bodies, don't we? This is no minor thing, because the Left, by supporting socialized medicine, demonstrates a belief that common citizens are too stupid to take responsibility for our own health and therefore need the "experts" to step in and control things for our own good.

Next, we must advocate the ideal of free markets and competition in health care. The monopoly that medical doctors largely have in medical treatment must be broken. They should have to compete fully with other practitioners, such as chiropractors, acupuncturists, naturopaths — and yes....even homeopaths...Doctors don't compete on quality or price right now. They don't post their prices, and it is almost impossible to get any real idea of the quality of their services except through trial and error.

...Eliminating tax incentives for health care would change everything. Most companies (like Whole Foods) would stop offering free or subsidized health insurance if the benefit wasn't tax-deductible. Individuals would no longer receive "free" health care and would start spending their own money. The power of the markets would increase both the efficiency and effectiveness of our health care system enormously....Let markets truly work in health care and I have little doubt that the health of Americans would improve immensely.
He's right of course, but at present our society is reluctant to let everyone take responsibility for their own health care, as much sense as it makes. We are too busy looking for "racial disparities" in seatbelt usage, and theorizing about "social justice" denied every time equal outcomes fail to materialize among different groups in health, educational acheivement, income and even rates of business ownership. In the meantime, parents are wise to enforce and model to their children healthy diet and exercise habits, right from the start. Or under the current paradigm, we all pay - through higher costs distributed among companies and employees funding private health care plans, and among the taxpayers funding public health care.
TECHNORATI TAGS: HEALTH CARE, DEREGULATION, JOHN MACKEY, WHOLE FOODS, LIBERTARIAN, MARSHAMELLOW FLUFF, MASSACHUSETTS, HEALTH DISPARITIES, SEAT BELT USAGE, OBESITY, SOCIAL JUSTICE, INDIVIDUAL RESPONSIBILITY>
Posted by Matt Rosenberg at 11:04 AM | Comments (0)
June 20, 2006
Uptight Gringo To The Rescue In Santa Ana
The Los Angeles Times reports today about the clash of cultures between Latinos and one of their white neighbors named Tim Rush in a Santa Ana, California neighborhood where, The Times reports, "many people aren't even U.S. citizens." By insisting that building codes and other local ordinances be enforced to maintain neighborhood quality of life, Rush has been acting very, well, white, it seems. Maybe even racist.
...most of Rush's neighbors are less than understanding about his campaign. Jorge Mendez, a gardener who lives three doors away, sums up the feelings of many of his neighbors. Rush is "watching us all the time. Before he came, no one here had any problems," Mendez said. "I don't understand why he is like this. Is it because we are Latinos or what?
I think this definitely falls under "or what", Jorge. You see, not only does our country's rule of law require an end to illegal immigration, but our idea of community also includes legally-supported standards of conduct relating to residential property use. Among other things. "Anything goes" may go at the border or even with respect to phony IDs for illegal workers and lax workplace enforcement of immigration law. But in the 'hood, the sensibilities of "the man" can be harder to slough off.
...Within a week (of moving in), Rush began reporting code violations around him....Rush called about four inoperable vehicles in a backyard abutting his yard. The city contacted an out-of-town homeowner, who arrived from Texas and removed them. Rush objected to graffiti on the walls of a garage that he could see from his back porch, and the owners were forced to paint it over. He called animal control officials about a barking dog. After more than a dozen calls, the barking stopped....More than two dozen times, he reported to police loud music playing at 8 a.m. on Sundays at a house three doors away. The music has stopped. And time and time again, he complained about (Pedro) Reyes, who could be seen from Rush's living room showing cars parked on the streets to buyers. Earlier this year, responding to a criminal citation issued by the city, Reyes pleaded guilty to selling used cars and repairing them in and around his property, said City Atty. Joseph Fletcher.

Neighbors said they hadn't known about Reyes' pleading, but they had noticed with pleasure fewer cars on the street. When they learned that Rush's complaints had stopped the car sales, several gave him kudos. Latinos "have a tendency not to complain. We don't think anything comes of it, we're too busy working, and we don't want to meddle," said Nelson Rodriguez, 30. "We had tried to ask [Reyes] to move those cars, and nothing happened." Still, for many in the neighborhood, Rush is a curiosity. They can't figure out why he lives alone in a house or why he flies a U.S. flag on a street where many people aren't even U.S. citizens....For Rush, the recent victory over the used-car lot was a signal to continue his mission. He wants to report cases of graffiti, overcrowded apartments and illegal parking...."Even though they're cursing me now, they will thank me in the end. I just want them to live normally, not in garages, with their cars on their lawns. I don't think it's a lot to ask. Property values will go up. They will see."
For some, that U.S. flag must be the last straw. The nerve. It's good to see some of the Latino neighbors welcome the changes Rush has prompted. Multiple families packed into homes built for single families is the beginning of the slide down a slippery slope in any neighborhood. Aren't there supposed to be ordinances against that? Showing common courtesy for your neighbors includes not using your home as a base for an unlicensed auto sales and repair business, and not blasting music at 8 a.m. on any day of the week, especially Sundays.
Decent neighbors don't need to be approached by authorities because they shape up when you make a reasonable request. If Rush's behavior is to be written off as that of an uptight, flag-displaying white guy, we're all in trouble.
TECHNORATI TAGS: SANTA ANA, CALIFORNIA, CODE ENFORCEMENT, QUALITY OF LIFE, TIM RUSH, ILLEGAL IMMIGRANTS, PHONY ID, SOCIAL SECURITY, WORKPLACE ENFORCEMENT>
Posted by Matt Rosenberg at 11:44 AM | Comments (0)
June 19, 2006
Taliban-South In Somalia, Kleptocrats In Zimbabwe
UPDATED.....Islamic cultural police have replaced the murdering, raping, dismembering warlords who held sway in and around Mogadishu, although moderate Muslims are making a bid for control of strife-torn Somalia's capital city, too. The New York Times reports.
A week ago, when Mexico and Iran were still playing the first half of their World Cup soccer match, gunmen allied with the Islamic courts burst into a tiny theater in the Hiliwaa neighborhood of north Mogadishu, condemned the place as ungodly and angrily switched off the television set. When they caught sight of a man with a trendy Afro, with lines shaved into it, they tied his hands behind his back, took out a pair of scissors and evened it out into a scalp-revealing buzz cut. "They said, 'Your hair is against our culture and is not Islamic,' " recalled the man, Abdi Fatah, 26. They whipped him with a belt, then jailed him for three days.

...In the old Mogadishu, militiamen would barge into a home and haul a girl or woman away and rape her. Bullets rang out routinely, and gunmen set up roadblocks and charged taxes on anybody who happened by. Fewer guns are visible now....But a new, more silent battle is under way, for control of the Islamic movement in Somalia....Mohamed Ali Aden, 19, who commanded 350 men in the recent war and said he would settle for nothing less than a full-fledged Islamic state. "We've neglected God's verses for so long," Mr. Aden said in an interview. "We want our women veiled and we want them at home. We men have to grow our beards.....If you will not join Islam, you are not my brother," he said, refusing to offer his hand. "I am a holy warrior and those who disturb Islam, we will disturb them...Al Qaeda's concept is right and one day they will rule...The name Muslim and Al Qaeda are the same to me. We are alike."
Quick: get this guy a spin doctor. Or maybe he's beyond that. Let's hope the moderate sheiks in Mogadishu, led by Sharif Ahmed, prevail.
"We are a Muslim people, we want to live in a peaceful way, we want to live with the rest of the world in a peaceful way," said the bearded Mr. Ahmed, 41, who was trained in the Koran in Sudan and Libya. "We are not terrorists and we do not associate with terrorists." The Islamic courts are not World Cup haters, either, Mr. Ahmed has said, explaining that a rogue militia, not an official order, led to the closing of some theaters....Other Somalis...continue to pack into public theaters in other parts of town, where the local militias have opted for moderation.

But there have been other confrontations. Earlier this year, Islamic militiamen stopped Ismahan Ali Mohamed, 18, on the street and ripped the long, tight-fitting skirt she was wearing. They ordered her to wear a looser garment next time....Malyun Sheik Haidar, 31, who publishes a small newsletter devoted to women's issues, heard from a man involved in one of the Islamic courts that her publication would probably be shut down. "He said, 'Women have a right to sit in your house and do domestic things,' " she said. " 'You don't have a right to do a journal on human rights.' "
Across the continent, struggling kleptocrat Robert Mugabe's grip on Zimbabwe continues to rely on military force, devalued currency and expropriation of private property. The San Francisco Chronicle reports:
As soldiers rolled past Lot Dube's land and set up camp, they passed along a blunt message. "They told us, 'We are taking away your fields from you,' " said the 63-year-old farmer, who has farmed his 10 acres in the south of the country for a generation. The soldiers forbade him to grow tomatoes, onions and sweet potatoes -- market vegetables he sold to pay his children's school fees -- and ordered him to plant maize. He was told, he said, that the government's Grain Marketing Board planned to buy the entire maize harvest and sell it abroad to obtain foreign currency.

Replacing food with a cash crop aimed at the foreign market is just one of the increasingly desperate measures the government of President Robert Mugabe is taking to ease an economic crisis so severe that inflation for many consumer goods is running at more than 1,000 percent a year...To bolster his hold on power, Mugabe relies increasingly on the military. Not only do soldiers carry out his farm policies, he has appointed military commanders to top slots at the reserve bank, the electoral commission, Zimbabwe railroads, the Ministry of Energy, the Public Service Commission, the national parks and other key institutions.

Zimbabwe's economy has been shrinking for the past six years, and the nation has been dependent on food aid since 2002. Eighty percent of Zimbabweans are unemployed, and food and fuel are scarcer than ever...."The economy will only turn around when you get competent and experienced people running it, not the military," said David Coltart, a white member of Parliament with the opposition Movement for Democratic Change. "The appointment of military people to run things like the railroads will only speed up the demise of the regime."....Militarization "is an admission that things have fallen apart and national governance can no longer continue in a civilian mode," said Jonathan Moyo, a former secretary for information who is currently Zimbabwe's only independent member of Parliament.
Somalia and Zimbabwe are only two of numerous trouble spots in Africa. At the African Growth and Opportunity Forum earlier this month in Washington D.C, U.S. National Security Advisor Stephen Hadley told representatives of 36 African countries that the U.S. and African nations will continue to promote humanitarian aid, a healthy and educated populace, peace and security, democracy and good governance, and economic development.
From his lips to God's ears. Bill Gates and his foundation are on a the right track. But his and other NGOs can only do so much. It is the people of Africa - educated and healthy - with whom the continent's fate rests.
UPDATE: Writing about Western African nations such as Ivory Coast and Senegal, New York Post columnist Ralph Peters says the U.S. is a beacon of hope, but we must be careful to avoid the taint of association with France and its troubling record of "neo-colonial" exploitation in the region. Peters recently visited, and writes:
In West Africa, everyone has a friend or relative, or the friend of a relative, in one of New York's boroughs or in Chicago. Their vision of America is of hardworking immigrants building prosperous lives impossible elsewhere. The American dream is alive and well - in Dakar or Abidjan. In contrast, West Africans know that their relatives imprisoned in the suburban slums of Paris or Lyon have no hope of getting ahead, but suffer relentless discrimination. As a result, street-level Africans consistently express tremendous good will toward Americans (although they're mystified by African-American heritage tourists who complain about their lot - Africans would gladly swap places).

...Meanwhile, the French know they're in trouble. They know that their African victims are sick and tired of being robbed and treated as inferiors. They want the French out of their economies, out of their elections and out of their countries. The French response is to offer "cooperation" with the United States. Implying none too subtly that "white powers should stick together, after all," they misread the times and they wildly misread America....many French-speaking African countries have majority-Muslim populations - Muslims who are not anti-American. On the contrary, they practice tolerant, local forms of Islam and resent Wahhabi extremist efforts to "purify" their religion....By accepting the proffered French embrace in Africa, we risk needlessly alienating tens of millions of Muslims who are our natural allies in the war against Arab fanaticism.

Certainly, we should cooperate with France when it's genuinely in our interests. But, in West Africa, the cooperation Paris wants is a sham that would benefit only French neo-colonialists, while doing America's image and cause great harm. If we really believe in freedom and democracy, we should stand up for the striving people of Africa, not for the crumpled imperialists on the Seine.
TECHNORATI TAGS: MOGADISHU, SOMALIA, MOHAMED ALI ADEN, SHARIF AHMED, WORLD CUP, WOMEN'S RIGHTS, HUMAN RIGHTS, ISLAM, ZIMBABWE, ROBERT MUGABE, MILITARY, LAND CONFISCATION, AFRICA, PUBLIC HEALTH, EDUCATION, ECONOMIC DEVELOPMENT, DEMOCRACY, BILL GATES, IVORY COAST, SENEGAL, FRANCE, UNITED STATES>
Posted by Matt Rosenberg at 04:24 PM | Comments (0)
June 16, 2006
B.C. Govt. Agrees To Gay-Friendly School Curriculum Oversight
The Vancouver Sun reports today that the provincial government of British Columbia has approved a settlement in a long-standing human rights commission complaint filed by a gay couple that will allow the couple to review public school curricula to ensure it properly reflects the positive contributions of gays to society over the course of history.
British Columbia is giving a same-sex couple an unprecedented role in a review of the provincial curriculum to ensure respectful teachings about sexual orientation from kindergarten to Grade 12. A six-page contract, signed by the Education Ministry and obtained by The Vancouver Sun, guarantees Peter and Murray Corren a significant voice in the revision of classroom lessons to recognize gay, lesbian, bisexual and transgendered people and the creation of a new social-justice course -- to include teachings about sexual orientation -- for Grade 12 students. The parties have agreed to seek mediation in the event of a dispute and have acknowledged the contract is legally binding. Many educators welcomed the agreement, saying it will make B.C. a North American leader in teaching respect for diversity. But most admitted they don't know what the changes might look like in practice.
Here's a hint, though.
Asked what he hopes the six-page contract will produce, (Murray) Corren replied: "Fair and appropriate reflection of non-heterosexual realities in the curriculum." Or, as he put it earlier in documents filed with the tribunal, he wants schools to teach: "Queer history and historical figures, the presence of positive queer role models -- past and present -- the contributions made by queers to various epochs, societies and civilizations and legal issues relating to (lesbian, gay, bisexual, transgendered) people, same-sex marriage and adoption."
I think there is a problem here. Certain other constituencies receive only lip service, if that. It is clear that the transgendered community, the bondage community, the leather fetishist community, and especially the polyamorous and non-gendered communities won't be granted adequate consideration under the settlement. It will be necessary to appoint additional curriculum overseers to ensure these groups - whose members also have made important contributions to history - are likewise given their due in the lessons taught to B.C's public school students. Otherwise they might also suffer human rights violations. Moreover, sexuality is hardly the only important diversity teachings criterion. Following the logic displayed in this settlement, coursework will also need community review to ensure it is appropriately inclusive and respectful to different racial and religious groups.
OK, I'm totally hosing you. What I really mean to say is that social indoctrination is best left to advocacy groups, religious institutions, and that quaint unit known as the family, rather than government. It is our conduct as individuals in the workplace, in the community, and among our friends and families - not our status as members of a particular racial, religious or sexual identity group - which earns us respect and appreciation. The B.C. scheme amounts to an insufferably condescending pander: "He's a credit to his sexual minority group."
In contradistinction to normal and decent people who do not approve of homosexuality due to religious convictions, there will always be a small sub-set of bigoted and hateful anti-gay or racist yobs who are a pox on society, no matter what statist gambits or private activist strategies are advanced against their ill antics. When these men (and they almost always are men) commit illegal acts of violence or harrassment, let them be put away for a good long time, preferably in a nice, comfy all-male cell block. But in a country that has already signalled its acceptance of gays through the legalization of gay marriage, it is hard to see the need for directed marketing in B.C. public school textbooks to highlight the accomplishments of gays unless in fact the gays advocating same quietly harbor deep self-doubts and straight supporters feel a need to accrue more "personal virtue" points.
That all this came to be more or less forced upon authorities due to a B.C. government "human rights" commission process cheapens the very concept of human rights. You care about human rights? Highlight or send help for the real victims of human rights offenses in Sudan's Darfur region, in Zimbabwe, Somalia, China, North Korea, or Cuba. Advocate for women's rights under Islam, for an end to "honor" killings and female genital mutilation. Support groups fighting the scourge of modern-day sexual slavery. And if you insist on connecting human rights and school textbooks, you really need to be talking to the Saudis, OK?
It's bad manners to have an identity crisis in public, and unconscionable for government to be the enabler.
TECHNORATI TAGS: GAY, CURRICULUM, TEXTBOOKS, BRITISH COLUMBIA, PETER CORREN, MURRAY CORREN>
Posted by Matt Rosenberg at 02:30 PM | Comments (0)
June 14, 2006
Lifestyles of The Rich And Fatuous: Daryl Hannah Up A Tree No More
Los Angeles Times columnist Steve Lopez has the celebrity hook AND the real deal anti-Marxist analysis today behind the eviction of fading actress Daryl Hannah from a tree on private property once used as a urban community garden.
Hannah's arrest, along with those of a few dozen other protesters, was a Hollywood moment if ever there was one. The farm story has been beaten to death for years, but Hannah only heard about it a few weeks ago. And then suddenly she was Mother Teresa among the poor, laying her head down in a cabbage patch each night. When I got to the show, protesters were behind the barricades at 41st Street and Long Beach Avenue, singing and dancing and yelling at cops in riot gear as the last squatters were evicted.

"What are you here to protect?" one foaming protester shouted at the cops, calling them slaves of the system. "Fascism?" It was like being at a Mumia Abu Jamal rally. I liked the spirit of the young Che wannabes and gray-haired greens, but Mumia killed the cop in question, and Ralph Horowitz owns the farm in question. Which means he can do with it as he pleases, as the courts have ruled more than once.

...."I'm very confident this is the morally right thing to do, to take a principled stand in solidarity with the farmers," Hannah told the Associated Press moments before her arrest. Call me a cynic, but I've got to wonder why she, Baez, Laura Dern, Martin Sheen, Danny Glover and other Hollywood supporters couldn't help raise the dough to back up their principles. And if they believe poor folk ought to do their farming on private property, I'm wondering when they'll ask some of their Hollywood pals to open the security gates to their sprawling compounds. I'm just guessing, but there must be thousands of acres of fertile soil out there, ripe for planting.
Ah, but for celebrity do-gooders, it's always someone else who's supposed to don the mantle of altruism. As Peter Schweizer detailed so painstakingly in his great book, "Do As I Say, Not As I Do: Profiles In Liberal Hypocrisy" (related essay here).
Johhny Depp and Hannah should meet for goat cheese and truffle-filled ravioli in a nettle-saffron broth at Spiaggia, to trade war stories about greedy, self-interested property owners. The L.A. Times reports Depp's sister is appealing a $10 million lawsuit he has lost once already, against the West Hollywood City Council. Depp's attorneys argued that the council violated environmental quality laws because a retail development they approved would block views of Sunset Strip for his children when they played outside his hillside home. Only, the Times notes, his kids live in France.
TECHNORATI TAGS: LOS ANGELES, DARYL HANNAH, TREE, URBAN FARM, PROPERTY RIGHTS, CELEBRITY PROTESTS, JOHHNY DEPP, PETER SCHWEIZER>
Posted by Matt Rosenberg at 01:50 PM | Comments (2)
June 13, 2006
A Proposed Investigation For Portland State University's Media Literacy Program....
A Model For Shifting Presentational Constructs Based On Varied Media Filtering Paradigms
The supposedly Spokane-based mockumentary newsdolts of Comedy Channel's new show "Dog Bites Man" may be useful idiots after all, if the reaction from deconstructionist commissars of "media literacy" at Portland State University and their allies is any indication. Three days after the original story ran in L.A. and a day after it hit the global news hub of Fort Wayne, Indiana, one of Seattle's papers is ready to run with it today.
The Oregon attorney general's office last week fired off its second letter to the network reiterating its protest of the TV crew filming under the guise of making a documentary at a real-life media literacy class at Portland State University. The first letter, sent May 30, saw no humor in the situation: "We represent the state of Oregon and Portland State University in the dispute involving the fake news crew that visited PSU under false pretenses on May 16, 2006," wrote Christine A. Chute with the office's government services and education section. "Please provide me with written assurances that none of the footage filmed at PSU will be aired for any purpose whatsoever."
What exactly goes on in media literacy classes at places like PSU, and why is it something to hide, anyway? The institutional narrative tends toward incomprehensibility, I daresay. But media studies instructor Jil Freeman, quoted in the story, inspired PSU students to stage their own media education day on campus last year, replete with play-acting workshops about "racism, sexism and homophobia." Hmmm. I'd really like to see what "Dog Bites Man" filmed last month in the media studies class at PSU.
I guess the show will keep getting in trouble for not admitting they're really a Comedy Channel crew, and true disclosure is admittedly incumbent on producers, reporters and bloggers collecting material for use. But why do subjects who are willing to be profiled by supposed nobodies from a Spokane TV station get unhinged when the nobodies turn out to be network somebodies? Are there different "realities" they present, based on the media present? That sounds worth a PSU media studies doctoral thesis, at least. Here is the basic premise: media subjects at risk of looking absurd by being honest about who they are and what they do will let it all hang out in front of cable TV public access crews and supposed newsdolts from Spokane. But when a network (even the Comedy Channel) or a major metro daily is in the house, it's time to conceal, not reveal.
TECHNORATI TAGS: PORTLAND, OREGON, PORTLAND STATE UNIVERSITY, DOG BITES MAN, COMEDY CHANNEL, MEDIA LITERACY, FILM CREW, WARNING, DECONSTRUCTIONISM>
Posted by Matt Rosenberg at 02:28 PM | Comments (0)
San Francisco Gun Ban Overturned
San Francisco has been egregiously short of police officers and detectives - the latter also known as "inspectors" - while unsolved murders remain high and violent crime shows no sign of letting up. The mayor and police chief have seem more interested in marginalia such as enforcing a political speech code against officers producing a satirical video on off hours. Voters, well, they got into the act by......banning handguns last November. Brilliant! But the National Rifle Association challenged Proposition H, and yesterday a San Francisco Superior Court Judge overturned it, as lacking authority under state law. The SF Chron reports a possible appeal is not likely to succeed.
Proposition H, which passed with a 58 percent majority in November, would have outlawed possession of handguns by all city residents except law enforcement officers and others who need guns for professional purposes. It also would have forbidden the manufacture, sale and distribution of guns and ammunition in San Francisco.

San Francisco Superior Court Judge James Warren....said California law, which authorizes police agencies to issue handgun permits, implicitly prohibits a city or county from banning handgun possession by law-abiding adults. That law "demonstrates the Legislature's intent to occupy, on a statewide basis, the field of residential and commercial handgun possession to the exclusion of local government entities,'' Warren wrote in a 30-page decision. If the city were allowed to ban handguns within its borders, he said, nearby counties could be flooded by handguns no longer allowed in San Francisco. Such a possibility illustrates the need for gun ownership to be regulated on a state level, Warren said....He declined to consider the ban on sales of other types of guns and ammunitions separately, saying it could not be detached from the handgun ban, the dominant provision of Prop. H.

...City Attorney Dennis Herrera, whose office defended Prop. H, will decide whether to appeal the ruling in the next day or two, said spokesman Matt Dorsey....The court to which Herrera would appeal Warren's decision may have sounded the death knell for measures like Prop. H in 1982, when it overturned a San Francisco ordinance forbidding possession of handguns within city limits and said state law left such regulation to the Legislature.
Sure, Measure H went over big with the city's progressives. But there is no social justice in depriving law-abiding citizens of the right to self-defense when hardened criminals and assorted nutbars carry concealed weapons for violent and illegal purposes.
If the ruling holds, this great to city to visit will have become a slightly less absurd place to live. With the cash-strapped Golden Gate Bridge District contemplating a pricey suicide barrier, you would hope that people who actually WANT to live might be allowed to protect themselves against armed criminals. Capiche?
TECHNORATI TAGS: SAN FRANCISCO, GUN BAN, PROPOSITION H, NATIONAL RIFLE ASSOCIATION, SAN FRANCISCO SUPERIOR COURT, JAMES WARREN>
Posted by Matt Rosenberg at 08:27 AM | Comments (1)
June 11, 2006
Rosenblog Opinion Review, Vol. 22
Frank Schaeffer, Los Angeles Times: "In This Paper, War Heroes Are MIA."
James Lileks, Newhouse News Service: "Self-Loathing And The Denial Of Terrorism."
Edward N. Luttwak, Los Angeles Times: "Will Civil War Bring Lasting Peace To Iraq? History Shows Civil Wars Must Be Fought Without Foreign Interference Before Stability Prevails."
Lawrence J. Haas, Billings Gazette: "Can The U.S. Live With An Iran That Possesses Nuclear Weapons?"
"Sandmonkey," Christian Science Monitor: "SOS From an Egyptian Blogger."
Anar Ali, New York Times: "The Person Behind The Muslim."
Po Bronson/Ashley Merryman, Time: "Are Americans Suffering Diversity Fatigue?"
George Monbiot, Los Angeles Times: "A Few More Nukes! Environmentalists Need To Face The Fact That Nuclear Power Is less Dangerous Than Fossil-Fired Global Warming."
Craig Newmark, San Francisco Chronicle: "What If They Gagged Guttenberg? Big Telecom Is Trying To Throttle Free Access To The Democratic Internet."
John Kass, Chicago Tribune: "Corruption Charge Hits Close To Home."
Karl Zinsmeister, The American Enterprise: "In Praise of Ordinary Choices."
The Oregonian, editorial: "A Smoking Gun And Bleeding Taxpayers."
Alan Bersin/Alice Huffman, San Francisco Chronicle: "High School Exit Exam Is Necessary."
Peter Callaghan, Tacoma News Tribune: "Curb Your Enthusiasm: It'll Mean More."
Charles Krauthammer, Time: "In Plain English: Let's Make It Official."
David Helvarg, Los Angeles Times: "Category Five Foolishness - Atlantic Hurrican Season Starts...and 'Early Greenhouse Century' Hubris Abounds."
Byron York, National Review Online: "The Two Worlds Of The Liberal Blogsphere."
TECHNORATI TAGS: IRAQ, MEDIA BIAS,LOS ANGELES TIMES, TERRORISM, IRAN, NUCLEAR WEAPONS, EGYPT, ISLAM, DIVERSITY, NET NEUTRALITY, CHICAGO, ILLINOIS, CORRUPTION, NUCLEAR POWER, RED AMERICA, WAL-MART, HURRICANES, GLOBAL WARMING, GRADUATION, SELF-ESTEEM, HIGH SCHOOL EXIT EXAM, CALIFORNIA, DAILY KOS, LIBERAL BLOGS, BLOGOSPHERE, HURRICANES, ENGLISH, OFFICIAL LANGUAGE>
Posted by Matt Rosenberg at 12:30 PM | Comments (2)
June 09, 2006
Churches Under Assault From Hateful Vandals In Santa Cruz
Vandals continue to desecrate churches in the moonbat haven of Santa Cruz, California - where separately, the long-standing campaign to "Keep Santa Cruz Weird" has finally provoked a counter-reaction from families who want the city "safe and clean" instead. An atmosphere of common decency would help to start, but that may be asking too much. Tuesday June 6, 2006, parishoners of Holy Cross Catholic Church in Santa Cruz arrived for morning mass to find 10 carefully stenciled painted graffiti images on the building, including the phrases "666" and "Christian Holocaust." It's being investigated by police as a possible hate crime, and is part of a larger campaign of intimidation and property damage to churches in Santa Cruz. The Santa Cruz Sentinel reports:
Multiple incidents of vandalism have been reported at a half-dozen Santa Cruz churches this year, including an attack that greeted Easter worshippers at Santa Cruz Missionary Baptist Church. In February, vandals used a stencil to leave specially crafted messages and images about a half-foot across on Holy Cross, Messiah Lutheran, High Street Community, First Congregational and Calvary Episcopalian. One compared a cross to a swastika. Also struck were the Agnus Dei Christian bookstore on Cedar Street and the Santa Cruz Mission Adobe park, which is near Holy Cross. Two of those sites had also been vandalized in October, police said.
The Sentinel reports today that a Holy Cross parishoner is offering a $5,000 reward for information on who is responsible for the damage discovered Tuesday. The story also notes that even street signs in Santa Cruz are being disfigured with anti-Christian grafitti as well.
Holy Cross Rev. Mark Stetz called Tuesday's vandalism the worst he's seen in five years. "To me, this is just getting too close to home," said Bethke, adding he found an inverted cross painted on a street sign near his house during a spate of church vandalism earlier this year.
If a mosque or mosques in any metropolitan region of the U.S. had been subject to the same sort of attacks as have churches in Santa Cruz, the story would already have been all over the mainstream media. That this anti-Christian harrassment is happening in notoriously leftist Santa Cruz seems hardly a coincidence. It will backfire in the end; and I can't help wondering if it's not all part of His plan.
TECHNORATI TAGS: SANTA CRUZ, CALIFORNIA, CHURCH, VANDALISM, HATE CRIMES, CHRISTIAN HOLOCAUST, SWASTIKA, ANTI-CHRISTIAN, HOLY CROSS CATHOLIC CHURCH, KEEP SANTA CRUZ WEIRD>
Posted by Matt Rosenberg at 11:28 AM | Comments (1)
June 07, 2006
Pernicious, Litigious And Dumb
....is what we must be, if a warning label like this is required on a washing machine. Recently when accompanying my wife to give a large comforter a sudsy bath, I spotted this in a West Seattle laundromat:
Just in case you were about to place a person in the washer. Can't say you weren't warned, now can you? Actually, each year Michigan Lawsuit Abuse Watch (MLAW) awards honors for most wacky warning labels. I think this qualifies.
TECHNORATI TAGS: DUMB LAWSUITS, MICHIGAN LAWSUIT ABUSE WATCH, WACKY WARNING LABELS, PLAINTIFF'S BAR, SEATTLE, WEST SEATTLE>
Posted by Matt Rosenberg at 09:14 AM | Comments (1)
June 05, 2006
Japan Stresses Out: Rosenblog To The Rescue
If the Washington Post is to be believed, legions of stressed Japanese are spending scads of money on stress management techniques because of reduced job security, advancing merit pay, and rising entrepreneurship. An inability to adapt to scaled-back paternalism and protections from once-benevolent employers, is - the Post says - a key factor explaining the mushrooming spending by Japanese on stress relief packages that give some observers the jitters. Marxist subtext, channelled by the trusty WaPo: unbridled gobal capitalism - undoubtedly due in large part to Ugly American influence - tramples on traditional culture and the human spirit in foreign lands. As bad, the stress-relief solutions there must involve the enrichment of large financial concerns by the hornswoggled masses.
Healing products and services are one of Japan's fastest-growing industries, analysts say, and are helping keep a three-year-old economic recovery on track. A recent study by Mitsubishi UFJ Research and Consulting found that the healing business had nearly doubled over the past decade....."The Japanese have always had the concept of healing, but the difference is that now we are packaging it and selling it as never before," said Hiroya Kubota, head of a Tokyo-based stress management institute. "Why are we spending so much money on healing? Maybe the Japanese have become too wealthy, our lives too easy. We have no hunger. We have very low poverty and unemployment. Maybe all that wealth has made us see our small problems as overly big and complicated."

But many sociologists say they feel it addresses real needs and problems brought on by a 13-year economic downturn. Though Japan is once again prospering, many people are bewildered by the new roles they are being asked to assume. Company downsizing is undermining the old concepts of lifetime employment and corporate loyalty, promotions and raises are increasingly based on merit rather than seniority, and a new crop of innovative start-up companies is flourishing.
Apparently, grappling with the vagaries of the free market is enough to make you want to sleep with the fishes. Adhering like many Americans do to the consumerist ethic that anything which matters can simply be purchased, Japanese are trying to spend their way out of stress with various treatments. The Post explains Japanese consumers buy steam sand baths; spend $120 a night to sleep in an aquarium; lay out $500 or more monthly on aromatherapy; or buy at a cost of $200 to $4,000 special jellyfish kits for home use. The creatures' undulating movements are thought to be relaxing.
The befuddled many may rope themselves into such pursuits, but I recommend a simpler approach to the timeless malady of stress, which has admittedly been multiplied by modernity. Here then are a few excellent low-cost stress reduction methods of my own, which I offer to the good people of Japan and to the world at large for consideration. Without any anti-capitalist baggage.
Roast a chicken using the indirect method on your charcoal grill.
Breathe deeply; and engage in fake tai chi, or qi gong exercises to boot.
Contemplate the Zen of rippling waves, or should it suddenly materialize, horse dung - on a lovely beach.
Population density being what it is in Japan, there is another stress-reduction option. Leave for someplace less jam-packed.
Japan, and the world: you're welcome.
TECHNORATI TAGS: JAPAN, STRESS REDUCTION, CORPORATIONS, PATERNALISM, ECONOMIC COMPETITION, JELLYFISH, CONSUMERISM>
Posted by Matt Rosenberg at 10:46 PM | Comments (1)
SF Chron & AIDS Establishment Condescend to Blacks On HIV/AIDS
If you want to not get the HIV virus and then quite possibly AIDS, here is what to do.
If you are a gay or bisexual male, only have safe sex - meaning use condoms. Add to that only monogamous relationships with monogamous partners, if you'd like to further minimize risk.
Do not inject drugs into your body with a needle, especially not a needle someone else has used.
If you are a heterosexual woman, either avoid sex with bisexual men or suspected bisexual men, or at least practice only safe sex with them.
Barring a tainted blood transfusion or other very rare medical cause, that covers the vast majority of cases. According to the Centers For Disease Control, in 2004 in the 35 U.S. states or jurisdictions engaged in confidential name-based reporting, AIDS cases among men were nearly three times more numerous than among women, and a combined 84 percent of the cases among men were related to male-with-male sex or injecting drug use. According to the same fact summary, among women, the leading cause by far is heterosexual sex (with bisexual men, although that is not spelled out in the fact sheet). The CDC also looks at AIDS among U.S. women 2001-2004, and finds that black women have markedly greater totals of diagnosed HIV or AIDS than women of other racial groups. A lot of brothers on the down low, you know - many of them bi.
The San Francisco Chronicle reports today on HIV/AIDS and African-Americans, falling back on good old reliable victimology because, well, there's just nothing else quite so handy when erasing personal choices from the equation. The Chron's article first relates what is a truly worrisome set of statistics. In the U.S., blacks account 51 percent of new HIV virus diagnoses and 55 percent of yearly AIDS deaths, but are only 13 percent of the country's population.
Citing researchers, the Chron then identifies three main risk factors for HIV and AIDS among U.S. blacks. They are:
*high rates of sexually transmitted diseases (which can open up skin lesions allowing transmittal of the HIV virus);
*poverty (which results in less medical information, care and treatment);
*denial of the HIV/AIDS problem in black American culture, due to religious and other social taboos regarding homosexuality.
Poverty is an implausibe explanation for reckless sexual conduct which can result in HIV and then possibly AIDS. Anyone in the U.S. - especially in the urban centers where HIV and AIDS are most prevalent - who does not know how to avoid the risks is in effect playing with fire. Denial or avoidance of HIV/AIDS and homosexuality among many individuals and institutions in black and Latino U.S. communities is real, but is far more an after-the-fact issue than a matter of upfront prevention.
Citing sources as needed, The Chron then backhands the entire notion of personal responsibility for HIV and AIDS prevention, from a perspective fraught with white institutional guilt.
...the higher African American HIV infection rate is not driven by intravenous drug use or risky sexual behavior, according to medical experts."There is not a significant difference between African Americans and other ethnic groups with regard to risky behaviors," said George Lemp, an epidemiologist in Oakland who directs the University of California's AIDS Research Program. "The riddle is why there is such a rate when the risk behaviors appear to be similar."

Poverty plays a significant role by reducing access to health care and adding challenges to all aspects of a person's life. "When you are focused on basic needs like paying the rent, buying food and the electric bill, the last thing you are thinking about is HIV," said Lisha Wilson, medical director of the Magic Johnson AIDS Clinic in Oakland. "There are so many other issues. Poverty can lead people to do things they wouldn't normally do, and that can involve unsafe sex."

...."We can't continue to try and use programs that were piloted and developed for white gay men," said Roosevelt Mosby, a founding member of the State of Emergency African American Task Force in Alameda County. "The methods do not transfer to black people.
Got all that? It's not IV drug use or risky sexual behavior that gives blacks HIV or AIDS, although that's certainly what causes HIV/AIDS for whites, Lationos or other patients. No, it's...ah......mental clutter, that's it......which due to the difficulty of affording groceries and electricity admittedly can cause high-risk sexual behavior. But how can anything better be expected, truly? Poor people just don't have their wits about them, see. Compounding all of this: a lack of culturally appropriate HIV/AIDS prevention programs for blacks. The methods of monogamy and prudence aren't even on the table in the clientized, racialized class-riven construct. These "white" approaches "do not transfer to black people," to borrow a phrase from Roosevelt Mosby, of the State of Emergency African American Task Force.
Yes. Kind of in the same way that expecting a white-derived "future time orientation" from K-12 students of color is considered racist by the Seattle Public Schools. (Note: SPS removed the language after a furor erupted but it is preserved in the link immediately above).
If I were black and had just read the Chron's article I'd be seriously smarting, because race hustlers masquerading as caring social service and non-profit providers were expecting so little of my race. The role of society, culture and institutions in HIV/AIDS prevention is as nothing compared to the role of the sentient individual.
TECHNORATI TAGS: SAN FRANCISCO, BLACKS, HIV, AIDS, SAN FRANCISCO CHRONICLE, PREVENTION, POVERTY, RACE, RACISM, HOMOPHOBIA, INDIVIDUAL RESPONSIBILITY, CENTERS FOR DISEASE CONTROL>
Posted by Matt Rosenberg at 04:26 PM | Comments (2)
June 02, 2006
Lowman Beach Sunset, West Seattle
Lowman Beach, the other night. It was sweet. Buckets, shovels, frisbees, other people's dogs, and a loving slightly slutty cat (they all are once you know them and that's a very quick thing) from one of the beachside cottages. Plus families, lovers, and best of all, abundant sunshine at sunset - not always a sure thing here in Seattle. At this great, hidden-away city beach park, steps from where we lived when we first moved here from Chicago in '94.
If you want to get to Lowman Beach, it's not too hard. You'll have to follow the above link. I'm not gonna spoil it for my fellow West West Seattle-ites by being too explicit. (That's NOT a typo, BTW).
Ciao for now.
TECHNORATI TAGS: SEATTLE, WEST SEATTLE, LOWMAN BEACH, PUGET SOUND, SUNSET, CHICAGO>
Posted by Matt Rosenberg at 08:18 PM | Comments (0)
Santa Cruz And The Quest For Sustainable Cool
There's a popular bumper sticker seen all over Santa Cruz, California emblazoned with the words "Keep Santa Cruz Weird." But for some local parents, Surf City U.S.A. has gotten a little too weird and run-down and filthy and dysfunctional, from the inside out. So they've fired back with their own bumper sticker - one which points to the challenges facing the home of the mighty UC Santa Cruz Banana Slugs. Today's Santa Cruz Sentinel has more.
Think the city is a little too weird? Slap a "Keep Santa Cruz Safe and Clean" sticker on your bumper and let people know how you feel. "The bumper sticker was created to give a voice to families in Santa Cruz," said Chris Pineda, who designed the sticker that also urges people to support families. "I think that the town gets painted with a weird label, and I wanted to remind folks that there are families here who need to raise kids. It is a point of frustration with me and I think that others here share the sentiment."

The bumper sticker was conceived as a fundraiser for Westlake Elementary School, and in a few weeks more than 300 have been sold, raising several hundred dollars for the school, where Pineda has two children enrolled. He said the streets around the school are in serious disrepair and are emblematic of what he considers skewed priorities. "Given the investment that families make here," he said, "it is unfortunate that we have roads and sidewalks that are in such a state of disrepair. It makes it difficult for parents to instill pride and respect in our children about Santa Cruz."

...Some parents...think the city's tolerance for transients has a down side — a downtown and parks that are less hospitable to children. Nick Guerrero, who has three children at Westlake, supports compassionate policies toward the homeless, but said he fears for his kids' safety at places like Harvey West Park....."We just want a safe and wholesome environment for our children to grow up in," Guerrero said. "We want people to embrace our wish."
On a corollary track, Santa Cruz will have to allow more business development, recognizing the vibrancy and enhanced municipal revenues that result. Growth does not have to mean malls, but it will have to mean more than utopian visions of a car-less main drag and a burgeoning alternative fuels and renewable energy industrial sector. If alternative fuel and renewable energy companies make the Santa Cruz area home, they will need land for offices, and perhaps in some instances, for actual production. Not to mention......parking lots for employees. All things likely to incite local NIMBYs. Sustainable cool requires an infrastructure amenable to business and families with children.
TECHNORATI TAGS: SANTA CRUZ, CALIFORNIA, WEIRD, SAFE AND CLEAN, FAMILIES, HOMELESS, PARKS, STREET REPAIRS, ECONOMIC GROWTH>
Posted by Matt Rosenberg at 02:30 PM | Comments (0)
Smoking Interventions Eyed For Korean-Americans
The NYT reports that according to a newly-published article in the journal Addictive Behaviors, Korean-American men, especially older ones, smoke at a rate far higher than U.S. averages. This is due to social expectations of manly behavior rooted in their homelands. The study team was led by Grace X. Ma of Temple University's Center For Asian Health, and suggests that U.S. smoking cessation researchers should devise new approaches to combat this health disparity. The NYT article states: "One approach, the researchers said, is to come up with ways of modeling social behavior in Korean communities that does not center on smoking." Meaning exactly, what? Sending "street teams" of Koreans into targeted social gatherings of middle-aged Korean-American men to not smoke, or drink? Good luck. Getting the makers of movies and print ads aimed at Korean-Americans to go light on smoking scenes? Hmm, maybe. I think they'll need a research grant to figure out the next steps.......and then some backing for a national public education campaign.......
America is about choices. Assimilation will ameliorate the problem on its own, as the next and more health-conscious generation of Korean-American men comes of age. This is really about trying to secure more funding for Marxist-Light propaganda on "health disparities." It is not racial categorizations, group cultural practices, nor supposed institutional indifference that are responsible for personal health. It is the individual. There should no more be a Center For Asian Health at Temple University than a Center For Cajun Health at the University of Louisiana.
TECHNORATI TAGS: SMOKING, DISPARITIES, SMOKING CESSATION,KOREAN-AMERICAN MEN, ADDICTIVE BEHAVIORS, CENTER FOR ASIAN HEALTH, TEMPLE UNIVERSITY, GRACE X. MA>
Posted by Matt Rosenberg at 12:09 PM | Comments (0)
June 01, 2006
Pimp This Story
A story out of Chicago today conveys the real meaning of the word "pimp," a meaning which many scribes, marketers and would-be hipsters blithely paper over.
A pimp who dreamed of one day airing his exploits on cable TV was instead sentenced Wednesday to more than 17 years in federal prison for adding two underage girls to his stable of south suburban trailer-park prostitutes. "I'm not a menace to society," David "Super Dave" Phillips stammered before he was slapped with the 210-month term. "I really don't deserve all this." Phillips, 38, admitted the two runaways from Aunt Martha's Group Home for Troubled Youth in Glenwood -- ages 14 and 16 -- joined another half-dozen prostitutes he kept in mobile homes in Lynwood and Sauk Village. Soon afterward, they were sent across the state line to turn tricks in Indiana.

...Phillips' mother, called to testify as a character witness, insisted her son is a "really good person." She knew about his prostitutes, but not that one was 14. Under cross-examination, Frankie Phillips said she also was aware her son beat his prostitutes -- and explained to the incredulous prosecutor that she wasn't particularly bothered by it. "I didn't see anyone who looked hurt, and they still talked about how much they loved him," Frankie Phillips said.

Authorities raiding the mobile homes found more than two dozen homemade videotapes showing scenes of Phillips presiding over his prostitutes at northwest Indiana truckstops, sipping from a "Super Dave"-emblazoned chalise and fanning himself with $100 bills. At one point he tells the camera, "This is my documentary on pimping," according to an FBI affidavit. Lynch described his client as an unabashed "braggart" aspiring to create his own version of popular cable TV documentaries such as "Pimps Up, Ho's Down." U.S. District Judge Joan Lefkow rejected Phillips' request for the minimum five-year sentence. "You sold them into what is essentially a form of slavery," Lefkow said.
"Super Dave" Phillips is an S.O.B., in the truest sense of the word; and the glorification of pimpdom in popular culture had everything to do with his rotten personal choices.
You know it's gotten out of hand when vending machines in KFC fast food outlets across Canada are found to have stickers showing the trademarked Hello Kitty character being kicked by another cat, who is saying, "Pimp That Ho." KFC's owner, Priszm, removed the machines from their chicken joints nationwide after a parent discovered the stickers in one shop and then others, in Edmonton.
After running a "Pimp My Garden" contest replete with cute "Black Hoe" references from one reader, the Toronto Star got a deserved earful from readers.
I first reported on pimp- and ho-themed clothing for children and pets in September of 2004, an early installment in my blogging on the appropriation by so-called tastemakers of pimp and ho culture. In that post was a link to brandsonsale.com, referred to as "this site." As you'll see from my text, the company was then marketing a variety of adult and child pimp and ho costumes, including a "child ho" costume. That particular link in the post now leads to a more generic costumes-for-sale page at the company's site reflecting a broadened product line; however using their internal search engine, one finds that they still sell adult pimp costumes, adult ho costumes, kids pimp costumes, and for post-ironic animal lovers, a pimp suit dog costume. In a dazzling burst of moral propriety, however, they seem to have discontinued the "child ho" costume. Last month, a national furor of sorts developed after uber-blogger Matt Drudge rightly outed a company named pimpfants, of Portland, Oregon, with a simple picture and link on his site titled "Ho Clothes For Kiddies." Naturally, their server crashed temporarily, but they're back up - peddling the tasteful red with white trim "Jr. Pimp Squad Basketball Set"; a black with hot pink trim "Pimpfants Jersey T;" and a green "'Bling' Velour Hoody Set" for girls.
A sane voice on the whole pimp and ho marketing imperative comes from Portland rapper, poet and author Rochell D. Hart, a.k.a. Ro Deezy. She has a CD out titled "P.I.M.P. - Poetic Intelllectual Making Progress." More from nathanielturner.com.
P.I.M.P. also delves into the idea of a "reborn black woman," a black queen free from both the constraints of history and the current MTV hip-hop attitude toward black women as easy ho's or as shallow materialistic b******. In her track "Don't Wana Be" she states, "My inner spirit called out and demanded that I be more than the images I too often see/ because I don't wana be another booty-bouncin', loud-talkin' ghetto-unfabulous girl." Instead, Ro Deezy calls for a black woman who is more than a stereotype imposed by white America or black culture. Black men are also scrutinized. In "I Got a Bone to Pick," Hart attacks the glorified vision of gangsters, hustlers and pimps in black culture, stating that "to those who think a pager and a cell phone means having big things/ to those who think that waiting on a once-a-month county check is having a dream/ I got a bone to pick/...hustling on the block is not an accepted alternate to a 9-5, and that gun-toting rough-neck mentality is just a contribution to genocide."
The T-shirt I'm imagining might not sell well, but the thought matters: "Pimps Enslave." When you get right down to it, there is no profession which is more about the subjugation of women than pimping. That entertainment impressarios and childrens' clothing makers overtly glorify the pimp - and that the term is now used everywhere - demonstrates the ascendancy of corrosive moral relativism and the continued importance of seeking out the timeless, the beautiful and the good, which are thankfully still abundant.
Related Rosenblog posts:
"Pimp My World, Now" (includes links at end to eight other Rosenblog posts on pimp and ho culture);
"It's Hard Out Here For The Pimped."
TECHNORATI TAGS: CHICAGO, PIMP, DAVID PHILLIPS, SUPER DAVE, PIMP MARKETING, CHILD PIMP COSTUME, CHILD HO COSTUME, BRANDSONSALE.COM, PIMPFANTS, PORTLAND, MATT DRUDGE, ROCHELL D. HART, RO DEEZY, EDMONTON, HELLO KITTY, PIMP HO STICKER, KFC, PRISZM, TORONTO, TORONTO SUN, PIMP MY GARDEN>
Posted by Matt Rosenberg at 11:47 AM | Comments (0)