April 30, 2006
The View From Gas Works Park, Seattle
As I mentioned yesterday (Saturday), our family had a fine ol' time Friday on a beautiful 70-degree spring day in Seattle's Fremont neighborhood. Here are some shots from Gas Works Park, where we flew some new kites, with great success. This is the view looking south, across Lake Union toward downtown Seattle.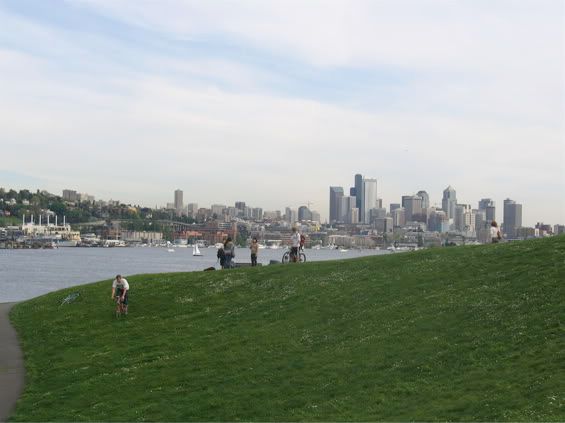 If you're visiting Seattle, make sure to come to this spot with a picnic and perhaps a kite, on a nice day. There are kayaks you can rent on the other end of the lake at the Northwest Outdoor Center, or on the Lake's north side, at Agua Verde Cafe and Paddle Club. (Have the margaritas AFTER you finish kayaking). The great atmo is burnished by seaplanes landing and taking off from the lake, and you need not just be a spectator. Kenmore Air will fly you to a variety of scenic Northwest destinations from Lake Union, or you can arrange a charter flight excursion for whale watching, a salmon barbeque, or a picnic on an isolated beach.
Here are some more Lake Union shots, which I took Friday with my digicam; edited with Apple iPhoto, and posted here by using my Photobucket account, which easily converts stored, edited digipix into image code ready to paste into your blog's edit/entry interface. (Tip: the "premium" account, at $25/year, is definitely worth it; you'll not encounter bandwidth limits common with the free account).
Looking east up at the kite hill.
The old, de-commissioned gas works, and park namesake, with a butterfly kite (not ours) in the foreground.
View from the sundial atop the kite hill - Space Needle at right, southwest across Lake Union.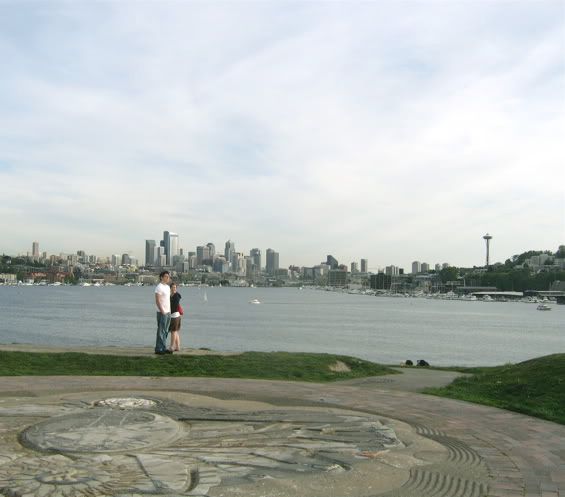 Our daughter.
Our son.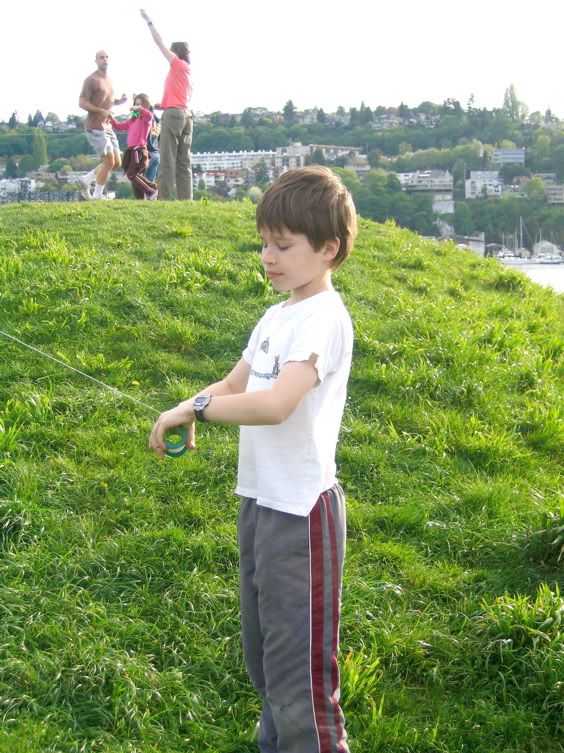 Buddah in a Fremont nursery near the park, called Seasons (1051 N. 35th St.). He's keeping rain clouds away. It only worked until the next day.
TECHNORATI TAGS: SEATTLE, FREMONT, LAKE UNION, GAS WORKS PARK, SPACE NEEDLE, KENMORE AIR, SEAPLANES, KAYAKING, iPHOTO, PHOTOBUCKET>

Posted by Matt Rosenberg at 11:03 PM | Comments (0)
April 29, 2006
Mount Rainier, From Under The Aurora Avenue Bridge
Perfect weather yesterday had all of Seattle playing hooky from work in the afternoon. Our family escaped to the city's Fremont neighborhood, to buy kites, browse and buy at a nursery, snarf ice cream at Cold Stone Creamery, and finally fly our kites from atop the hill overlooking Lake Union in Gas Works Park. Here's a shot I took on the way to the park, walking along above the Ship Canal, which connects Lake Union to Puget Sound, and eventually, via the straits of Juan de Fuca, the Pacific Ocean.
This is looking back the other way, inland, toward downtown Seattle, and beyond. At the bottom is Mount Rainier, some 65 or so miles to the southeast; and the Aurora Avenue Bridge (a.k.a. Route 99) in the foreground. Playing around in iPhoto, I added some blue tint.
TECHNORATI TAGS: SEATTLE, FREMONT, MOUNT RAINIER, AURORA AVENUE BRIDGE, LAKE UNION, GAS WORKS PARK, SHIP CANAL, PUGET SOUND>
Posted by Matt Rosenberg at 07:54 AM | Comments (1)
April 28, 2006
The Chronicles Of Higher Duncery, Vol. 1
Twenty-somethings in Vancouver, B.C. fear they can't grapple with a cold, unfeeling city government because the city council (bless 'em) has just voted to axe the $150,000 per annum youth advocacy office. Yeh...Robert's Rules of Order, meeting notices and draft ordinance texts are just frickin' mind-boggling, I agree. Especially if all you read is on your Crackberry.
"Animal rights activists" who've for months been picketing Shumacher's, a fur coat store in Portland, Oregon, say they'll back off, but only if the store puts labels inside each coat telling "exactly how the animals lived and died." Sure, why not? And how about the same sort of labels on flank steak, chicken livers, and leather shoes?
Stockholm's Modern Museum wants 50 million kroner to purchase more art, but only art produced by females. Myself, I'm just as partial to paintings and sculptures OF females. (Hat tip: Gay and Right).
In the great socialist welfare state that is Sweden, citizen initiative appears numbingly absent. In front of many other passengers, the purse of a visibly pregnant woman was snatched on the Stockholm subway. She held onto it, and was thus dragged down the aisle by the petty thief. As he tried to escape, with her still hanging on, the door closed. He was on the outside, pulling at the purse's strap; she on the inside, still gripping the rest of the purse. The door opened, he escaped with the purse, no one did anything to help her, at any point. I guess we wouldn't really have wanted the Swedish with us in Iraq, anyway, huh?
Political Affairs, purveyors of "Marxist Thought Online," reports the World Peace Forum will be held in late June in Vancouver. B.C. Representatives of member cities will convene to formulate plans for the passage by more city councils of of advisory resolutions in favor of peace. They will also discuss a campaign against military bases, and delve into sustainability and women's rights issues. They hope that U.S. progressives in attendance will come away inspired to take back their country; and also, very much want Canadian non-whites to attend the forum. The article disparagingly notes that Vancouver's "right wing mayor" Sam Sullivan, led a successful effort to rescind the city's financial support of some forum events. Keep at it, World Peace Forum. What you and your ilk are doing for Canada, you can do for the U.S. in 2008.
TECHNORATI TAGS: VANCOUVER, YOUTH ADVOCATE, ANIMAL RIGHTS, FUR, SCHUMACHER'S, PORTLAND, OREGON, STOCKHOLM, FEMALE ART, SUBWAY, PREGNANT ROBBERY VICTIM, WORLD PEACE FORUM, SAM SULLIVAN>
Posted by Matt Rosenberg at 10:54 AM | Comments (0)
April 27, 2006
News Of The Skewed, Vol. 5
This comes after Vol. 6. Don't ask, and I won't tell.
The Half-Pint Brawlers are little people who engage in stunt wrestling before appreciative audiences in metropolitan meccas such as DeKalb, Illinois. But the Chicago Tribune reports today that the Little People of America, an advocacy group for the vertically challenged, is opposed to a scheduled Brawlers event in Chicago. Wrestling shows featuring dwarves are demeaning, says a spokesperson. Nonsense. Don't average-sized people engage in showy wrestling spectacles, and also charicature themselves and their bodies in the process? The Half-Pints are using what they've got to make a buck and have some fun. It's their choice, and the audience's choice to attend, or not. Face it, novelty has always sold. Exhibit One: Mini-Kiss, the dwarf-sized tribute to the famed 70s band.
Almost as salient as grappling dwarves, conservative-loathing performance artist Karen Finley is touring in support of her newly released book, "George and Martha," in which President George W. Bush has an affair with Martha Stewart, and finds Osama bin Laden up his rear, literally. Although Finley's carefully-timed Fall, 2004 stage version of the same story was mercilessly shredded by the New York Times' Christopher Isherwood as limp, unfunny, hackneyed and boring, the Yale student newspaper was terribly excited when Finley came there to read from the book earlier this month, and quotes her saying future works may include her conceptualizations of the dreams of Laura Bush and Condoleezza Rice.
Meanwhile, Condi's cousin Connie Rice - that's right - a progressive activist and genuine dragon slaying public interest lawyer, recently told a lecture audience at the University of California Santa Cruz that they can effect desired change not by slavish devotion to the Democratic Party, but instead through building bi-partisan coalitions.
Sometimes a headline demands a story be read: such as "Naked Man Stuck In Chimney Arrested" or, "Man Grills Dead Mother On Hot Plate." Not to mention "Iowa Deputies Seek Serial Vomit Dumper."
Finally, the head of Oregon's state liquor control commission resigned today, following an arrest for driving under the influence of alcohol.
Glad I could brighten your day.
TECHNORATI TAGS: HALF PINT BRAWLERS, LITTLE PEOPLE OF AMERICA, DEKALB, ILLINOIS, CHICAGO, MINI KISS, KAREN FINLEY, MARTHA AND GEORGE, NEW HAVEN, YALE, NEW YORK TIMES, CONNIE RICE, SANTA CRUZ, DEMOCRATIC PARTY, IOWA VOMIT DUMPER, OREGON, LIQUOR>
Posted by Matt Rosenberg at 05:12 PM | Comments (0)
April 26, 2006
Teens Gone Mad, Vol. 2
(UPDATED) The hits, they just keep on comin.' Used to be it was career criminals who killed, and plots for mass shootings at suburban high schools were unimaginable. Everything has changed. All too many male teens and 20-somethings in U.S. cities, AND suburbs and exurbs, now come of age having internalized gun violence as a means of everyday score settling or reputation enhancement. It's not the guns, and anyone who says so has their head in the sand.
Youths are "going off," or ready to go off, for the flimsiest of reasons. Recently, I saw a young tough driving by the promenade on Alki Beach in West Seattle. He had a fierce-looking pit bull leaning out his car window barking loudly and angrily. A man with children looked at the scene and wrinkled his brow in disapproval. The youngblood was heard to darkly mutter in response, "I'm going to f*** you up; going to f*** you up, man." Luckily, nothing happened.
Yo: "Mean Muggin" can get you iced.
How has it come to this? Let's start with a a report from Ground Zero, via the Oakland Tribune.
OAKLAND - Ninety-four homicide victims were added to Oakland's roster of the dead in 2005. The tally was six more than in 2004, but the faces of both victims and suspects changed little from previous years, and neither did the reasons and attempts to explain why people kill. As upsetting as the deaths are for relatives and friends of the victims, more sobering is why police believe some suspects are more apt to pull a trigger or thrust a knife, beyond the traditional reasons of poverty, social breakdown and greed. Most -- 29 -- of 51 arrested suspects in 2005 were 18 to 25 years old. Veteran officers said many lacked morals and were simply trying to make names for themselves by exhibiting violent behavior they learned from others. "The biggest problem we have is their behavior didn't start (recently)"' said homicide unit commander Lt. Jim Emery. "It started years ago when these young guys were developing, and it got to the point today where they feel it's all right to kill somebody. They don't value life, some of these young guys."

...Officer Jason Andersen, who works as a field investigator for the homicide unit, has arrested more than 30 murder suspects in his 15-year career, most of them 18 to 25 years old. He believes drug use -- especially Ecstasy -- peer pressure and exposure to violence, both personally witnessed or seen in the media, play a role in a killer's makeup. That and a lack of positive upbringing and no respect for authority, whether it be law enforcement, parents or teachers. "Some of these kids are pretty much raising themselves and learning on the street," Andersen said. "They're trying to make names for themselves." Retired Officer Margaret Dixon, who headed the department's Police Activities League program for many years and still volunteers there, has been a mentor to thousands of young people. She agrees younger, violent offenders are usually exhibiting "behavior that is learned,"' whether from family members or others. "They are doing what they have been seeing. No one has intervened."
The Washington Post reports today that two 15-year-old boys from rough-and-tumble Prince George's County, Maryland outside Washington, D.C. have been arrested for the stabbing death of man in Arlington County, Virginia. Officials say the two are "among the youngest suspects" ever charged with homocide in the state. In addition, they are believed to have committed numerous robberies in the county, and to be tied a group of adults responsible for an organized robbery ring there.
The unhinged anger and aggression among young U.S. males isn't confined to underclass communities, and street gangs. No motive was given in this report on a Chapel Hill, North Carolina high school student: the 17-year-old entered school with a gun, took a teacher and another student hostage. The gun went off twice though it was not aimed at anyone, he fled into the woods and was later captured.
A clear yearly trend now is school massacre plots inspired by the deadly Columbine incident. The plans for copy-cat school killings are usually, but not always uncovered before things get out of hand. Even the home of Santa Claus - North Pole, Alaska - isn't immune. Get this:
The arrests of six boys accused of planning a campus massacre has gripped this small Alaska town with an unsettling epiphany — if it can happen here, it can happen anywhere. "We thought we were in a bubble," said Cindy Slingerland as she waited outside the school with her husband, Mark, for their 13-year-old daughter, Jenny. "Nothing ever happens here. This is by far the biggest scare for my children."

The town of North Pole, dubbed Santa Claus' headquarters, has a main road called Santa Claus Lane where light poles are curved and striped like candy canes. Main attractions include Santa Claus House, a Christmas theme store open year round. The town is also a destination for thousands of letters sent to Santa each Christmas.

The seventh-graders, all around 13 years old, are suspected of scheming to take guns and knives to the town's middle school and kill students they felt picked on them as well as teachers they did not like. Police say the boys planned to knock out the school's power and telephone systems, giving them time for the slayings, then escape from the town of 1,600 about 14 miles (23 kilometers) southeast of Fairbanks.
USA Today reports of five southeast Kansas teens arrested last week on Columbine's anniversary, after a posting on the popular MySpace.com web site revealed their plans to disable the school's security cameras and launch a shooting spree. They were reportedly planning to don trenchcoats, similar to the black leather dusters worn by the Columbine misfits on their day of infamy.
A ninth-grader at Red Lake High School on the Red Lake, Minnesota Indian reservation, described by another student as having a "video game brain," is in custody after threats of massive gun violence drove students last week from the school, where eight died in a student massacre-suicide last year.
Washington State has seen a spate of recent incidents involving unmasked teen plots to kill or maim school classmates. The Seattle Times reports today:
...this week...Pierce County sheriff's deputies arrested a 16-year-old Puyallup boy who they say had crafted an elaborate plot to open fire on his classmates today before taking his own life. The boy, who has been charged with attempted first-degree assault, had made detailed plans to use his stepfather's .22-caliber rifle, a handgun and a homemade pipe bomb to launch his assault, according to detectives. As school officials in Washington and elsewhere have learned in recent years, that sort of plot is not isolated. On Monday, the same day Pierce County authorities announced the arrest of the Puyallup boy, another 16-year-old boy was charged with third-degree malicious explosion of a substance. Orting police said the boy fashioned a bomb from a glass bottle, tape, bottle rockets and a flaming firework and brought the device to Orting Middle School on April 18 to intimidate another student who had been dating a girl he liked. He set off the device hoping to intimidate the other student, but no one was injured.

Within the past few weeks, a junior-high-school teen in Kitsap County was investigated for allegedly planning to bring weapons to school; and on the Key Peninsula in Pierce County, three middle-school boys were charged last week with plotting to open fire on classmates after prompting a school lockdown.
The article goes on to quote school officials stressing the need for school personnel to be vigilant for warning signs of teens gone 'round the bend. Indeed. But that doesn't address root causes, and neither does the naive statist impulse toward anti-bullying legislation (passed in Washington state in 2004).
Another now-common variation on deadly teen mayhem occurs outside of school, involving two or more teens inflicting a fatal beating on an adult man. A recent post of mine titled "Teen Boys Gone Wild: A Modern Day Malady," details several such cases, where the victims were homeless. This brief NYT report datelined Wayne, Michigan, tells of three teens who will be charged as adults and face life imprisonment for the beating death of a man in the middle of an intersection during a robbery that netted them all of three dollars.
The new violent anger is expressed not only in deadly beatings by teens, and the mass killing plots of teens, it is also manifested in adult behavior such as the U.S. workplace massacres of the last 15-20 years, plus the burgeoning of road rage, air rage, and what I suppose could be called e-mail rage. Like this guy in Colorado, who didn't like a state legislator's comments against the border patrol group The Minutemen, and so e-mailed him sugggesting the fellow should be lynched. A small news item to be sure, but a sign of where we're at.
Several factors seem important in trying to better understand this barely-contained societal breakdown. First, our popular culture is suffused with the trivilization and commodification of violence and pornography, which serve as a dehumanizing influence, loosening inhibitions on abasement and disposal of our fellow man. Second, teens fetishize but poorly understand the pursuit of "individualism," so that if so permitted, they will confuse freedom from authority with the development of character and capabilities. Third, clueless parents are disengaged from their children's lives, and the often-poisonous social environments allowed to fester in public high schools. Fourth, adult role-modelling also legitimizes a lack of social restraint.
Parents, do your job. As columnist Peter Bronson writes, that was the message delivered, again last week in another well-received address by Bill Cosby, this time in Cincinnati, where 12 were murdered in March alone. Bronson also notes:
...the message from another speaker, Hamilton County Coroner O'dell Owens, was as sharp as a scalpel: "I speak for the dead," he said. "And the dead say to me now, 'No more, no more, no more.' Say it to your young children."
Why is it that the school shootings and school mass-shooting plots - many if not most of them in suburban, ex-urban or small-town locales - always seem to occur in public schools, not private schools? A lot of it goes back to public school parents who are either dangerously uninvolved in their kids' lives; or contentious, litigious and unwilling to accept responsibility for the conduct of their children.
When private school parents plunk down their tuition payments each month, they know there's another price they and their children must pay: adherence to an old-fashioned code of conduct.
Odd that you have to pay for the benefit of being held to a higher standard, isn't it?
Which is to say that one large part of the solution to school violence, and the larger challenge of socializing U.S. teens to greater expectations, is broader implementation of state laws permitting public charter schools and school vouchers, both of which funnel students into environments where academic and behavorial standards are typically far more stringent than in most public schools.
TECHNORATI TAGS: TEEN VIOLENCE, MURDER, DEATH THREATS, PLOTS, COLUMBINE, PUYALLUP, KEY PENINSULA, ORTING, RED LAKE, MINNESOTA, NORTH POLE, ALASKA, KANSAS, CINCINNATI, OAKLAND, WAYNE, MICHIGAN, ARLINGTON, VIRGINIA, PARENTING, BILL COSBY>
Posted by Matt Rosenberg at 12:46 PM | Comments (3)
April 25, 2006
Crying 'Wolf' Over Counter-Terrorism
Remember the civil libertarian and techie cavils about counter-terrorism investigations based on use of incendiary Internet search terms? Probably not, because the powers have not been abused. We all recall the controversy over legal wiretapping of domestic-international phone calls between suspected terrorists, powers which contrary to charges from critics, have failed to engender a feared police state or anything remotely like that. Fresh enough in the memory too, are public librarians waxing righteously indignant about USA Patriot Act provisions giving authorities the right to review records of public computer usage and books checked out by potential terrorist suspects.
Never mind that these powers have never been shown to have been abused, and were clearly auxiliary to larger and wholly justified changes in the security environment after al-Qaeda operatives secreted in our society were able to hijack and pilot commercial passenger jets into the Twin Towers and the Pentagon on September 11, 2001. Never mind, I suppose, that sadly there are some books which if privately purchased - or certainly if checked out of a library - should occasion the alert of all hands on deck. Never mind that there are suspected terrorists conducting systematic surveillance of Washington State Ferries so as to quite possibly attempt to blow up some of the fleet's boats, with hundreds of cars and people aboard.
I don't know about you, but generally speaking, the threat does not seem to me to be sworn officers of the U.S. government. No, not exactly.
Granted, "we have seen the enemy and he is us" has a certain fetid appeal to certain fetid types. But long-standing Democratic hostility to U.S. intelligence gathering seems ever more misguided as the continued work of jihadists around the globe has highlighted the need for strengthened anti-terrorism efforts. England in particular has been forced to reckon more seriously with jihadists within, following the July, 2005 London subway bombings. In today's Guardian, British Home Secretary Charles Clarke explains why post-9/11 "police state" alarmists of the Left aren't right.
intellectual laziness...seeks to slip on to the shoulders of modern democratic states the mantle of dictatorial power. Some of this flows from criticism of the US, particularly the policies of the Bush administration, notably in relation to Iraq, but more generally it is in criticism of the response of the US and UK to 9/11. Such criticism fails to understand the immense significance of 9/11.

...as democracy has advanced so powerfully across the world, other rights become important too. The right to go to work safely on the tube. The right not to be killed by someone who has served his sentence for violent crime but remains dangerous. The right to live at home without being disturbed by antisocial behaviour outside the front door. None of these removes the right of any individual to exercise their freedoms in relation to the state. None of them removes the obligation on the state to operate in accordance with its national and international obligations under law. But when we respond, for example, with counter-terror legislation or proposals to control those criminals who are dangerous to society, many in the media retort that we are destroying democracy and constructing tyranny.

...my appeal is to urge our media to come to terms with a modern concept of rights and responsibilities; to continue their historically important campaign to replace dictatorship with democracy; to applaud the differences between democratic states and dictatorships; to accept the modern reality that human rights are wider than those that the individual possesses in relation to the state; and to work with politics to consider how best those rights too can be fulfilled.
Multi-culturalist rhetoric cannot be allowed to provide cover for terror cells. Aggressive investigations and harsh punishments for those found guilty of plotting attacks and preaching jihad are a moral necessity. Anything less comprises slow surrender to the forces of evil among us.
TECHNORATI TAGS: TERRORISM, COUNTER-TERRORISM, ENGLAND, CHARLES CLARKE, UNITED STATES, NATIONAL SECURITY>
Posted by Matt Rosenberg at 12:20 PM | Comments (0)
Demand Spikes After Heroin Overdoses In Philly, Jersey
The best advertising for street heroin? Overdose fatalities, like the nine that have occured recently in south New Jersey and the Philadelphia area. Today's Philadelphia Inquirer:
If you want to make a killing in the heroin business, make sure a couple of customers die. Bad heroin has killed at least nine people in Philadelphia and South Jersey since April 14, and dozens have been sent to emergency rooms, authorities said. But the news has only driven up demand, as heroin users have flocked to drug corners looking for the powerful stuff. Not exactly what you might expect. "But then these aren't rational people we're talking about," Philadelphia Police Capt. Leonard Ditchkofsky said. He said he believed the bad drugs had been put on the street "on purpose."

Junkies agree. According to current users and recovering addicts, a dead junkie is a drug dealer's best advertisement. "If people die, other people think the heroin is good," said Jason Ortiz, 31, of Camden, who said he had used heroin for 10 years. "They think it's pure because somebody died." Said a recovering addict at My Brother's Keeper, a treatment center in Camden: "It's like saying, 'We got the good stuff that's really kicking.'" Most junkies don't know that the heroin isn't killing them - it's fentanyl, a drug used to "cut," or stretch, the heroin. Fentanyl, a painkiller 80 times stronger than morphine, usually is prescribed in the form of a skin patch to treat chronic pain in cancer patients. On the street, it is sold as "China White." Most drugs are measured in milligrams. Fentanyl is so powerful it is measured in micrograms, much smaller units.
Of course, the users drawn by the ODs are angling for slow death, as opposed to sudden. What to do about heroin addiction? Faith-based and other privately-operated intervention programs are a much saner approach than government sponsored clean-needle centers. Then again, maintaining addiction is in the best interests of the social services mafia, isn't it?
TECHNORATI TAGS: HEROIN, PHILADELPHIA, NEW JERSEY, OVERDOSES, CHINA WHITE>
Posted by Matt Rosenberg at 08:39 AM | Comments (0)
April 24, 2006
Rules For Student Skin Mags: Yes Or No?
Lest you think campus skin mags funded with student activity fees ALL get carte blanche, the New York Times reports, Vita Excolatur, the new title at University of Chicago, has some very definite boundaires imposed by school officials.
Vita, which runs mainly on student activity fees (about $6,000 a year), can show full-frontal nudity but not an erection or intercourse, according to an agreement with the administration. Its pages are reviewed three times by administrators before publication, and student-models must sign releases before they shed their clothes and again on seeing the photos, when many balk. Squirm and H Bomb have also received money from their student governments, but their respective institutions, Vassar and Harvard, take a hands-off approach.
Nice to know artistic freedom is safe in the Ivy league. Coming soon: an inter-disciplinary major in online erotic publishing, from content straight through to revenue optimization, and franchising.
TECHNORATI TAGS: STUDENT MAGAZINES, NUDE PHOTOGRAPHY, RULES, CHICAGO, UNIVERSITY OF CHICAGO, VASSAR, HARVARD>
Posted by Matt Rosenberg at 12:06 PM | Comments (0)
The "Disparities" Scam, Vol. 7
Full employment for utopian social engineers could be just around the bend. Or is it these preachers of the "equal outcomes" gospel who've gone around the bend?
The standard liberal arts cant is by now familiar and tiresome to any informed thinker, but is still being spread on our nation's campuses with alarming regularity, and to great effect. Differing levels of education and income, even different rates of computer owership and diabetes, are de facto evidence of an absent "social justice," and a pernicious bias against U.S. minorities. Graduates come out of major state universities fully convinced the "isms" (i.e. racism, sexism, gender-ism) are the reason some individuals don't achieve as much as others. The role of individual choices and decisions is relegated to the background.
Here's a typically broad-brushed, condemnatory example. Writing in the online version of the campus newspaper, admiring student commentator Brian Morin describes Arizona State University history professor Matthew C. Whittaker's perspectives, conveyed in a public lecture last week in Tempe. Whittaker belives our society is bedeviled by:
..."practical racists," because they promote interracial unity with their words, but then denounce its value through their apathy and inaction. If we allow ourselves to become "practical racists" and not stand up against the racial status quo, then we are no better than the overt racists who commit hate crimes.
Always a good start. Practice what I preach, or you are a racist. Unfortunately, the "racial status quo" to which Whittaker's acolyte Morin refers, is neither "racial," nor the "status quo." The commentary on the lecture continues:
....One of the major and most positive aspects of the lecture was when Whitaker moved into what we can do to promote interracial unity. The most important thing we can do is step out of our comfort zones and have productive dialogues about the issues of racial injustice and inequality. We must educate ourselves about others' cultures and the lens through which they view society.
This path, of course, offers immediate absolution to guilty white liberals. By participating in "productive dialogues" (mostly involving other whites, mostly in academic settings) about racism, they shed the hideous skin of what Whittaker terms "practical racism."
Somewhat more specific in his concerns is University of California-Santa Cruz economics professor Robert Fairlie, who implies social injustice is at the root of lower rates of business ownership by blacks and Latinos versus whites and Asians. UCSC's online magazine reports today on a recent school-sponsored diversity series lecture Fairlie gave on the topic.
Economist Robert Fairlie knows that business ownership can be an escape route out of poverty, so he is bothered by an African American self-employment rate that's less than half the national average. Only 3.8 percent of blacks own their own business, compared with 6 percent of Latinos and 11.6 percent of whites and Asian Americans, according to the most recent data. Moreover, black-owned businesses generate dramatically lower annual sales than firms owned by whites and Asian Americans, and they are more likely to close....Fairlie has uncovered the primary factors that account for the differences, including striking inequality in levels of startup capital, as well as differences in work experience and educational achievement. "Wealth inequality leads to these low levels of capital, which is a huge factor in determining the outcome of a business," said Fairlie...
The article states Fairlie and a study co-author recommend several remedies, including:
...improving bank lending laws to further protect African Americans from discrimination, addressing wealth inequality, and creating apprenticeships that would help make up for the lack of work experience in family-owned businesses available to blacks.
Banks discriminate, rightly, based on collateral and net worth; and set-aside apprenticeships for low-income blacks could be some help, but are no substitute for family values stressing education, hard work, thrift and planning. As for "wealth inequality," Fairlie himself notes in the above-linked article that net worth is a huge factor, and that of blacks and Latinos is much lower than whites and Asians.
Where inherited wealth is not a major determinant, then net worth - as we may recall - is built through enterprise, earnings, savings and investment. I think we've heard enough from white liberals. The next diversity lecture on business success should feature the Korean owner of a mini-mart and dry cleaners in Van Nuys, whose two children are undergraduates majoring in chemistry and computer science, respectively, in California's state university system. For good measure, his wife could give a supplemental presentation on how the kids were raised. There'd be some more business insight, for all.
These days in the United States, opportunity is abundant, which is why so many keeping migrating to our nation, legally and illegally. Individuals get just about what's coming to them in return for their investment of thought, planning, time and energy in their education, career, health and personal relationships.
The ongoing "disparities" and "disproportionality" scams perpetrated by the not-so-cloaked Marxists of academe, and their eager publicists in media, serve to paper over the paramount role of free actors in determining their own economic and social outcomes in the United States today.
TECHNORATI TAGS: DISPARITIES, RACISM, ARIZONA STATE UNIVERSITY, TEMPE, UNIVERSITY OF CALIFORNIA, SANTA CRUZ, WEALTH, BUSINESS OWNERSHIP, WHITE GUILT>
Posted by Matt Rosenberg at 10:38 AM | Comments (0)
April 21, 2006
Another Feather In Oregon's Cap
Living in Seattle for 12 years now, I've learned via travel and myriad informational gleanings that Oregon is a many-splendored state. Quite apart from the beauteous scenery and great wines, it has a real can-do spirit; witty, savvy and unassailably focused political activists; a striking and impressive self-help ethic; judicious and culturally-sensitive office-holders; first-rate public schools; and exceedingly reasonable government-funded mediators.
Now, Oregon has one more big feather in its cap. The Oregonian reports today that - according to a current medical journal article - a new world record has been set in the state: most number of intentionally-inserted foreign objects successfully removed from someone's head.
One day last year, a 33-year-old Oregon man picked up a nail gun and put it to his head. Just what drove him isn't clear. Personal problems, mental illness and methamphetamine all probably played a role. He fired. And fired again. And again. Twelve times....A day later, he went to a small Oregon hospital. He said he had a headache.
I should think so. Treatment ensued, at Oregon Health and Science University hospital.
Twenty-five days later, he walked out...a little weak but, physically, healthy. Doctors say his case is extraordinary: He is the only person known to have survived after having so many foreign objects embedded in his head....Because of medical privacy laws, doctors have not identified the man who put 12 nails in his skull....OHSU doctors...(wrote) about the injury and surgery in the current Journal of Neurosurgery. "This case represents the only known survivor of the largest number of foreign objects (twelve) ever purposefully penetrated into the skull," they wrote. The previous record was nine, from an attempted nail-gun suicide in Japan.
It figures the previous record holder would be in Japan; they've got a real flair for the macabre. The Oregon man subsequently tried to kill himself again (not with a nail gun, apparently), but is now finally on a more even keel thanks to therapy, according to the Oregonian article.
I wish him success in maintaining his stability. Additionally, I believe he has used up his reasonable allocation of public resources for the new century. I hope he has found some way - perhaps through volunteerism - to repay his debt to society. It is rather a large one.
TECHNORATI TAGS: OREGON, STAPLE GUN, NAILS, HEAD, JOURNAL OF NEUROSURGERY, OREGON HEALTH AND SCIENCE UNIVERSITY, HOSPITAL, JAPAN>
Posted by Matt Rosenberg at 02:27 PM | Comments (0)
Judge Goes Soft On Foodie Flasher
No hard time for celebrity New York chef and raw food champion Dan Hoyt, previously dubbed "Onan The Vegetarian" in a lengthy New York Magazine profile. That moniker was for some very unseemly public conduct, captured by the intended victim on a camera-enabled cell phone. (Who said these things were a social pox, anyway?) Most bizarre is that he seems to think this reprehensible habit still may be a way to meet the right woman.
Spending too much time with his jicama stix, methinks. The poor sap needs some red meat in his diet, in order to summon the bravery to do things the old-fashioned way.
Hint, Dan: typically, it starts with, ah, talking to the gal.
TECHNORATI TAGS: NEW YORK, SUBWAY, FLASHER, RAW FOOD, CHEF, DAN HOYT, CELL PHONE, CAMERA>
Posted by Matt Rosenberg at 10:30 AM | Comments (2)
April 20, 2006
White Crayons Are Useless
Here is the Alki Bakery, on Alki Beach in West Seattle.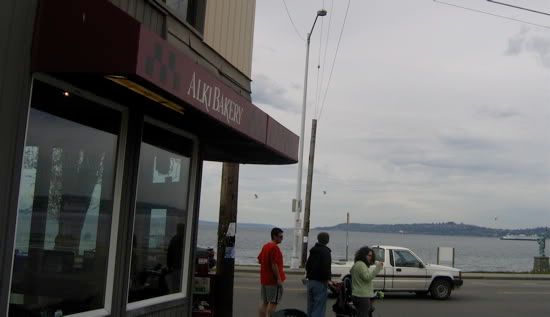 It's a nice place, even if once a latte served by a teen barista there caused me quick and violent gastric distress.
There are lots of cool posters on the wall inside. See?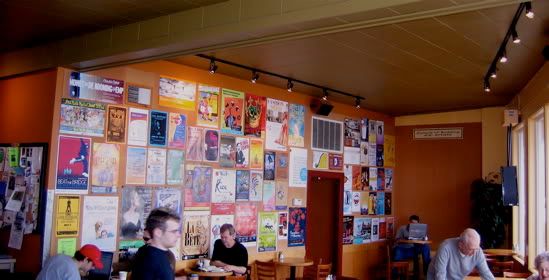 They bear news of important cultural events, such as left-leaning plays which mock Republicans,
and various festivals.
Including those having to do with cheese.
The baked goods are quite toothsome; the strawberry lemonade exceptional; the light lunch menu more than serviceable.
There are also crayons for kids, which led to today's epiphany.
Having consumed their cookies and lemonade, my kids were drawing with the crayons.
One of them was white. We wondered: what possible use is this?
Very little, it turns out. We tried it under and over a range of colors, light, medium and dark.
White crayons basically don't show up on dark colors, and make only the most faint alteration when layered under or over any other colored crayon.
Take it from no less an authority than Spidey: white crayons are a real waste of time.
From "Spiderman Reviews Crayons:"
AUGH! Get it away -- get it away! I hate the "White!" White crayons are positively useless! They're only good with black construction paper! Who colors on black construction paper more than once every fifteen years out of sheer pity for the fully unused pile of it collecting inches in the back of a closet? As far as I'm concerned, Crayola's only produced 95 colors. White doesn't count!
Word, arachnid.
Maybe it's all explained by a sort of converse diversity rubric. You know; something like, "Well, we've got black and brown crayons in the set, so just to make sure no one's upset, we'd better have a white one in there, too."
I believe that any 21st Century energy policy should address the waste of raw materials and energy consumed in their manufacture of white crayons.
TECHNORATI TAGS: WHITE CRAYONS, SPIDERMAN, SEATTLE, WEST SEATTLE, ALKI BEACH, ALKI CAFE>
Posted by Matt Rosenberg at 09:21 PM | Comments (2)
April 19, 2006
"La Ley Es La Ley"
Students are cutting school again to protest for "the rights of illegal immigrants," about 2,500 strong today in Denver. This report in the Denver Post is rich with irony, although it apparently sailed right past the reporter.
Before the walk, student organizer Daniel Alarcon told the students to walk safely. "Please guys, obey the law. Please don't put 20 people in a car, 'La ley es la ley. No quiero problemas," which means "the law is the law, we don't want problems."
How perfect: "the law is the law," not with respect to illegal immigration but to avoid getting busted for minor infractions while protesting against application of the law to illegal immigrants.
As has become standard at all the recent protests against the U.S. House bill that would classify illegal immigrants as felons and punish those who help them, distortion was rife.
Gabe Afflitto, a 13-year-old Wheat Ridge Middle School student said laws to keep immigrants from coming to the United States are "unfair and it's racist."
Gabe, you're being taught poorly, or manipulated, or both. We're talking about laws to keep illegal immigrants from the U.S., not immigrants.
Here's my proposal. All employers are required to check for proof of legal immigrant or visa holder status, and keep documentation on record showing each and every employee is legal. The government invests in meaningful immigration enforcement in the workplace, using the issuance of social security cards to legal-only workers as a mandatory condition of employment. No cash payments to workers are allowed. Obviously, enforcement is also prioritized to prevent illegal entry to the U.S. along our southern border.
To work through the controversial "amnesty" debate, I say adopt a sliding scale. For instance, two-thirds of illegal immigrants who've been here longer than ten years are allowed to qualify for citizenship if they can demonstrate full English proficiency and pass a civics test. Those eligible to qualify are chosen by lottery. One-third of those here for longer than five years and one-quarter of those here longer than three years are allowed onto the same citizenship test path, also by lottery. All those who've arrived within the last three years, and all those who fail to win a chance at eligibility in the lotteries must leave. We do not need to round up any of those who will have to leave, and "ship" them anywhere. Knowing, finally, that they will face jail, they will leave of their own accord. They've certainly got the money, now, for a bus or even airline ticket. Not to mention, in many cases, families to return to in their countries of origin.
We'll pay more for some things, but after all, "La Ley Es La Ley." Public resources will be reserved for legal citizens, and flouting the law will no longer be rewarded.
TECHNORATI TAGS: DENVER, PROTEST, ILLEGAL IMMIGRATION, AMNESTY, WORKPLACE, BORDER, ENFORCEMENT>
Posted by Matt Rosenberg at 05:12 PM | Comments (1)
April 18, 2006
Teen Boys Gone Wild: A Modern Day Malady
I suppose we've all done some dumb things as teenagers, but honestly, the daily news harvest NEVER used to include the breadth and depth of teen and young adult pathology that's now commonplace, such as random attacks on bicyclists in Portland, and the mugging of defenseless elderly men in the nation's capital.
The following stories are mostly from from today's news (a few items were reported yesterday or the day before). Please note these cases are NOT standard-issue gang retribution hits, gang territorial disputes, or - as so far is yet known - related to gang initiation rites. Even if some of these horrific crimes turn out to be classified as the latter, there are clearly other poisons in the water. So read, shudder, and re-ponder (munificently) moral values and parenting memes. While global, electoral and judicial prerogatives continue to loom large, the future of our Republic still also depends in no small part upon how our children are raised.
A 16-year-old San Jose boy is arrested for allegedly stabbing a 14-year-old girl after she refused to give him her phone number. He had reportedly been stalking her.
A 13-year-old in Nagasaki beat his 15-year-old brother to death in a fight over putting a video game console back in its box.
Sentencing hearings began this week in Daytona Beach for four teens convicted in the beating death of a homeless man. They face the possibility of life in prison, as well they should.
A 16-year-old male from Myrtle Beach will be tried as an adult for murder, in the beating death of a homeless man. A 14-year-old accomplice is already being detained in connection with the crime.
Two 15-year-olds and two 13-year-olds face charges of second-degree felony murder, second-degree manslaughter, robbery and gang assault after they grabbed and punched a 20-year-old NYU student in New York City, who broke free but then ran into the path of an oncoming car and was killed. One of the youths charged says he did it for fun, not money.
An ongoing feud over who had a better truck led to a fatal confrontation involving two teens and one of the vehicles in Lakeland, Florida.
A 16-year-old Baltimore youth expelled from a girl's birthday party returned to shoot her father dead, according to police.
An 18-year-old in Trinity County, Texas who had placed an alligator in a local pond and was caring for it, reportedly became angered at another man when an ongoing dispute over the animal flared up. The youth retrieved a Kalashnikov, located his intended target and began firing. A 50-year-old woman was killed instead, when one of the bullets came through the wall of a local bar.
A pair of 16-year-olds have been arrested for the beating death of a 90-year-old North Sacramento woman. One of them had reportedly done odd jobs for her, and helped plan a home invasion and robbery, in which the victim was fatally bludgeoned.
This is just a sampling of murder and mayhem reported to have allegedly occured at the hands of teen boys in the last few days. I cannot attempt to explain any of these tragedies. Nor should I. But I can make some more general observations which likely have bearing. Here goes, and flog me if you will. Inhibition has waned in contemporary culture, with the result that adults and youths are more apt to indulge gravely anti-social impulses. I suspect there is a connection between the erosion of everyday common courtesies, decency and civility on the one hand, and the increasingly absurd, groundless causes for violent behavior by adults and teens, on the other hand.
A super-ego is a good thing to have.
TECHNORATI TAGS: TEEN VIOLENCE, BOYS, SAN JOSE, NAGASAKI, DAYTONA BEACH, MYRTLE BEACH, NEW YORK, LAKELAND, FLORIDA, TRINITY COUNTY, TEXAS, SACRAMENTO, SUPER-EGO>
Posted by Matt Rosenberg at 06:43 PM | Comments (1)
Schools Err With Dietary Instruction
Many children, teens and adults seem to lack a common sense gene. Some can't balance a checkbook, use a credit card responsibly, or understand the impact of supersized food portions and junk food. Does it then become the responsibility of taxpayer-funded public schools to teach these skills? No: a laser-like focus on teaching core academic subjects such as reading, writing, math and science is what more schools need to adopt, so that students graduate high school prepared for college and the ever more competitive global economy.
Which is why it's dismaying to learn that Texas teachers recently spent parts of a whole week hectoring their first- through fourth-grade students about portion sizes, with the state's blessing. One even dressed up a large piece of lettuce, and used a yo-yo and potato to make her point. (Apparently, you are only supposed to eat a yo-yo or two worth of potatoes at one sitting).
Driver education makes sense in schools, but little else from what might be termed the "life skills" agenda does, in my view. That includes sex education - which is best left to parents because its appropriation by morally neutral classroom personnel legitimizes and facilitates socially costly sexual activity by immature teens.
On the diet and health front, it's good that school cafeterias are changing menu offerings to feature more healthy fare for students, and that crummy vending machine snack and beverage offerings in school are being replaced with more nutritious choices. But instructional time is finite, American student achievement is markedly poor versus that of other nations, and parents are ultimately responsible for teaching common sense, just as was the case before the birth of the modern Nanny State. Can we get back on track, please?
TECHNORATI TAGS: IRVING, TEXAS, PORTION SIZE, NUTRITION CLASSES, PARENTS, SCHOOLS, INSTRUCTIONAL TIME, ACADEMIC ACHIEVEMENT, NANNY STATE>
Posted by Matt Rosenberg at 01:17 PM | Comments (0)
April 17, 2006
The Complex Dynamics Of Public Breast Baring In Calgary
I do with all my heart and soul believe that Mary Valentich, a retired professor of social work at the University of Calgary, ought to re-order her priorities. Instead, she has chosen to conduct a social survey of women who bared their breasts amidst Stanely Cup hockey mania in Calgary two years ago, and tell the Globe and Mail all about it. You might have thought women flashed their boobs because they're boobs; or had a lot to drink; or are just rather starved for attention. But, no, see, it runs deeper than that.
It was two years ago and the Calgary Flames were battling for the Stanley Cup. Thousands of euphoric fans clad in red flocked to a city street known as the Red Mile where, every now and then, a woman lifted her top. While most commentators disparaged the breast baring as the antics of drunken, foolish women, new research concludes it was motivated by a complex set of factors, including a desire to celebrate the Flames victories, a desire to break the rules, feelings of stardom and a sense of history. "The context was so important," said Mary Valentich, professor emeritus of social work at the University of Calgary. "You just wouldn't necessarily do this elsewhere. It had to be the right kind of setting.....Prof. Valentich conducted her qualitative study, which she is presenting next month at a sexual-health conference in Calgary and also plans to publish, after recruiting and interviewing a half-dozen women who participated in varying degrees in the Red Mile phenomenon."
Look, I'm no prude. In fact, I'm all for breasts, really. What red-blooded male isn't? Further, I have no complaint with nudists, in their place. But the need to flash in public is fairly juvenile. And lending a patina of academic inquiry to the practice underscores the vapidity of the modern-day academy. Is there no other topic more worthy of illumination for this retired professor of social work?
Like, say, the transgressive suppositions motivating alternative party politics in British Columbia?
TECHNORATI TAGS: BREAST BARING, CALGARY, CALGARY FLAMES, HOCKEY, RED MILE, MARY VALENTICH, UNIVERSITY OF CALGARY, ALBERTA, BRITISH COLUMBIA>
Posted by Matt Rosenberg at 02:09 PM | Comments (0)
Returning Gangbangers Bedevil Central America
El Salvador, Guatemala and Honduras are struggling to cope with more than 34,000 repatriated convicted criminals, most of them gang members, who were deported from the United States between 1998 and 2004. More from today's Boston Globe.
...''maras," or youth street gangs, boast 100,000 members in Central America by conservative estimates. They are blamed for much of the violent crime that plagues this region -- from murder and rape to human trafficking, smuggling, drug dealing, home invasions, extortion, and kidnapping. The maras have links to an estimated 8,000 to 10,000 members in more than 30 US states, including Massachusetts, according to the FBI. With their role in trafficking people, illicit drugs, and weapons into the United States, the maras pose a transnational threat that sets them apart from other street gangs. The United States is aggressively pursuing maras by using racketeering statutes once employed against the Mob. But Central American governments have struggled with an array of iron-fist tactics that have failed to dent the problem.
In the 80s, the Globe notes, many of the gangbangers from Guatemala, Honduras and El Salvador came here to escape wars in their countries. Of course, other, law-abiding immigrants came here from those countries then, legally and illegally.
Now, how many more Mexican and Central American immigrants illegally enter the United States each day, week and month pursue lives of crime here? And at what cost to law-abiding taxpayers when police and court resources are diverted as a result?
The Globe's story carefully skirts any mention of the immigration status of the 34,000 convicted Central American gang members deported from the U.S., but mentions that many first landed in Los Angeles in the 80s. Obviously, most, if not a vast majority, came across our nation's porous southern border with Mexico "undocumented."
The Globe takes pains to stress that a hardline aproach to the repat hoods in El Salvador, Guatemala and Honduras isn't working, and says lessons should be drawn from elsewhere in Central America:
In neighboring Nicaragua, Costa Rica, and Panama, where gang membership and violence are dramatically lower, authorities have focused on crime-prevention programs within families, schools, and communities...In one rehabilitation program in a working-class neighborhood of Guatemala City, a dozen tattooed former gang member study literacy, computers, and technical skills in an unmarked, nondescript house supported by US government funds.
I suspect there's more to it than job training and outreach programs. More jails, and less corruption among elected offcials, judges and police in the three countries might also help abate the ongoing gang crime wave. In any case, the dilemma of these countries intersects with the national interests of the United States, which is overburdened by illegal immigrants from the south, of the non-criminal and criminal variety.
Lost in the current national controversy over illegal immigration here is the responsibility of Mexico and Central American countries to improve living conditions, education and economic opportunity, so that fewer people will feel forced to flee, and those that do choose to migrate to the U.S. wil be able to do so in an orderly, law-abiding manner.
The missing piece, of course, is still adoption of a new U.S. immigration law which removes the current laissez-faire incentives for illegal immigration, and which provides resources for painstaking enforcement of legal border crossings only, and legal employment only, of immigrants.
TECHNORATI TAGS: ILLEGAL IMMIGRATION, CENTRAL AMERICA, GANGS, CRIME, UNITED STATES, DEPORTATION, GUATEMALA, HONDURAS, EL SALVADOR, LOS ANGELES>
Posted by Matt Rosenberg at 12:52 PM | Comments (0)
April 13, 2006
Notes From Chicago
Tuesdays are free admission day at the Art Institute in Chicago. My son Max, 9, and my mother (forever 39) got a big kick out of The Impressionists, and Max and I got some good laughs from the modern stuff as well. Gustave Caillebotte's "Paris Street: Rainy Day," was great.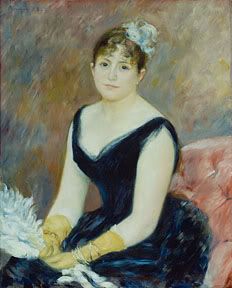 The way he caught the movement of the pedestrians, the feel of the street, the glistening of the pavement - outstanding. There's no substitute for seeing the large canvass in person.
A whole lot of Renoir remains on display at the Art Institute, and I think my favorite is "Lady With A Fan" (right). Her serene, piercing gaze caught my eye from across the room.
Our visit to the museum was preceeded by an excursion to Chicago's Little Village neighborhood on the city's Southwest Side, along 26th Street, west of Kedzie Avenue (3200 W.). An amazing technicolor parallel universe, with everything in Spanish.
We had a great lunch at a place called Los Candiles.
I ordered the chicken in pepper sauce, but instead, they brought me a fantastic plate of steak tacos with melted cheese, grilled onions and guacamole, that wasn't even on the menu.
Heroically, I went with the flow. A freshly made lemonade, a just-spicy salsa with nopalito (cactus), rounded things out. Mmm hmm.
Off the main drag, we noticed in the windows of many homes identical bi-lingual signs supporting a proposal for a park/sports complex in Little Village. I'm sure it would be a good idea; there's not much green space there. But a painful irony was evident - all the yards of all the homes on the stretch of Central Park Ave. (3600 W.) where we were walking, were filled with a disgusting proliferation of litter. Same on 28th, heading back east. No one cares to pick up the garbage inundating their homes and residential streets. I wonder what that park is gonna look like? Litter: It's an assimilation thing, I guess. And a real problem.
The next day (yesterday) we saw the Cubs play the Cincinnati Reds at Wrigley Field. I've got to hand it to the team's current owners, the Tribune Corporation. Despite some inevitable remodeling and sponsorship deals at the old ball park - one of which put my nose out of joint recently - the feel is still outstandingly non-commercial and hype-free.
Watching the Seattle Mariners play in Safeco Field, you're bombarded with announcements and advertisements, dumb contests and promotions. It's as if they're afraid of letting you actually have 10 noise-free seconds before the game or between the halves of innings to just sit back and take a deep breath. At Wrigley Field, the experience is baseball as it was meant to be. The game sells itself. Especially yesterday, as the Cubs bested the Reds 4-1 behind the great pitching of Greg Maddux, and the hellacious baserunning of leadoff man Juan Pierre. Also, how can you not love a team including a guy named Angel Pagan? (In a Cubs-Mariners World Series, Pagan could face off against Seattle reliever J.J. Putz).
At Wrigley Field yesterday, I couldn't help notice some fans who'd clearly have been more comfortable in Seattle's over-caffienated ballpark, though. There was the guy who spent the first four innings glued to his cell phone. When he finally got off, I bet my son he'd be back on it within 15 minutes. Max first said, no, it'll just take him 30 seconds, but when I said c'mon, not that quick, he said OK, three minutes, then. He was right the first time. The guy was back on in less than a minute. Then there were the two ADD kids in our row who spent most of the game fiddling with their Game Boys. Maybe they're related to the fellow we spied at the Art Institute, plowing through each room, photographing every painting on his cell phone, but not looking at one of them.
After the Cubs game, we took a long walk back toward our parked car downtown, through Lincoln Park and the Lincoln Park Zoo. Sixty-something degrees, light breeze, winding pathways, lots of green, ponds and lagoons, then some seals, Bactrian camels and pink flamingos. The latter are the foulest smelling creatures on earth, I am sorry to report.
TECHNORATI TAGS: CHICAGO, ART INSTITUTE, GUSTAVE CAILLEBOTTE, RENOIR, LADY WITH A FAN, LITTLE VILLAGE, LAS CANDILES, LITTER, WRIGLEY FIELD, CHICAGO CUBS, GREG MADDUX, JUAN PIERRE, SEATTLE MARINERS, SAFECO FIELD, LINCOLN PARK, PINK FLAMINGOS>
Posted by Matt Rosenberg at 09:30 AM | Comments (0)
Panhandlers Overtake Chicago
While enjoying a delightful visit to my old hometown of Chicago - where I grew up, and spent a good chunk of my early adult years before moving to Seattle - I've been struck this week by how panhandlers have overtaken the city. It didn't used to be like this. At all. Downtown, including Michigan Avenue, is inundated with panhandlers, often fairly aggressive in their approach. They wear out their welcome very quickly. In Hyde Park, on the city's southeast side, they're all over 53rd Street. One focal point is outside a church at 53rd and Blackstone Avenue, where at about noon a few sunny days ago, I saw 10 homeless men, just hanging out, one drinking from a container in a brown paper bag. Every few steps we took along 53rd, someone was hitting us up for money.
Here's something I couldn't avoid noticing, and can't, in good consicence, forego mentioning now. The panhandlers that I've seen each of the last four days, all over downtown and in Hyde Park, and in the near north suburb of Evanston, are all black. Every last one I've encountered, and it's been dozens. Chicago has a long, long history of a prosperous black middle class and black entrepreneurs who've been quite successful. With industrial jobs in decline, many opportunities for steady working-class employment among Chicago's black population may have disappeared. This would leave entry-level laborer jobs often taken now by Hispanics, and other jobs requiring more education and training. Given the trying conditions in urban black neighborhoods, young black males desperately need a cohesive family with a strong father to influence their choices about education, job training and providing for one's children. There are, of course, impressive success stories about black men and women who've turned out well thanks to a strong mother, even with their fathers long gone. To those individuals, and their mothers, goes my utmost respect. But all in all, the odds are much tougher when Dad is just a concept.
I think it's about time some University of Chicago sociologists - or maybe one of Chicago's daily newspapers - did a survey of panhandlers and the homeless in Chicago, so we can actually attempt to quantify what percentage come from broken homes, how much education they have, their employment histories, number of children fathered to how many different mothers, and their patterns of drug and alcohol use.
We need a little bit more to go on here than 400 Years Of Slavery, don'cha think?
TECHNORATI TAGS: CHICAGO, PANHANDLERS, AFRICAN-AMERICANS, FATHERS, PARENTING, EDUCATION, JOB TRAINING>
Posted by Matt Rosenberg at 08:02 AM | Comments (0)
April 10, 2006
Deconstructionist Dung Peddlers Of Academe, Volume Two
Back in Chicago again; family duties. This time I brought my son Max along, as it's his spring break. Beautiful day here, and we're poking around my old neighborhood of Hyde Park. We're at the University of Chicago's old Harper Library right now, gazing awestruck at the old high-ceilinged reading room. They don't make university libraries like they used to. We just went into Bond Chapel, on the UC campus, where I married my lovely wife in 1987. Elsewhere on campus, there are students dressed up in black lingerie and clunky high heels - the gothic hooker look, I guess - and posters up for lectures on Derrida and Deconstructionism. The latter being the theoretical framework under which white, racist, sexist cultural hegemonists are responsible for the global lack of transgendered bathrooms, plus Third World disease, fast food, reality TV, and affluenza.
Along with seeing a lot of my folks, I'm really looking forward to taking Max around my old city. I see a lot of ethnic neighborhoods and eats in the mix, and probably the Art Institute, too.
Ciao for now.
TECHNORATI TAGS: CHICAGO, UNIVERSITY OF CHICAGO, DECONSTRUCTIONISM>
Posted by Matt Rosenberg at 10:26 AM | Comments (0)
April 09, 2006
News Of The Skewed, Vol. 6
Life's burdens are nearly unbearable for rich New Yorkers. The New York Times reports on the downside of doormen.
Montreal tourism officals have announced a new, $23 million branding campaign to bring more visitors to their sexy, European city. One ad proclaims, "the longer you kiss, the Frencher it gets."
Here's how not to die on a bus in South America.
The blog awfulplasticsurgery.com delivers the goods, with a focus - natch - on celebrities.
Headline from last week's Inland Bulletin (Ontario, Ca.): "School Resource Officer Serves As Example That Not All Cops Are Bad.
"Blue State," a film in production, starring and financed by actress Anna Pacquin, is "a romantic comedy about a disgruntled Democrat who actually follows though on a drunken campaign promise to move to Canada if George "Dubya" Bush gets re-elected." Since it's still in production, I have a tip. For a touch of cinema verite, they should weave in a plot line revolving around the reaction of the protagonist to Canada's election in January 2006 of conservative prime minister Stephen Harper.
TECHNORATI TAGS: BLUE STATE, ANNA PACQUIN, CANADA, STEPHEN HARPER, NEW YORK, DOORMEN, MONTREAL TOURISM, AWFUL PLASTIC SURGERY, POLICE>
Posted by Matt Rosenberg at 10:09 AM | Comments (0)
April 07, 2006
The Price of Cowardice In Somalia
Thirteen years after the Clinton Administration pulled U.S. troops out of Somalia, the price of our political cowardice is clear. The San Francisco Chronicle reports today:
Somalia is a failed state, carved into dozens of fiefdoms by competing warlords. It has no police force, no government schools or hospitals; its coastal waters teem with pirates who routinely attack passing ships. Two corners of the 1,000-mile-long country, Somaliland and Puntland, have declared themselves independent. In the rest of the country, including the capital, Mogadishu, gunmen fight pitched battles over grazing land and spheres of influence, setting up checkpoints on dusty roads that they use to extort money from travelers. Civilians are routinely caught in the crossfire resulting from tit-for-tat killings. U.S. officials and Western analysts are fearful that Somalia has become a haven for international terrorists.

The violence and instability have greatly complicated efforts to bring aid to Somalia, where about 1.5 million of the nation's 9 or so million people are suffering from the worst drought to hit East Africa in decades....Getting food into the country is almost impossible because of regular attacks on ships and at checkpoints, according to aid officials. Two of the World Food Programme's ships carrying food have been hijacked in recent months....

....A failed relief effort by the United Nations during the last major drought, in 1993, was followed by "Operation Restore Hope," the disastrous U.S. military attempt to secure the environment for the delivery of aid. That collapsed when Somali fighters shot two U.S. helicopters out of the sky with rocket-propelled grenades. Eighteen U.S. soldiers were killed, and one body was dragged through the streets of Mogadishu. Hundreds of Somalis died and many more were wounded. When the Clinton administration withdrew U.S. forces several months later, so, too, did most international relief agencies, and few have returned.
Political security cannot even be conceived in Somalia until the pirates and warlords blocking current starvation relief efforts are neutralized. With the government an empty husk, it is necessary to approach the warlords, as a start. Which is what the U.S. has been doing. However, in this L.A. Times article, one member of the country's parliament in exile criticizes the United States for not instead working more closely with Somali office-holders.
"The United States, in particular, has drawn scorn from Somalian leaders. Members of parliament complain that U.S. counter-terrorist campaigns are undermining the government's legitimacy by forging relationships with warlords to gather intelligence and pursue suspects inside Somalia. "Everyone here is talking about the double standards of America," said Mohammed Ali Shiriye, a member of parliament. "They are still giving support to the warlords in Mogadishu. But now the U.S. must respect this country. It must go through the government."
But the top officials of Somalia's government (such as it is) come from a long line of thugs and kleptocrats, and have been exiled to irrelevance abroad. They are making no headway at all against the clans and warlords, as compared to the new government in Iraq, which while still bedeviled by freelance jihadists and delusional Sunni diehards, has adopted a new constitution; elected a parliament which has not fled the country; and is now trying Saddam for genocide in a trial that for all the defendant's fulsome theatrics, will engender the rule of law and fair governance.
In Somalia, right now, a robust international relief effort with a stronger military component must be mounted. Then a a five-state decentralization plan - which has been discussed before - must receive serious consideration by warring factions. Against all odds, such African statesmen as exist, and the United Nations - both prodded by the U.S. - must help engineer a way out of the darkness for the truly "failed state" that is Somalia today.

TECHNORATI TAGS: SOMALIA, DROUGHT, WARLORDS, PIRATES, STARVATION, UNITED STATES>
Posted by Matt Rosenberg at 04:50 PM | Comments (1)
Wrigley Field's "Bud Light Bleachers" A Travesty
I grew up in Chicago in the 60s and 70s, and learned to love the loveable losers, The Chicago Cubs. There was nothing better than roasting in the humble Wrigley Field bleachers, which were the defining element of an old-timey ballpark smack in the middle of a real city neighborhood. Bleachers fans always made sure to throw the baseball back onto the field if the visting team homered into their section. Cubs games were often quite bizarre. If the wind was blowing out, as it often was, the final score would be something like 17-16, with the home team jumping out to a 9-0 lead and then, in trademark fashion, managing to blow it all in the ninth inning.
The next best thing was the price of a bleacher seat, $3.50, and their assured game-day availability. With sports increasingly a venue for business schmoozing, high-priced suites and season tickets now dominate at Wrigley Field. Some individual game tickets are still available, often brokered by season-ticket holders; or from the team.
Bleacher seats at Wrigley Field now go for $15 to $40 - as you'll see by scrolling to the bottom here. This is of a piece with the increasingly corporatized management of the Cubs. What else could be expected? As the Chicago Sun-Times reports, the bleachers have been expanded; bleacher box seats added; and the stadium environs pompously rechristened the "Wrigley Field Campus."
All this one must uncomfortably stomach. But another descecration is beyond the pale: the Wrigley Field bleachers have been named the "Bud Light Bleachers," in a deal between the team's owners, Tribune Corp., and Anheuser-Busch. I'm OK with naming rights for whole buildings (yes - that's professional sports and all of corporate America you hear just now, breathing a huge sigh of relief at the reprieve). But naming rights for individual parts of stadiums? C'mon. What's next at Wrigley? The United Airlines Upper Deck? The Boeing Bathrooms? If the team's radio and TV announcers start referring to "The Bud Light Bleachers," Busch's impeachment will start to make sense to me.
But probably the worst thing about it all, is that horrid watered-down beers like Bud and Bud Light can only maintain and build market share with millions upon millions of dollars worth of marketing and promotions - such as this bleachers naming deal. The industry's "drink responsibly" messaging is a complete CYA scam. The only reason people drink pisswater like Bud or Miller is to get ripped, cheaply.
Thanks for listening. A round of Smuttynose IPA for the house, barkeep!
UPDATE - Commenter Jj adds this:
"A customer gave me fantastic court side tickets to a Blazers game back when the Glide had them in contention. I was quite loud in my instructions as to how to win that particular game, which they did. I was also quite alone, at ringside, in the cheering department. All these season ticket holders with crucial seats down on the court were quiet. The fans were relegated up 20 or 30 rows and what passion they voiced bounced around somewhere in the rafters. Having priced all the fans out of choice season tickets, professional courts and stadiums have further removed emotion from the game. These corporate types are not there for the game, but rather to seal a deal, and God help the guy who ruins his phone voice for a few days over some stupid game. Oh, I was banned from ever getting the seats again. My neighbors reported that I did not fit in. None of them got high fives from Drexler, Porter and Kersey, though. They were too busy knitting."
TECHNORATI TAGS: BUD LIGHT BLEACHERS, WRIGLEY FIELD, CHICAGO CUBS, CHICAGO, TRIBUNE CORPORATION, SMUTTYNOSE IPA>
Posted by Matt Rosenberg at 10:46 AM | Comments (2)
April 06, 2006
Jesus May Have Walked On Ice, Not Water
A Florida State University oceanographer named Doron Nof is the lead author of a new scholarly study which suggests Jesus Christ may not have walked on water at the Sea of Galilee, but on "springs ice," instead. The paper is titled, "Is There A Paelolimnological Explanation For 'Walking On Water' In The Sea Of Galilee?," and it is published in the April issue of the Journal of Paleolimnology.
Here's an article about it from today's news, and here's the online abstract of the journal article. Nof, et al write:
Lake Kinneret (the Sea of Galilee) is a small freshwater lake (148 km2 and a mean depth of 20 m) situated in northern Israel....there are dense (warm and salty) springs along its western shore....because the water directly above the plume created by the salty springs does not convect when it is cooled down to 4 °C, freezing of the region directly above the salty springs was possible during periods when the climate in the region was somewhat cooler than it is today. We refer to this localized freezing situation as 'springs ice'.

....During the cold events 1500 and 2500 years ago (when the atmospheric temperature was 3 °C or more lower than today) springs ice occurred about once in 160 years or less. Since the duration of these cold events is of the same order as the springs ice recurrence time, there is a substantial chance that at least one springs ice occurred during these cooler periods....One set of those springs associated with the freezing is situated in Tabgha, an area where many archeological features associated with Jesus Christ have been found. On this basis, it is proposed that the unusual local freezing process might have provided an origin to the story that Christ walked on water. Since the springs ice is relatively small, a person standing or walking on it may appear to an observer situated some distance away to be 'walking on water'. This is particularly true if it rained after the ice was formed (because rain smoothes out the ice's surface).

Whether this happened or not is an issue for religion scholars, archeologists, anthropologists, and believers to decide on. As natural scientists, we merely point out that unique freezing processes probably happened in that region several times during the last 12,000 years.
Jesus was corporeal, so for rational-minded skeptics, it's fair enough to look for corporeal explanations of miracles attributed to him. The bible employed no fact-checkers, after all.
As for God, well, I do believe He exists, and that He may even, probably does, have agents upon our earth. But that does not mean to me that any may have ever possessed miraculous powers.
I do believe that spirits may pass from a dead creature's body to the soul of a newly-born.
My son's first word, at about six months, clear as a bell, was "curlew," which is a type of bird (left); also the name of one of my favorite art-damaged jazz-rock bands; and a forlorn town in Northeastern Washington state.
I suspect he was a curlew in a previous life.
When it comes to supernaturalism, the clearly unknowable premise (my son was a curlew in a previous life) seems somehow more plausible than a conceivably disprovable claim that a known historical figure actually walked on water.
We are wandering dangerously close to epistemology here.
And as you know, I'd really rather be writing about People In Search Of Safe Restrooms (PISSR), and the like.
I think I will take an aspirin, and maybe go take some pictures of herons now.
TECHNORATI TAGS: JESUS CHRIST, WALKING ON WATER, WALKING ON ICE, SEA OF GALILEE, ISRAEL, EPISTEMOLOGY, CURLEW, WASHINGTON>
Posted by Matt Rosenberg at 11:39 AM | Comments (1)
April 05, 2006
YouTube's Upside and Downside
"guitar" (small "g") is the starkly named video on YouTube that's earned deserved national buzz, and a mention in the New York Times. It's a soaring rock guitar arrangement of Pachelbel's "Canon." Really a treat. I love the display of talent, the real entertainment value, and the anti-hype. (Oh, and the price, too: free). A nerdy little guy sitting by his desk, framed by his computer mouse, his bed and and a window behind, playing his heart out. It's got the feel of a Queen instrumental break in overdrive, but the guitar goes on longer, and no melodramatic vocals interrupt the reverie (R.I.P. Freddie Mercury). Here's the NYT on YouTube, and "guitar:"
The most beautiful video, by far, is called simply "guitar," and it has drawn, according to YouTube, nearly two million views. (It's also the No. 2 most-discussed video on the site.)...."guitar" is a display of unalloyed physical virtuosity that preempts criticism. After a black screen, the opening bars of Pachelbel's Canon begin, and title cards identify the piece, adding, "Arranged by JerryC," and "Played by funtwo." Funtwo, presumably, then shows up: he's a young-looking guy in a T-shirt and a baseball cap that obscures his face. He's sitting by a computer and holding an electric guitar. He looks like any introverted kid with frontman fantasies.

Still, the anonymous image is arresting. Bright light shines through a window behind him, surrounding him with a glow; the effect is dreamlike. Funtwo then plays JerryC's rock embellishment over the classical piece with amazing dexterity, managing to enliven the music and create a lasting work of pop art. As the comments say: "dude teach me how to play," "it is undeniably one of the best solos ive ever see," "u could go up against jimi hendrix." What's most impressive about the performance is the combination of funtwo's shyness and his aggressive, guitar-god fingerwork. Some posters try to suggest that the performance is fake; but someone called fablesoftherest seems to silence most of the skeptics: "I'll end the guesswork-the kid is for real," adding, "Funtwo's is the definitive version. This kid is destined to be one of the great guitarists of all time."
Sunday, in my weekly round-up of strikingly sensible newspaper op-eds and editorials, I included a link to this YouTube-posted poli-rock anthem, "Bush Was Right," by The Right Brothers. It does rock.
Mark Glaser of PBS media blog Mediashift reports here that users are viewing 35 million videos a day at YouTube and about 35,000 videos are uploaded daily onto people's computers and other digital devices from the site. Glaser adds the monetization strategy for the less-than-year-old site must likely emphasize pay-for-play deals with major entertainment media networks. Ads are another option, but risk ruining the grassroots vibe.
Actual video quality is another issue. As commenters on Glaser's post add, the nearly-instant playback of YouTube videos via the built-in Flash platform avoids snafus caused when end users haven't downloaded Apple's QuickTime of Microsoft's Window Player. But the convenience is achieved at a cost: images are a bit washed-out and fuzzy, and there's some herky-jerkiness in the delivery (even on my '05 vintage iMacG5). Noticeable, but far from fatal flaws.
You still get the gist of each posted video, and there's a wide variety of offerings. No middleman filtering things means you pick your own poison. Much like, say, Google News, but the source typically has less authority. On YouTube's News and Politics Channel, you'll encounter the same anarchic sensibility of the blogosphere, which is good and admittedly, sometimes less good.
Tired of the network talking heads? Maybe just what you need to watch is a well-argued, snarling rant about kids too fat for car seats. Or perhaps a P.O.'d young conservative named Jason Sanchez dishing on the protestors who oppose immigration reform; and then going off on the waste of resources that is celebrity news. Here's an off-air studio clip of U.S. Rep. Tom DeLay at a TV interview, commenting on ho-hum presidential polling numbers for Hillary Clinton, and agreeing no one likes "know-it-all women." (Hmm....d'ya wonder exactly how that got out on The Internet?). This homespun anti-smoking polemic about an old lady who burned down her house (and died?) after falling asleep while puffing in bed employs questionable logic. The fire is claimed to show the evils of smoking, but it's more a testament to simple carelessness. And there's no mention of when and where the tragedy occured. Important factoids left aside.
Another YouTube issue, unresolved, has been copyright violations. People are posting snippets left and right from commercial TV and cable channels, like this great Mobile, Alabama TV news segment on a "leprechaun sighting." But they're just snippets, after all, and certainly no substitute for the whole show, either in length or audio and video quality. So the practice may well NOT result in the legal come-uppance that stopped free sharing of peer-to-peer music files on the Internet.
YouTube just announced today it has landed $8 mill more in venture capital, from Sequoia Partners. It's not the first or only video-sharing site by any stretch, but it's sure the first one that a hoary old middle-stage adopter like me has wanted to explore further. Send along links to any especially flavorful (original content) YouTube videos you come across. If I like 'em, I'll post the links.
TECHNORATI TAGS: YOUTUBE, ONLINE VIDEO, CITIZEN VIDEO, "GUITAR", FUNDING, BUSINESS PLAN, COPYRIGHT>
Posted by Matt Rosenberg at 08:12 PM | Comments (1)
A Dad Named Jeana?
An initiative approved by Oregon voters bans same-sex marriage, and a civil unions bill that might have clarified the rights of non-biological gay parents failed to gain legislative approval. Still, same- sex couples, as in many other states, can adopt, or have children with the aid of what some progressive types like to antiseptically term a "sperm donor."
It's proving difficult for Jeana Frazzini, the non-biological lesbian co-parent of a Portland toddler, to get recognition from the state as the child's father, which she sought. In fact, the "father" blank on the birth certificate was returned blank, so two years later, she's suing the state. Today, as a matter of fact.
K.D. Parman and Jeana Frazzini found the birth certificate in their mailbox after a walk on a sunny spring day two years ago. Frazzini excitedly opened it, expecting to see the document that would officially declare them legal parents of their new baby, Emmett Parman. But only the name of Parman, the birth mother, was on the document. Frazzini's name had been erased and left blank. The women were stunned. "That was very sad," said Frazzini, 33, her eyes welling tears Tuesday as she recalled the moment. She wondered what the state gains by stepping between her and her family. "I don't know what can be more personal then getting between a parent and a child," she said. "It really makes you fierce."

So fierce that she and Parman will file a lawsuit against the state of Oregon today, arguing that the state is illegally discriminating against Frazzini on the basis of her gender and sexual orientation by denying her parental rights. "With a stroke of a pen, someone in an office somewhere wrote me out of my son's life," Frazzini said.
Excuse me. She's in her son's life every day. So right now in Oregon, women can't be called fathers. Oh, where is the social justice? Having the right appurtenance is no guarantee that a male breeder will really become a father, but lacking that appurtenance, one cannot be called a father. Binary gender hierarchies are a bummer like that.
Parman, who gave birth to the now-two-year-old, is indisputably the mother. Without Oregon legal status as a spouse to the biological mother, and minus any biological connection to the child, Frazzini remains a de-facto parent. That would be a source of some joy if for her, if she actually cared more for the child than her identity politics crusade. Her class lacks the influence to win official parental status in the political arena, hence she seeks legislation from the bench disguised as remediation of a "discrimination" claim.
If Frazzini is declared a legal father to the child, would any sisters of hers become "uncles?" Just wondering.
TECHNORATI TAGS: PORTLAND, OREGON, LESBIAN FATHER, LAWSUIT>
Posted by Matt Rosenberg at 02:04 PM | Comments (1)
What Makes Salsa Salsa?
Questions, do I get questions from my son Max, age 9. He asked a good one the other day. This came after we saw the Layla Angulo Latin Jazz Explosion at the Triple Door in Seattle, a weeknight gig that started nice and early and ended by 9 p.m. It was a great show, featuring his clarinet teacher - who plays soprano and alto sax - plus a fine cast of musicians on percussion, vocal, piano, bass, trumpet and trombone.
After it ended, Max asked me: "What makes Salsa music Salsa?"
The short answer is spice; the extra ingredient; that certain something without which the taste buds would be less arrested.
Max Salazar's definitive 1991 article in Latin Beat, reproduced at the Salsa Roots site, says the musical term "salsa" originally derived from Ignacio Pinerio's 1933 composition "Echale Salsita," a song written as "a protest against tasteless food." Salazar also notes that salsa began to creep toward the mainstream with the release of Latin jazz vibist and bandleader Cal Tjader's 1964 album "Soul Sauce;" one that's in heavy rotation on my CD player.
I am muy sympatico to the food-music spice-time continuum. The forces of blandness must be overwhelmed. We asked my Max's teacher Layla for her answer to his question, and she stressed the Afro-Cuban jazz roots of the salsa; Cuban son music rhythms among others; the use of trademark percussion instruments such as congas, claves and guiro; the montuno rhythm of the piano; and the special dancing that accompanies the music. To which I'd add, horns, horns, horns; maybe a flute; and a great male tenor vocalist like Carlos Cascante, who's a key part of Layla's group, and leader of his own unit.
The key ingredient, though, as I was reminded at the Triple Door, is a Latina in the back row who shouts out "Saaallllllssssaaaa," and "CaaaarrrEEEEbay" at key junctures.
Layla's latest CD, "Live at the Triple Door," is available here. Here's a picture of the show. If you get a chance to see these guys, sieze it.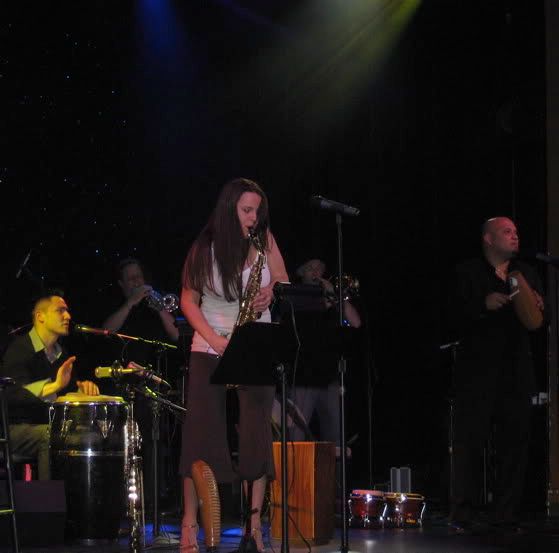 TECHNORATI TAGS: SALSA, SEATTLE, LAYLA ANGULO, CARLOS CASCANTE, CAL TJADER, IGNACIO PINERIO, MAX SALAZAR, TRIPLE DOOR>
Posted by Matt Rosenberg at 12:47 PM | Comments (0)
April 04, 2006
How Not To Sound Presidential
Washington Post columnist Richard Morin highlights a University of Texas research project on candidate speech patterns which may help explain why the 2004 presidential contest turned out the way it did.
Researchers at the University of Texas at Austin collected transcripts of 271 televised interviews, news conferences, town hall meetings and candidate debates conducted in 2004. The speech samples -- more than 400,000 words in all -- were run through a computer text-analysis program. The team included lead author Richard B. Slatcher, a doctoral candidate in psychology, and professor James W. Pennebaker.

....they rated each candidate's use of language along six dimensions: cognitive complexity (marked by sophisticated sentence structure and word choice); femininity (use of words and speech patterns favored by women); depression (use of words that are markers for depression or known "indicators of suicidality"); age (preference for words favored by young or old people); presidentiality (speech patterns and frequently occurring words favored by presidents since FDR in their speeches); and honesty (based on analyses of samples of truthful and deceptive language).

Cheney easily sounded the smartest of the four, while Edwards and Bush favored the least sophisticated language patterns, Slatcher and his colleagues report in a forthcoming issue of the Journal of Research in Personality. When it came to sounding presidential, both Bush and his running mate scored considerably higher than Kerry or Edwards....The vice president sounded the most honest of the four, and Kerry the least. Kerry's language also was most like that of a depressed person, followed by Edwards. Perhaps that's inevitable; after all, challengers must sound gloomy and doomy about their opponents' records, though in doing so they run clear risks. "Voters are most favorable toward those candidates who are the most optimistic," Slatcher said. "The depressive language that Kerry and Edwards used during the campaign may have contributed negatively to the way in which they were perceived by the public."
Kerry sounded the least honest of the four because he was; a problem even his own advisors acknowledged. Hillary has already faced similar critiques, for the way she has danced around Iraq. Whomever gains the Democratic nomination in '08 had better box up the bummer vibes. Paramount will be conveying strength and conviction on national security, always a challenge for the erstwhile champions of "punitive liberalism."
TECHNORATI TAGS: GEORGE W. BUSH, DICK CHENEY, PRESIDENTIAL, JOHN KERRY, DISHONEST, DEPRESSED, JOHN EDWARDS, FEMININITY, UNIVERSITY OF TEXAS, AUSTIN, CANDIDATE SPEECH PATTERNS, PUNITIVE LIBERALISM>
Posted by Matt Rosenberg at 01:12 PM | Comments (0)
Iran's Mullahs Can't Quench Country's Thirst For Alcohol
There are several reasons U.S. Democrats are so laissez-faire toward Islamic theocracies.
They have a deep loathing for their own country's role as the world's unipolar power, which must sometimes intercede against the forces of evil.
They skittishly equate their personal virtue with the latest pronouncements on our nation from arbiters of foreign policy and morality such as al-Jazeera, France, the United Nations and Barbra Streisand. The "world community" never seems to like us enough, sadly.
They are also sympathetic to big government, even if that entails unimaginable human rights desecrations such as female genital mutilation, and keeping women from college and careers.
Yet Iran seems a case in point that the strictures of imams regarding permissible conduct by women, and other matters, are sometimes contravened, to a degree, at least. Here's another example, not specific to women. The market in Iran for alcohol - which is banned - has suppliers hopping, even though penalties have been increased. The New York Times reports:
Despite the crackdown, there is no sense of an alcohol shortage. With one phone call, one can get anything from smuggled French-made wine to Russian or homemade Armenian vodka. One bootlegger delivers the goods on a scooter, wrapping bottles in black plastic bags and hiding them in a saddlebag....The Iranian grape is so good for making spicy wine that Australian Shiraz, sometimes known as Syrah, is made from the same grape that grows in Iran's southern city of Shiraz, which gave the wine its name.

In fact, the Islamic leaders are caught in a bewildering situation. Islam forbids the consumption of alcohol and the Koran explicitly calls intoxicants "the abominations of Satan's handiwork." But drinking and wine are integral parts of Persian culture. Mey, the word for wine, and Saki, the wine pourer, have been the central theme of Persian poetry for more than a thousand years.

Most poems by Iran's popular 14th-century poet, Shamsudin Mohammad Hafiz, who was from Shiraz, revolve around wine. "A rose without the glow of a lover bears no joy," he wrote. "Without wine to drink the spring brings no joy." Wine in ancient Persia predates the birth of French wine. The earliest evidence of wine making dates from 5400 B.C., in Haji Firuz Hills, near Western Azerbaijan Province, south of where the city of Orumieh is today. "The French are in fact jealous about that because the earliest evidence in France goes back to 500 B.C.," said Rémy Boucharlat, a French archaeologist who works in the southern archaeological sites in Iran.
What a rich and wonderful piece of the history of wine in Iran. A toast to the NYT. For the cultural, after all, is political.
It's been my experience that a nice Shiraz wonderfully accompanies a leg of lamb that's been roasted with saffron, cayenne, mint and and black cumin seed. Ideally, this would be accompanied by one of those rectangular, flat loaves of sesame seed-studded Afghan bread; and a Jerusalem salad of cucumbers and tomatoes in a yogurt-tahini-lemon juice dressing.
In a pinch, a California Zinfandel or a Washington State Lemburger will do just fine, though.
TECHNORATI TAGS: IRAN, ISLAM, ALCOHOL, BOOTLEGGERS, WINE, SHIRAZ>
Posted by Matt Rosenberg at 07:55 AM | Comments (0)
April 03, 2006
Storm Gathering West Of Seattle
This was the view from our hill in Seattle, looking west, at about 6:30 p.m. this evening.
Somehow, it bypassed our neighborhood. The neat thing about living here - one of them, anyway - is the constantly changing weather over Puget Sound. One more reason we're getting Californicated, in Seattle. All sun all the time: B-O-R-I-N-G. That's not quite a problem we have.
TECHNORATI TAGS: SEATTLE, RAIN, STORM CLOUDS, CALIFORNICATED>
Posted by Matt Rosenberg at 08:04 PM | Comments (1)
Old Glory Too Controversial For City Of San Bernardino
Chas Kelley had an idea that was just too hot to handle. When the San Bernardino, California city councilman saw student protestors waving Mexican flags outside city hall as part of a protest against a tough U.S. House bill on illegal immigration, he contacted city officials and suggested that in response they drape the city's large American flag from the building.
"I thought it would be an opportunity to educate the students and make them mindful that the (American) flag represents their opportunity to assemble and protest," Kelley said. "I thought it would be an excellent opportunity to educate the students, since they were not in school learning." After he was rebuffed, Kelley forwarded e-mail exchanges between him and city staffers to the media. According to the messages, staff saw complicated logistics to the idea. They also worried the move would be taken as political and could possibly agitate protesters. On Friday at 2:22 p.m., Lori Sassoon, assistant city manager wrote, "Hi Chas - regarding your request, the consensus was that it would likely be viewed as a political statement, which might cause demonstrators to respond further."

Nineteen minutes later, Kelley wrote back..."Just a thought, when has a display for our flag been a political statement? Seems that others are free to express what they want." Sassoon responded at 2:47 p.m., "Sorry for the delay, Chas. It's been quite a week! Fred, Jim, and I agreed that it might cause an issue." Sassoon was referring to City Manager Fred Wilson and Jim Sharer, city director of facilities.
The San Bernardino City Council should vote to authorize the huge flag be put on permanent display, at least until the federal immigration reform bill is signed into law. Anyone who has a problem with a large American flag on display at their local city hall is obviously living in the wrong country.
If you live in a "Blue" city, such as Seattle, San Francisco, or Portland - or even a suburb near a "Blue" city - take a look around. Is there a U.S. flag of any size flying outside your city hall, county building, school district headquarters, and main public library?
TECHNORATI TAGS: SAN BERNARDINO, CALIFORNIA, CITY HALL, IMMIGRATION, STUDENT PROTESTS, AMERICAN FLAG>
Posted by Matt Rosenberg at 11:12 AM | Comments (0)
April 02, 2006
Rosenblog Opinion Review, Vol. 19
Adrian Walker, Boston Globe: "Backside Of Free Speech." (What the "New Ms. Booty" contest says about our times).
San Francisco Chronicle, editorial: "Intolerant City." (Christian youth get bitch-slapped in SF).
Jonathan Morganstein and Eric Vickland, Boston Globe: "Strategies For A Global Counterinsurgency." (Namely: "targeted military force, intelligence, law enforcement, information operations, and civil affairs.")
John Hughes, Christian Science Monitor: "With Patience, The U.S. Can Help Democracy Take Root In Iraq."
Dave Kopel, Rocky Mountain News: "So Much Left Out Of Saddam Stories."
Amir Taheri, Opinion Journal: "The Last Helicopter - Mideast Dictators Try To 'Wait Bush Out.' They May be Miscalculating."
The Right Brothers, via YouTube: "Bush Was Right." (An op-ed set to rock music. Hat tip: Rosenblog reader Gary B.).
Boston Globe, editorial: "Arab League Futility." (For their own good, Arab states must help clamp down on the jihadists moving in and out of Iraq).
Christian Science Monitor, editorial: "Blocking Illegal Migrants - And Rhetoric."
Chris Coursey, Santa Rosa Press-Democrat: "Coursey On Immigration." (Reform legislation should make the right to work dependent on compliance with immigration law. Social Security cards should be issued for ID of migrants following a legal path toward citizenship. No card, no work).
Joe Hicks, Los Angeles Times: "Civil Rights? How About Lawlessness? The Protestors Seem Intent On Ending Border Restraints, Not Improving Immigrants' Lives."
Ted Van Dyk, Seattle Post-Intelligencer: "Studies Refocus Attention On Black Men."
San Diego Union-Tribune, editorial: "Good Riddance - Now That Reiner is Gone, Let's Fix 'First 5.'" (A taxpayer-funded childhood development agency until recently headed by Rob Reiner has egregiously misued funds. Given Gov. Schwarzenegger's failure to appoint a trustworthy successor, the legislature should place "First 5" under supervision of the state health department).
King County Journal, editorial: "'Jobs Bank' Sends G.M. Further Into The Tank." (Paying workers not to work exemplifies the breakdown at General Motors).
Bill Virgin, Seattle Post-Intelligencer: "City Plan On Cars Could be A Boon for Suburbia." (On the economic costs of institutionalized hostility to the automobile).
TECHNORATI TAGS: OPINION, EDITORIAL, OP-ED, COMMENTARY>
Posted by Matt Rosenberg at 06:34 PM | Comments (0)
April 01, 2006
Buddhist Heroin Dealer Blues
A Buddhist-Taoist-Confucian vegetarian and convicted heroin dealer is suing Alberta's provincial government, claiming that mistreatment in prison - including lack of vegetarian diet - has cost him hair, sex drive, and some vision. I think his vision began to blur somewhat before he was caught, however.
"...the plaintiff will require future psychological and medical treatment," says a statement of claim filed by (Nicholas) Chan.....Chan, who practises a combination of Buddhism, Chinese Taoism and Confucianism, "was required by his faith to practise a vegetarian diet," the claim says....Last year Chan attempted to have his conviction stayed on similar grounds. Justice Peter McIntyre upheld the conviction, but ruled that Chan's right to religious freedom was violated by his treatment.
Mmmmmm hmmmmm. Yes. Well.
I'd like to say there's no chance the government will be ordered to improve the prisoner's sex life. But I can't.
TECHNORATI TAGS: ALBERTA, VEGETARIAN, PRISONER, ABUSE, NICHOLAS CHAN, HEROIN DEALER, BUDDHIST, CONFUCIAN, TAOIST>
Posted by Matt Rosenberg at 09:49 PM | Comments (0)