March 30, 2006
Feral Pig Kill On Santa Cruz Island Upheld
A U.S. District judge ruled against an attempt by animal rights activists to halt the killing of feral pigs on Santa Cruz Island, one of the Channel Islands off the southern California coast.
The National Park Service and the Nature Conservancy, which jointly own the island 18 miles off the Ventura County coast, said the pigs damaged archeological sites and threatened nine native plant species and, indirectly, the Santa Cruz Island fox. The fox, about the size of a house cat, has been the prey of golden eagles, which officials said came to the island about 15 years ago to feed on the nonnative pigs......More than 4,800 feral pigs have been killed, and an estimated 85% of the island has been cleared, said Yvonne Menard, a park service spokeswoman. The remaining pigs are expected to be eliminated by year's end.

Richard M. Feldman, a Santa Barbara County businessman pursuing the lawsuit, said he would appeal the decision. "This was totally expected — we knew the judge had no empathy for the pigs and was totally in line with the government," he said. "I'm like a bulldog on this thing. We're not going to let it go." Feldman is joined in his suit by Robert Puddicombe, founder of the Channel Islands Animal Protection Assn., as well as In Defense of Animals.
My empathy for feral pigs, also known as wild boars, is scant. There are a variety of reasons feral pigs are not the top of anyone's agenda, except that of a very few. More in this article from The Telegraph (U.K.).
Along with the spread of the tusked pigs come increasing fears for the safety of humans, livestock and crops, as well as the threat of an urban invasion. In Germany, where the boars are vigorously hunted, there are up to 7,000 living in the centre of Berlin. Apart from carrying swine fever, foot and mouth and bovine TB, the animals eat crops, cause traffic accidents and may, if cornered or feeling threatened, attack humans.
Sarah Bell of Anderson, Texas is no feral hog fan herself. She writes in the Navasota (Texas) Examiner she can't believe the state ag department is going to spend $400,000 to study what to do about 'em, considering they're cast-off on back roads by breeders, then wreak havoc on fields and farm equipment. First-hand, she's gathered and tried to report the license plate numbers of Grimes County pig dumpers, but the sheriff's office hasn't helped, Bell writes.
In Wisconsin, state officials are going so far as to advise hunters on just the right way to shoot feral pigs dead. To control feral pig population growth, England is lifting a ban on their hunting.
Eating wild boar is not advised. Yet some folks just can't resist, and may pay dearly as a result.
TECHNORATI TAGS: FERAL PIGS, ERADICATION, HUNTING, SANTA CRUZ ISLAND, CHANNEL ISLANDS NATIONAL PARK, LAWSUIT, NATIONAL PARK SERVICE, NATURE CONSERVANCY, WILD BOARS>
Posted by Matt Rosenberg at 02:14 PM | Comments (0)
Liberal Compassion Disorder In Northeast Portland
Northeast Portland is no walk in the park; it's the closest thing to a war zone in the City of Roses, in fact. Bicyclists and joggers are randomly attacked, thieves break into homes and cars, drug dealers ply their wares openly, and gunfire is common. Sometimes, bullets even go whizzing by mom, dad and baby while they're out for a walk. But, The Oregonian today quotes one shooting victim who narrowly escaped death, as asserting that guns and society are to blame for young men shooting stray bullets.
Julie L. Davis is a 38-year-old schoolteacher who was walking in her Northeast Portland neighborhood with her husband and 15-month-old child, when a gun and society nearly killed her. She suffered wounds to her arm, and was briefly hospitalized after being nicked by a flying bullet.
Police booked an 18-year-old man into jail Tuesday in connection with the shooting. Kevin Clifford Ford had been among a group of young men arguing when he allegedly fired several shots from a 9 mm pistol, police said. When Davis heard what happened, she said she felt angry and vindictive. "They could have killed me or my husband or baby," she said. Her feelings changed to grief when she saw Ford's mug shot in the newspaper Wednesday. "He looks so young and scared out of his mind," she said. "He could easily have been a face sitting in my classroom." She blamed the shooting on a society that has sanctioned the ownership of too many guns and allowed poverty to fester. "It's far more tragic for those kids than it is for me," she said. "I wasn't expecting a bullet. But they live their lives expecting bullets."
Here's what's tragic: guilty white liberals making excuses for young thugs shooting stray bullets on the street. Of course, you don't have to be white to blame guns for the shootings of innocents, as we learned again recently in Chicago. Ford has been charged by Portland police with attempted murder, second-degree assault, and unlawful use of a firearm. No charges were filed against society.
In February, Jason Maxfield of Northeast Portland was bike riding with his wife. They found themselves amidst a group of 30 to 40 youths. The story was widely covered, including on Northwest Cable News. According to Maxfield's account, published in an Oregonian op-ed, some of the youths charged at him, knocked him from his bike, punched and kicked him; and his wife was hit and threatened with a gun. Police happened by, and the couple escaped serious injury. Maxfield wrote:
Obviously, the teenagers who assaulted my wife and me were responsible for their actions and ought to be punished for their crimes. But law enforcement can only be part of the solution....My wife and I were assaulted in front of several houses, but nobody seemed to notice. Perhaps they were afraid to get involved. If someone had noticed the rowdy teenagers and called the police a few minutes earlier, my wife and I would have been fine. Fifteen minutes of police work could have prevented the hours of investigation that surely are now keeping officers off the streets.
Good point, as far as it goes. Shall we talk about ingrained "stop snitchin'" values in high-crime areas though, Jason? Who is responsible, in the end, for instilling the community values of which you speak? Society, or the parents?
Maxfield continues.
....we must also ask the deeper questions about why these kids are disconnected from our community. We must address the social inequalities across our city. The economic renaissance across Northeast and North Portland is lifting some people up, while their neighbors are left behind or forced to move.....If we remain optimistic and committed to community responsibility and social justice, Portland can remain a shining example of a "city that works."
Social inequalities are inevitable. Different investments - meaning different choices made by individuals - yield different returns.
Urban liberals are bedeviled by this. Such as Northeast Portland school parent and writer Whitney Otto, who in this Oregonian op-ed, says she keeps her kids in a crumbling public school system because:
..I think this idea of your child's education being taken care of ignores the larger picture -- all those kids who won't get a Good Education....I...worry about the fate of public school students when caring, involved parents, like some of my friends, pull out. Public school is more than a system; it's a reflection of society's ideals...It's hard to teach the way other people live without contact with those other people. I'm not saying that's the purpose of public school, but often it's a byproduct.
It never dawned on me that teaching the way other students live really ought to be a primary concern in K-12 education; mastery of core academic subjects is what matters. True, one's sense of personal virtue may grow by having one's child schooled with - as Otto notes - "five categories of students immune to explulsion." But the great equalizer is not exposure to special needs students or people with different-colored skin. It is reading, writing, arithmetic, science, and arts. It only takes a village to raise a child if the family has fallen down on the job.
TECHNORATI TAGS: PORTLAND, OREGON, NORTHEAST PORTLAND, CRIME, PUBLIC SCHOOLS, PARENTING, LIBERAL DEMENTIA>
Posted by Matt Rosenberg at 11:20 AM | Comments (5)
March 29, 2006
Matt's Best Blog Posts - First Quarter, 2006
Here's a round-up of some of my best blog posts in the first quarter of 2006. Most are from Rosenblog, but a few from one of the group political blogs to which I contribute, Sound Politics.
"Legal Rights Selectively Applied In China."
"Olesker Saga No Cause For Celebration."
"Microsoft Censors Chinese Blog."
"The Pastoral Side of Jimbo Traficant"
"Goose Poop Solution Elusive."
"Careful With That Soul Shake, White Boy."
"The Upside Of Global Warming."
"Another Lefty Hatchet Job From Hollywood."
"Combat Chic - The Fashionable Response to Terrorism."
"The Fevered Mind Of Jason Pancoast, 'Affluent Beggar.'"
"Muslim Censoriousness And Seperatism In The Internet Age."
"Dellums' Agenda for Oakland Is Musty And Misplaced."
"Al Gore's Cable Channel, "Current TV," Going Under?"
"Reparations Conferences And Black Ski Trips At UC Berkeley."
"Impulse To Censorship Reveals Islamist, Socialist Fears."
"The More 'Blink' Decision-Making, The Better."
"Muslim Girl Hoopsters Want Kuffar Dads Banned From Stands."
"Ed Rendell: Democratic Champion Of Vote Fraud."
"The Last Days Of Teeth Grillz."
"Criminal Intent And Nipple Twisting."
"From Manure, Fuel For The Future."
"Taxpayers Shouldn't Foot Bill For Hispanic Assimiilation."
"Federal Public Debt As A Percentage Of GDP: Not So Bleak Now, But..."
"The Cost Of Absent Fathers To Young Black Men."
"It's Hard Out Here For The Pimped."
"Abortion Leaves 'Alfie' Wracked."
"Kidnapped 'Peacemakers' Rescued By Imperialist Warmongers."
"Luddite Plumbers Unions Versus Flushless Urinals."
TECHNORATI TAGS: MATT ROSENBERG, BLOG, BLOGGING, ROSENBLOG, SOUND POLITICS>
Posted by Matt Rosenberg at 03:46 PM | Comments (2)
March 28, 2006
Sexual Harrassment, Illinois Democrat Style
I'm just trying to imagine the national press and blogosphere treatment this story would be getting if the perp were a Republican. Backdrop: In the Illinois state legislature, as in other such bodies, it's customary to razz rookies when they introduce their first bill. Fair enough. But here's how Democratic State Sen. Rickey Hendon welcomed a new female legislator, State Sen. Cheryl Axley, a Republican lawyer who's a member of the U.S. Supreme Court bar, when she introduced a bill pertaining to township roads. According to The Chicago Tribune, Hendon asked if she was "a true blonde;" if she would "mind going down a township road with me later on tonight;" and whether she came up with the idea for the legislation herself or while "out on a date."
Axley played it off classily, but a colleague was less sanguine.
This is the very kind of thing we try to teach our daughters not to put up with," said Sen. Christine Radogno (R-Lemont), a candidate for state treasurer. "We had several young people visiting because it's spring break. ... Even though it was said in jest, I don't know that they understood that. I thought it was a horrible example."
Hendon, a former Chicago alderman, has sponsored state legislation against baggy pants, and to limit police security cameras on Chicago streets.
For his remarks to Axley, I hereby bestow upon Hendon the first annual Carole Migden award for bringing dishonor to a state legislative body.
TECHNORATI TAGS: RICKY HENDON, SEXUAL HARRASSMENT, CHICAGO, DEMOCRATS, CHERYL AXLEY>
Posted by Matt Rosenberg at 10:59 AM | Comments (2)
March 27, 2006
Luddite Plumbers Unions Versus Flushless Urinals
The gospel of water and energy conservation gets quite tiresome at times, most particularly because there is so much more than conservation necessary to secure an adequate future supply of each. (I've written a white paper for a think tank on securing future water supply for the Seattle region - link to the paper at this blog post). In the name of good intentions, some dumb stuff makes it into the market. Like low-flush toilets for the home. A total bust where solids, and toilet paper are involved, in my experience.
But no-flush men's urinals are catching on, all over, and I can see why.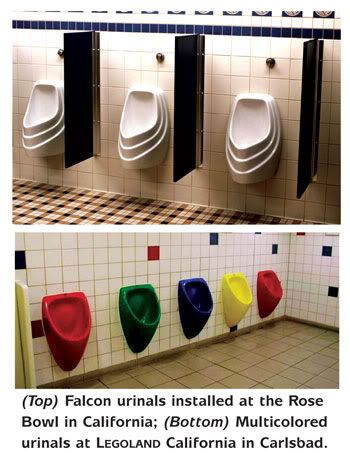 One manufacturer is L.A.-based Falcon Waterfree Technologies, which has installed them in 22 countries at locations including London's Heathrow Airport, UNC Chapel Hill, the Rose Bowl, and on Japanese bullet trains.
This trade magazine profile of the company says flushless men's urinals result in less bacteria, maintenance and vandalism.
A cartridge with a biodegradeable sealant controls odor and catches sediments, letting urine pass down the drain without the added impetus of flushed water. The water savings are substantial, as a typical men's urinal uses 1.6 gallons per flush.
In some instances, featherbedding plumbers unions are fighting installation of flushless urinals, believing the devices are a threat to their continued employment because they require less labor to install and maintain.
In Philadelphia, the Inquirer reports that plumbers union Local 690 has so far cowed city officials into blocking plans for flushless urinals in the new, 58-story Comcast Tower.
Edward Keenan, the head of Local 690, which represents plumbers in Philadelphia and its suburbs, did not return phone calls for this story. But those involved in the urinal debate say the plumbers object to the waterless devices because they require less labor to install than the traditional kind. The city's building code has no provision for waterless urinals, an innovation that has come into use in the last five years. And because the plumbers are so opposed to the technology, Philadelphia officials are reluctant to introduce its use in the city.

"We're still looking into this. I want to make sure they're safe," said Robert D. Solvibile Sr., who runs Philadelphia's Department of Licenses and Inspections, the agency that enforces the city's building code. "We're afraid that if they're not properly maintained, dangerous gases could come into the room and harm people."

"Dangerous?" laughed Douglas Durst, the developer of the Bank of America Tower (in NYC), when told of Solvibile's concerns. "We've had them in our offices for four years. If they're dangerous, we haven't noticed."...the state government is a fervent convert to the waterless bowls. The city's reluctance to approve the technology "really flies in the face of what we're preaching," complained Harry Rummel, a real estate manager for Pennsylvania's Department of Environmental Protection. He has approved the urinals in nearly a dozen state buildings, including the agency's new Norristown offices. "You're not putting plumbers out of work," Rummel insisted. "The urinals still need a drain. You're just using less water. It's a no-brainer."
A West Coast plumbers union is also making a stink over no-flush men's urinals. Fifty were installed at the San Diego Zoo, and the San Diego County Water Authority is promoting more. But when the authority considered pushing for a change in the state plumbing code to officially bless flushless urinals, Plumbers and Pipefitters Local 230 fought back with lawyers and publicists, according to this NPR report. The union claims dangerous sewer gases could escape when the filters are changed, and bacteria could proliferate without flushing. But water aids growth of bacteria, and no specific cases of dangerous mishaps are cited by the union, either in the NPR article or on their atrociously designed 1993-style Web site, which proudly boasts it was built and is maintained by union labor.
Chicago City Hall is testing out four new flushless men's urinals; the plumbers union is wishfully predicting possible failure, but DeMare's Guyz wannem, so da local's beef ain't too strong. There are also 22 no-flush urinals in more than a dozen Oregon state parks.
T.G. Smith of The Morris (IL) Daily Herald, believes flushless urinals are "the next greatest invention in the history of mankind." Next greatest to what, he doesn't say. But you get the drift.
What about better water-saving toilets for the home, and for women's rooms? Here's what you need to know: "dual-flush toilets" - more water for solids, less for liquids.
TECHNORATI TAGS: NO-FLUSH TOILETS, FLUSHLESS TOILETS, PLUMBERS UNIONS, PHILADELPHIA, SAN DIEGO, CHICAGO, DUAL-FLUSH TOILETS>
Posted by Matt Rosenberg at 05:27 PM | Comments (3)
U.S. Supreme Court Upholds Censorship Of Florida Lawyer Ads
I'm disappointed in my statist Supremes. Reuters reports that today the U.S. Supreme Court upheld without comment a Florida Supreme Court ruling barring two Fort Lauderdale ambulance chasers (er, personal injury attorneys) from advertising themselves as pit bulls. A TV ad showed a spike-collared pit bull with their firm's logo, and displayed the telephone number 1-800-PIT-BULL.
The Florida high court must have felt the connection was demeaning to pit bulls (LOL). Actually:
The Florida Supreme Court ruled last year that the advertisements "demean all lawyers and thereby harm both the legal profession and the public's trust and confidence in our system of justice." It said the appropriate sanctions for attorneys John Robert Pape and Marc Andrew Chandler were public reprimands and required attendance at an advertising workshop.
A court-ordered advertising workshop? Grounds for reversal right there, I'd say.
They appealed to the Supreme Court. Rodney Smolla, the University of Richmond law school dean, acknowledged in the appeal that "a conflict over whether a lawyer may use the image of a pit bull to advertise might at first seem trifling." But the law professor, an expert on the First Amendment, told the justices that the state's ban on such advertising involved substantial constitutional, free-speech issues. "It may well be that many American lawyers, including members of the court, would not choose to present themselves to consumers by conjuring an association with pit bulls," Smolla wrote. "But under our First Amendment principles," he added, "we assign the management of good taste to the forces of the marketplace, not the forces of government."
I'll say. Besides, don't the judges understand? Pit-bull lawyers aren't inherently malevolent. There are good pit bull lawyers and bad pit bull lawyers. It all depends on their breeding, training and environment.
But the slippery slope argument of the Florida Bar apparently had staying power.
"If the Bar allows lawyers to use pit bulls, what...next: sharks and alligators?" asked Barry Richard, the Tallahassee lawyer that represented the Bar.
I guess this means that attorneys can't bill themselves as rabid ferrets, either.
As for Pape and Chandler, their Web site shows a phone number of 1-800-748-2855. Which, if you want to pull out your Nokia for a hot minute, you'll see still spells..........
TECHNORATI TAGS: U.S. SUPREME COURT, LAWYER ADS, PIT BULLS, FLORIDA, JOHN ROBERT PAPE, MARC ANDREW CHANDLER, FIRST AMENDMENT>
Posted by Matt Rosenberg at 12:06 PM | Comments (0)
March 26, 2006
Rosenblog Opinion Review, Vol. 18
John Kass, Chicago Tribune: "Can We Please Handle The Real Threat?" (The menace that lurks on inner door handles of public restrooms).
Neil Henry, San Francisco Chronicle: "Was Bonds Targeted?" (Obviously, it was all about race).
Joy Jones, Washington Post: "Marriage Is For White People." (A lesson being learned by too many black kids).
Peter Salgo, New York Times: "The Doctor Will See You For Exactly Seven Minutes." (Doctors as serial dehumanizers).
Brian Dickerson, Detroit Free Press: "What Michigan Needs Now Is A Buy-in Offer." (Wanted: Rust Belt Renaissance).
Mike Rosen, Rocky Mountain News: "Free Parents To Choose." (Teacher's diatribe highlights need for charters, vouchers).
Ken Rodriguez, San Antonio News - "Kinky's Platform: Ideas And Answers As Meaty As Cotton Candy" (Tastes great, unfulfilling).
Los Angeles Times, editorial: "Sex and Safety." (Gay bathhouses must clean up their act - is it even possible?).
David Reinhard, The Oregonian: "The Censure Resolution." (Make my day).
Anita Allen, Philadelphia Inquirer: "Body Ethics, Body Aesthetics." (Arty corpses pose questions).
Daphne Branham, Vancouver Sun: "Games Lust Grows Into 'Megaprojectiitis.'" (The skating rink from Hell).
Giles Slade, Los Angeles Times: "E-waste Is E-vil." (The toxic price of discarded gadgets).
Los Angeles Times, editorial: "The Riots Of Spring." (France).
San Diego Union Tribune, editorial: "Put Wedges Away: GOP - Dems, Too - Must Tackle Entitlements." (Federal spending reforms).
Roger Chesley, Virginian-Pilot: "Suspect Claims Of Racial Bias Should be Arrested.." (High failure rates for blacks on a civil service test spur phony bias charges).
Michael Currie Schaffer, Philadelphia Inquirer - "A Blog's Life: Nasty, Brutish And Short." (A Philly poliblog brings out the worst in readers).
Karol Delmar, Santa Cruz Sentinel: "'S.C.' Should Not Stand For Stoner City." (Medical marijuana oversight).
Jay Ambrose, Albuquerque Tribune: "The Real Good Samaritans." (Rhetoric of illegals lobby off-base).
TECHNORATI TAGS: OP-ED, OPINION, COMMENTARY, EDITORIAL>
Posted by Matt Rosenberg at 10:20 AM | Comments (0)
March 24, 2006
Kidnapped "Peacemakers" Rescued By Imperialist Warmongers
You probably already know that one British, one American, and two Canadian peace activists - from Christian Peacemaker Teams, a Quaker-Mennonite outfit in Iraq to monitor U.S. treatment of war prisoners - were kidnapped in November by a group believed to be either a criminal gang or tied to anti-U.S. "insurgents." You may also know the American's dead body turned up earlier this month. Yesterday, the other three peace activists, snatched away by the very sort of Iraqi thugs who helped Saddam "disappear" somewhere between 300,000 and 1 million Iraqis, were rescued. The rescuers of the peace activists were British, American and Canadian soldiers. Most were already in Iraq to help pro-liberty Iraqis secure their new government and a new constitution over the opposition of ex-Saddamites and freelance jihadists.
The whole thing is obviously a come-uppance for the "peace activists" rescued by imperialist warmongers. And so we get one of those priceless quotes which affirms the exact opposite of what is stated.
In Amman, Jordan, where he is currently based, Justin Alexander, a British member of Christian Peacemaker Teams who has worked extensively in Iraq, told The Chronicle, "Any argument that this justifies the presence of foreign troops in Iraq must be refuted strongly. The reason they were in danger in the first place is because of the military occupation."
No, the reason they were in danger is because they were rank amateurs on a feel-good mission gone bad. And they should have known better. "Christian Peacemaker Teams." What hubris in calling themselves, Western pacifists cluelessly seeking self-affirmation, "peacemakers." As if.
Kidnappings by insurgents and criminal gangs have plagued Iraq since the U.S.-led invasion three years ago to topple Saddam Hussein. At least 425 foreigners, including at least 40 U.S. citizens, have been taken hostage, and seven are still being held, including Jill Carroll, an American freelance writer for the Christian Science Monitor, who was abducted Jan. 7.
The kidnappings are like playing the "Hitler" card in public debate. It's what you do when you realize your side cannot prevail on its merits. Much in the same way Saddam could never have stayed in power without employing force, coercion and bribery. Whether or not to bend to intimidation now is a defining question.
TECHNORATI TAGS: IRAQ, KIDNAPPINGS, KIDNAP VICTIMS, RESCUE, CHRISTIAN PEACEMAKER TEAMS, SWORDS OF RIGHTEOUSNESS BRIGADE, JACK STRAW, RICK LYNCH, STEHPEN HARPER>
Posted by Matt Rosenberg at 10:59 AM | Comments (0)
The Seattle Passive-Aggressive Tango
The following is a true story, and happens to people not infrequently in Seattle. How you handle the challenge helps determine whether you have truly assimilated to Seattle, or not.
So I've dropped the kids off at school and landed back at Rosenblog World HQ, when it hits me: I didn't drop the Netflix DVD in the mailbox. Can't put THAT off. I head back out, through the neighborhood, past the usual innumerable, unmarked four-way intersections. Yes, in Seattle, non-arterial intersections have no stop signs. The Seattle Post-Intelligencer reports there is no standing city rule about who goes first in such situations, but that state law provides the driver on the right has precedence. Since most drivers are unaware of this and can't page through their dashboard copy of the Revised Code of Washington in time - it's basically first come, first served.
But what happens when two cars bear down on a Seattle neighborhoood interection at the same time? Why, you get the Seattle passive-aggressive tango, that's what. Some might call it a Mexican Standoff, but I don't know if the P.C. Police allow that term any more. The basic idea is to slam your brakes and then stubbornly sit until the other guy goes. The point being that as a true Seattle-ite, YOU'RE not in a hurry, but the OTHER guy, most likely some over-caffeinated refugee from Southern California, obviously IS. You'll just calmly wait because frankly, you're really quite a bit more considerate than he.
Well, today I thought, for just a hot minute there, that I had met my match. The other guy wouldn't budge. Twenty seconds, thirty seconds, he's staying put. I ask myself, what kind of obstinate dork is this? He gestures for me to go. That did it. I put on the emergency brake, look at my watch, and jam in a cassette, which in a nice twist of fate, is all cued up to one of my favorite rock tunes, Fleetwood Mac's "Tell Me All The Things You Do," from their classic 1970 album "Kiln House." (This was when the group had begun the journey from hardcore 60s blues band into blues-rock-pop, but with some bite, as opposed to their later, more insipid and popular stuff).
Because I figure I've got some serious time to pass, I'm sitting there bopping my head to the surgically precise twin guitars of Danny Kirwan and Jeremy Spencer - and just beginning what promises to be an instructive reverie about the great Peter Green's long strange trip away from the orginal Fleetwood Mac, into a mental institution and finally back into music. My wife, bless her, isn't in the car, and there's no traffic behind me because I'm on a quiet residential street, so I can really get away with this. Just when I'm getting all settled in for a real wait-out duel, the guy chickens out, and drives on.
"Poseur, amateur," I gleefully bellow (windows closed, not moving my lips a lot).
No one is more considerate than me, dammit!
Even if I was the one on the right.
TECHNORATI TAGS: SEATTLE, ASSIMILATION, PASSIVE AGGRESSIVE, RIGHT OF WAY, UNMARKED INTERSECTIONS, FLEETWOOD MAC, KILN HOUSE, PETER GREEN, DANNY KIRWAN, JEREMY SPENCER>
Posted by Matt Rosenberg at 09:58 AM | Comments (8)
March 22, 2006
Vancouver To Weigh Buying Wine For Drunks
Vancouver, B.C. is already known for its controversial "harm reduction" approach to heroin addiction. The city provides a small slice of its growing heroin addict population with one "safe injection site" in which to shoot up, away from dirty back alleys, vermin-infested abandoned buildings, and such. The city also dispenses government-issued, pharma-grade smack for qualifying hard-core heroin addicts. In a daring feat of social engineering, the city was also planning a development in the scummy Downtown Eastside to house yuppies and addicts together.
Although Vancouver has a vibrant private sector and reams of enterprising entrepreneurs, the imperatives of growing the government require fearsome meddling in matters best left to free markets, charities and foundations, individuals and families. I suppose this is what you must expect in the largest city of a province where: a former escort is hired as a welfare case worker, and then defrauds taxpayers; and a provincial appeals court upholds a wiggy arbitrator's ruling that a mining company cannot fire an employee found to have regularly reported to work in an open pit mine ripped on B.C. Bud.
But hold onto your puck, the fun's not over quite yet. Now comes a report that city drug policy coordinator Donald MacPherson would like to see Vancouver taxpayers fund the regular provision of red wine for street alcoholics, a group thought to now be too often imbibing unhealthy alcohol-bearing substitutes. Apparently, the lush hostel in Toronto, where drinks are on the house every hour, is a smashing success.
"It's stabilizing the drug use," drug policy coordinator Donald MacPherson said. The benefits of the program would be a reduction in emergency room attendance and less contact with police. But he adds, "How big the need is in Vancouver still needs to be determined." Anne Livingstone of the Vancouver Area Network of Drug Users says an alcohol-replacement program is logical. "It brings dignity to people who aren't going to stop drinking," Livingstone said. The program would be similar, in theory, to heroin-assisted treatment programs, such as the controversial NAOMI heroin program that's now taking place on a small scale in Vancouver. MacPherson also says that program should be expanded.
In an all-day City Services and Budgets Committee meeting tomorrow (agenda here) Vancouver City Council members will review a report from MacPherson's department, which argues in favor of government-supplied vin ordinaire for alcoholics who somehow manage to blow their spare change not on the cheap malt liquor or fortified wine they could easily afford, but, supposedly, on icky stuff such as Lysol or cooking wine instead. There is apparently a crucial role for city government to play in helping winos get their hands on the right stuff. The report states (p. 10):
Alcohol replacement: Research conducted in Ottawa focusing on substituting extremely harmful substances such as shaving lotion, Lysol and highly salted cooking wines used by long term and entrenched alcohol users with ordinary red wine has shown significant positive results in reducing harm and improving the health status of homeless individuals who are heavy consumers of non-beverage alcohol and inexpensive and highly potent alcohol products. Results of the Ottawa research showed significant reductions in attendance at emergency rooms among participants and a significant drop in the number of police contacts....Strategies to provide substances such as amphetamines and alcohol to heavy users have the goal of reducing harm, stabilizing individuals, improving health status and decreasing contact with the police and the criminal justice system.
These strategies also enable and prolong addiction, but, oh, never mind that part. If Vancouver's council, and its new, seemingly more sane mayor Sam Sullivan grant the wine-for-drunks spending request, I suggest they limit it to imported three-buck Chuck, unless there's an equally thrifty B.C. red available. Even so, approval will beg the question of what other addictions Vancouver city government will choose to fund in the name of harm reduction.
Wouldn't healthier food for Vancouver's morbidly obese be next on the list? Certainly the social costs of obesity are right up there with drug and alcohol addiction. I can see it now: government-funded "Safe Snacking Centres" all over Vancouver. Additive-free desserts; prime grilled meats prepared with savory, reduced-salt flavorings; satisfying fresh fruit smoothies in place of Hawaiian Punch and soda pop.
Take it a step further. In the name of harm reduction, why should not the City of Vancouver fight the spread of HIV/AIDS - which occurs in part through anonymous and unprotected gay sex in public spaces and bathhouses - by opening city-sponsored "Safe Gay Sex" hostels? I'm willing to bet some creative city bureaucrat is in Vancouver is already secretly drafting a related proposal. You may think I'm kidding. But in Vancouver, almost anything is possible - especially where city government is involved.
TECHNORATI TAGS: VANCOUVER, WINE FOR DRUNKS, HARM REDUCTION, HEROIN, OBESITY, HIV/AIDS, TRADER JOE'S, THREE BUCK CHUCK, SAFE SEX, CONDOMS>
Posted by Matt Rosenberg at 05:33 PM | Comments (1)
Statist Confiscation Of Property Rights Eyed On Saltspring Island
For a lot of folks, staying in Bed and Breakfast inns is a non-starter, even if you don't have children. I'll never forget the Hood River, Oregon B&B at which my wife and I had the misfortune of spending a night. The high footboard on the cute bed prevented me from stretching out, meaning little sleep. Then, to top things off, the shared bathroom was promptly occupied in the morning for 45 minutes by a guy who made a flabbergasting series of sounds - sounds I really, really, really didn't want to hear - while preventing me from showering and making it to breakfast on time. Add to that the too-cute-by-a-factor-of-eight ambience in most B&Bs, and the forced conviviality with total strangers at breakfast, and well, count me out, Buckaroo.
With a family, motel rooms are also a losing proposition: no room to stretch out, and you're forced to eat out all the time, adding cost and aggravation, as any parent with young kids in a restaurant knows. Unless you're a timber heir or Microsoft millionaire, most resorts are too pricey; those that aren't are of dodgy quality.
I'll never forget staying a "family resort"/four-person suite with a kitchen, near the beach in Parksville, Vancouver Island. Unfortunately, it was during herring roe season. If you've never been privvy to the aura of herring roe au naturel, well, an overused pit toilet is a rose garden in comparison. The proprietors hadn't said anything about the industrial strength fish-stink wafting all about. In addition, I wasn't too pleased to find cigarette butts outside our front door; plus a bare window inside with disabled curtain rod lying on the floor. And that hotel in Campbell River, B.C. up north a ways on Vancouver Island? Let's just put it this way: I guess I should have known that our neighbors would be a hearty bunch of salmon fishermen who, in order to prepare for a 5 a.m. departure the next morning, stayed up partying loudly until 4 a.m.
Such experiences tend to underscore the appeal of the erstwhile vacation rental, a nice enough home, quite possibly in a pretty setting, where your family can stay without dipping into the college tuition fund.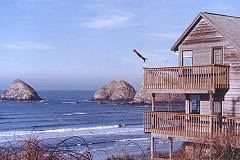 Some of our best Northwest and West Coast escapes have included homes rented in the off-season, such as Chesterman House, on the beach in the Vancouver Island town of Tofino; on Orcas and Lopez in Washington's San Juan Islands; on Marrowstone Island in Puget Sound; in Oceanside, Oregon (left); and in the "Mendonoma" region oceanfront burg of Gualala, CA.
Our family has enjoyed several great trips to British Columbia's Gulf Islands, nestled in between the western B.C. mainland and the long expanse of Vancouver Island. Visiting the Gulf Islands, we've stayed in vacation rentals, both on Gabriola Island and Hornby Island. I wrote this travel feature for the Seattle Times, based on that Hornby trip (free reg. req.).
So, considering the importance of the vacation home rental option to Northwest vacationers and to local economies serving toursts, I was fairly flabbergasted to read in today's Vancouver Sun that Saltspring Island, a popular spot in B.C.'s Gulf Islands, is going to ban them. Even worse, local officials seem poised to swallow heinous claims from B&B owners and hotel operators that continuing to allow vacation rentals comprises unfair competition.
Saltspring Island's local government is cracking down on property owners who rent their summer homes and cottages to vacationers, after complaints from commercial hotel and bed-and-breakfast operators that they are facing unfair competition. Wayne Quinn, Islands Trust director of local planning, said Tuesday that renting out a home that is zoned residential is not permitted under the island's zoning bylaw. Such activity is only allowed on properties zoned commercial, he said....Gabriola Island takes the middle position and is working on allowing rentals, provided the homeowner takes out a temporary use permit that could cost $800. Saltspring has decided against that route. "The currently elected trust committee has determined it's not something they want to allow," said Quinn who has been asked by the committee to enforce the ban. He said he's not sure how many illegal holiday homes were being operated on Saltspring but expects it might be a couple of hundred.

He said the unofficial tourist income received by some home-owners helps see them through the year.
"On the mainland, people usually have one job but on the islands some people would say that it [renting out their home] was vital to their being able to live here," said Quinn....he wouldn't be surprised if the issue ends up with the bylaw being challenged in court, he said.

Meanwhile, Elly Hallam, who runs a holiday rental business on Gabriola, warns that any crackdown on holiday home rentals will seriously impact the islands' economies. "Tourism will be reduced and the fragile economies of these islands will be shattered," Hallam said...."These are the people who buy the paintings and sculptures from artists and who spend money in the farmer's market -- it's not the locals who do that," she said. "I find it ironic that they are trying to reduce tourism at a time when the Liberal government is pushing tourism for the 2010 Olympics," said Hallam.
The middle course likely to be steered by Gabriola Island (Malaspina Galleries sandstone formations, above) seems fair enough - require a temporary use permit and related fee. This would allow for some licensing conditions, and clear promulgation of capacity limits. Although the rentals are admittedly in residential areas, the turnover and traffic volume are minimal, especially compared to a hotel, motel or resort. The guests at vacation rentals in the San Juan and Gulf Islands are not exactly the Daytona Beach spring break crowd. With the exception of occasional besotted fishing and hunting enthusiasts, we're a quiet, family-oriented, outdoorsy bunch. A wild night for us might involve some local seafood prepared on site, a good bottle of wine from The Okanagan, and a DVD.
If Saltspring Island persists in effectively banning vacation rentals of homes, the local economy will take a big hit as lucrative tourist visits decline. The island trust committee should ensure property owners do not suffer unreasonable restrictions on their right to earn income from their properties. And the committee should not be in the business of protectionist intervention to stifle economic competition within the local tourist lodging industry. People need choices, and as is perfectly clear to all, B&Bs, hotels and motels simply do not meet the needs of many travellers. In the meantime, good luck to Saltspring on nipping its methamphetamine problem in the bud. Certainly, that poses a greater potential threat to quality of life than vacation rentals which bring income and tax revenue aplenty from visitors.
TECHNORATI TAGS: SALTSPRING ISLAND, VACATION RENTAL BAN, GULF ISLANDS, BRITISH COLUMBIA, VANCOUVER ISLAND, TOFINO, SAN JUAN ISLANDS, WASHINGTON, OREGON, CALIFORNIA, BED AND BREAKFAST, MOTELS, HOTELS>
Posted by Matt Rosenberg at 11:44 AM | Comments (1)
March 21, 2006
Abortion Leaves "Alfie" Wracked
I watched the classic Michael Caine flick "Alfie" last night with my wife, both of us for the first time, and we were blown away. The issue of abortion was front and center - but not in a way one would expect - certainly not in a film released in 1966, right at the cusp of the sexual revolution.
Arguably, the film is not so much purely anti-abortion, as against what Caine here terms "back street abortions," and he's certainly got a legitimate point, as many familiar with pre-early 70s abortions will understand. Still, how much morally neater is a modern, vacuum-tubed procedure performed in a clinic? Perhaps this question is "Alfie's" ultimate legacy, as his character's torment strongly suggests.
The film starts out as a seemingly innocent portrayal of Swinging London.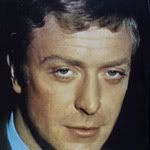 Caine is the archetypal Cockney-inflected ladies man; lovin' em and leavin 'em in rapid succession, and even offering hard-to-stomach ornithological aisdes about "it,' namely the various species of "birds" from whom he has learned to extract pleasure while zealously eschewing commitment.
But things change when one of his rotating harem, a seemingly plain girl whom - in one of his many direct-to-camera asides - he has already told viewers is a fallback-only date, becomes pregant with his child. He urges she abort the child, but she does not, and revealingly, he ends quite enamored of his smart, winning blond son. But yet Alfie won't commit, and runs out in the end, to be supplanted by a humdrum rival suitor who's been long waiting in the wings. Later, he sees the mother of his child in a church with her husband at the christening of their newly born daughter, the successor lovingly frolicking outdoors with Alfie's son, as his own. Caine's Alfie is crushed, but of course - it was all his choice.
Caine's Lothario soldiers on, and in a sanitorium for treatment of a lung ailment meets the plain wife of a drudge-y roommate, and mother of several of the man's children. Upon Alfie's release he seduces her at the first opportunity, and she too becomes pregnant. The subsequent scene in Alfie's modest London flat, involving the guilt-wracked woman and an abortionist, is the film's shocking climax. After compelling the woman to state that she has carefully considered alternatives, and that current law makes any abortion after one month a crime, the doctor nonetheless allows himself to be persuaded to provide service. He induces the abortion, but purposefully leaves before it occurs.
Alfie leaves too, and later returns to find the deed done, and the baby's premature corpse in a sideroom. The woman tells him not to look, but he can't help himself. He bemoans its perfectly develped form and his responsibilty for this "murder," as he terms it. This clearly seems not a quibble with the venue for the abortion, nor with existing law, but with the decision itself.
1966, mind you. Pretty heavy.
Still playing about, Alfie gets his final come-uppance when he barges in on an older lover of his, played by Shelley Winters, and finds her with a rock musician boy-toy.
In the end, Alfie finally begins to understand that it's not all about him; that permanent relationships are paramount; that you have to give at least as much as you take, and that abortion has a real human cost. All in all, quite a dose of moral values, for the time.
Abortion was a prominent dramatic theme before and after Alfie.
I understand there was an ultimately trifling 2004 re-make of Alfie, starring Jude Law. Remakes are inevitable these days, as the film industry seems to be running on empty.
As I've made clear here before, I am pro-choice but not pro-abortion. Though I certainly support parental notification laws and believe abortion is a momentous decision fraught with pain, and arguably, tragedy, I also believe that in the end, it is none of government's business to tell a grown woman what to do with her body, and arch-conservatives pushing for the blanket outlawing of abortion in the U.S. do so at great risk to the Republican Party's future viability.
That said, abortion is a choice to be avoided if at all possible, and there are many ways to do so. Additionally, "pro-choice" puppets such as NARAL, Planned Parenthood and millions of programmed, morally-relativistic "progressives" are all far too dismissive of the great human costs of abortion, a cost that is dramatically illustrated in "Alfie."
Alfie's message is already carved in stone: life, family, and commitment, above all.
TECHNORATI TAGS: ALFIE, JUDE LAW, MICHAEL CAINE, ABORTION, FILMS, PRO-CHOICE, PRO-LIFE>
Posted by Matt Rosenberg at 10:26 PM | Comments (1)
The Kinky Chronicles, Vol. 3
I've blogged previously about singer-novelist Kinky Friedman's independent candidacy for Governor of Texas (here and here). Of course his chances are slim, but he sure puts the fun back in politics. Here are a few choice nuggets from an article just posted by the Fort Worth Star-Telegram, about Kinky's University of Texas at Arlington appearance today.
"My goal is to get the politicians out of politics," he said. "I have no experience whatsoever. None. I have a lot of human experience." Students in attendance cheered and said they liked his off-beat message. "He's the only candidate for prayer in schools and gay marriage. I think that was pretty ground breaking," Cody McCafferty, 21, a junior.

Friedman pledged to do away with state testing of school children and put more power in the hands of teachers. He said people of many vocations should be brought into the schools to show students different career options they have and inspire them to pursue their dreams.

He said gambling should be legalized so property taxes could be cut and the Lone Star State could make money off its namesake poker game, Texas Hold 'em. Friedman also said he would shun lobbyists and only appoint competent people.
Although I agree with neither stand, that's a brilliant juxtaposition - being for both prayer in schools and gay marriage. Is he really a hard-core libertarian? But ixnay on 86ing state academic testing, Kinkster. There's this little thing called the No Child Left Behind Act, and see, ah, your state is sorta obligated to take the temperature, in a sorta standardized quanitifiable way, see, at its public schools.
Yet such flubs underscore that Kinky's not packaged to within an inch of his life, like most candidates. He's got that populist thing down pat, because for the most part, it's not an act. Kinky first gained notoriety in the early 70s with songs such as, "They Ain't Makin' Jews Like Jesus Any More," and "Asshole From El Paso." He subsequently went on to write what are considered to be some pretty decent whodunits. Now that he's running for Governor, shouldn't he be releasing some downloadable new tunes?
TECHNORATI TAGS: KINKY FRIEDMAN, TEXAS, GOVERNOR, UNIVERSITY OF TEXAS, ARLINGTON, GAY MARRIAGE, STANDARDIZED TESTING, SCHOOL PRAYER, TEXAS HOLD 'EM>
Posted by Matt Rosenberg at 12:59 PM | Comments (0)
It's Hard Out Here For The Pimped.......
The awarding of a best-soundtrack Oscar to the hip-hop group Three 6 Mafia for their tune "It's Hard Out Here For A Pimp" - in the pimp saga titled "Hustle And Flow" - is fraught with great risk: the honor dispensed means that song title will enter the modern lexicon as a sort of colonialist tool of subjugation, writes Washington Post essayist Philip Kennicott. He pictures fuddy-duddy white aunts trying out the line, "It's Hard Out Here For A Pimp," at the dinner table, appropriating transgressive lingo yet blithely ghetto-izing grievances of the oppressed.
It's hard out here for a pimp, appropriated into white culture, becomes a way both to borrow the outsider's inherently cool status, while completely denying that any complaint from that place has value.
Brilliant, Philip: you've managed to conjure up a sort of "when did you stop beating your wife" test for anyone who dares to draw the line at sympathy for pimps, terrorists, cop-killers - or, like, whatever, dude. Judgmentalism; it's such a downer, Phil. More tax dollars, and hate speech protection for pimps, please. Why not Free Mumia into the bargain?
WaPo columnist Courtland Milloy has a different take on the pimping of The Oscars.
The recent conviction of Jaron R. Brice for pimping could have been accompanied by the Oscar-winning song, "It's Hard Out Here for a Pimp." Except that only the most depraved audience would have sung along. Brice, 27, of Northeast Washington recruited girls as young as 14 with promises of friendship, family and security....Brice...groomed the girls into a "stable of sisters" and sent them off to have sex for cash with men in alleys, cheap motels and the back seats of cars. Every dollar went to Brice. Some of that also occurs in the movie "Hustle and Flow." But this latest black pimp tale has been artificially sweetened for crossover appeal. With the song as an accomplice, the audience gets tricked -- or pimped, if you will -- into feeling his pain.

Of course, songs and stories about black pimps are nothing new. But never before has the degradation of black women at the hands of stereotypically thuggish black men been so deeply engrained in popular culture. Through internationally marketed music videos, especially, African Americans have emerged as the only people on Earth who immortalize their mothers and sisters in the worst derogatory ways.

Brice now faces decades in prison after his conviction for sex trafficking of a minor, transporting prostitutes across state lines, pandering and child sexual abuse. Hard being a pimp. But what about the girls whose physical and emotional abuse condemns them to a life of bondage on the streets? "So many of them are lost souls," Lillian M. Overton, commander of the D.C. police youth division, told me. "They can only take so much abuse before they give up. It's like a form of suicide, because, for all intents and purposes, they are dead inside....They leave home, but often after they've already been discarded," Overton said. "Some don't even have missing-person reports on them because nobody cares." This is nothing to be celebrated in song.
Palm Beach Post columnist Stebbins Jefferson thinks the supposedly ironic point of the film is all too real to begin with, and made more so by the awarding of a soundtrack Oscar.
Watching the song being performed live on the stage of the Kodak Theater, I cringed as female dancers dressed as whores and males as pimps strutted about in a scene intended to show street hustling as a fun career option....The film Hustle & Flow (subtitled Everybody gotta have a dream) tells the story of a pimp who aspires to improve his lot by producing a top-of-the-charts rap recording. Playing the main character in this black (pun intended) comedy is super-talented actor Terrence Howard (who was also nominated for Best Actor). So powerful is his performance as DJay, a street-hustling, drug-dealing pimp, that one begins to root for his success. By drawing upon his life experiences in the mean streets of Memphis, he composes a catchy musical tribute about the occupational hazards of using women to make money for his rent and a Cadillac.

Boasting about the varied colors of his merchandise, he bemoans the tribulations of having to cope with the envy of "Niggaz" who hate him because he has three "hos on a tray." That, my friends, is what the Academy of Motion Picture Arts and Sciences honored Sunday night. The sinister irony of that fiasco is that when I saw Hustle, I came away fearing some might take the satire as a literal statement rather than an ironic comment on our whole society. How too often we are willing to do anything to make money and gain celebrity. How when mired in hopelessness, we tend to suck others in with us. And how all of us are complicit in these crimes because we create celebrities, and some elevate them and seek to emulate whatever they choose to do. The academy's choice for best original song proves that pimping comes in many forms.
How ironic is this? Time Magazine reports a number of feature films and documentaries about pimps and whores are being used as instructional films for girls and young women recruited into whoredom.
TECHNORATI TAGS: HUSTLE AND FLOW, THREE MAFIA 6, IT'S HARD OUT HERE FOR A PIMP, OSCAR, PHILIP KENNICOTT, COURTLAND MILLOY, STEBBINS JEFFERSON>
Posted by Matt Rosenberg at 11:40 AM | Comments (0)
March 20, 2006
The Cost Of Absent Fathers To Young Black Men
Here's a test for all you white folks. Have you ever passed a young black father with his kid(s) and given him a respectful smile and nod? I sure have, and I'll be damned if someone wants to tell me that's racist. Not too subconsciously, I think I want to affirm my support for their apparent choice of engagement in their childrens' lives versus the other path chosen by so many of their cohort.
We all have a stake in black fatherhood. Taxpayers would spend a lot less on prisons and social programs if about 70 percent of black children weren't born out of wedlock.
Now, baby-as-lifestyle-accessory urban elites like to imagine fathers are merely an option, but of course, not so - not remotely. Several researchers at top Ivy League universities have issued recent studies about the problems of young black men in the U.S., and their work gets front page treatment in the New York Times this morning.
Focusing more closely than ever on the life patterns of young black men, the new studies, by experts at Columbia, Princeton, Harvard and other institutions, show that the huge pool of poorly educated black men are becoming ever more disconnected from the mainstream society, and to a far greater degree than comparable white or Hispanic men. Especially in the country's inner cities, the studies show, finishing high school is the exception, legal work is scarcer than ever and prison is almost routine, with incarceration rates climbing for blacks even as urban crime rates have declined.
Despite the obligatory tips of the hat to "racism" and bias, the Times piece today doesn't skitter around the primary responsibility of families, and fathers, to raise young black men right.
Joseph T. Jones, director of the (Fathers, Families and Workforce Development Center in Baltimore), puts the breakdown of families at the core. "Many of these men grew up fatherless, and they never had good role models," said Mr. Jones, who overcame addiction and prison time. "No one around them knows how to navigate the mainstream society."

All the negative trends are associated with poor schooling, studies have shown, and progress has been slight in recent years. Federal data tend to understate dropout rates among the poor, in part because imprisoned youths are not counted.

...(one group of researchers cite) two factors that have curbed black employment in particular. First, the high rate of incarceration and attendant flood of former offenders into neighborhoods have become major impediments. Men with criminal records tend to be shunned by employers, and young blacks with clean records suffer by association, studies have found.

...The second special factor is related to an otherwise successful policy: the stricter enforcement of child support. Improved collection of money from absent fathers has been a pillar of welfare overhaul. But the system can leave young men feeling overwhelmed with debt and deter them from seeking legal work, since a large share of any earnings could be seized.
Of course the child support payments would not be an issue if the "players" would get and stay married to the mother of their first children - but the lure of serial paternity and "freedom" is often too great. If there is one place in the United States where the patholgies of young black men abandoned by their fathers is most excruciatingly evident, it might just be North Richmond, California. Here's the latest, from today's San Francisco Chronicle. At the same time, a glimmer of hope in San Francisco: minority students who are force-fed mutliculturalism at Mission High School in San Francisco have started The Dante Club. They've been reading "Inferno."
(Teacher and club organizer Callen Taylor) said they've especially seized on the idea of fate, which plays prominently in Dante's work. "They like that idea -- is it fate or do we have control in our life?" Taylor said. "For kids in poverty, it seems like a lot of their life is up to someone else." The students now largely seem to feel in control of their fate and said they're all headed for college. Among them are an aspiring architect, poet, soccer player, doctor, music teacher, muralist -- and even an FBI agent. Several of them said Dante has changed their lives in another way. Now, they think twice before committing one of the seven deadly sins outlined in his work. "It makes me think," said Wilson Jimenez, 18. "I think, 'If do this, what circle of hell will I go to?' Now I'm very careful in my decisions. I do believe in hell because I'm Catholic."
The decline of unskilled jobs, one other factor cited in today's NYT story as contributing to the challenges facing young black men, means students and parents must focus on preparation for skilled, specialized work. And that starts with mastery of core academic subjects. Obviously, a strong sense of self-determination and morality don't hurt either. (Cue the parents - plural).
TECHNORATI TAGS: BLACK MEN, ABSENT FATHERS, DISPROPORTIONALITY, CRIME, EDUCATION, INCOME, EMPLOYMENT, NORTH RICHMOND, CALIFORNIA, SAN FRANCISCO, MISSION HIGH SCHOOL, DANTE CLUB, GLOBAL ECONOMY>
Posted by Matt Rosenberg at 10:12 AM | Comments (0)
Nagin Re-affirms Commission's Warning On New Orleans Rebuilds
I have some friends in Northern California who several years back fortunately declined to buy a house on the San Andreas fault line. That they were even considering it was quite alarming to me. Which is another way of saying you'd better choose your home carefully, and that includes the location. Many years back, lower-income black residents of New Orleans were able to buy cheap homes on low-lying land in the Ninth Ward, a section of the city laid to waste last summer after Hurrican Katrina and widespread floods. New Orleans Mayor Ray Nagin, now that he's had a few months to live down his infamous comments about the rebuilt city needing to be more "chocolate," is dishing out some reality to Ninth Ward residents. The final version of a mayoral commission report issued in January will be presented to the public tonight, and it will include a warning to residents against rebuilding in the Ninth Ward, and other low-lying neighborhoods. Insurance companies will be issuing such high premiums for properties in the hard-hit neighborhoods that any rebuilt homes aren't likely to be sellable by the current owners, anytime down the line. Rebuilding grants may not apply in these areas, either. More in this morning's New Orleans Times-Picayune (quick, free three-step reg. req.).
The final report from his Bring New Orleans Back Commission offers some weighty caveats for homeowners thinking about resettling in some of the hardest-hit areas, in particular the Lower 9th Ward and a pair of low-lying sections of eastern New Orleans. In those so-called "delayed recovery areas," Nagin said, his administration will continue issuing building permits to all comers. But City Hall's pledge of cooperation comes with a strongly worded warning to people to rebuild there at their own risk, at least for the time being.

...the report emphasizes the likelihood that properties in devastated parts of the city may not be eligible for federal grants that will be disbursed by the state and that homeowners could face sharp increases in insurance premiums down the road. That may sharply degrade the market value of the houses, making them hard if not impossible to sell later. Also, Nagin said, he wants homeowners in areas that struggle to repopulate to understand that the cash-strapped city may not be able to provide even the limited level of municipal services -- from police patrols to a functioning sewer system to weekly garbage collection -- it now offers in thriving neighborhoods.

...Many residents have reacted violently to the idea, some viewing it as a back-door way of keeping certain people, chiefly the poor, out of the city....State and city leaders are counting on $10.4 billion from the Community Development Block Grant program to pay for rebuilding, rehabilitating and buying out tens of thousands of flood-ravaged homes. Beyond that, Nagin said, his plan seeks another $2 billion to $2.5 billion for infrastructure needs, including a light rail system and expansion of streetcar lines. That request is about half of what the Bring New Orleans Back Commission originally sought.
The federal grants to buy out badly damaged properties are appropriate. There would doubtless be concerns among the owners about what constitutes fair market value, but the basic idea at least gives them a chance to recoup some of their investment; even two-thirds or half of the prior assessment is a lot better than what these flooded New Orleans homes could fetch on the free market right now or even later, rebuilt. In addition to buy-outs, some other ruined homes may qualify for grants to be rebuilt at higher heights. Post-Katrina, elevation is more clearly appreciated as a crucial factor.
If a storm matching Katrina's force hits the region anytime soon, Nagin said, he fears that levees will be overtopped again, bringing floodwaters to the 9th Ward below the Industrial Canal and to parts of eastern New Orleans....soon-to-be-released advisory flood plain maps from the Federal Emergency Management Agency....used to calculate required home elevations as well as flood insurance rates, likely will have a defining effect on homeowners' decisions. If the new maps require homes to be built much higher in certain areas, for instance, the cost to residents could be prohibitive, discouraging resettlement.

Equally important, Nagin said, are the guidelines for awarding federal grants to help homeowners rebuild or elevate their houses. The guidelines are being prepared by the Louisiana Recovery Authority, the state agency that will distribute the federal money. While the state plan could well result in thousands of New Orleans homes being raised to safer heights, questions linger about what will happen to the tens of thousands of homes that may wind up ineligible for elevation grants. Many of the city's hardest-hit neighborhoods are filled with slab-on-grade homes built below base flood elevation that are unlikely to qualify.
Lower ground, higher ground. Class. Income. Race?
Even some commission members said they deplored the discussion of a reduced footprint. In fact, community activist Barbara Major, whom Nagin named co-chairwoman of the commission, said her fellow commissioners and their hired planners were well-intentioned but failed to grasp the economic implications of their recommendations for lower income African-American families. "They had great ideas about land use, but I don't think they had any understanding of the historical significance of the 9th Ward," Major said, referring to largely African-American areas including Gentilly and eastern New Orleans. "Black people only moved there because all the good high ground had been taken."
New Orleans need not stand as a symbol that blacks can only inhabit lower ground. For that is no longer true, as we all know. We all do know that, right?
TECHNORATI TAGS: NEW ORELANS, HURRICANE KATRINA, LOW-LYING NEIGHBORHOODS, NINTH WARD, REBUILDING HOMES, BRING BACK NEW ORELANS COMMISSION>
Posted by Matt Rosenberg at 08:37 AM | Comments (0)
March 18, 2006
"I Came Here Legally, Why Can't Others?"
A recent letter to the editor in the Huntington Beach (CA) Independent, from reader Jose Mendez of Huntington Beach will not win any awards from victimologists aiding and abetting "undocumented" immigrants, nor from Republican business interests who support extortion of cheap labor from illegal workers, wary of "La Migra."
Mendez writes:
...I am a native of Mexico. Forty years ago we moved here. My family all came here for the reason many do -- to build a better life, and we did. But, we did it within the laws. Yes, we first all learned to speak the English language before we came across the border, and we taught our kids that same thing. I feel anyone coming from a foreign country, if it be Japan/Brazil, anywhere, they should have the respect to talk the language of that country.

So as for us, we got green cards to start working, and from there, it took many years, but we did all the country asked of us, and I feel we did just what this fine country wanted and needs the people coming into this country to do.

...we need to remember the meaning of the word "illegal." For these people to be able to come here without doing the right thing, is "illegal," and every effort should be taken to see that this stops. I pay taxes as do all good Americans, and I am a Mexican/American, but I don't like seeing my tax money going to all the free healthcare, and schooling. There are so many cutbacks in these areas, and I feel it's because of "illegal" persons coming here, and using this kind of handouts without the government doing anything about it is wrong!

The city of Huntington Beach needs to take the illegal immigration problem seriously. Just as if a person steals from a store, or someone's home, the police take care of that because it is illegal, so we should start enforcing the country's immigration laws.
Related Rosenblog posts:
"See No Illegals, Arrest No Illegals."
"Open Borders And Hispanic Gangs."
"Illegal Immigrants Love That Southern Border; Terrorists Too?"
"Dick Morris: Bush Must Act On Illegal Immigration."
"Secure The Border And Send Illegals Home."
"Philly Illegals Lukewarm To Work Stoppage."
"Taxpayers Shouldn't Foot Bill For Hispanic Assimilation."
TECHNORATI TAGS: MEXICO, UNITED STATES, ILLEGAL IMMIGRATION, HUNTINGTON BEACH, CALIFORNIA, JOSE MENDEZ>
Posted by Matt Rosenberg at 05:57 PM | Comments (0)
Rosenblog's Chicago Restaurant Guide, Vol. 2
I returned home to Seattle a few days ago after spending a week in Chicago visiting family and friends, and it's good to be back. Twelve years after my wife and I moved here, no regrets, not even about the flaming Left local and state politics. It's a target-rich environment, and we're incorrigibly city people with huge Nature habit, what can I say? But some time away does lend perspective. Walking home yesterday in Seattle from the grocery store, down the very street on which I live, a guy came out of a house wearing a cordless headset phone, a down jacket, hiking boots, and....a kilt. He was smoking a cigarette and, moments later, jokily dissing his dog for not producing a large enough stool. You see a lot of guys in kilts in Seattle, but not in Chicago. Men walking around in public wearing skirts would get beat up in Chicago (unless they were on ultra-gay North Halsted); and it wouldn't even be called a hate crime. I can see the Chicago police sergeant taking the report: "Whaddaya expect, walkin' aroun' like 'dat? Sheesh."
Seattle (population 572,000 or so) also is home to about 100,000 motor vehicles still sporting Kerry-Edwards '04 bumper stickers. Didn't see one in Chicago, even though Kerry handily bested Bush in Illinois.
Finally, there's the biggest difference of all between Chicago and Seattle. No, I'm not going to talk about how government corruption is usually more genteel in Seattle, but all the more pernicious as a result. (Another time). I'm going to talk about restaurants. In Seattle, you could count the number of restaurants that have been around for ages, on, probably, two hands. In Chicago, they're everywhere. True, there are plenty of new "it" eateries in Chicago, and some that are just trying too hard (see below).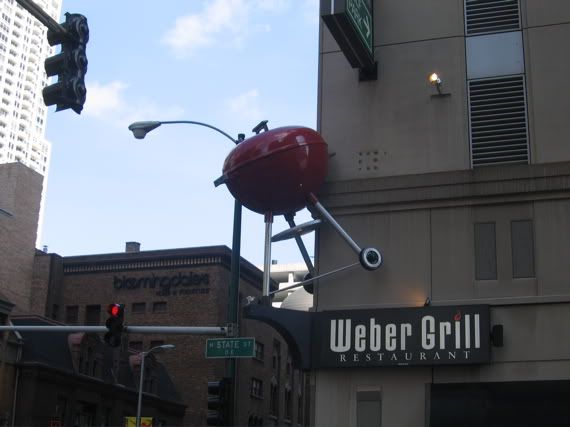 But there's a deep roster of neighborhood ethnic restaurants that endure. The variety is still striking, even as the city becomes more Hispanic every year.
Chicago has always been a place for great Mexican food, unlike the pallid gringo-fied stuff we get here in Seattle. If you come back after years away, hankering for, say, the Tacos Sabinas at El Nuevo Leon in the city's Pilsen neighborhood, well, you just head on over there. Same place it's been since 1962, same "neighborhood joint" atmo, same multi-hued crowds. The Tacos Sabinas are flour tortillas made in-house, filled with strips of grilled ribeye, grilled jalapenos, grilled onions, tomatoes, and topped with chihuahua cheese. Other menu highlights are the Tacquitos Daniel (mini-tacos filled with steamed beef, cilantro and onion); Quesadilla Raul (tortillas filled with melted chihuahua cheese, topped with red ancho chili sauce and grilled onions); tamales with shredded spicy pork meat inside; breaded pan-fried beef tongue (lengua); plus savory soups, stews, steak, chicken and fish dishes. Outside, 18th Street is a carnival of Mexican commerce, including bakeries, groceries and much more. There's free parking in a restaurant lot on Laflin Ave., just a short block east of the restaurant, and a few steps south of 18th St. And, please, don't mind that huge overhead police security camera high above on a lightpole, down Laflin a stone's throw from 18th St., at 18th Place. (Picture below - that's the wide-angle, bulb shaped lens on the very bottom of the box).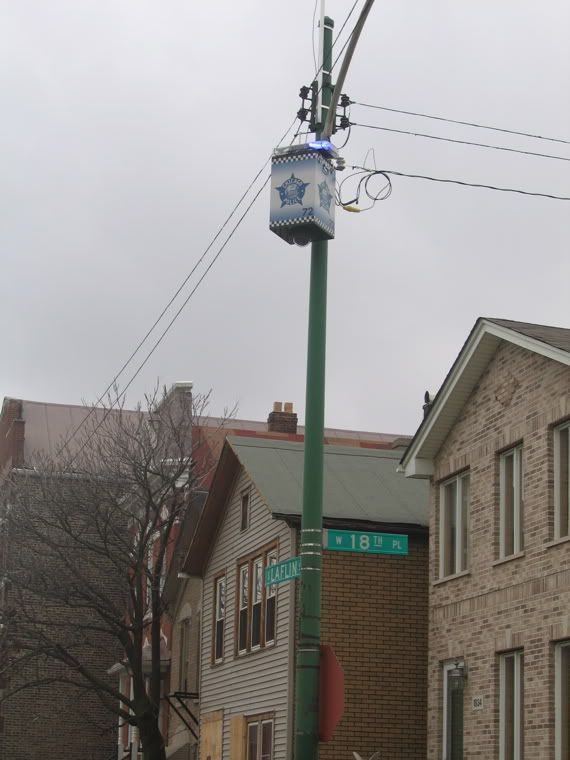 I'm told crime on the street has dropped markedly as a result. Chicago's Democratic mayor Richard M. Daley is really big on these public spy eyes, to surveil both common criminals and potential terrorists.
I enjoyed a great lunch at another iconic Chicago restaurant called Gene and Georgetti, which opened 41 years ago. This is where you go to dine among Chicago ward heelers and fancy-suited bagmen. You get a steak, maybe the chicken picatta instead, the awesome cottage fries, and the "garbage salad," a huge pile of chopped iceberg and romaine festooned with a whole antipasti tray worth of julienned goodies, dressed and already tossed for you in a light vinaigrette. Order a half-size garbage salad if you're dining solo, or the whole thing for two or more. Wood-panelled walls, all-business white-apron clad waiters distinctly lacking in body piercings, good crusty bread, and downstairs, just a touch of cigarette smoke wafting over from the bar. My kind of place.
Here's a shot of my delicious chicken picatta at Gene and Georgetti.
A relative newcomer, at just 29 years in the same spot, is The Mirabel Restaurant on West Addison, where I had a tasty lunch just before hopping the nearby commuter train to O'Hare on my way out of town.
If you're ever at a Cubs game in Wrigely Field, just drive straight out west on Addison after the game, or take the bus to The Mirabel, for the greatest Weiner Schnitzel known to man. The dinner version will set you back $22. It's about the size of Madagascar, pounded thin, breaded and cooked to a crisp deep golden hue. Achingly tender on the inside, with home-made spaetzle and on the side, a little pitcher of scrumptious brown gravy imbued with just a touch of tomato flavoring. Plenty of other German entrees, expertly rendered, and lots of German beers. Boozy locals fill the bar.
Last for now, but not least, was The Gaylord, the first Indian restaurant in Chicago, still operating where it opened in 1972.
I had a superb meal there with my parents.
Tandoori grilled boneless chicken pieces and lamb sausages, a vegetable biryani, raita (yogurt salad with mint and cucumber), bindi masala (spiced okra), sag paneer (a creamed spinach with Indian cheese cubes), and a special nan (the pita-like fresh made Indian bread) stuffed with mustard greens.
There were some (Louis Farrakhan) Nation of Islam gals in their white habits at the next table enjoying a tasty meal free of the devil-meat, pork.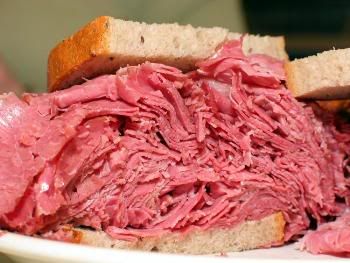 The first of several regrets: not enough time to get to Mr. Beef on Orleans.
That's home to the nation's greatest Italian beef sandwich. But what you really want is the combo: a long Italian bread roll sliced open, with a nubby, fennel-spiked italian sausage tucked deep inside, and layers of the thin, shaved Italian beef plonked atop, along with jus and sweet and hot peppers.
Definitely not a first-date experience, but then again, probably a good test of how far an opposite-sex relationship has progressed.
Small wonder Jay Leno's been going to Mr. Beef for 20 years. He knows a killer sandwich when he wraps that anvil jaw around one.
I'm also still dreaming of the ultra-fresh tacos at The Mexican Inn at 95th and Ewing; where I used to go a way on back in the 1970s with my high school buddies. Yep, it's still there, in that odd, triangular building.
Finally, I'm really jonesing for Manny's on Jefferson, which opened right after World War Two ended. This is the place for a corned beef sandwich, latkes, chicken matzoh-ball soup - oy, don't get me started.
I ask: could you resist a corned beef sandwich like the one above?
Related Rosenblog post: "Chicago, Chicago."
TECHNORATI TAGS: SEATTLE, KILTS, JOHN KERRY, RESTAURANTS, CHICAGO RESTAURANT GUIDE, EL NUEVO LEON, PILSEN, GENE AND GEORGETTI, MIRABEL, GAYLORD, WEBER GRILL, MR. BEEF, MEXICAN INN, MANNY'S, CHICAGO POLICE, SURVEILLANCE CAMERAS>
Posted by Matt Rosenberg at 11:39 AM | Comments (1)
March 16, 2006
"V For Vendetta," Or "V For Vile"?
In case you're anxiously awaiting release of the upcoming film "The Tripper," about a mad Reaganaut out to cleanse society of hippies, here's something fresh to tide you over until then. There's a new flick from Warner Brothers debuting in theaters tomorrow called "V for Vendetta," and starring Natalie Portman, among others. It's based on a 1989 novel about the perceived horrors of living in England during the era of conservative Prime Minister Margaret Thatcher. The film is set in the future and alludes to a "former United States" emasculated by the consequences of our current engagement in Iraq. The primary setting is an England characterized by fascist rule and persecution of minorities. The hero is a masked terrorist enamored of blowing up large buildings to fight evil. So the reviews - and there are many - necessarily include some political analysis. Now, you may think that political analysis from film critics - such as it is - is better off ignored. I beg to differ.
Movie critic William Arnold of the Seattle Post-Intelligencer finds the tacit endorsement of al-Qaeda rather stimulating.
There's also a perverse fun -- and suspense -- in never being quite sure just how far down the road this movie is going to travel in sanctioning terrorism and making us pull for an al-Qaida-like renegade who wants to destroy an edifice that is one of Western civilization's most beloved symbols. As it turns out, the movie goes pretty darn far down this road. And while this will strike some people as, at best, irresponsible, and, at worst, treasonous, it struck me as a subtle, cheeky way to make us look at just how seductive the psychology of terrorism can be when you're sure you're in the right.
OK, Mr. Arnold, I'll bite. What the jihadists are convinced they're right about is that Western civilization is inherently debased and evil, and must be subjugated to Islamism and sharia. So, if indeed the psychology is seductive to enough such real-life terrorists, and aspiring terrorists, then we should re-double our efforts to defeat them. I'm sure you meant to spell that out a bit more clearly. Glad to help make your implicit conclusion a bit clearer, since you lacked either the alacrity or courage to do so.
Spelling things out a bit more clearly in his review is arts critic Michael Phillips of The Chicago Tribune.
Various film enthusiasts, particularly suckers for anything based on a graphic novel, are hot for this picture. They argue that the story line is pro-revolution rather than pro-terrorism, set in the near future, imagining England under the thumb of a regime than makes Mussolini look like Musso & Frank. Call me a neocon -- that'd be a first -- but this film is in fact about a glam-terrorist who believes in better government through the demolition of landmark buildings. It's only a movie. But would "V for Vendetta" stand a box office chance today if it were set in America, not England, and the U.S. Capitol were blowing up instead of Parliament? Unlikely. We all enjoyed seeing the White House get it in "Independence Day," but there's nothing political about space aliens.
Myself, I'd like to see a film loosely based on the lives of the subway bomber terrorists who killed scores of Londoners last July. Or a fictional take on the life of Theo van Gogh's killer.
TECHNORATI TAGS: V FOR VENDETTA, NATALIE PORTMAN, WARNER BORTHERS, TERRORISM, AL-QAEDA, LONDON, SUBWAY BOMBINGS, NETHERLANDS, THEO VAN GOGH, WILLIAM ARNOLD, SEATTLE POST-INTELLIGENCER, MICHAEL PHILLIPS, CHICAGO TRIBUNE, THE TRIPPER>
Posted by Matt Rosenberg at 05:04 PM | Comments (1)
Federal Public Debt As A Percentage of GDP: Not So Bleak Now, But....
Today's Christian Science Monitor has a good piece of explanatory journalism about the federal debt, titled, "Is Rising U.S. Public Debt Sustainable?"
The short answer seems to be, "rising public debt - no; the current public debt - "yes."
First of all, there are two categories of federal debt batched together, but it is the publicly-held debt that matters most. Moreover - and many of you doubtless know this already - that figure is best evaluated against the current gross domestic product, or "GDP" of the U.S. economy.
The current $8.3 trillion total debt tally includes two types of debt: the kind owed to the public (including foreign lenders), and the kind owed from some government entities to others....The public debt is what's most worrisome.

At $4.8 trillion, it is now a higher share of GDP than it was in 1980.

"The bigger our debt becomes, the bigger the 'risk premium' that foreigners are going to demand," in the form of higher interest rates, says Barry Eichengreen, an economist at the University of California, Berkeley.

But if the president and Congress show signs of fiscal responsibility, "then foreigners will be reassured and the day of reckoning recedes."
As a percentage of GDP, the current public debt of the U.S. goverment is rising, but it's been higher, as recently as the mid 90s. Here's a very handy chart (above), courtesy of the U.S. Office of Management and Budget, and the CSM. Please note that the chart's headline reference to $8.3 billion in debt requires some processing. As the article explains - and the chart actually shows - the publicly-held portion of the federal debt, figured into GDP, is what to really look at; and that portion of the U.S. federal debt is now $4.8 trillion, not $8.3 trillion.
So how bad is our debt now, really? Is Bush to blame? And what does the future hold?
Democrats are tarring Bush as the president who squandered the Clinton-era track record of fiscal responsibility. War, tax cuts, and a prescription-drug benefit for Medicare recipients have spurred a return of deficits under Bush. But some of the shifts, good and bad, relate to unforeseen events. Clinton benefited from a lower burden of defense spending, and from surging tax receipts during a record economic expansion. Bush has faced unforeseen costs of hurricanes and security.

As a share of GDP, today's total public debt and the annual deficits look somewhat high, but not outrageous to many economists. The European Union, for instance, expects member nations to hold deficits below 3 percent of GDP and debt below 60 percent of GDP. The US has reached the first target but not the second, using publicly held debt as the benchmark. (Ed. - the OMB/CSM chart, above, shows current U.S. government public debt is well below 40 percent of GDP on a percentage basis, which contradicts the last statement. Presumably, they meant that total debt was more than 60 percent of GDP). The bigger issue is how well America's fiscal health will hold up under the strain of costs associated with baby boomer retirements, which begin in just a few years....Within the range of possible budget paths forecast by the (Congressional Budget Office), one scenario shows interest spending on government debt remaining at today's level of about 2 percent of GDP through 2050. But under a "high spending, low revenue" scenario, interest would cost 21 percent of GDP by 2050.
The low end doesn't sound so bad; but of course the high end does, and Congress has shown little inclination to do more than fiddle at the margins of runaway spending. Realistically, Medicare, Medicaid and Social Security will cost more, not less, in years to come, as our population continues to age and the labor pool and birth rates continue to level off. Perhaps it is time for Congress to take a serious look at my federal deficit reduction plan. Here's Installment Two ("Rosenblog's Road Map To Reduced Federal Spending"); and Installment One ("A Flight Of Fantasy" - scroll down to second item).
TECHNORATI TAGS: FEDERAL DEBT, PUBLIC DEBT, GROSS DOMESTIC PRODUCT, GDP, SOCIAL SECURITY, MEDICARE, MEDICAID, TAX CUTS, IRAQ WAR, HURRICANE KATRINA, GEORGE W. BUSH, BILL CLINTON>
Posted by Matt Rosenberg at 11:06 AM | Comments (1)
March 15, 2006
Iguana Tax Approved For Island In Lee County, Florida
Real Solutions To Iguana Infestation Await, However
Well, they've gone and done it. The Lee County Board of Commissioners, in Fort Meyers, Florida, has voted to levy a special iguana tax on homeowners in and around the unincorporated town of Boca Grande, on Gasparilla Island, where some 10,000 iguanas are wreaking havoc as we speak.
The tax will raise a quite modest sum to help devise an iguana eradication plan, which will then require its own funding source. As it was an islander who years back supposedly discarded two pet iguanas outdoors there, leading to the current state of affairs, perhaps islanders should pay the actual iguana control costs as well, once a real plan is set. But would that be an example of "personal responsibility," or "blame the victim"? Is iguana control a core service of county government? In Florida, the answer may not necessarily be a resounding "no." Animal control is certainly one core mission of local government, and there are all kinds of creatures in Florida, as anyone who's read a Carl Hiaasen novel knows.
According to earlier estimates, it could cost between $50 and $100 per iguana to, ah, "cull" them, on Gasparilla. As regular Rosenblog readers may know, I've offered commissioners and island residents a breathtakingly visionary plan that seeks to utilize the inherent economic value of iguanas to help pay the cost of corralling, maintaining and harvesting the critters.
TECHNORATI TAGS: IGUANA TAX, GASPARILLA ISLAND, BOCA GRANDE, LEE COUNTY, FLORIDA>
Posted by Matt Rosenberg at 06:27 PM | Comments (2)
Blowback Mounts For Portland Mayor Tom Potter
It's one thing for a public official to endure criticism for taking a principled stand with which others disagree. Happens a lot. It's another thing to hang your police force out to dry in the name of racial pandering, and refuse to make amends. That's what Portland, Oregon Mayor Tom Potter is doing.
I recently criticized Potter for blithely seconding a Somali immigrant's claim that his record of repeated traffic stops by Portland police demonstrated racial profiling; Potter said the series of stops "smacked of racism." As I pointed out in this Rosenblog post, the actual article about the assertions of Kayse Jama, and Potter's supportive comnments taking Jama's side against police, showed that Jama had a history of being his own worst enemy.
Chuck Dodge of North Portland recently made the same point in The Oregonian (Portland's daily newspaper, where the afore-mentioned article was published). His letter is titled, "Case For Profiling Flimsy."
"Jama has been cited four times in six years," your article continued -- for operating an unregistered vehicle, driving without insurance, failing to carry proof of insurance and for equipment violations. Mayor Potter told Jama, " 'You're a good man, and you don't deserve that'." I'm confused. I consider myself a good man also, but if I were to drive an unregistered vehicle without legal lights and no proof of insurance, I'd expect to be cited and towed also. Furthermore, if I'd already been cited for such violations, I wouldn't continue to drive until I complied. Is this a case of racial profiling or a case of officers doing what they are hired to do?
This week, the head of the Portland police union, Robert J. King, had an op-ed published in The Oregonian, titled, "Mayor Potter Owes The Police An Apology." King states:
The man, a Somali immigrant who complained of racial profiling, was stopped four times over a span of five years. He was first cited and convicted for operating an unregistered vehicle in 2000. In 2002 he was involved in an automobile accident and was cited and convicted for driving without insurance. Three years later, in April 2005, he was again cited for driving without insurance and operating a vehicle without required lighting. Because this traffic stop occurred after dark, the officer involved could not have seen the race of the driver before the stop. After the car was towed for lack of insurance, a sergeant learned that there were groceries in the car at the tow lot. The sergeant drove to the lot, picked up the groceries and personally delivered them to the man's house. (Coincidentally, the officer and sergeant involved both teach the Perspectives in Profiling class for the Portland Police Bureau's in-service training.) This case was ultimately dismissed because the man brought proof of insurance to his court appearance....We only ask of the mayor what he asks of us -- that he be neutral, fair and objective in his evaluations of officer action. Unguarded statements undermine the positive contributions to this community made daily by Portland Police Bureau officers. Potter owes his officers an apology and an explanation of his comments.
Potter, remarkably, is a former Portland police chief himself. He has done his city's officers a great disservice, and should make amends, quickly. Police are integral to community viability, no less so in uber-liberal West Coast cities such as San Francisco, Portland and Seattle than elsewhere. On The Left Coast, the M.O. these days is that loudmouthed activists enamored of victimization and political correctness throw around indiscriminate charges of police bias because they know it's a great way to turn discussion away from the role of the individual, or family, in crime. They're not above grasping at straws, either. White liberals, including Portland Mayor Potter, then either cower in silent fear, or rush to pander to the race-baiters, not wanting their "progressive" bona fides undercut. Police, in turn, are then prone to reduce the number of times they stop and question suspects in minority neighborhoods; as they're wary of being falsely charged with racial bias for simply doing their jobs. This is one aspect of so-called "de-policing." Ironically, most people in the very communities from which such allegations arise, want a more - not less - active police presence.
Unfortunately, it says a lot about the sensibilities of Portland that the city's Mayor felt he could so easily make a baseless allegation of racism against his own police force.
TECHNORATI TAGS: PORTLAND, MAYOR, TOM POTTER, RACIAL PROFILING, TRAFFIC STOPS, KAYSE JAMA, ROBERT KING, PORTLAND POLICE ASSOCIATION, DE-POLICING>
Posted by Matt Rosenberg at 11:00 AM | Comments (0)
Turd On The Plaza, Exhibit #1 - Chicago
In his book on modern architecture entitled, "From Bauhaus To Our House," Tom Wolfe wrote about modern architectural foibles, and a certain type of public art, increasingly found outside newer office buildings in large U.S. cities. The latter he termed an archetype that is all too real: "Turd On The Plaza." Known to some as "plop art." Some such turds are more unsightly than others, but the primary impulse is to deposit something in a receptacle (a plaza) to fill a need (in this case, the uplifting of the desensitized masses and the "beautification" of public space). But with aesthetic standards in great decline - and deconstructionist values ascendant in the arts, humanities and social sciences - any old post-modernist hunk of stuff will do. In fact, to demonstrate the irrrelevance of the dead white males who developed and built upon classic sculpture, the turd on the plaza becomes a sort of modern-day political imperative.
My dear, crazy old hometown of Chicago, which I recently visited, has a great deal of wonderful architecture, and its share of turds on the plaza. You can see some of each in this picture I took, of the plaza at 401 N. Michigan Avenue, looking south, back across the Chicago River.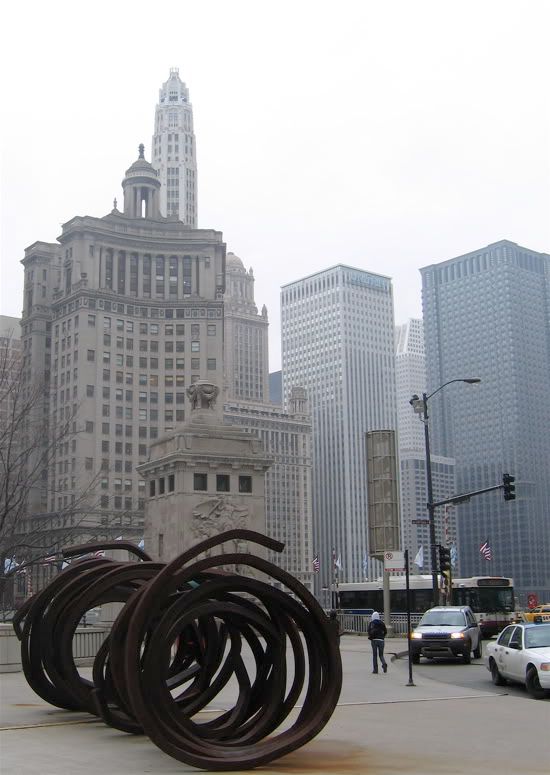 Looks like a big, rusted Slinky to me. My mom always said to keep my toys in the closet.
TECHNORATI TAGS: CHICAGO, ARCHITECTURE, PUBLIC ART, TOM WOLFE, TURD ON THE PLAZA>
Posted by Matt Rosenberg at 09:12 AM | Comments (0)
March 14, 2006
Guns Don't Kill People, Hoodlums Do
Chicago's Mayor, police, press, and many blacks who live on the city's South Side are calling for stricter state gun control laws after two children were killed by errant gunfire in seperate shootings - the latest apparently gang-related, and the first apparently stemming from a dispute between two men over a woman. Today's Chicago Sun-Times reports two men have been arrested in the latest killing, and the 19-year-old alleged shooter is believed to be a member of the Black P Stones gang, who was seeking retribution against two Gangster Disciples for a New Year's Day hit. The victim, 10-year-old Siretha White, was felled Saturday as bullets that were inaccurately shot from a white Cadillac at two men running up the outer steps of a multi-unit residential building flew through the window of her aunt's first-floor apartment, during the girl's surprise birthday party. Both incidents - the other involving the killing of 14-year-old Starkesia Reed on March 3 - occured in the city's Englewood neighborhood.
"Banning semi-automatic weapons" sounds good to some, but they'll always be available on the black market, as will modificiations to render certain legal firearms more deadly. In the end, gun control amounts to nibbling at the edges of ghetto gun violence, and the underlying dysfunctional culture. The root issue is the killers themselves, and their upbringing; these are young men parented so neglectfully that they choose the thug life, and settling their disputes with bullets. The last paragraphs of yesterday's Chicago Tribune article on White's killing Saturday mightily push the gun-control argument. There is lip service from police on gangbangers, but nothing about parents. That would be "judgemental," see.
After services Sunday at Liberty Temple Full Gospel Church, Starkesia's mother, Denise Reed, said Siretha's death is "another repeat of a thoughtless, senseless crime with a gun, and we're appalled. [Siretha] was a young child, an innocent bystander," she said. "Another family has to walk the path we walked a few hours ago." Later in the day, clergy, aldermen, residents and city police gathered in front of New Birth Church of God in Christ on West 69th Street for a prayer vigil that turned into a plea to legislators to get assault weapons off the streets. "We've asked Springfield to do something about guns on the street," said Ald. Latasha Thomas (17th). "We are losing our future because of this violence." Authorities said police had increased patrols in Englewood in the wake of the shooting. "We need to get these guns off the street," Police Supt. Philip Cline said. "The gangbangers need to realize that a child's life is not worth them having a hand in the drug trade."
But of course, they care little for the life of an innocent bystander, like the jealous lover man who allegedly killed Starkesia Reed earlier this month. The legislature can approve new restrictions on certain types of weapons, but guns will always be available, as well they should be, for sport AND especially self-defense. If we want to regulate anything more strictly, it ought to be - theoretically, at least - the right to become a parent. Chicago Tribune columnist Dawn Turner Trice, writing yesterday about the Englewood killings, also scapegoats guns and the evil National Rifle Association, but she momentarily bumps up against the truth:
It makes me angry that young thugs who deal drugs and gang-bang continue to undermine efforts to redevelop a community that has no main grocery store within a few miles and too many homes owned by absentee landlords and headed by women who are single parents.
Yes. Where are the fathers of these young men? And where have they been? There is a saying in places like Englewood, that goes something like this: "Any fool can get a woman pregnant, but it takes a man to really father a child."
TECHNORATI TAGS: CHICAGO, SHOOTINGS, CHILDREN, SIRETHA WHITE, STARKESIA REED, ASSAULT WEAPONS, SEMI-AUTOMATIC, NATIONAL RIFLE ASSOCIATION, NRA, PARENTAL RESPONSIBILITY, SINGLE MOTHERS>
Posted by Matt Rosenberg at 11:13 AM | Comments (2)
March 13, 2006
"Street Wars:" Urban Extreme Sports For Dolts
I'm once again reminded of what an out-of-it old fuddy-duddy I must be, because playing an organized adult game dedicated to stalking and "killing" people with water guns strikes me as pathetic and disturbing. Given the leisure time to spare, I'd really rather just take a hike, a walk, or do something with my wife and kids. But in the advanced stages of a workaholic, consumerist leisure society, the "work hard-play edgy" ethic grows. Para-sailing is sooo 1994, I guess. Hence....."Street Wars," an urban extreme sport for dolts. Or, as the L.A. Times (last link) puts it:
...a bizarre game of squirt-gun assassin designed to help adults get in touch with their inner hit man.

The game, called StreetWars: Killer, is an elaborate version of hide-and-seek, an update of older assassin role-playing games. It is played on city streets by scores of participants armed with water guns. For weeks, they stalk, pursue and ambush in the hopes of being the ultimate — and dry — hit man. The game is poised for the leap from the margins to the mainstream: Earlier this month, a "CSI: NY" story line intermixed real murder with a fictional StreetWars-type game. And...the game's co-founder, says he's in talks to steer the game into a reality TV show.

...Cincinnati-based Parents of Murdered Children criticized the game as an insensitive mockery of violence in a society that has one of the highest homicide rates in the industrialized world. "Murder seems to be the only tragedy that we make a game out of," said Nancy Ruhe, the group's executive director. "We don't play rape. We don't play cancer. We don't play airplane crash…. If you stop to think about it, would you play Clue if Professor Plum was sexually assaulting Miss Scarlet in the Billiard Room with a pool stick? Then why is it acceptable for Professor Plum to murder Miss Scarlet?"
After "Grand Theft Auto: San Andreas," there's got to be a new frontier. And the wives and girlfriends of the guys playing "Street Wars"? How much you wanna bet they're all pushing the envelope, too....by having a very, very special kind of elective surgery?
TECHNORATI TAGS: STREET WARS, MURDER GAME, EXTREME SPORTS, SOCIETAL DECAY>
Posted by Matt Rosenberg at 11:01 AM | Comments (1)
March 10, 2006
Music For The Deaf, & Driving for The Blind
The Seattle Times reported the other day about musical interpreters, who use American Sign Language and a battery of gestures to "sign" live rock concerts for deaf fans. Remarkably, according to the article, concert venues are required by law to ensure the interpreters are provided. And the tours (read: bands) must may for their services. Deaf music "fans" say they enjoy the vibrations, sights, smells, and scene.
Groovy, man. But is this is ADA (Americans with Disabilities Act) madness gone too far? I say, let the deaf concert afficionados pay for the interpreters. In truth, this is strictly elective; not about civil rights, or disabled "rights," or any kind of rights. Not really, anyway.
Then again, maybe there's some sort of skewed cosmic justice at play. Why shouldn't the deaf be entitled to concert "interpreters," as long as the Chicago Public Schools are requiring blind students to pass a drivers education class and exam?
Coming soon: cooking classes for the recently deceased.
TECHNORATI TAGS: AMERICAN SIGN LANGUAGE, ASL, DEAF MUSIC FANS, MUSICAL INTERPRETERS, ROCK CONCERTS, CHICAGO PUBLIC SCHOOLS, DRIVERS EDUCATION CLASSES, BLIND STUDENTS>
Posted by Matt Rosenberg at 10:19 PM | Comments (1)
March 09, 2006
Postcard From Chicago
Back in Chicago to see the 'rents. Got off the Jefferson Park El line at Damen and North (Nelson Algren's old haunts) and ended up walking about two-plus miles across town to my destination. Yes, it was raining just a bit, and I was a drowned rat by the time I got where I was going, but walking is what I do in Chicago. Wicker Park is as trendy as ever. Coming from Seattle, I realized that I did NOT need to wander in to any Chicago joint called the "Pacific Cafe," nor did I need any of "Seattle's Best Coffee" (which it most assuredly isn't) from a Chicago pizza joint.
Hauling my suitcase on wheels, I ambled up to Wabansia St. (about 1800 N.) and headed east. Real quiet, lotsa trees and fancy, two- and three-flats. One blond brick two-flat had a life-sized ceramic zebra posed by the picture window. Now that's style. Found a little place called The Lincoln Tavern, for a brief beverage break. Deer antler light fixtures, people smoking like fiends, great atmo. Club Lucky looked enticing. Bars and restaurants on the quiet side streets always seem like they must be cooler. Often they are. Kept going, though, through the no-mans-land around the Kennedy Expressway on North Avenue, all the way to Lake Michigan.
A few observations along the way. First, one-hand in pants pocket, obscured by coat, is cheaper and less hassle than carrying a piece, and often works as well.
Second, I spontaneously erupted in disgusted laughter after spotting a campaign billboard for a lifetime Cook County Democratic political hack who is now - or was recently - running for a county court judicial post. In and around Chicago, the Machine tools are all lifers with a death grip on this or that sinecure; and the last, best spot is on the bench. Gawd, it still makes me ill.
Two, beware of Mexican restaurants with parking valets. I didn't go in, just saw one - and chortled.
Three, I vote - once again for gentrification. It's usually so much better than the alternative. In the old days, i.e. the 1980s and earlier, North Ave. and Halsted St. was basically....a good place to get mugged, assaulted or murdered. Now, the whole stretch of North Ave. between Halsted and Sheffield is....a great place to...spend money. Chicago has no shortage of independently-owned businesses and cool, franchise-free neighborhood commercial districts. That's one reason I can walk around the city for hours on end. But there's a place for national franchises in the city too, along the wider boulevards in once-dicey zones, with large lots rendered into urban malls. Victoria's Secret, California Pizza Kitchen, Crate and Barrel, Borders, an eight-story office tower. It all beats the hell out of winos and thugs. People on the street, eyes on the street, safety, jobs. All where there was none before. Hail the healing power of capitalism.
Finally, there was this conversation between two young men, overheard as I passed them in the 300 block of W. North Ave. "My girlfriend has had like FOUR abortions...." (followed by admiring, slightly incredulous laugh). Like, whatever, dude.
Now, I'm going to try to convince my dad to go to El Nuevo Leon, in Pilsen.
TECHNORATI TAGS: SEATTLE, CHICAGO, EL, WICKER PARK, LINCOLN TAVERN, CLUB LUCKY, CHICAGO DEMOCRATIC MACHINE, NORTH AND HALSTED, CRIME, GENTRIFICIATION, ABORTION, EL NUEVO LEON>
Posted by Matt Rosenberg at 11:03 AM | Comments (0)
March 07, 2006
B.C. Welfare Agency Hires Escort As Caseworker, Gets Defrauded
Business as usual in British Columbia; the government kind, that is. The Vancouver Sun reports today that the province's Ministry of Employment and Income Assistance hired as a caseworker a former "escort," who embezzled more than $30,000 dollar in rent subsidy checks intended for welfare recipients. She also reportedly tried to recruit welfare recipients as escorts. She was suSpended, paid restitution, and sentenced to 12 months in jail.
The revelations came about in an unusual way. The government agency - which at the time of the scam was named the Ministry of Human Resources, last May auctioned off surplus computer equipment, and 41 computer tapes, at an auction in the Vancouver suburb of Surrey. After the buyer discovered sensitive information on the tapes, he turned them over to The Sun. Included on the tapes were not only a six-page transcript of a disciplinary hearing between the embezzling escort and her ministry supervisor, but also, separately:
.....records on thousands of people's medical status -- including a listing of some people with HIV or mental illness -- and a record of whether they are considered fit for work. That file also contains social insurance numbers, provincial health numbers and other confidential information. Another file on the tapes contains a listing of the names, social insurance numbers and internal government file numbers for more than 30,000 refugees.

On Sunday, federal Immigration Minister Monte Solberg told The Sun he plans to launch an investigation to determine what led to those records being inadvertently released. B.C. Privacy Commissioner David Loukidelis has also ordered an investigation into the matter, as has Labour Minister Mike de Jong, whose ministry oversees the auction where the tapes were sold.
Methinks The Ministry of Employment and Income Assistance could use a bit of help in the IT department, and in upper management - that is, if it should not be abolished altogether. (What is their actual record of finding good work for people, and getting them off the dole, anyway? Why are they passing out government jobs to fraud-disposed escorts?) The cost of erasing the tapes, or simply destroying them, would seem far less than the potential liability of releasing such private data. The one question that most deserves an answer will probably never be answered. What experience did the embezzling welfare worker have to warrant being hired by the provincial government, other than employment as an escort?
TECHNORATI TAGS: WELFARE, EMBEZZLEMENT, BRITISH COLUMBIA, PROVINCIAL GOVERNMENT, MINISTRY OF HUMAN RESOURCES, MINISTRY OF EMPLOYMENT AND INCOME ASSISTANCE, COMPUTER TAPES, CONFIDENTIAL DATA, PRIVACY, LIABILITY>
Posted by Matt Rosenberg at 11:38 AM | Comments (3)
March 06, 2006
Teacher On Leave After Student Video About MySpace.com Risks
For their TV broadcasting class, two students at Lakeview High School in St. Clair Shores, Michigan, outside Detroit, produced a high-impact, eight-minute video documentary on the poor judgement shown by some teens at their school who reveal WAY too much of themselves in their personal Web pages at MySpace.com.
It's a timely, worthy topic. Recent news reports have highlighted how predators use MySpaces.com to identify underage girls for sexual liaisons. Parents need to be the ones really watching out here, but some proportion of kids using MySpace.com could certainly stand to hear from their peers about the risks of the venue in which they're operating. They seem to forget, or not care that the Internet is global and very public.
So, what happens to the journalism teacher in whose class the student-produced video was shown? She gets put on paid administrative leave, pending further review, by Lakeview Public Schools, because of "salacious" images in the video. A story last week in The Freep described those images, involving Lakeview student exhibitionists. (Their faces, taken from unobscured MySpace.com screenshots, were blocked out in the video).
They showed students drinking, posing provocatively or partially nude, and in one case kissing a vodka bottle.
On the Internet for all to see. I'll bet you dollars to donuts that Lakeview High School already has "safe sex" content in its sex ed classes. Shooting the messenger here makes no sense. The school's mission statement says it seeks, in part, to "empower" students to learn appropriate "behaviors" in order to become "responsible" citizens.
According to Freep columnist Brian Dickerson's piece today (first link), Lakeview student and video co-producer Scott Sobanski:
....says his controversial MySpace report has already succeeded in making the Web site safer. "Our point was that kids never know who's looking at the stuff they post for their friends' benefit," he said. "All the girls whose sites we showed have either taken down their pictures or set their profiles to private," a feature that allows MySpace users to restrict access to Web users they know.
MySpace.com is owned by conservative media magnate Rupert Murdoch's NewsCorp. There are 60 million MySpace users. At the MySpace.com home page, you can quickly get to browsing for "18"-year olds within five miles of any zip code, with their pictures and get-to-know-me-if-you-dare come ons. Literacy and coherence aren't considered bait. Here's what one clothed, 22-year-old from South Carolina with green tassels very strategically affixed to her sweater has to say:
Ummmm..... Let see. I am 22 years old five feet six and antisocial!!! Okay I m me and thats all I have to say to everyone!!! If you dont like me then goodbye dont waste your time res i am comp;ocated as is my life!! about me!!! im boring until you get to know me, but i never talk first!!! !
Here's another gal, from Seattle, an 18-year-old, uh, "moral values" conservative.
I don't watch american news because all we seem to care about in the U.S.A is "Oprahs bad hair day" and we don't give a s*** about people who go hungry and die all the time in the world. I support G. Bush I don't give a f*** why you do or don't so please hold your thoughts to yourself, thanks. I am a religious person and I don't personaly give a f*** if you don't believe in my lord...if you don't good for you go f*** yourself cuz I don't give a s***, don't try and bring me down. I am such a nice person just please respect me.....I currently take a weight loss pill called Hoodia and I work out a lot (thats how I stay so fit because people keep asking how) I don't enjoy large crowds or big social meetings. I like to be alone a lot, I don't open up to a lot of people because lets face it...you don't really give a s*** anyways. Im from SEATTLE WASHINGTON and I don't care what bad you have to say about it, and the rain jokes are out dated...it dosn't even rain here that much idiot. Basicly I am someone who supports MORAL VALUES AND WHAT AMERICA *USED* TO STAND FOR. People who use the excuse "well it's the 2000's" can go get f*****. I don't care, just because everyone jumps off the f****** bridge dosn't mean you have to.....Byeeeee!!!!
God Bless you, darlin' - you do need His love, it's clear. I like your politics and your bikini, but you really need to get out more.
Social network applications like MySpace.com tend to underscore that some (large) percent of the e-canvass will always be a bathroom stall covered with electronic graffiti. High-school kids posting on that wall, like those attending Lakeview High, need to learn the rules of engagement. The school cannot change risky behaviors, but student journalists are to be commended for highlighting the problems of using graphic photos to invite quick intimacy from strangers, online. Seems like these days, every other high school bimbo with a bikini and shot glass is auditioning for "Girls Gone Wild" ("No Rules! No Parents! No Clothes!").
MySpace.com is where a lot of kids are spending their spare time, as opposed to, say, Lakeview High's production of "Music Man." For its part, the company says it will soon announce plans to boost security, monitoring and safety education.
Safety education. Like what the Lakeview High student video was all about.
TECHNORATI TAGS: MYSPACE.COM, LAKEVIEW HIGH SCHOOL, ST. CLAIR SHORES, GIRLS GONE WILD, INTERNET, SEXUAL PREDATORS, NEWSCORP, RUPERT MURDOCH, SEATTLE, SOUTH CAROLINA, GEORGE BUSH>
Posted by Matt Rosenberg at 12:35 PM | Comments (1)
Taxpayers Shouldn't Foot Bill For Hispanic Assimilation
A new study from the National Research Council underscores the progressive view that taxpayers are supposed to foot the bill for Hispanic immigrants who are slow to learn English and quick to drop out of high school. Here's the (literal) money quote from the study, via USA Today's story: "Report: Hispanics Lagging In Education."
By 2030, about 25% of white Americans will be at retirement age or older, compared with 10% of Hispanics. Although a growing number of Hispanics have reached the middle class, the report says they continue to lag economically as a group because of a continued influx of low-skilled immigrants. At the same time, demand is rising for a better-educated U.S. workforce. "Perhaps the most profound risk facing Hispanics is failure to graduate from high school," the report says. Hispanics have the highest high school dropout rate of any ethnic or racial group in the USA. The report also cites low enrollment rates in four-year colleges and poor English skills. "These trends bode ill for Hispanics," the report warns. "Failure to close Hispanics' education and language gap risks compromising their ability to both contribute to and share in national prosperity." Although the report stops short of making specific recommendations, it calls for investment in education and social programs. "We hope it triggers a lot of alarms," (Marta, a Princeton University professor who headed the study panel) Tienda says.
Mission accomplished, Professor Tienda. I'm greatly alarmed at the passive-voiced offloading of personal and family responsibility for English language mastery, for high school graduation and for career skills development. All of that is resonant in the study's phrase, "failure to close Hispanics' education and language gap..." They are the ones who must assume the primary burden of closing those gaps.
Illegal immigrants deserve no government resources. But even legal immigrants who can't speak English should pay their own way to learn the language. Whenever you hear that "we" should fund programs for Hispanic immigrants with poor or no English language skills, and that our economic health is improved by such coddling, reach for your wallet. Previous generations of immigrants came here with little or no English, and learned the language on their own dime. The U.S. House, as you likely know, has recently passed a tough immigration bill. Now, the Senate weighs in.
The final result badly needs to ensure that de facto illegal immigration is put to an end in the United States, and that some illegals already here can qualify for a path to citizenship. Those who do not - and I'll defer to others on the eligibility criteria - must be required to depart. But we need to look ahead, as the NRC study does, to who pays for English language acquisistion for legal immigrants with limited proficiency. Should not the citizenship test require firm English proficiency of adults? That would certainly improve the English skills, and the school and career prosepcts of their children, wouldn't it?
Yet, echoing the NRC, Latino advocates say the larger society should shoulder the burden for the poor preparation of so many Hispanic immigrants for life in the United States in a time of accelerating global economic competition.
How Latinos fare academically will shape the nation's future, says Melissa Lazarin, senior education policy analyst at the National Council of La Raza, a civil rights group. "We need to ensure that they're well-educated and they get the tools that they need to contribute."
What you mean "We," Kemosabe? They need to ensure "they're well-educated." The sanest future is one in which legal immigrants to the U.S. from all over the world rely on their own resources - which may include classes they pay for themselves, with their earnings - to learn the language of their adopted nation. We have already been pumping billions of dollars nationwide into English As A Second Language classes for Hispanic students, and look at the overall results. You value what you earn on your own.
TECHNORATI TAGS: ILLEGAL IMMIGRATION, HISPANIC IMMIGRATION, UNITED STATES, EDUCATION, DROP-OUT RATES, ENGLISH LANGUAGE SKILLS, CAREER DEVELOPMENT, COSTS>
Posted by Matt Rosenberg at 10:17 AM | Comments (0)
March 05, 2006
Rosenblog Opinion Review, Vol. 17
Frank James, Chicago Tribune: "How A Dirty Bomb Might Go From Asia to Chicago."
Lawrence Haas, San Diego Union-Bulletin: "Yes. One-sided Coverage Of War Creates Cynicism." (The author is a former communications director for Vice-President Al Gore. Haas belongs to the Committee On The Present Danger, a bi-partisan group of international policy experts that supports a strong stance in the war against terrorism).
Michael Brandon McClellan, Tech Central Station: "NeoConservatism Versus NeoFukayama." (Young SoCal lawyer, writer and Port McClellan blogger takes on famed historian; asserts that engendering human rights and principles of liberty can require the exercise of power - U.S. power specifically).
Centralia (WA) Chronicle, editorial: "Some Who Made An Issue Of More Allies Would Snub One Now." (A defense of the ports security deal).
Dr. Issam Aryan, Iraq4All: "Samarrra Bombing Part Of Anglo-American-Zionist Plot." (The General Secretary of Egypt's Muslim Brotherhood, with the real story about the bombing of the Shiite mosque in Iraq - one the MSM are too cowed to tell).
Amit Mitra, Hindustan Times: "We're Both Democrats." (On Bush In India).
John B. Bellinger, International Herald-Tribune: "Give A Hand To Justice In Iraq." (The legal advisor to the U.S. State Dept. argues that despite the well-publicized courtroom antics of the defendant, Saddam's trial is demonstrating important principles to Iraqi citizens. But Coalition allies need to lend more support to the process).
Timothy Garton Ash, Los Angeles Times: "The Creeping Tyranny Of Taboos." (An Oxford professor of European studies defends scientific research that uses animals, in light of recent threats and protests directed against researchers at his university).
Philadelphia Inquirer, editorial: "Nuclear Energy - End The Taboo, But Proceed With Care."
Vincent Carroll, Rocky Mountain News: "Teacher On The Fringe." (A Ward Churchill loose in a Colorado high school raises quality control questions).
Michael Kalin, Boston Globe: "Why Jon Stewart Isn't Funny." ('05 Harvard grad says the TV comic's mordant critiques of the political class are turning young liberals away from public service).
Ruben Navarrette, Jr., San Francisco Chronicle: "The Power Of No Excuses." (Defending the federal No Child Left Behind Act).
LaGrande (OR) Observer, editorial: "Help Students Finish What They Start." (Oregon high school grads are poorly prepared for college. The state needs tougher graduation standards and a greater budgetary commitment to science + foreign language).
San Bernardino Sun, editorial: "Apathy Unfortunate, Recurring Theme in S.B." (This inland SoCal town is beset by crime, uncooperative homicide witnesses and low voter turnout).
San Diego Union-Tribune, editorial: "Buck Up - Airport Panel Must Not Flinch At Pentagon Foes." (San Diego has need a new airport for decades, but despite piles of study documents, nothing ever happens. Now, The Navy objects to one potentially feasible option identified in a current study: use of a 3,000-acre portion of 23,000-acre Miramar Marine Corps Air Station. But that need not rule out Miramar).
Brian McGrory, Boston Globe: "Don't Walk That Way." (Boston needs more cops, not art embedded in its sidewalks).
Joan Ryan, San Francisco Chronicle: "Misfit S.F. Is Just Ahead of Its Time." (I disagree, but her typecasting of cities as certain types we all know from high school, makes this a fun read).
Charlotte Allen, Los Angeles Times: "The Return of The Happy Housewife."
TECHNORATI TAGS: DIRTY BOMB, ASIA, CHICAGO, MSM, LAWRENCE HAAS, IRAQ WAR COVERAGE, COMMITTEE ON THE PRESENT DANGER, NEOCONS, FRANCIS FUKUYAMA, DUBAI, PORTS, SAMARRA BOMBING, ZIONIST PLOT, MUSLIM BROTHERHOOD, AMIT MITRA, INDIA, BUSH, SADDAM, TRIAL, OXFORD UNIVERSITY, ANIMAL RIGHTS, TIMOTHY GARTON ASH, NUCLEAR POWER, JAY BENNISH, SAN BERNARDINO, CRIME, VOTER TURNOUT, SAN DIEGO, AIRPORT CAPACITY, MIRAMAR, JON STEWART, DEMOCRATS, NO CHILD LEFT BEHIND, BOSTON, PUBLIC ART, COPS, SAN FRANCISCO, PRIORITIES OF GOVERNMENT, OREGON, HIGH SCHOOL GRADUATION STANDARDS, HAPPY HOUSEWIFE, FEMINISM, BETTY FRIEDAN>
Posted by Matt Rosenberg at 06:35 PM | Comments (0)
March 04, 2006
Seattle's Best Hot Dogs - At Matt's
Many moons ago, in the Age of Iron Butterfly, with my dad, and on the way to the old, now-disappeared Chicago Stadium at 1800 W. Madison Street, I tasted the best-ever tube steak - a "Poly" (Polish sausage) for eternity. It had a crisp outer skin, and was bursting with fatty juice inside. Served on a toasty bun, and slathered with hot grilled onions. I think we'd already had dinner, but were on our way to a Chicago Blackhawks hockey game at The Stadium, and what can I say? Mom wasn't there to kibosh it as decadent, which it was.
From time to time afterward, with Dad, I'd score a similar treat on Maxwell Street, near Roosevelt and Halsted. The long-gone Maxwell Street Market, near the University of Illinois Circle Campus, was famous for crisp-skinned Polish sausages with greasy grilled onions, served from mobile home trailers up on cinderblocks. Nearby were vendors peddling stolen shoes and clothes, myriad hot hubcaps and auto parts, blues and r&b LPs, copulating keychain figures, and sundry junk of all kinds.
The big attraction at Maxwell Street Market, aside from the tube steaks, was live electric bands, playing kickass Chicago blues in beaten down gravelly lots with car battery-powered generators supplying the electricity for the amps. Every 45 minutes or so, the band would have to stop while the generators were recharged from the car battery.
It's all half milion dollar-plus townhomes there now, and I don't begrudge that, because I'm gentrification friendly, and time, ya know, marches on. But the grilled Polish sausages from Maxwell Street are hard to forget; likewise the mujik.
In Seattle, we can't be too, too choosy about gen-u-wine streetside hot dogs, as they're fairly scarce. We go more for fake Ital-yun here. Fortunately, though, on East Marginal Way in Seattle, is the landmark Matt's Chili Dogs. Toothsome Chicago-style dogs, slathered will all the right stuff. I went the other day. Ingest the many fine reviews. All eight Seattle-area locations here.
Here's the money shot - a New York-style Dog up top, (grilled red onions, mustard); and a Chicago Dog down low (onions, mustard, that crucial fluorescent green pickle relish, sport pepper and a pickle slice). They only forgot the celery salt.
Quite tasty. The East Marginal Way spot is the quintessential Seattle industrial zone fast food dive. Get there before noon, if you want an inside seat. It's just up the road apiece from Boeing's. As they still call it here. I'd recommend a Chicago Dog, a New York Dog, and a Chili-Dog. $2.59 each. Fine dining alright.
TECHNORATI TAGS: HOT DOGS, CHICAGO, SEATTLE, MATT'S, CHICAGO STADIUM, MAXWELL STREET MARKET, LIVE BLUES, STOLEN AUTO PARTS>
Posted by Matt Rosenberg at 10:52 PM | Comments (1)
March 03, 2006
Rosenblog's News Of The Skewed, Vol. 4
Carroll County, New Hampshire jail guards are to take Spanish lessons to communicate with prisoners who say they can't speak English.
The black woman's body is being used to promote the "imperialist, white supremacist, patriarchal structure," author and black intellectual bell hooks tells students at Northwestern University. She left out the key part, though, which Louis Farrakhan underscored this week. hooks (she does not NEED to capitalize her name) also shared some pentrating analysis on Condi Rice, the U.S. Secretary of State. According to The Daily Northwestern: "...she said Condoleezza Rice is another example of exploitation because she was "feminized" after becoming Secretary of State. hooks joked that Rice was probably instructed to wear Chanel suits and smile more."
The Chicago suburb of Crystal Lake has declined to make its municipal waters available for the Gay Games rowing competition, prompting a Gay Games board member to lament the town's "homophobia.' A municipal corporation is entirely within its legal rights to decline to host an event predicated on promotion of an alternative form of sexuality. That's not bigotry, it's a judgement, with which some gays will obviously not agree. Even more to the point: why should there even be a Gay Games? Are they feeling as handicapped as those in the Special Olympics? If gays really want mainstream acceptance, they should simply compete in the real Olympics. In fact, I believe some recently did.
Meanwhile Willamette Week, Portland's alternative weekly, is really jazzed that several local spots have made it into national online compendiums of public restrooms and outdoor spots for strangers to have gay sex. Kinda pathetic, actually. But then, they have their demographic to which to pander.
Weapons aren't allowed on airplanes or in schools in Canada, but the Supreme Court has decided orthodox Sikh students can wear their traditional daggers, called kirpans, to school. The decision opens the legal door for other traditional religious weaponry in schools. If the students can have their kirpans and what all, can't the border guards have guns? Seek, and ye shall receive. The country's new "Conservative Party" administration predicts that border guards WILL be armed, in no more than about four scant years.
Finally, some good news. Fed-up conservatives are plotting revolution in NoCal's moonbattiest municipality, Arcata. They want to take back the City Council. Amen, brothers and sisters. Now work it.
TECHNORATI TAGS: CARROL COUNTY, NEW HAMPSHIRE, JAIL GUARDS, SPANISH LESSONS, bell hooks, CONDI RICE, LOUIS FARRAKHAN, HOLLYWOOD JEWS, CRYSTAL LAKE, ROWING, GAY GAMES, OLYMPICS, GAY PUBLIC SEX, PORTLAND, CIVIC PRIDE, CANADA, SIKHS, DAGGERS, KIRPANS, BORDER GUARDS, GUNS, ARCATA, CALIFORNIA, CONSERVATIVES, CITY COUNCIL>
Posted by Matt Rosenberg at 01:32 PM | Comments (0)
From Manure, Fuel For The Future
The national debate about energy policy needs to include honest and accurate discussion about just how much oil is left to extract around the globe, how much of it we can expect to appropriate, and where the U.S. currently gets most of its oil from. I'm not going to attempt to do that here and now, but I view claims we need to plan for an oil-free future as absurdly over-stated. The future mix of energy sources for the U.S. will need to include oil, clean-coal, a sane discussion of added nuclear fuel production, plus so-called renewable energy sources - such as wind, solar and manure. Yes, manure. It's a growth industry, as it happens. Let's, ah, drill down into the dung heap for a moment, shall we?
Good news today from Japan, where enterprising scientists have developed a process to extract gasoline (and separately, vanillin) from cow dung.
A Wisconsin dairy farmer is evangelizing about anaerobic digesters, which can convert cow dung inro a methane-rich gas used to power generators and yield electricity. Experts are pumped up:
About 110 digesters are in operation around the country, and another 70 are planned, said Kurt Roos, manager of the U.S. Environmental Protection Agency's AgSTAR program. Most of them are at dairy farms in the Midwest, California, New York and Pennsylvania. The average cost of a digester is nearly $1.5 million, and it takes about six years to earn back that original investment without any grants, said (Larry) Krom (business sector manager of the state Focus on Energy's renewable energy program), whose organization (was) one of the sponsors of the (late January) Madison conference (on digestors and other manure to fuel technologies). "But once it pays for itself, it becomes sort of a cash cow," Krom said, especially as energy costs continue upward.
A Utah professor has a start-up that's marketing the same technology, too: another benefit is odor control.
"Agricultural-based renewable fuels" are gaining attention in Michigan, as well - including methane derived from farm animal manure.
The Sheboygan Press just yesterday editorialized in favor of a state legislation requiring Wisconsin utilities to draw 10 percent of their energy from alternative sources by 2015; noting that manure, wind and solar are all feasible options.
Panda International Energy will build a $120 million plant in Hereford, Texas, where much of the 6,300 tons of cow manure produced by local herds daily will be converted to gas, which will then be used to produce ethanol from corn in the new facility.
It all kind of gives new resonance to the old phrases, "making lemonade from lemons," and even, "what a pile of s***."
What a pile, indeed.
TECHNORATI TAGS: ANAEROBIC DIGESTORS, COW MANURE, METHANE, ETHANOL, RENEWABLE ENERGY>
Posted by Matt Rosenberg at 10:51 AM | Comments (0)
March 02, 2006
Mayor Buys Bogus Claims About Portland Police Racial Profiling
Kayse Jama of Portland is a Somali immigrant and African community leader in Portland, who claims he has been stopped by police four times in the last 18 months. So, he says, they are racist. This occured at a City Council hearing Tuesday. Portland Mayor Tom Potter, who knows Jama from the 2004 campaign, expressed sympathy then, and the next day said the stops, "smacked of racism." But as you read the article you will see: a) Jama's claim of four stops in 18 months cannot be verified; and b) his past record suggests good reason why he has been stopped by Portland Police while driving, in the past. Here's The Oregonian's story.
Detective Paul Dolbey, a Portland police spokesman, said officers had two contacts with Jama since 2002. And court records show Jama has been cited for four minor traffic violations in six years. He was cited in February 2000 for operating an unregistered vehicle and later convicted.

He was cited for driving without insurance in June 2002 and convicted. The case stemmed from an accident at Northeast Halsey Street and 104th Avenue, according to Dolbey and court records. In April 2005, he was cited for driving without insurance and operating without a required light. The case was dismissed. And in January, he was cited for failure to use lights and carry proof of insurance. A trial is scheduled for May. At the January stop, Jama said the officer kept him and his wife in their car for 45 minutes. "I'm a decent citizen," said Jama, who lives in an apartment on Northeast Martin Luther King Jr. Boulevard. "What I experienced and see is racial profiling."
Funny thing. What I see is a bit of a nincompoop, who uses the "racial profiling" canard to make excuses for his inattention to basic vehicular citizenship. The law requires vehicle registration, proof of insurance, having your lights in working order, and using them after dark. It is called the rule of law. It is not racism.
Memo to Portland Mayor Tom Potter. You sir, are a nincompoop, as well. What "smacks of racism" is your unwillingness to hold Jama to the same standards as anyone else. Review the facts of Jama's negligent record. Don't play to the immigrant voting block and the PC peanut gallery at the expense of your professional integrity, and that of your city's police force. If you want to help Kayse Jama, encourage him to attend an educational class on the legal and operational requirements of motor vehicle operation in Oregon.
TECHNORATI TAGS: PORTLAND, OREGON, RACIAL PROFILING, RACISM, DEMAGOGUERY, MAYOR TOM POTTER, KAYSE JAMA>
Posted by Matt Rosenberg at 09:42 PM | Comments (1)
Criminal Intent and Nipple-Twisting
When an Oregon teen boy - as part of silly horseplay with a friend - twists the nipple of another teen boy, in line at a deli, is there necessarily a "'criminal thought process" involved? A county government-provided mediator says, "yes," and that the twister had better write a letter to the victim explaining that aspect of his behavioral lapse. The nipple-twister, who has already done community service, says he cannot write about "his criminal thought process" because he did not have one. So...he will now spend four days in juvenile detention for failing to toe the line. The Seattle Times reports.
The 16-year-old, was convicted of offensive physical touching in July 2005, after the victim's parents complained to Gold Hill police. The Crater High School student paid a $67 fine and served three days of community service. "I emptied trash cans, mowed lawns and shoveled gravel," the teen said. But the teen's refusal to comply with the final piece of his sentence will cost him four days in detention. He was required to write the letter during four classes put on by Mediation Works, which operates the victim-offender program for Jackson County Community Justice.

Mary Miller, executive director of Mediation Works, said the purpose of the letter is to prepare teens to be accountable for their offenses. "They don't have to apologize," she said. "But they are required to be accountable." The offender is required to describe the act in detail, explain "thinking errors," "express empathy" and describe any resultant life changes. Miller said the program is "often a very, very healing experience between the victim and youth offender."

The teen said he presented a rough draft of his letter in the third session. He said he balked when told he must also describe his "criminal thought processes." He said that would imply malicious or criminal intent, and "none of that applied to my feelings or actions." The teen said he had no criminal intent because he considered the victim to be a friend at the time of the incident — which he deemed horseplay. Including the language sought by Mediation Works, he said, would turn his prior court statements into lies.
I would agree that mutual consent - and especially privacy - are an important part of nipple-related interactions. All the same, the nipple-twistee overreacted, and his parents. These were two teen-age boys, for goodness sakes. A call from one parent to another would have sufficed. Do we really want to settle these things at taxpayer expense? I'm also wondering if someone should spank the mediation executive, but not because of the theft and forgery reported to have occured on her watch.
TECHNORATI TAGS: NIPPLE TWISTING, CRIMINAL THOUGHT PROCESS, JACKSON COUNTY COMMUNITY JUSTICE, MARY MILLER, GOLD HILL, OREGON, CRATER HIGH SCHOOL>
Posted by Matt Rosenberg at 11:58 AM | Comments (0)
March 01, 2006
Class Action Filed Over Baby Gender Testing
Another less than stellar moment for the plaintiffs bar. Recently, Barristers Without Boundaries have filed lawsuits filed to protect consumers from the abuses inflicted by imaginative memoirists and iPods. Now, there's a class action proceeding on behalf of women who bought a baby gender detector that didn't work so well.
At least, as near as is evident from the Boston Globe article (last link, above), they are not seeking compensatory or punitive damages - they just want the manufacturer to honor the double-your-money-back promise because the results were predicted inaccurately, in the end. Fair enough, I guess. But, let's take a long step back for a moment. What kind of couple decides they have to know the gender of their baby-to-be within five weeks, and then spends $275 on some gimmicky device to supposedly find out? Then signs on with a lawyer when - God Forbid - they have a Baby Of Another Gender?
In the suit filed in US District Court in Boston, the women charged that despite its claim of 99.9 percent accuracy, Acu-Gen Biolab of Lowell got the genders of their babies wrong, causing confusion and distress, and then refused to make good on its double-your-money-back guarantee. Pregnant women are ''a vulnerable group, or at least an emotional group," said Barry Gainey, whose New Jersey law firm, Gainey and McKenna, is leading the suit. ''When you're essentially guaranteeing a test is 99 percent accurate, people rely on you, and you can't make those sorts of representations and get away with it." Gainey said he's seeking an injunction from a federal judge, prohibiting the company from falsely marketing the $275 ''Baby Gender Mentor" test and ordering Acu-Gen Biolab to honor its guarantee. The suit is also seeking restitution for all the women who purchased the device.
Oh, the confusion; the stress; the emotions; the sheer....vulnerability of it all. To think.....of the blue jammies on a baby girl, or the pink booties on a baby boy (OK, maybe I'd sue over that, too). These impatient technophiles are probably the same jerks yammering loudly on their cell phones in the checkout line or in bookstores, about nothing much at all. Just wait about, what is it, six months or so, and you'll KNOW the gender of your baby, from the ultrasound. And you know what - if even the ultrasound doesn't prove 100 percent accurate, WHO CARES? You should be thanking God you had a HEALTHY BABY, you pinheads! Merciful Jahweh, I beesech thee: deliver our planet from pampered yuppies who think they need a big head start on gender-specific nursery decorating and gift-receiving.
Anyone wanna bet their kids all have first names like Carter, Madison, and Taylor?
TECHNORATI TAGS: BABY GENDER TESTING, BABY GENDER MENTOR, ACU-GEN BIOLABS, LAWSUIT, CLASS ACTION, PAMPERED YUPPIE VERMIN>
Posted by Matt Rosenberg at 06:15 PM | Comments (6)
Paint That Stops Cells Phones Dead
Nanotechnology involves deploying really, really tiny organisms for practical effect, in products such as stain-resistant paints, sunscreen, and now - if you can believe this - paint with minute copper particles that can prevent cell phone calls from coming in or going out of public venues. It's from a West Henrietta, New York company called NaturalNano, and they call it their "RF Shielding Application." Here's an overview from the Web site.
Chicago Tribune science reporter Jon Van reports:
The intrusion of cellular phone rings into theaters, schools and nearly every other nook and cranny of modern life may soon hit a wall. Playing to the backlash against ubiquitous communication, a company called NaturalNano is developing a special high-tech paint that relies on the wizardry of nanotechnology to create a system that locks out unwanted cell phone signals on demand. The paint represents a dream to those who seek a distraction-free movie or concert experience, and a nightmare to those who compulsively monitor their BlackBerry phones.

..."You could use this in a concert hall, allowing cell phones to work before the concert and during breaks, but shutting them down during the performance," said Michael Riedlinger, president of NaturalNano of Rochester, N.Y....Even the thought of such a thing upsets the wireless phone industry. "We oppose any kind of blocking technology," said Joe Farren, spokesman for The Wireless Association, the leading cell phone trade group. "What about the young parents whose baby-sitter is trying to call them, or the brain surgeon who needs notification of emergency surgery? These calls need to get through."

....But Robert Crowley of AMBIT Corp., which designed the radio filtering device for NaturalNano, said...the radio filter would allow all emergency radio communications to pass through the shield...With all other signals, like cell phones, the filter would act like a spigot to block or allow them to pass through—say, only during intermission. "Our No. 1 request comes from churches," he said. "Pastors want a way to stop cell phones ringing in church and people taking calls during worship services."
The cell phone industry shill has it wrong. It's management's prerogative to allow cell phone usage, or not. If we're lucky, cell phone-blocking interior latex, in a variety of attractive shades, will be liberally applied to the walls of churches, restaurants, public halls, theaters, and public school classrooms. I'd love to see a transparent application for bus interiors, too.
It's only natural that technology designed to limit technology should begin to flourish. Especially when so many lack the good judgement to limit their use of personal technology in a more organic fashion.
TECHNORATI TAGS: CELL PHONES, CELL PHONE BAN, PAINT, NANOTECHNOLOGY, NATURALNANO, WEST HENRIETTA, NEW YORK>
Posted by Matt Rosenberg at 05:15 PM | Comments (0)