February 28, 2006
Rosenblog Policy Forum: Truck-Driving Scholarships For Homeless
Apparently, the footbaths from volunteers weren't enough to ease the horrid plight of Berkeley's homeless youths. Such as Cheddar Cheese, now 20, who left home some 10 years ago. The story in today's Berkeley Daily Planet never explains why he left then, but you can just imagine the vast repertoire of parental oppression paradigms facing a 10-year-old: "Clean UP your room, Cheddar, and I mean N-O-W." Or maybe: "No, I'm quite sorry, Cheddar; age 10 is simply to young to know you're gay and leather-friendly. I don't care WHAT your teacher says. Wait a while, will ya?"
Frankly, if Cheddar was being sexually abused, and that's why he needed out, at age 10, he ought to frickin' say so, because otherwise I'm just not really inclined to lend him any karma. Besides, the claim could be B.S. Either way, life has to go on for the world's Cheddars, even if they're still having issues with authority. Public sector allies who righteously channel their pain aren't moving the ball any closer to the end zone.
According to Jane Micallef, secretary of the city's Homeless Commission...the city couldn't force young people to leave the streets and seek shelter.....Many youths are afraid of rules and regulations and want to live a barrier-free life, she said, so they can be found snuggled up in nooks and corners all over the city, in the tree-lined pathways on the UC Berkeley campus, or just about anywhere the cops won't be able to get a hold of them.
Umyeahbut, the thing.....see....about a desired....."barrier-free life".....for homeless teens, and adults of any age....is that someone still pays....despite bogus claims in the Berkeley Daily Planet that these societally-subjugated, crevice-appropriating revolutionistas actually manage to cagily evade "The Man."
Who pays?
Taxpayers.
Taxpayers who fund the police officer time spent enforcing sit-and-lie ordinances. Who else pays for the homeless? Your mom and dad; grandparents; co-workers; and maybe you, too: the generous donors to homeless programs who hope and expect that the able homeless will get back on their own two feet before long.
So......since there's obviously not a lot of creative thinking coming out of Berkeley right now, I've got a plan for Cheddar Cheese and his ilk. And it maybe even works for some of the 30- and 40-something homeless - unwilling to enter training programs for sous-chefs in terminally insolvent restaurants geared to homeless "customers," or understandably unwilling to become ad salespersons for homeless advocacy "newspapers" which might be purchased, but never even glanced at afterward, by dutiful liberals traversing the painfully progressive parking lots of independent Seattle organic grocery chains. My epochal insight into homeless jobs policy came via this NYT article in today's Eugene Register: "With Too Few Drivers, America Can't Keep On Truckin'."
Faced with what trucking experts describe as the worst labor shortage in the industry's history, recruiters are canvassing cities and holding job fairs to entice new drivers. Fueled mostly by retirements, the driver shortage grew dire, industry economists say, starting in 2000, when average wages in construction and other blue-collar jobs surpassed those of long-haul drivers. With predictions that the shortage of 20,000 drivers will grow nearly fivefold within a decade, trucking companies are offering generous 401(k), stock option and health care packages to new recruits, plus cash bonuses and prizes to drivers who refer viable candidates. In hopes of stealing drivers from competitors, companies have begun outfitting more of their cabs with satellite radio and television. They also have introduced policies to allow truckers to bring pets and spouses on the road.
C'mon - just think about it for a minute. Truck driving is the perfect job for the non-addicted, sane ranks of the homeless, which means at least 50 percent of them. If only local, regional, state and federal governments would repurpose homeless aid for instructional scholarships at truck-driving schools. Workin' the big rigs, the homeless can enjoy a new place every night. Sleep in their pissoir-equipped rides, if they want - a lot better than a sidewalk, park, doorway, shelter or SRO cubicle. Plus: no office politics. You, your pet poodle Che (or Sparky), Ani DiFranco on the iPod, a semi full of Wal-Mart tupperware or Tyson chicken, and the open road. America - land of opportunity. Yea, verily.
Homeless truck-driving scholarships: another connect-the-dots moment at Rosenblog.
UPDATE: There are real-life examples. Ed Reed, a Vietnam vet who became homeless, a drug addict, and a criminal - cleaned up his act and became a truck driver, with the help of the California Transportation Training Institute. Melvin Stewart is another formerly homeless vet who earned a license and became a commercial truck driver. A homeless truck driver talks about his life in a comment on this blog post.
TECHNORATI TAGS: BERKELEY, HOMELESS, JOB TRAINING, TRUCK DRIVER SHORTAGE>
Posted by Matt Rosenberg at 06:10 PM | Comments (6)
Kaesong Wage Slave Blues
You all doubtless remember Kim Jung Il, the Armageddon-friendly Communist fruitbat in charge of one of the world's few remaining medieval kingdoms, North Korea. Well, it seems Kim has taken just a middling interest in modernity, having allowed go-go capitalists from South Korea to invest $2 billion for a small pilot project in the 6,000-acre Kaesong Industrial District, across the DMZ in North Korea. The district is a breakthrough experiment in economic cooperation between liberalized South Korea and the Dark North. Some 700,000 workers are expected to be employed there by 2012. South Korean companies get cheap labor; North Korea's workers get actual wages and meals, instead of scavenging nearly-barren fields for wheat grains (see first link, above). While Kim is seemingly open to a bit of carefully-modulated outside influence, old habits die hard, as The L.A. Times reports.
The contrast is particularly glaring when coming from Seoul, the high-tech, neon-lighted capital of the world's 12th-largest economy. Around the industrial park, which lies outside the center of the city of Kaesong, there is little but desiccated rice paddies and yellow hills denuded long ago by people scavenging for firewood. Nearby is an abandoned agricultural college, its crumbling facade decorated with a faded red sign trumpeting the achievements of the North Korean Workers Party. Scrawny goats graze outside two-story whitewashed houses with windows covered in plastic sheeting. The industrial park itself is surrounded by 5 miles of fencing and poker-faced, rifle-toting North Korean soldiers.

....the North Koreans keep a tight rein on the work environment. No South Korean money is accepted here, even at a Family Mart convenience store set up for the exclusive use of South Korean employees. North Korean patriotic music in praise of Kim blares over the loudspeakers of a futuristic warehouse where North Korean women in crisp blue uniforms stitch athletic shoes using brand-new sewing machines. The monthly salaries of $57.50 for each North Korean worker — regardless of position — are paid directly to the North Korean government, which in turn gives the workers about $8, more than double the average monthly salary. South Korean companies have asked repeatedly to pay the workers directly and to give bonuses for better work, but have been refused. Even New Year's gifts such as extra food and warm clothing could be given only after elaborate negotiations to make sure everybody was getting the same.
I'm sure that North Koreans must have great government health care, especially with the cost savings from the 3.6 to 6 million of them whose premature deaths were caused by the country's communist leaders from the mid-20th Century forward. Perhaps many had decent burials - although somehow I rather doubt it. Meanwhile, no expense has been spared for Kim. Truly, some animals are created more equal than others.
TECHNORATI TAGS: SOUTH KOREA, NORTH KOREA, KAESONG, KIM JONG IL, WAGE CONTROLS, NUCLEAR WEAPONS, SUSHI CHEF>
Posted by Matt Rosenberg at 04:05 PM | Comments (0)
February 24, 2006
Rosenblog Opinion Review, Vol. 16
John Temple, Rocky Mountain News: "Readers Thanks News For Cartoons." (Yes, unlike most mealy-mouthed U.S. dailies, the RMN published - online - the cartoons about Islamists that sparked global riots and deaths).
Andrew Steven Harris, Prague Post: "Under Siege." (Cartoon jihadists declare war on Western civ.).
Mansoor Ijaz, Los Angeles Times: "Islamic Truths." ("...the most glaring truth is that Islam's mobsters fear the West has it right.")
Times Of London, editorial: "In The Name Of Islam - Iraq's Neighbors Need To Do More To Halt The Spiral Of Violence."
Victor Davis Hanson, San Jose Mercury News: "Patience Necessary As Iraq Rebuilds."
Anil Adyanthaya, Rocky Mountain News: "Guantanamo A Far Cry From The Gulag."
Frida Ghitis, Chicago Tribune: "No More Kaffiyehs - Radical-Chic Confusion." (From Amsterdam, a tart dispatch on the Hamas-era quandry of Europe's anarcho-fashionistas).
Richard Cohen, Washington Post: "Holocaust Denier Should Not be Jailed."
Alan Dershowitz, Boston Globe: Coup Against Summers A Dubious Victory For The Politically Correct." (Harvard's president forced out).
Andrew Baker, Times Of London: "Summers' End Marks The Start Of A Long Winter In American Universities."
Jay Mathews, Newsday: "'Teaching To The Test' Can Be A Good Thing, Too."
Joan Ryan, San Francisco Chronicle: "It's About The Killing, Not The Pain." (Michael Morales on death row).
Cinnamon Stillwell, San Francisco Chronicle: "San Francisco On Fox News - An Embarrassment Of Riches." (San Francisco Board of Supervisors member Gerardo Sandoval tells national TV audience the U.S. should disband its military).
San Diego Union-Bulletin, editorial: "Reiner Rip-Off - Taxpayer Funded Push For Initiative Reeks." (Meathead strikes again).
Los Angeles Times, editorial: "Burbank Sonata." (At long last, the city legalizes piano lessons in private homes).
C.W. Nevius, San Francisco Chronicle: "Teen Nation Has Parents On The Edge." (Personal technology and teens behaving badly).
Tara Sonenshine, Los Angeles Times: "The High-Tech Parent Trap." (There comes a time to just....unplug).
TECHNORATI TAGS: CARTOONS, MUSLIMS, ROCKY MOUNTAIN NEWS, WESTERN CIVILIZATION, ISLAMISTS, SAMARRA, MOSQUE, IRAQ, VICTOR DAVIS HANSON, GUANTANAMO, EUROPE, AMSTERDAM, FASHION, POLITICS, RICHARD COHEN, DAVID IRVING, HOLOCAUST DENIER, LAWRENCE SUMMERS, HARVARD, CAMBRIDGE, STANDARDIZED TESTING, MICHAEL MORALES, DEATH ROW, SAN FRANCISCO, GERARDO SANDOVAL, FOX NEWS, ROB REINER, UNIVERSAL PRE-SCHOOL, CAMPAIGN FINANCE, CALIFORNIA, BURBANK, PIANO LESSONS, TEENS, PARENTS, TECHNOLOGY>
Posted by Matt Rosenberg at 09:54 AM | Comments (0)
February 23, 2006
Whole Foods, The Saffron-Flavored Grocery Behemoth
There is no fate worse than living in a town or neighborhood where nearly all the grocery stores are of the plain vanilla corporate variety. Except perhaps having no food at at all, a deadly disease, losing a loved one, or living under sharia. (Hey, I try to keep things in perspective).
Saffron-flavored corporate grocery stores are so much better than vanilla. Saffron-flavored, like Whole Foods, to which I was first introduced in the early 90s, when I still lived in Chicago. Sure, there's seitan, sprouts, wheat grass, bulghur, plus gluten-free organic pasta I wouldn't go near with a ten-foot pole. But they don't stint on fine cheeses, meats, fish and seafood, breads, wine, and gourmet specialty and ethnic items.
The Whole Foods produce selection is generally superb, and extensive. After experiencing Whole Foods, you'll never really be able to tolerate the soft, brownish onions, rock-hard tomatoes, and green-tinged chicken you're cruelly forced to prod and sniff when vacationing in flyover country, as you may sometimes perversely choose to do.
Whole Foods began in Austin, Texas with one store, in 1980, and is now the world's largest retailer of organic and natural foods. Ain't capitalism grand? Whole Foods is planning some 70 new stores in the U.S., including one in my very own neck of the woods, West Seattle. I'm just about beside myself in anticipation. I was pleased to see virtually no NIMBY-ish hyperventilating from locals in this Seattle Post-Intelligencer article on Whole Foods' West Seattle plans.
Novato, California - a Marin County town of about 50,000, just across the Golden Gate Bridge from San Francisco - is also going to get a new Whole Foods, which has a lot of people there excited, including the Novato Healthy Food Coalition. But there was some controversy because the grocery store complex will also include 125 condo units. A local group called No On 125 Units wrote letters to the editor about feared traffic congestion; and pledged to collect signatures for a June public vote on the Whole Foods project. Well, yesterday was the deadline for turning in the signatures, and the Marin Independent reports today on the results: Zip. Nada. Zilch. Didn't even show up. Guess Novato's happy to have more condo dwellers, and a Whole Foods.
There is social and economic utility to new multi-unit housing accompanying retail, or on underutilized or blighted properties. There is also social and economic utility to high-quality grocers where few or none exist, in the form of jobs and an opportunity for people to eat more healthily. Whole Foods is a shrine to the virtues of real ingredients, and - despite all the gourmet take-out - to the now-threatened practice of home food preparation. In a nation of increasingly obese convenience-food snarfers, we need to get to know our food again, and the value of making time for home-cooking.
Now, if you'll excuse me please, I've got some hellacious guacamole to whip up, and a flank steak marinating in red wine, olive oil, sugar, oregano, brown cumin seed, and chipotle puree, that I've got to flip.
TECHNORATI TAGS: WHOLE FOODS, NOVATO, WEST SEATTLE, CONDOMINIUMS, OBESITY, FAST FOOD, FAMILY MEALS, GUACAMOLE, FLANK STEAK>
Posted by Matt Rosenberg at 04:51 PM | Comments (0)
The Last Days Of Teeth Grillz
As the top Google-ranked commentator on "teeth grillz", I must again speak to my teeming public on the subject. Ornamental jewelry for teeth, also known as teeth grills (street spelling: "teeth grillz") aren't going to stay in vogue much longer. Perhaps that's to be expected when the hit song extolling their virtues (Nelly's "Grillz") goes like this:
ROBB the jewelry store and tell em make me a grill ...I got my mouth lookin somethin like a disco ball; I got da diamonds and da ice all hand set; I might cause a cold front if I take a deep breath; My teeth gleaming like I'm chewin on aluminum foil;..My mouth piece simply symbolize success;...My mouth piece simply certified a total package; Open up my mouth and you see mo karots than a salad.
So get 'cho grillz now and enjoy a few last nanoseconds of reflected glory. That, at least, is the message from high priests of the LemmingStyleSchoolOfCool, in this Philadelphia Inquirer article.
In the weeks leading up to today's NBA All-Star Game in Houston, Alex Khaytin - also known as Alex the Jeweler - has been busy designing not only his trademark neck and wrist ice, but bling for the mouth. The success of "Grillz," the song by Nelly and friends that has hovered at the top of the charts, has prompted more inquiries and orders for "grills," bejeweled gold or platinum caps or "fronts" worn over the front teeth. "It's a trend and people want to have it before it's over," said Khaytin, the proprietor of Golden Fever, who has long provided extravagance to Philly's rap and sports stars...."Since hip-hop is the dominant counterculture at the moment, people want grills because that's what they see on TV," says Branden Peters, lifestyles editor at XXL, the music magazine that covers all things hip-hop. "It's the cool thing to do."
Hip-hop "a dominant subculture?" LOL.
It got sucked into the mainstream maw of consumerist affluenza years ago. Oh for the good old days, when it was actually about the music. The get-it-before-it's-too-late pitch for grillz seems damn strange to me.
If something's going out of style - and more importantly, butt-stupid to begin with, why rush to get it before the cultural expiration date? Take your money for grillz and buy a Sonicare toothbrush instead. There's a lifetime investment, my friends. As I can now attest.
TECHNORATI TAGS: TEETH GRILLZ, TEETH GRILLS, PHILADELPHIA, NELLY, XXL, HIP-HOP, SONICARE>
Posted by Matt Rosenberg at 03:03 PM | Comments (1)
February 22, 2006
Team Rosenblog Prepares For World Domination
Last summer, out at the beach in Northeast Tacoma, wandering around with my digicam, I met a bunch of kids skimboarding, which involves dropping a board atop the surf (as opposed to waves), from just a ways out, hopping on and hydroplaning back toward the beach. Works best when the tide is out. I took some pictures, part of the mix in this blog post I put up shortly thereafter. Naturally I first explained to them what I was doing, and mentioned the name of my blog.
Apparently, that made an impression. Now there is a skimboarding team started by some of them, called Team Rosenblog. Here's their Bravehost site, if you scroll down, you'll see a link to "Team Rosenblog" history (scroll down again to see the text). I'll let them explain.
It was an ordinary Summer afternoon, and group of friends were out skimboarding at a beach in Dash Point State Park when a man that must have been his early to mid-thirties (ed.--you're too kind, really) aproached them. He was dressed for the beach, but there was a hint of success to his wardrobe (ed.--What can I say? I owe it all to my wife). He asked the friends if he could take pictures to put on his website, rosenblog.com; named so because his last name was Rosenberg and it was a blogging site. The friends, mildly confused, complied.

A few days later, they each received a link the the man's site, where they found pictures of themselves skimming and serene beach pictures. Much of the events were forgotten but the name lived on. It became an inside joke as a word that could replace any noun in a sentence. For example, "Yesterday I was walking home from the school bus when I saw a rosenblog run across the street and get squished by a really big rosenblog." Eventually, the friends decided to form a skimboard team, and naturally they agreed to call it "Team Rosenblog"
So, any youth-oriented brands out there (energy drinks, instant messaging services, Apple) looking for some cool sponsorships, check these guys out. If you wanted to get started on skimboard market research, some links are here, here, and here. Wikipedia provides some background, and notes the sport has roots in Malibu. It's most popular in Hawaii; California; Manzanita, Oregon; Florida; Australia; Portugal; and France. But don't forget Northeast Tacoma.
If you land some corporate sponsors willing to fork over five figures or higher, well, guys, we'll all take a meeting with my intellectual property attorney, OK? I labored long and hard to come up with that brilliant name, and have been building the brand with my incisive and sideways bloggage.
A skimboard team named after a gen-yoo-wine Northwest blog. Hard to beat, eh?
Skim on, dudes.
TECHNORATI TAGS: SKIMBOARDING, TEAM ROSENBLOG, SPONSORSHIPS, TACOMA>
Posted by Matt Rosenberg at 05:58 PM | Comments (5)
A "Working Preference" For Residents Of New Orleans Public Housing
A Bill Cosby moment in New Orleans, praise the Lord. Post-Katrina applicants for permanent public housing in New Orleans should be screened to determine their willingness and ability to be employed, says the New Orleans City Council President, two of his council colleagues, and a key federal overseer of the city's public housing stock. The New Orleans Times-Picayune reports that Council President Oliver Thomas, an African-American, is speaking out about the need for higher expectations of public housing residents, as the city struggles to recover and repopulate after the floods and destruction wrought by Hurricane Katrina last summer.
In surprisingly blunt language Monday, three New Orleans City Council members said displaced public housing residents who are unwilling to work are unwelcome to return. At a meeting of the council's Housing Committee, City Council President Oliver Thomas said that for too long government programs and agencies have "pampered" rather than improved lives. Consequently, former residents who don't want "to roll up their sleeves" are better off staying away, he said in remarks that generated murmured agreement from some members of the audience in the council chambers. "We don't need soap opera watchers right now," Thomas said. "We're going to target the people who are going to work. It's not that I'm fed up, but that at some point there has to be a whole new level of motivation, and people have got to stop blaming the government for something they ought to do." When he finished, Councilwomen Jacquelyn Brechtel Clarkson and Renee Gill Pratt said they backed Thomas' position....The remarks were confined to the availability of permanent public housing and had no bearing on the ongoing effort to get thousands of displaced residents into trailers scattered about the city, officials said.

Their comments came after federal housing officials explained new policies they said already are screening the people who would like to return to the city's traditional or redeveloped public housing complexes. Several public housing complexes took on deep water during Hurricane Katrina, and no decision has been made on whether all will reopen, but those that gradually are accepting residents again, such as the Iberville complex, are instituting a series of steps to regulate who can return, said Nadine Jarmon, the appointed chief of the Housing Authority of New Orleans.....In the Iberville complex, for instance, about 400 of the 800 families who lived there before the storm want to return, HANO officials said....

They dubbed the new wrinkles a "working preference" for future inhabitants. Basically, the questions center around pre-Katrina employment and post-Katrina employment plans. "Part of the overall process is asking about people's ability or willingness to work," Jarmon said. "If someone says, 'Well, my income qualifies me for public housing and I want to come home,' but they don't express a willingness to work, or they don't have a training background, or they weren't working before Katrina, then you're making a decision to pass over those people."
Officials and Katrina refugees in Houston, were unsettled by the politically incorrect sounds emanating from New Orleans. In response, they highlighted: Houston's (federally-subsidized) open arms policy of housing New orleans evacuees; and expectations of affordable housing in New Orleans.
But in a recovering New Orleans, expectations are rightly a two-way street. The lion's share of scarce public resources such as permanent public housing should indeed be granted first to those most willing and able to contribute to the region's economic recovery, by working.
Hat tip: Rosenblog reader Stephen Taylor, of Austin, Texas.
TECHNORATI TAGS: NEW ORLEANS, PUBLIC HOUSING, SCREENING, WILLING TO WORK, OLIVER THOMAS, NADINE JARMON, HOUSTON>
Posted by Matt Rosenberg at 11:54 AM | Comments (1)
February 21, 2006
Ed Rendell: Democratic Champion of Vote Fraud
In an August, 2005 report, The American Center for Voting Rights pinpointed Philadelphia as the nation's Number One vote fraud hot spot. Meanwhile, Wall Street Journal columnist and vote fraud expert John Fund has wondered, as do I, how is it exactly that Philadelphia's number of registered voters has gone up so markedly, while its population has declined? I suppose the answer must have to involve an aggressive voter registration program - and if the new registrants are almost all legal, well, good, then. But wouldn't it be nice to actually know? Especially before the ballots are cast?
Such concerns are not limited to Democratic bastions of vote fraud. That's why 24 states require voters to show identification before voting, and a nonpartisan commission including no less than former President and liberal moonbat Jimmy Carter last year endorsed voter ID, too. So now get this: The Philadelphia Inquirer reports today that Pennsylvania's Democratic Guv, former Philly Mayor Ed Rendell, has vetoed state legislation to require voter ID at the polls, and to bar the use of private homes as polling places. More from The Inky:
Gov. Rendell used Presidents' Day to announce his veto of a bill that would require all voters to show identification whenever they go to the polls. Seated in front of a dozen of the city's African American leaders, Democrats all, Rendell said at a news conference that House Bill 1318 would have the effect of denying some people their right to vote. The legislation, he said, would discourage voting at a time when "we should be doing everything we can to increase voter participation."...The original bill would have prohibited felons on probation or parole from voting and would have said that only photo IDs were acceptable. Those provisions were scrapped in a compromise move to ensure the bill's passage.

"You need identification to get into an office building, to get on a plane, to write a check, to use any sort of government service," said Eileen Melvin, who chairs the state Republican Party. "Why shouldn't it be required for something as important as voting?" But Rendell said that such a requirement would impose an "unnecessary burden" on people without easy access to identification, including nursing-home residents, the displaced, the very poor, the elderly, the homeless, and those without driver's licenses....On another front, the bill rejected by Rendell would restrict the use of private homes as polling places, a practice that is common in residential sections of Philadelphia....Republican sponsors of the bill have argued that polling places in private homes often are inaccessible to the disabled and that the homes often are owned by local politicians, creating the potential for intimidation and harassment.

Among the groups supporting the veto were Common Cause, AARP Pennsylvania, the ACLU, the League of Women Voters, the state AFL-CIO, the Philadelphia NAACP, the Urban League of Pittsburgh, and the Philadelphia Federation of Teachers.
Quelle surprise, there. Rendell's rumored as a possible Democratic candidate for president in '08, but even if he doesn't run, indiscriminate voter enfranchisement to facilitate fraud in urban locales is key to Democratic electoral strategy, locally and nationally. When your ideas aren't good enough to win, you've got game the system instead. Sadly, there do not appear to be enough votes in the state legislature to override Rendell's veto.
TECHNORATI TAGS: PENNSYLVANIA, PHILADELPHIA, VOTER ID, ED RENDELL, VETO, VOTE FRAUD>
Posted by Matt Rosenberg at 01:46 PM | Comments (1)
February 19, 2006
Muslim Girl Hoopsters Want Kuffar Dads Banned From Stands
To benefit from the real competition they crave, girl basketball players at a Muslim school outside Chicago will have to assimilate. Muslim girl hoopsters at The Universal School in Bridgeview are tired of playing other Muslim-only girls teams, and want to compete against other and better non-Muslim units. But since their religion bans males from being present when any of their skin is showing, the girls want their school to see if the public and private school teams they'd like to play against will agree to keep kuffar, or "unbeliever" boys and men out of the stands and off the sidelines at any matches. The alternative is for the Muslim girl point guards and forwards of the inaptly-named Universal School to play all wrapped up in their hijabs, but that's hugely impractical.
Naturally, there's a diversity apologist ready to support the banning of non-Muslim dads from watching their daughters play basketball against the Muslim team.
Christine Bochnak, the varsity girls basketball coach at Sandburg High School in Orland Park, said complying with the ban on males could be tricky--her assistant coach, for instance, is a man--but she believes the girls from both schools could benefit from the experience. "The diversity would be good," Bochnak said. "I think it's always good when there's exposure to other cultures and ideas. It's a life lesson, and that's what we're supposed to be teaching when we're coaching basketball--teaching about life."
Lesson One: life in the United States presently bars gender or race discrimination in public events, and a variety of other settings.
I like the idea of modest dress on teen girls. In the U.S. I think styles have gone way overboard, and it's pretty evident in the T-shirts that younger girls and teens sometimes wear, in jokey costumes that are breathtaking in their sexualized tackiness, and everyday wear.
But Islam's ban on visible female skin - when men are present - reeks of hypocricy, if one considers the role of Iran's modern-day pimp-mullahs in fostering prostitution and sexual slavery. Worse is the intellectual flaccidity of the concept. As though female virtue were so fragile that the sight of a forearm is only a shade less than abject whoredom. Far from honoring the gender, such strictures demean women, conveniently contributing to a set of beliefs that condones not only genital mutilation and political and economic subjugation of Muslim women, but their "honor killings" by fathers or brothers if they become intimate with a man outside of marriage, or are merely suspected of that.
TECHNORATI TAGS: MUSLIMS, GIRLS BASKETBALL, VISIBLE SKIN, BAN MALES, UNIVERSAL SCHOOL, BRIDGEVIEW, CHICAGO>
Posted by Matt Rosenberg at 03:38 PM | Comments (2)
Shun Shabby Che Chic
Alvaro Varas Llosa writes in the San Francisco Chronicle today about, "Che: Revolutionary, Movie Star, Killing Machine."
Che Guevara, who did so much (or was it so little?) to destroy capitalism, is now a quintessential capitalist brand. His likeness adorns mugs, hoodies, key chains, bandannas, couture bags, jeans, herbal tea and, of course, those omnipresent T-shirts...The metamorphosis of Che into a capitalist brand is not new, but the brand has been enjoying a revival of late...owed substantially to last year's Oscar-winning film "The Motorcycle Diaries," which showed the young Che on a voyage of self-discovery as he encounters social and economic exploitation...It is customary for followers of a cult not to know the real-life story of their hero, the historical truth. It is not surprising that Guevara's contemporary followers, his new post-communist admirers, also delude themselves by clinging to a myth...Guevara might have been enamored of his own death, but he was much more enamored of other people's deaths....

During the armed struggle against Cuban leader Fulgencio Batista, and then after the triumphant entry into Havana, Guevara murdered or oversaw the executions of scores of people: proven enemies, suspected enemies and those who were in the wrong place at the wrong time. Fidel Castro put him in charge of La Cabaña prison, where he oversaw mass executions....Which brings us to Carlos Santana and the chic Che gear he wore to perform at last year's Academy Awards ceremony. In an open letter published in Miami's El Nuevo Herald last year, the great jazz musician Paquito D'Rivera castigated Santana for his Oscars costume....

Che Guevara's lust for power had other ways of expressing itself besides murder. His megalomania manifested itself in the predatory urge to take over people's lives and property. This obsession with collectivist control led him to collaborate on the security apparatus that was set up to subjugate 6.5 million Cubans. The first forced labor camp, Guanahacabibes, was set up in western Cuba at the end of 1960. Said Guevara: We "only send to Guanahacabibes those doubtful cases where we are not sure people should go to jail ... people who have committed crimes against revolutionary morals, to a lesser or greater degree."
About which Humberto Fontova has a few picquant thoughts, in "Che At The Oscars:"
Tune in to this, Carlos: in the mid 1960's Fidel and your charming t-shirt icon set up concentration camps in Cuba for, among many others, "anti-social elements" and "delinquents." Besides Bohemian (Haight-Ashbury, Greenwich Village types) and homosexuals, these camps were crammed with "roqueros," who qualified in Che and Fidel's eyes as useless "delinquents." A "roquero" was a hapless youth who tried to listen to Yankee-Imperialist rock music in Cuba. Comprende, Carlos? Do you see where I'm going with this, Carlos?
With a hat-tip to The American Thinker, we learn Carlos was confronted by an anti-Che blogger recently in Sausalito, and didn't acquit himself well. We all know Carlos walks the talk on fair labor practices and social justice, but truly dude: just shut up and play your guitar.
TECHNORATI TAGS: ALVARO VARAS LLOSA, CHE GUEVARA, MOTOCYCLE DIARIES, ACADEMY AWARDS, CASTRO, EXECUTIONS, LA CABANA, FORCED LABOR CAMPS, GUANAHACABIBES, CARLOS SANTANA, SAUSALITO>
Posted by Matt Rosenberg at 01:16 PM | Comments (1)
California Red-Legged Frog V. Golfers
The fairway of the 10th hole at Sharp Park, a San Francisco-owned golf course in nearby Pacifica, is underwater. A lot if it, due to heavy rains that blanketed the West Coast recently. Normally, the water would be pumped out, and customers would be able to play the whole back nine. But we live in "interesting" times, not normal times. California red-legged frogs have appropriated the impromptu lake, and started laying eggs. Because the expansionist species is somehow listed as "threatened" under the U.S. Endangered Species Act, the water stays until the eggs hatch, even if the the economic hit on the golf course and its employees is substantial.
Eggs were first found on the course Jan. 6, according to Rose Marie Dennis, San Francisco Recreation and Park Department spokeswoman. Until the tadpoles emerge, golfers can play only about half of a soggy course. With only 10 holes to offer players, Duane is losing money every day. "We've taken such a hard hit, it will take the rest of the year to dig us out," (golf course general manager Mark) Duane said. The waters have receded a bit without pumping, but not enough to open the entire course. In the past month, Duane said, he's laid off 13 employees and about 30 golf marshals. "It's killed the fairway," Duane said of the flood Thursday, as he watched the ducks swimming nearby. "It's never been this bad before. This is a whole new ballgame for us."
Never mind that the Endangered Species Act has done little to restore endangered species to recovery. Even worse, in this case, is the trump-card use of the lesser criterion of "threatened," under ESA. "Threatened" sounds imposing and serious. In fact, it is an egregiously overbearing second-tier classification that means everything is basically OK right now, but risks apparent to the enlightened mandate we err on the side of prudent conservation

But what's "threatened" here is common sense. It is one thing - albeit often quite debatable - for a new development to be opposed due to species preservation concerns. It's quite another thing for the primary use of an existing, and publicly-owned recreational facility to be constricted because fertilized frog eggs appeared in a big puddle after a rainstorm.
California Republican congressman Richard Pombo explains in this op-ed from today's Milwaukee-Joural Sentinel why and how the ESA needs updating, outlining changes embodied in the new, House-approved Endangered Species and Recovery Act.
Efforts to update and modernize the Endangered Species Act are an emotional topic for many, with opinions ranging from completely repealing the act to not changing a single word. Yet it seems clear that sensible improvements are long overdue. Over more than three decades, nearly 1,300 species have been listed as threatened or endangered, but only 10 of those have recovered sufficiently to be removed from the list. During that same period, some 35 species have been found to be extinct. This stunning record of failure can largely be traced to a simple fact. While our successful environmental laws, such as the Clean Air Act and Clean Water Act, have frequently been updated and strengthened by Congress over the last 30 years, the act has seen no modernization to take advantage of lessons learned. That is why my colleagues and I - both Republicans and Democrats - introduced and passed the Threatened and Endangered Species Recovery Act in the House last fall.

....For the first time, a scientifically peer-reviewed recovery plan will be required when a species is listed. These plans may, in some cases, require the set-aside of some habitat, or, as was the case with the peregrine falcon and the bald eagle, habitat may be irrelevant while other factors are vital to recovery. Since the majority of endangered and threatened species live on private land, TESRA will, for the first time, set up a system of incentives for private property owners to participate in voluntary conservation programs. When private landowners lose all or some of the use of their property because a recovery plan requires restrictions, the landowners will be fairly compensated with a one-time payment. The payment will not continue year after year, nor does it get paid to any new owner. The amount is based only on the value of the land's current use rather than any future increased value.
The U.S. Senate will soon begin its own deliberations on changes to the ESA.
TECHNORATI TAGS: RED-LEGGED FROG, GOLF COURSE, ENDANGERED SPECIES, SHARP PARK, PACIFICIA, SAN FRANCISCO>
Posted by Matt Rosenberg at 10:47 AM | Comments (3)
February 18, 2006
Rosenblog's News Of The Skewed, Vol. 3
If you buy a can of pinto beans with a bird's head in it, just be sure to eat it up within one year, OK?
Big-ass Nalgene water bottles, decorated with all kinds of stuff, are the latest in personal branding; sort of like tattoos without the bodily disfiguation. Kids these days.....(oy). They're displaying identity, everywhere but within.
George Herbert Walker Bush; Casanova cribbing from the Dukakis playbook, no less. Here's a frankly terrifying excerpt from an article about a book on amorous notes and letters between U.S. presidents and their first ladies. Bush 41 to putative wife, Barbara.......
"Sweetsie,'' he began. "Please look at how Mike and Kitty do it. Try to be closer in more — well er romantic — on camera. I am practicing the loving look, and the creeping hand. Yours for better TV and more demonstrable affection. Your sweetie pie coo coo."
Eeeeeee-yeeeccchhh. But she wasn't entirely to blame for the chilly place they were at - right? Pro-forma dismissals of the Jennifer Fitzgerald story aside, was not "Millie's" pantyhose find somewhat telling? Course, mebbe sweetie pie coo coo was just somewhat driven to it to begin with, but cha' know what? Let's really, really not go there.
Moving ON......members of The Compact, a Bay Area consortium of 50 pseudo-devout non-materialists, have pledged not to buy anything new in 2006, except food, health and safety items. And underwear. Um, scuzi: what's with the new underwear? Don't they all have enough to just wash, for '06? Suppose their new drawers aren't union-made? A consumerist quagmire lurks. And what qualifies as an essential new "safety" purchase anyway? A bio-hazard mask, or cases of bottled water? 'Tain't EZ bein' PC.
The quite ethically challenged California State Senator Carole Migden now wants to make Zinfandel the state wine of California. Every dog has its day. It might truly be that the "Sonoma guys got to her," but still - she's got a point. The San Jose Mercury News wants a public vote on the question. I'm feeling munificent today, so that's OK with me, too. I hear big sighs of relief from down the Left Coast.
NASCAR wants to continue growing beyond its "southern redneck heritage," but it still wants the southern rednecks, and their Confederate flags. Do you take South Carolina yellow mustard sauce or that thin, vinegar-y North Carolina red sauce on your BBQ? Ah've tried both, in situ. I'll take what's behind Door #2, and some outside brown, thanks.
If at all possible, your baggage should be carry-on.
Chocolate-imbued gnocchi with porcini mushrooms and strands of roasted wild boar: just one more reason to eat out in NYC; capiche?
The San Francisco Zoo - natch - offers a special tour imparting WAY more than you probably wanted to know about hermaphrodite ostriches, well-endowed tapirs and chimps with rubber boot fetishes.
TECHNORATI TAGS: PINTO BEANS, BIRDS HEAD, LA PREFERIDA, CHICAGO, NALGENE, SEATTLE, GEORGE HERBERT WALKER BUSH, JENNIFER FITZGERALD, MILLIE, BARBARA BUSH, THE COMPACT, CAROLE MIGDEN, ZINFANDEL, CALIFORNIA STATE WINE, NASCAR, REDNECK, CHOCOLATE GNOCCHI, SAN FRANCISCO ZOO, ANIMAL SEX TOUR>
Posted by Matt Rosenberg at 12:08 AM | Comments (0)
February 17, 2006
How About A Nice, Relaxing Vacation In....Syria?
In the bad old days, nobody but Saddam's elite could get out of Iraq for a vacation. It's still not easy, what with the jihadists and their improvised explosive devices, but Iraqis can now enjoy beach vacations and the sight of bikini-clad chicks (hopefully from Lebanon, but maybe not, due to visa restrictions). To boot, the state monopoly on travel agencies is over.
Today, Iraqis who can afford it can travel abroad freely. Neighboring Syria is a popular destination. The bulk of the trips at Beirut Travel Agency in central Baghdad are five-day or one-week jaunts to Syria, says Dhamir al-Samarae, the agency's owner. Cheap accommodations, easy flights and the welcoming nature of Syrians have made the country a top destination, he says. Ahmed al-Dulaimi, a 24-year-old computer engineer in Baghdad, says he visited Syria last summer through a trip set up by a local travel agent and plans to revisit the country this summer.

He likes going to the Mediterranean coastal town of Latakia in Syria and enjoy things he can't in Iraq, "such as pretty girls in bikinis," he says.

Al-Dulaimi chooses Syria, he says, because it is inexpensive — he pays about $5 a night for a hotel room — "and you don't feel like a stranger there." Neighboring Jordan is also popular. Visa requirements make it tough for Iraqis to visit Lebanon. Dubai, in the United Arab Emirates, is another popular spot — but too expensive for most Iraqis....Today, dozens of new travel agencies have cropped up to meet the growing demand, says Adnan Dawood al-Qaisy, deputy director of the Tourism and Travel Agency Union in Iraq.
Nascent capitalism: gotta love it. Air travel is starting to take-off in Iraq, as well. I hope they're hiring lots of well-trained air marshals.
TECHNORATI TAGS: IRAQ, VACATIONS, AIR TRAVEL, SYRIA, LATAKIA, BIKINIS, FREEDOM>
Posted by Matt Rosenberg at 01:59 PM | Comments (1)
The More "Blink" Decision-Making, The Better
The Boston Globe reports today scientists are confirming that - get this - following your gut instincts is the best way to make a decision. I'm thinking mandatory cloture within 72 hours of commencement for all state and federal legislative debates, and especially federal judicial confirmation hearings, unless the legislative body can summon a five-sixths majority to extend debate another 48 hours.
I'm just shooting from the hip here, of course, but wouldn't that force these gassy buzzards we elect to actually focus their thinking? You know: like, do we really need state legislation to teach kids how to balance their check books and avoid credit card debt? Do we really want to add to the multi-billion-dollar loopholes in the federal tax code for Archer Daniels Midland and the Ethanol Mafia?
Up or down? Now! And so forth.
Let's apply the "Blink" model of snap-decision making, described so well by Malcolm Gladwell in his book of the same name, to a few pressing public policy issues.
Iraq: Which "Blink" paradigm wins here? You tell me.
A) Let's announce our withdrawal date and get out soon. We're just pissing off the world and making the terorrists mad.
B) Al-Qaeda needs to be crushed, and you don't announce you're quitting a war until it's won.
Universal Health Care:
A) The only compassionate response to health-care disparities is a national, single-payer plan.
B) Where do Canadian politicians go for surgery?
Homelessness:
A) There but for the grace of God, go I, and thou.
B) There but for a lifetime of hard work and a network of supportive family relationships go I.
Child Sexual Abusers:
A) We must not hastily stiffen penalties - that could keep some families from turning in abusive relatives. More funds for treatment programs are needed, too.
B) Lock these sickos up with a 400-pound gay Samoan murderer, for life. If you let them out, they only go back to their old tricks.
If you answered "B" in each case, you are obviously bold and brilliant.
There are a number of issues on which I disagree with President Bush, but the secret to his survival amidst fierce criticism and great pressures is his incisive and instinctive processing of complicated issues. His critics see this as a stunted intellect. The very nuanced John Kerry knows better, though.
Another guy who cuts right to the heart of things is Rudy Giuliani, a role model even for gay, tatooed conservatives in Vancouver. Maybe the national GOP should take a hint from the Republicans of Washington state: in a recent Strategic Vision poll, Rudy was the top pick among potential '08 Republican candidates for president. McCain trailed by a few points, doubtless because he thought too long before coming up with McCain-Feingold.
Even so, McCain proves the "Blink" rule to me. McCain-Feingold may indeed be an unravelling train wreck, but my gut told me a long time ago, and still does, that McCain is a man of conscience, and a strong leader. Your gut tells you what it tells you about politicians; it doesn't parse the interest group scorecards.
TECHNORATI TAGS: SNAP DECISIONS, BLINK, MALCOLM GLADWELL, POLITICS, SUPREME COURT NOMINATIONS, CLOTURE, PRESIDENT, BUSH, 2008, RUDOLPH GIULIANI, JOHN McCAIN, McCAIN-FEINGOLD, CITY JOURNAL, JOHN KERRY, ETHANOL>>
Posted by Matt Rosenberg at 10:46 AM | Comments (1)
February 16, 2006
Netflix "Throttling" and Postal Thefts No Big Deal - Yet
Unlimited DVD rentals through Netflix aren't really unlimited after all; thanks to the company's "fairness algorithm" that slows down shipments to heavy users, so other and newer clients won't have to wait too long to receive back catalog picks, and especially newer releases. You pay $18 a month, but the more you rent, the slower they send the next items you've pre-selected online. One guy, in the above-linked story, was renting 18-22 DVDs a month, but they got wise to his ways and "throttled" him back to 13. With a bit of legal prodding, the company has decided to admit to the practice.
Netflix didn't publicly acknowledge it differentiates among customers until revising its "terms of use" in January 2005 — four months after a San Francisco subscriber filed a class-action lawsuit alleging that the company had deceptively promised one-day delivery of most DVDs. "In determining priority for shipping and inventory allocation, we give priority to those members who receive the fewest DVDs through our service," Netflix's revised policy now reads. The statement specifically warns that heavy renters are more likely to encounter shipping delays and less likely to immediately be sent their top choices. Few customers have complained about this "fairness algorithm," according to Netflix CEO Reed Hastings.
We're new Netflix customers, and like it a lot so far. But with rentals for the kids and adults in our house we could reach the threshold too, and I wouldn't like that. A deal is supposed to be a deal. The Netflix selection is as good, if not better than all but the most boutique video stores, and how many of those are within reach of most folks, anyway? Price-per-rental works out better than at stores if you go beyond about five rentals a month, and of course gets lower still with each additional rental. (That's what has their automated bean-counters throttling heavy users). With Netflix, there's no schlepping to and from the store, waiting in line, or late fees. You can rent up to three movies at a time, and the DVDs come in wafer thin envelopes with the return envelope and postage built in. Watch, seal, drop in mailbox, and another one is soon on its way. You select the films and track shipping status at their Web site.
I've often wondered if someone would steal the DVDs from our mailbox; so far, no. BUT - U.S. postal workers have developed sticky fingers for Netflix DVDs, as New York Magazine reports. The article includes this upbeat note, for which we can thank government employee unions and De Gub'mint itself:
Because civil-service rules make it nearly impossible to fire corrupt mail carriers, U.S. attorneys often agree to dismiss charges in exchange for their quitting.
Well, at least if someday a DVD reported sent to us by Netflix fails to show, I'll now know not to just assume it was pinched from our mailbox. All told, Netflix is a still quite a success story so far, and the customer satisfaction, including that of our household right now, is high. I'll be watching the turnaround time, though, especially as our rental frequency increases. Our DVDs are coming from no great distance: Tacoma to West Seattle, and we know it only takes a day once they put it in the mail. Blockbuster has already started a competing DVDs-by-mail service, and perhaps there will be other new entrants, too. Netflix might want to consider creating a more-premium account option for a few bucks more per month, guaranteeing quick turnaround for high-volume users. Or is it too risky, competitively, to more fully admit to the current limits of the "unlimited" rentals claim?
TECHNORATI TAGS: NETFLIX, DVD RENTALS, THROTTLING, POSTAL THEFT, CIVIL SERVICE, BLOCKBUSTER>
Posted by Matt Rosenberg at 09:35 PM | Comments (3)
Social Justice for Sex Workers, Via Art
Here you - no doubt a typically judgemental, irksome conservative religious zealot - probably thought that being a whore, escort, stripper or dominatrix was sleazy work with no real future, and a distinct risk of abuse; that no one in their right mind who wanted to maintain healthy relationships with their partner, spouse or children would undertake such endeavors.
Wrong, wrong, wrong - as students and faculty will learn tonight at the University of California Santa Barbara when they see the Sex Workers Art Show. The show is paid for by the University's Women's Center, plus other university departments and institutions.
Prostitutes, strippers, dominatrices, phone sex operators and their peers intend to challenge embedded stereotypes tonight in the MultiCultural Center Theater (MCC) as part of the traveling Sex Workers Art Show....People think of [sex workers] as the lowlife under-belly of society, and it's not fair because they have different talents like everyone else," (UCSB Women's Center program director Sharon) Hoshida said. "The show gives a multidimensional look at sex workers as people and creative geniuses in their own right."

While the cabaret has been well-received by audiences nationwide, Women's Studies Dept. Chair Leila Rupp said many feminists and moral conservatives find its content offensive, believing the show promotes sexually exploitative lifestyles. "It will be controversial because some people can't imagine something like sex work as art," Rupp said. "It will open minds to how people might stand on the question, 'Can you be involved in sex work as a legitimate form of work?'" Despite protests against the material, Hoshida said, sex work is prevalent to the extent that it cannot be ignored.
Especially when we're talking about modern-day sexual slavery, catalogued in the U.S. State Department's 2005 "Trafficking In Persons" report. I imagine there's quite an art to scamming young women into debt or servitude, moving them across national boundaries, and forcing them into indefinite prostitution or "hostessing" for recompense. Or maybe, actually, it's more a science than an art. I'll let the Women's Studies faculty at UCSB ponder that.
Hoshida said the Women's Center has been planning the show since mid-November, and is using part of its $6,000 annual programming budget to produce the event. Other campus departments have lent help in sponsoring the art show, including the Art Studio Dept., the College of Creative Studies, the Sociology Dept. and the Queer Theories Reading Group in the Interdisciplinary Humanities Center. Although this is the Sex Workers Art Show's first visit to UCSB, the MCC has put on similar events in the past such as the 801 Cabaret, which featured a traveling group of drag queens from Key West Florida, MCC Event Programmer Luniya Msuku said...."Our campus could use this experience to break down stereotypes," Hoshida said. "It will make students think differently before they say, 'She's a prostitute' or '[She's] a whore.'"
Hillsdale College: looking better every day.
TECHNORATI TAGS: SEX WORKERS ART SHOW, UC SANTA BARBARA, WHORES, STRIPPERS, DOMINATRIX, ESCORT, TRAFFICKING IN PERSONS, SEXUAL SLAVERY, U.S. STATE DEPARTMENT, HILLSDALE COLLEGE>
Posted by Matt Rosenberg at 05:18 PM | Comments (0)
February 15, 2006
Employers Can't Easily Fire Addicts In B.C.
One step forward from the abyss and one step back, in a pair of rulings from the B.C. Court of Appeals on whether employers are entitled to fire drug-addicted workers. You'd think that's a no-brainer: if an employee is stealing drugs from your supply room, or toking up on primo B.C. bud every day before his shift as an, um, OPEN PIT MINER...then yes, in fact, you the employer are entitled to let him go. Period.
But not in Canada, eh?
Today's Vancouver Sun has more:
Peter Gall, who represented two companies seeking to appeal arbitration decisions to reinstate dismissed employees....said that up until now the issue of dealing with drug-addicted employees seemed to be "one-sided," with many arbitration decisions leaning towards reinstatement." (We know) (now) that an addicted employee also has a responsibility to take all reasonable steps to deal with his or her addiction," he said.
Yes, in Canada, it takes court intervention to establish that employed drug addicts share some responsibility for keeping themselves drug-free and employable. But even then, the conduct has to be pretty flagrant to provoke a bout of court-ordered rectitude, and overriding an absurd earlier ruling by an arbitrator.
In one of the two written rulings, Chief Justice Lance Finch upheld an appeal by the employer's association at Kootenay Boundary Regional Hospital, finding in essence the hospital was right to dismiss a nurse who was stealing drugs to feed his addiction. An arbitrator had initially found the hospital was wrong to dismiss Ron Bergen, a registered nurse who had been addicted to drugs since 1996. In his ruling, Finch overturned that decision, saying the arbitrator did not properly consider the responsibility Bergen had to participate in his own rehabilitation.
Radical concept, judge dude. But the world of employment is still safe for on-site doobie-puffing open pit miners, so long as once they're caught, they accept a suspension withut pay, do "treatment," and stay clean upon return.
In the second case, which was heard at the same time as the first, Finch upheld an arbitrator's ruling to reinstate an employee of Kemess Mines Inc. The mining company dismissed Mark Gardiner from his job at an open pit mine in after he was found smoking marijuana in his room at the mine site. The company has a documented "zero-tolerance" policy....Gardiner had worked at the mine in alternating two-week shifts for almost seven years, and would take enough marijuana each time he went to work to last his entire stint. In Gardiner's initial appeal, an arbitrator found that Gardiner should be suspended from his job at the mine for 10 months without pay but not dismissed. In that decision, the arbitrator said the company should take back Gardiner with several conditions -- including that he remain abstinent and complete a treatment program -- because it had not fulfilled its duty to accommodate him and his addiction.
So the appeals court upholds the arbitrator's ruling that a company has a duty to accomodate a worker and his addiction. No, sorry. I'd say they should have the option of accomodating an employee's drug addiction. Or not. Especially if the addict is working in an open pit mine.
The therapizing of drug addiction as a "sickness" more than a personal choice - which is what it really is - absolves the decision-maker from responsibility; keeps the treatment industry fat and happy; and too often leaves the addict still addicted because he has been let off with a note from the doctor.
TECHNORATI TAGS: CANADA, B.C. COURT OF APPEALS, FIRING, DRUG ADDICTS, ARBITRATION, LANCE FINCH, KOOTENAY BOUNDARY REGIONAL HOSPITAL, MARK GARDINER, KEMESS MINES>
Posted by Matt Rosenberg at 10:42 PM | Comments (0)
Impulse To Censorship Reveals Islamist, Socialist Fears
A hypothetical for you, sort of: What if Radio Tehran were being beamed into the United States, broadcasting a steady stream of Iranian government talking points (minus "wipe Israel from the face of the earth"). Would you be in favor of U.S. government counter-intel ops to override the signal, so no one could hear it? Or would you shrug, and say: "Hey baby, marketplace of ideas, whatever."
Here's my answer: unless the imagined Radio Tehran broadcasts into the U.S. contained direct incitement to violence, I'd say, let it be.
I'm laying out this scenario because of an interesting snippet in an op-ed today from John Hughes in the Christian Science Monitor, titled "Latin America's Leftist Regimes Get Cozy With Iran": Here's what grabbed me:
The growth of relations between Cuba and Iran has been under way for some years prior to (Mahmoud) Ahmadinejad's ascendancy to the presidency. Observers of Cuba say that Iran has made use of an electronic jamming station outside Havana from which Cuba blocks broadcasts beamed at it by the US-backed Radio Marti. Iran has apparently piggybacked on Cuba's expertise to jam American government broadcasting into Iran.
Why must Iran and Cuba jam American government radio signals unless they are deathy afraid some of their not-so-loyal subjects will hear an appealing message of freedom, self-determination, and uncensored public dialog? In contrast to the skittish censors who run Iran and Cuba, in the U.S., we already have homegrown dissonance - socialist and communist Web sites, not to mention Michael Moore and Media Matters, the rapid response media watchdog site advancing the agenda of leftist billionaire George Soros.
Plus there's easy Internet access here to Cuba's and Iran's online propaganda sheets, Granma and The Tehran Times. Whereas, censorship of Western media and homegrown dissidents and bloggers is the rule in Iran and Cuba. This is the same impulse that says, "behead the cartoonists." I hope the censorious champions of darkness keep at it. We ARE approaching a tipping point. I'm going to petition my local school board for K-12 immerison curricula on Iranian and Cuban media, and Western Civ. How about you?
TECHNORATI TAGS: IRAN, CUBA, RADIO SIGNAL JAMMING, CENSORSHIP, CASTRO, AHMADINEJAD, CARTOONS, ISLAMISM, SOCIALISM, COMMUNISM, MICHAEL MOORE, MEDIA MATTERS, GRANMA, TEHRAN TIMES>
Posted by Matt Rosenberg at 11:15 AM | Comments (2)
February 13, 2006
Philly Illegals Lukewarm To Work Stoppage
Philadelphia activists are urging illegal immigrants who work in the city's restaurants to skip work tomorrow on Valentine's Day to show how crucial they are to their employers, and to protest tough federal legislation targeting illegals and those who hire or help them. As this report in the Philadelphia Inquirer shows, few are likely to opt for symbolism; they'd rather keep their jobs.
...Tuesday's effort, billed as A Day Without an Immigrant, would be the first such strike by illegal immigrants anywhere in the United States, according to advocates....a "Dear Employer" form letter, prepared by organizers to help workers explain their absence on Feb. 14, was faxed to (restaurateurs) this week. It asked for...support in defeating the Border Protection, Anti-Terrorism and Illegal Immigration Control Act drafted by Reps. James Sensenbrenner (R., Wis.) and Peter King (R., N.Y.) and passed by the House of Representatives in December. The Senate is to discuss immigration next month.

...Owner after owner sounded the same refrain about Mexican workers, many of whom did relocate, by crossing deserts and fording rivers in the company of human smugglers called coyotes. "These people are eager to work, and they're hard-working people," said the owner of a Rittenhouse Square establishment....Undocumented workers are so essential to the food industry nationwide that the National Restaurant Association has made stopping the Sensenbrenner-King bill its top priority in Congress this year....

The Sensenbrenner-King bill would increase fines against employers who hire illegal workers, in some cases by tens of thousands of dollars per violation. It would also classify as "alien smugglers" the groups - including employers, churches and charities - that knowingly and "with reckless disregard" hire or help the immigrants. Migrants would be subject to criminal prosecution. The restaurant association and most immigrant advocates back alternative legislation, drafted by Sen. John McCain (R., Ariz.) and Sen. Edward Kennedy (D., Mass.), that ultimately would allow undocumented immigrants to become legal residents.
Knight-Ridder columnist Jack Z. Smith says amnesty for many of the 11 million illegals here now is necessary, but that going forward we need tamper-proof ID for newly-hired immigrants to prove they are here legally; increased federal immigration manpower for workplace enforcement; and stiff fines for employers who hire illegals.
Tony Dolz, a candidate for California State Assembly, 41st District (Santa Monica, Malibu, Topanga) argues against any guest-worker amnesty program. I am sure many "progressives" would call his views extreme, but they reflect a legitimate frustration with the double-standard which allows illegal immigrants to enter our country freely and use public resources without abiding by the most basic of our nation's laws. Dolz writes:
I am a foreign born Hispanic legal immigrant who attained naturalized citizenship through the legal process. Like most Americans, I favor legal immigration and oppose illegal immigration....I believe that the immigration process must be sustainable, orderly and in observance of the law....Make no mistake; guest-worker-amnesty is a betrayal. Let's not accept a Guest Worker-Amnesty Program for the 15 to 20 million foreigners who have already violated our borders and taken advantage of the tax-payers. Let the employers who are addicted to cheap labor pay living wages and medical insurance to Americans instead. The net result will be less congestion, lower taxes, living wages for both low-skill and technical workers, higher quality of education moving at a faster pace and in less crowded classrooms, better and lower-cost healthcare for the elderly and solvent hospitals.
The political reality, unpleasant as it is to some, is that amnesty is not unthinkable, as Dick Morris has pointed out. But fixing the border with Mexico has to come first. A fence hundreds of miles long doesn't faze me one bit, but alone, wouldn't be enough. Where the money for large manpower increases will come from is anyone's guess. That piece of the problem underscores the importance of federal fiscal reforms on a scale inconceivable even to Congress, now.
TECHNORATI TAGS: PHILADELPHIA, ILLEGAL IMMIGRATION, RESTAURANTS, WORK STOPPAGE, PROTEST, GUEST WORKER AMNESTY, BORDER SECURITY, JAMES SENSENBRENNER, PETER KING, JOHN MCCAIN, TED KENNEDY>
Posted by Matt Rosenberg at 05:15 PM | Comments (4)
Dover, Delaware: Not Ready For Wiccans?
I'm going to lay my (Tarot) cards right on the table: I'm Wiccan-friendly. Folks threatened by Wiccans and the practice of witchcraft strike me as being somewhere in the vicinity of pinheaded dolts.
Of which there is at least one prominent example in Dover, Delaware, where a local Baptist preacher named Jeffcoat helped convince a well-known department store to cancel a class for shoppers on "spiritual awareness" because of the Wiccan overtones of the consumerist program.
Now, local Wiccans are claiming discrimination, and while I generally am unsympathetic to such bias claims, I wonder if this one might have some merit.
Candle making is OK, but not candle magic. You can study "Communication from Beyond," but not tarot cards. Reflexology is in, but numerology is out - at least in Dover. The Delaware Human Rights Commission has been asked to settle a dispute between Boscov's and a group of people who claim the Pennsylvania-based department store chain discriminated against them by canceling classes they planned to teach at the company's Dover store....The teachers argue Boscov's canceled the "spiritual awareness" classes, which included instruction in tarot cards, numerology, psychic readings and herbs, after a local Baptist preacher complained.

....the store began receiving complaints last year after class schedules were published in local newspapers and advertised at Dover's annual Pagan Pride Day celebration in August...(Class teacher and local psychic Donna) Jackson and her supporters blame the Rev. William Jeffcoat, pastor of Capitol Baptist Church in Dover, who led a protest during Pagan Pride Day last year....Jeffcoat said he learned of the classes when a member of his congregation showed him an advertisement touting "spiritual awareness" classes with subjects such as tarot cards, creative talismans, charms and "witch balls."

"When we saw that, we could not stand by silently," said Jeffcoat. After moving to Dover in 2004, he said, he was surprised to learn about Pagan Pride Day and the "foothold" Wiccans had established in the community. "We consider it to be a dark religion," he said.
Hard-line religious conservative Christians in the U.S. too often behave like insecure ninnies, as the great hue and cry over the "War On Christmas" demonstrated. This is another bleak episode in their history.
TECHNORATI TAGS: DOVER, DELAWARE, WICCAN, CLASS, BOSCOV'S, RELIGIOUS RIGHT, DISCRIMINATION>
Posted by Matt Rosenberg at 09:38 AM | Comments (3)
February 12, 2006
The Other Clive Davis: Blogs Ascendant
This Clive Davis is not to be confused with the U.S. music company executive of the same name. He's a former Hoover Institution media fellow, blogger and writer of op-eds for The Times Of London and The Washington Times. What I like about his column in today's Sunday Times is the measured way in which: 1) he gauges the significance of the emerging blogosphere vis a vis the mainstream media; 2) he explores the accomplishments and hubris of conservative bloggers. It's called, "I Have Seen The Future, And It Blogs."
One reason for me starting my own blog just over a year ago (apart from being an incurable know-it-all) was the desire to explore a form that is fresh and unpredictable and not — yet — the property of an incestuous metropolitan elite. Some of the more quixotic spirits even talk about usurping the MSM (ed.-mainstream media) altogether. That may be a daydream, but there's no question that the balance of power has begun to shift.

But dangers lie in wait too, as anyone knows who has dipped into the new media. As ever, America has lessons for the rest of us. When the Democratic Party puts its destiny in the hands of the hyperventilating devotees of the left-wing site The Daily Kos, it wins short-term gains on the fund-raising trail but scares off centrist voters.

The right-wing blogosphere may not seem quite so vulnerable, but it too faces dangers. There is a lot to be said for the forensic work it has performed in the past couple of years. Faced with a complacent liberal media, it has prompted an overdue rethink among editors and reporters who once assumed that their worldview was the only one that mattered. It would be a shame if the conservative upstarts were to fall into the same trap. It is one thing to say that the mainstream media have got certain stories wrong, quite another to insist that they always get them wrong. But that is the impression that sometimes lingers in the ether.
Precisely right. MSM are a crucial resource, although beyond bias reduction, they need to form stronger alliances with blogs, and learn how to blog properly themselves (a few MSM scribes do get that). But even now, along with the attendant dribble and blather and bias and omission, MSM still provide plenty of meaty stuff to feed the beast that is the blogosphere.
Davis isn't quite done telling conservative bloggers how they're getting it wrong, and right.
...since conventional wisdom on the blogger Right insists that Europe is economically and demographically doomed, the idea that radical Islam is somehow just years away from seizing power becomes even more seductive. A similarly reductionist approach has tinged some of the coverage of the Mohammed cartoons affair. Hostility to Islamism risks degenerating into casual disdain for Muslims as whole.

....Ultimately, however, I remain optimistic. For one thing, conservative bloggers still tend to be more tolerant of dissent than their left-wing counterparts, many of whom are about as much fun as superannuated members of the Militant Tendency. More importantly, if American bloggers often take a superficial view of Europe (we all sit on street corners begging, apparently) Europeans must take some of the blame. There simply aren't enough of us out there working the internet. For some reason, the habit still hasn't fully taken root on this side of the pond. Which means that, unless we rise to the challenge, the stereotypes will only get worse. Pardon my franglais, but the time has come to say "Aux keyboards, citoyens!"
All of which gets me thinking about Web-based translation tools, so that international blog conversations can really flourish. With a hat tip to jonnybaker, here's a start. Maybe all bloggers interested in inter-lingual dialog should have a prominently-marked sidebar section titled "To Translate," and then right below, a link to Google Language, where you can enter the URL of a Web page or specific blog post, and have it translated to/from English, to/from French, German, Spanish, Italian, Portugese, Korean, Japanese and Chinese. Here's a translation of my blog's main page into French, via Google Language. I noticed the translation only covered the first few posts visible on my main page, then it relapsed into English. Although, I'm still chuckling about the re-purposing of "the speeding white sausage" in this post to "la saucisse blanche expediante."
At any rate, Google Language is a good start, but they'll need to get Russian, Eastern European languages, Hebrew, and especially Arabic into the mix. Not to mention Farsi, Filipino, Malay, Urdu, and other languages of the sub-continent.
Let me know about any other worthwhile Web-text translation tools.
TECHNORATI TAGS: CLIVE DAVIS, BLOGS, BLOGOSPHERE, BLOG TRANSLATION, MSM, GOOGLE LANGUAGE>
Posted by Matt Rosenberg at 09:36 PM | Comments (1)
Reparations Conferences And Black Ski Trips at UC Berkeley
Yesterday the UC Berkeley Graduate Minority Students Project sponsored its second annual conference on reparations to American blacks for slavery. It was titled "Bridging The Gap: Redefining Reparations With The Hip-hop Nation." Various hip-hoppers, political activists and academics convened to discuss the case for reparations, and the role of hip-hop culture and rap music therein.
A link from the conference's Web site, on reparations, identifies $8 trillion as a reasonable amount. The keynote speaker was one Davey D; who has previously expounded upon why blacks don't trust police.
But the "400 Years Of Slavery" plaint underlying the reparations shtick is somewhat diminished, upon further consideration. The reparations conference Web site has a link to the blog of the UC Berkeley Black Graduate Students Association. The most recent post (as of today) was focused on the then-upcoming conference, including the reparations agenda. The next post, only a few days old, was titled, "Black Ski Trip FAQ." It's about the second annual Black Graduate Ski Trip for qualifying UC Berkeley students, to Summit Village at Lake Tahoe. Accomodations are two- three- and four-bedroom condos, a party is planned and attendees are reminded about the Tahoe casinos, as well. If you want to bring your UC Berkeley Minority Graduate Student children along, the blog post notes, you can make arrangements for an extra $140 with the National Brotherhood Of Skiers. Whether in the apres-ski lounge or at the gaming tables, what better setting to discuss the resonance of institutional racism in modern-day America?
Yes: the personal is political. And economic.
Social justice, baby: it's a beautiful thing.
TECHNORATI TAGS: UC BERKELEY, CONFERENCE, REPARATIONS, SLAVERY, BLACK SKI TRIP, NATIONAL BROTHERHOOD OF SKIERS, LAKE TAHO, SUMMIT VILLAGE>
Posted by Matt Rosenberg at 11:05 AM | Comments (3)
February 11, 2006
Islamist Rhetoric As A Weapon Of Conquest
I'd like to think the wild conflagration over the Danish newspaper cartoons criticizing violent Islamism is a tipping point, where even previously blithe, namby-pamby Westerners finally begin to get that radical Muslims want to eradicate our way of life, our customs and cherished freedoms of speech, religion and political expression. Make no mistake, these are the true aims of the cartoon jihadists, as foreign affairs consultant Oliver Guitta calls them in this new Weekly Standard cover story.
...one of Denmark's leading Islamists, Imam Ahmed Abu-Laban, led a delegation late last year to visit influential figures in the Muslim world. He took with him a dossier of cartoons, both those that had been published and others, much more offensive, of dubious provenance. One place he took his road show was Qatar, where he briefed Sheikh Yusuf al-Qaradawi, a prominent leader of the Muslim Brotherhood and a star of Al Jazeera....Abu-Laban's labors were not in vain, and everywhere the loudest protests have come from the Muslim Brotherhood. On February 3 in Paris, Larbi Kechat, an imam linked to the Syrian Muslim Brotherhood, said, "The most abject terrorism is the symbolic kind, which spreads unlimited violence." Meanwhile, in Qatar, al-Qaradawi was calling for an "international day of anger for God and his prophet," describing the cartoonists as "blasphemers" and Europeans as "cowards." Acknowledging the latter's role, the pan-Arab daily Asharq Al-Awsat, in London, stated on February 8, "The issue disappeared from the radar until Sheikh Yusuf al-Qaradawi, the mufti of Al Jazeera TV, seized upon it and called for Muslims worldwide to protest."
But wait. It gets worse.
A new book published by Le Seuil in Paris in October...written by the Swiss investigative reporter Sylvain Besson and not yet available in English,...publicizes the discovery and contents of a Muslim Brotherhood strategy document entitled "The Project," hitherto little known outside the highest counterterrorism circles.

Besson's book, "La conquête de l'Occident: Le projet secret des Islamistes (The Conquest of the West: The Islamists' Secret Project"), recounts how, in November 2001, Swiss authorities...stumbled onto "The Project," an unsigned, 14-page document dated December 1, 1982. One of the few Western officials to have studied the document before the publication of Besson's book is Juan Zarate, named White House counterterrorism czar in May 2005 and before that assistant secretary of the treasury for terrorist financing. Zarate calls "The Project" the Muslim Brotherhood's master plan for "spreading their political ideology," which in practice involves systematic support for radical Islam. Zarate told Besson, "The Muslim Brotherhood is a group that worries us not because it deals with philosophical or ideological ideas but because it defends the use of violence against civilians." "The Project" is a roadmap for achieving the installation of Islamic regimes in the West via propaganda, preaching, and, if necessary, war. It's the same idea expressed by Sheikh Qaradawi in 1995 when he said, "We will conquer Europe, we will conquer America, not by the sword but by our Dawa [proselytizing]."

Thus, "The Project" calls for "putting in place a watchdog system for monitoring the [Western] media to warn all Muslims of the dangers and international plots fomented against them." Another long-term effort is to "put in place [among Muslims in the West] a parallel society where the group is above the individual, godly authority above human liberty, and the holy scripture above the laws."....One point emphasized in "The Project" is that Muslims must constantly work to support Islamic Dawa and all the groups around the globe engaged in jihad. Also vital is to "keep the Ummah [the Muslim community] in a jihad frame of mind" and--no surprise here--"to breed a feeling of resentment towards the Jews and refuse any form of coexistence with them." (On February 2, At-Tajdid, a Moroccan Islamist daily close to the Brotherhood, explained to its readers that the Danish cartoons were "a Zionist provocation aimed at reviving the conflict between the West and the Muslim nation.")

By inflaming a controversy such as the current one, the Muslim Brotherhood attempts to widen the rift between the West and Islam. It specifically targets Muslim communities living in the West, aiming to radicalize their moderate elements by continually pointing out the supposed "Islamophobia" all around them.
David Brooks (free reg. req.) believes Islamists are sealing their own fate.
We believe in progress and in personal growth. By swimming in this flurry of perspectives, by facing unpleasant facts, we try to come closer and closer to understanding. But...Islamists...have retreated in disgust from the inconclusiveness and chaos of our conversation....You frame the contrast between your world and our world more bluntly than we outsiders would ever dare to. In London the protesters held signs reading "Freedom Go to Hell," "Exterminate Those Who Mock Islam," "Be Prepared for the Real Holocaust," and "Europe You Will Pay, Your 9/11 Is on the Way." In Copenhagen, Denmark, an imam declared, "In the West, freedom of speech is sacred; to us, the prophet is sacred" -- as if the two were necessarily opposed.

Our mind-set is progressive and rational. Your mind-set is pre-Enlightenment and mythological. In your worldview, history doesn't move forward through gradual understanding. In your worldview, history is resolved during the apocalyptic conflict between the supernaturally pure jihadist and the supernaturally evil Jew....In my world, people search for truth in their own diverse ways. In your world, the faithful and the infidel battle for survival, and words and ideas and cartoons are nothing more than weapons in that war....But in your overreaction this past week, your defensiveness is showing. Democracy is coming to your region, and democracy brings the conversation. Mainstream leaders like Grand Ayatollah Ali al-Sistani are embracing democracy and denouncing your riots as "misguided and oppressive."....it is hard to intimidate people forever into silence, to bottle up the conversation, to lock the world into an epic war only you want. While I don't share your rage, I do understand your panic.
We need not pray that Brooks' prediction is right. By continuing the conversation, we can smoke these bastards out. They are their own worst enemies. One thing to do here at home is call bull**** on the "hate speech" hustlers afflicting Blue America's cities, who blindly rush to the defense of any extremist Muslim targeted by immigration or law enforcment authorities. As evident in today's news from Seattle. The typical Orwellian twist is that the real "haters" are portrayed as victims by their defenders, and the upholders of civil society painted as oppressive bigots. Sounds like part of "The Project" to me.
TECHNORATI TAGS: MUSLIM BROTHERHOOD, THE PROJECT, SYLVAIN BESSON, JUAN ZARATE, YUSUF AL-QARADAWI, ZIONISTS, JEWS, DAVID BROOKS, OLIVER GUITTA>
Posted by Matt Rosenberg at 02:48 PM | Comments (4)
February 10, 2006
Welcome To The Torino 2006 Winter Olympics
Some photos from the opening of the Torino 2006 Winter Olympics make sense (all courtesy of The New York Times).
Like this great....what......Blade Runner homage?
And, WOW - I love this!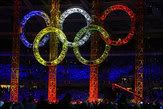 But then......something that requires savvy deconstruction from the NYT, which called this Torino opening ceremonies shot (below): "Fellini-esque."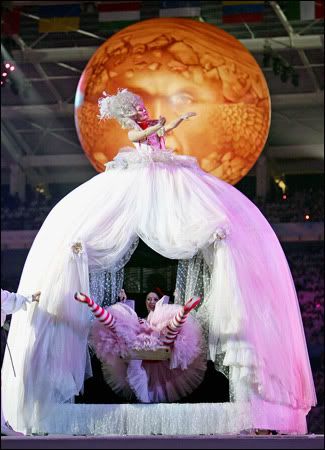 Umyeah, I suppose it is, at that. But where's the crucifix?
Or at least the speeding white sausage?
One last thought. As I listen to the HORRID American pop accompanying tonight's otherwise grand introduction of the national teams, the phrases which reverberate in my music critic's mind are...pandering, and Italo-induced Western cultural imperialism.
I'd have been way OK with some GOOD Western music for the global soundtrack this eve, although the obvious, classy option would have been a mix of world music.
What dumbass Olympic organizers decided that only Gawdawful Cheese-Whiz American Pop should be the soundtrack for the first hour tonight?
I felt like I was in a cruise ship disco. Any second I was dreadfully expecting "Love Will Keep Us Together" by The Captain and Tenille, or "Brandy," by The Looking Glass.
The brief Psycho-Ferrari episode which aired at 11:00 p.m. Pacific Standard Time was wonderfully anarchic, and Italian, but sadly failed to redeem the previous hour's LCD soundtrack.
Ah well. The Games await. Go Latvia!
TECHNORATI TAGS: TURIN, TORINO, WINTER OLYMPICS, 2006, CANOPIED BED, STOCKINGS, FELLINI, SPEEDING WHITE SAUSAGE, LATVIA>
Posted by Matt Rosenberg at 09:58 PM | Comments (0)
February 09, 2006
Rosenblog Opinion Review, Vol. 15
Gerard Baker, Times Of London: "Why Chocolate And Ice Cream Should Be Taken Off The Middle Eastern Menu"
James P. Pinkerton, San Francisco Chronicle: "Multi-Culturalism Can Kill A Nation"
Robert McHenry, Tech Central Station: "What Is A Picture Of Muhammad, Anyway?"
Todd Bensman, Weekly Standard: "Hamas's Rock Star"
Rami G. Khouri, Daily Star (Lebanon): "Talking With The Guys From Hamas"
Jeffrey Shaffer, Christian Science Monitor: "Like It Or Not, Secret Surveillance Is Here to Stay"
Alex Alben, Seattle Times: "Democrats Need To Focus On A Coherent Message"
David R. Francis, Christian Science Monitor: "America Warms Up To Nuclear Power"
G. Pascal Zachary, San Francisco Chronicle: "The Case For Nuclear Power"
Hao Wang, San Francisco Chronicle: "Why Falun Gong Should March In The Parade"
Rocky Mountain News, editorial: "A Bill That Shakes Down Big Employers"
Los Angeles Times, editorial: "Taxing Dilettantes"
Mike Rosen, Rocky Mountain News: "AAUW's Sexual Fantasies"
Mark Singer, New Yorker: "Trump Versus Trump"
TECHNORATI TAGS: DANISH, CARTOONS, RIOTS, MULTICULTURALISM, MUSLIMS, ISLAM, MUHAMMAD, HAMAS, PALESTINE, ISRAEL, NSA, SURVEILLANCE, WIRETAPS, DEMOCRATS, NUCLEAR POWER, FALUN GONG, CHINA, WAL-MART, HEALTH CARE, BALLOT INITIATIVES, CALIFORNIA, AAUW, SEXUAL HARRASSMENT, DONALD TRUMP>
Posted by Matt Rosenberg at 07:28 PM | Comments (0)
Let Zundel, Holocaust Deniers Rot In Their Own Slime
The German law against Holocaust denial and the current trial in Germany of extradited Holocaust denier Ernst Zundel are total foolishness. More from the Vancouver Sun:
"We now have a media festival of the kind we seldom enjoy," Zundel's wife, Ingrid Rimland, wrote in a January entry on Zundel's website, where articles supporting the Iranian president have been posted.
Precisely. Let hateful cranks like Zundel stew in their own juices, rather than give them more publicity.
TECHNORATI TAGS: ERNST ZUNDEL, HOLOCAUST DENIAL, TRIAL, GERMANY>
Posted by Matt Rosenberg at 12:48 PM | Comments (0)
Rosenblog's News Of The Skewed, Vol. 2
Man versus machine in Portland. No contest, apparently. Unless your fish rides a bicycle.
San Francisco follows the lead of Arcata, on on presidential politics.
San Francisco has some of the best municipal water in the nation, via Yosemite National Park, and the Hetch Hetchy Reservoir. But it's not good enough for city workers, who've been spending a cool half-million a year on....bottled water. The mayor says this will have to stop.
Feeling pampered and lazy? Want something for nothing? Inspired by the antics of the regrettably unmedicated Jason Pancoast, there's a new Web community for you: Affluent Beggars.
Waiterrant: it had to happen. Hat tip to Grow-a-Brain.
CarsDirect.com couldn't buy publicity like this.
Somebody finally gets something right in Santa Cruz.
Nota bene: "A Game Theoretic Approach To The Tiolet Seat Problem," from the Science Creative Quarterly. (Hat tip to Eric Zorn).
Tall? Conservative? Hip-hopper? Oenophile? Buddhist? Golddigger? Trucker? Ivy Leaguer? Whatever, there's a special dating site for you.
Target is being sued by a blind UC Berkeley student because he can't use their Web site.
TECHNORATI TAGS: SEX MACHINES, POST-FEMINISM, PORTLAND, SAN FRANCISCO, BOARD OF SUPERVISORS, IMPEACH BUSH, ARCATA, HETCH HETCHY, BOTTLED WATER, CITY WORKERS, JASON PANCOAST, AFFLUENT BEGGARS, WAITERRANT, GERALD GEORGETTIS, NORTH MIAMI BEACH. METRO FORD, ARSON, SANTA CRUZ, SUPER BOWL, TIOLET SEAT, GAME THEORY, DATING SITES, BLIND, LAWSUIT, TARGET>
Posted by Matt Rosenberg at 12:33 PM | Comments (0)
February 08, 2006
Al Gore's Cable Channel, "Current TV," Going Under?
"Citizen journalism" ain't easy, especially when your citizen journalists and audience have gadget-induced ADD, your front man is a table-thumping hothead named Al Gore, your distribution bites, and your prices are premium. So it goes, at least right now, for Current TV, the supposedly revolutionary cable TV channel headed by Gore and backed by Democratic Party financiers. More from the San Francisco Weekly.
Six months into Al Gore's experiment to turn twentysomethings into TV news junkies, the former vice president's San Francisco-based cable channel -- Current TV -- appears to have hit a snag. Prospective viewers, even those who've heard of the youth-oriented news and information channel, are having a hard time finding it on cable systems, either because cable providers aren't carrying Current or because they've relegated it to more expensive -- and therefore less purchased -- cable packages.

...Current's high-profile chairman, Gore, and its CEO, former Stanford business professor Joel Hyatt, have been on a tear lately, jawboning the cable industry for better "carriage" as they struggle to get viewers to take notice. In speeches around the country, Gore has lit into cable executives for not putting on programs "that are in the best interest of the American people"....Eschewing the traditional television news format, the channel is built around programming segments of between 30 seconds and seven minutes called "pods" -- minidocumentaries told in the lingua franca of young adults. Furthermore, about a third of the content is generated by viewers who submit their video pods to Current and are paid between $500 and $1,000 if their work is chosen to air. The result is a hodgepodge, in which compelling pieces, such as a recent look at the plight of Vietnamese chicken farmers faced with bankruptcy in the wake of the bird flu scare, often reside in close proximity with banal profiles of rock 'n' roll bands and clips from the latest movies.

Anchoring the eclectic presentation at the top and bottom of each hour is something called "Google Current," in which viewers are provided up-to-date reports on what users of the Internet search engine are looking at most. In recent cycles, that included a report on what a death row inmate in North Carolina had as his last meal (pizza and a six-pack of Royal Crown Cola). Another item drew attention to the inventor of the Bumper Dumper, a toilet seat that attaches to a trailer hitch, enabling campers and fishermen to defecate off the ends of their SUVs rather than having to trek into the woods...."I don't see much news there," says Robert Thompson, who heads the Center for the Study of Popular Television at Syracuse University. "Not if you define news as the important events we need to know as part of a civil society."
Criminy. I need cable TV to tell me what's hot on Google? And if I want offbeat, who can top Fark, for gosh sakes. Current will surely take its place next to the iLoo in the dustbin of history. A community-generated news model can work, needs to work. But better online than on cable. And with real adult supervision, please. Dan Gilmor's experience with Bayosphere will prove instructive, no doubt.
TECHNORATI TAGS: CURRENT TV, CABLE, AL GORE, JOEL HYATT, iLOO, DAN GILMOR, BAYOSPHERE, COMMUNITY JOURNALISM>
Posted by Matt Rosenberg at 06:42 PM | Comments (0)
The Donkey Paradigm
First, chicken rescue. Now, donkey rescue 911.
I'm unmoved. The highest and best use of a donkey is labor, to serve humans, who are his natural overseers and superiors.
A smart donkey owner will treat his donkey well, as the investment yields maximum returns. If a donkey needs to go into the shop for repairs, all well and good. If a donkey is no longer fit for work, it seems perfectly reasonable to kill it. After all, it is only a donkey. However, of all the things she could have chosen to do with her life, an ex-British airways flight attendant named Lucy Fensom has chosen to establish a donkey santuary on four acres, where 110 formerly mistreated Palestinian donkeys now reside. She also has conducted donkey health clinics for donkey owners, including one in the Palestinian community of Azun, on the West Bank. That seems useful, but even there:
The economic reality she's bucking is evident in Zuhir Marabi's situation. An unemployed local, he's gladly brought his donkey for vet service, noting: "The money I can make back from working a donkey - pulling a cart, digging the land - compared to how much I would spend at a vet doesn't justify the investment. I don't feed the donkey regularly ... only when I'm working, because I can't afford it. I have six children to feed."
Ultimately, as we see, donkeys are economic units, not unlike a work vehicle which you fill with fuel, and continue to house only if there is some return on the investment. Fensom seems like a good-hearted person, and says compassion for donkeys will breed compassion among men. I'm sure we all wish that humanity toward donkeys would help compel Palestinian and other Muslim men to cease treating their women like donkeys, or worse. And that compassion for Palestinian donkeys would stem the detonation of Israelis in buses and restaurants by Palestinian terrorists; and even slightly impinge upon the detonation of tourists, and assassinations of innocent Christians by jihadists, around the globe. But it won't; and compassion for donkeys costs money better spent by donors to engender greater economic opportunity and the development of civil institutions in locales where jihadists express themselves by killing others with whom they have ideological or political differences.
Further, the plight of donkeys in 2006 must be considered in light of global economic competition. Regions where donkeys still have currency tend to be in severe need of better schools, infrastructure, jobs, and in a word - modernity. Animals are indeed subsistence for many rural families in the developing world, and our household happily donates to the Heifer Project each year, to just that end. But even there, the emphasis is on the economic output of the animals.
I will go out on a limb, and just say it: making a comfortable home for broken-down donkeys should necessarily rank quite low on any list of societal objectives. Compassion too indiscriminately granted becomes compassion rendered meaningless. I draw the line at donkeys. And chickens. They are here to serve us; no more, no less.
TECHNORATI TAGS: DONKEYS, SANCTUARY, ECONOMICS, ANIMAL RIGHTS, TERRORISM, COMPASSION>
Posted by Matt Rosenberg at 03:56 PM | Comments (0)
February 07, 2006
Stilettos And Infertility: Is Dax Moy Daft?
British fitness guru (is there really such a thing?) Dax Moy says those five-inch stiletto heels worn by with-it fashion victims are a real panic, health-wise. More here from those august pillars of journalism at The Mirror.
An expert says the unnatural stance women adopt when they wear five-inch killer heels can affect their internal organs and fertility. Health and fitness chief Dax Moy said: "If people value their health in any way at all, avoid these killer heels at all costs - they're not worth the risk." The stilettos are the latest trend for the Spring, worn with sexy 1940s pencil skirts. Sales have rocketed since celebrities, including Victoria Beckham, Madonna, Kelly Brook and Scarlett Johansson, started wearing them. And with London Fashion Week kicking off next Tuesday, Miu Miu and Mouret models are expected to be powering down the catwalk in the towering footwear.

But Dax warns... "The forward tilting of the pelvis allows the abdominal contents to spill forward, producing that 'pooch' which many women have wrongly come to think of a 'fat stomach'. "In doing so, they compress internal organs in a condition known as visceroptosis. It doesn't stop there - neck, back, shoulder pain, stress headaches and even premature hair loss can all ensue as a result of ignoring the way your body is designed to work."
A bit sketchy, Dax, and Mirror, on just exactly how it is that stilettos boost infertility risk. A Glasgow Evening Times story on Dax's stiletto APB doesn't offer much more, except this:
One of the biggest problems, particularly as heels get steeper, is that your pelvis is asked to tilt forwards. "This can slow down the gastric function, lead to menstrual dysfunction and can ultimately impair fertility.
Here is the landmark - and I use the term very advisedly - Web page on visceroptosis. Not terribly authoritative at that, and one is left with the unmistakable impression that meaningful dialog on the condition ceased somewhat shortly after it began, in the, ah, 1600s. I agree the posture forced on women in high heels, especially stilettos, is bound to cause muscular aches, foot problems, and in many, back pain. But the infertility link asserted by Dax Moy seems wildly unsupported. In point of fact, chums, the whole thing smacks of a publicist having some fun and getting London personal fitness trainer Moy's name in the news in the run-up to London Fashion Week.
Guardian columnist Lucy Mangan writes about Moy's warning in her latest, "Are Women Really That Stupid?" At first it seems as if she might really be talking about stilettos.

This week, health and fitness expert Dax Moy (who is clever enough to have a name that sounds a little bit like a Chinese takeaway and to specialise in "golf conditioning") has had to warn us that wearing five-inch heels is bad for our fertility. Unnatural weight distribution misaligns and crushes your internal organs, you see. Plus, of course, it makes it very difficult to shag short men, thereby foolishly cutting your chances of impregnation against a wall.
Well put, Luce. Nonetheless. Should stiletto-disposed women wish to gain further insight into the medical imprecations of Dax Moy, "U.K.'s Leading Personal Trainer," you may contact him through his Web site. More about Dax here; and did you know he was the fitness and nutritional expert for handbag.com?
Actually, I wonder if there are any handbags, say, rather excessively large ones - or perhaps shoulder bags - that Dax would also like to warn the ladies about?
TECHNORATI TAGS: STILETTO HEELS, INFERTILITY, DAX MOY, LONDON FASHION WEEK>
Posted by Matt Rosenberg at 09:25 PM | Comments (1)
Dellums' Agenda for Oakland Is Musty & Misplaced
Oakland mayoral candidate and former U.S. Congressman Ron Dellums is bringing his social engineering agenda to the local level. In this profile from today's SF Chron, the former Washington, D.C. lobbyist for Rolls Royce and AT&T says he'll push for universal health care and an end to poverty for Oakland residents, and hopes to ensure that economic development - which has flourished under outgoing Mayor Jerry Brown - doesn't price minorities out of the housing market. Dellums:
...wants to make Oakland a model...by eradicating poverty and bringing health care to every resident...voters...believe he will bring...dedication to social justice to City Hall, balancing the needs of the people with the needs of the business community.
Saville Row suits aside, Dellums can play the stone-cold diversity hustler to a "T," as the public was reminded last fall when he began talking about moving back to Oakland from Washington to run for mayor. When you hear that phrase "social justice," reach for your wallet. We're really talking about the gospel of "managed outcomes," from government mandates clothed as "public-private partnerships."
Dellums has made it clear that, if elected, he will address issues far beyond the scope of City Hall -- particularly poverty and health care. He sees nothing wrong with a mayor addressing broader social issues, because, he said, they go to the very core of creating a thriving city.
Dellums says such extra-local priorities do not pose an "either-or" choice for Oakland against core concerns such as policing and public education, but I believe he's blowing smoke. There's only so much money in any municipal budget, and so much time, energy and political capital that can be expended to make a city more livable. As mayor of a place like Oakland, you best address poverty through better public schools; an insistence on greater parental involvement and enduring two-parent families in at-risk populations; and through increased police staffing, and economic development without the retrograde "social justice" dogma. People want jobs, and they want to shop. Exhibit A: the response to Wal-Mart's new store in Oakland.
Dellums has drawn some fire -- and raised some eyebrows -- with his views on development, and some developers worry he would put the brakes on the growth Brown has made the centerpiece of his administration. Dellums says he has no desire to staunch Oakland's recent housing boom but wants to see some new housing made available to the poor and working class. He's worried that the city is losing one of is greatest assets -- its rich cultural and ethnic diversity. "It doesn't mean development doesn't go forward," he said. "What I'm saying is no one segment of society should be determining the direction of the city. I'm a believer and a practitioner of government of the people, by the people and for the people."
Look, I like a peppery peanut stew or linguica as much as the next urban aesthete, but the plain fact is that the people with the capital to develop property are the ones who come forward with plans. The color of these people is green, as in Benjamins. In a capitalist economic system, rising demand for housing in a given area will tend to drive up prices. Lower-income renters faced with those free market forces are suddenly reminded that railing against "business" and the monied clases isn't what's going to keep them housed in a gentrifying neighborhood. Neither, in all likelihood, will necessarily watered-down government mandates for a small handful of "affordable" housing units at something like 80 percent of market rate, which is still going to be too much for low-income holdouts.
The silver bullet is earning power and all that precedes it - solid two-parent nuclear families; demanding public schools; self-determination, and economic empowerment. As opposed to the warmed over 1970s nanny-statism proferred by Dellums and his coterie of faded, guilt-plagued Oakland leftists.
In the end, despite the rhetoric from Dellums and his supporters, diversity isn't really something that can be successfully stage-managed. You'll retain more blacks in a gentrifying Oakland if they can compete economically. And you'll draw the children of white middle- and upper-income Seattle families back into this city's public schools only if those schools first demonstrate an across-the-board commitment to academic excellence and rigorous curricula.
Sorry, but my kids aren't a social experiment, which is why we cough up private school tuition. To my wife and I, their best interests come well before those of parents and children in Seattle's struggling public schools who would benefit from their presence. In a competitive marketplace, diversity (much like health care benefits) can be no more than a consequence of personal commitment - across racial and class lines - to achievement and success. This commitment is rooted in the nuclear family, but also depends on a government wise and respectful enough to govern less, rather than more.
TECHNORATI TAGS: OAKLAND, RON DELLUMS, MAYOR, UNIVERSAL HEALTH CARE, POVERTY, EDUCATION, SELF-EMPOWERMENT, ROLE OF GOVERNMENT, AT&T, ROLLS ROYCE>>
Posted by Matt Rosenberg at 11:45 AM | Comments (0)
February 06, 2006
Lord, Wontcha Buy Me A Mercedes Benz?
Some students need to be "incented" with prizes to go to school; apparently learning reading, writing, math, science, history, social studies, art, music, computer programming, Web design and foreign languages isn't quite enough, in and of itself. The New York Times reported Saturday on this growing phenomenon. Chelsea (Mass.) High School:
....decided to give students...a little extra motivation: students would get $25 for every quarter they had perfect attendance and another $25 if they managed perfect attendance all year....Chelsea High is not the only school trying to improve attendance with incentives for students. Across the country, schools have begun to offer cars, iPods — even a month's rent. Some of the prizes are paid for by local businesses or donors; others come out of school budgets. In Hartford last year, 9-year-old Fernando Vazquez won a raffle for students with perfect attendance and was given the choice of a new Saturn Ion or $10,000. (His parents chose the money.) At Oldham County High School in Buckner, Ky., Krystal Brooks, 19, won a canary yellow Ford Mustang. In Temecula, Calif., the school district prizes can include iPods, DVD players and a trip to Disneyland. Many schools have been galvanized by the federal No Child Left Behind law, which factors attendance into its evaluations. And schools, especially in poor districts, are motivated by money from state governments, which is often based on average daily attendance.
At Malcolm X Elementary School in a low-income San Francisco neighborhood, kids with strong attendance records get bracelets, jewelry-making kits, even bicycles. But some critics think the approach is all wrong. More from the SF Chron:
Alfie Kohn is an education expert and author of "Punished by Rewards: The Trouble with Gold Stars, Incentive Plans, A's, Praise, and Other Bribes." He believes administrators and teachers in struggling schools tend to rely on prizes to turn around students' performance because it's so much easier than creating an atmosphere in which children want to show up and do well.

"How can we nourish kids' natural curiosity and desire to learn? What does it say about homework that children dread doing it and rarely find it of value?" Kohn said. "You know, to answer those questions, to make school meaningful for students, takes time and talent and courage. But you don't need any of those things to toss kids a doggie biscuit when they jump through our hoops."

Robert Schaeffer, public education director of FairTest, a nonprofit that opposes the strict standardized testing requirements under the federal No Child Left Behind Act, said the incentives stem from the testing craze. Schools are under increasing pressure to produce good test scores and risk closure if they fail. In such a high-stakes atmosphere, administrators will try anything, even bribing children, to avoid that fate, Schaeffer said....."Many of the kids are coming to school way behind with many hurdles to overcome, and carrot-and-sticks is not sufficient to address their real issues or to motivate them to learn," he said.
Churches are even getting into the act. Seeking new members, Abundant Life Christian Center in La Marque, Texas has already given away a Chrysler PT Cruiser, a Harley-Davidson motorcycle, a three-bedroom house. And yesterday, newcomers were expected at the church as part of a $150,000 Super Bowl Sunday throw-the-football-through-the-tire contest.
Some social workers and public health researchers are trying to help drug addicts quit, by using material rewards as an incentive. The approach, likely to be tested in additional studies in the next few years - including an experiment here in Seattle - is called "contingency management." The L.A. Times reported late last year that the San Francisco Public Health Department is paying up to $40 a week to gay and bi-sexual men who've been addicted to methamphetamine, if they continue to test clean.
The San Francisco program began in November, 2004, and is intended to help cut meth-fueled, unprotected gay sex and HIV transmission, as well as meth addiction. The testing, and possible rewards, last for 12 weeks. No word on what happens to the subjects over the longer term. And there's the rub, isn't it? For students who need to attend school everyday, as well. What happens when the prizes run out? Where does the motivation come from then?
The greatest prizes in life are those that are understood by the individual to be their own reward: such as knowledge, analytical capabilities and marketable skills from education; or inner peace and munificence toward your fellow man from the religion or Qi Gong regimen of your choice. As for kicking an addiction, if you can't summon up from within the will to live better and longer, well, a little bit of pocket change for a few months isn't going to make much difference in the end. All our leading cultural indicators emphasize the opposite message, but in fact, the quick fix is no solution.
TECHNORATI TAGS: >INCENTIVES, PRIZES, SCHOOL ATTENDANCE, CHURCH ATTENDANCE, DRUG ADDICTION, CESSATION>
Posted by Matt Rosenberg at 09:30 PM | Comments (1)
February 05, 2006
Muslim Extremists Slay Six Christians In Philippines
While European and Middle Eastern Muslims riot and set fires over controversial editorial cartoons criticizing radical Islam's violent tendencies, members of the al Qaeda-linked Muslim extremist group Abu Sayyaf are reported to have perpetrated the religiously-motivated killings of five Christians and a nine-month-old baby Friday on Jolo Island, Mindanao Province, The Philippines. AsiaNews.it reports:
Muslim extremists raided the farm over night in Patikul township, killing six Christians, including a nine-month infant girl, said Brigadier General Alexander Aleo, the island's military chief, who also confirmed that five other people were seriously wounded, among them a three-year old boy. The gunmen appeared to be from the Abu Sayyaf (Bearers of the Sword) Group, a Muslim extremist organisation believed to be al-Qaeda-linked. According to one eyewitness who survived, the attack was clearly motivated by religion. "Survivors of the carnage told military investigators that the attackers asked them for their religion. The gunmen left and then came back soon after and just opened fire on the Christians," Brig. General Aleo said.
Reuters carries the story, as well, adding that local Islamists had just protested against U.S. imperialism, prior to the attacks - and inferring, in classic Reuters agitprop style - that if the U.S. would only bugger off, poor persecuted Abu Sayyaf would stop killing Christians.
Meanwhile, the Philippine Department of Justice says an Abu Sayyaf member who has turned states' witness says the radical Islamist group is planning bomb attacks on or before Valentine's Day to avenge the conviction of members for three simultaneous explosions last year on Valentine's Day which killed 11 people in Manila and Mindanao Province.
Local government corruption and a deadly campaign against journalists in the Philippines greases the skids for terrorist groups such as Abu Sayyaf, which wants to turn Mindanao Province into an Islamic theocratic state.
Yes, surely, cartoons about violent Islamists are THE clear and present menace. As opposed to the Islamists themselves, who are reluctantly forced to kill, even behead Christians in order to throw off the brutal yoke of Western cultural imperialism.
TECHNORATI TAGS: KILLINGS, MUSLIMS, ABU SAYYAF, CHRISTIANS, PHILIPPINES, JOLO, MINDANAO, CARTOONS>>
Posted by Matt Rosenberg at 02:14 PM | Comments (2)
February 04, 2006
Muslim Censoriousness And Separatism In The Internet Age
Daily now, Muslim protests are growing worldwide over Danish newspaper cartoons published earlier this week, which employed depictions of the Prophet Muhammad to criticize Islamic terrorism. You probably knew that. And maybe even that the Danish and Norwegian embassies in Damascus have been set afire by protestors. Which strikes me as rather a bit much. But you may not have yet stumbled across this penetrating piece by BBC's Arab Affairs analyst Magdi Abdelhadi.
The row over the Danish cartoons would probably have remained a local dispute between some Muslims and a Danish newspaper had it not been for three factors: the rise of violent political Islam; America's war on terror; modern transnational media. America's war on terror is still largely perceived in the Arab world as a war on Islam - a perception reinforced by the fact that it is happening exclusively in Muslim countries, namely Iraq and Afghanistan.

Issues such as the Iraq war are seen as catalysts in the row. Parts of the Arab media describes it as a modern crusade. Many Arab columnists often speak of a campaign to distort and discredit Islam. For them, the row over the Danish cartoons is yet another confirmation of this perception. But long before the 11 September attacks and America's war on al-Qaeda, Islamists were aggressively promoting their world view and attacking liberal secular values, not only in the West but across the Arab and Muslim world as well. The best-known example in the West is the row caused by Salman Rushdie's novel, The Satanic Verses, which culminated in the notorious death fatwa against its author by the late Iranian leader, Ayatollah Khomeyni. In Egypt, the Nobel Prize winner, Naguib Mahfouz, survived a knife attack in 1994 for allegedly insulting Islam in one of his novels. Another prominent writer, Farag Fouda, was gunned down in Cairo for alleged apostasy.

The internet and satellite broadcasting are being diligently used by Islamist activists across the world to drum up support for the doctrine of a universal Muslim nation up against an aggressive and imperialist West. A local Danish dispute is thus quickly elevated to the level of a global conflict. The row over the Danish cartoons is yet another dramatic illustration of the huge gap between secular liberal values in the West and the predominantly religious outlook of Middle Eastern societies. But for Muslims living in Europe it poses anew the same old dilemma about integration and cultural identity....part of the Western consensus is that poking fun at religious figures is acceptable. It seems that some Muslim activists living in Europe are determined to redefine the boundaries of that consensus.
Multiculturalism is the slipperiest of slippery slopes, in this day and age. To the theocratic intellectual fascists offended by the cartoons - offended to the point of violence, arson, and/or issuance of deathly threats: If you can't take the heat, sorry, but you don't get to burn down the kitchen.
In a not entirely perverse way, the cartoonishly evident demons afflicting Islam today lead me to conclude that it's not so bad, after all, that the extremist group Hamas won the Palestinian elections. As U.S. Rep. Sam Rayburn said in 1953: "A jackass can kick a barn down, but it takes a carpenter to build one." Or, as the late Mayor Richard J. Daley of Chicago once said of his critics: "What trees do they plant?"
The burden of Islam's assimilation with modernity lies squarely with Muslims. The same Internet and communications technology which now feed global Muslim alienation could be used instead to spread a message of modernity; of real mulitcultural tolerance which respects Western civilization; of the great value and importance of modern, secular education; secular legal institutions; economic development; and electoral reform. In the end, promulgation and penetration of these values is the only way Islam will survive the death wish of the Wahhabist zealots.
TECHNORATI TAGS: MUSLIM. CARTOONS, PROTESTS, EMBASSY FIRES, DAMASCUS, BBC, MAGDI ABDELHADI, CENSORSHIP, ISLAM>
Posted by Matt Rosenberg at 12:19 PM | Comments (4)
February 03, 2006
Why Pop Music Today Sucks
Guess it's really true, as there's a new poll that says so. Popular music just ain't what it used to be.
Three in every four fans complain that compact discs are too expensive, and 58 percent complain that music in general is getting worse, according to an Associated Press and Rolling Stone magazine poll. Ipsos' telephone poll of 1,000 adults, including 963 music listeners, from all states except Alaska and Hawaii, was conducted Jan. 23-25 and has a sampling error margin of plus or minus 3 percentage points....Many fans...say they just don't like what they're hearing. It may not be surprising to hear older fans say music just isn't what it used to be when they were growing up. But the poll also found that 49 percent of music fans ages 18-to-34 - the target audience for the music business - say music is getting worse.
I agree. Too much crap rap. And too much bland white-guy rock - I've noticed all the singers have the same plaintive bleat. Listened to some Built to Spill the other day, which all the critics rave about. OK at best. No fire, lotta bleat. Easy Street in West Seattle plays the same warmed-over grunge and emo-bleat over and over. Seattle all shook up over Death Cab for Cutie. Feh. Music today needs a soul transplant. The best stuff out there now is in the specialty genres: bluegrass, various ethnic musics, jazz, and odd hybrids that reek of musicality. Blues just ain't what it used to be, nor soul and rock.
Oh, for the days of the Hampton Grease Band, Savoy Brown and Little Milton.
TECHNORATI TAGS: MUSIC, POLL, ROLLING STONE, BUILT TO SPILL, DEATH CAB FOR CUTIE>
Posted by Matt Rosenberg at 04:52 PM | Comments (2)
February 02, 2006
Deluded Boston City Council to Take Spanish Classes
The Boston Globe reports that Boston City Council President and likely future mayoral candidate Michael F. Flaherty has arranged a weekly two-hour Spanish language instruction class for fellow council members and their staffs. The idea being elected officials should learn to speak the languages spoken by immigrants to the United States who cannot be bothered to learn how to speak English. It sounds like Spanish is just the start, in multi-lingual and "cultural competency" training for Boston councilmen and their staffs.
If the course is a success, Flaherty said, the City Council could consider putting money in next year's budget for more Spanish lessons -- or, possibly, a course in another language, he said, such as Chinese, Russian, or Vietnamese, languages spoken by thousands of other Bostonians.

.....''There is a big difference between speaking a language, which I think is a good first step, and cultural competency," said (former council candidate Gibran) Rivera, .....who works for The Public Policy Institute, a Boston organization that helps nonprofits to build political clout. ''It would be better if councilors who represent Latino communities had Latino people on staff who have the cultural competency to communicate with and understand the experiences of these communities."

Caprice Taylor Mendez, director of the Boston Parent Organizing Network, said the City Council should also offer translation services to make its hearings and weekly meetings accessible not only to Spanish speakers but also to other immigrant communities. The council, she said, could learn from the Boston public schools, which had Haitian Creole, Cape Verdean Creole, and Spanish interpreters available at its first school budget hearing this year.
So-called "cultural competence" is the latest diversity industry scam to undermine the notion of a common public weal united around a common national language, common standards of citizenship, and common standards of civic engagement - such as straightforward communication in the native language about the common good.
Every time I hear some diversity-geek preen, "We have 73 languages spoken by students and their parents in our school system," I just cringe. Citizenship means getting a handle on the lingua franca. The proper role of government does not include teaching public servants to conduct business in the languages of immigrants who consciously decline to assimilate. The people who should be taking classes are the immigrants who can't speak English.
Unaddressed in the Globe's fatuous puffery is this: Behind Flaherty's patronizing plan to have Boston's city councillors and their staffs learn Spanish is a dagger aimed at low-English-proficiency Hispanic Bostonians. In reality, those immigrants will have far greater effect pulling the levers of government if they learn to speak English; if they learn to talk to others - in English - about tax appeals, storm drains and bike lanes, peak-hour tolls and health inspectors, new bus routes, airport flight patterns, The Big Dig, government audits, ombudspersons and civil service exams. As opposed to depending on merciful mediation from Spanish-speaking staffers or pandering politicos speaking pidgin Spanish.
Without mastering the real language of government and due process here, all that non-English-speaking Hispanic Bostonians dealing with City Hall are going to get is s*** and shinola. The type of cheap symbolism proferred by Councillor Flaherty is antithetical to their best interests. I surely hope they're smarter and more ambitious than he thinks they are. Worse still, this same sort of poisonous condescension, a true bigotry of low expectations, has enveloped the dialog around low achievement by Hispanics in K-12 public education. Democratic-voting Hispanics, blacks: white liberals are NOT your friends. Their game is the politics of personal virtue, and your role, as they really see it, but would never dare admit out loud, is to help them feel better about themselves. As far as most of your Hispanic and black brethren holding public office, I wish I could say they had more noble motivations than these callow white opportunists. But I can't.
At least in the U.S., race hustlers of any color can succeed.
TECHNORATI TAGS: BOSTON CITY COUNCIL, SPANISH CLASSES, MICHAEL F. FLAHERTY, ASSIMILATION, CULTURAL COMPETENCE>
Posted by Matt Rosenberg at 09:53 PM | Comments (1)
Google Embraces Evil, In China
Google's famed business ethics mantra is "Do No Evil." Easier said than embodied, though, for the Internet search titan. The SF Chron reports on Google's submission to government censorship of search results on the Chinese version of Google. See this graphic example of the Communist-dictated filtering Google is promulgating, in order to stay in the burgeoning market.
Ideas for new Google mantra:
"Do no evil...unless there's a LOT of money at stake."
"Do no evil.....most of the time."
"Do no evil.....unless your competitors are doing it, too."
"Do as we say....not as we do."
"Hey, the camel's nose is in the tent - just you wait."
Meanwhile, Microsoft has taken my advice on cleaning up its act in China. At least, to an extent.
TECHNORATI TAGS: GOOGLE, EVIL, CHINA, SEARCH RESULTS, MICROSOFT, BLOGS>
Posted by Matt Rosenberg at 01:21 PM | Comments (1)
The Death Wish Of Europe
European birds drink a heady brew, and exterminate themselves, proving wrong experts and media who at first attributed their misfortune to external forces. Hmmmm. Allegorical?
TECHNORATI TAGS: AUSTRIA, DRUNK BIRDS, AVIAN FLU>
Posted by Matt Rosenberg at 09:11 AM | Comments (0)
February 01, 2006
Free Speech On Religion Upheld In England
It is now safe, in England, to ridicule or criticize religion, religious belief or religious practices.
Thank goodness. Ridicule and criticism should hardly be confused with "hate speech," a phrase used entirely too liberally, and almost always by illiberal liberals. Inciting violence against any group is, and should remain a crime. Religions may be systems of sacred beliefs, but they are also social institutions, and thus fair game. We don't even need Pat Robertson to remind us of that. When social and political critics of religion - or the religious - go too far, they get their just desserts, without statist intervention.
Critics of religious critics will also be judged in the court of public opinion, and not always kindly. Sometimes they appear to be thin-skinned ninnies. Islamic protests broke out over cartoons of the Prophet Mohammed with a bomb in his turban, published in a Danish paper. Now some Saudis are boycotting Danish cheese. Yeah, that'll show 'em.
Outraged by French newspaper cartoons showing Mohammed in an unflattering light, The Arab League and The Organization of Islamic Conferences say they will seek a United Nations resolution, and possible sanctions, to clamp down on challenging public commentary regarding Islam and extremists. Although they phrased it in terms of protecting religion.
Guys: you need to sit down and review the scorecard of Islamic terrorist bombings, explosions, and assassinations in the last few years; review the scorecard of genital mutilation of Muslim women in Islamic countries; review the scorecard of stonings and "honor killings" by Muslim men of female relatives who have sex outside of marriage; and understand that the issue is not your feelings. The issue is that actions have consequences. For a "religion of peace," Islam needs to do a hell of a lot better.
TECHNORATI TAGS: ENGLAND, HATE SPEECH, RELIGION, LEGISLATION, FRANCE, DENMARK, CARTOONS, ISLAM, PROTESTS, UNITED NATIONS, MUSLIMS, FEMALE GENITAL MUTILATION, HONOR KILLINGS>
Posted by Matt Rosenberg at 06:33 PM | Comments (0)
Beijing's San Francisco Errand Boys
If you're the Chinese Chamber of Commerce in San Francisco, and doing the bidding of the Boys From Beijing, how do you keep the local Falun Gong chapter out of the big Chinese New Year parade on Feb. 11?
Simple. Baselessly accuse them of being "homophobic." And take out some newspaper ads denigrating their sick cult of, uh, let's see now: destabilizing spiritual awareness, threatening physical exercise, and - most alarmingly - an insistence on basic human rights in the face of glaring persecution from the paranoid control-freak nutbar scumsucking pseudo-capitalist Communists running China's government.
TECHNORATI TAGS: AN FRANCISCO, FALUN GONG, HOMOPHOBIC, CHINESE NEW YEAR, PARADE, CHINESE CHAMBER OF COMMERCE, BEIJING>
Posted by Matt Rosenberg at 02:59 PM | Comments (1)
A.M. Grab Bag
Jonathan Last's best and worst of Bush's State Of The Union speech.
A pill for gambling addicts.
"Affordable housing isn't the answer."
NYC pedestrians, watch it: deadly out there.
The Democratic response to Bush.
TECHNORATI TAGS: BUSH, STATE OF THE UNION, GAMBLING PILL, AFFORDABLE HOUSING, NEW YORK, PEDESTRIANS, DRINKING GAMES, CONDOM DRESS>
Posted by Matt Rosenberg at 08:46 AM | Comments (0)