November 30, 2005
Grateful Dead Merciless Capitalists In I-Tunes Era
Free tapes and downloads no more for fans of the Grateful Dead, reports the Sacaramento Bee. The famous NoCal-based band, which has downshifted since the death of leader Jerry Garcia in 1995, used to make so much money touring that they were happy to let - even encourage - fans to tape shows live. Now that has all changed, in the era of digital downloads for pay.
Surviving members of the Grateful Dead, the psychedelic jam band that toured for three decades, have angered some of their biggest fans by asking a nonprofit Web site to halt - at least temporarily - the free downloading of concert recordings. Representatives for the band earlier this month directed the Internet Archive, a site that catalogues content on Web sites, to stop making recordings of the group's concerts available for download, band spokesman Dennis McNally said Wednesday.

Fans, who for decades have freely taped and traded the band's live performances, quickly initiated an online petition that argued the band shouldn't change the rules midway through the game. "The internet archive has been a resource that is important to all of us," the petition states. "Between the music, and interviews in the archive we are able to experience the Grateful Dead fully."

..McNally said...a compromise could be reached that allows some downloading of specific songs or shows. The Grateful Dead once set concert attendance records and generated millions of dollars in revenue from extensive tours. With concert tickets now removed as a source of revenue, sales of the band's music and other merchandise have become increasingly important in an age where music is distributed digitally instead of on CDs, vinyl and cassette tapes.

And the arrival of Apple Computer Inc.'s iTunes online music store, and other similar sites, means free downloads can be seen as competition, said Marc Schiller, chief executive of Electricartists, which helps musicians market themselves online. The band sells music on iTunes and exclusive shows through its Web site. "When the music was given away for free to trade, the band was making so much money touring that the music was not as valuable to them," Schiller said. "Apple iTunes has made digital downloads a business."
Makes sense. Pay per download is where online music is, now, after all. Deadhead diehards can still barter fuzzy-sounding tapes of live shows, or even unsanctioned peer-to-peer online exchanges, if they don't get busted.
I love jam bands a lot more than the next guy, and have a few Dead albums: when they were on, in studio and live, they were really on, even if they could be awfully boo-jwah in person.
Plus, a few of Jerry's solo albums were great, especially the one simply titled "Garcia" (right), with "The Wheel," and "Sugaree." Not to mention his bluegrass gem with mandolinist David Grisman, "Old and In The Way," and Dead guitarist Bob Weir's, "Ace."
But how many different, live, warbling versions of the old Dead's "St. Stephen" or "Sugar Magnolia" do you really need, anyway? The whole Dead live-recording collection thing bleeds into fetishism after a certain (very early) point, and gets in the way of exploring new and different music.
Let the Dead be dead, and MoveOn, already.
TECHNORATI TAGS: GRATEFUL DEAD, APPLE ITUNES, JERRY GARCIA, BOB WEIR, OLD AND IN THE WAY
TO COMMENT: The regular "comment" feature is not in operation. E-mail comments to address under "Contact" on main page masthead, and I'll add them, here.
Posted by Matt Rosenberg at 10:48 PM | Comments (0)
SF Airport Workers Nailed For Theft Of Items To U.S. Military
SF airport workers have been stealing from enlisted personnel in Japan.
Dipsticks. I'm guessing they never had friends or family in the military. Or else, send 'em to Gitmo, as far as I'm concerned.
SAN FRANCISCO — Fifteen airport cargo handlers have pleaded guilty to charges of stealing items being mailed to military personnel stationed in Okinawa, Japan, federal prosecutors said Tuesday. Nearly 600 incidents of theft were reported since November 2003 with an estimated $200,000 in losses. U.S. Postal Inspectors and military criminal investigators noted suspicious behavior among cargo handlers employed by Aeroground at San Francisco International Airport.

Kevin Ryan, the U.S. attorney for Northern California, said the 15 defendants pleaded guilty during the last two weeks and the final defendant entered his guilty plea before U.S. District Judge Jeffrey White in San Francisco yesterday morning. The contents of the parcels and their value were listed on customs declaration forms. The defendants allegedly read the forms to decide which items to steal. Workers concealed merchandise under their clothing and took it to their vehicles in an adjoining parking lot, according to court documents.

Stolen items included laptop computers, DVD players, jewelry, Victoria's Secret merchandise and digital cameras. After items were removed, the packages were retaped and sent to Okinawa. A 16th and final defendant is believed hiding in the Philippines, prosecutors said. The defendants face a maximum five-year prison sentence each. The pleas were taken over two weeks, ending Tuesday, authorities said.
Things used to always "fall off trucks" coming out of JFK airport near NYC. This seems more of the same.
I still remember trying to import 9 or 10 bottles of the great, bright green, tart-sweet Rives kiwi extract from Spain - it was out there, everywhere, from Cordoba to Gibraltar - during my honeymoon in Spain in '87. Arriving back at O'Hare, the box we'd put together at a Madrid department store before returning State-side had several bottles missing, and another few cracked. Union tax? Import duty? Dunno, but that episode has stuck with me. And this was just a mixer. Not as tho it were something, like, aaah, Slivovitz.
TECHNORATI TAGS: SAN FRANCISCO, AIRPORT, THEFT, JAPAN, OKINAWA, SPAIN, RIVES KIWI
TO COMMENT: The regular "comment" feature is not in operation. E-mail comments to address under "Contact" on main page masthead, and I'll add them, here.
Posted by Matt Rosenberg at 08:27 PM | Comments (0)
Dem Double-Talk On Iraq No Help In Run-Up To '08
In the Christian Science Monitor today, John Hughes opines that there's much to be written yet on George W. Bush's legacy, including Iraq.
President Bush is embattled and his administration is adrift in the second-term doldrums. But three years is an eternity in politics and much can happen to change the landscape before Americans vote on his successor. Dominating all is Iraq and how it turns out. Saddam Hussein's villainy will probably be in the headlines again as his trial enters a new phase. There are intriguing hints about political overtures from some terrorist groups to the interim government. An election two weeks hence will determine the makeup of a new parliament. All these events could have a significant bearing on the future of Iraq.

Aside from Iraq, historians looking at the president's foreign policy record will decide how well he handled relations with Iran and North Korea in the last years of his term, as well as a possible regime change in Cuba, and a possible challenge from Venezuela's Hugo Chávez. At home the president will take on significant problems like illegal immigration and Social Security reform.

So it is much too early to assess his legacy. But not too early for the possible successor candidates, both Democratic and Republican, to be dreaming dreams about moving into the White House. On the Democratic side, Sen. John Kerry is said to be mulling a second run for the presidency but is dogged by a reputation for indecisiveness and opportunism.
More than that, Ruben Navarrette notes today in his syndicated column, Democrats are bedeviled by double-talk on Iraq as '08 looms.
Democrats, especially those with presidential ambitions, think they're being so clever. They have devised a line of argument they believe will help them benefit politically from President Bush's troubles in Iraq.

But...the best they could dream up goes something like this: "We were hustled. Sure, we voted to authorize President Bush to use military force to invade Iraq, but we were misled. Not that we regret toppling Saddam Hussein. We only regret that we weren't given all the necessary information to make a more informed decision."

...Democrats lost the last two presidential elections, in part because they sent forth candidates who -- in their eagerness to get as many votes as possible from the left, right and center -- took both sides of every issue, flipped positions, parsed phrases, eschewed straight talk.

Now Democrats are getting ready to make similar mistakes in their attempts to politicize the Iraq war. The Clintons are setting the tone. While Sen. Hillary Clinton, D- N.Y., stakes out a "hawkish" pro-war position, former President Bill Clinton bad-mouths the administration's war effort. On the difficult question of whether we should stay the course in Iraq or pull out, Democrats have a ready answer: "Yes."

By working both sides of the street -- playing to both the anti-war base of the Democratic Party and those swing voters who still feel uneasy about the prospect of an immediate withdrawal -- Democrats run the risk of pleasing no one. They also stand a good chance of coming across as cravenly opportunistic, willing to say anything at anytime completely unencumbered by something as inconvenient as a set of core principles. None of this is likely to help Democrats as they inch toward the 2008 presidential election. At this point, their strategy for retaking the White House is simple: Hope that voters are, by then, so discontented with President Bush that they decide they don't want any more Republican administrations for a while and vote Democratic by default.

That's lazy politics. You bank on the opposition party messing up things so badly that you don't have to lift a finger to win. Trouble is, that strategy rarely works. If you don't have a countermeasure, a different view or an alternative policy, if all you do is criticize the other side while sending mixed messages as to what you really support, then you have nothing. And, in politics, those who offer nothing tend to lose out to those who offer something.
I'm not sure where he stands on Iraq, but I've got the dream presidential candidate for the Dems in '08: plain-talking Montana governor Brian Schweitzer. Hell, I might even vote for him. In the end, it's about character, honesty, and integrity.
TECHNORATI TAGS: DEMOCRATS, PRESIDENT, 2008, HILLARY CLINTON, JOHN KERRY, BRIAN SCHWEITZER, MONTANA, GEORGE W. BUSH, IRAQ
TO COMMENT: The regular "comment" feature is not in operation. E-mail comments to address under "Contact" on main page masthead, and I'll add them, here.
Posted by Matt Rosenberg at 09:57 AM | Comments (0)
November 29, 2005
Vancouver's Math of Addiction
In Which We Realize The Answer: A New Municipality of "Smackville."
The Vancouver Sun reports today that there are 15,000 drug injections occuring every day in the city's heroin hot zone, called the Downtown Eastside, but the government's safe injection site can handle only 600 a day. Now, police are saying they will arrest the many, many drug users shooting up outdoors. This has prompted an outcry from the injecting drug users lobbying and services group, called Vancouver Area Network of Drug Users - VANDU.

Arresting people for not using the site when it is already at capacity doesn't make sense, VANDU program coordinator Ann Livingston said. "If there is some logic...they better let us know what it is because we're not grasping it," Livingston said.
I don't suppose upholding the law upon which the arrests will be based is much justification, as it has been rendered moot by the compassionate clientized state, and the flocking of heroin addicts - who just can't wait, see - to Vancouver's Downtown Eastside.
More from The Sun:

VANDU will be protesting the crackdown at noon today in the 100-block of East Hastings, with placards and handouts to inform the public that the real solution is opening more safe injection sites. "We don't need this kind of harassment by the police," Livingston said. "We need their support politically to get more safe sites."
I expect this will occur. After all, you can't really expect much from the ongoing government-funded program to wean addicts from heroin with....government-supplied heroin, also known as the North American Opiate Medication Initiative, or NAOMI.
There was once this quaint theory called "broken windows," that turned NYC from a hellhole back into a thriving metropolis. It's based on the idea that even the smallest signs of disorder, such as loose trash and litter on the streets, or, literally, ignored broken windows - not to mention rampant public heroin injection - must be addressed and curtailed, or far worse things will follow. As you'll see at the bottom here in my "related links," Vancouver's crime problem is severe, and police tie it closely to the city's drug culture.
Another story, from CBC today, adds to the unmistakable sense addicts feel entitled to shoot up, publicly, in Vancouver.
Inspector Bob Rolls says the aim is to steer addicts to the injection site. There are thousands of users in the Downtown Eastside, but other people still have to work and live in the neighbourhood, he says. He recalls one complaint from a volunteer at a community centre: "The woman was stretched out on the steps and she was shooting a needle into her neck. When the volunteer complained, she lashed out at her – how dare she interfere with her when she just managed to get this needle in the right position to inject?"

Diane Tobin, 54, who shoots up at the injection site three times a day, says the site is already at capacity and it's time to talk about opening another. And because rules state that addicts have to inject themselves, it means people who need help shooting up are out on the street where they face arrest. "If that cubbyhole is your home and you're sleeping there and all your stuff is there and that's where you're using," she says, "they're actually coming into your home and arresting you for possession of a needle."
So what's left? A lotta junkies still on the street in the Downtown Eastside, even with one or two more safe injection centers. Just do the math. Maybe the future holds a "safe injection district" for Vancouver, as opposed to a few measly more safe injection sites. They could cordon off the whole Downtown Eastside and declare it strictly legal to shoot drugs anywhere outdoors there, but not anywhere else in the city. Perhaps the junkies and their social service enablers could actually secede, and establish their own municipality and tax base.
Yeah, that'd be the real cure. How about it, Vancouver?
Two recent related Rosenblog posts:
"Crime-plagued Vancouver at Crossroads;"
TECHNORATI TAGS: VANCOUVER, HEROIN, ARRESTS, SAFE INJECTION SITE, ADDICTION
TO COMMENT: The regular "comment" feature is not in operation. E-mail comments to address under "Contact" on main page masthead, and I'll add them, here.
Posted by Matt Rosenberg at 05:40 PM | Comments (0)
Blogburst, Vol. 9
At Barista Laments "AbbiApple" gives insider tips on how to scam a free coffee beverage off Starbucks. If you're feeling anti-corporate and in the mood for petty thievery, that is. Doug Anderson gets the scoop: "Starbucks Sued For Second-Hand Caffeine Intake." Filmmaker and blogger Evan Coyne Maloney has news of anti-Bush indoctrination in a Vermont high school. Lifelike Pundits with the corruption scorecard, Bush II White House vs. Clinton White House. Econopundit shares some insights on the relocation of U.S. industry from high-cost, high-tax regions to lower-cost, lower-tax areas. It Ain't a "Roger and Me" world anymore, even if the old Gray Lady isn't amused. Nathan Azinger defends U.S. Rep. Dave Reichert (R-5, Wa.) from attacks on his vote against ANWR oil drilling. With a link to U.S. Rep. Dick Armey in today's WSJ, Michael Brandon McClellan says, "Bring Back The Small Government GOP." With a hat tip to the crazy, ranting Samantha Burns, some "Canadian-isms."
TECHNORATI TAGS: BLOGS, BLOGOSPHERE, BLOGBURST
TO COMMENT: The regular "comment" feature is not in operation. E-mail comments to address under "Contact" on main page masthead, and I'll add them, here.
Posted by Matt Rosenberg at 01:22 PM | Comments (0)
November 28, 2005
Qantas, Air New Zealand Say No Men Next To Solo Kids
Men really must be beasts, after all. According to a story sweeping across Australia and New Zealand today, it turns out that Australia-based Qantas Airlines and Air New Zealand have been ordering any men who end up seated next to unaccompanied children to trade seats with a female passenger. Airline officials explain they are the temporary guardians of the children travelling alone, and the kids are safer next to women. The story broke after an incident last year bubbled up to the media, and airlines confirmed the policy is still in place.
The airlines have come under fire for the policy that critics say is political correctness gone mad after a man revealed he was ordered to change seats during a Qantas flight because he was sitting next to a young boy travelling alone. Auckland man Mark Worsley says an air steward approached him after take-off on the Christchurch to Auckland flight and told him to change seats with a women sitting two rows in front. The steward said it was the airline's policy that only women were allowed to sit next to unaccompanied children.

"At the time I was so gobsmacked that I moved. I was so embarrassed and just stewed on it for the entire flight." The 37-year-old shipping manager, who has 2-year-old twins, followed the incident up with the airline and was told Qantas wanted to err on the side of caution.

"I felt that it was totally discriminatory. Besides the point of what the hell was I going to do on a crowded flight." The incident, which happened a year ago, irked Mr Worsley so much that he recently contacted National Party political correctness eradicator Wayne Mapp. Dr. Mapp told the Herald the airlines' policy was an example of political correctness that had got out of hand.
The gawdawfully ludicrous assumption here, which speaks volumes about attitudes toward men in many "civilised" nations across the globe, is that even on a commercial airplane flight, they are going to quite possibly do something sinister to an unaccompanied child, such as make plans to meet later and attempt to have illegal sex, or get the child to surrender personal information so as to later be surveilled or tormented via e-mail. It's hardly as though sexual abuse by females is unknown, although it is under-reported.
Well, for the record, here's what I - a father of two kids myself - would do if I were seated next to an unaccompanied child on a plane. I'd get a sense of whether they were even interested in conversation, and then take it step by step, hoping to engage them for a while at least on some topic related to the actual world and actual life, as opposed to video games or other mediated experiences. Put them at ease a bit. And then hope they had a good book to read.
One potentially uplifting piece to this story: There is someone in New Zealand called The National Party political correctness eradicator, Dr. Wayne Mapp, an MP from North Shore with portfolio, who delivered this speech on the subject. I wonder if the national Republican Party in the U.S. might not want to create a similar position in their U.S. House or Senate caucus. Of course, before that happens, our boy W.'s gonna have to get serious on illegal immigration.
Jack Yan: This certainly is sexual discrimination—it's far, far worse than saying, 'Women can't be pilots'. And you raise an excellent point, Matt: what if the male passenger were a pædophile? Surely other passengers would be alert enough to think, 'Hey, this isn't on,' and intervene? Mapp or no Mapp, Mr. Worsley is well within his rights to sue—if the same thing happened to a woman, you can bet the liberal media would be jumping up and down—and up and down again..
TECHNORATI TAGS: ANTI-MALE, AIR NEW ZEALAND, QANTAS, NEW ZEALAND, NATIONAL PARTY, WAYNE MAPP
TO COMMENT: The regular "comment" feature is not in operation. E-mail comments to address under "Contact" on main page masthead, and I'll add them, here.
Posted by Matt Rosenberg at 10:43 PM | Comments (0)
Blogs Serve Strong Organizations Best
I've got a new post up at my other blog, Blog Consulting Pro, titled, "Blogs Serve Strong Organizations Best."
TECHNORATI TAGS: BLOGS, BLOGGING, BLOG CONSULTING, SEATTLE, MATT ROSENBERG
TO COMMENT: The regular "comment" feature is not in operation. E-mail comments to address under "Contact" on main page masthead, and I'll add them, here.
Posted by Matt Rosenberg at 09:17 PM | Comments (0)
Secure The Border AND Send Illegals Home
Starting with a speech in Arizona today, President Bush is shopping a plan this week to get tougher on illegal immigration, but the Christian Science Monitor editorial board warns he and Congress had better make sure the focus is first on fixing our nation's porous border with Mexico, not on amnesty for illegals already here.
Without first showing the border can be secured enough to drastically reduce illegal migration, the president's other priorities such as a "guest worker" program should not be implemented. Yes, Mr. Bush did recently sign a bill into law that improves border protection by such steps as adding 1,000 Border Patrol agents. And this week, the president is giving speeches in Texas and Arizona that will appear to show he's now serious about stemming the increasing flow of unlawful migration into the US. But this belated support was probably done under political duress to keep the GOP majority in Congress.

Indeed, Bush does show a new enthusiasm for several practical measures, such as returning illegal migrants captured along the Mexican border back to the interior of Mexico rather than releasing them simply on the other side....But Americans are in a show-me mood when it comes to immigration, and are oh-so aware that past border toughening and the 1986 amnesty for illegals did little to stem the flow. They're also wise to the false notion that a guest-worker program will somehow greatly soak up the demand among those who want to enter the US and thus reduce illegal crossings.

A GOP plan to pass a "comprehensive" immigration bill early next year should aim to secure the borders first before dealing with an increase in legal entries or providing any sort of back-door amnesty to the more than 10 million illegal immigrants in the US. Those businesses which now hire illegal workers and contribute heavily to the GOP should not be the GOP's priority when it comes to security issues such as border controls.....A nation that long tolerates such open lawlessness in both illegal entries and hiring can't claim to be a beacon of virtue to the world. Nor is it safe against terrorism.
This CNN story, courtesy of News8 in Austin, Texas, notes that Southwest border hospitals eat hundreds of millions in uncompensated care for illegals; that jails, courts and schools foot the cost of illegals, too; that the smugglers of illegals coming into the U.S. through Mexico, known as "coyotes," are so brazen as to threaten local law enforcement officers and their families with death; and finally, that illegals from countries other than Mexico game the system by getting caught on purpose because they know they will simply be issued a court summons which nine of ten then ignore, safe and, for the most part, undetected, in the U.S.
In Georgia last week, students and professors gathered to protest the proposed (state) Senate Bill 170, which would bar illegals from getting any state services or benefits. State government would have to validate that recipients of in-state tuition, Medicaid health care, professional licenses, and unemployment - among other things - were legal U.S. and Georgia citizens.
That makes perfect sense. Some Georgia Republicans, including Gov. Sonny Perdue, are opposed to the legislation. Some say employers who hire illegals share responsibility, and we must be compassionate toward those illegals who have made lives here, with their families. I disagree. If illegals are allowed to flout the borders and government programs, then the whole social contract - in which rules and law and order are central tenets - becomes an unrepaired "broken window." That in turn legitimately undermines faith, from within, in our integrity as a nation.
TECHNORATI TAGS: ILLEGAL IMMIGRATION, BUSH, AMNESTY, COSTS, MEXICO, GEORGIA
TO COMMENT: The regular "comment" feature is not in operation. E-mail comments to address under "Contact" on main page masthead, and I'll add them, here.
Posted by Matt Rosenberg at 04:28 PM | Comments (0)
November 27, 2005
3G GPS Phones For Worried Parents: Oh C'Mon!
Parents, have you ever bought your kid a cell phone, only to have the ungrateful, blithe little bastard NOT answer it when you called? WHAT the hell are they doing anyway? Having unprotected sex? Sampling wares at a backwoods meth lab? Car surfing, hazing, off somewhere playing dumb video games, or even killing? There's so much to worry about.
And so....a Japanese company in March 2006 will introduce GPS-enabled cell phones for parents allowing them to track their kids' locations, even if they won't answer.
And then what? Get in the car and track them down? Or call the cops?
Sadly, it all reaches the point of uselessness pretty quickly, as technophile commenters at silicon.com oberve.
Parentis loco, in technology.
Ain't no thing like the real thing.
TECHNORATI TAGS: 3G, GPS, CELL PHONES, JAPAN, PARENTS, KIDS, BEHAVIOR
TO COMMENT: The regular "comment" feature is not in operation. E-mail comments to address under "Contact" on main page masthead, and I'll add them, here.
Posted by Matt Rosenberg at 10:20 PM | Comments (0)
Rosenblog Opinion Review, Vol. 4
Jafar Al-Shayeb, Daily Star (Lebanon): "Saudi Municipal Councils Await Exit From Limbo."
Max Boot, L.A. Times: "Iraq's A Lost Cause? Ask The Real Experts."
David Reinhard, The Oregonian, "Exiting Iraq."
Heather Mac Donald, City Journal: "Baghdad's Real Torturers."
U.S. Army Spc. Carlos Caro, Defend America (DOD News): "Soldiers Say Weapons Caches Were 'Like A Gun Show.'"
Dan Blumenthal & Tom Donnelly, Washington Post, "Bush To Asia: Freedom Is More Than Markets."
Larry Johnson, Seattle Post-Intelligencer: "Independent-Minded Youth Hold Future Of Taiwan In Their Hands."
Leo McKinstry, Weekly Standard, "Dis-United Kingdom: Multiculturalism Isn't Working."
George Will, Oakland Tribune, "What is It About Indiana? Is It The Future?"
John Kass, Chicago Tribune, "Pit Bull Victim Has No Doubts Over Ban."
Jim Furnish, Billings Gazette, "Off-Highway Vehicles Overrunning Public Forests."
Diana Zuckerman, San Jose Mercury-News, "Shopping For Children Has Become A Risky Proposition."
Christopher Hart, London Sunday Times, "Help The Obese: Snigger."
TECHNORATI TAGS: IRAQ, TORTURE, WEAPONS, ASIA, TAIWAN, SAUDI ARABIA, FREEDOM, BUSH, UNITED KINGDOM, MULTICULTURALISM, OBESITY, OFF-ROAD VEHICLES, MONTANA, CHICAGO, PIT BULLS, BAN, JOHN MURTHA, INDIANA, FISCAL RESTRAINT, TOYS, VIDEO GAMES, CHILDREN
TO COMMENT: The regular "comment" feature is not in operation. E-mail comments to address under "Contact" on main page masthead, and I'll add them, here.
Posted by Matt Rosenberg at 12:43 PM | Comments (0)
November 25, 2005
XBox 360 Gamers: Dipsticks With Joysticks?
Ratings for video games make sense, but legislative bans and other such Nanny-Statist approaches don't - even if the whole video game culture is essentially vile. If parents are going to get hornswoggled into letting their progeny putz around with this stupid, soul-deadening stuff, they'd at least better take a test drive of each chosen title first.
With Microsoft's recent release of its new XBox 360 gaming console, the product itself - and a lot of the games you can play on it - are getting a close look.
Herb Weisman, consumer reporter for Microsoft's very own cable TV and Internet news joint venture known as MSNBC, recently filed a story about some of the more toned-down video game titles out there for kids, and which ones they like best. Top-rated this year, he reports, is an XBox 360-compatible game called "Burnout Revenge."
It's a racing game where the emphasis is on smashing and crashing, not driving. Simply put — to win this game, road rage is required! Because there are no drivers in any of the vehicles, there's no blood and there are no bodies, just awesome crashes. "It's just like a movie crash," one kid said. "I don't buy very many games, but this would definitely be one of them." "Burnout Revenge" has a new feature not available in previous versions — you can rear-end other vehicles and launch them a few car lengths ahead. "Burnout Revenge" is rated E+10 for everyone 10 and older.
Yeah OK fine. I guess it's just like Tonka make believe, right? Except faster, crunchier and more addictive - and geared for kids a bit closer to driving age than tots with tiny toy cars.
However, tomorrow's New York Times has the news on a typically ugly title called "Condemned: Criminal Origins."
To survive you have to improvise weapons, arming yourself with a mannequin arm, a piece of steam pipe or the blade from a paper cutter, although from time to time you find a handy fire ax or even a gun loaded with a handful of bullets. Your attackers are smart, hiding behind pillars to ambush you. You can paralyze one with your Taser and grab his weapon, but your foe will immediately rearm by pulling a pipe off a wall or grabbing a table leg.

....Condemned has an intriguing premise that completely falls apart by the end, but while the game's designers should consider taking a few writing classes, they really know how to scare people. It is wonderfully creepy to walk through a deserted, ruined shopping mall as Christmas Muzak endlessly plays. The game is also creepy in another way; you spend much of it essentially beating homeless people to death with pipes.
Sheesh. I'm a big big fan of capitalism, and freedom. I guess I'll exercise my right to not let my kids hang out with other kids who play games like this.
That's likewise my take on another XBox game I saw in the local video store the other day. Here's the description of "True Crime NYC."
Run NYC as gangster turned street cop Marcus Reed. Use or abuse your authority to avenge the murder of your trusted mentor and take control of the streets. Arrest, interrogate, use informants, extort, frisk and more as you dispense justice your way. Shootouts, chases, racing and serious horsepower, blackmarket weapons or police-issued firepower. Multiple fighting styles, even use pipes, chairs, frying pans and more."
I'm not saying any of this makes kids violent.
Just stupid.
TECHNORATI TAGS: XBOX 360, MICROSOFT, BURNOUT REVENGE; CONDEMNED: CRIMINAL ORIGINS, TRUE CRIME NYC
TO COMMENT: The regular "comment" feature is not in operation. E-mail comments to address under "Contact" on main page masthead, and I'll add them, here.
Posted by Matt Rosenberg at 09:19 PM | Comments (0)
Shine A Beacon On More Than Baltimore's Lightpole Thieves
Second-term Baltimore Mayor Martin O'Malley has earned deserved accolades for an effort to fight crime, drugs and improve education in his city. His adoption of New York City's CompStat program to measure progress on crime-fighting and infrastructure maintenance has by now been emulated by many other municipal governments.
But Mayor O'Malley, running in a contested Democratic primary for Maryland Governor, is still dealing with a lot of negative publicity about crime in his city, and that too, is deserved. Thieves - likely desperate to fund their drug addicitions - are stealing the city's lightpoles; 130 of them so far. This is really quite something if you stop to consider the size of a lightpole.
The poles, which weigh about 250 pounds apiece, have been snatched during the day and in the middle of the night, from two-lane blacktop roads and from parkways with three lanes on either side of grass median strips, in poor areas and in some of the city's most affluent neighborhoods. Left behind are half-foot stubs of metal, with wires that carry 120 volts neatly tied and wrapped in black electric tape.

...The culprits seem to have pole-snatching down to a model of precision and efficiency, city officials say. They appear to have gone so far as dressing up as utility crews, police say, and placing orange traffic cones around the poles about to be felled, to avoid arousing suspicion among motorists.

The missing poles have become yet another measure of the desperation in one of the country's most violent cities. Last year, Baltimore, with a population about one-twelfth that of New York City's, had a homicide rate more than five times as high. An illegal drug trade fuels much of the violence. Health officials say 40,000 addicts live among Baltimore's estimated 650,000 residents. For at least a decade, addicts who cash in scrap metal to pay for their next fix have been ripping metal pipes, radiators and wires out of vacant houses, and prying cast-iron security grates and downspouts from buildings.
Morgan Quitno's Press' well-known annual "City Crime Rankings" reports Baltimore has just been named the sixth most dangerous U.S. municipality, "up," as it were, from 11th last year. A Democratic state legislator wants the state police to start patrolling in Baltimore, but O'Malley says he's opposed, more treatment programs are the answer (huh?).
"If they deployed half of their sworn strength to the city Baltimore for a year's duration, it would not do as much good as we could do in improving parole and probation, improving juvenile services, improving drug treatment and improving re-entry programs," O'Malley said.
Talk about re-arranging deck chairs on The Titanic, Mayor......
The blog "Baltimore Crime" keeps track of all the latest. And finally, Baltimore Messenger columnist Kathy Hudson gives an example-filled report of increasing neighbrhood crime, and notes:
Even as I file this column, more has happened. I just learned that the downspouts across the street were stolen. Have they gone the way of the disappearing light poles?
At the root of urban dysfunction, addiction and crime are underclass parenting failures and lousy public schools. There is no magic bullet, not CompStat, and not government social and rehab programs. Kids need two parents in the home, who are both involved in their education and moral development, and who set a good example themselves. And if THEIR parents were f***-ups, sorry - that's no excuse.
TECHNORATI TAGS: BALTIMORE, LIGHTPOLES, CRIME, MARTIN O'MALLEY, COMPSTAT
TO COMMENT: The regular "comment" feature is not in operation. E-mail comments to address under "Contact" on main page masthead, and I'll add them, here.
Posted by Matt Rosenberg at 02:22 PM | Comments (0)
November 24, 2005
Max's Thanks
In honor of Thanksgiving and along with rest of his class, my nine-year-old son wrote about for what he's thankful.
Here's what he had to say.
I am thankful I live in a good community and that I have a good home.

I am thankful that I have a good home because if I did not, I would be in bad weather conditions, be cold and wet.

I am thankful for the trees that we have because they provide us with oxygen and they make homes for animals.

I am thankful for animals because they provide us with wool, meat, fertilizer, eggs, pets and transportation.

I am thankful for transportation because without it we would not be able to go on vacations and fun places that are far away.

I am really thankful for good health because if I didn't have good health I wouldn't be able to do a whole lot of fun things like: play at recess, participate in PE at my school or swim, run, walk, jump, sled, skip, balance on one leg or climb on rock walls or do really fun sports.

Most of all I am thankful for food which keeps me in good health, and my family who takes care of me and my friends who keep me company.
Your family loves you very much Max.
And your little sister.
Among other things, we give thanks for the love of learning with which you are both blessed.
And I really appreciate that you can somehow make sense of our three persnickety remote controls; for the TV, VCR and DVD player.
You'll go far.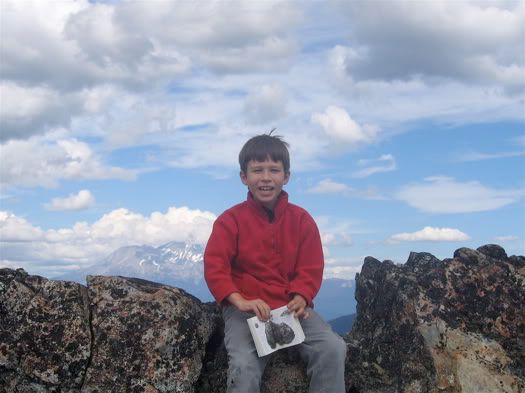 TECHNORATI TAGS: THANKSGIVING, GIVING THANKS
TO COMMENT: The regular "comment" feature is not in operation. E-mail comments to address under "Contact" on main page masthead, and I'll add them, here.
Posted by Matt Rosenberg at 07:59 PM | Comments (0)
The Intuitive Cook's Stove-top Stuffing
What a peaceful day. Our family is all hunkered down, and the kids are going to help prepare the feast. What could possibly be more on-point than sharing my stuffing recipe? Nothing else, except for directing you to visit, and leave a comment at my Sound Poltiics post titled, 'What Are You Thankful For?" So here goes.
THE INTUITIVE COOK'S CORNBREAD-SAUSAGE-SAGE STOVETOP STUFFING
--1 16-oz. tube of Jimmy Dean sage-flavored sausage, crumbled as it is being cooked.
--8 C oven-toasted bread cubes (from leftover, homemade cheesy cornbread, AND the outstanding potato bread of Seattle's Macrina Bakery)
--4 stalks celery, diced; leaves chopped
--14 fresh sage leaves, chopped
--1 large shallot, chopped
--1 large clove garlic, chopped
--1/2 C coarsely-chopped sun-dried tomato slices
--1 C walnut pieces
--4 T butter +2 T Canola oil
--1 15-oz. can low-sodium chicken or vegetable broth
--dry-spice blend of your choosing: mine has 1/2 t each of mustard, tarragon, basil, smoked paprika, red pepper, and kosher salt, & 1/4 t allspice.
WATCHA DO:
Prepare sausage as directed above, set aside. In a very, very, very large iron skillet, or (better) Teflon-coated wok, melt butter (can substitute bacon fat for 2 T of the butter). When sizzling, add chopped celery, shallot, sun-dried tomatoes, walnut pieces, garlic, and dry spice mix, and saute 5-7 mins, or 'till softening slightly. Add bread cubes and chopped fresh sage and celery leaves, saute the mixture another 15-20 mins, until bread cubes soften, stirring often for even cooking, and adding small amounts of broth as necessary to keep it from sticking to the skillet/wok. Add cooked crumbled sausage, cook another five mins., cover and set aside. TO SERVE: Warm gently on stove in last 10 mins. before turkey is served, adding a bit more broth as necessary, or reheat in foil-covered baking dish in oven at 325 for 20 mins.
Serve with roasted turkey, cranberry relish, sauteed greens, and pan gravy.
TECHNORATI TAGS: INTUITIVE COOK, STUFFING, RECIPE, SAGE, CORNBREAD, SAUSAGE, MACRINA, POTATO BREAD
TO COMMENT: The regular "comment" feature is not in operation. E-mail comments to address under "Contact" on main page masthead, and I'll add them, here.
Posted by Matt Rosenberg at 10:40 AM | Comments (0)
November 23, 2005
Nelly's Grillz Are Foolz Gold
I go back with grills. Now classy rap star Nelly is singing about 'em, in "Grillz."
They're the removable gold teeth grills sported by rappers and wanna-be playas, and the L.A. Times drills down. My read: grills are the new cigarettes. Some people think they make you look cool, but they're bad for your health and make you stink. Oh, and the rappers who wear them, can't rap wearing them. It's a photo-op thing.
Houston rapper and grill entrepreneur Paul Wall says:
"Down South, gold teeth were always a symbol of poverty. But the hustlers — gangsters or drug dealers — made them a symbol of respect on an extreme level."

..."People originally thought it was a ghetto kind of style," said John Hallett, office manager of Mr. Bling, a jewelry store in Las Vegas that sells an average of five to 10 grills a day. "But now a lot of white people from L.A. come down to buy them. Punk rockers and alternative people with tattoos and piercings."

...While grills are not subject to any specific health ordinances, dental experts caution that there are risks to wearers who leave the jewelry on for more than two hours. "The mouth is not a clean and tidy place," said Dr. Matt Messina, consumer advocate for the American Dental Assn. "And anything that has crevices and rough surfaces, bacteria and plaque are going to stick to. If somebody's going to snap one of these in and then leave it for a long time, they've basically installed a bacteria condominium complex.

"That could have long-term effects in terms of decay on the teeth and gum recession. Plus, if you have all that bacteria, you can have some really foul breath."

Grill wearers have discovered their own do's and don'ts. "It's not really comfortable to eat in," said (rapper) Bun B. "It's mainly for photo-ops. As much as a grill costs, you want to make sure as many people are going to see it as possible." Whatever their visual effect, the jewelry makes it harder for rappers to serve their primary purpose: rapping. "[Grills make it] real hard to talk," Bun B said.
Can't talk with grills on your teeth? Easy. Just slip on your iPod, and chill with the latest issue of Don Diva.
TECHNORATI TAGS: NELLY, GRILLZ, GOLD TEETH GRILLS, IMAGE, HEALTH
TO COMMENT: The regular "comment" feature is not in operation. E-mail comments to address under "Contact" on main page masthead, and I'll add them, here.
Posted by Matt Rosenberg at 10:37 AM | Comments (24)
Putin, Allies Versus Human Rights Groups
Russian President Vladimir Putin and his merry band of jackbooted autocrats want to rid their state of all foreign-funded organizations, especially human rights groups they believe are agitating for a Ukraine style "Orange Revolution." More from the SF Chron:
Russia's parliament, in what critics are calling the latest Kremlin clampdown on democracy, appeared ready to approve legislation today that would shut down foreign-funded human rights groups and tighten controls over domestic civic organizations. Some of the world's most prominent nongovernmental organizations could be affected, including Human Rights Watch, Amnesty International and the Ford Foundation.

"If this law passes, we would essentially be closed down," said Diederik Lohman, a senior researcher for New York-based Human Rights Watch, a frequent critic of Russia's human rights record. "This goes beyond anything else there is in the former Soviet Union." Amnesty International released a statement expressing "serious concern" over the draft law and calling it "a serious attack on freedom of association."

The legislation, endorsed by President Vladimir Putin's Cabinet and co-sponsored by the Kremlin-created United Russia party, which controls two thirds of the parliamentary seats, would bar international nongovernmental organizations from operating in Russia and would require all of the country's 300,000 domestic "NGOs," including local church organizations, to re-register with the state as Russian and prove that they do not receive foreign funding for political activities, a term critics say could be interpreted to cover a broad range of functions.

....opponents say the law is designed to curtail one of the few areas of public life still outside state dominance. Since becoming president, Putin, under the guise of what he has called managed democracy, has cemented Kremlin control over parliament, closed or taken over independent television channels, taken back much of the country's huge energy resources from private owners, abolished direct elections of regional governors and installed his own representatives to supervise regional governments.

"The provisions in this law are so elastic that its aim is clear: to forbid NGO activity and drive out anyone who is not in the Kremlin's circle of power," said Oleg Orlov, the chairman of Memorial, Russia's most prominent rights group.
Full parliamentary approval could come as soon as Dec. 9, but international pressure could sway Putin into a veto. Since the Soviet Union fell, Russia has become a great place for certain scheming hoodlums posing as entrepreneurs to make money, but has remained a lousy place to pursue your dreams, and speak your mind. No wonder the democratic revolutions in Ukraine and the former Soviet state of Georgia make Putin and his retrograde henchmen nervous.
TECHNORATI TAGS: RUSSIA, PUTIN, HUMAN RIGHTS
TO COMMENT: The regular "comment" feature is not in operation. E-mail comments to address under "Contact" on main page masthead, and I'll add them, here.
Posted by Matt Rosenberg at 08:30 AM | Comments (0)
November 22, 2005
Hornby's "Long Way Down": Perfect For Berks, Tossers, Gits
Nick Hornby's "A Long Way Down" is a fine comic novel about four people who all arrive at Topper's House, a quite-tall-enough London building well known to the suicidal, on New Year's Eve.
However, it so happens that these four very different folks manage not to kill themselves right then. They pull together, in their own strange ways, in the hours, days and weeks after their chance meeting.
One, JJ, is a an American musician whose career has nosedived. Martin is a Brit telly host caught in scandal. Maureen is a legitimately depressed middle-aged single mom with a vegetable son. Jess is a foul-mouthed junior cabinet minister's daughter whose sister has gone missing.
Hornby - who happens to know music like few other contemporary novelists - has written a bunch of great London-set novels. I've read and loved each one. This one started out just a bit dodgy, but it really gets going. A lot of good books are like that, actually.
I'll not tell you much more, so as not to give away the story, but I must share this one bit of dialogue, where the four protagonists meet for one of their perhaps ill-considered book discussions, of authors who have attempted suicide. Here is the off-color teenager Jess, talking about Virginia Woolf.
F****** hell! You should try to read the stuff by people who've killed themselves! We started with Virginia Woolf, and I only read like two pages of this book about a lighthouse, but I read enough to know why she killed herself: She killed herself because she couldn't make herself understood. You only have to read one sentence to see that. I sort of identify with her a bit, because I suffer from that sometimes, but her mistake was to go public with it.
From the mouths of babes......
You can't beat Nick Hornby for contemporary fiction. His priors include the smashing debut, later and against-all-odds rendered into a great movie starring John Cusack, High Fidelity; plus About A Boy; and How To Be Good.
The current Hornby novel is also, in an entirely secondary manner, a fine, if minor compendium of English insult terms. These include "git," "tosser", and "berk." Sadly lacking is that fine specimen of Scottish calumny, "bamstick."
Ah, well. Next time, perhaps.
TECHNORATI TAGS: NICK HORNBY, A LONG WAY DOWN, FICTION, READING, BOOKS
TO COMMENT: The regular "comment" feature is not in operation. E-mail comments to address under "Contact" on main page masthead, and I'll add them, here.
Posted by Matt Rosenberg at 09:46 PM | Comments (0)
Rosenblog Opinion Review, Vol. 3
Daily Interlake, (NW Montana): "Hunt Will Be Good For State's Bison."
Marc Racicot, Billings Gazette: "Alito's Record Upholds Constitution, Not Ideology."
Tibor Machan, Desert Dispatch (Barstow, CA): "Whether We Admit It Or Not, We All Outsource."
Robin Dean, Berkeley Daily Planet, "Residents Must Participate In Controlling Alcohol Outlets."
Dionne Niemi, San Francisco Chronicle: "Ultimate Justice For Cop Killers."
Stanley Kurtz, Weekly Standard, "San Francisco To Army: Drop Dead."
Victorville Press (CA): "Bush's Reward."
Al Zelicoff, Albuquerque Tribune (on avian flu scare): "Remote Threat," and "Real Threat."
Samantha Power, New Yorker: "Why The African Union Can't Save Darfur Alone."
Dennis Prager, Townhall.com: "The Left Hates Inequality, Not Evil."
TECHNORATI TAGS: MONTANA, BISON HUNT, MARC RACICOT, SAMUEL ALITO, U.S. SUPREME COURT, OUTSOURCING, BERKELEY, LIQUOR STORES, CRIME, COP KILLERS, CALIFORNIA, SAN FRANCISCO, MILITARY RECRUITMENT IN SCHOOLS, GEORGE W. BUSH, LIBERTY, AVIAN BIRD FLU, AFRICAN UNION, DARFUR, DENNIS PRAGER
TO COMMENT: The regular "comment" feature is not in operation. E-mail comments to address under "Contact" on main page masthead, and I'll add them, here.
Posted by Matt Rosenberg at 05:04 PM | Comments (0)
A Sane Mayor For Vancouver
The center-right candidate, Sam Sullivan, has been elected mayor of Vancouver over lefty Jim Green. As a Vancouver-watcher and fairly frequent visitor, I'm pleased that the crime- and drug-plagued city will have more sober leadership than in the last four years under bleeding-edge liberal Larry Campbell. Before election day, Saturday Nov. 19, I wrote here about the race, and much that has afflicted the city.
More from Macleans, in this post-election piece:
Sam Sullivan of the Non-Partisan Association defeated long-time city social activist Jim Green in a tight race on Saturday in a municipal election fought along party lines, which is unusual in many big Canadian cities. The NPA win comes after a much-publicized split in the left-leaning Coalition of Progressive Electors, or COPE. COPE swept a divided right-of-centre Non-Partisan Association from power in Vancouver in 2002. Headed by now-Senator (and outgoing Vancouver Mayor) Larry Campbell, COPE elected eight councillors in 2002, leaving the NPA with only two voices on council - Sullivan among them.

COPE, however, dissolved into internal bickering, which led to the emergence of Vision Vancouver, headed by Green. After Saturday's vote, council now has an even split between the right and left with Sullivan holding the deciding vote.

"You have said you want a government that makes decision by policy and not politics," Sullivan said in his victory speech. "And you agree council should exercise restraint in dealing with issues beyond our mandate." His final words could well have been a veiled stab at COPE's peace and justice committee, which has opposed the invasion of Iraq, the weaponization of space, and nuclear weapons.

The NPA had dominated the city's politics...before the 2002 COPE win. Political scientist Kennedy Stewart said the trend across the Lower Mainland of the province shows a shift to the right. "I don't think it's that voters shifted to the right, I just think that the left is so disorganized, in some cases pathetically so, that the right just kind of wins by default," he said. In Vancouver, he said that shift will impact issues such as the controversial safe-injection site for drug addicts and the provision of social housing.
Vancouver is a smashingly vibrant and cosmopolitan place, but needs to get a handle on its density and social dysfunction. Here is a letter-writer in the Vancouver Sun, the day before the election.
Vancouver's mayor should understand that his job is to ensure good governance of the city and to ensure that it remains the economic centre of the region. Unfortunately, the COPE-dominated city council has thrust its left-wing activist agenda onto unsuspecting city residents. The agenda has included: endless announcements about improving the (downtrodden) Downtown Eastside while ignoring the concerns of all other neighbourhoods; denying Vancouverites their right to access everyday low prices at Wal-Mart; and ensuring traffic chaos on the west side with proposed bike lanes on the Burrard Bridge. A vote for Jim Green and his "visionary" Vancouver team would ensure that a left-wing activist agenda would continue to predominate at city hall. Voters should remember that COPE and Vision Vancouver are effectively a team. Each party has only five candidates for council and COPE does not have a candidate for mayor. Vancouverites deserve better and should fully support Sam Sullivan and his NPA team.
And so they did. The thrust of local government in cities such as San Francisco, Seattle and Vancouver has been social engineering and the politics of victimology, rather than excellence in service delivery for taxpaying property owners. A little bit of safety net goes a long way, and too much net tangles up everything - something the city's "progressive electors" didn't get. With business-friendly moderates back in power, perhaps the governance of Vancouver will start making sense again.
TECHNORATI TAGS: VANCOUVER, MAYOR, ELECTION, SAM SULLIVAN, JIM GREEN
TO COMMENT: The regular "comment" feature is not in operation. E-mail comments to address under "Contact" on main page masthead, and I'll add them, here.
Posted by Matt Rosenberg at 01:04 PM | Comments (0)
Thugs Aplenty For Hire In China
China's mercenary capitalists must be up late watching Sopranos DVDs. USA Today reports:
The increasing use of hired muscle in China "is a sign that society is becoming completely lawless," says Robin Munro, research director of the China Labor Bulletin, a Hong Kong-based group that helps mediate labor disputes. "It's a shocking development in a country that is growing as fast as China." The rise of henchmen-for-hire reflects the peculiar characteristics of a society lurching from communist control to Darwinian capitalism. China's economy is booming, but its justice system hasn't caught up. Judges are untrained, often corrupt and beholden to local communist officials.

Issues of land ownership are often blurry, allowing rapacious local officials to seize communal property — or simply evict farmers — and sell it to developers, pocketing money that belongs in village coffers, says Nicholas Becquelin, research director in Hong Kong for the activist group Human Rights in China, which is based in New York. The land grabs and corruption are feeding unrest in the countryside.
As Lu Banglie can testify.
How long can the national communists and their corrupt local errand-boys really hold on?
TECHNORATI TAGS: CHINA, CORRUPTION, BEATINGS, THUGS
TO COMMENT: The regular "comment" feature is not in operation. E-mail comments to address under "Contact" on main page masthead, and I'll add them, here.
Posted by Matt Rosenberg at 11:44 AM | Comments (0)
November 21, 2005
GM Job Cuts Won't Improve Poor Quality
I'm proud to be American. I'm pro-business, although opposed to federal tax code giveaways to big corporations and whole industries. I'm Republican, but not very keen on all the state tax breaks allowed by Rs and Ds for business in Washington state, where I live. I loathe Wal-Mart bashers. I believe in the free market.
And I'd love to buy an American car the same way I'd love to send my kids to Seattle public schools. But no sale, because in each case, the product stinks. I wouldn't buy a GM car if they paid half. GM lost me sometime in the 70s with a hideously unreliable new Olds 88 my dad owned (I was often the one who took it in for repairs); and then again with an absurdly dysfunctional Buick he bought in the 90s. The American cars I rent are very nice to drive because they're all fresh from the factory. Then I see the same models broken down on the side of the road a few years later. Great cupholders, though: the Japanese just don't get cupholders.
I owned an American car once; made back in the days when they still did things right. It was a '69 Ford Thunderbird, with butterfly doors. But foolish youth that I was, I ruined the thing (not in a wreck).
I've been a Honda guy ever since I grew up. Reliability is what matters. And so I don't expect that GM's big job cuts, announced today, will make a whit of difference. They'll still be out there peddling third-rate product to the public, with the sychophantic hacks of the American auto press still pimping for them, just like always. The main concern at GM will remain the care and feeding of the union and union pensioners, and moving enough product to get some numbers that investors and analysts like. But not making good motor vehicles.
American Cars are for suckers.
Tom Rekdal: The Honda cars you buy were probably made in America by American workers, too. Just not unionized ones.

Kirk Kerkorian's 9% stake in GM (bought at about $32 per share) probably means that there are still enough assets left in the company to save it, if the right set of corporate "raiders" can get their hands on it.

Bring back the corporate takeovers, and you will bring back the American car.
UPDATE, 11/22/05: The ever-insightful Chaz Hill has more, at Dustbury.com. 11/24/05: And here's the Subjective Scribe.
TECHNORATI TAGS: GENERAL MOTORS, GM, JOB CUTS, QUALITY, RELIABILITY
TO COMMENT: The regular "comment" feature is not in operation. E-mail comments to address under "Contact" on main page masthead, and I'll add them, here.
Posted by Matt Rosenberg at 09:30 PM | Comments (0)
Chain Stores, Yeah, THAT'S The Problem....
Memo to San Franciscans and visitors there: don't wear the wrong color in the wrong neighborhood, even if you're not a gangbanger. It could cost you your life. On the upside, I see a publishing opportunity: a new paperback titled, "Sartorial Survival In San Francisco: A Guide To The Hoods."
Memo to Mayor Gavin Newsom: your police chief needs help.
Memo to San Francisco voters: pray the NRA rescues you from your stupidity.
TECHNORATI TAGS: SAN FRANCISCO, MURDER, GANG COLORS, POLICE MANPOWER, GUN BAN, NRA
TO COMMENT: The regular "comment" feature is not in operation. E-mail comments to address under "Contact" on main page masthead, and I'll add them, here.
Posted by Matt Rosenberg at 08:31 PM | Comments (0)
November 19, 2005
Cavils And Caveats
ABOUT AVOCADOS, AGAIN: Fresh, ripe avocados are essential to any rewarding form of human existence, and as such, deserve utmost care and respect. By all means, please don't render them into powder, or partake of powdered-avocado products. To do so breaks faith with basic principles of righteous living.
Grocery stores; don't peddle severely dimpled, well-on-their-way-to-being-spoiled-and-mushy-brown-inside avocados, either. And.....produce manager at my large local chain grocery in West Seattle: when I point out this failing, you really, really don't want to say, even in a breezy, friendly manner, "Oh, we haven't checked those yet."
Because malfortunately that translates as, "umyeah....in truth we really will try to pawn off any horrid old crap we can to customers whom we think are essentially ignorant rubes....in order to pay our high transport costs, manager bonuses, union wages and health care bennies."
Moreover, two days later, in a fit of clueless over-compensation, do NOT replace all your mushy, over-ripe avocados with a whole huge boatload of bright green, totally rock-hard avocados.
I mean, excused me - can anyone here talk to avocados? Or better yet, suppliers? An avocado is like a woman......but, never mind........
DOLTS AT LARGE: I do hereby codify and catalogue as full-fledged asshats all you people who wander out the doors of stores, onto the sidewalk, looking backwards into the store while you blindly galumph into the path of oncoming pedestrians.
My wish: could you quickly go just a bit further in your meanderings? Like, say, straight into traffic? Ah, good, then. And "Thanksbye," as dippy account execs at PR firms everywhere like to say.
PARKING LOT FELONS: You folks who intentionally park your too-precious cars in parts of TWO spaces, in parking lots? I'm not gonna key you, or "accidentally" back into your bumper or fender or door, or take out your sideview mirror with my foot, or heel the of my hand. Nooooo, I'm way past all that, AND road rage. Really, I am, life's just easier that way! But....if some else did? Ah well, I'd smile. There are times when schadenfreude fits like a glove, no?
CRUMMY KID BOOKS: Another thing. About those heinous "Walter The Farting Dog" volumes.
I blogged a while ago about the first one, a smash hit.
Well, I read two sequels in the local, progressive, non-violent toy store today - a place I really like, all in all.
In one, Walter the Farting Dog blows away everyone at a yard sale, but is then purchased by an evil clown who uses him in a bank robbery plot, which Walter ultimately foils. In another volume, Walter's gaseous emissions save butterflies imperiled in frigid jet streams.
Really bad writing and stories.
The fart gimmick is all, sadly.
In both franchise-extenders, every page is full of phantasmagoric farts, plus weird day-glo graphics of nasty-looking bug-eyed people.
The Mom and Dad, and everybody really, appear quite strange and off-putting; almost pharmacalogically altered.
Upon questioning, a store employee sheepishy answered that yes, the WaltFart Chronicles are selling like hot cakes.
Yet the whole thing is kind of a big F.U. to buyers....who are sadly so bent on being "with it" that they don't know they're utterly, totally being had.
Or they do.....and as post-ironic progressive urban drones, choose to step and fetch it.
Welcome to the world of Walter: but don't breathe too deeply.
RIPPING GOOD ADVENTURE: My 9.25-year-old, bless him, ended up buying a great Shel Silverstein poetry volume titled, "A Light In The Attic."
As a parent who likes to read to my kids, and likes my kids to read, please, give me NOT "Walter The Farting Dog," but instead something just like Shel's funky verse, OR....."Lad: A Dog," any old day.
We're reading that now, an old classic.
What drama, and what, ah....writing.....anyone remember that?
Thanks Mom; and your grandchildren salute you!
ABOUT TUNEFUL LOCOMOTION: A great big shout out to my new health club: so spacious, clean, well-equipped, and all-around wonderful.
So much better in so many, many ways than the cramped and messy place I used to go.
But about the music, a few points.
"Classic rock" is so, so, sooooo....played. No more Bob Seger, Queen, Doors, or Heart, PLEASE!
The vast majority of the "black music" you play is sappy "black urban contemporary" love ballads and crummy disco. Or hip-hop; about 92 percent of which is musically void.
And why no Jimi, ever?
You play Stevie Ray Vaughn and George Fakin' Thorogood for Jah's sakes! How can you NOT program Jimi?
Lord forgive me, but I smell institutional racism.
Something I'm normally quite skeptical about.
BTW, 86.23741 percent of club patrons DON'T have iPods.
PROMISES, PROMISES: I'll have more to gripe about soon. Rest assured.
TECHNORATI TAGS: LAD A DOG, WALTER THE FARTING DOG, AVOCADOS, JIMI HENDRIX, SHEL SILVERSTEIN, PARKING
TO COMMENT: The regular "comment" feature is not in operation. E-mail comments to address under "Contact" on main page masthead, and I'll add them, here.
Posted by Matt Rosenberg at 12:36 AM | Comments (0)
November 18, 2005
Rosenblog Opinion Review, Vol. 2
Doug Anderson of Sunbreak City on our burg's leading man of letters: "Jonathan Raban In Seattle."
Former Malaysian Prime Minister Mahathir bin Mohamed, in today's Daily Star (Lebanon): "Iraq Is No Talisman, Muslims Must Improve Their Minds."
Michael Rubin in The Daily Star (Lebanon), "The Middle East's Real Bane: Corruption."
Oakland Tribune editorial, "Sunni Arabs Should Ask, Why Anyone?"
The Astute Blogger: "French Churches Burn, And The Left And MSM Ignore It."
Gerard Alexander, The Weekly Standard: "A Continent Of Broken Windows."
Bruce Bawer: Christian Science Monitor, "Not All Muslims Want To Integrate."
Mike Rosen, Rocky Mountain News: "Of Comfort And Affliction."
Mortimer B. Zuckerman in U.S. News and World Report: "The Greenspan Effect."
Larry Kudlow, Townhall.com, "What I Learned This Week."
Robert J. Samuelson, Buffalo News, "Americas's Most Dangerous Group."
Roy Spencer, in Tech Central Station, "The Killer That Matters Most."
Bryan Curtis, Slate: "Confessions Of A College Journalist."
TECHNORATI TAGS: ROSENBLOG, SEATTLE, RABAN, ISLAM, EDUCATION, MIDDLE EAST, CORRUPTION, SUICIDE BOMBINGS, FRANCE, CHURCHES, CRIME, MUSLIMS, INTEGRATION, GREENSPAN, KUDLOW, AARP, AFRICA, ELECTRICITY, DISEASE, COLLEGE NEWSPAPERS
TO COMMENT: The regular "comment" feature is not in operation. E-mail comments to address under "Contact" on main page masthead, and I'll add them, here.
Posted by Matt Rosenberg at 10:57 AM | Comments (0)
November 17, 2005
A Dead Hare, Crotchless Pants, & Shamanistic Transgression
For you dull Red-Staters and family-oriented suburban drudges not hip to what's au courant, New York Times critic Roberta Smith is here with the 911 on performance art.
Performance art may be getting its unruly, influential, shamanistic act together. At the moment, it seems to be the art world's medium of choice. Admired for its purity and subversive spirit, it is ubiquitous in gallery and museum exhibitions, whether on its own or as an active ingredient in video, installation art, sound art and photography.

...As of last night, performance art also has a New York biennial to call its own: Performa 05....The phenomenon of performance art dates back at least to World War I and the days of Dada and the Cafe Voltaire in Zurich. Since then, artists have regularly used it to torpedo the status, definition and market value of art....

The wobbly but vibrant inaugural version (of Performa 05) will unfold primarily in commercial art galleries and alternative spaces, through Nov. 21...The most prominent dot...(in the)...Performa 05 diagram is "Seven Easy Pieces," a series of performances by the Yugoslav performance innovator Marina Abramovic...(who)...will re-enact some of performance art's earliest, most sensational classics...The cavalcade of history will involve a dead hare, masturbation, crotchless pants and the use of razor blades, and promises a wild ride.
Ah, good old reliable transgression. About as wild a ride as the AMC Pacer.
Smith trips on her own elitist deconstructionism: "performance art" does not, as she asserts, torpoedo the market value of art. Rather, it helps to put works of substance and effete dreck in sharper contrast.
You can buy a nice reproduction of a work by Caravaggio or Klee; a painting, lithograph or sculpture of actual refinement and quality by a lesser-known artist; Native American or folk art of enduring quality.
Alternatively, as Smith suggests, you can witness "a cavalcade of history" involving "a dead hare, masturbation, crotchless pants and the use of razor blades."
Or other so-called performance artists. Such as a fellow burying himself in sand to protest a war. Or some chaps serving human blood sausage in an Edinburgh art gallery. Or a government-funded artist downing lots of beers and trying out a balance beam in Cardiff. Or even an "anti-social" on display in a hot plastic box at a stoner-fest in the Nevada desert.
The value proposition has never been clearer.
TECHNORATI TAGS: PERFORMANCE ART, PERFORMA 05, NEW YORK, NEW YORK TIMES, ROBERTA SMITH, MARINA ABRAMOVIC, AMC PACER
TO COMMENT: The regular "comment" feature is not in operation. E-mail comments to address under "Contact" on main page masthead, and I'll add them, here.
Posted by Matt Rosenberg at 11:58 PM | Comments (0)
Feminism A La Fleiss
Given that I espouse equal opportunity over mandated equal outcomes, I can't get too hot and bothered about former Hollywood madam Heidi Fleiss' plans to open a legal brothel in Nevada to service women. Well, almost.
More from the L.A. Times (free reg. req.):
In a move bound to hearten aspiring Deuce Bigalows the world over, Fleiss said she is joining with a Nevada brothel owner to open the state's first house of prostitution in which men cater to women. Fleiss, whose partner notified Nye County officials of the plan this week, said they will charge $250 an hour and call it "Heidi's Stud Farm."

"Women are more independent these days; they make more money and it's hard to meet people," Fleiss said as she packed for what she said would be a permanent move to Nevada. "You wouldn't believe the number of women who've told me, 'Heidi, if you do this, I'll be the first one in line!' I mean, relationships are harder than dieting, you know what I mean?"

...she made a deal with Joe Richards, who owns three Nevada brothels...Her role would be more promotional, and her job title would be "hostess/madam," Richards...said...that a male brothel would "address an ever-increasing fact of life," because "society is witnessing a unique evolution of the female gender reaching out for the same service we now offer male clients." In an interview, he elaborated: "Say a guy gets into an argument with his wife. What does he do? Lot of times, he goes out, gets a drink, goes to a place to be serviced. Now women can say, 'Hey, if you can do it, I can too.' "
If "relationships are harder than dieting" for Heidi and her California ladyfriends, I can only imagine how they view the prospects of marriage and child-rearing. We will become a Hispano-Muslim society yet. But Fleiss and her business partner are absolutely right. If men can act dumb, women have every right to be just as dumb in all the same ways. And the employers of legal male prostitutes in Nevada have every right to call that "a unique evolution of the female gender." Only it's not really very unique, is it?
TECHNORATI TAGS: HEIDI FLEISS, MALE PROSTITUTION, NEVADA
TO COMMENT: The regular "comment" feature is not in operation. E-mail comments to address under "Contact" on main page masthead, and I'll add them, here.
Posted by Matt Rosenberg at 05:30 PM | Comments (0)
Berkeley Homeless Need To Get Up Off The Ground
"Berkeley Homeless Protest Lack Of Places To Sleep" reads the headline in the Berkeley Daily Planet. I know, I know. You can't just wish the homeless away. But they can't just lay their whole trip on society, either. Seems to me that if you're lacking a place to sleep, you're really saying you won't go into the crucial re-entry phase, involving homeless shelters, sobriety programs, job-training, employment counselling, free Internet access to information resources at public libraries, and face it: day labor and wages. That's all out there for the taking.
So, before you ask a municipal corporation to let you illegally use its property as a crash-pad - that property being a park dedicated for recreational use by tax-paying and law-abiding citizens - ask yourself what's your plan for getting up off the ground.
A rational society's domestic ideal ought to be equal opportunity, not equal outcomes.
Related Posts:
"What Makes The Homeless Homeless?"
"Feces Ain't Fun: Downtown Arcata Hurtin'"
"Arcata's Commissars Of Entitlement"
TECHNORATI TAGS: BERKELEY, HOMELESS, EQUAL OPPORTUNITY
TO COMMENT: The regular "comment" feature is not in operation. E-mail comments to address under "Contact" on main page masthead, and I'll add them, here.
Posted by Matt Rosenberg at 04:16 PM | Comments (0)
November 16, 2005
The Intuitive Cook's Chipotle Cod Veracruzana
Mexican restaurant fish and seafood fans may be familiar with an old standard usually called Huachinanga Veracruzana, or red snapper baked in a chunky tomato, bell pepper and olive sauce, with perhaps a hint of garlic.
The Intuitive Cook (your blogger) has something fer ya that's even better, called Chipotle Cod Veracruzana.
He works by touch and feel; by what's looking good at the market; and what's in the fridge.
He doesn't care too much for recipes, and might not do things exactly the same way next time around.
But he wants to share this one with you, because it turned out restaurant quality, tonight. The nice thing about both snapper and cod is that it's pretty easy to cook them perfectly, 'till they're just flaking apart.
CHIPOTLE COD VERACRUZANA (Serves 2)
INGREDIENTS:
-1 lb. fresh "true cod," already cut into two half-pound fillets (they're likely to be a bit thick, that's OK)
-1/2 C mixed, medium-dice peppers (Poblano, Anaheim, green bell)
-1/3 C diced shallot
-4 garlic-studded olives, diced
-5 fresh leaves of sage, chopped medium-fine
-1/3 C chipotle-flavored salsa (NOT pure chipotle sauce...too spicy)
-2 slices bacon, cooked to a nice crisp, blotted, and crumbled
-1/4 C dry white wine
-1 T unsalted "sweet" Challenge butter, from California
-dried tarragon, dried thyme
-high-quality olive oil
WATCHA DO:
-Preheat oven to 350, and lube an oval Pyrex baking dish with olive oil.
-Heat medium-large skillet with about 1.5 T olive oil.
-Sprinkle Cod filets liberally on both sides with dried tarragon and thyme.
-When pan is hot, quickly saute filets at medium-high, just to lightly brown, about 1 min. on each side.
-Carefully remove with spatula to greased Pyrex dish, set aside.
-Add another 1 or 1.5 T olive oil to skillet, heat, and add all the vegetables.
-Cook at medium-high about 3-4 mins. to soften slightly, stirring often.
-Add salsa, stir in; add wine, butter, simmer at medium, 2 more mins.
-Add chopped bacon, mix in well, simmer 1 more min.
-Gently spread sauce over fish in Pyrex dish.
-Bake exactly 20 mins. (@350), remove.
-With spatula, carefully place each filet on a separate plate decorated with a peeled, pitted, halved avocado; two fresh lime halves; and tortilla chips.
-Serve with more chips, and warm flour tortillas, plus salad of wild greens.
I know I said this serves two, but the fact is, that could be just for gals. A hungry guy - like yer chef - could easily down two filets. So take stock of your crowd, do the math and plan accordingly.
TECHNORATI TAGS: INTUITIVE COOK, EASY FISH RECIPES, COD, CHIPOTLE COD VERACRUZANA
TO COMMENT: The regular "comment" feature is not in operation. E-mail comments to address under "Contact" on main page masthead, and I'll add them, here.
Posted by Matt Rosenberg at 10:07 PM | Comments (0)
Rosenblog Opinion Review, Vol. 1
Tom Neven, Rocky Mountain News: "'Jarhead' A Viciously Dishonest Lie."
Janet Street-Porter of The Independent: "Michael Moore Is a Victim Of His Own Success."
Edward Jay Epstein in Slate, "Movies For Adults: Why Hollywood Won't Be Making Them Anytime Soon" (hat tip to Dadblogger).
Bryan Preston in Tech Central Station: "Did Bush Lie? Ask Google."
John M. Hughes in the Christian Science Monitor: "In Leading U.S. To War, Did Bush Purposely Lie To Public?"
Jamie Glazov interview of Bill Tierney, Front Page Magazine, "Where The WMDs Went."
From Debra England at Townhall.com, "Muscular Philanthropy: Tough Love And The John M. Olin Foundation." (Hat tip to Rosenblog reader Paul J.).
Matt Welch in Reason Online: "Like Undermining Motherhood and Apple Pie: Why Are California Dems in Local Government Embracing Eminent Domain Abuse?"
Dennis Bryne in the Chicago Tribune: "Mitts Off The Internet, Iran, China, Cuba......"
Tucker Carlson in Jewish World Review, "Motherhood Is a Wonderful Thing, But......" (On Karen Hughes).
Dan Darling in The Weekly Standard, "Revisionist History: The Amman Bombings Are a Reminder That Iraqis Have Been Involved With Terrorism for a Long Time."
Christian Science Monitor editorial: "Nudging China Toward World Citizenship."
G. Pascal Zachary, San Francisco Chronicle: "Berkeley High's Condom Club."
Santa Cruz Sentinel editorial: "As We See It" (taxing the rich for universal pre-school in CA a bad idea).
Barbara McClintock, Thetyee.com: "Doc Dares To Defy Mr. Floatie" (sewage treatment near Vancouver Island).
TECHNORATI TAGS: ROSENBLOG, JARHEAD, IRAQ, WMD, BUSH, BILL TIERNEY, KAREN HUGHES, MICHAEL MOORE, HOLLYWOOD, MOVIES, GOOGLE, BERKELEY, CONDOMS, PHILANTHROPY, UNIVERSAL PRE-SCHOOL, CALIFORNIA, VANCOUVER ISLAND, SEWAGE
TO COMMENT: The regular "comment" feature is not in operation. E-mail comments to address under "Contact" on main page masthead, and I'll add them, here.
Posted by Matt Rosenberg at 11:42 AM | Comments (0)
November 15, 2005
I Think I'll Just Drink My Dinner Tonight, Slowly
This is one of the new posters the British government is putting up to serve notice to the nation's many anti-social drinkers who get rip-roaringly drunk and do all kinds of anti-social things on the streets. Yes, that says "Eighty Pounds," and yes, that's the fine for street vurping, and yes, you could say the letters are rendered sort of....realistically. All hail Young and Rubicam. Brand Republic reports:
The Home Office poster ads, which will appear from Tuesday, use shock tactics to warn boozers that they face the prospect of an on-the-spot fine if they are caught breaking the law. Rainey Kelly Campbell Roalfe/Y&R is behind the campaign.

Avoiding conventional use of typography, one execution spells out "£80" in vomit -- highlighting how much people will be fined for being sick from over-drinking. Another ad shows a man urinating a stream of money down a drain.

The campaign comes ahead of changes to the licensing law from November 24 that will allow some pubs and bars to stay open and serve alcohol 24 hours a day. A Home Office spokesman claimed the campaign is the government's biggest crackdown on drunken behaviour to date. "The message that we are putting out is that the government is absolutely determined to cut down on the yobs who cause misery to others, although everyone has the right to a pleasant drink," he said.
And that's just what I need after viewing the poster.
But the way some of these Brits pound it down in their pubs and public houses....Something's eating at them alright. Their accelerated intake reflects a pervasive joylessness, not good times. Some folks believe the big problem was simply the 11 p.m. cut-off, now being phased out. The piped-in Vivaldi option seems to work on yobbish loiterers, BBC reports; maybe boom-box wielding bobbies are the answer. But as long as the wonderfully-named Home Office is going the Nanny-State route, I've got a better idea. Mandatory psychological surveys in public houses to get to the real roots of the anomie fueling rampant yobbery. My guess: insufficient education; insufficient birth control; insufficient wages; cramped, awful living quarters; lack of green space; tabloids, football and British food.
In the meantime though, the poster's a likely award winner. Now for a wicked good pub game. How many synonyms for vomiting can you name? You get three minutes. Here's a partial list (scroll down to euphimisms), but no peeking before contest time:
...puke, barf, heave, hurl, blow chunks, spew, yack, ralph, retch, chuck, chuck up, upchuck, sick up, spit up, bring up, toss cookies, lose your cookies, lose/blow your lunch, boke, chunder, cack, cascade, disgorge, urp, vurp, technicolor yawn, liquid laugh, laugh at the ground, holler New York, call Earl, paint the walls...
Loser has to down four double shots of Jaegermeister and two pints of bitters before the next advert shows on TV.
TECHNORATI TAGS: HOME OFFICE, POSTERS, VOMIT, FINE
TO COMMENT: The regular "comment" feature is not in operation. E-mail comments to address under "Contact" on main page masthead, and I'll add them, here.
Posted by Matt Rosenberg at 11:03 PM | Comments (0)
Profiles In Parenting, Volume One
Miscellania from the parenting file.
Number Two offfspring, age 5.75, has a new plastic bracelet from a kiddie fun house. It has the word "funky" on it.
She's talking about it at dinner. A teachable moment arises.
She is asked, "what other word is in 'funky'?" The asker expects, hopes, she answers, "fun." Of course.
She pauses, wrinkles her nose and says, "funk."
Number One offspring, age 9.25, is eating a tangerine today after school. He likes tangerines. A lot.
He asks, "Daddy, how many kinds of tangerines are there?"
I reply quickly and authoritatively: "Twelve."
It works.
Plus, I could even be right. Sunkist here identifies seven tangerine types from just the Western growing areas.
You probably knew that "mandarins" and "tangelos" were classes of tangerines, along with "tangerines."
And that there are still more classes of tangerines and additional types within classes, all breezily acknowledged but unspecified in the above Sunkist link.
Number One offspring asks lots of questions like this.
I always say, "We'll Google That Up."
Twelve still sounds good to me, but now I've got half a leg upon which to stand.
Recently, he also wanted to know, "how many bones are in the human body?"
Here ya go, kid: 206, down from 350 as an infant.
Asking questions like that, he'll go far.
I have already come up with a great idea for his science fair project this year: how cheese is made.
I see diagrams and text on posterboard, plus a basic home recipe; notations on how well we executed; and finally...samples.
TECHNORATI TAGS: PARENTING, FUNK, TANGERINES, BONES, CHEESE
TO COMMENT: The regular "comment" feature is not in operation. E-mail comments to address under "Contact" on main page masthead, and I'll add them, here.
Posted by Matt Rosenberg at 09:03 PM | Comments (0)
Dick Morris: Bush Must Act On Illegal Immigration
Yes, he's a notorious toe-sucker, a sometimes-scurrilous gossip, AND, actually hearing his voice on the air (i.e. Hannity) makes my frickin' skin crawl, because he's such a smarmy-sounding f***. Of course Hannity makes my skin crawl, too, as does almost EVERY conservative talk radio host, and I'm......conservative, by and large. Go figger. Butcha know what? The arena of public policy is all about ideas, Alvarado......and framing a message. At that, Mr. Dick Morris can excel, especially in writing - where his unctuous, oleaginous demeanor can be far less prevalent.
And excel he does in this op-ed, published today, on illegal immigration and what's to be done about it, by President Bush.
President Bush seems impaled on the false choice of appealing to the Hispanic vote or enforcing laws against illegal immigration. Politically, legally and morally there is no conflict -- and there is a great deal of synergy -- among these objectives. Bush, searching for a way to recapture the national agenda, needs to seize this issue and make it his own. A full and reasoned program will galvanize national support and unite the nation behind tough measures to enforce our laws and maximize opportunities for those who already live here legally.

Bush must:

Back the fence. Walls work....Good fences make good neighbors and the United States should act to regularize the traffic of immigrants into the country by the kind of border control that only a well-positioned fence can offer....It would be a modern, high tech affair, spotting breaches and relaying the information to highly mobile border guard units to plug them up.

Establish a legal guest-worker program. Nobody can deny the manifest need of Americans -- both individuals and businesses -- for the work that currently illegal immigrants provide....But the plan should include a track to citizenship for these workers, providing certain criteria -- such as English fluency, English literacy and no arrest record -- to let them earn the right to become American citizens.

....Prosecute visa overstays. Half of the people who live here illegally entered the United States with legal visas and overstayed them. All 19 of the Sept. 11 hijackers came here under the law and then stayed on after their visas had expired (or should have been revoked because they did not attend school, having entered on student visas). That we cannot rid our country of these illegal immigrants is hard to understand. We have their names, photos, fingerprints, addresses and phone numbers but we do not deport them.

The main reason for their immunity is the lack of deportation judges and courts and the inadequate number of holding cells for detainees. We need a massive expansion of our judicial infrastructure.

....Immigration is keeping America young and vital. If not for the annual flow of 3 million people -- about half legal and half illegal -- we would be much like the nations of Europe, losing population and watching their populations age. But we cannot afford the current chaotic flow of immigrants over a theoretical border. We need to enforce the law and make it fair.
More from my archives on illegal immigration, via City Journal's stellar Heather Mac Donald, and syndicated columnist Froma Harrop.
TECHNORATI TAGS: ILLEGAL IMMIGRATION, MEXICO, GEORGE W. BUSH, DICK MORRIS
TO COMMENT: The regular "comment" feature is not in operation. E-mail comments to address under "Contact" on main page masthead, and I'll add them, here.
Posted by Matt Rosenberg at 01:48 PM | Comments (0)
November 14, 2005
Crime-Plagued Vancouver At Crossroads
Municipal elections are this coming Saturday in British Columbia, and the Vancouver Sun editorializes it's really time to take stock of just what compassion hath wrought in the province's major metropolis.
Vancouver's crime rate is tied for highest in Canada. The region's property crime rate is worst in the nation. City residents are on the hook for $108 million in property crime losses last year. The region's robbery rate is the nation's highest. Bank robberies are on track to exceed last year's total of 204. Punishment for convicted criminals is startlingly lax, recidivism high, and 84 percent of all crime in the Vancouver region is attributed by police to drug addiction. Yes, it seems that perhaps.....all is not quite right.
The Sun doesn't come right out and say so in the above-linked editorial, but this might be taken as less than a glowing endorsement for the Vancouver mayoral candidate Jim Green, a Vietnam-era Stateside draft dodger, ex-poverty pimp and government payroller. You see, he's the one backed by outgoing, bleeding heart liberal Vancouver Mayor Larry Campbell, the undisputed champion of Vancouver's "safe injection site" for heroin addicts, an approach to drug addiction so whack even the United Nations objected.
This so-called "harm reduction" strategy augments already abundant social services, further attracting crime-disposed addicts to metro Vancouver, and thus dovetails rather too closely with outsize "harm infliction" on the city's law-abiding populace, not to mention a ghastly public defecation problem.
Green's party is Vision Vancouver, a more moderate offshoot of Campbell's COPE party, the latter having just been distinguished by an incumbent city councillor advocating city-operated brothels to reduce harm to sex-trade workers.
Green's challenger, and the clear choice despite one long-ago misadventure of his own in addict-enablement, is four-term city councillor Sam Sullivan of the center-right Non-Partisan Association. That party's very existence provokes a screeching diatribe from a Wal Mart-hating columnist for Tyee.com, an online news and commentary publication covering Vancouver. I've read Tyee.com has had its moments. This doesn't appear to have been one of them.
From the Sun's editorial on Vancouver and crime (first link, above):
The climate, the legacy of the Wild West, the lure of easy pickings, the abundance of drugs and lax enforcement may all have contributed to the Lower Mainland's dubious distinction as Canada's capital of crime. The Greater Vancouver Regional District has the worst property crime rate in Canada and although local politicians like to point out that the rate dropped four per cent last year, this is hardly a cause for celebration.

The City of Vancouver is tied with Winnipeg for the highest number of criminal code offences in the country (adjusted for population).....Losses from property crime in the city last year are estimated at $130 million with residents picking up $108 million of the burden. Many property crimes are not reported and is so pervasive that police rarely investigate or even bother to visit the crime scene.

.....The GVRD is also by far the worst municipal region for robbery, outpacing the incidence rate in other large regions by a wide margin. The robbery rate per capita in Vancouver last year was 34.97 per 100,000 persons, more than six times the rate in Toronto (5.79 per 100,000). The 156 robberies at local financial institutions by mid-2005 indicate the final number for the year will easily exceed the 204 reported robberies in 2004.

Criminals who commit robbery in the GVRD are far less likely to be incarcerated than in any other jurisdiction in Canada. And the few who do go to jail spend less than half the time behind bars offenders in Calgary or Edmonton do. Not surprisingly, the recidivism rate is higher here than elsewhere in Canada with two-thirds of all robberies committed by those with previous convictions, compared with about half for other major metropolitan areas. About a third of robberies in the GVRD are committed by criminals on parole, on probation, out on bail or unlawfully at large.

Police attribute 84 per cent of all crime in the GVRD to drug addiction, a far greater percentage than in other major urban centres. Many of the region's drug addicts come from elsewhere, drawn by the abundance of drugs, the absence of enforcement of illicit drug laws and an array of social services that enable and encourage the drug subculture.......Crime is rampant throughout the GVRD, no community is immune. Voters might want to consider whether they feel safe at home, are comfortable going out at night or have confidence that the police are capable of upholding the law and dealing effectively with criminals before they cast their ballots. Municipal councils approve police activities and budgets and should be held accountable for their performance.
As I've noted here before, Vancouver is a great place to visit. But as for living there, well, it's another world altogether. And some pretty odd ducks are swimming in the waters. Then again, B.C. elections tend toward the odd. This time around, a mayoral candidate in Kelowna is proposing free crack for crack addicts, to boost their self-esteem.
B.C: Sweden on drugs.
TECHNORATI TAGS: VANCOUVER, BRITISH COLUMBIA, DRUGS, CRIME, ELECTIONS
TO COMMENT: The regular "comment" feature is not in operation. E-mail comments to address under "Contact" on main page masthead, and I'll add them, here.
Posted by Matt Rosenberg at 10:00 PM | Comments (0)
Supreme Court Won't Challenge Florida Felon Voting Ban
The Washington Post reports that the United States Supreme Court today declined to review Florida's voting ban for convicted felons. Opponents had claimed the ban discriminated against blacks, when it fact it discriminates - judiciously, one might argue - against convicted felons.
Florida attorneys argued that states have authority to set their own policies. Congress, in enacting the (Voting Rights Act of 1965), did not have the power to "intrude so deeply into the sovereign right over every state to set qualifications for voting and to establish punishments for felons," Washington attorney Charles Cooper, representing Florida, said in the state's filing....Florida also has a process for felons to seek their voting rights, but there is no guarantee of success. The Supreme Court appeal was filed on behalf of more than 600,000 Florida felons. The court has refused to deal with this issue before.
It is certainly possible for reasonable people to disagree on whether felons should have their voting rights revoked or not, and what level of redress should exist. It is proving less possible to assert that states should not be able to make their own law on these questions.
TECHNORATI TAGS: SUPREME COURT, FELON VOTING BAN, FLORIDA
TO COMMENT: The regular "comment" feature is not in operation. E-mail comments to address under "Contact" on main page masthead, and I'll add them, here.
Posted by Matt Rosenberg at 02:34 PM | Comments (0)
November 13, 2005
Canadian Transsexual Convict Goes Ape After Sex Toy Gift
OK, somehow I let this one slip past, and for that I apologize. Follow closely. In 1987 a man used a hammer to murder a Toronto transsexual prostitute. The killer was sentenced to 25 years in prison, the maximum allowed under Canadian law. Now named Synthia Kavanagh, he won a court ruling in 2003 to be removed from his male jail, put in female correctional facility and have the government pay for his gender re-assignment surgery. The court upheld a 2001 tribunal recommendation from the Canadian Human Rights Commission ordering the sex-change operation based on Kavanagh's "gender identity disorder" and "gender dysphoria." Remarkably, Corrections Canada, in a fit of apparent sobriety, had not adhered to that finding.
"If the medical opinion is that sex reassignment surgery is an essential service for a particular inmate, it follows that it should be paid for by Correctional Services Canada, as would any other essential medical service," wrote Madam Justice Carolyn Layden-Stevenson (Federal Court of Canada) in her ruling. The decision forced the government to pay for sex reassignment surgery for any transsexual behind bars who wanted it.
Ah, but we're just getting to the good part. More recently, Kavanagh was given a sex toy by prison authorities, for "theraputic purposes." Subsequently, Kavanagh went on a violent rampage and had to be transferred to a higher-security jail.
Maybe they forgot the batteries?
I'd really, really, really like to say that this is the first time I've blogged about a criminal whose sex-organ surgery was paid for by a state sympathetic to "gender dysphoria." But I can't.
TECHNORATI TAGS: CANADA, PRISONER, SEX CHANGE, SEX TOY, PERPETRATORS' RIGHTS
TO COMMENT: The regular "comment" feature is not in operation. E-mail comments to address under "Contact" on main page masthead, and I'll add them, here.
Posted by Matt Rosenberg at 10:48 AM | Comments (0)
Dennis Prager's Five Questions For Muslims
In the Sunday L.A. Times, Dennis Prager has five questions for Muslims.
1) Why are you so quiet? Since the first Israelis were targeted for death by Muslim terrorists blowing themselves up in the name of your religion and Palestinian nationalism, I have been praying to see Muslim demonstrations against these atrocities. Last week's protests in Jordan against the bombings, while welcome, were a rarity. What I have seen more often is mainstream Muslim spokesmen implicitly defending this terror on the grounds that Israel occupies Palestinian lands.....

(2) Why are none of the Palestinian terrorists Christian? If Israeli occupation is the reason for Muslim terror in Israel, why do no Christian Palestinians engage in terror? They are just as nationalistic and just as occupied as Muslim Palestinians.

(3) Why is only one of the 47 Muslim-majority countries a free country?According to Freedom House, a Washington-based group that promotes democracy, of the world's 47 Muslim countries, only Mali is free. Sixty percent are not free, and 38% are partly free. Muslim-majority states account for a majority of the world's "not free" states. And of the 10 "worst of the worst," seven are Islamic states. Why is this?

(4) Why are so many atrocities committed and threatened by Muslims in the name of Islam? Young girls in Indonesia were recently beheaded by Muslim murderers. Last year, Muslims — in the name of Islam — murdered hundreds of schoolchildren in Russia. While reciting Muslim prayers, Islamic terrorists take foreigners working to make Iraq free and slaughter them. Muslim daughters are murdered by their own families in the thousands in "honor killings." And the Muslim government in Iran has publicly called for the extermination of Israel.

(5) Why do countries governed by religious Muslims persecute other religions...? No church or synagogue is allowed in Saudi Arabia. The Taliban destroyed some of the greatest sculptures of the ancient world because they were Buddhist. Sudan's Islamic regime has murdered great numbers of Christians.

Instead of confronting these problems, too many of you deny them. Muslims call my radio show to tell me that even speaking of Muslim or Islamic terrorists is wrong. After all, they argue, Timothy McVeigh is never labeled a "Christian terrorist." As if McVeigh committed his terror as a churchgoing Christian and in the name of Christ, and as if there were Christian-based terror groups around the world.

....Hundreds of millions of non-Muslims want honest answers to these questions, even if the only answer you offer is, "Yes, we have real problems in Islam." Such an acknowledgment is infinitely better — for you and for the world — than dismissing us as anti-Muslim. We await your response.
The hideous Indonesian beheadings, and the Jordanian hotel bombings - now claimed by the group al Qaeda in Iraq - are the most recent signposts of a faith desecrated by extremists. At the root of their problem is a ridiculous goal: a nation-by-nation drive to world domination. The scary part is that so many are willing to die for it, taking innocents with them, and upping the suspicions of non-Muslims toward sane, sober, peaceful Muslims who sadly close ranks in quietude when the going gets rough. The Western media plays along perfectly, dutifully reporting the beheadings, suicide bombings and atrocities in the name of Islam, but holding nobody or nothing accountable.
Accountability is instead only for U.S. military prison guards and Western police, who may have done something to irritate misunderstood, put-upon Muslims. Our liberal-educated media elites are scared of our nation's own shadow, and devote their careers to offloading their guilt and discomfort about living and thriving in the belly of the unipolar beast. Sept. 11 spurred the conservative blogosphere into higher gear, but that energy is sustained in part by the ongoing bias of the MSM in framing the war on terrorists as predominantly an affront to the human rights of the criminals.
Whether the topic is the rioting youth of France, or a garden-variety teenage killer of four in suburban Seattle, the slant is so often the rights (and quite revealingly) the psyches of the perpetrators. The victims? They're just roadkill.
TECHNORATI TAGS: DENNIS PRAGER, MUSLIMS, INDONESIA, JORDAN, FRANCE
TO COMMENT: The regular "comment" feature is not in operation. E-mail comments to address under "Contact" on main page masthead, and I'll add them, here.
John Cunningham: Hi Matt, I thought you had an excellent blog in general. A comment on the Dennis Prager article, which raises some good points. Prager does not go into the question of how many Muslims are current or potential terrorists. If only 1% or 3% of Muslims are potential terrorists, we are talking 10 to 30 million people. That, I submit, is a pretty huge mass. Further, the record shows that a secular, assimilated Muslim can turn into a terrorist at any time--look at several of the London suicide bombers from July 7 this year. Thus, it seems to me that the problem with Islam is far more severe than the media or many people think.
Posted by Matt Rosenberg at 10:24 AM | Comments (0)
November 10, 2005
The Digital Divide And The Orthodontia Gap
A European Union study has found - brace yourself here - that there is a "digital divide" in Europe, evident in lower rates of Internet usage among the less-educated, the lower-income, the elderly. Additionally, average rates of Internet use in Europe (defined in the above-linked article in an all-too-typically-sketchy manner as "having gone online" during a survey period) are lower than what other surveys report about the United States. The EU wants to boost Internet usage to boost its economy.
Eh hem. Slow down. First, I wonder if Internet usage isn't a result of economic initiative and enterprise, as opposed to an economic stimulus, a priori. Unless, that is, you're talking about some remote region that's economically disadvantaged by a complete lack of basic Internet connectivity, and that's clearly not the EU's primary concern here.
Second - and I'll blame American Nanny-Staters for my jaundice here - I'm just a bit frickin' tired of hearing about "the digital divide." Admit it: aren't you, too?
Yes, as the EU study points out, obvious factors such as age, income and education will influence computer literacy and Internet usage. That's the way it goes. I'm sure we've all got an older relative or friend who professes total disinterest in computers and the Internet. Their choice, their loss. A shame really, if they've got enough money to hire a set-up guy for a home PC and Internet connection.
And if they - old or not - don't have money for monthly Internet fees, plus a PC and software, who's responsibility is that? Not having access to a home Internet connection because you are too poor to afford it, or too poorly educated to understand its value, is not, at its core, the government's problem. Educational attainment is the responsibility of the individual and the family, as is income generation.
If we are to speak of a "digital divide," we might as well also speak of a "DVD Player Divide," and "An Orthodontia Gap," although I'd rather have my Internet than a DVD player or braces, if truth be told.
That said, yes, it's entirely appropriate for government to put computers in community centers, essential that they put them in public libraries, and good if government at least promotes some degree of community outreach, and computer literacy classses to "under-served" (I hate that term) populations. But that's quite enough. Anything much further from the government to breach the "digital divide" would smack of overreach. And the obsession of many school districts with computers, software and the Internet, is actually quite detrimental in many instances to student mastery of core academic skills, especially reading and writing. As Todd Oppenheimer has noted in "The Flickering Mind."
TECHNORATI TAGS: EUROPEAN UNION, INTERNET USAGE, DIGITAL DIVIDE
TO COMMENT: The regular "comment" feature is not in operation. E-mail comments to address under "Contact" on main page masthead, and I'll add them, here.
Posted by Matt Rosenberg at 05:33 PM | Comments (0)
City Journal: A Stellar Conservative Resource
If you haven't come across City Journal yet, you must check it out, and not merely because I have a commentary just posted today in their current online edition. City Journal is a print quarterly of urban affairs, published by the Manhattan Institute. It has been called "the best magazine in America" by Peggy Noonan, and "the bible of the new urbanism" by the Daily Telegraph. (More background on the publication here). I urge you to click on over to the City Journal main page where you can read articles from the Autumn 2005 edition on systemic dysfunction in New Orleans; the role of Mexican consulates in aiding and abetting illegal immigration; the Supreme Court's eminent domain ruling; Theodore Dalrymple's "The Suicide Bombers Among Us;" and Stephen Malanga's, "The Conspiracy Against The Taxpayer: Why Public Servants Live Better Than The Rest Of Us."
City Journal is an indispensable source for anyone interested in combatting the insidious liberal orthodoxy which tends to permeate America's cities, many of its state capitals, and much of its media. One more thing City Journal is doing right (and daily newspapers in Seattle and elsewhere should take the hint) is providing prominent links to blog posts which link to, and comment upon, their articles. (You'll see their links to specific blog posts, from bloggers across the country, in the far right hand column of the City Journal main page).
My own City Journal contribution today is an "Eye On The News" commentary, titled "Thugs On Parade: Why Do White Liberals Accept The "Gangsta" Persona As a Perfectly Legitimate Expression of Black Culture?"
TECHNORATI TAGS: CITY JOURNAL, CONSERVATIVES, BLOGS, THUG LIFE
TO COMMENT: The regular "comment" feature is not in operation. E-mail comments to address under "Contact" on main page masthead, and I'll add them, here.
Chaz Hill, at the piquant blog Dustbury, has more.
Posted by Matt Rosenberg at 12:56 PM | Comments (0)
November 08, 2005
Grecian Formula Cancer Link In Dispute
Skin Deep is the "personal care product safety guide" searchable database of a left-leaning outfit called the Environmental Working Group.
But better than activist Web sites or news articles on cosmetics health risks are academic summaries of the scientific research, on troublesome questions such as whether hair dye products are associated with an increased risk of certain kinds of cancer.
The daily news can at least prompt one to dig deeper. The Montreal Gazette reports today that Health Canada has banned Grecian Formula 16 for the time being, asserting the lead acetate therein is a cancer and reproductive health risk.
The company has reformulated the product for the European Union, but...has no plans to change the formulation for the United States. (A spokeswoman said) "We believe our product is safe and we have research to back this up."
Well, in fact, hair dye didn't do The Gipper much harm did it? He lived to a ripe old age before succumbing to Alzheimer's.
One thorough review of the literature seems to back up the manufacturer's claim, but if examined closely, provides no clear answer. Medical scholars published a report titled "Personal Use of Hair Dyes And Risk Of Cancer: A Meta-Analysis," in the May 2005 Journal of the American Medical Association.
From the abstract:
In conclusion, we did not find strong evidence of a marked increase in the risk of cancer among personal hair dye users. Some aspects related to hematopoietic cancer should be investigated further. Efforts should be targeted toward the assessment of the risk of cancer in occupational settings where exposure to hair dyes is more prolonged and has a higher concentration and frequency than personal exposure.
OK, then: no strong evidence of a marked increase in cancer risk from hair dyes. We're left to infer there may then be moderate evidence of a noticeable risk increase. Ah well, life is fraught with risk, isn't it? Anyone who eats bacon or grilled meats often raise your hand. (Sans-sodium nitrate Nieman Ranch bacon doesn't count). All the same, I can't see why men really need to dye their hair: keeping it is the big thing. Women in their 40s and 30s find it harder to let any gray show, due to our silly society's ideal of female beauty.
Uncertain science aside, food loaded up with chemicals just makes me queasy. Same with personal grooming products. Guess that's why I'm a Lush guy.
To help resolve some of the uncertainties, for the benefit of both manufacturers and consumers, we need more testing on the health risks of commercial cosmetics, notably the chemical-infused variety. And if that testing involves animals, sorry, I'm not fazed.
TECHNORATI TAGS: HAIR DYES, CANCER
TO COMMENT: The regular "comment" feature is not in operation. E-mail comments to address under "Contact" on main page masthead, and I'll add them, here.
Posted by Matt Rosenberg at 12:22 PM | Comments (0)
Bill Roggio's Fourth Rail Blog: Iraq News Minus MSM Bias
Via Seattle entrepreneur and blogger Martin Tobias comes a welcome tip. Some people gripe about skewed coverage of the effort to countermand Baathist hardliners and foreign jihadists pining for the Golden Age of Saddam. Meanwhile, other bloggers actually go to Iraq, to report firsthand. The latter group will soon include 35-year-old military veteran and software analyst Bill Roggio, formerly of Easongate fame. Roggio has spearheaded a group blog called The Fourth Rail, and is actually raising $25,000 to fund a trip to Iraq so he can blog the good news direct, in the war against the forces of darkness.
Even Stateside, less than two weeks before his departure, you can see what a difference a fair perspective makes. CNN headlines this story, "U.S. Marine Killed In Anbar Offensive," but in fact the very same article notes that 60 to 80 "insurgents" were slain in this important battle to establish control near the porous Syrian border with Iraq. Roggio weaves the CNN piece into a link-rich survey of the border security initiative, a post he titled "Day Three Of Steel Curtain." It packs a lot more context and balance than your average MSM report, while nonetheless employing conventional MSM and less-typical sources such as Army Times. Metro daily foreign editors in mid-size markets such as Seattle do this all the time, except with a somewhat different slant. Under the guise of balance they extract from three or four big print dailies the most damning pieces of different Iraq stories on a given day, and patch together a dog's breakfast of agenda-driven negativity in one "article."
With many other readers, I'll be looking forward to Roggio's dispatches from Iraq.
TECHNORATI TAGS: IRAQ, MEDIA, BLOGS
TO COMMENT: The regular "comment" feature is not in operation. E-mail comments to address under "Contact" on main page masthead, and I'll add them, here.
Posted by Matt Rosenberg at 09:05 AM | Comments (0)
November 07, 2005
The Psychological Ghettos of Paris
As the riots in France spread around the country from the low-income North and West African immigrant suburbs of Paris, it's useful to consider Theodore Dalrymple's 2002 essay in City Journal, titled "The Barbarians At The Gates Of Paris." A physician, prison psychiatrist, noted author and journalist, Dalrymple describes how the parents and even grandparents of today's disaffected Muslim youth around Paris and other French cities were originally drawn by jobs in the booming economy of the 50s and 60s. Huge, brutally-designed, subsidized housing projects were built to house the immigrants, and keep them apart from polite society. Their population swelled, but during an economic downshift in the 80s, their geographic isolation augmented a burgeoning sense of "otherness" and resentment which is at the root of today's troubles. Here's Dalrymple, from '02:
Where does the increase in crime come from? The geographical answer: from the public housing projects that encircle and increasingly besiege every French city or town of any size, Paris especially. In these housing projects lives an immigrant population numbering several million, from North and West Africa mostly, along with their French-born descendants.....The cités are....social marginalization made concrete: bureaucratically planned from their windows to their roofs, with no history of their own or organic connection to anything that previously existed on their sites...A kind of anti-society has grown up in them—a population that derives the meaning of its life from the hatred it bears for the other, "official," society in France.....

Their hatred of official France manifests itself in many ways that scar everything around them. Young men risk life and limb to adorn the most inaccessible surfaces of concrete with graffiti—BAISE LA POLICE, fuck the police, being the favorite theme.....There are burned-out and eviscerated carcasses of cars everywhere. Fire is now fashionable in the cités: in Les Tarterets, residents had torched and looted every store—with the exceptions of one government-subsidized supermarket and a pharmacy. The underground parking lot, charred and blackened by smoke like a vault in an urban hell, is permanently closed.

...Though most people in France have never visited a cité, they dimly know that long-term unemployment among the young is so rife there that it is the normal state of being. Indeed, French youth unemployment is among the highest in Europe—and higher the further you descend the social scale, largely because high minimum wages, payroll taxes, and labor protection laws make employers loath to hire those whom they cannot easily fire, and whom they must pay beyond what their skills are worth.......Having been enclosed in a physical ghetto, they respond by building a cultural and psychological ghetto for themselves. They are of France, but not French.
John Thornhill of the Financial Times writes from Paris today:
The escalating disorder challenges the credibility of France's model of immigration and integration and its entire political class.
For the political class of France to now regain credibility, they will have to take far-reaching steps. As Stephen Schwartz writes today in a Tech Central Station essay titled "Red Belt Riots," France does have a history of real antipathy and racism not just toward Africans, but Jews, as well. Yet he notes the prevailing welfare state ethos of leftist municipal governments in Paris' African immigrant suburbs over the years has helped fuel the rise of an angry underclass.
As near as I can tell, wage, labor, welfare and educational reforms, plus, probably, the destruction of the housing projects, are necessary. A tall order for sure, but what's happening now didn't just ignite overnight.
In my part of Seattle, I see Muslim immigrant families almost daily, many from Somalia and Eritrea, the mothers and daughters always in their hijabs. This much I can tell: they are making it in America: the men are well-dressed, the families arriving at the supermarket in their own minivans. They come here - in most instances - for religious freedom, economic opportunity, and education. Some have landed in our city's public housing facilities to start with, but it does not define who they are or what they can become in America.
I sense that - while our government needs to do a far better job of rooting out the small minority of Muslim immigrants who are here to eventually attempt acts of terror - we are also doing something very right in the United States, when it comes to the possibilities for advancement available to people of all colors and creeds. France, it seems, has quite a bit of work ahead.
TECHNORATI TAGS: FRANCE, RIOTS, ASSIMILATION
TO COMMENT: The regular "comment" feature is not in operation. E-mail comments to address under "Contact" on main page masthead, and I'll add them, here.
Tom Rekdal: Here we go again. Neither the French nor the analysts seem to have learned anything from the urban riots in America between 1965 and 1970. Dominique de Villepin seems destined to replay the role of the Kerner Commission, calling for more governmental assistance to uplift the down-trodden populations that generated the riots, while the political Right blames the turbulence on alien faiths fueling an "intifada," just as the American Right blamed the our urban upheavals in this country on left-wing ideologies and "outside" agitators. The former, of course, only invites more of the same, while the latter threatens to become a self-fulfilling prophecy.

It is important to distinguish between the sources of discontent and the dynamics of rebellion. Dalrymple is quite right about the conditions that produced the festering anger of the Muslim ghettoes of France, but discontent does not, by itself explain how and when a social explosion will occur. For that, I believe the best explanation is still the chapter entitled "Rioting Mainly for Fun and Profit," in Edward Banfield's book, "The Unheavenly City," which locates the dynamic force of the riots in the motives of apolitical, asocial juvenile males who simply enjoy the exicitment of the conflict.

This is not to minimize the gravity of the social problem France faces, but if the government believes it can quell an insurrection of juvenile delinquents by promising to relieve their grievances, it is destined to repeat our mistakes.

The only long-term solution to the problem of integration is the "savage liberalism" France identifies with American labor and welfare policies, which French voters are unlikely to support within the foreseeable future.
Posted by Matt Rosenberg at 05:05 PM | Comments (0)
Abercrombie And Fitch Rips The Envelope Again
Firm young body parts inevitably go the way of all flesh.
Unless you've got the budget for lifting this and that, ad infinitum.
So in the end, gals, sweater puppies just aren't enough.
I think most women know that.
But I gotta wonder about those teens who'd sport an Abercrombie and Fitch T-shirt suggesting the primacy of breasts over brains.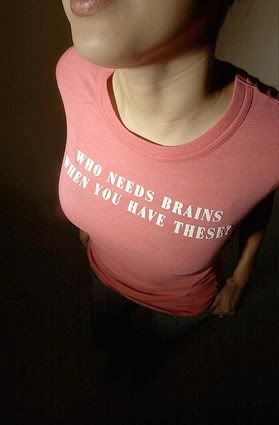 The old "it's just a put-on," doesn't fly here. For one thing, the shirt fairly screams, "Look at my boobs."
One Illinois State Senator is foolishly trying to legislate against such garments.
I like the idea of young women themselves taking a stand, and some from Pennsylvania have done just that.
More here from the Chicago Tribune about a "girlcott" organized by Pennsylvania students, which has prompted A & F to pull two especially tasteless T-shirts from its current selection, including the one pictured here.
Good for the "girlcotters."
Meanwhile, I remain amazed to see 12-year-olds walking around (with their fathers) while sporting designer sweatpants with the word "cute" stitched in bright fabric right on their rumps.
To say nothing of the other girls Ts that are out there, highlighting promiscuity and pedophelia.
When it comes to advertising your sexiness, I think the old adage which novelists are advised to follow applies: "Show, Don't Tell."
At a certain point, less becomes more. A woman who can look sexy in Donegal Tweed is really a hot number, if you ask me.
TECHNORATI TAGS: ABERCROMBIE AND FITCH, BOYCOTT
TO COMMENT: The regular "comment" feature is not in operation. E-mail comments to address under "Contact" on main page masthead, and I'll add them, here.
Zombyboy: Here's a comment on your latest post: the shirts disgust me (although the idea of legislating them away comes across as idiotic). I would, however, happily destroy the shirt if I had a daughter who thought it was appropriate to wear.
More disturbing, by far, was the "pedophilia" t-shirt from the previous post. I had missed that and I can't believe that anyone would be foolish enough to sell the thing. Sick.
Posted by Matt Rosenberg at 12:25 PM | Comments (0)
November 06, 2005
Chicago Machine 2.0 Afflicted With Fatal Bug
A white-collar municipal employee is probably wearing an undercover recording device, intimates the Chicago Sun Times, and more indictments are likely in "what might be the most significant investigation of City Hall corruption ever" in the City That Works.
Today's Sun-Times piece has an excellent overview of the city Hired Truck program, at the heart of the current investigation, and the systemic political campaigning by city workers on the taxpayers' dime. That's now also part of the probe into the high-stakes culture of trading taxpayer money for political favors, to keep the modern-day Machine Democrats in power. I guess that still, Chicago Dems don't really trust they'd get re-elected on their merits. Think of it as under-the-table welfare for nervous incumbents, and the many well-fed "little people" who depend on them. Thirty-six individuals have been indicted by the feds in Operation Hired Truck; 20 work for the city; and 23 of the 36 have already pled guilty, most of them offering to cooperate in the continuing federal investigation. No horse heads in anyone's bed yet, but it's early.
It has been 22 months since the Chicago Sun-Times exposed how the city's $40 million-a-year Hired Truck Program was laden with waste, fraud and corruption, a haven for people with political clout or ties to organized crime. And City Hall has no idea when, or where, the resulting federal investigation will end....For decades, the city had been hiring out privately owned trucks, on nothing more than a handshake, to haul material at city work sites. Often, the Sun-Times found, the trucks weren't needed, but their owners -- some with ties to the mob or the mayor -- still were told to show up. Some trucking company owners admitted they had to pay bribes to city officials or contribute to certain politicians.
They call this "pay to play." So far, Chicago Mayor Richard M. Daley has escaped indictment in the whole affair.
In August, Daley spent two hours answering questions from federal agents as part of the investigation, which has expanded to include city hiring practices. Daley -- who has hired a prominent Washington attorney -- has not been accused of wrongdoing. Daley has vowed that the city will cooperate with the federal investigation and said he was unaware of any wrongdoing, either in the Hired Truck Program or city hiring. To clean up the corruption, Daley has hired a new inspector general, banned city contractors from donating to his campaign and drastically scaled back the Hired Truck Program, which he is still vowing to eliminate.
Vowing to eliminate? The city also vowed to end political hiring.
The feds have charged that city officials routinely skirted a court order by awarding city jobs to people who worked on political campaigns. The court decree barred City Hall from taking politics into account when hiring all but 1,000 employees. City officials rigged job interviews and tests to ensure that their candidates got the jobs, the feds say. The hiring was overseen by the Mayor's Office of Intergovernmental Affairs.... As the government's investigation has grown, prosecutors have gotten key cooperation from people with knowledge of both the Hired Truck Program and political hiring. Former First Deputy Water Commissioner Donald Tomczak and Daniel Katalinic, a high-ranking Streets and Sanitation official, provided insights into the corruption of the Hired Truck world.

The two men also told federal investigators about the armies of city workers they were directed by the Mayor's Office of Intergovernmental Affairs to campaign for specific candidates. After Election Day, Tomczak, Katalinic and other political coordinators would seek to reward their troops by asking City Hall to give them promotions and raises, according to court records.
So the Mayor's Office of Intergovernmental Affairs is up to its armpits in allegations of corruption by City Hall insiders, but rest assured someone(s) will take the fall for Daley. That's how it works in The City That Works.
At the root of Hired Truck was city work sites, and ingrained cronyism that rewarded both contractors and city "workers" for fealty to the somewhat slicker, Chicago Democratic Machine 2.0. (Daley's Dad Mayor Richard J., "The Boss," wrote the code for Machine 1.0). Public works in Chicago have always been a gravy train for people who'd rather not go to the trouble of getting work the honest way. Now, the biggest public works project in the city's history is lifting off - a huge and fatally flawed plan to expand O'Hare International Airport. The Chicago Tribune's comprehensive investigation of the massive O'Hare expansion plan suggests it would have no lasting effect on the supposedly urgent problem of flight delays, and would actually worsen ground safety considerably.
But then, projects at O'Hare have always been more about awarding "connected" contractors than anything else. And, the Sun-Times reports, O'Hare contracts are likely the next target of the federal investigators spearheading the Hired Truck inquiry.
TECHNORATI TAGS: CHICAGO, CORRUPTION, RICHARD DALEY, HIRED TRUCK, O'HARE
TO COMMENT: The regular "comment" feature is not in operation. E-mail comments to address under "Contact" on main page masthead, and I'll add them, here.
Posted by Matt Rosenberg at 07:07 PM | Comments (0)
November 05, 2005
Our Very Own Coton de Tulear, For The Weekend
We have a special guest this weekend, Baxter. He's a Coton de Tulear, the royal dog of Madagascar. We're tickled to be dogsitting for a co-worker of my wife's. Bax is a very engaging little guy, and his breed has quite a story.
The Coton de Tulear....originates from Madagascar, the world's fourth largest island off the southeast coast of Africa in the Indian Ocean.....Tulear is a small sea port city at the southern tip of the island....Historically, the Coton's arrival to Madagascar dates to approximately to the 15th century. Ships frequently sailed to the West Indies around Africa's Cape of Good Hope into the Mozambique Channel to the Indian Ocean.

Sea voyages were often long and boring and sailors' quality of life was very poor. To offset these hardships and the loneliness of the ladies also traveling on these ships, little spirited white dogs accompanied them. The same little dogs were also used to rid the ships of unwanted mice and rats. They could be trained and were more companionable than cats, and many ocean going people found small white dogs excellent seafaring companions.

There is a common story that during a violent storm, a shipwreck occurred in the proximity of Tulear, Madagascar. No one knows the name of the ship or its flag but all versions of the story tell that all the sailors perished. Some of the little white dogs from this ship swam ashore near Tulear, and it is assumed that they are the ancestors of the Coton de Tulear.....Whatever the ancestory the Coton de Tulear is as unique as many animals found on the wild and isolated island of Madagascar, and people who live with them can attest to their not being quite like other dogs in their intelligence, happy temperment, and unique vocalizations, just a few of the many excellent traits of the rare Coton de Tulear.
Bax has made himself right at home, curling up on this or that bed with the occupant(s), curling up on the couch, investigating the premises at length, and licking everyone's hands and ears profusely. He's just the right size, too, and Cotons are hypo-allergenic, to boot. For some reason, he seems to take to me. I'm told he likes males. I've always been a cat person, but I have to say dogs like Bax could make me reconsider. The only thing: we've walked him six times since yesterday afternoon, and he still hasn't "produced."
(UPDATE: I came home from the health club, and by the double-wrapped bag waiting right outside the garage to be put in the garbage, I could tell that Bax had, in fact, finally "produced." I'm sure you were awaiting news about that quite breathlessly!).
Of course there are people who have whole sites devoted to their Cotons. You knew that was coming, right? Here's one.
TECHNORATI TAGS: COTON DE TULEAR, DOGSITTING
TO COMMENT: The regular "comment" feature is not in operation. E-mail comments to address under "Contact" on main page masthead, and I'll add them, here.
Posted by Matt Rosenberg at 02:26 PM | Comments (0)
November 04, 2005
Bush Must Sell FTAA To Willing Buyers
Opening up new markets for American businesses - small, medium and large - is important work. Rather crucial stuff, in fact. Removing barriers to more investment and economic opportunity in Latin America is no small matter either. And so, watching on MSNBC today the Molotov cocktail-flinging, window-smashing, masked protestors wrecking local small business in another "anti-globalization" protest was enough to get me thinking about that big hemispheric trade confab down south, what's next, who cares, and why.
The sober and thoughtful Venezuelan President Hugo Chavez and football hero Diego Maradona may have successfully incited riots today at the Fourth Summit of the Americas in Mar del Plata, Argentinia, but it is clear that on the hot button issue, the proposed Free Trade Area of the Americas (FTAA), they and their inchoate followers are at the margins of the discussion.
Mexican President Vincente Fox says 29 of 34 nations at the summit favor moving forward on FTAA, which would stretch from Alaska to the southern tip of Chile. Venezuela and the Mercosur trade group members Brazil, Argentinia, Uruguay and Paraguay are reported to be opposed to FTAA itself, or at least to setting a timetable for beginning high-level discussions on FTAA. Fox believes their objections will not torpedo FTAA, but he worries that a schedule for talks may not be set at this weekend's summit, as is necessary.
Despite socialist or leftist administrations either atop the governments or leading in the polls in a modest handful of Latin American countries, a majority of Latin Americans favor democracy, market economies and the private sector, according to a new poll by the Chilean firm Latinobarometro. Columnist Marcela Sanchez has more, in the WaPo, including some pointed advice for Bush on engaging with Latin American democracies.
Indeed, the average Latin American is much less concerned with protesting against Washington, the war or Bush than in keeping his job and seeing his economic situation improve. More than in a battle of ideas, he or she is engaged in a day-to-day struggle to succeed in a democratic system.

New economic, social and political experiments, like the kind Chavez is pushing, are not gaining a foothold in Latin America. After 10 years of polling, the Chilean firm Latinobarometro concluded last week that Latin Americans are sold on democracy as a way of life. And even though in the last three years popular approval of democracy has not budged from 53 percent, Latin Americans are not actively seeking out alternatives. In fact a large majority say market economies (63 percent) and the private sector (59 percent) are what will help their countries develop.

As Marta Lagos, head of Latinobarometro put it, "people in Latin America are no longer interested in buying the dreams offered by extreme ideologies.'" Rather, she said, "they want to buy refrigerators." More than the Iraq war, it is Bush's failure to recognize the maturation of democracy south of the Rio Grande that has increased popular disapproval. Regional democracies, most of them in their third decade of existence, have grown beyond the simplicity of left-right, either-or choices. Still, Bush's war against terror and his obsession with Chavez and Cuban leader Fidel Castro suggest to Latin Americans that his administration's frame of reference is still purely ideological and unevolved.
Food for thought, all of it, as the TV pictures of fires and smashed windows in Mar del Plata play on into the night.
UPDATE, 11/6/05: More talks are expected on FTAA, but there was not much progress to report as the summit closed.
TECHNORATI TAGS: FTAA, RIOTS, BUSH, VINCENTE FOX, LATINOBAROMETRO
TO COMMENT: The regular "comment" feature is not in operation. E-mail comments to address under "Contact" on main page masthead, and I'll add them, here.
Posted by Matt Rosenberg at 05:24 PM | Comments (0)
San Francisco Braces For Royals
San Franciscans are not always known for their decorous behavior; this includes elected officials who sometimes suffer rather remarkable lapses of judgement in the service of their progressive ideology. His Royal Highness Prince Charles and Her Highness The Duchess of Cornwall (the Queen) are coming to San Francisco for a few days, starting tomorrow, and protocol professional Sherri Ferris has a few tips for all concerned. Ferris is a bit concerned after watching the exceedingly familiar way New Yorkers behaved around the royals, and recalls - with a nervous shudder - a visit to Southern California some 22 years ago.
During Queen Elizabeth II's visit to California in 1983, a welcoming Southern California government official herded her royal majesty around a museum, his arm around her shoulders -- a real no-no. In San Francisco, the press shouted such indignities as "Hey, Queeny -- what's in your purse?" The experience rattled the queen's footmen to such an extent that they and the crown jewels were left behind in the motorcade, as the queen's airplane departed.
The horror! Imagine! Methinks the queen's footmen ought to have been made of sterner stuff. More:
In case you should find yourself in the royal presence, here are some tips on proper conduct:

-- Arrive on time; dignitaries and royals arrive last and leave first. One should never keep a royal waiting.

-- Don't touch them unless they initiate the touch.

-- Men should give a slight bow and women should curtsy.

-- Women are required to wear gloves when being presented to the queen, but it depends on the formality of the event whether gloves are worn for introductions to the prince.
So, what if a woman is to be introduced to The Queen and then Bonny Prince Charlie in quick order, at a decidely less formal event? What is the protocol for quickly removing her gloves before greeting the prince? Does she hastily whip them off and stuff them in her purse? Hold them in her other hand? offload them to her attendant? Is she allowed to have an attendant, as a non-royal in the presence of royals? Or what? My wife is already puzzling over this one, in anticipation of our upcoming soiree with their Highnesses.
-- Never turn your back on them. Let them depart from you, not the reverse.

-- Address Prince Charles as "Your Royal Highness" and the Duchess of Cornwall as "Your Highness" -- not "Your Royal Highness." Although she is the royal consort of Prince Charles, only Queen Elizabeth II can bestow these titles. The queen did not give her the title of "Princess of Wales," which she did bestow upon Lady Diana.

-- Rise during any toasts and hold your wine glass by the stem, not the bowl.

-- Except for a church offering, royals don't usually carry money (and then the paper currency usually is ironed), so don't expect a gratuity for your good behavior.
I still have some questions.
If you really get on with one of the royals, can you suggest an exchange of e-mail addresses? Or must you wait for them to initiate that?
Is it improper to tell Prince Charles about your blog? Even if you're referring him to a post about his passion, architecture?
Can you say, "Charles, listen, forget about all this formal stuff, receptions and all. Why don't you and The Queen and Camilla come over to my place. Meet the wife and kids, listen to some Sonny Rollins, some old Miles, and have a few glasses of a an unassuming but satisfying Cotes du Rhone while I whip up some Lamb Vindaloo, Aloo Gobi and Sag Paneer. C'mon, don't be a stiff!"
There was a great book published in '94 - fiction, of course - about becoming overly familiar with a royal. The royal being Princess Diana. Peter Lefocurt's Di and I is the story of a forbidden romance that develops between a Hollywood screenwriter sent to England to develop a mini-series script on Diana, and the Princess of Wales herself. The dangerous liaison starts, naturally, with a serious protocol breach. The Stateside commoner actually dances with the princess at an embassy reception. Things develop from there. In a way, the book was sadly prescient, as it showed a Diana utterly at odds with the royal lifestyle, not to mention her effete, aloof husband. I won't give away the ending, but let's just say it's a whole lot better than what really happened.
TECHNORATI TAGS: PRINCE CHARLES, ROYAL ETIQUETTE, SAN FRANCISCO
TO COMMENT: The regular "comment" feature is not in operation. E-mail comments to address under "Contact" on main page masthead, and I'll add them, here.
Posted by Matt Rosenberg at 09:18 AM | Comments (0)
November 03, 2005
Animal Rights Hoodlums On The Skids
Ok, you're going to have to follow this first part closely. It's quite a story, and this rendition sports the apt hed, "Animal Rights Or Wrongs?". There's this guy, see, and he's the president of a drug marketing company, whose parent company tests drugs in a lab run by another company named Huntingdon Life Sciences, which uses animals for testing medicines and agricultural products. So here's what happens to this guy, and why some animal rights activists are facing trial in Trenton in February on federal charges.
First came the threatening phone calls to George Svokos' home in Franklin Lakes last December. Then his mail was stolen. Fliers appeared on his car and those of neighbors, accusing his employer of animal slaughter and abuse. Burglars broke into the house, stole a credit card and ran up a $5,000 bill, including a blow-up sex doll to be sent to his home. They also stole the itinerary for an upcoming family vacation in London, circulating the details in an e-mail urging the recipients to call the hotel and "make his vacation one he'll never forget."

...The alleged harassment fits the pattern of a ferocious effort by animal rights activists in recent years - especially a group called Stop Huntingdon Animal Cruelty (SHAC-USA)....Seven SHAC members are set to go on trial in February in Trenton on federal charges of interstate stalking and conspiracy connected to the anti-Huntingdon campaign. FBI Deputy Assistant Director John Lewis told a U.S. Senate committee Wednesday that investigating campaigns waged by SHAC and other animal rights groups "is one of the FBI's highest domestic terrorism priorities."

The activists have broadened their focus, including what authorities call "secondary targets" such as Svokos - employees and officers of any company that either hires Huntingdon or has some other connection.
Strategically, that's a poor move, most likely to harden resistance to the underlying message - which is flawed enough in its own right, of course. But over-the-top tactics are becoming more and more common in the campaign to assign to animals the rights of humans. Another battleground of late has been Madison, Wisconsin.
Activists ratcheted up their opposition to animal experiments at UW-Madison this week by parking a truck with giant video screens outside the homes of animal researchers and broadcasting footage to neighbors of what they said was the torture of monkeys at a campus lab. Wednesday was the fourth and final night of the group's planned demonstrations in residential neighborhoods. Seven people's homes were visited over the four nights.

"We want to embarrass them," said Jeremy Beckham, 20, of Madison, the main organizer. "We want to educate their neighbors and get them against what's happening." Chancellor John Wiley criticized the approach in a statement as "a last resort for groups whose message has no traction in our state." He said the university has a long tradition of open discussion on contentious topics, and that the protesters' tactics of "humiliation and intimidation" harm that effort.
Animal rights activists just keep sowing alientation wherever they go. In Chicago recently, a chef who testified against a proposed city ban on serving foie gras in restaurants there had his establishment vandalized the very next day.
If the Chicago contingent of duck and goose protectors were really smart, they would have borrowed an old trick from the local campaign playbook and had someone toss a brick through their own office window.
TECHNORATI TAGS: ANIMAL RIGHTS, NEW JERSEY, WISCONSIN, CHICAGO, FOIE GRAS
TO COMMENT: The regular "comment" feature is not in operation. E-mail comments to address under "Contact" on main page masthead, and I'll add them, here.
Posted by Matt Rosenberg at 06:24 PM | Comments (0)
"Plamegate" Fizzling Out
Following the indictment of vice-presidential aide Scooter Libby on perjury charges for what turns out to be a not-so-sensitive "outing" of a not-so-foreign CIA foreign operative, Max Boot of the L.A. Times puts the whole Joseph Wilson-Valerie Plame kerfuffle in perspective.
What comes through, to me, is how rudderless is the anti-Iraq war movement, and by extension, the entire American and European Left, weakly but incessantly "gotcha-gaming" from the sidelines - while a crucial chapter in the history of the Middle East is now being written via Iraq's recently-approved constitutional process and upcoming parliamentary elections in December.
Here's Boot, first, on the much-flogged liberal meme that Valerie Plame's identity as a covert foreign operative was illegally made public.
Feverish speculation had been building that Karl Rove would soon be "frog-marched out of the White House in handcuffs," as Valerie Plame's bombastic hubby, Joe Wilson, had hoped. Or even that Dick Cheney would have to resign. But with his investigation all but over, prosecutor Patrick Fitzgerald has found no criminal conspiracy and no violations of the Intelligence Identities Protection Act, which makes it a crime in some circumstances to disclose the names of undercover CIA operatives. Among other problems, Plame doesn't seem to fit the act's definition of a "covert agent" — someone who "has within the last five years served outside the United States." By 2003, Plame had apparently been working in Langley, Va., for at least six years, which means that, mystery of mysteries, the vice president's chief of staff was indicted for covering up something that wasn't a crime.
Wilson has become an icon of The Left by claiming that thanks in large part to his eight-day investigative mission in Niger, he discovered the Bush administration went to war in Iraq based on a false premise of WMD's. That deception was illustrated tellingly, he asserted, by inflation of intelligence on the possibility of Iraq's interest in obtaining yellowcake uranium from Niger. But as Boot points out: the Bush Administration was hardly alone in its suspicions, and Wilson brought nothing to the table.
The Senate Intelligence Committee...report found that, far from discrediting the Iraq-Niger uranium link, Wilson actually provided fresh details about a 1999 meeting between Niger's prime minister and an Iraqi delegation. Beyond that, he had not supplied new information. According to the panel, intelligence analysts "did not think" that his findings "clarified the story on the reported Iraq-Niger uranium deal." In other words, Wilson had hardly exposed as fraudulent the "16 words" included in the 2003 State of the Union address: "The British government has learned that Saddam Hussein recently sought significant quantities of uranium from Africa." In fact, the British government, in its own post-invasion review of intelligence, found that this claim was "well founded."

This is not an isolated example. Pretty much all of the claims that the administration doctored evidence about Iraq have been euthanized, not only by the Senate committee but also by the equally bipartisan Robb-Silberman commission. The latest proof that intelligence was not "politicized" comes from an unlikely source — Lawrence Wilkerson, Colin Powell's former chief of staff, who has been denouncing the hawkish "cabal" supposedly leading us toward "disaster." Yet, in between bouts of trashing the administration, Wilkerson said on Oct. 19 that "the consensus of the intelligence community was overwhelming" that Hussein was building illicit weapons. This view was endorsed by "the French, the Germans, the Brits." The French, of all people, even offered "proof positive" that Hussein was buying aluminum tubes "for centrifuges." Wilkerson also recalled seeing satellite photos "that would lead me to believe that Saddam Hussein, at least on occasion, was … giving us disinformation."

So much for the lies that led to war. What we're left with is the lies that led to the antiwar movement. Good thing for Wilson and his pals that deceiving the press and the public isn't a crime.
I choose Door Number Four. Look not backward in regret and recrimination, but forward, in hope, and with strength.
TECHNORATI TAGS: VALERIE PLAME, JOSEPH WILSON, IRAQ
TO COMMENT: The regular "comment" feature is not in operation. E-mail comments to address under "Contact" on main page masthead, and I'll add them, here.
Posted by Matt Rosenberg at 10:11 AM | Comments (0)
November 02, 2005
Sung Koo Kim, Meet Quentin Tarantino
File this one under distinguished graduates, Washington State University, class of 2001. AP reports that in Yamhill County, Oregon today, the Oregon Panty Bandit, Sung Koo Kim, pled guilty to charges of theft and burglary for stealing bras and panties from laundry rooms at George Fox University in Newburg and Linfield College in McMinville, in an alleged four-county spree that police say yielded more than 3,000 bras and panties, many labelled with places, names and dates.
Mere garden-variety kinkiness you say, but wait. Kim, who still faces charges in Benton, Multnomah and Washington counties, was also in possession of seven assault rifles and three computers bearing a total of some 40,000 images of women being dismembered, raped and mutilated, according to authorities. Kim had maintained his innocence until today's plea, although one of his serial attorneys had pondered a diminished capacity defense. He's looking at five-and-a-half years in prison resulting from today's guilty pleas.
If only he'd met a nice girl. But an obsessive-compulsive disorder on this apparent order of magnitude begs an exegesis. After he serves all his time, and undergoes professional counselling, Kim can write a theraputic tell-all book, which will sell like hotcakes and get optioned for a Quentin Tarantino film treatment. America's funny that way.
TO COMMENT: The regular "comment" feature is not in operation. E-mail comments to address under "Contact" on main page masthead, and I'll add them, here.
Posted by Matt Rosenberg at 10:27 PM | Comments (0)
Twin Falls Declares War On Crows
Thousands of crows invaded Twin Falls, Idaho last year. It wasn't pleasant.
After roosting downtown through much of fall and winter, they finally left in the spring, apparently when they were good and ready. Undaunted, city officials are getting a jump on the dreaded birds, anticipating a return of the crows that last year defecated on sidewalks, cars and pedestrians, disturbed the peace with their cawing, and were even known to swoop at people.
Right up there with grackles on the bird obnoxiousness scale. Extreme remedies are no doubt in order, despite long-standing folkloric glorification of crows.
.....Kirk Tubbs, a wildlife specialist with the U.S. Department of Agriculture, proposed to the City Council a combination chemical and projectile attack on the birds; projectile in the form of a pellet gun and chemical in the form of DRC-1339, a poison approved by the Environmental Protection Agency. The council unanimously approved his request.

Crows and their larger cousins, ravens, have long been a part of human culture. Many ancient Celtic tribes deified them or assigned them mystical qualities. Ancient Vikings used them on their banners and shields. In Cornwall, the legendary King Arthur is said to live on in the form of a raven, and it is bad luck to shoot one.....According to the National Audubon Society, crows, ravens and their cousins the magpies, "have probably achieved the highest degree of intelligence to be found in any birds."
Of course the poisoned ones will have to be discarded, but the crows killed with pellet guns could make for good eatin' - rivaling lip-smackin' birds such as sage grouse. Crowbusters, a site devoted to crow hunting, has a bunch of tasty recipes here, including Summer Crow Kabobs. The Idaho Statesman-Review passes on a classic recipe for Crow And Kraut. (Hat tip to Chicago Tribune columnist and blogger par excellence Eric Zorn).
Warm up them buffet trays with plenty of tasty crow vittles, Twin Falls. Caws before ya know it, PETA's comin' to town.
TO COMMENT: The regular "comment" feature is not in operation. E-mail comments to address under "Contact" on main page masthead, and I'll add them, here.
Posted by Matt Rosenberg at 01:12 PM | Comments (0)
Supremes Contemplate Trippy Tea
AP reports that U.S. Supreme Court Justice John Roberts seemed to be taking a critical view of the Bush Administration's "zero-tolerance" approach to illegal drug use yesterday.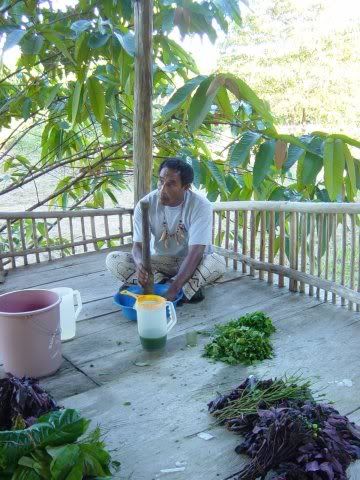 The case revolves around the use of hallucinogenic herbal tea by a New Mexico parish of the Brazil-based church O Centro Espirita Beneficiente Uniao do Vegetal. Wikipedia informs that the group's focus is "animist, shamanist spiritism mixed with Christian imagery," and that it has some 8,000 adherents - all in Brazil, but for 130 in Santa Fe. The U.S. Court of Appeals, 10th Circuit, in November of 2004 upheld the church's right to use their psychotropic tea as a religious sacrament after a 1999 Hoasca tea bust by the feds set the whole case in motion. Some Native Americans already are allowed to use peyote similarly. The Bush Administration's commmisars of Justice, Drug Enforcement, and Customs yet beg to differ. Hence the appeal to the Supremes.
The active ingredient in the Hoasca Tea is DMT, or dimethyltriptamine, derived from sources including the ayahuasca plant.
There are only so many battles the feds can fight, and only so much money to go around. I'd rather see the White House and Congress attack illegal immigration with utmost commitment than piffle around the edges of drug enforcement. Heroin, cocaine? By all means, continue that part of the War on Drugs. Trippy Tea in Santa Fe? Give it a rest.
TO COMMENT: The regular "comment" feature is not in operation. E-mail comments to address under "Contact" on main page masthead, and I'll add them, here.
Posted by Matt Rosenberg at 12:09 PM | Comments (0)
The Taxonomy Of Japanese Love Hotels
Seems like most developed nations have their own versions of what we in America used to call the "no-tell motel." Rooms rent by the hour. Prostitution and adultery are the stock in trade. In Japan they are very euphemistically referred to as "love hotels," which is sure a puzzler to me. As Tina Turner would say, "What's Love Got To Do With It?" The Mainichi Daily News reports today that residents of the city of Akashi in Hyogo Prefecture are, as the headline says, "feeling stiffed by love hotel erection."
And their fight has now gone to the National Diet, with Japanese Communist Party lawmaker Hidekatsu Yoshii urging a Lower House committee to spark the cops and local government authorities into action to shut down the hotel.

...even though the hotel is proposed for construction in a commercial zone, it lies immediately beside a residential area and little more than a stone's throw from elementary and junior high schools. "If the so-called business hotel really is in fact a love hotel, it clearly breaks the law," Tatsuya Tsujimoto, a member of the Akashi Municipal Assembly, tells Shukan Jitsuwa. "The city and prefectural governments have got to conduct more thorough investigations to make sure illegal hotels like this one can't be built."
Yes, it is a matter for the city and state governments, not the national assembly. I suppose it is telling that a Diet member belonging to the Japanese Communist Party wants to make it a federal case.
Around Seattle, motels frequented by prostitutes and drug users are effectively clustered on Aurora Avenue North, and south, along International Boulevard in an especially seedy strip near Sea-Tac Airport. Aurora and International are actually the same street, also known as Route 99, which used to be the main north-south highway, from Canada to California, before the construction of I-5. You could call it Seattle's Spine of Sleaze.
I don't think anyone much cares just exactly what brand of kink is transacted on the creaky beds and soiled carpets in Seattle's "love hotel" zones, so long as it doesn't turn violent. Whereas a precisely Clinton-esqe code of sexual conduct obtains for Japanese "love hotels," according to a new book by Mark D. West, professor of law and director of the Center For Japanese Studies at the University of Michigan. Reviewing the book in Asahi Shimbun, Kenneth J. Ruoff notes:
... (West) informs us that individuals who intersect with the love-hotel industry have concluded that paid liaisons for oral sex are not in violation of the Prostitution Law, which prohibits payment for vaginal penetration. Proprietors of love hotels thus welcome business from solicitors who are being compensated to perform oral sex but make clear that prostitution is not permitted in their establishments. Upon reading this section, one cannot help but be reminded that the exposure of U.S. President Bill Clinton's oral dalliances with intern Monica Lewinsky once had individuals throughout the world debating not only the future of the Clinton presidency but also the definition of sex.
New Zealand Herald sports columnist Paul Lewis observes that if you can get past the often-fruity decor, Japanese love hotels are a great bargain.
Japan is major bucks expensive and you can see likely tourists wondering about the trip. Some years ago, after...(covering a sports team's) tour of Japan, I take some time off and struck out on my own for a wee holiday. Silly boy. Once the use of corporate credit card was gone, the full weight of Japan fell on me like a sumo wrestler.

Two nights in only a reasonable hotel and I was approaching penury. Finding a backstreet bowl of noodles required a call to my bank manager. Finally, I remembered the words of a friend of mine who has her own travel writing business. Go to the love hotels, she said, much cheaper. Love hotels, if you don't already know, are the places where Japanese couples go to, er, discuss the economy. They are rented by the hour and come in all sorts of bizarre shapes, sizes and themes.

They are plentiful because many Japanese live in extended families and don't have anywhere to monitor inflation. One I ended up in was a hideous purple and pink affair with gossamer curtains over the bed and the walls decked out with shields, swords and coats of arms and a suit of armour in the corner. Quite what Japanese couples did with or made of this when discussing the economy, I can't say. Do you want the drawbridge up or down, darling?
"Love hotels" and their ilk provide a useful social function by segregating illicit activities from straight-living travellers. As I was reminded when staying in a brand-name hotel in Vancouver a few years ago with my wife and two children. On my way back up to our room, a young lady of the evening stepped aboard, cell phone pressed to ear, and proceeded to have a conversation that went just about like this: "I'm in the elevator now. What room are you in? OK. No, it's Tiffany, not Marcella. See ya soon, sweetie." Good thing the rest of my family was already up in our room. Vancouver obviously needs more love hotels for the discerning traveller, away from the city's skank HQ, the Downtown Eastside.
TO COMMENT: The regular "comment" feature is not in operation. E-mail comments to address under "Contact" on main page masthead, and I'll add them, here.
Posted by Matt Rosenberg at 07:50 AM | Comments (0)
November 01, 2005
The Soporific Stiff Speaks
Googling around for "soporific," I came across something I'd missed earlier this year. In an excerpt from his book "Election 2004", Newsweek Assistant Managing Editor Evan Thomas interviews Sen. John Kerry (D-MA). Kerry, Thomas observes, sounds like he's seriously contemplating another White House run in '08. If so, an unnamed adviser has some bracing advice, ever more relevant as speculation begins to mount about the coming contest.
"...he thinks he's the front runner for '08 without recognizing that he needs to do some soul-searching. If he wants to come back, he'll have to come back as a different candidate, not the stiff who plays it safe and takes four sides of every issue."
Discussion of a Kerry run in '08 is somewhat less absurd than recent and similar natterings about Al Gore. But the real ticket would feature a convincing fiscal conservative Democrat, strong on defense, with less baggage than Kerry or Hillary Clinton, plus scant association with the Northeast U.S. and the usual Dem agenda. I don't know who that is; probably a highly-rated centrist Democrat such as outgoing Virginia Governor Mark R. Warner, or an outside-the-box populist Red State D, like Montana Governor Brian Schweitzer. On the R side, I'd go with Rudy or Mitt first - who both manage to transcend oft-fatal Northeast-ness, not only by party affiliation, but in other ways, as well. Giuliani-Warner, there'd be a real matchup.
TECHNORATI TAGS: JOHN KERRY, 2008
TO COMMENT: The regular "comment" feature is not in operation. E-mail comments to address under "Contact" on main page masthead, and I'll add them, here.
Posted by Matt Rosenberg at 09:03 PM | Comments (0)
Religion, Not Race, Is The Problem Now At The Air Force Academy
WaPo columnist Michael Wilbon writes that Air Force Academy football coach Fisher DeBerry is being unfairly pilloried for saying his slow white cornerbacks are not able to defend against fast black wide receivers.
DeBerry has nothing whatsoever to apologize for. I understand that any kind of categorization, especially along racial lines, can be risky...But our fear of any discussion involving race should not eliminate common-sense observations. Since Jason Sehorn retired from the NFL a season or so ago, how many white starting cornerbacks are there in the NFL? The answer, as far as I can find, is zero. And even if I missed one or two, fact is that a position based largely on speed is 99 percent black in the NFL. That's not the same as making a presumption about the intelligence or character of cornerbacks, black or white. It's fact, Jack. DeBerry didn't offer any cultural or empirical evidence about cornerbacks; he just said he would like faster ones, and as the NFL demonstrates, the fastest ones are black. That isn't even debatable.
Wilbon concludes:
The coach didn't say his school should lower admissions standards to let in more black students, as Paul Hornung said Notre Dame should do. DeBerry didn't do an Al Campanis and say somebody lacked the necessities (primarily the intellectual necessities) to do a specific task. And he certainly shouldn't be lumped in with the likes of Jimmy the Greek, who gave a drunken anthropology lesson of how the big black buck (to use his words) was mated with the big black slave woman to produce the best athlete.

DeBerry didn't insult any race or ethnic group. He offended some folks who confuse politically incorrect public speaking with bigotry. What I find a hundred times more offensive was when DeBerry hung a banner proclaiming, "I am a member of Team Jesus Christ," in his locker room one day after the academy superintendent announced plans to increase the school's fight against religious intolerance.
Overbearing evangelism (is that doubly redundant?) at the Air Force Academy has indeed been a problem, highlighted by a recently-filed lawsuit. The Air Force's chief of chaplains Maj. Gen. Charles Baldwin has angered evangelicals by suggesting prayers be non-denominational, but additional remarks by Baldwin in a videotape strike me as condoning a continuation of the potentially offensive atmosphere of religious evangelizing at this high-profile public institution.
Baldwin, a Southern Baptist, advised chaplains that the guidelines do not prevent senior officers from discussing their religious beliefs with subordinates. "This is America, and for those of us who come from belief systems that require us to tell others of our faith and what we believe, this is so important that we feel free to do this. Just have to put it in the right context and never again coerce anyone to believe something that they don't want to believe," he said on the videotape, obtained by The Washington Post.

....The guidelines, worded as recommendations, urge commanders to be "sensitive" about discussing their faith with subordinates. "The more senior the individual, the more likely that personal expressions may be perceived to be official statements," they say.

...Michael "Mikey" Weinstein, a 1977 Air Force Academy graduate, filed a lawsuit Oct. 6, contending the Air Force violated the Constitution by allowing aggressive evangelizing at the academy. He said he plans to bolster the suit by adding four active-duty lieutenants, including his son, Casey, as plaintiffs. Weinstein took issue with Baldwin's contention that senior officers can share their religious beliefs with subordinates as long as there is no coercion. "It can't be done noncoercively when you're on duty," Weinstein said. "How does a junior officer say to a senior officer, 'I don't want to listen to this' without worrying about offending the senior officer?"
I'm with Weinstein. I'm for freedom of religion, and freedom from religion. Belief systems which "require" believers to "tell others" of their faith need updating in today's world. While I have always been quick to spring to the defense of churched Americans and even religious conservatives, against the crude mockery of the Left's cultural warriors, I take just as much offense at the notion that anyone should have someone else's religious beliefs or statements imposed on them unwillingly or without explicit permission granted, first. If I really want to hear all about your faith, I'll ask.
TO COMMENT: The regular "comment" feature is not in operation. E-mail comments to address under "Contact" on main page masthead, and I'll add them, here.
Posted by Matt Rosenberg at 05:09 PM | Comments (0)