September 30, 2005
Edible Rainbow
There's a promising young artist in Seattle, very much under the radar. He happens to be nine years old, but pay that no never mind.
Here's one of his recent works, titled: "Edible Rainbow."
I'm his agent, AND, you can buy this outstanding piece of naive art, for only $7,500. (His college fund will smile upon you).
TECHNORATI TAGS: KIDS ART
TO COMMENT: The regular "comment" feature is not in operation. E-mail comments to address under "Contact" on main page masthead, and I'll add them, here.
Posted by Matt Rosenberg at 07:05 PM | Comments (0)
Fall Fashion Week In Milan: Hmmmm
The drugs seem to be working.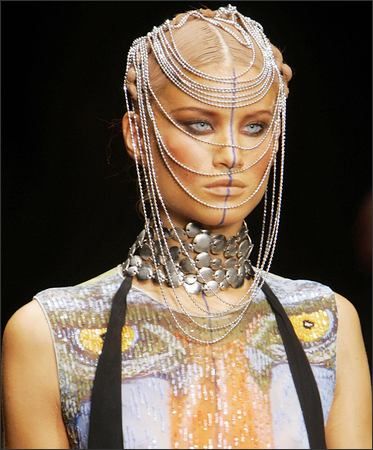 Mess with me, and I'll....keep standing here.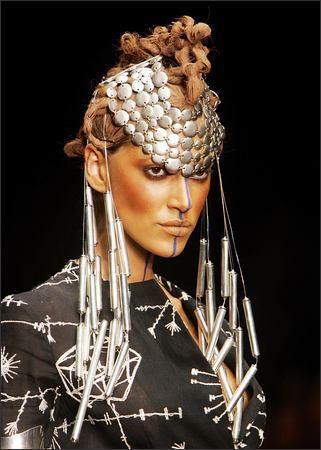 Have an extra helping of Mac n' Cheese, wouldja?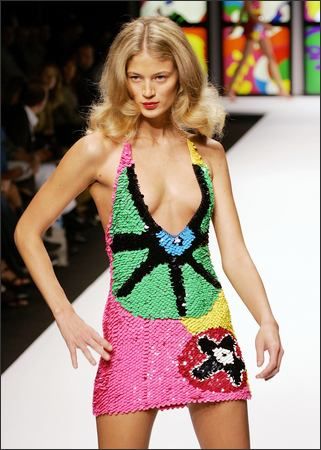 I'll have that Apple-tini now.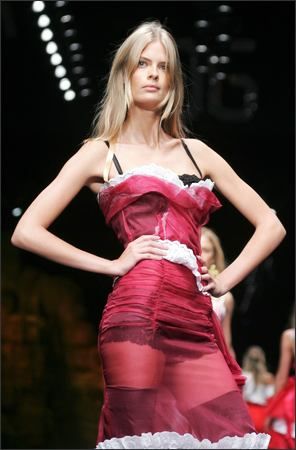 Kate Moss was indisposed, so....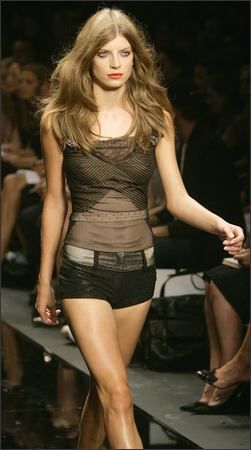 TECHNORATI TAGS: FALL FASHION WEEK, MILAN
TO COMMENT: The regular "comment" feature is not in operation. E-mail comments to address under "Contact" on main page masthead, and I'll add them, here.
Posted by Matt Rosenberg at 10:59 AM | Comments (0)
September 29, 2005
Competitive Eating Is Making Me Ill
Brian Alexander of The Seattle Times reports, and I decide: yes, "competitive eating" is disgusting, and shows we're increasingly hard-up for novel thrills. In a deftly circuitous, and blindingly insightful realization, I conclude: chasing new thrills - whether for a risky buzz or as passive spectators - becomes addictive.

Soon, watching mayonnaise- and cow brain-eating competitions on ESPN will be as passe as monster truck rallies.
Then, it'll be time for, sheesh, I dunno, uh, high-velocity, REAL head-butting contests, or something else that's suitably painful and late-stages-of-the-Roman-Empire decadent.
More from today's Times as preparations begin for a competitive chicken wing-eating binge in Everett Saturday:
The event is part of the national phenomenon of competitive eating that has grown its own league, with eating celebrities and historic moments. But until now, such eating events have been a rarity in Washington, event organizers said. They're hoping that this event, the Verizon VoiceWing Battle chicken-wing eating contest, will root out local competitive-eating talent while raising the visibility of competitive eating in the Northwest.
Hoo ha! Puget Sound really is in The Big Leagues now!
(George) Shea, of the International Federation of Competitive Eating, said his organization has taken heat from people who say competitive eating seems to disregard issues such as world hunger and the nation's obesity problem. "We're not thumbing our nose at those issues," Shea said. "We're not celebrating excess, we're not celebrating gluttony. It's a sport."
Ah, but that's not all Shea says. In a Knight-Ridder story that ran in an upstate New York paper (free reg. req.), Shea expands on the "it's a sport" theme.
"Without any question, I think of it as a sport. The issue is, does everybody accept it as such and I would grant you that not everybody does," said George Shea, IFOCE chairman. "But (eating contests) have been around for hundreds of years, and in my belief we are more fundamental and basic and essential than many other sports, such as tennis, which in my opinion is somewhat frivolous."
You read that right. Downing large quantities of butter sticks and Spam in a timed, contest setting is "more fundamental and basic and essential than many other sports, such as tennis." Know what? This guy IS good at marketing. He knows he's spouting outrageous B.S., but hey, did I spell his name right, and publicize the "sport eating circuit"? Ya betcha!
Still, it's sick. The Knight-Ridder article also notes:
Just because you can eat 34 brats in 10 minutes, should you? Watching professional eater Joey Chestnut struggle to coax down one final mouthful the size of a fist, one had to wonder. During a contest last week in Sheboygan, Wis., his face turned a sickly shade of crimson. His expression: extreme distress.....James W. Smith, head of gastroenterology at the Ochsner Clinic Foundation in New Orleans, was surprised to find ESPN broadcasting competitive eating and even more surprised to hear the eaters described as athletes....He added: "If you have a healthy gastrointestinal tract, you should treasure it."
Tim Foley at The Hoya, Georgetown University's student paper:
ESPN...is not the only media source to showcase competitive eating. Fox, which has a track record of featuring morally inspiring shows like "Temptation Island," used to air "The Glutton Bowl," a series of eight eating events which heralded its winner as "The Greatest Athlete in the World."..Sports Illustrated and The New York Times have covered competitive eating events as well.....The best argument against competitive eating as a sport comes, not so ironically, from the IFOCE. The group boasts that it has coordinated events and membership in Ireland, Japan, Thailand, Ukraine and several other countries. Conspicuously absent from their list are starving countries like Niger and Sudan, who would love to be able to eat for survival, let alone entertainment. ...Competitive eating deserves to be flushed down the toilet.
This is what happens when frat boys raised on cable TV move into positions of power in the "adult world." I worry for our Republic.
TECHNORATI TAGS: COMPETITIVE EATING
TO COMMENT: The regular "comment" feature is not in operation. E-mail comments to address under "Contact" on main page masthead, and I'll add them, here.
Posted by Matt Rosenberg at 10:29 PM | Comments (0)
Word Cop Sez: There Are No "Articulate" Black People
Here's a test. Which of the following statements are infrequently used, and which are more frequently used?
a) He/she is a "very articulate white man/white woman."
b) He/she is a very "articulate Asian man/Asian woman."
c) He/she is a very "articulate black man/black woman."
And the results, at least in the online sphere, as of today,are:
"Articulate black man:" 250 Google citations.
"Articulate black woman:" 389 Google citations.
"Articulate white man:" 27 Google citations.
"Articulate white woman:" 24 Google citations.
"Articulate Asian man:" 5 Google citations.
"Articulate Asian woman:" 23 Google citations.
I think we have a problem here. Clearly, a great many more people think it is notable when black adults speak articulately, as opposed to whites or Asians. It borders on racial bias and stereotyping to make note of a black person's verbal finesse, or intelligence, as though it were a remarkable thing. One underlying issue familar to black parents, educators and businesspersons, is the thread of thought within modern black culture that condones hostility to black students who work hard at school, and who "talk white." That anti-academic strain is something very real, that blogger Pam Spaulding chastises the New York Times for trying to downplay. What about blacks accused of "talking white?" There is no such thing as "talking white," says Ambra Nykol.
'Nuff said.
TECHNORATI TAGS: RACIAL BIAS, LANGUAGE
TO COMMENT: The regular "comment" feature is not in operation. E-mail comments to address under "Contact" on main page masthead, and I'll add them, here.
Posted by Matt Rosenberg at 05:16 PM | Comments (0)
September 28, 2005
Still Life: Mount Rainier And Stadia
Mount Rainier and sports stadia, this afernoon, shot with my digicam, from Victor Steinbrueck Park, just north of Pike Place Market, in Seattle. I did some zooming, cropping, and tinting. Jes' playin' around in Apple iPhoto.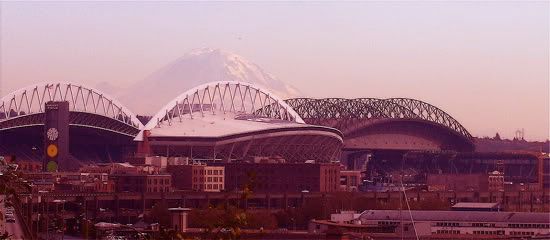 TECHNORATI TAGS: MOUNT RAINIER, SEATTLE, iPHOTO
TO COMMENT: The regular "comment" feature is not in operation. E-mail comments to address under "Contact" on main page masthead, and I'll add them, here.
Posted by Matt Rosenberg at 10:02 PM | Comments (0)
The Ethnic Balkanization Of Public Policy
Latinos and Democrats need to break out of their identity-politics pact. Mostly though, it's the same old, same old, with a few notable exceptions we'll get to here at the close.
Chicago Sun-Times ace columnist Mark Brown today nails Mayor Richard M. Daley's Hispanic Democratic Organization for what it is: an incumbency-protection racket run on behalf of Daley and his loyal underlings, some of whom are Hispanics clouted into city jobs in exchange for conducting political activity at taxpayer expense.
If anything, Daley created HDO so that Hispanics would empower Daley, not the other way around. It was a means of harnessing the growing -- and inevitable -- electoral power of the rapidly expanding Latino community by installing leaders who would be loyal to Daley and who wouldn't be tempted to team up with African-American voters in a coalition that could undermine him.

The only Hispanics empowered by HDO were the ones selected by his insiders for the group's leadership positions, along with the army of political workers loyal to them because of the city's illegal use of patronage rewards.
Some California Latinos continue to want congressional districts (Democratic U.S. Rep. Howard Berman's, in particular) to be re-drawn with more concentrated Latino populations inside the boundaries. The presumption being a majority Latino district could elect a Latino representative responsive to Latino issues.
Latino issues like this: Hispanic community leaders at a Hispanic education summit learned that in four north San Diego County school districts with large and growing Hispanic student populations, those students are failing to demonostrate proficiency at an alarming rate, on state English and math exit exams. The solution, acccording to some Hispanic community leaders? More Spanish language teachers, more Hispanic teachers, and more tests in Spanish. They left out a culturally sensitive "Spanish Math" curriculum.
A more mature Latino community approach to politics is evident in the mayoral race of Lawrence, Mass. About half the town's registered voters and 60 percent of the 72,000 residents are Latino. But the three Latino challengers were campaigning against the incumbent White Republican Michael J. Sullivan not on ethnicity, but city-wide issues. The Boston Globe has more (free reg. req.):
'Latino voters in Lawrence are political animals," said Giovanna Negretti, executive director of ¿Oiste? The Massachusetts Political Organization, a group that pushes Latino civic participation in the state. ''[They] don't just automatically vote for Latino candidates. It's more complicated than that."

....a Devers (City Councillor and mayoral candidate Marcos) supporter said his candidate also understands the city's problems and has never stated he'll only represent the Dominican-American residents. He points to the campaign slogan Devers is using on signs: ''One city. One vision." That's similar to the slogan used by 30-year-old San Antonio, Texas, mayoral candidate Julian Castro earlier this year. His slogan: ''One city. One destiny." In June, Castro narrowly lost to a 70-year-old retired white judge in another race closely eyed by national Latino leaders."
Turns out, this a.m., that Sullivan placed first in yesterday's primary with 54 percent of the unofficial final vote tally, Devers was second with 29 percent. They'll face each other in November.
The first Latino mayor of Los Angeles, Democrat Antonio Villaraigosa, was elected this summer on a platform to tackle major urban issues such as crime, education and transportation gridlock. He now acknowledges he's got to trim government spending before seeking higher taxes to enact his agenda. Those are the kinds of challenges urban politicians should be talking about, as opposed to standardized tests in Spanish and more Spanish language instructors for English-deficient students.
Politically, Latinos in the U.S. are evolving faster than the Democratric Party. Guys like former San Antonio Mayor and Clinton HUD Secretary Henry Cisneros (before he was dragged down by hush-money payments to an ex-mistress) and now Villaraigosa, likely embody how the party can reach out to the nation's increasingly powerful Latino voter base without alientaing voters of other races.
Both parties need to showcase minority politicans who are problem-solvers with broad appeal, not "diversity" show ponies.
TECHNORATI TAGS: LATINOS, DEMOCRATS
TO COMMENT: The regular "comment" feature is not in operation. E-mail comments to address under "Contact" on main page masthead, and I'll add them, here.
Posted by Matt Rosenberg at 12:12 PM | Comments (0)
September 27, 2005
Touring Like A Local: West Seattle's Lincoln Park
If you visit Seattle, make sure you get out of downtown. There's a lot your hotel concierge isn't telling you, trust me. The city's neighborhoods, local business districts, parks and beaches are where you really suck up the taste of Seattle. For starters come on out to Lincoln Park in West Seattle.
The 54 bus from downtown will take you right to Lincoln Park. Driving directions here. This park map link shows the trail system (click on the "view map" PDF file). I recommend the upper cliffside trail, running north-south, and then a loop back on the beach below. There are trails at both ends and the middle of the park that connect the upper (cliffside) and lower (beach) levels. Up top, you'll see some serious second-growth trees (left, below) in from the path, and some of Seattle's trademark, reddish-brown barked Madronas (right, below).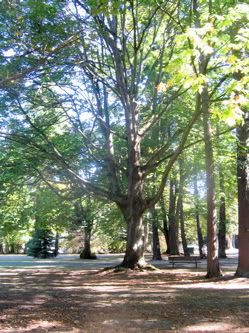 Along the upper path, you'll also catch a broad glimpse of West Seattle's Alki Point (below), a good five miles to the northwest on Puget Sound. There's a Coast Guard lighthouse there, which you can just see in the picture below. You can visit, but not any old time: (lighthouse seasonal tour hours and phone number here). Watch for the rotating beacon, visible from Lincoln Park on clear days.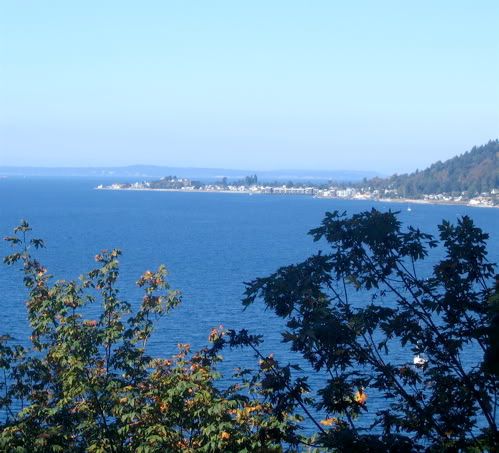 From atop the bluff, toward the park's southern end, you'll also find one little spot with a bird's eye view of the Fauntleroy Ferry, steaming off to beautiful Vashon Island, then Southworth, on the Kitsap Pensinsula.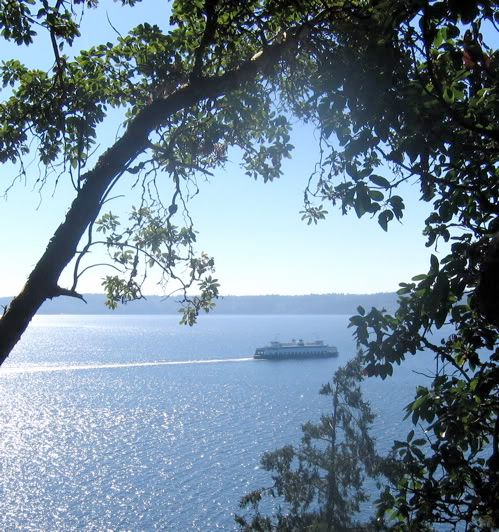 Down below, there's a mile long beach, picnic shelters, large saltwater swimming pool, grassy spaces to laze about, benches and, periodically, salmon fishing. Seems like late September is prime time, at least this year. Whole bunches of guys out there in waders today again, including this fella (below).
Top it all off with a classy but casual meal at Endolyne Joe's, nearby in West Seattle's Wildwood micro-business district.
TECHNORATI TAGS: SEATTLE, TOURISM, WEST SEATTLE, LINCOLN PARK
TO COMMENT: The regular "comment" feature is not in operation. E-mail comments to address under "Contact" on main page masthead, and I'll add them, here.
Posted by Matt Rosenberg at 10:15 PM | Comments (0)
Tuesday Blogburst
Washington state blogger Mac, of Pull On Superman's Cape, has some great photoblogging from Koishikawa Botanical Gardens at the University of Tokyo. You will find all 24 pictures most worthy.
With an assist from Japundit, departed Seattle-ite James J. Na warns of China's belligerent hyper-nationalism, at his second blog, The Asianist. Na explains China's posturing is more important to the nation's Communist rulers now that statist obstruction of free markets is relaxing, and often takes the form of xenophobia toward Japan and the U.S. Call it identity politics, Chinese style.
Scott The Journalist, formerly of Seattle but now of Beijing, blogs at Elemenohpee, and is justly excited about Quaker Oats Dinosaur Egg Oatmeal.
Ex-Seattle-ite and Oregon Boy Forever Greg Piper is suffering "severe Northwest withdrawals," but at least recognizes the futility of sharing his pride of place with Back-Easters. They sure snarfed up his Willamette Valley Pinot Noir the other night, though. Greg links to a great post by SoCal-to Portland transplant Nancy Rommleman, a very engaging writer, who actually comes from Brooklyn. Bookmark this woman's site!
D.C. Thornton really likes Christopher Hitchens' piece in Slate today, titled, "Anti-War, My Foot: The phony peaceniks who protested in Washington." Moi, aussi.
Finally, a really cool blogger from the Southwest called Desert Cat has a fitting toast to Arrogant Bastard Ale.
TECHNORATI TAGS: PACIFIC NORTHWEST, JAPAN, CHINA, ARROGANT BASTARD ALE
Posted by Matt Rosenberg at 06:53 PM | Comments (0)
Sunni & al Qaeda Intimidation Campaign Intensfies In Iraq
With a national vote on a new Iraqi constitution scheduled for October 15, Sunni thugs coddled under Saddam's deposed regime, and al Qaeda terrorists are going all out to intimidate Iraqis - Sunnis, Shiites and Kurds - into voting against the constitution or sitting out this historic opportunity. Unidentified "insurgents" killed five Shiite school teachers (of Sunni students). In Baquoba, 30 miles north of Baghdad, nine Iraqis applying for police jobs were killed by a suicide bomber, and 21 more applicants were wounded in the blast. In another last gasp measure, al Qaeda in Iraq troops are distributing so-called "death letters" warning residents of several far western Iraqi towns to leave, or be beheaded. U.S. military sources say the foreign al Qaeda terrorists, who typically enter Iraq through Syria, have been pushed back west from Ramadi and Fallujah, where their dominance was undermined by strong U.S.-Iraqi attacks. A major U.S.-Iraqi offensive is planned for the western region where the "death letters" are being circulated. Though al Qaeda in Iraq hasn't been out out of business yet, progress has been steady. The Christian Science Monitor reports here on the killing of al Qaeda in Iraq's second-in-command, Abdullah Abu Azzam, and further inroads by U.S. and Iraqi forces against al Qaeda in Iraq.
(Al Qaeda in Iraq. Um, yeah. That's their name. Any questions?).
There are other signs, from Europe, of all places, of intensified vigilance against West-hating, liberty-hating Muslim extremists. French authorities are questioning, for the second, day a group of Algerian Muslim extremists suspected of new bomb plots involving the Paris subway system and other public facilities. One detainee was a key figure in 1995 subway bombing which left nine dead in France. More here from an Agence France Presse report, which also notes the detention by authorities in Milan yesterday of 11 men believed to be members of a terrorist cell. Italy has been conducting extensive surveillance and intelligence gathering on possible Muslim extremist terrorists and support networks, as detailed in the article.
Funny thing here: France and Italy have hardly been at the forefront of the war in Iraq. They are not the Great Satan. Yet, with just cause, they are now every bit as engaged as the U.S. and England in preventing Islamist terrorists from killing innocents in their lands.
Meanwhile, Osama's border cave entourage has been downsized; and his communications network is looking kind of, ah, 12th Century.
TECHNORATI TAGS: IRAQ, CONSTITUTION, TERRORISTS
TO COMMENT: The regular "comment" feature is not in operation. E-mail comments to address under "Contact" on main page masthead, and I'll add them, here.
Tom Rekdal: The Islamist plot to bomb various sites in Paris, unlike the Madrid and London attacks, makes no sense as part of a grand strategy to expel American power from the Middle East by first stripping away the support of our European allies. France never was such an ally. My guess is that the Paris plot has more to do with changing French policy toward the present government of Algeria, which Islamists still seek to destroy.

Whatever their motives, it is a blunder. As Daniel Pipes has frequently pointed out, attacks on the American or European homelands only awaken a slumbering political class, without genuinely intimidating anyone.

I wish I could be as optimistic about events in Iraq. But it becomes increasingly difficult to accept the official version of the insurgency--as merely a collection of Baathist dead-enders in league with foreign religious fanatics. It is all of that, of course, but it would not be growing in potency without large-scale support within the Sunni Arab population as well.

There are already news reports of an incipient civil war getting under way, as Iraqis who find no security from the Americans or their own government seek the protection of tribal militia. If the Sunni Arab population rejects the new constitution, it will be hard to paper over this conflict. What is our role in a three-way civil war, if that is what develops? Do we really have a vital national interest in taking sides with the largest population group just because it has the most votes? Even if it is a largely pro-Iranian faction?

I would much prefer to see us try to protect the little islands of stability and democracy that have already appeared in Kurdistan and some parts of southern Iraq, rather than take sides in a conflict we cannot control. Yet even this more modest goal may be beyond the capacities of the Bush administration, which is already giving off signals that it seeks any withdrawal that does not look like defeat.
Posted by Matt Rosenberg at 04:08 PM | Comments (0)
September 25, 2005
Chicago Tribune Report: O'Hare Expansion May Be Costly Dud
First, the standard disclosure whenever I write about airport expansion issues (which is not often, these days). For six years, I worked as an organizer, researcher, writer and media relations specialist for a coalition of twelve municipalities affected by flight operations at O'Hare Airport. They sought to prevent new runways and were pushing for a south suburban "green grass" airport instead. I did similar work for one year in Seattle.
Runway back-ups, safety and dysfunctional airport planning in the Chicago region are serious issues, and have been for some time.

Here's the Trib's story (free reg. req.). It's based on some pretty solid reporting, so I'm going to cite a number of key points:
...Chicago's plan to reconfigure O'Hare, the most complex and expensive airport expansion project in U.S. history, is layered with uncertainties. A Tribune analysis of thousands of pages of airport and FAA documents raises questions about how many years of relief the expanded airport will provide before debilitating delays return, whether a huge jump in the number of planes taxiing across runways will jeopardize safety and what the project's ultimate cost will be.

...FAA documents...warn that major flight delays could return just five years after the city finishes reconfiguring the runways. Nevertheless, the FAA is expected to approve this week the most ambitious part of the city's expansion, a plan. The FAA's decision will allow Chicago to start razing homes and businesses in Elk Grove Village and Bensenville immediately and to dig up a religious cemetery established near fruit orchards 55 years before the Wright brothers' first powered flight.
BTW, when they mention "orchards?" That's for real. The "ORD" on your luggage tag stands for "Orchard Place," an old designation for one of the communities that, as the Trib notes, long preceded the airport.
Surely, the economic benefits of O'Hare have been heroic, and not denied by any.
But the 1800s German immigrant roots of the Bensenville community to the field's immediate southwest (an area I covered as a community newspaper reporter from 1983 to 1988, before joining up with suburban mayors pushing for an alternative to O'Hare expansion) are deep, and rich. As The Trib's brief allusion to the cemetery angle indicates.
All the same, in classic Chicago fashion, the fix is in. Dig up and relocate the dead, they're not Native Americans, after all, so, What The Hey! And full speed ahead on the doomed expansion, even if the airlines aren't on board.
....Buoyed by strong support from the Chicago business community, Mayor Richard Daley's administration repeatedly has rejected calls from the airlines and air-traffic controllers to build the project differently and at a lower cost. "The city says we are partners in all this, but we have no input," said Bill Hood, managing director of corporate affairs in Chicago at American Airlines. American, United and the air-traffic controllers support expanding O'Hare but prefer to leave much of the existing airfield intact, adding just one new runway and extending another. to untangle O'Hare's intersecting runways with a network of parallel ones. This would allow 100 landings and 100 takeoffs hourly in bad weather, they say, far more than can be done currently.
The city's runway plan poses considerable safety risks, as well.
...the city's plan would tear up most of the airfield, removing three runways, building four new ones and extending two others. Following the current trend of airport development, the city plan envisions parallel runways. Under the city's proposal, planes would taxi across runways more than 2,100 times per day, increasing the risk of collisions caused by miscommunication. Today, planes typically cross O'Hare runways about 100 times daily, air-traffic controllers and the FAA's operations manager at O'Hare said.

Some planes would taxi for as much as 5 miles—more than double today's taxiing distance—adding time and fuel costs. "They will regret that they built it this way," said Craig Burzych, president of the O'Hare Tower National Air Traffic Controllers Association. Air-traffic controllers, who work shoulder-to-shoulder in one tower today, would be split up between two towers on different sides of the airport.

Pilots taxiing to terminals after landing on the new runways at the fringes of the expanded airport would be required to switch radio frequencies as many as five times before arriving at their gate. A missed radio call could lead to a plane going astray, creating an accident risk. Today, one radio channel is used in most cases. City officials said the runway layout is safe, and the FAA agrees, noting that controllers will slow down takeoffs and landings to prevent mishaps. But Chicago's predictions of reduced delays don't take this into account.
Despite today's airline financial problems and rising fuel costs, there are strong economic forces driving creation of new airport capacity and added flights through major hub regions such as Chicago, Atlanta and Dallas.
The FAA projects that increased demand for air travel at O'Hare could reach 1.4 million annual flights, up from 974,000 today. That increased traffic would spark a return to the kinds of lengthy delays that the massive expansion is trying to fix just five years after the runways are complete, according to FAA documents.

"In the world of airport development, there is no denying that if demand increases, eventually you find yourself back where you started," said Barry Cooper, a top FAA official who is reviewing the city's expansion plan. "It's a matter of investing in how many years of better performance you are looking to get."
At this point, the City of Chicago has decisively won the regional political battle for grand expansion of O'Hare, as opposed to a more modest approach which might yield better results. Chicago City Hall, of course, excels at politics, if not ethics.

The city's Aviation Department, which oversees day-to-day operation of the airport (apart from controllers) is a hub of political cronyism and patronage. Perhaps, as this project becomes mired in the inevitable cost overruns, scandals and O'Hare-sized inefficiencies, the plate will be set for some future Chicago mayor to get it right on regional airport system planning. One can dream, at least. One of the more prominent, "recent" expansion projects at O'Hare included this (1980s vintage) United Airlines terminal promenade (left), replete with people mover, multi-colored flashing lights, and piped-in ambient muzique. This over-reaching, "world-class city" display, showcases Helmut Jahn's visionary design. And the government-abetted cultural permeation of an hallucinogenic sensibility.
As it happens, the long-proposed ex-urban airport south of Chicago may be moving toward construction. The state is refining its recommendations, including a judicious 20,000-acre footprint, and just one runway to start. The FAA is expected to decide on the project by next year. In a revealing break from Chicago City Hall's opposition to the new airport, State Senate Majority Leader Debbie Halvorsen (D-Crete) continues efforts to get it built. Opponents, meanwhile, are appealing to Willie Nelson for help. Surely a promising sign.
In the meantime, if you don't have to make a connection to London or Singapore, Chicago's small Midway Airport - on the city's southwest side - is a great, low-hassle alternative to O'Hare.
TECHNORATI TAGS: O'HARE EXPANSION, CHICAGO
TO COMMENT: The regular "comment" feature is not in operation. E-mail comments to address under "Contact" on main page masthead, and I'll add them, here.
Posted by Matt Rosenberg at 11:46 AM | Comments (0)
SEIU Hospital Strikers Bad For Patient Health
Writing in today's Sunday opinion section of the San Francisco Chronicle, Susan Wolbarst is good and hacked off about striking hospital workers outside using bullhorns, chanting loudly, and successfully encouraging cars to honk in support, while patients such as her brother, a carpenter badly injured in a work accident, are struggling to recover inside. The hospital workers, it so happens, belonged to the Service Employees International Union, famed for using scorched earth tactics at nearly every turn.
After sitting in his room for many hours, I have to tell you that the experience of watching quantities of my brother's blood soak through piles of his bandages into the bed is not enhanced by listening to strikers endlessly repeating chants like: "What do we do to a scab? Pick it off." I was especially dismayed by a tactic I first noticed on Sept. 19 on busy Castro Street, where strikers held signs saying: "Honk If You Support Healthcare Workers" and "Lay On Your Horn." My brother complained that the bullhorn woke him up on Tuesday "while it was still dark."

As a person who once helped organize a labor union, I am confused by this strategy. Who are the strikers attempting to get on their side by creating such a barrage of irritating noise in a place where severely injured people are attempting to rest and recover? I have to wonder if strikers think the shattered friends and relatives visiting these patients will be made more sympathetic to their cause by listening to marchers chanting: "We are the union, the mighty, mighty union ..." and other sentiments reminiscent of children's summer camp.

...If they care about patients, they might show a little courtesy and respect to those suffering inside the hospital, instead of adding in any way, no matter how small, to their misery.
Labor unions once had a vital function. Now, by and large, they have morphed into an institutionalized shakedown program and political arm of the Democratic party. Every now and then, a union has a legitimate beef over something, but their movement has squandered its political capital with ordinary Americans in ways large and small, for several decades now. The SEIU's noisy hospital picketing in San Francisco is one more compelling example of how little American labor unions actually care about "jes folks."
TECHNORATI TAGS: LABOR UNIONS, SEIU, HOSPITAL PICKETING, SAN FRANCISCO
TO COMMENT: The regular "comment" feature is not in operation. E-mail comments to address under "Contact" on main page masthead, and I'll add them, here.
Posted by Matt Rosenberg at 10:55 AM | Comments (0)
September 24, 2005
Lake Serene: Another Great Hike Near Seattle, Off Route 2
More and more, I like heading out to Route 2 for access to good day-hiking trails. The drive is relatively painless from West Seattle on a weekend; I-90 east to I-405, into Route 522 northeast, and then Route 2 through Monroe's franchise row. Mercifully soon afterward, you're out in the small-town Northwest, flanked by river and mountain.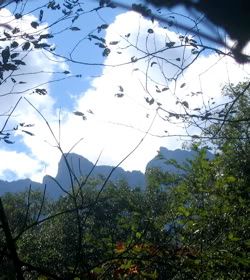 Drove out that way again today, toward Stevens Pass, with the whole family in tow. After the towns of Startup, Sultan and Gold Bar, those leaning mountains come into view. Here's a shot I took with my trusty Canon Power Shot A95 (right) from the trail to Lake Serene, today. The trailhead is just up Mount Index Road off Route 2. The last part is straight up. I first went, all the way up to the lake, the weekend after September 11, 2001. A lot of folks out hiking there then. We didn't get all the way to the lake today, but there's nothing like a crisp autumn hike in Washington State.
More here from the Sattle Post-Intelligencer on the Lake Serene hike.
....The hike is strenuous enough to qualify as a workout, but it's a trail that most everyone can enjoy thanks to the Forest Service. If you get an early start or go midweek, you will probably encounter a few hikers but not crowds.

Besides, running into a few other hikers is a small price to pay for a gorgeous lake at the foot of 5,979-foot Mount Index. Index is that dramatic peak you see from U.S. 2 east of Gold Bar that is often a subject of postcards and calendars.

The new trail is a bit like that old board game "Chutes and Ladders," but without the chutes. It is hiker-friendly with staircases of wood and stone. The trail will delight older children and seasoned hikers as well.
We made it past the turn-off for Bridal Veil Falls, ate lunch and hung out here (above), before heading back. Best hiking advice I ever got: The summit is wherever you turn around. On the way back down, I noticed this (below), looking west.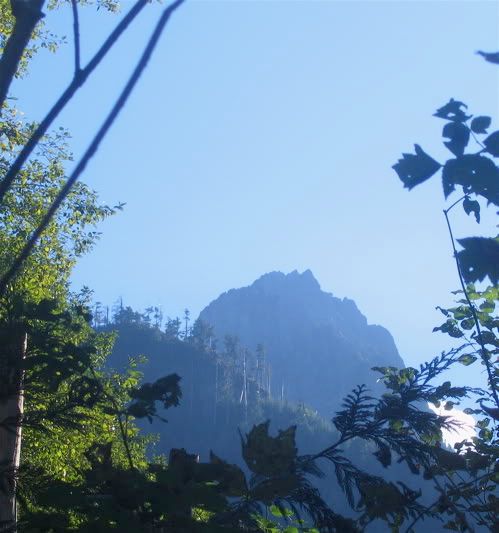 TECHNORATI TAGS: WASHINGTON STATE, HIKING, LAKE SERENE
TO COMMENT: The regular "comment" feature is not in operation. E-mail comments to address under "Contact" on main page masthead, and I'll add them, here.
Posted by Matt Rosenberg at 11:32 PM | Comments (0)
September 23, 2005
Detroit's Very Own Fidel Castro
Detroit Mayor Kwame Kilpatrick is fighting for his political life, and starting to resemble Fidel Castro, opines Freep columnist Brian Dickerson today.
You might imagine that, with his city hemorrhaging tax revenues and residents at the same life-threatening pace, Mayor Kwame Kilpatrick would have bigger fish to fry than a handful of bigoted yahoos in Livonia. But when the Free Press quoted some of the aforementioned yahoos objecting to the proposed erection of a Wal-Mart Supercenter on the grounds that it might attract black Detroiters to their stubbornly segregated suburb, I knew Kilpatrick would be on the story like, well, white on rice. A more confident leader might have ignored the racist remarks, which undoubtedly mortified most Livonians.

But Kilpatrick is not that leader. His practiced swagger conceals the desperation of a demagogue fighting for his life. So it was a cinch he'd seize this latest opportunity to portray Detroit as an island surrounded by racist enemies and himself as its only trustworthy defender.

For some whites and a few blacks, Kilpatrick's polarizing rhetoric hearkens back to the late Coleman Young. But the purest model for this style of fearmongering is Cuba's Fidel Castro, who continues to exploit his citizens' distrust of America more than a decade after the Cold War ended. Like Castro, Kilpatrick can make a convincing case that Detroit is surrounded by foes that covet its assets and wish its leaders ill.

Racism, including the overt kind that showed its ugly teeth in Livonia this week, is as much a fact of life for Detroiters as the U.S. trade embargo is for Cubans.
But, just as tens of thousands of Castro's constituents have abandoned Cuba for the economic opportunity of the great Satan, many of Kilpatrick's are leaving Detroit for its hostile suburbs. Each year, thousands of working-class families trade the empty cant of racial solidarity for the hard currency of safe schools and reliable municipal services.
Oomph.
Yeah, I'd say Kilpatrick has been taking this whole "us against them" stuff way too far.
TECHNORATI TAGS: DETROIT, FIDEL CASTRO, KWAME KILPATRICK
TO COMMENT: The regular "comment" feature is not in operation. E-mail comments to address under "Contact" on main page masthead, and I'll add them, here.
Posted by Matt Rosenberg at 01:44 PM | Comments (0)
How to Buy A Gay-Friendly Car
It has nothing to do with smoked windows, either. You probably didn't know, but some car brands are more gay-friendly than others. Gaywheels.com has the skinny. They urge consumers to buy from auto manufacturers that offer domestic partnership benefits to employees in GLBT (gay, lesbian bi-sexual or transgendered) relationships. We'll presume they mean co-habitating, "significant other" relationships, as opposed to "significant others." I mean, if we're talking polyamory, it gets complicated, no? Anyhew......Here are the gay-friendly brands, the not-gay-friendly brands, and the brands still under investigation.

And if you've ever wondered how a gay car review reads, well, wonder no more.
Every day, in every way, our world becomes a better place. Today, gay-friendly cars and polyamory-friendly chiropractors. Soon: an online guide to GLBT-friendly refrigerators.
UPDATE: About.com's geography guide Matt Rosenberg (yep, that's his name) points out this is "Happy Unmarried And Single Americans Week." However, Matt fails to note that today, Sept. 23, is "Celebrate Bisexuality Day," as I was apprised by an e-mail moments ago from the National Gay and Lesbian Task Force. Funny, though, they hadn't posted the same press release on their Web site when I just checked. Well, here's last year's version. They're disturbed by the "invisibilty" of bisexuals in the media and public life. It's painfully clear to me that to really get onto the map of the American mind, Bi advocates need their very own San Francisco street fair and historical tour.
TECHNORATI TAGS: GAY CARS, POLYAMORY
TO COMMENT: The regular "comment" feature is not in operation. E-mail comments to address under "Contact" on main page masthead, and I'll add them, here.
Posted by Matt Rosenberg at 12:39 PM | Comments (0)
Hamas Rocket Mishap Kills Palestinian Children
Lesson One for Palestinian kids in Gaza: the Israel-hating, masked Islamic militants parading through your neighborhood with homemade rockets in the back of a pick-up truck are not heroes. In fact, they're a threat to your life.
TECHNORATI TAGS: HAMAS, DEAD PALESTINIAN CHILDREN
TO COMMENT: The regular "comment" feature is not in operation. E-mail comments to address under "Contact" on main page masthead, and I'll add them, here.
Posted by Matt Rosenberg at 11:36 AM | Comments (0)
Gadgets That Gather Dust, Steal Our Souls
Cast-off household gadgets really do embody evil, concludes an academic theorist interviewed in today's Christian Science Monitor. It takes him a while to reach that conclusion, but the journey is pretty revealing. I'll tip my hand right here: I hate clutter in my house, and the idea that some people need to buy things they don't use in order to feel better about themselves. Too many of us suffer from this particularly hideous modern malady. The Monitor:
Recent research calculated that Britons have accumulated almost $18 billion worth of household "white elephants" - gadgets that are rarely if ever used. That's 1 percent of the nation's GDP. For some, it's the sandwich toaster that seemed like a good idea at the time. For others it's the electric knife that only comes out at Christmas, or the juicer which seems twice as messy as it did when demonstrated on the shopping channel.

"We are constantly buying new fads," says Niki Bolton of the online insurer esure that conducted the study. "Take the breadmaker. A few of my friends have got them. They start off making bread rolls for a few days and then give up." Bolton admits she hoards a bit too. "I've got a sandwich toaster tucked away, and a footspa and face steamer. A lot of things like that up in the loft."

Some of these dust-gathering widgets are unwanted gifts - as much as $7.2 billion according to esure. A quarter of those surveyed said they had bought a gift that they suspected would remain in its box. But the majority are things that people buy for themselves and then leave in the box. Like the toaster that brands "I love you" onto the side of your breakfast slice."
OK, now here's the requisite expert in "consumer culture" to do that old, "On the one hand....but on the other hand...." thing.
Richard Elliot, an expert in consumer culture at Warwick Business School in central England, says from an economics viewpoint it would be facile to dismiss such hoarding as a net waste of resources. He says that sometimes it's the idea of the gadget rather than the material usage derived from it that is important in consumer societies. In short, it's all about the having rather than the using. "We are consuming the meaning of the good, rather than the good itself," he says. "The theory is that if you get the right meaning, it might complete your view of yourself."....Mr. Elliot says, moreover, that this consumerism is an important motor for western economies. If we stopped buying trivial contraptions and things to make us feel better, then growth in rich countries would be severely impacted, he says.
I am now made whole, for while I have long championed economic growth, I have also long maintained that the manufacture and consumption of useless stuff is a lousy basis upon which to predicate even a portion of that desired growth.
...morally and financially, the trend may be harder to justify. It coincides with a boom in credit in Britain in recent years and a sharp rise in the number of people with debt problems. The gadget consumerism often bewilders the older generation of Britons, who came of age during the privations of the 1940s and early 50s, when you couldn't buy something unless you'd actually saved up for it first.

And from a moral viewpoint, this excess that coexists side by side with want and hardship is "a miserable thing," Elliot adds. "Satisfaction and meaning and a general boost for the self used to come from church, or society, other people in essence," he says. "But now what you have is goods replacing people."
Mediated experiences, such as video and computer games, e-mail and "virtual communities," and 80-channel cable TV surfing have replaced actual physical activity, face-to-face community engagement, and face-to-face conversation for an increasing proportion of the populace in "developed" countries. And we are the worse for it.
At least the nearly-useless gadgets invented by practitioners of Chindogu can never - under the movement's guiding principles - be mass-produced. Which ensures that the appreciation has to do with the thing itself, not its reflection on the self.
TECHNORATI TAGS: USELESS GADGETS, CHRISTIAN SCIENCE MONITOR
TO COMMENT: The regular "comment" feature is not in operation. E-mail comments to address under "Contact" on main page masthead, and I'll add them, here.
Posted by Matt Rosenberg at 10:52 AM | Comments (0)
Folsom Street Fair Hypes SF's Leather And Fetish Glory Days
Folsom Street Fair Alert! It's time to celebrate the glorious days of gay leather fetishists in San Francisco, with some special events and a historical tour of the 1970s hot spots in the South of Market neighborhood. The San Francisco Chronicle has a lengthy exegesis today.
While the Castro was the political center of gay San Francisco, Folsom Street was the sex center, according to anthropologist Gayle Rubin, who has researched and written about the leather community in the 1970s. It had more gay bath houses and sex clubs than any other San Francisco neighborhood. It was one of the "most extensively and densely occupied leather neighborhoods in the world," Rubin wrote....

This Sunday, hundreds of thousands of people are expected for the 22nd Folsom Street Fair, which celebrates the leather and fetish culture. Leading up to the event, Eric Rofes, a Humboldt State University professor and longtime gay activist, has been conducting walking tours of the area to highlight some of the most famous -- or infamous -- sites. Hundreds of people have signed up to go, some coming from Europe specifically for the tour, Rofes said.

"A lot of men view the Folsom era as the golden age in gay life and the leather scene," said Rofes, who is writing a book about gay culture nationwide during the decade preceding the AIDS epidemic. He has interviewed 100 gay men from diverse backgrounds and locales and plans to focus in the book on their stories of daily life.

He cautioned that the broad brushstrokes don't tell the whole story, as many view the era as reckless and irresponsible, setting the stage for a rapid spread of AIDS. But blaming the leather community for spreading the disease is unfair and inaccurate, Rubin argues. "Leather sex and leather men had become easy targets for AIDS blame. They were already disdained, and their sexual practices were often feared or disparaged," Rubin wrote in her essay "The Miracle Mile: South of Market and Gay Male Leather, 1962-1997."

On a tour earlier this week, about 50 men followed Rofes from site to site in what also once was known as the "Valley of the Kings," referring to the hyper masculinity promulgated by the leather scene. At each of the 14 stops between 7th and 10th streets between Folsom and Bryant, Rofes read oral histories he has recorded, and people on the tour told their stories.

"It was every fantasy you ever wanted, and then a fantasy you didn't think of was in the next room," Domenic Nunziato said of the Cauldron, a bathhouse in a nondescript building at the back of a parking lot on Natoma Street between 10th and 11th streets. Nunziato's memories are printed in a booklet Rofes made for the tour.
Certainly doesn't sound like the sort of behavior that ought to be linked to the HIV and AIDS epidemic; not one iota. Only a hateful homophobic bigot would ever get that crazy idea.
Bob Brown, who moved to San Francisco in 1978, recalled an encounter at the No Name Bar on Folsom Street, where a leather bar named Powerhouse now operates.

It was one of the first nights Brown went out dressed in leather with a vest and no shirt underneath. Soon after, a vivacious red-haired woman came into the No Name, and walked up the tall, broad-shouldered Brown, opened his jacket and tugged at one of his exposed nipples. "She said, 'Nice tits, and I oughta know,' " Brown said. "She looked up at me and I said, 'Oh my god! You're Bette Midler!' " The actress and entertainer replied, "I know darling, I know," and bought the bar a round of drinks, he said. "It wasn't my first night out, but I would say it was my defining moment," Brown said.
Bob, honey: when it comes to "defining moments"? You definitely need to shoot higher.
More fun and games in Baghdad by the Bay: city officials are a holding a hearing today on whether to allow trucked-in snow and ski-jumping on a hilly street, so the event can be filmed and televised by MTV. I say: only if there's a special competition for leather-fetishist ski jumpers.
TECHNORATI TAGS: SAN FRANCISCO, LEATHER, AIDS, FOLSOM STREET FAIR
TO COMMENT: The regular "comment" feature is not in operation. E-mail comments to address under "Contact" on main page masthead, and I'll add them, here.
Posted by Matt Rosenberg at 09:20 AM | Comments (0)
September 22, 2005
The Stench Intensifies In Mayor Richard M. Daley's Chicago
Three more federal grand jury indictments today in a probe of alleged politicking at taxpayer expense in Chicago. The Chicago Tribune reports (free reg. req.). Though this sort of stuff is nothing new, the extent of corruption in Chicago city government under Mayor Richard M. Daley is increasingly apparent, and reviled.
That's because it's already years after a federal court order called the Shakman Decree, prompted by nefarious Chicago City Hall practices, was supposed to end the assignment of political hacks to no-show or low-show city jobs in return for their doing campaign work on behalf of Democratic, mayorally-branded candidates.
More on today's indictments - and the backstory - from The Trib:
A federal grand jury today indicted three city officials in addition to two previously charged with rigging the hiring and promotion process in Chicago City Hall.

...Between 1993 and July 2005, the indictment alleged, they and other schemers ran the sham hiring system to give jobs and promotions to "preselected" individuals. People were awarded jobs and promotions in exchange for their work on behalf of the political campaigns of candidates for mayor, alderman, Congress, statewide office and the Illinois General Assembly, the indictment stated.

...The charges grew out of the federal government's 18-month investigation of (the city's patronage-laden) Hired Truck (program). So far, 36 defendants, including 20 current or former city employees, have been charged and 23 convicted. One died, and the rest have charges that are pending.

The hiring scheme allegedly spanned the last 12 years and touched at least four of the largest City Hall departments – Water, Sewers, Aviation and Streets and Sanitation, authorities have said.

Prosecutors have said the Daley administration illegally doled out city jobs and promotions to reward campaign workers for the mayor and pro-Daley candidates. The alleged scheme defied long-standing federal civil court decrees that forbid politics from affecting most City Hall job placement.
On the upside, the City of Chicago IS going after jaywalkers. And that's great, really. I'll never forget my experience with an egregious and unrepentant jaywalker when I was working as a 22-year-old Yellow Cab driver in Chicago, in 1980. (They hired me at that tender age because I had previously, while on a sabbatical from college, been driving a stretch limo in Chicago full-time). A gal jaywalking across Dearborn St. stopped in the middle of the pavement and chewed me out because I had the nerve to say she should use the crosswalk and follow the rules.
See, my old hometown of Chicago isn't exactly the kind of place - like my home since 1994, Seattle - where people, in their everyday lives, really, actually, try do the right thing, just because....it's the right thing. OhNo. (You can mock the Boy Scouts here). In Chicago, everything is "incentivized." Not that anyone there, in government at least, has any incentive to begin with. But that's another matter. Upshot: The city's motto should be, "Where's Mine? I'm In A Hurry!"
Related Rosenblog posts:
"Jesse Jackson Jr. To Challenge Daley For Chicago Mayor?"
"Chicago Mayor Daley Feels The Heat, On Corruption"
"Chicago Aldermen Running Political Operations On City Property?"
TECHNORATI TAGS: CHICAGO, CORRUPTION, POLITICAL HIRINGS
TO COMMENT: The regular "comment" feature is not in operation. E-mail comments to address under "Contact" on main page masthead, and I'll add them, here.
Posted by Matt Rosenberg at 05:07 PM | Comments (0)
American Poverty And The Individual
Of the big Katrina memes, disaster preparedness, deficit growth and a re-awakening to the cruel realities of poverty rank highest. U.S. Sen. Barack Obama (D-Illinois) is one of the latest to blast President Bush over "indifference" to black poverty, as the Chicago Tribune reports here (free reg. req.). Obama's politicized grandstanding makes for a snappy read,. But Washington Post Writers Group columnist, and economist Robert Samuelson writes that with all the heightened, post-Katrina handwringing over poverty, we risk overlooking the crucial role of the individual, the family, and our porous southern border.
The horrifying images - mostly of blacks stranded on rooftops or abandoned at the Superdome - are forcing Americans to face the "enduring problems of poverty, race and class that have escaped their attention," said a Newsweek cover story. It's unclear whether most Americans are as oblivious to the problems of poverty, class and race as this presumes. But it is clear that the leap from Katrina to broad generalizations about poverty involves considerable simplification.

...One myth is that we haven't made any progress....Poverty among blacks - though still appallingly high - has declined sharply. In 2004, it was 24.7 percent, down from 33.1 percent in 1993, though up from 22.5 percent in 2000.

....(But) We have uncontrolled entry of poor, unskilled workers across our Southern border. Although many succeed, many don't; and many poor Latino immigrants have children, who are also poor. In 2004, 25 percent of the poverty population was Hispanic, up from 12 percent in 1980. Over this period, Hispanics represented about three-quarters of the increase in the poverty population.

A second myth is that the political process has abandoned the poor. Not so. Welfare reform was not punitive; it aimed mainly to counteract a self-defeating dependency....Still, there are limits to what can be done. One way to curb poverty would be tougher immigration policies that kept out the new poor. There's no consensus to do that. What about spending more on the poor? Perhaps some programs could be usefully expanded, but any big increase would collide with spending on the elderly.

Beyond these political obstacles, much poverty involves personal behavior that government can't easily alter. In a report, Ron Haskins of the Brookings Institution, along with Sara McLanahan and Elisabeth Donahue, both of Princeton, note the following: the share of children living with a single parent is 27 percent, up from 12 percent in 1970, the teen birth rate still "exceeds that of other industrialized nations" and "one of every three children - and seven of every 10 black children - are born outside marriage." This alone ensures that, even if we make added progress, poverty will repeatedly be rediscovered.
Samuelson and columnist Star Parker are among the few telling it like it is about poverty in the aftermath of Katrina's stark imagery.
TECHNORATI TAGS: KATRINA, POVERTY, ROBERT SAMUELSON
TO COMMENT: The regular "comment" feature is not in operation. E-mail comments to address under "Contact" on main page masthead, and I'll add them, here.
Tom Rekdal: Robert Samuelson's comments on poverty are sound enough, but they are notes for another day now. The impact of images of black people struggling for their lives on rooftops, while incompetent officials from the city to the federal level flounder, is politically overwhelming.

And thus the spectacle of a "conservative" administration attempting to rescue its failing reputation with a $200 billion bailout, followed by the Secretary of the Treasury, a former Senate Majority Leader, and all the predictable Gang of Fourteen, calling for a "postponement" of any further tax relief. The only really successful achievement of the Bush administration, the only one to actually generate more tax revenues, and the only one that might permanently alter economic well being for the better, including that of the poor, will now be washed away in a floodtide of demagoguery to demonstrate our collective "compassion."

The legacy of the Bush presidency begins to look more and more like a mobile park in Biloxi.
Posted by Matt Rosenberg at 01:27 PM | Comments (0)
China Still Forces Abortions
China is still forcing women to have abortions, despite a supposed shift away from outright statist controls of family size. The Independent reports:
Several health workers have been arrested in Shandong Province in the east of China after the authorities admitted that local officials had been forcing women to have abortions or undergo sterilisations.

Sources in Linyi City and its surrounding counties claimed that up to 120,000 women had been coerced into submitting to the procedures and that some of them were in the ninth month of their pregnancies.

The arrests follow the detention on 6 September of a local activist, Chen Guangcheng. Mr. Chen had claimed that women with two children were being forced to undergo sterilisations, while women pregnant with their third child were required to have abortions.
Sounds like a "choice" issue to me. The choice being to procreate further, as opposed to abort. You wonder where the Western feminist Mafia on this "right to choose?" Head in sand, that's where.
Forced abortions and compulsory sterilisations were commonplace in the early 1980s in China, which with 1.3 billion people is the world's most populous nation. But since the mid-1990s, the government has supposedly switched to a system of fines for couples who have more than one child, while offering annual pensions of about £85 to couples over 60 who have adhered to the one-child policy.

Beijing insists local officials are not authorised to compel people to undergo abortions or sterilisations. Mr Yu said NPFPC officials have travelled to the region to "correct any infringements of citizens rights".

Mr. Chen's campaign is the latest example of how ordinary Chinese are becoming increasingly vocal about government abuses and are eager to take advantage of what legal rights are on offer to them. In response, the authorities have adopted a policy of blaming local officials. But all local government workers have to meet performance targets laid down by Beijing.
Give the screamingly-liberal Independent some props for covering this story. It's just the kind of stuff the U.S. MSM likes to ignore. Liberalization can't come soon enough in China. I don't favor punitive economic sanctions, but rather, a shaming of Beijing in the court of world public opinion by international political and human rights leaders. Revisit this issue in the U.N., for example. Beijing responds to challenged honor. Not always gracefully, but that's how to reach these sick control freaks.
TECHNORATI TAGS: CHINA, FORCED ABORTIONS
TO COMMENT: The regular "comment" feature is not in operation. E-mail comments to address under "Contact" on main page masthead, and I'll add them, here.
Posted by Matt Rosenberg at 10:36 AM | Comments (0)
September 21, 2005
Arcata's Trippy Dippy True Crime Chronicles
Arcata, California is a place to which sundry oddballs and malfeasantly minor sociopaths are drawn like soothing mint raita to a fiery Lamb Vindaloo. We know this partly because there is a fine and noble tradition, in some of the nation's more piquant, if less-heralded community newspapers, of giving artistic license to police beat reporters covering man's foibles, follies and freak-outs in all their rich variety and compelling contusions.
This week's edition of the Arcata Eye has more, in the publication's justly famed police blotter. Selected highlights follow. And mind you, the first episode, while true, and surely evocative of this liberal burg's expanding law-and-order underbelly, is really just a set up for the second.
*An officer stopped at the intersection of Seventh and G streets watched as a bicyclist breezed through the G Street stop sign headed north, one hand on the handlebars and the other clutching a cup of coffee. "Hey, that was a stop sign!" yelled the cop from his car. "OK!" replied the cyclist, continuing up G and, demonstrating the regard for public safety that so endears Arcata's bicyclists to pedestrians (especially those pushing strollers) blowing right through the Eighth and G stop sign, too. The officer caught up with the reckless rider as he blithely blazed through Ninth and G, but despite honking his horn and flashing the cop car's light bar to get the guy's attention, he kept riding. Finally the officer blocked his way with the police car and issued a citation for blowing two of the stop signs, plus a warning for running the other. The biker said he'd read about enforcement of bike safety laws, but didn't think they applied, as traffic was minimal at the moment. A while later, the officer saw the same cyclist blow through the intersection of 14th Street and L.K. Wood Boulevard.

*Bicyclists think they aren't traffic, and apparently dope smokers think they aren't smokers and are thus entitled to toke in a non-smoking room in a Valley West motel. But they are, and they can't.

*A man was paintballed in the back as he crossed 11th and G streets.

*A man sleeping in bushes in the 700 block of 10th Street became belligerent when he and his Mohawk coiffure were asked to leave. And off he trudged toward the Intermodal Transient Facility.
What police blotter is complete without verse?
On Cropley Way, rock bands did battle

Inducing a neighborly tattle

When loud guitarations

Caused major frustrations

By drowning out televised prattle.
Talk about the human condition.....They oughta release a compendium. Ooops, what's that? You say there are already two volumes? By Arcata Eye Editor Kevin Hoover, that caped crusader for truth, beauty and The American Way? Well, hotcha!
TECHNORATI TAGS: ARCATA, TRUE CRIME, POLICE BLOTTER, KEVIN HOOVER
TO COMMENT: The regular "comment" feature is not in operation. E-mail comments to address under "Contact" on main page masthead, and I'll add them, here.
Posted by Matt Rosenberg at 09:53 PM | Comments (0)
Marshall Field's Is No More
Growing up in Chicago in the 1960s, there was no grander place than Marshall Field's department store downtown. There are a number of other Field's stores in Chicago's suburbs now, and scattered around The Midwest, former Dayton's and Hudson's rechristened Field's by former owner Target. Talk about brand name dilution. To any Chicagoan who goes back to the 60s or earlier, where you went to shop was the flagship Marshall Field's, between State Street and the noisy Wabash Avenue "El" tracks.
Kids like me rubber-necked at the 13-story atrium; peeked wonderingly into the fancy dining space called The Walnut Room, where dressed-up ladies at leisure ate fancy sandwiches and drank tea. There was the big old clock outside, and every imaginable, high-end department store sort of thing for sale, from the fancy candies my Mom carefully selected to the wide-swaled corduroys, button-down shirts and stiff shoes she liked to dress me in. I bought my senior prom suit, a particularly hideous light-brownish three-piece number, at Marshall Field's, and some excessively clunky wing-tips to boot.
Marshall Field's brings back memories of a more innocent time. The original Dick Van Dyke Show. Baseball cards in an era before steroids and strikes in pro sports. Street hockey. Six teams in the National Hockey League. Corner drugstores with soda fountains. Elvis movies, 007, Wimpy's. Anti-war protests, the 1968 Democratic Convention. Uh, well.....you get the idea.
Marshall Field's has 153 years of history with Chicago. Only now, Federated Department Stores, the latest owner, is going to change the name
To.
Macy's.
Which is provoking a dung-storm of considerable force in The Windy City, and much misty-eyed remorse.
Yet the Chicago Sun-Times has an appropriately sanguine, logical view of the matter, as does Chicago Tribune business writer David Greising (free reg. req.), who explains:
Field's was part of what made Chicago special, but remember, "special" is an emotion. And this is business....Named Macy's instead of Field's, the stores here in the Midwest can have national advertising backing them. They can carry Macy's exclusive merchandise. They can model displays and promotions after what Macy's does in New York, or its designers dream up at the Federated Department Stores corporate headquarters in Cincinnati.

...People get mad because Field's demise was not an act of nature, it was a result of neglect. Marshall Field's became one of those foster companies, passed from corporate parent to corporate parent, dying a little with each unhappy new home. It got bought by Dayton Hudson, which itself soon became Target Stores, which sold Field's to May Department Stores, which in turn sold out to Federated Department Stores, which on Tuesday announced it will change Field's name to Macy's.

...Field's has lost some of its cachet over the years...cost-cutting that looked good at corporate headquarters..did not look so good when it meant display aisles with no service and cash registers with long lines. Switching to brown shopping bags sounded like a cost-saving move in the purchasing department, until executives saw the impact on sales. Moving the Frango production made eminent sense--but only to someone blissfully unaware of how the mayor of Chicago might value 157 downtown jobs.

Field's had something far bigger going against it than a few corporate miscues. Field's is part of an outmoded retailing model--the stand-alone department store. Wal-Mart and Target and changing shopping habits are hurting department stores. As a local player in an increasingly national game, the Field's name just could not hold its value anymore. A change to Macy's was inevitable. The national advertising will sell better, and Macy's purchasers can buy in bulk. The company's surveys show that the Macy's name has a slightly higher cachet, especially with younger customers.

...more and more, the world at large is beyond Chicago's control. Sometimes the city is just a spectator to decisions made elsewhere, based on facts and not our unique, emotion-filled history.
Ah, but we affect those decisions daily, perhaps without even realizing. Our buying patterns are increasingly compartmentalized, driven by convenience or preference, plus price and - one hopes - quality. I buy fresh fish and seafood from a neighborhood specialty shop. Paneer, Nan, Hot Mix and spices from an Indian specialty shop in Seattle's Pike Place Market. Produce from a neighborhood stand, though one across a bridge on Beacon Hill, because quality at the venue closer to home in West Seattle has fallen off badly, and lower prices are no salve for mushy fruit and tasteless corn. Our crackers, cereal, nuts, dried fruit, juice, water and wine come from Trader Joe's in a suburban mall. Paper products, garbage bags, tin foil, laundry detergent, toiletries and kitchenware from Target, in a West Seattle mall. Milk from the drugstore.
And we buy as little as possible from our independently-owned, large local grocery store. It has the worst-designed parking lot known to man, very hazardous pedestrian conditions on two of three foot approaches, and aisle displays which badly impede traffic inside in several locations. Worse still, the store charges exorbitant prices on 80 percent of the items all the time, to pay inflated union salaries to its workers, and then tries to compensate by encouraging labored chit-chat from the checkers.
Like the places I shop, Macy's and the old Marshall Field's stores that Macy's is to rename will survive only by offering distinctive merchandise, of quality, at highly competitive prices, in a decent shopping environment. And that last part depends more on inside and outside traffic patterns and wait times in line, than nice interior design, and either genuine or ersatz bonhomie.
Knowledgeable staff are a plus, but with buyer reviews of so many products now online, less essential. Additionally, reverse auctions online threaten some salespersons with obsolesence. Speaking of turned tables, does anyone really miss car salesmen, the vermin? They exist only to meet demand at the going low-ball market prices set by CarsDirect.com, as far as I'm concerned.
I love neighborhood shopping districts, they're where I prefer to shop. But they've got to offer stuff I want. In today's global, networked mall, "community"-oriented commerce requires baked-in value to the consumer; value beyond the warm self-regard derived from supporting local merchants, or the region's economy.
Idealism and emotion have less and less to do with how, or at least, exactly where (that word, again!) people spend their money. In commerce and news, discrimination and disintermediation will increasingly rule.
TECHNORATI TAGS: MARSHALL FIELD'S, CHICAGO, MACY'S
TO COMMENT: The regular "comment" feature is not in operation. E-mail comments to address under "Contact" on main page masthead, and I'll add them, here.
Posted by Matt Rosenberg at 02:57 PM | Comments (0)
September 20, 2005
Dick Cavett Show DVDs: A Trip Down Memory Lane
Long before Letterman, during the Golden Age of Carson, there was Cavett. As in Dick.
Which he sometimes was. But the well-educated Nebraskan was also a pretty witty, entertaining guy (who later had some troubles). The times were ripe, for, well, everything.
It being the late 60s and early 70s. In this heads-up article about a new DVD package featuring chat with, and performances by 60s and early 70s musical icons on ABC-TV's late night talk show hosted by Cavett, they don't mention Cavett's famous Jimi Hendrix interview, but it still sounds like a must-rent, and probably a should-buy.
"Sure, Cavett's snobbishness, sexism and rather desperate attempts at hipness can be annoying, and the sets and production values are archaic, but for music fans, this is adventurous late-night TV programming that is seldom, if ever, matched in today's prefab, PR-driven environment.

'Dick Cavett: Rock Icons' features nine episodes on three DVDs. The Jefferson Airplane, Stephen Stills and Joni Mitchell join Cavett in the round and seated on Naugahyde hassocks in a 1969 telecast taped one day after the end of the first Woodstock Festival. 'I still have the mud on my boots,' says Stills.

Despite Cavett's best attempt to belittle singer Grace Slick as a child of privilege, pointing out that her father was an investment banker, the Jefferson Airplane perform several anthemic songs designed to rally the era's emerging youth movement....At the time, even Tonight Show host Johnny Carson rarely invited rock acts on to his program, and he never engaged them in conversations about Vietnam and their drug-taking habits.

That willingness to play fast and loose allowed Sly Stone, obviously coked up but complaining of a cold, to take over the program and interview fellow guests Sen. and Mrs. Fred Harris about the nation's shoddy treatment of Native Americans (Mrs. Harris was a Cherokee and fledgling activist). On a separate segment, Janis Joplin, who appeared three times on Cavett's show, sips sloe gin from a Dixie cup and spars with '70s sex symbol Raquel Welch, who nervously tries to steer the conversation away from the fact that her new film Myra Breckenridge was bombing.

But it is the one-on-one interview that is really the heart and soul of these discs. In a 1971 program, George Harrison discusses the Beatles breakup, his benefit concert for Bangladesh and America's cultural handicaps. In a similar vein, David Bowie, on the verge of his Young American tour, sits down for a revealing hourlong chat that would send shivers down the spine of any PR flack. Other musical guests on Rock Icons include Paul Simon, Stevie Wonder and David Crosby."
OK: Forty-something Geezer Alert. This sounds like the real deal. However, as much as I lurve primo 60s music - and I've got a whole bunch of it, on vinyl, tape and CD - some of it weathers the test of time well, and some doesn't.
F'rinstance, except for their first, absolutely fantastic LP on the obscure Mainstream label, Janis Joplin with Big Brother & The Holding Company (thanks more to the band than her) sound, basically, like stoned, drunk incompetents trying to be a rock band, succeeding mainly just in playing very L-O-U-D.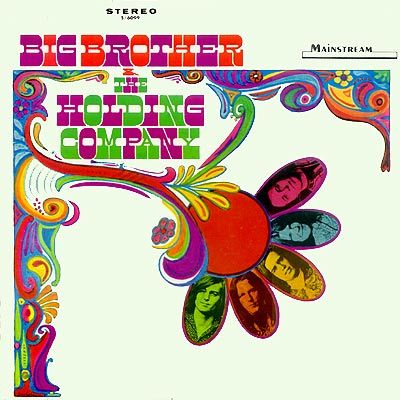 But whoa, that first Big Brother LP is classic - and to think I found my cherry copy for 25 cents in a Chicago thrift shop. The Jefferson Airplane, with the perspective of time, sad to say, mostly come across as a folk-rock relic; quaint, dated, very white and boring, on the order of early Bob Dylan even with the added instruments and amps. Notwithstanding the earthshaking relevance of Grace jokingly naming her child "god" (small "g" to be "humble") but then falling back on "China."
On the other hand, the recordings of Buffalo Springfield, which included Stephen Stills, Neil Young, and David Crosby, still sound fresh and wonderful - it's the music, or should I say, the musicality. Much like, tho not nearly the same as, earlier LPs by the Steve Miller Band, such as 1969's "Brave New World."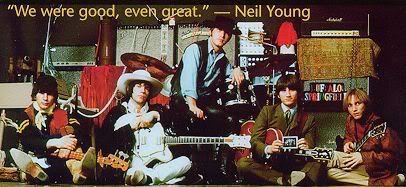 Sly & The Family Stone, especially the early stuff, remains totally timeless even if Sly went off the deep end.
Still loving the best of 60s tunes - both better-known and lesser-known - and remembering well Cavett's entertaining, just slightly cerebral style, I can't help but want to see this DVD package. I can always play some of my own CDs afterward.
TECHNORATI TAGS: DICK CAVETT, DVD
TO COMMENT: The regular "comment" feature is not in operation. E-mail comments to address under "Contact" on main page masthead, and I'll add them, here.
Posted by Matt Rosenberg at 09:36 PM | Comments (0)
"Ubiquitous Chorus Of Santa Cruz Naysayers" Has "Vast Repertoire"
A retired local CEO and a UC Santa Cruz official both tell the Santa Cruz Sentinel today that California's "Surf City" north needs to beat back a legitimate perception among potential developers that the community's future economic viability is threatened is hamstrung by political correctness and anti-growth sentiments.
The loss of key divisions from Rainmaker Systems Inc., Borland, Tarantella and Raytek may owe something, says former Raytek Chief Executive Officer Cliff Warren, to a growing perception that Santa Cruz is more trouble than it's worth. In order to reverse this trend, says Warren, who now works as a business consultant for the city of Santa Cruz, "We need to get past this attitude that Santa Cruz is a kind of anti-business place. That's the reputation it has," he says, "and perception is reality."

Gerald Barnett, who directs the UC Santa Cruz Office for the Management of Intellectual Property, says the thumbs down in spring on the Coast Santa Cruz Hotel's bid for a new hotel and conference center sent a message to current and potential investors that residents may live to regret.

"Here, you had a developer who appeared to be doing things to show that he was willing to work with the community, and yet that wasn't enough," he says. "Maybe people got the message. They figured, 'Why fight this community?' " It is a message, Barnett says, Santa Cruz can ill afford.

...Warren says developers associate Santa Cruz with unrealistic demands. Companies that want to do business here, he says, "not only have to be environmentally clean but politically correct and socially responsible. Suppose we get a clean, nonpolluting company that's making military hardware. Are we going to be judgmental about that company?" he says. And the ubiquitous chorus of Santa Cruz naysayers, Warren says, have a vast repertoire. "High-tech industries are global," he says, "and there are forces in Santa Cruz city and county who are not in favor of anything global."

If a Chinese company were to express interest in coming here, he says, there likely would be an outcry about slave labor practices in China. Another foreign country, which, by nature of its culture may not have women in high management positions, also would be likely to meet with opposition.

"Are we going to put people through the third degree before they even get here?" he says, "Who wants to go through that?"

Barnett says the community wrongly perceives itself as progressive. "Santa Cruz is a very conservative place," he says. "It's just that the values it conserves are from the late '60s instead of from the '30s. We need to be willing to go out and dance a bit," Barnett says. "So, c'mon. Let's get on with it."
Barnett's pointed diagnosis is accurate. Santa Cruz's local electeds have squandered political capital time and again on symbolic effluvia while letting infrastructure deteriorate, and failing to enforce basic civil order downtown. Voters are stuck in the 60s too, choosing a "millionaire tax" to fund expanded mental health services. Now, the range-free chickens are coming home to roost: it's encouraging the city council has hired a consultant like ex-CEO Warren to speak truth to power, and that a straight shooter like UC Santa Cruz's Barnett is given ample space to sound off in the local paper.
But whether anything changes or not depends a lot on diversifying the local candidate pool, over time. Here's a slogan offered free of charge for some brave, pro-development City Council slate in Santa Cruz's future: "Think Locally, Act Locally." One more: "Alter The Dominant Paradigm."
TECHNORATI TAGS: SANTA CRUZ, ANTI-GROWTH, PROGRESSIVES
TO COMMENT: The regular "comment" feature is not in operation. E-mail comments to address under "Contact" on main page masthead, and I'll add them, here.
Posted by Matt Rosenberg at 04:08 PM | Comments (0)
Roy Jacobsen Launches "Writing Blog For Non-Writers"
Any educated person should be able to write competently, clearly, and convincingly. But writing is an increasingly exotic skill, a sure sign that certain aspects of civilization as we once knew it, are in fact crumbling before our very eyes. Naturally, I've written about this problem before. Professional writer, and blogger Roy Jacobsen, whose Dispatches From Outland is already on my blogroll, has gone me one better.
Roy has started a most worthy blog called "Writing, Clear And Simple," which he calls "the writing blog for non-writers." Roy has been writing and editing for more than 20 years in fields including health food, academia and software development. If you're at all interested in the topic, and some tips from a pro, give Roy's new writing blog a whirl. Here's a useful post from Roy on avoiding the passive voice.
TECHNORATI TAGS: WRITING, WRITING BLOGS
TO COMMENT: The regular "comment" feature is not in operation. E-mail comments to address under "Contact" on main page masthead, and I'll add them, here.
Posted by Matt Rosenberg at 02:17 PM | Comments (0)
September 19, 2005
Defender Of Michigan Race Preferences Is Outpointed In Debate
A proposed ban on race and gender preferences in Michigan, in government hiring and public university admissions, is likely to be put before voters in 2006, despite the worst efforts of ban opponents. Detroit Free press political columnist Dawson Bell has an informative column today about a debate between two professors on the measure, in which he concludes the ban supporter outpointed his opponent, and that a number of business leaders whose companies oppose the ban publicly, may vote for it, privately. However, Dawson believes civilized debates such as these won't matter a whit, as voter views are firmly entrenched.
Drs. William Allen of Michigan State and James Sterba of Notre Dame, along with their host, the Michigan Chamber of Commerce, seem to believe that a serious and civilized examination of the subject will well serve a state where the issue of banning race and gender preferences is likely to be on the ballot in 2006. Maybe. But I doubt it will make much difference in the outcome.

There is nothing wrong with civilized debate...Allen was especially effective at undermining his opponent's premises. When Sterba ended one of several appeals to the merits of diversity with a lyrical story about a white student's cultural epiphany in a mixed race classroom, Allen asked, "What is the source of this mystic force?" Racial understanding doesn't require a "Sesame Street notion that you have to see a black person standing in front of you to know that you shouldn't lynch him."

Later, when asked how he would address race absent affirmative action, Allen said he doesn't accept the obligation. When a thing is wrong -- and treating people differently based on their race is wrong -- there is no requirement to offer an alternative, he said; it is enough to stop the wrong.

Sterba's defense of affirmative action was more nuanced. At times, he didn't sound like much of a defender at all. He said he is troubled by all the ill will the practice generates, and the injustice that results when diversity goals result in, for example, limits on the number of Asian Americans that can be admitted to elite schools in California. Yet he also claimed the practical effect of affirmative action is so limited that it is a Band-Aid approach to a problem that would be much better addressed by massive new spending on quality public schools. Since that isn't politically attainable, he said, making opportunities available to disadvantaged people by using race and gender as a factor in hiring and admissions decisions is the best we can do.
Interesting rationale. We can't fix public schools - hmm, that wouldn't have anything to do with the parents of under-performing students, and teachers' unions, now would it? - so go for some half-hearted racial preferences as a band-aid on a hemmorhage. Sure, makes a lot of sense.
I wonder if an undecided slice of suburban Detroit voters, might not, as the election draws closer and debate intensifies, actually help the ban win. The suburban Seattle electorate, which still has swung Democratic in a number of national and state elections from the mid-90s to the present, nonetheless lent crucial support to Washington State's Initiative 200, to ban racial preferences in public sector employment and university admissions. Preferences just smell increasingly fishy these days, and Democrats keep them high on their agenda at considerable political risk.
TECHNORATI TAGS: MICHIGAN, RACIAL PREFERENCES
TO COMMENT: The regular "comment" feature is not in operation. E-mail comments to address under "Contact" on main page masthead, and I'll add them, here.
Tom Rekdal: Dawson Bell may well be correct in believing that debates, like the one on which he reports, will have little impact on the practice of Michigan voters.

But I have come to believe that actual passage of anti-preference initiatives, like the one we adopted in Washington, will also have little impact on the actual conduct of the administrators they seek to regulate. Public officials and university administrators are far more inventive in evading legal mandates than any initiative can anticipate. For the most part, adoption of these initiatives is purely symbolic, albeit important symbolism.

In the long run, debates like the one between Allen and Sterba are our only hope; for if the culture does not change, nothing changes.

Allen asks some worthwhile questions in this debate. Good for him.
Posted by Matt Rosenberg at 06:49 PM | Comments (0)
New Oakland Wal-Mart Thronged
With a hat-tip to Thomas Lifson of the fine online publication, The American Thinker, comes news that a new Wal-Mart has opened in Oakland, and is proving quite popular. To which I say: Today Oakland, tomorrow Berkeley. Here's more from Lifson.
The new store is located at the freeway exit one takes for Oakland Airport (and also the Coliseum), so I go by it with some regularity, and I have actually stopped in to buy small household items a couple of times. It has been so jammed with shoppers seemingly happy with the bargain prices that finding a parking spot has taken some cruising around.

The East Oakland neighborhood houses many blacks, Hispanics, whites, and a growing Asian population. I take it as a very good sign that the welfare of the general public in the form of low prices is outweighing the special interest of the unions. Even in Oakland.
SF Chron columnist Chip Johnson writes about the Oakland Wal-Mart today, as well. In "Sometimes, Wal-Mart Can be A Good Thing," Johnson observes:
Many people take issue with the labor and employment practices of Wal-Mart stores, the nation's largest retail chain, but you'd have to look hard to find criticism from Oakland residents who live near its new store off Hegenberger Road. For most of them -- and people who work in the area -- the new shopping plaza, which consists of about a dozen other stores and restaurants in addition to the Wal-Mart anchor, has provided an instant benefit, never mind the politics.

..."I don't care for their corporate attitude, but I think this is a benefit because there was nothing out here,'' said Mike Breuner, 51, of Oakland. The store's trouble with labor unions didn't stop more than 11,000 people from applying for about 400 jobs at the new store, or the throngs who flocked to its grand opening last month. Traffic was at a standstill and wound around the corner and up Hegenberger Road. There were so many cars that city traffic engineers had to adjust traffic signals to give motorists more time to turn left and exit the store.

...."I think this is just great,'' said Robert Turner, 35, of Oakland, as he sat down to eat lunch with a friend. "Out here, where people are struggling to find work, a job at Wal-Mart is better than no job at all. In an area like this that's been deprived for so long, it's a start.''

...It's a great thing to develop locally owned businesses and provide opportunities to local entrepreneurs, but to argue over the color of the dishware when there's no food on the plate seems like a pointless exercise.

...And I'd never criticize someone for taking a job at Wal-Mart to support themselves and their families, because everybody has to start somewhere. Thirty years ago that place was McDonald's, where about 35 percent of the nation's workforce began their first jobs. In 2005, that place is Wal-Mart.

Hegenberger Road hasn't reached the shopping status of Oakland's College Avenue, but if the consumer demand out in that part of East Oakland is a barometer of growth, get ready for another set of chain stores to come knocking real soon.
The other big refrain about chain stores is that they destroy local business districts. Which is a way of endorsing a sort of moralistic protection racket and trying to quash the free market. But rather than vilifying Wal-Mart, Home Depot or Blockbuster Video, neighborhood and small town business districts - and their longtime supporters - need instead to focus on adding to the mix when bigfooted competitors arrive.
If selection and prices are better on certain consumer goods at a Target, Wal-Mart, Trader Joe's or Home Depot, that's where I'm going to go, and a lot of other shoppers will, too. Neighborhood business districts in places like my home of West Seattle hopped aboard the Cluetrain at least a few years ago. The opening of suburban malls led to a long, slow slide of our traditional local retail hub, the Alaska Junction. But over time, The Junction recovered. Old departed department store and grocery store chain outlets have been replaced with more niche-oriented businesses. The last few years in West Seattle's Alaska Junction have been jumping; we've seen the opening of cool new restaurants, clubs, and other businesses selling everything to rubber stamps to fresh fish and seafood to yoga classes. It's alive, and much safer at night now, too, which certainly wasn't the case when my wife and I moved to West Seattle from Chicago in 1994.
Local business districts are only as good as their tenants are smart. And the entire Wal-Mart debate serves as a political wailing wall for social engineers. You don't like the company? Simple: don't shop there.
Related Rosenblog posts:
TECHNORATI TAGS: WAL-MART, OAKLAND, WEST SEATTLE
TO COMMENT: The regular "comment" feature is not in operation. E-mail comments to address under "Contact" on main page masthead, and I'll add them, here.
Posted by Matt Rosenberg at 06:12 PM | Comments (0)
September 18, 2005
Northeast Tacoma's Hidden Gem: Dash Point Park
When you think of Tacoma - if you think of it at all - the paper mill and famous "aroma" may come to mind, although that's an old, stereotyped image which overlooks a lot more about this bustling and cultured town south of Seattle, rich with art. Beyond some fine museums and the primo, restaurant- and path-studded Ruston Way promenade, casual visitors may not delve deeper. They should, into vibrant neighborhoods and several great beaches, including a low-key, tucked-away gem called Dash Point Park, right on Puget Sound in a cozy, hillside residential section of Northeast Tacoma. (Directions here, to the Lobster Shop on Soundview Drive, are the same as for the park, which unfortunately seems to lack a web page of its own). Dash Point Park is NOT to be confused with Dash Point State Park, just a short distance north. Although, as we'll see, you can stroll from one to other at low tide. And you should!
At this small local park (with sheltered picnic tables, playground and pier) you'll see fishermen, seals, cargo ships, herons, and - if you stroll north a half-mile at low tide to Dash Point State Park - another beach entirely, in neighboring Federal Way. There, "skimmers" ride the shallow surf on their boogie boards.
Today, our family of four joined some friends who live in Northeast Tacoma, and their two kids, for an afternoon at Dash Point Park. If you're visiting Seattle, Tacoma, or even Bellevue, this is just the kind of locals-only place you ought to take pains to visit. I doubt any hotel concierge will talk about it without prompting. But suffice it to say that in such spots lies the heart of Puget Sound. Meaning both the region of that name (Seattle and environs), and the great inland waterway called Puget Sound, which connects to the Pacific Ocean at its north end, via the Straits of Juan de Fuca.
Here are some digicam photos taken Sunday afternoon September 18, 2005, at Dash Point Park in Northeast Tacoma, along with a few from Dash Point State Park, just north, in Federal Way.
Shortly after we arrived today, two long white ocean kayaks zipped by.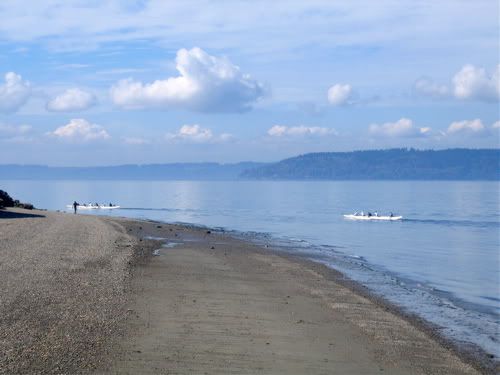 Strolling north toward Dash Point State Park, I came upon a winged visitor. Yes, a Great Blue Heron. I watched it for a while. It waded about, tilting its head sideways, and then suddenly darted below the water to catch a fish, then raised up and gobbled the food down. Then, it flew briefly to another stretch of beach, and repeated the whole procedure. Fascinating to watch.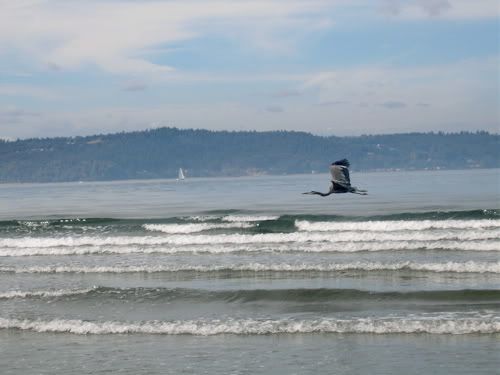 At Dash Point State Park, "skimmers" are always out at low tide.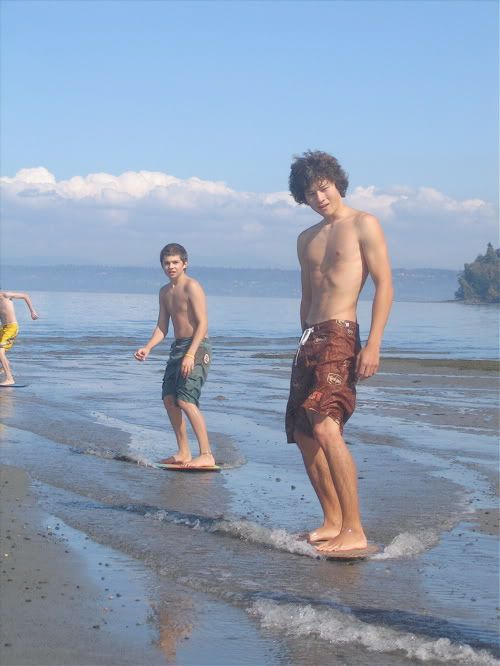 The skimmers have their own web site. Here's a group portrait.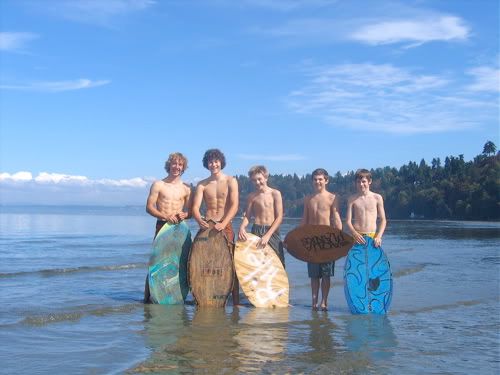 The beach at low tide, in between the two parks, looking north on Puget Sound.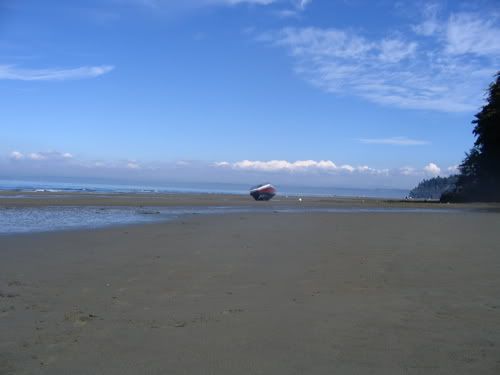 Looking back south from beach, at Dash Point Park pier in NE Tacoma.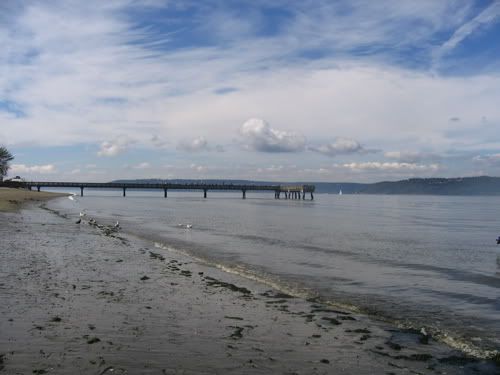 Pier fishermen at Dash Point Park in NE Tacoma. Salmon, bottomfish and, from October through January, squid, are the big catches. Don't stand up on the railing, like that guy is doing.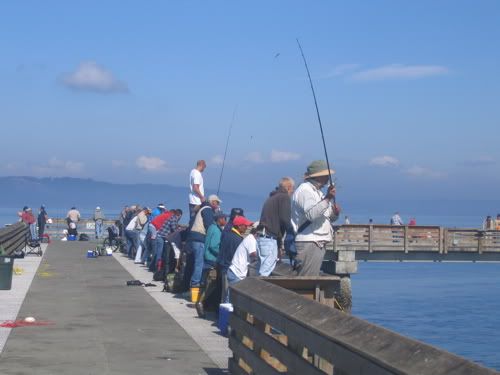 Cargo ship headed from Port of Tacoma to Asia.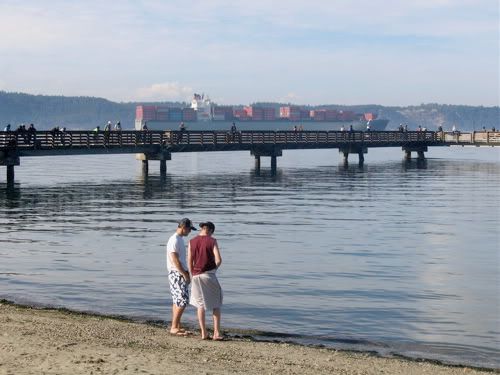 Coming, before long: more on Tacoma's (not so) hidden charms.
TECHNORATI TAGS: DASH POINT, TACOMA, BEACH
TO COMMENT: The regular "comment" feature is not in operation. E-mail comments to address under "Contact" on main page masthead, and I'll add them, here.
Posted by Matt Rosenberg at 10:33 PM | Comments (0)
Kwame Kilpatrick Scores Another Bullseye
Racial and city-suburban divisions are endemic to Detroit-area politics. Sadly. And so, struggling Detroit mayoral incumbent Kwame Kilpatrick, likely to be ousted in November by challenger Freman Hendrix, has scored another bullseye. The Detroit Free press reports that in a high-profile mayoral debate Thursday, Kilpatrick took aim at suburban school drug use, stating:
"In Birmingham, in Bloomfield Hills and all these places they do more meth, they do more ecstasy and they do more acid than all the schools in the city of Detroit put together."
Yep, that's a platform for Detroit, alright; "our drug problem isn't as bad as that of rich white kids in the 'burbs." Brilliant message. And it meshes nicely the "not black enough" meme his supporters are advancing against Hendrix.
TECHNORATI TAGS: DETROIT, KWAME KILPATRICK, SUBURBAN DRUG USE
TO COMMENT: The regular "comment" feature is not in operation. E-mail comments to address under "Contact" on main page masthead, and I'll add them, here.
Posted by Matt Rosenberg at 10:54 AM | Comments (0)
September 16, 2005
Hazing Masks Self-Doubt, Insecurity
One thing I'll make sure to teach my kids, now 9 and 5, is that Groucho Marx's old saying, "I wouldn't want to belong to any club that would have me as a member," is actually right, if hazing is involved. This ritual form of physical and psychological abuse - too often resulting in death or injury to recruits for school sports teams, marching bands and of course campus fraternities - continues seeping from the college level to high schools.
I've been run ragged by a high school soccer coach, and think there's nothing wrong with tough physical conditioning, long hours of practice, and encouraging mental toughness and discipline among student athletes or musicians. But nobody should have to buy in to shaming, degradation and humiliation as part of the bargain.
Hazing is a sickening phenomenon, rooted in the need of group members to codify their elite status through the "survival" ordeal. Anti-hazing laws seem to me a largely feel-good response, unless they stipulate stiffer sentences for hazing-related crimes such as assault, manslaughter and reckless endangerment, upon conviction.
Here's some of what's been happening lately.
Six women field hockey players at Frostburg State College in Maryland pled guilty in a case stemming from some really disgusting hazing......
.....that left an 18-year-old hospitalized with a blood-alcohol level more than four times the legal limit.....On Dec. 3, the victims were urged to drink so much beer and liquor that one was hospitalized with a 0.365 percent blood-alcohol level, court documents showed. The freshmen were also pelted with flour, ice and eggs, and made to sit in their own vomit and urine, according to court documents.
Sanger Unified School District in Fresno County, California last week was ordered to pay $100,000 to a hazing victim and her family. A girls soccer team coach reportedly faciliated the hazing incident, in which a 14-year-old freshman team member on a road trip was dragged down a motel hallway and tied up briefly with duct tape by her teammates.
A story published today in the Fort Worth Telegram, headlined "Wrestling Coach Surrenders To Police," lays out the details of one especially awful, and very recent hazing "party" involving a high school wrestling team and a coach who may well deserve complete banishment from the teaching profession, if charges prove true.
FLOWER MOUND - At Flower Mound High School, the wrestling team has been a source of pride. Since coach Charles Michael Zascavage arrived in 2003, the 70-plus member team achieved a district title and placed third in the state. But activities at an Aug. 27 pool party to kick off a new season and build team spirit have shattered that image.

Zascavage surrendered to police Thursday after an arrest warrant accused him of hazing. Warrants for 18 team members have also been issued, with accusations ranging from hazing to aggravated sexual assault...Police believe the team hazed its new members during a four-hour pool party at a home in...Flower Mound. At least five boys were hit, kicked in the groin, slapped repeatedly and thrown in the pool while onlookers, including Zascavage, could see the violence from the balcony of the home, according to police documents.

Team members -- as many as four at a time -- would grab one of the younger boys and hold him up while other boys slapped him repeatedly with their hands, said Mary Alice McLarty, a Dallas attorney representing two of the victims who were not sexually assaulted. As the party continued, the hazing escalated, she said. At least five boys, three younger than 14, were slapped, punched and kicked in the groin, the attorney, relatives and police documents said. Police say one boy was sexually assaulted. "It got very violent and disgusting," McLarty said. "The biggest injuries are them being afraid and scared."

At one point, the coach spoke to one of the boys who said he felt like he was being choked. Zascavage did nothing to stop the attacks, police documents stated.
At Scottsdale Arizona's Coronado High School, the band director has quit and 10 band members have been disciplined after a nasty road-trip hazing incident.
According to e-mails to and from band director Leslie Rich, the ringleaders lured the victims out of their rooms, overpowered them, then duct-taped their wrists and ankles.One victim had an apple taped to his mouth with boxer shorts over his head. Another student was taped to a broom and a vacuum cleaner and hooded with boxer shorts.
Dick Durbin was not heard to compare the perpretrators to Nazis.
Last year, a member of the Florida A&M University marching band member who'd been paddled so hard during a 2001 hazing session that he suffered kidney damage, was awarded $1.8 million. It wasn't the first such incident at the university, either.
Read the real-life story about fraternity hazing in "Goat: A Memoir." Author Brad Land captures the whole sick experience, which included the death of another pledge, from the recruit's perspective.
TECHNORATI TAGS: HAZING
TO COMMENT: The regular "comment" feature is not in operation. E-mail comments to address under "Contact" on main page masthead, and I'll add them, here.
Posted by Matt Rosenberg at 05:29 PM | Comments (0)
Swedish Feminist Party Wants To End Marriage
In a social welfare state such as Sweden, the continual urge to tinker becomes irresisitible. Although this might qualify as a bit more than tinkering. The Copenhagen Post highlights a report that a new political party, The Swedish Feminist Initiative (Swedish, "Feministiskt initiativ") has announced as an aim the legislative abolition of marriage.
This party is successfully making its way onto the national stage in Sweden to advance its theory that women are systemically subjugated. The recently-formed group intends to run candidates in the 2006 elections. Along with an increasing profile in the European media, I see guest lecturer positions for party members at The New College in San Francisco. Now, more.
The Post:
The Swedish Feminist Initiative has called for the abolition of traditional marriage, as we know it. Instead, the party wants to implement a modern idea of cohabitation, where neither gender, sexual orientation, nor the number of members are defined.

...the feminist organisation had met over the weekend for its annual general meeting, and come up with some radical solutions to what it sees as many fundamental problems in modern society.

"We want a new legislation for two or more people, who live together, and have joint finances and belongings," said Tiina Rosenberg, one of the women spearheading the group. "The history of marriage is not about love and living together, it's about ownership," Rosenberg said, pointing out that regulations covering inheritance rights and ownership only applied to married couples or registered homosexual partners.

"More than two should be able to live together. One example would be a divorced couple, who have new partners and where everybody wants to take financial responsibility for the children, who could all live together," Rosenberg said.

But Rosenberg, a professor in gender studies at Stockholm University, also said it was nobody's business whether two, three, or more, had a sexual relationship. "In a free country the law shouldn't decide how people's sexual relationships are. No law can affect feelings," she said.
Is it now anybody's business (besides that of those involved) when a married person cheats on their spouse in Sweden? I don't exactly think there are monogamy police patrolling the streets in Stockholm. Is Rosenberg (no relation AT ALL, BTW) saying the institution of marriage is inhibiting sexual expression in Sweden? People have a choice, as anywhere else: get married and be faithful, get married and cheat (and live with the consequences), stay single, or get divorced. But because some radical Swedish feminists cannot commit to the societally optimal alternative of monogamous marriage, and because they condescendingly presume to speak for all Swedish women by claiming marriage is inherently about "ownership," ergo marriage in Sweden should be abolished?
Phew! The liberal policy impulse slithers back to its punitive, narcissistic roots yet again.
Yet abolishing marriage is not all The Swedish Feminist Initiative wants.
Amongst other proposals put forward by the group were a six-hour workday and completely individualised parental benefits to force men to take off as much time as women to care for their children. The all-female board also says it wants to introduce gender quotas on company boards.
The Feminist Initiative political party in Sweden formed only this past April, from the ashes of a similarly named pressure group, and intends to run candidates in the 2006 election. Lately, though, there's been a bit of discord. More from Wikipedia:
On 13 September 2005 another of the 15 founding members of the Executive Committe, Susanne Linde, resigned from the party. Linde was the only member of the founding group who had previously been active in a right-of-centre political party, the Liberal People's Party. She gave as her principal reason the treatment she had received from another committee member Tiina Rosenberg, who, among other claims, had criticised her for being a heterosexual and for being a "middle class old woman". Linde was unhappy with Rosenberg's "reverse homophobia".
A founder was current Member of Parliament Gudryn Schyman, a fomer Marxist-Leninist who served as leader of the Swedish Left Party from 1993 to 2003, but had to leave that post after tax fraud charges. Last year she proposed a "man tax" in Sweden to to cover the costs of domestic violence, saying, "we have to have a discussion so that men understand that they have a collective financial responsibility." However, she has left the Feminist Initiative because it became too radical for her, according to the (first) Wikipedia link above.
TECHNORATI TAGS: SWEDEN, FEMINISM, MARRIAGE
TO COMMENT: The regular "comment" feature is not in operation. E-mail comments to address under "Contact" on main page masthead, and I'll add them, here.
Posted by Matt Rosenberg at 12:00 PM | Comments (1)
September 15, 2005
Pimp My World, Now
Virgin Atlantic Airlines has a new ad titled "Pimp My Lounge," hyping its enhanced clubhouse at Heathrow Airport in London.
A paper covering Penn State reports two students have started PimpMyRoom.net, proferring Playboy shot glasses, neon signage and lesbian posters. But nothing there says blingbling like these "Pimp Cup" goblets from icedoutgear.com.
Der Spiegel Online surfs the Web and hypothesizes about a "pimp backlash." They note that Pizza Pimps in Berlin has a flyer for their delivery service featuring three guys with the requisite funny hats, chain medallions and a ghetto blaster. That'll liven up a party. Gotta differentiate from the competition somehow.
In other pimp news, police in Kuwait arrested four real-life pimps who'd reportedly kidnapped and forced into prostitution 10 Asian women.
I'm making a wild guess that these reported sex slaves haven't yet had the experience of lounging in Virgin's Atlantic's "pimped" lounge at Heathrow, or eating "Pizza Pimps" pies in Berlin. And in Kittery, Maine today, an alleged Massachusetts pimp was expected to plead guilty in a case involving coercion of a 14-year-old girl into prostitution. More pimp backlash here, from the Daily Eastern, at Eastern Illinois University.
Related Rosenblog posts: "Pimp My Bathroom, Please, And Pass Me My PimpTone Cellphone;" "Pimp Culture, Ghetto Branding: Fa Shizzle;" "Pimp This Industry (The Consumers Are Johns);" "'Grills' Not 'Ghetto' Any More;" "Spike Lee: Pimps N' Hos Gotta Go;"" "The Mainstreaming Of Pimps And Whores;" "Son's A Pimp, Daughter's A "Ho" - OK?; "Iran's Pimp-Mullahs."
TECHNORATI TAGS: PIMP, MARKETING, BACKLASH
TO COMMENT: The regular "comment" feature is not in operation. E-mail comments to address under "Contact" on main page masthead, and I'll add them, here.
Posted by Matt Rosenberg at 05:33 PM | Comments (0)
September 14, 2005
N.Y. Times' Pet Penguin Is Gay No More
Chicago Tribune ace political columnist John Kass has always had a loopy sense of hummus and a noze for newz. Leave it to the indefatigable Kass, who has ably filled the late, great Mike Royko's shoes

on The Trib's A3 page, to come up with this scoop: Roy and Silo, the famed "gay penguins" at New York's Central Park Zoo - celebrated in 2004 by The New York Times - have broken up, and one of them is in a clearly heterosexual relationship.
Here's Kass:
Roy and Silo, the two famous gay penguins at New York's Central Park Zoo, are no longer a pair. Silo has gone straight. They broke up after six years together. Once, they were provided a donated egg. They sat on it and hatched it and this was celebrated as some kind of penguin lifestyle choice in the New York Times on Feb. 7, 2004, under the headline "The Love that Dare Not Squeak Its Name."

But that's so over. These days, Silo has a girlfriend. And Roy? Well, lately he has been observed hanging around a few sexually immature penguins, but he has no real prospects. It seems Roy is a troubled penguin.

"Silo found a young female. Her name is Scrappy," Rob Gramzay, the zoo's senior penguin keeper, told me in a phone interview on Tuesday. "They had an egg. It didn't work out and they might try again."
So, apparently preference for a significant other of the same sex wasn't biologically destiny for Silo. More like a phase he was going through? An arrangement of convenience, perhaps? Whatever.
Apparently the Times has bigger fish to fry, when it comes to penguins, taking issue with conservative plaudits for the timeless values of monogamy and family evidenced by penguins in the popular new film "March of the Penguins." The Times broadly hints that any penguin documentary should focus more on the ills of global warming and intelligent design theory than this one does. Yeh. Rilly. But they do quote radio host Michael Medved.
"March of the Penguins," the conservative film critic and radio host Michael Medved said in an interview, is "the motion picture this summer that most passionately affirms traditional norms like monogamy, sacrifice and child rearing." Speaking of audiences who feel that movies ignore or belittle such themes, he added: "This is the first movie they've enjoyed since 'The Passion of the Christ.' This is 'The 'Passion of the Penguins.' "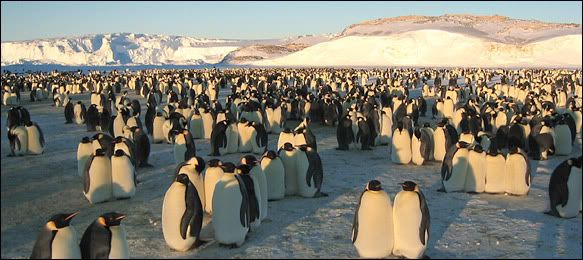 I like Medved, but I have to agree with Kass's reaction to his quote:
The Passion of the Penguins? I don't know any penguins personally, but I still wouldn't make that comparison. And I've never felt that penguins exhibit much passion, either. Yes, they try to swim away from leopard seals, so they surely feel urgency. But passion?

They waddle and freeze and eat raw fish and blink while standing in the wind on frozen rocks, all the while stubbornly avoiding the essential questions: Who am I? Where am I going?

That is not passion. Yet what is interesting is a strange human passion--the determination to assign human emotions and attitudes to animals, and by extension, putting animals into political camps, whether it be the conservative family-values penguin camp or the liberal gay-penguins-can-adopt-too camp.
I've always loved penguins. They're funny, focused, and in their own odd way, dignified. And I'm definitely going to see "March Of The Penguins." But I can wait until it goes to DVD.
TECHNORATI TAGS: PENGUINS, NEW YORK TIMES
TO COMMENT: The regular "comment" feature is not in operation. E-mail comments to address under "Contact" on main page masthead, and I'll add them, here.
Posted by Matt Rosenberg at 06:23 PM | Comments (0)
It's Tough To Be A San Franciscan These Days
I recently blogged (here and here) about an annual self-actualization playground in the Nevada desert for privileged white people with too much time and money on their hands, called "Burning Man." Well, in today's new issue, San Francisco Weekly columnist Matt Smith has some choice thoughts about Burning Man, and what he found to be a ridiculous emphasis on the drug-fueled gala by the San Francisco Chronicle at the same time New Orleans was coming under siege from Hurricane Katrina.
If you've ever wandered past a New Age healing seminar, a UFO convention, or a blocks-long line for a Steve Jobs speech, you understand how embarrassing it can sometimes be to identify as a Northern California, middle-class white person. Last week in San Francisco it was mortifying. Cringe-provoking news came from all directions. First there was San Francisco Chronicle Internet columnist Mark Morford's strange explanation for his employer's decision to maintain a small city-size newsroom at Nevada's Burning Man festival while covering Hurricane Katrina's aftermath mostly via wire service reports.

In an apparent exercise in the recouping of sunken costs, the Chron kept six reporters, three photographers, a videographer, and who knows who else at a nudie dopefest near Reno while American history was unfolding on the Gulf Coast. This was one of those daily-newspaper anniversary-package deals -- Burning Man's been around 20 years -- that Chron shirts seemed to have been planning for months. Burning Man is a Nevada desert art festival in which project managers play at being free-love hippies for a week; the BM series exuded the smell of a newsroom management scheme to better reach out to a young, white readership.

The paper's brass apparently was unaware -- or didn't care -- that the Katrina disaster may as well have been a local story for many Chronicle readers. An important portion of Bay Area families has deep roots in the region hit by the hurricane, thanks to the World War II economic migration of African-American workers from the Gulf Coast during this area's 1940s shipbuilding boom. Many Bay Area residents watched Katrina reports seeking news about their relatives' neighborhoods.

Unfolding events on the Gulf Coast, however, somehow failed to alter the course of the Chronicle's awful journalistic storm. The paper's news columns kept filling with weirdly out-of-touch reports about Burning Man, while the paper covered the early, unfolding Katrina tragedy with one or two on-the-ground reporters, Associated Press and New York Times syndicate copy, and staff stories with headlines such as "Web Records Wild Interest in Katrina" and Burning Man "Festival-goers Unaware of Destruction caused by Hurricane Katrina."

Morford, who had until lately appeared only on the paper's Internet site, was featured in the actual newsprint version of the Chronicle last Wednesday to defend his bosses' judgment.

"We need this sort of 'trifling' Burning Man fluff more than ever, to act as spark, as beacon, as counterbalance," the columnist explained. "See, Burning Man is the place where perspective is most fluxive and liquid. It is the place, maybe, where you can best try to understand the place of the human animal in the grand scheme."

It pains me to say that this perspective -- that picking one's ass is an appropriate and aggressive response to national catastrophe -- is one my white brethren identify with quite comfortably. I just wish they wouldn't say so in public.
It's also embarrassing to be a white San Franciscan now, Smith writes (same column, linked above) because of the way local progressive hounded the diligent (and, as it happens, African-American) SF schools superintendent Arlene Ackerman out of a job, culminating with her unavoidable resignation last week.
San Francisco suffered another white-conceit spectacle last week in which our local leftists hounded out of office the city's corruption-busting, test score-improving school superintendent, Arlene Ackerman. White parents have abandoned public schools to the point that Caucasians constitute half the city population but only 9 percent of the public-school student body.

So when the extreme-left Green Party identified the school board as a place to try out its destructive version of experimental politics, there was none of the citywide outrage one might have found in cities where everyone has a stake in the schools' quality. The verdant leftists slammed Ackerman for "focusing on" -- ergo, elevating -- student test scores. They attacked her for overhauling and improving ghetto schools. They tut-tutted at Ackerman's record of rooting out a band of larcenists who had infiltrated school management and setting up accounting systems that would help end the S.F. school district tradition of criminality.

Yet Green Party members and other self-described progressives saw Ackerman's corruption-busting as trivial compared with her failure to open the schools to "public input" and "democratic processes" -- ergo, public meetings that run until 5 a.m. and produce feel-good resolutions that have no real policy effect.

These Green Party attacks were absorbed by greater San Francisco as entertaining political theater, rather than what they really were -- an assault on the future of the city's young. Ackerman quit last week, saying she was sick of the hectoring.
When alternative weeklies begin to link - quite presciently - overemphasis of hedonistic cultural theater such as Burning Man in The Chron to the entertaining "political theater" of SF Green Party harrassment blocking improved public schools, it doesn't take a Weatherman to tell which way the wind is going to be blowing. Give San Francisco 10 more years, and the tide will have turned back to the center, at least. I'm expecting the same up here in Seattle.
TECHNORATI TAGS: SAN FRANCISCO, BURNING MAN, ARLENE ACKERMAN
TO COMMENT: The regular "comment" feature is not in operation. E-mail comments to address under "Contact" on main page masthead, and I'll add them, here.
Posted by Matt Rosenberg at 02:27 PM | Comments (0)
Kilpatrick Backers Tar Challenger Hendrix: Not Black Enough
Downtown Detroit isn't exactly the "apocalyptic hellhole" of crime some suspect, but there's still a lot of work to do in Detroit on crime. Unfortunately, the city has had to lay off 150 police officers, not to mention 65 firefighters and 10 battalion chiefs. Detroit has a $300 million budget deficit and the state may have to take over its financial management. Mayor Kwame Kilpatrick's conduct during his first term has been a frequent source of embarrassment to the city, from his cookie jar raids to a city-produced cable TV attack segment on a TV reporter who got the Mayor's goat. So now, fittingly enough, some of Kilpatrick's supporters - while declining to sing the praises of his casino tax and junk food tax fiscal vision - ARE mounting a vile race-based strategy, emphasizing that his general election challenger Freman Hendrix isn't black enough.
Some Kilpatrick supporters portray Hendrix as a pawn of white suburbia. On blogs and radio shows, they've referred to Hendrix as "Helmut," the first name given him by his white, Austrian-born mother. (His father was an African American who met his mother during World War II.) In recent weeks, an e-mail circulating in Detroit calls Hendrix a tool of the "anti-black-empowerment, Uncle Tom Dennis Archer administration." The e-mail, from the Black Slate, the political arm of Detroit's Shrine of the Black Madonna church, asks for volunteers to work for Kilpatrick's campaign. It claims that Detroit's white voters are "controlling the vote" by backing Hendrix.

The first line of the e-mail pronounces, "Brothers and sisters, WE ARE AT WAR." The e-mail became an electronic chain letter, passed around and posted on several Web sites.

....Ron Hewitt, director of the Black Slate, acknowledged that the group sent the recent e-mail attacking Hendrix. The issues it raised are fair game, he said. "I don't see anything all that inflammatory about it. It's campaign rhetoric," said Hewitt, a former appointee under Detroit's first black mayor, Coleman Young.
Former Deputy Mayor Hendrix projects a sober, focused and capable image, key for private-sector investors in the city's future. He wants to focus on reducing crime, trimming bureaucracy and fostering economic development. Kilpatrick includes such goals high up in his hoped-for second-term agenda, too. But Freeman is the better choice by far, as both The Teamsters and the Detroit News have already concluded.
TECHNORATI TAGS: DETROIT, MAYORAL RACE, POLITICS
TO COMMENT: The regular "comment" feature is not in operation. E-mail comments to address under "Contact" on main page masthead, and I'll add them, here.
Posted by Matt Rosenberg at 12:10 PM | Comments (0)
September 13, 2005
Better Life Through Chindogu
.....Or at least a glimpse of what a better life might be, with weird Japanese inventions that do exist, but aren't actually available to consumers.
At the King County Library on Vashon Island last month, with my kids, and on our way to Lisabuela Park (west on 220th, here), I stumbled upon "The Big Bento Box of Unuseless Japanese Inventions," by Kenji Kawakami. The cover screamed, "check me out," so I did. The 2005 paperback version is a re-issue of two earlier books filled with nearly useless (hence, "unuseless"), often-hilarious, actually-built, not-for-sale, and necessarily unpatented inventions.
Kawakami is founder of the International Chindogu Society (their 10 tenets here). This book is a hoot; very entertaining. And also a great gift for that engineer, geek or plain old loon on your list.
Among my favorite gizmos are the solar-powered flashlight; the tongue cover ("take the heat off your tongue"); the ladies coffee mug with painted-on lipstick stains; the earing-catching suction cups placed on ladies' shoulders (I remember an early date when my now-wife could have used those); and the butterstick ("why dirty a knife?"). Other favorites are the eye drop funnel glasses to make sure eyedrops end up in the right place; and the "hay fever hat," a roll of tissue perched atop the head and secured with a handy chin strap.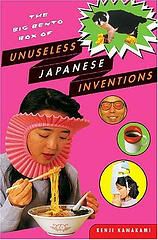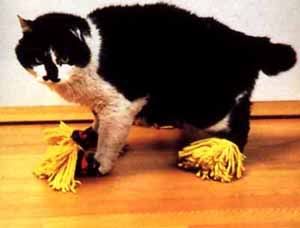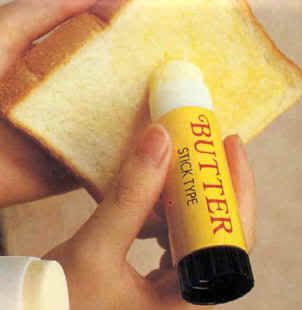 Other picks: the automatic chew-counter strapped to the chin for substandard masticators; slip-on thumbnails for peeling oranges; cat duster slippers; the "wide awake eye opener" (a circular ring worn on the head with drop-down clothespins which attach to the upper eyelids); and the full body umbrella.
Alas, since a guiding tenet of Chindogu is that the goods can't actually be sold, I can only imagine how most of these inventions might improve my life. The hay fever hat, in particular, would come in handy for me, each spring.
TECHNORATI TAGS: CHINDOGU, INVENTIONS, JAPANESE
TO COMMENT: The regular "comment" feature is not in operation. E-mail comments to address under "Contact" on main page masthead, and I'll add them, here.
Posted by Matt Rosenberg at 07:40 PM | Comments (0)
The Emergency Management Task For Black New Orleans: Escape Poverty
Scripps-Howard syndicated columnist Star Parker serves up a heaping dose of common sense for poltroons claiming Katrina rescue efforts in New Orleans lagged because of "racism."
The first line of authority in emergency management, all agree, is local. It appears that Ray Nagin, New Orleans' black mayor, was grossly negligent. Buses that could have evacuated 12,000 citizens per run were not used and left on low ground and flooded. Where was black Congressman William Jefferson, who has represented New Orleans for eight terms? It had been known for years that the 17th Street Canal levee was not capable of withstanding a Category 5 storm. Upgrading it would have required federal funds, and therefore it was in Jefferson's area of responsibility.

In an interview on "Hannity and Colmes," Jefferson indicated he had been involved in failed efforts over the years to get these funds. However, given the risks to which his constituents were exposed, one would think that the congressman would have been making a lot of noise about this. But Jefferson is a busy man. He's been the target of an FBI sting operation investigating possible public corruption. Sean Hannity asked Jefferson, given his knowledge of the condition of the levee, when "we knew the storm was coming, why didn't we get the people out?'' Jefferson's reply: "Well, I'm not sure I know the answers to all those questions.''
Let's not even get into the ultra-lame tradition, evident again as Katrina approached the city, of "vertical evacuation." Parker concludes:
It's time for those who really care about blacks to ask hard questions and be honest about the answers. Our government mechanism for dealing with emergencies must be repaired. The emergency management task for blacks is to get ourselves out of poverty. If we allow political opportunists to again allege racism to deflect our attention from solving the real problems of fixing our families and educating our children, surely more tragedy awaits us.
George Will adds some perspective, as well.
Released during the post-Katrina debacle, scant attention was paid to the National Center for Health Statistics' pertinent report that in 2003, 34.6 percent of all American births were to unmarried women. The percentage among African American women was 68.2.

Given that most African Americans are middle class and almost half live outside central cities, and that 76 percent of all births to Louisiana African Americans were to unmarried women, it is a safe surmise that more than 80 percent of African American births in inner-city New Orleans -- as in some other inner cities -- were to women without husbands. That translates into a large and constantly renewed cohort of lightly parented adolescent males, and that translates into chaos, in neighborhoods and schools, come rain or come shine.
Alleging "racism" now - in regard to Katrina, or much of anything else in the U.S. today - has about as much efficacy as sounding the "Hitler" alert against some politician who upsets us.
TECHNORATI TAGS: KATRINA, NEW ORLEANS, RACISM, POVERTY
TO COMMENT: The regular "comment" feature is not in operation. E-mail comments to address under "Contact" on main page masthead, and I'll add them, here.
Posted by Matt Rosenberg at 09:09 AM | Comments (0)
September 12, 2005
Down-Low Trannie Evacuee Blues
With a hat-tip to the mighty OrbusMax, this Nair-y drama can't be ignored. On the one hand, your heart goes out even to a self-proclaimed transgendered victim of the Katrina tropical storm to strike New Orleans. Everyone is in the same, tippy boat, and those with complicated self-identities may indeed face additional issues.
So at first blush, I suppose it would be easy to condemn the authorities who imposed certain consequences upon one Arpollo Vicks, a.k.a. Sharli'e Dominique, for showering in a women's facility at Texas A&M University in Brazos County, Texas, upon evacuation from N'Awlins. Sharli'e "was born male but lives as a woman," meaning, according to the P.C. newspaper code - Sharli'e is a pre-op trannie....the male plumbing still holds, at the present time.
Salud, lawmen - and GodBlessTexas. What plays in the Big Easy, don't always go down so easy elsewhere. (S)he was released after five days imprisonment, for lack of criminal intent, such as lurking. Right-o. If you're not ACTUALLY female, ya better go to the facility dicatated by your real-life plumbing. That's awfully old-fashioned, I know, but them damned literalists are just all about.
And that could be the real lesson here from Back East RedNeckVille, even tho heedless transgression is the new norm advocated by some, out West.
TECHNORATI TAGS: TRANSSEXUAL, NEW ORLEANS, EVACUEE
TO COMMENT: The regular "comment" feature is not in operation. E-mail comments to address under "Contact" on main page masthead, and I'll add them, here.
Posted by Matt Rosenberg at 10:14 PM | Comments (0)
Chicago Aldermen Running Political Operations On City Property?
The Illinois Leader, an online conservative publication focusing in part on the dank moral cesspool of Chicago Democratic party politics, reports Cook County Republicans have filed a complaint with the state board of elections that Democratic city aldermen are using their city-funded ward offices not only for constituent services, but political operations as well. Without properly dividing up the operations, and paying the public landlord for space used for political purposes, the GOP alleges, based on review of public records. Yes, the allegations are probably true. Yes, this kind of thing has been going on forever. And finally, yes, there are worse, and fairly recent episodes of public corruption in my old hometown of Chicago.
But regarding Chicago politics especially, I'm firm believer in the "slippery slope" corruption standard, which might also be termed the "broken windows" theory of government corruption. Winking at the supposedly "little things," like political operations on city property, by employees punching a city timeclock, paves the way for even worse abuses. And has been for years.
More on the current allegations from The Leader:
The allegation states that Democratic aldermen are illegally combining their political committee offices with their city funded aldermanic offices. Tom Swiss, the executive director of the Cook County Republican Party, submitted an affidavit in which he testified that an investigation of 16 different Democratic alderman offices revealed flagrant violations of the Illinois Election Code.

Based on the D-2 filings by 10 of the Democratic committees (6 committees are in further violation of State law because they haven't filed as political organizations), Cross determined that the committees have not paid rent to the city for use of these offices, nor have they reported the use of these offices as in-kind political contributions.

The result is that political operations, campaigns and fund raising efforts are being carried out on city property using city funds.

....Furthermore, since the signage in front of these aldermanic offices often indicates the presence of the Democratic Committee headquarters, citizens are forced to enter a party office to request city services.

....Imagine for a minute that President Bush decided to move the Republican National Committee headquarters into the west wing of the White House. He then co-opted federal employees to make fund raising phone calls and stuff campaign mailers on the tax payer's dime. He then added a sign reading "Republican National Committee Headquarters" above the Oval Office.
What can I say. Yes, he's a Democrat. But he knows The Machine for what it is, and - unlike Chicago's current mayor - he knows the fate of Chicago and its suburbs are inextricably linked, knowledge gained in part due to the reach of the U.S. Congressional district he currently represents. Run, Jesse (Jr.), run!
TECHNORATI TAGS: CHICAGO DEMOCRATS, CORRUPTION, COOK COUNTY REPUBLICANS, JESSE JACKSON JR.
TO COMMENT: The regular "comment" feature is not in operation. E-mail comments to address under "Contact" on main page masthead, and I'll add them, here.
Posted by Matt Rosenberg at 05:13 PM | Comments (0)
Colorado Parents Of Slain Soldiers Say They Didn't Die In Vain
Cindy Sheehean won't be making it to the Denver area, after all. Too bad. She'd sure get an earful from these moms of young soldiers slain in Iraq. Today's Denver Post has more.
Relatives of Marine Lance Cpl. Chad Maynard, who was killed by a roadside bomb in June, say his tombstone will soon be affixed with a plaque carrying a simple message: "Not in Vain." They have no doubts the 19-year-old's death in Iraq was for a just and important cause, one he believed in deeply: freedom.

They staunchly disagree with Cindy Sheehan, who spent August camped outside President Bush's Texas ranch to protest the war and what she has called "the senseless death" of her son, Army Spec. Casey Sheehan. He died from a bullet to the brain two weeks after he arrived in Iraq in the spring of 2004.

Many...have been deeply disturbed by her message and the attention it is drawing.

In preparation for Sheehan's now-canceled visit to the Western Slope this week, The Denver Post reached out to the parents of the 24 Colorado soldiers killed in Operation Iraqi Freedom. The 12 who responded were nearly unanimous in their opinions of her efforts.

They say her protest is wrong, that she should be quiet and stop "dishonoring" her son and theirs by questioning what they died for. They say her protest is akin to giving ammunition to the enemy.

The struggles and opinions of these other parents and family members haven't been aired daily on CNN or given a spread in People magazine. Their thoughts have been shared mainly over kitchen tables, at the counters of truck stops and in the circles of folding chairs at support groups.

"She's a crazy woman. My son would roll over in his grave if I did what she's doing," said Vicki Bosley of Manzanola.

Her son, Army Staff Sgt. Justin L. Vasquez, 26, died in June while on patrol in Baghdad.

While Sheehan has been spreading the message that her son died in vain in a war started and strung out on lies, Bosley and other parents who won't even entertain that thought have been quietly building living-room shrines to their heroes in what they believe is a just cause.

They have gathered up the military medals, the photographs of proud soldiers in dress blues and combat camouflage, the dog tags - and in one case the new citizenship papers - of their children.

To honor them, they have made T-shirts, started Web logs, created dog tags with Bible verses and flown flags in front lawns. They have continued to work on their dead sons' beloved muscle cars. They have painted their portraits. And they have helped to raise the toddlers and newborns who have the dimples and ears of their dead fathers.
Their quiet grace and dignity stands in sharp contrast to Sheehan's transformation into a celebrity victim, from a grieving mother who had earlier reported satisfaction with President Bush's in-person words to her in 2004, after her son's death in Iraq.
Sheehan is entitled to her change of heart, and her right to free speech. She speaks for herself only, and admittedly reflects the sentiments of some other parents of U.S. war dead in Iraq, badly misguided though they may be in asserting that their children went off to fight, and died, in vain.
Throughout the Sheehan controversy, there was a paucity of reportage on parents such as those portrayed in The Denver Post today. When we attempt to draw meaning from the deaths of our sons and daughters in war, media must take pains to ensure all sides are aired. Then we must sort it all out based on the merits of the arguments, not the status of the (ideological) combatants, as Jonathan Chait oberved in the Los Angeles Times.
Sheehan nonetheless could have used her special status to try articulating a plausible case against the Iraq War - even though that debate is increasingly moot as the difficult but ultimately ground-breaking constitutional process moves forward in Iraq, and the U.S. moves toward gradual withdrawl. Yet Sheehan ultimately succeeded only in losing her composure under the spotlight. Grace under pressure is hard; ask any U.S. soldier in Iraq, or loved one, or present-day Iraqi parliamentarian. I especially admire those who can summon it up.
TECHNORATI TAGS: CINDY SHEEHAN, IRAQ, WAR DEAD
TO COMMENT: The regular "comment" feature is not in operation. E-mail comments to address under "Contact" on main page masthead, and I'll add them, here.
Posted by Matt Rosenberg at 02:58 PM | Comments (0)
Index, Washington Needs A Shot In The Arm
Seattle-bound after our Saturday hike to Barclay Lake and the base of Mount Baring, off Washington Route 2 (a.k.a. Stevens Pass Highway), we swang by the little town of Index, population 157. I used to really enjoy sitting in the side yard of the Index Tavern, frosty cool bev in hand, listening to the Skykomish River rush by, and gazing upward at beautiful Mount Index. Alas. The view's still there, and the tavern too, but it's closed down and for sale, a scarecrow on the roof. Hard times financially for the owner, I hear.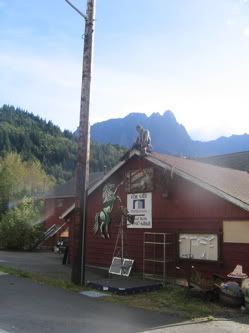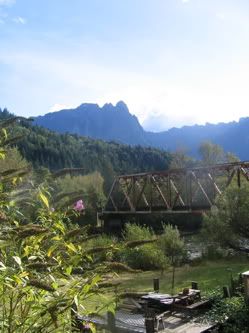 The Bush House, an historic lodge and dining room a stone's throw away, also in "downtown" Index, is shuttered too. It's in need of structural repairs. Entrepreneur alert: This cool little burg could use some investment.
Still, there's plenty to do on the way to or from a hike in the area. Visit the snakes and reptiles at the Washington Serpentarium, then Sky River Mead. Exotic snakes and honey wine (especially the dry mead); what a combo! To boot, Wave Treck in Index, founded in 1983, offers instruction and outings for white water rafters and kayakers. There are backwoods cabins and a few other lodgings in the area, as well. By the time you get to Index, you're out in the country, although it's just 45 miles northeast of Seattle.
Some people want to save independent bookstores. Yeah, well, good luck. I say, Somebody, please rescue The Index Tavern.
TECHNORATI TAGS: INDEX, STEVENS PASS
TO COMMENT: The regular "comment" feature is not in operation. E-mail comments to address under "Contact" on main page masthead, and I'll add them, here.
Posted by Matt Rosenberg at 12:24 PM | Comments (0)
September 11, 2005
More Population Requires More Water, Leadership
Here's a regional take on one pressing water policy issue - securing adequate future supplies as population grows. "It's Clear: Plan Today For Water Tomorrow," is the title of the front page Insight section piece in today's Tacoma News Tribune, which I authored. My guest commentary is drawn from a longer white paper I recently completed for the Cascadia Center of the Seattle-based Discovery Institute, called "Ample Water Potential, But a Leadership Drought: Toward a 21st Century Regional Water Policy for Central Puget Sound."
Please click below to continue.
As you'll see, I was especially interested in how key advisory bodies, and water utility managers outside of Seattle in Central Puget Sound (Pierce, King and Snohomish counties) look at impending growth, and our corresponding water supply planning options.
From my TNT Insight piece today:
The region's future water needs, for both man and fish, will require more than conservation and more than the current fragmented approach to planning and decision-making on in-stream and out-of-stream water supplies.

...John Kirner, Tacoma Water superintendent, says, "We have a substantially increased population (in the three-county region) versus 1970, and the Puget Sound Regional Council forecasts a significant increase beyond today's population. That means more economic development. The homes, roads, streets, malls, parking lots, schools and workplaces to support population growth all put stress on the water resource. Add to that more emphasis than ever on leaving water in streams for salmon, and you're faced with the choice of people using less water, or making new water supplies and water storage facilities available."

...The piecemeal approach doesn't work. The clock is ticking, and the costs of securing enough water for our region's future grow daily. Gov. (Christine) Gregoire needs to show real leadership and bring all the right parties to the table, in a binding regional decision-making process for central Puget Sound, where the water needs of homes, businesses and public institutions are firmly placed on equal footing with those of fish.
Central Puget Sound can learn from the experiences of other regions, and even nations, a number of which are also grappling with securing adequate future water supplies. To that end, a few related posts from one of my own sites, Rosenblog:
"GE Desalination Project To Expand Algiers Water Supply;"
"New Water Supplies, Conservation, Key To Metro Atlanta Growth."
TECHNORATI TAGS: PUGET SOUND, GROWTH, WATER, PLANNING
TO COMMENT: The regular "comment" feature is not in operation. E-mail comments to address under "Contact" on main page masthead, and I'll add them, here.
Posted by Matt Rosenberg at 10:40 PM | Comments (0)
Sudan Settlement Stalled
After an historic peace Sudanese settlement earlier this year, supposedly ending 21 years of civil war between brutal, Khartoum-based Arab Muslim overlords in Sudan's north, and animist and Christian southern Sudanese - conflicts which have killed 2 million of the latter - things aren't working out as planned.
Not at all.
A new government was supposed to have been formed by early August, but no go, yet. Voice of America has a report today. Yes, VOA is an arm of the U.S. government, but there is no recent reportage by any of the MSM heavies, save for a Reuters piece about continuing arbitrary arrests and executions of southern Sudanese. Maybe, pray tell, the MSM will wade back in to the Sudan morass soon. I certainly hope so. In the meantime, here's VOA:
Professor Abendego Akok, the director of the Juba University Center for Peace and Justice Studies, says the Northern National Congress Party may not be ready to commit to power-sharing by relinquishing control of the (country's oil) ministry.

"The National Congress think it is a part of the game for them to remain in power," said Mr. Akok. "That is one of the strategic ministries that they cannot give up, so they can cling to power, then propagate in the near future. The southerners think that the northern government may not be so honest to implement the agreement. There is a lack of confidence. There is a great mistrust between the north and the south."
As well there should be, unfortunately. The principles of accountability and transparency may take a while to settle, in Sudan, and all the more reason for pro-liberty forces to keep stressing systemic reforms.
..."The Ministry of Energy and Mining has a lot to do with oil, those who made the pipelines and where the oil is being sold," Mr. Akok added. "No one is aware of who is purchasing the oil. Nothing has been revealed about the oil revenue. We have never heard anything about oil revenue."

The unity government was originally to have been formed on August 9. That date was delayed by the death of Sudanese Vice President and former southern rebel leader John Garang. Mr. Garang died in a helicopter crash on July 30, and was succeeded by his deputy Salva Kiir.
That crash, of a Russian-built copter, is now thought NOT to have been a result of technical malfunction, according to a Russian official. the death of the charismatic, iconic Garang sparked great unrest and suspicions among southerners, especially because it occured just as the new government was supposed to be forming. Even if it was totally an accident - and there is as yet no evidence to indicate otherwise - there may nonetheless be a real, if gradual, sabotage underway in Sudan, undermining the intent of the "historic" January peace agreement. If so, it is occuring away from the eyes of Western MSM foreign affairs correspondents, who have "moved on" from Sudan far too soon.
Related Rosenblog posts:
"Sudan Peace Deal Not Done Yet."
"Khouri: Arab Malaise Tied To Tolerance Of Violence, And Disenfranchisement."
"Time For Precision Drones Over Khartoum."
"Who Will Turn The Screws On Khartoum."
TECHNORATI TAGS: SUDAN, PEACE, HUMAN RIGHTS
TO COMMENT: The regular "comment" feature is not in operation. E-mail comments to address under "Contact" on main page masthead, and I'll add them, here.
Posted by Matt Rosenberg at 09:16 PM | Comments (0)
September 10, 2005
Family-Friendly Hike To Barclay Lake
Barcaly Lake is at the base of 6,125-foot Mount Baring in Mount Baker-Snoqualmie National Forest, just 55 miles northeast of Seattle on Route 2, the road to Stevens Pass. Easy to get to, great trail, scant elevation gain, nice lake with a sandy, large beach (in summer and early fall), and great views upward from the base of the mountain. Description here.
(Pix, L to R). (1) It's a mossy timber wonderland along the way. (2) The trail has a number of elevated walkways installed by volunteers, to keep your feet off mucky ground.
(3) After 2.1 miles, you reach the lake. Look up. And up.
Just don't get any ideas about scaling the mountain and jumping down with a parachute, OK?
DIRECTIONS: Take Route 2 east from Monroe to just past mile marker 41, then turn left, or north, across RR tracks, on U.S. Forest Service Road 6024 (a.k.a. 635th Pl. N.E.). Proceed 4.6 miles to dead-end at trailhead.
TECHNORATI TAGS: BARCLAY LAKE, MOUNT BARING, HIKE
TO COMMENT: The regular "comment" feature is not in operation. E-mail comments to address under "Contact" on main page masthead, and I'll add them, here.
Posted by Matt Rosenberg at 11:25 PM | Comments (0)
West Seattle Sunset
Yeah, I'm now a digicam fiend. Apple's iPhoto rocks! Here's a West Seattle sunset, within the last 40 minutes. Puget Sound and Olympic Mountains visible.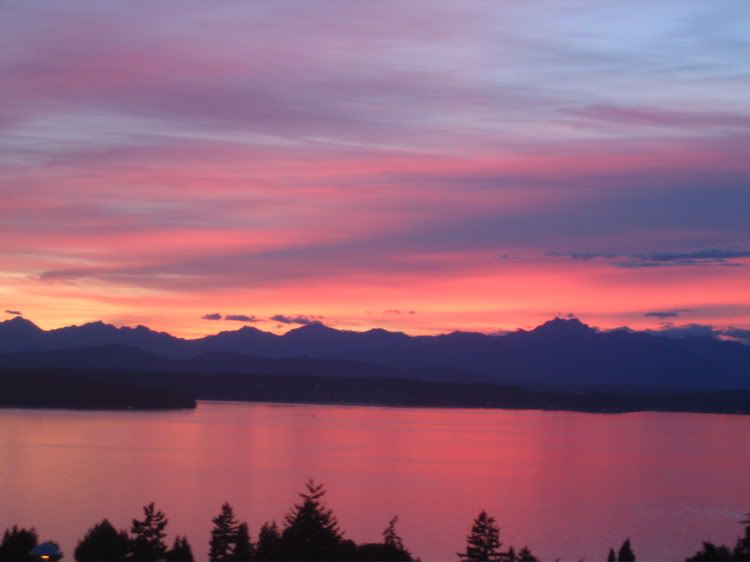 TECHNORATI TAGS: iPHOTO, APPLE, WEST SEATTLE
TO COMMENT: The regular "comment" feature is not in operation. E-mail comments to address under "Contact" on main page masthead, and I'll add them, here.
Posted by Matt Rosenberg at 08:30 PM | Comments (0)
September 09, 2005
All Hail Armed Vancouver Transit Cops!
The Vancouver region's SkyTrain transit system is handy-dandy but risky. There's been a murder this summer, bum-pinchings and come-ons, and hella drug-trafficking. Now, an initiative to arm Vancouver's transit police is under attack.
The usual "fears" of "harrassment," where one immigrant minority's supposedly dubious experience is seamlessly transposed to the minority populace at large, is the basis for the worries. A standard variation on the old "When did you stop beating your wife?" meme.
Feh. Give the transit cops in Vancouver GLOCKS.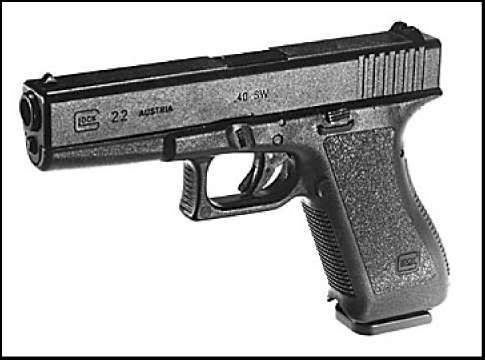 And NUNCHUKS.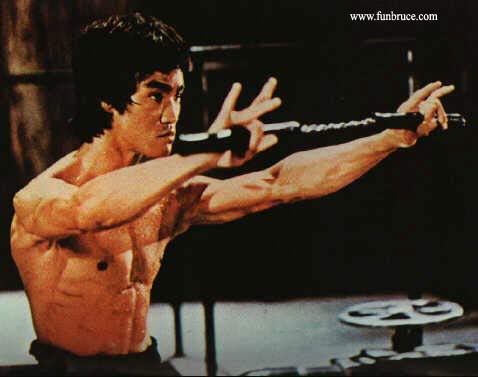 I trust them to do much more for the common good than the hoodlums and creeps who make Vancouver's public transit problematic for law-abiding citizens.
And folks, if a transit cop, or any other cop, approaches you and wants information or cooperation of any sort, project highly viable karma, please. Meaning: be extremely judicious and respectful in your response. No attitude, no sudden movements. That especially includes not reaching quickly into any of your pants pockets. Even if you're just fetching your ID. Listen to them; let them set the pace. It's not so hard, really, and much better for your health, in the end.
Unlike wandering thugs and opportunists preying on decent citizens on public transit and city streets, cops (except for occasional instances in places like New Orleans, Los Angeles, Chicago and Albania - and certainly not in the munificent Northwest these days) aren't the oppressors. They're our PROTECTORS.
Eh, capiche?
TECHNORATI TAGS: VANCOUVER, SKYTRAIN, CRIME, GLOCKS, NUNCHAKU
TO COMMENT: The regular "comment" feature is not in operation. E-mail comments to address under "Contact" on main page masthead, and I'll add them, here.
Posted by Matt Rosenberg at 07:30 PM | Comments (0)
Mini-Blogburst
James Lileks on PC run amok in Minneapolis; with a hat tip to Dustbury. Marcus Harcus that, OK?
Religious Policeman has more on the Wahhabist outback of Qassim.
Skor says "Court Approves Lying By Politicians." Well, actually, that's about right. At least here in Washington state.
Amanda Witt with a tidbit from the "Innovation" file.
At Real Clear Politics, Tom Bevan wonders about that crescent in the design for the 9/11 memorial in Pennsylvania.
New (to me) blog alert - or, you find the damndest things when you're Googling: I Blame The Patriarchy.
TECHNORATI TAGS: BLOGS
TO COMMENT: The regular "comment" feature is not in operation. E-mail comments to address under "Contact" on main page masthead, and I'll add them, here.
Posted by Matt Rosenberg at 01:39 PM | Comments (0)
Christian Science Monitor On The "Familial Feedback Loop" Of Jam Band Culture
I like a tightly constructed pop, rock or r&b song just as much as anyone. The Who's "Can't Explain," The Soul Survivors' "Expressway To Your Heart," Swamp Dogg's "Total Destruction To Your Mind," Bubble Puppy's "Hot Smoke And Sassafras," and "Hey Bulldog" by The Beatles, for example.
Bubble Puppy, Austin, TX, 1969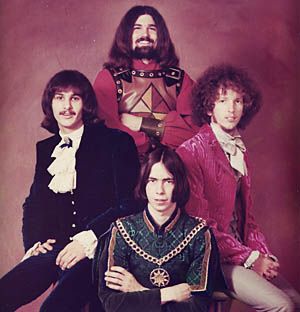 But back in high school and then at Northwestern University in the mid-late-70s, where my sophomore year I lived in a room painted black, and wore odd hats, some of my favorite music was extended jams like Frank Zappa's "Illinois Enema Bandit," Jimi Hendrix's "Machine Gun," Miles Davis' "Tribute To Jack Johnson," and The Allman Brothers' "Eat A Peach."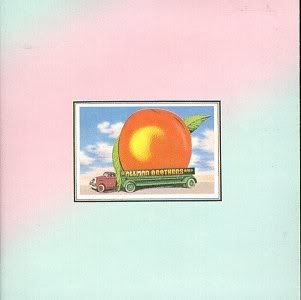 Such performers, as much or more than the Grateful Dead, paved the way for today's popular, "jam bands" and their legions of overwhelmingly white followers.
In that same era, at Chicago's Aragon Ballroom on a dicey stretch of Lawrence Avenue right near the "El" elevated commuter train tracks, I saw Little Feat display a live improvisatory genius not evident on its albums, and became utterly convinced that hugely-Afro'd bassist Ken Gradney was locked in eye contact with me, following every jubilant twitch of my head and shoulders as he played to an uber-funky fare-thee-well. (With all the cheap folding chairs scrunched together on the Aragon's floor, dancing was ahistorically out of the question, and lacking the requisite pint of Wild Turkey needed to get me on any dance floor, stationary twitchin' was better anyway).
Just around the corner, up Broadway at The Uptown Theater, I witnessed two - not 17 - live Zappa shows where the band displayed fairly stunning instrumental virtuosity and variety. Getting opened up to what saxophones, trombones, flutes, vibraphones and keyboards could do was a big step for a young guitar-hero worshipper. Thirty years later, I'm constantly seeking out new music, from "Sacred Steel" to Latin Jazz (see second comment from bottom, here), plus sounding off on bluesfest wankery in Grand Rapids this summer; a guy who plays his face; and and a high-profile Jimi Hendrix tribute here in Seattle last year.
But I still love "Eat A Peach." And so I found this piece in today's Christian Science Monitor about the continuing popularity of today's "jam band" circuit pretty interesting. Groups such as moe, Widespread Panic, the Dave Matthews Band, and the bluegrass-flavored String Cheese Incident, like Phish and especially the Dead before them, draw legions of fans who follow them all over the country, building a like-minded "moving community" which is three-quarters tofu burrito snarfing, hash-smoking white Trustafarians and one-quarter hard-bodied guys with no hair and bewilderingly intricate tatoos.
TURIN, N.Y. - James DeVito pumps his fist and flexes a tattooed arm. Midway through an afternoon set on Day 2 of a three-day concert, his favorite band - read the tattoo - has just launched into "Buster," his favorite song. The group, moe, had "teased" the tune the night before, plucking a few echoing notes before careering into another piece. This time they run with it. Crammed close to the stage at the Snow Ridge Ski Center and spread halfway up the deep-green slope, other fans, too, erupt in cheers, a familial feedback loop that seems to lift the smiling band. Mr. DeVito, from Long Island, has seen moe 17 times in the past two years.
"Familial feedback loop" sounds a lot like the achingly liberal politics evident at many jam band fests these days, and other identity-affirming cultural productions such as Burning Man. However great moe is - and let's assume they're kickin' - maybe instead of going to see 'em for the 18th time, Mr. Devito will spend his next concert ticket on something different.
While audiences are about 99.98 percent white at jam band shows, the roots of the form go back to black Americans, namely jazz artists.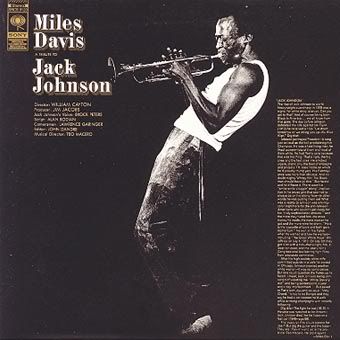 More from the Monitor:
Andy Gadiel, who runs JamBase.com, a San Francisco website, cites early improvisational jazz masters Miles Davis and John Coltrane as precursors to jam, and puts the Grateful Dead somewhere in the middle of the gnarled family tree....

Andrew Pearson, who came to Turin...on a side trip during a vacation in Burlington, Vt., all but abandoned the concert scene after following Phish between 1995 and 2000. Too many of his newer fellow travelers became focused on drugs, he says. They had no passion for the music, and served to advance a jam-music stigma: that it is just hazy background sound for hippie holdouts.

If that secret-society aura that attended the Grateful Dead has been diluted by the growth, says Mr. Gadiel, then maybe that growth will also open new doors to what he calls the "indescribable" phenomenon that tugs music fans to open fields to hear bands like moe, the Redwalls, and North Mississippi Allstars.

"Part of my crusade is to dissolve the stigma and make it less about the bands, less about any one type of fan," he says, "and more about good music."
Amen. And in that spirit, I'll close with two recommended jam band CDs - get the great music without the seitan, sludge and and sleeping bags. Old: By the Hampton Grease Band, the lost-then-found underground art-damaged masterpiece, "Music To Eat," 1971 (reputed to be the second worst-selling LP in the history of Columbia Records). New-ish: the eoponymous release by "Temporal Analogues Of Paradise," 1996, a monstrously creative power trio featuring jazz bassist Jonas Hellborg, guitarist Shawn Lane, and a drummer named Apartment Q-258.
TECHNORATI TAGS: JAM BANDS
TO COMMENT: The regular "comment" feature is not in operation. E-mail comments to address under "Contact" on main page masthead, and I'll add them, here.
Posted by Matt Rosenberg at 12:35 PM | Comments (0)
September 08, 2005
The Imperative Of Moral Governance In New Orleans
I've got a post up at the national political blog to which I contribute, Red State. It's called "The Imperative Of Moral Governance In New Orleans."
Related Rosenblog post: "When Is Looting OK?"
TECHNORATI TAGS: KATRINA, NEW ORLEANS, CORRUPTION
TO COMMENT: The regular "comment" feature is not in operation. E-mail comments to address under "Contact" on main page masthead, and I'll add them, here.
Tom Rekdal: If the citizens of New Orleans choose to live below sea level, protect themselves by levees that will only withstand category 3 hurricanes, and rely upon local evacuation plans that consist of little more than the admonition to run like Hell, that is their problem.

But if the federal government creates a separate cabinet department to streamline crisis management, and still cannot get rescue teams or troops into New Orleans before the Canadian government does, that is our problem. I would say we have a problem. Nothing I have read about the corruption in New Orleans puts my mind at ease about the incompetence so recently displayed at the national level.
Posted by Matt Rosenberg at 01:04 PM | Comments (0)
You Are What You Eat, After All
Travel to China. Enjoy zesty culinary delicacies. Sample the earthly delights of Kyrgyzstan. Know that some see a better and higher use for the feral camels of Australia. But beware the barbeque in Uganda.
Me, I'm just about ready for a Fluffernutter.
TECHNORATI TAGS: WEIRD FOOD
TO COMMENT: The regular "comment" feature is not in operation. E-mail comments to address under "Contact" on main page masthead, and I'll add them, here.
Posted by Matt Rosenberg at 11:05 AM | Comments (0)
The Hike to Heart Lake, Near Mount Shasta
On our family's first visit to the town, and namesake peak of Mount Shasta, California in 1997, we stayed with some good friends and family from the Bay Area, in a funky apartment over a gun shop. As I've mentioned recently, we've been coming back regularly every summer (since 2003) and staying in the second home that our friends bought in Mount Shasta. We just returned 39 hours ago from a great eight-day stay, replete with much hiking. One outing was to Heart Lake, above Castle Lake, the latter a popular camping, fishing and hiking spot for Mount Shasta newbies. Which we were when we first hiked there in '97. The trail can get crowded on weekends, but it's a real wilderness experience, only a few miles from town, and the Central Mount Shasta exit off I-5. Kids can deal fine: the roundtrip is 2.2 miles, and an approximately 850-foot elevation gain, some moderately steep stretches but nothing too arduous. On the way up, there are some great rocks to lunch upon. (No, I don't eat rocks, not lately. I sit on them to eat. Sometimes.) Take care to follow the cairns near the saddle, staying right, or you'll drift off on another trail, toward Little Castle Lake.
Using iPhoto on my iMac G5 for the first time, and converting the downloaded digicam shots I took on our recent trip into jpg files and then into blog-friendly image code via my wonderful Photobucket account, I've got some homegrown pixs to share here for the first time. These are in contrast to the pix taken by others that I've accessed (for non-commercial purposes only) using the Google Image search function, and have then converted to images in previous posts here on travel, and other topics.
(PART OF) CASTLE LAKE, AND BLACK BUTTE, FROM TRAIL TO HEART LAKE, SISKIYOU COUNTY, CA., SEPT. 5, 05.
APPROACHING HEART LAKE, SEPT. 5, 05: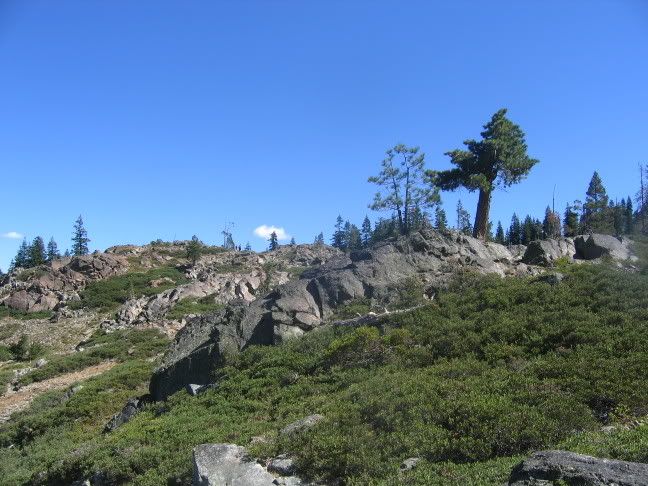 MT. SHASTA, SEEN FROM HEART LAKE, SEPT. 5, 05. Shasta's summit is 14,162 feet.
And yes, Heart Lake, though small, is shaped like a heart, almost perfectly.
TECHNORATI TAGS: MOUNT SHASTA, HEART LAKE, CASTLE LAKE, iPHOTO, iMAC
TO COMMENT: The regular "comment" feature is not in operation. E-mail comments to address under "Contact" on main page masthead, and I'll add them, here.
Posted by Matt Rosenberg at 09:58 AM | Comments (0)
SF Chronicle Calls For Sanctions On Migden 'Ghost Vote'
On September 3rd, I wondered why there was no report or commentary whatsoever in the San Francisco Chronicle on the reprehensible scammery of Carole Migden. She's the California State Senator (D-San Francisco) who sneakily pressed the automated "yes" vote button of a Guy Houston, a Republican state HOUSE member away from the floor when a House tally was called on her (Migden's) Senate bill to require tougher labelling of carcinogens in cosmetics. I noted at the time that the Sacamento Bee had given the ugly story front-page local section play, and rightly so. I wrote:
Her colleagues should mount an effort to officially censure Migden for her reprehensible act of political fraud and hooliganism. The entitlement mentality of urban Democrats has never been more nakedly evident. The San Francisco Chronicle, scrupulously balanced on its op-ed pages, but far less so in its Left-leaning regular news coverage, has yet to pick up on the Migden debacle. The same day The Bee reported on Migden's shady "ghost vote," The Chron had her crowing over the partisan Borking of an insufficiently Green gubernatorial air pollution control official. The Chron did report on her cosmetics bill clearing the House (end of this item) but made no mention of her impersonating a Republican legislator. (Ed. note: The Sept. 8 LA Times takes the same approach, in reporting on the bill at the end of this piece - it's as if Migden's being caught in the act had never happened).

The Chron's avoidance of Migden's appalling lapse wouldn't be because she's an "out" lesbian who continues to champion gay marriage legislation that would override a state initiative which defined marriage as between a man and woman, and calling attention to her broken ethical compass would infuriate the paper's large gay and lesbian readership, would it?

Nah.
What I might have also observed is that the Chron's editorial page sometimes shows flashes of independence from the city's prevailing political winds, which I've blogged about before, as in this post on the paper's editorial supporting a Home Depot in SF's Bayview neighborhood.
That independence is again thankfully evident. On September 7th, the Chron editorial page - and this may be a total coinky-dink - echoes my call four days earlier for her colleagues to censure Migden's on-floor vote fraud. In an unsigned editorial feature labelled "Political Watch," and titled, "Migden Crosses the Line," the Chron opines:
Upshot: A public sanction against Migden is warranted. "Ghost voting" has no place in the California Legislature. The importance of SB484 -- which we supported -- does not justify underhanded tactics. One possibility would be to ban Migden from the Assembly floor for a certain period. The question is whether Democratic leaders, who control both houses, will have the courage to take action against one of their own.
Bravo, dudes. Interestingly, the Chron's dead-on commentary opens with the phrase "News Flash" and then immediately describes the basic facts. underscoring the lamentable lack of timely coverage of the Migden ethical debacle in the paper's, ah, NEWS section. Actually, this Google News search of "Carole Migden" (at least when run early Thursday, Sept. 8) returns lots of items, but still no NEWS pieces in the Chron on her "ghost vote."
Oh, one other thing. A day before The Chron's editorial, The Daily Independent of Ridgecrest, California ran a guest commentary on Migden's chicanery, also labelled "Our View," and written by State Assemblyman Bill Maze (R-Visalia).
Ms. Migden's actions were outrageous and inexcusable. She owes a public apology to Houston and to Republican and Democrat Leadership in both houses. If not, she deserves a very public sanctioning. Yet, this incident is only a piece of a larger, more troubling picture. Her actions, and her party's defense of her actions, are indicative of the majority party's arrogance in the California Legislature.
Maze is potentially too forgiving in proposing that a public apology should suffice. This late in the game, it's for show only. Will Democratic majority leaders in the California General Assembly tolerate corruption in their ranks, or sign on to a formal censure of one of their own, who so richly deserves it? Go on, surprise us, Ds.
TECHNORATI TAGS: CAROLE MIGDEN, GHOST VOTE, SAN FRANCISCO CHRONICLE
TO COMMENT: The regular "comment" feature is not in operation. E-mail comments to address under "Contact" on main page masthead, and I'll add them, here.
Posted by Matt Rosenberg at 12:51 AM | Comments (0)
September 07, 2005
Ford Recall Further Sullies A Sullied Brand
I've always had a queasy feeling about Ford motor vehicles, since the scandals and fatalties related to improper fuel-tank placement in the Ford Pinto, and later, defective tires on Ford Explorers. Now today comes word Ford will recall 3.8 million pickup trucks and SUVs, including the Ford Expedition, Ford Bronco, the F-150 pickup, and the Lincoln Navigator, because the cruise control feature has been found to be a risk factor for engine fires. More from AP:
WASHINGTON -- Ford Motor Co. on Wednesday recalled 3.8 million pickup trucks and sport utility vehicles for a cruise control switch suspected of causing engine fires. It is the fifth largest auto industry recall in U.S. history. Ford said the recall of 1994-2002 model-year vehicles includes the company's hot-selling F-150 pickup truck, Ford Expedition, Lincoln Navigator and Ford Bronco. The company said it would start sending out recall notices to vehicle owners immediately.

The National Highway Traffic Safety Administration and the No. 2 U.S.-based automaker have been investigating complaints of engine fires linked to the switch....In the Ford case, NHTSA has received more than 550 complaints of engine fires from the cruise control switch. There have been allegations of three deaths in cases cited in news reports or lawsuits in Iowa, Georgia and Arkansas.
To me, Ford is one of several American auto brands that will always be associated with a high risk for shoddy workmanship, whether deadly or not; with disrespect for the customer; and with the triumph of marketing over quality. The experience of a close relative of mine with problem-riddled Oldsmobiles and Buicks comes to mind, too.
However, note that according to the AP story linked to above, Toyota is recalling a whole bunch of vehicles, as well. Ah, yes. Toyotas. I still remember when - going down a steep incline from Port Alberni on Vancouver Island - the 1987 Toyota Camry I was driving (a by-then cursed gift from a relative) would not brake whatsoever. Interestingly, this came after I'd been using the cruise control. With my wife, and then-toddler son in the car, I became very concerned, very quickly, but had the presence of mind to steer onto the shoulder, and throw the gear shift into "Park."
Since shortly thereafter, I've been the happy owner of a Honda CRV, and was also the happy owner for many years of a Honda Accord, ruined only by body rot from excessive exposure to Midwest snow and road salt (it was still running fine when it had to be hauled off to the junkyard). Honda, that's my auto brand.
FYI, regarding the Pinto, there has been a long-running debate about whether the controversy was overblown. Professor Daniel W. Skubick of California Baptist University here outlines the contents of a famous 1968 Ford memo believed by some to have been used by the company as justification for letting a certain estimated number of motorists die, because expected death settlement costs would have been less than fixing the problem of the rear-mounted fuel tank. Blogger Craig Newmark gives another perspective, with many commenters agreeing the Pinto got a bum rap.
Not sure I really agree with that. But in the end I steer toward autos rated high for mechanical reliability, like my Hondas. While there may be some exceptions, I trust such steady performers to also have been designed more safely than one of the many lemons foisted on the gullible American public by Detroit's multi-billion dollar marketing hype machine.
TECHNORATI TAG: FORD RECALL
TO COMMENT: The regular "comment" feature is not in operation. E-mail comments to address under "Contact" on main page masthead, and I'll add them, here.
Posted by Matt Rosenberg at 04:48 PM | Comments (0)
Gay Marriage Fetish Hurts Democrats
The California General Assembly has passed a gay marriage bill approved only days earlier by the State Senate. If Governor Arnold Schwarzenegger unwisely signs the legislation, that will add momentum to an already-planned statewide initiative to define marriage as between a man and woman only.
The merry-go-round never stops. California voters in 2000 approved Proposition 22 to limit marriage to a man and a woman only. A San Francisco judge ruled that illegal; the case is on appeal. Now the new same-sex marriage legislation confronts the Governor.
I can't say for sure the planned 2006 initiative for traditional marriage-only will pass in California, but the odds are good. A few reminders are important here. Being opposed to gay marriage doesn't make you a homophobe or bigot, as gay marriage supporters too often claim. And, state legislatures and electorates have repeatedly demonstrated their oppostion to same-sex marriage. Sometimes, even "Blue" states such as Oregon and Michigan, that went for Democrat John Kerry at the same time they voted to restrict marriage to a man and woman.
Gay marriage is an emotional, heavily-invested political identity issue for Democrats (including many straight Ds). Their insistence on pushing this symbolic agenda in place of more reasonable civil unions is as injurious to their party's fortunes, long-term, as the hardline conservative push to outlaw abortion is to Republicans.
UPDATE: Arnold will veto the bill, his spokeswoman saying the will of the voters (in Prop 22) must be respected. Absolutely right.
TECHNORATI TAGS: GAY MARRIAGE, CALIFORNIA
TO COMMENT: The regular "comment" feature is not in operation. E-mail comments to address under "Contact" on main page masthead, and I'll add them, here.
Posted by Matt Rosenberg at 12:23 PM | Comments (0)
Gaza Needs Civil Society, Not Money
So Moussa Arafat, the late Yasser's cousin and former head of Gaza Strip security, got his yesterday. He was a symbol of the corrupt and misguided Arafat regime, and this is still how scores ares settled in a lot of places, including Palestine. But now that Israeli settlers have withdrawn from Gaza at their government's behest, how can the region succeed?
Wealthy Palestinian investors are at the ready, so it's not money that's essential, following decades of venal looting of Palestine and Palestinians by Yasser Arafat. Instead, what's needed most is civil governance, stability and the rule of law. That's according to George T. Abed, a UC-Berkely-educated economist who was appointed head of the Palestinian Monetary Authority after retiring from the International Monetary Fund. More from the San Francisco Chronicle's James Sterngold:
"If you poured in a lot of financing at this time, it would not have a big impact. It would not be very effective," said...Abed...."Governance is poor. It would be wasted."...The immediate challenge, according to Abed, is building a modern system to handle the existing capital efficiently, not attracting more -- at least not yet.....

"There are things that require funds, and things that require reform," said Abed. "We can produce high single-digit growth in the first year or two of our administration if we can make those changes in things like the judiciary, education and the government.

"The Israeli withdrawal (from Gaza and the northern West Bank) will have little impact without the economic and other changes," he added.

The Palestinians already receive the highest per-capita donor aid in the world, according to James Prince, a consultant to the Palestinian Investment Fund and co-author of a recent report, "The Economic Road Map: Beyond the Israeli-Palestinian Conflict."

The funds, Prince said, have not done much beyond ensuring a minimum standard of living. But they have left the economy weakened because little of the money has been used to encourage private investment. Job gains have been temporary, he said, and the Palestinian Authority has been left with a huge, cumbersome public sector.

"Many of the donor programs have not only been ineffective, they have harmed the economy," said Prince. "Cash is not the issue. What you need is investor confidence."
I suppose investor confidence might be a bit higher today if Moussa Arafat had faced formal charges, or been quietly and forcibly exiled, rather than assassinated. Except that current Palestinian leader Mahmoud Abbas had retained him as a security advisor.
TECHNORATI TAGS: GAZA ARAFAT INVESTMENT
TO COMMENT: The regular "comment" feature is not in operation. E-mail comments to address under "Contact" on main page masthead, and I'll add them, here.
Posted by Matt Rosenberg at 11:34 AM | Comments (0)
Matt Rosenberg's Best Of Rosenblog
It had to happen. You know you've been Jonesing for it. Here it is - The Best Of Rosenblog. Actually, while it's mostly posts from Rosenblog, there are some of mine from the regional group blog Sound Politics, too. This compendium of bleeding-edge bloggage will be periodically refreshed. (Last updated January 31, 2007).
SEATTLE/PUGET SOUND POLITICS & POLICY
"'Peak Oil' Despair Versus Energy Innovation"
"A Billion Here, A Billion There....Pretty Soon: Real Money" (Puget Sound's transportation quandry)
"Something Smells About The Chinese Corpses On Display In Seattle"
"Seattle Needs More Police, Not More Police Oversight"
"Seattle Police Response Comes Under Fire - Again"
"Seattle Could Take Lessons From New York, On Crimefighting "
"Suspect In Cop's Traffic Death Should Have Been In Jail"
"State 'Supervision' Fails Again - Another Dead Cop"
"ICE Initiative Raises Bar For Locals, Feds"
"Yes, It Was Terrorism" (Seattle Jewish Federation shootings)
"Seattle Sub-Bourgeoisie Angst And The Revolutionary Dialectic"
"A Great Education For $6K Per Annum"
"Self-Actualization In Seattle"
"Ex-Gregoire Spokesman Resigns After Ga. Sleaze Revealed"
"Morton Brilliant: Web Saboteur"
ELSEWHERE (politics, policy, etc.)
"B.C. Govt. Agrees To Gay-Friendly Curriculum Oversight"
"Crime-Plagued Vancouver At Crossroads"
"The Harm In 'Harm Reduction'"
"The Fevered Mind Of Jason Pancoast, Affluent Beggar"
"Criminal Intent And Nipple Twisting"
"The Death Of Neighborhood Schools"
"McKinley Statue Under Siege In Arcata
"The Dense Fruitcake That Is Arcata"
"Jerry Brown's Oakland: A Work In Progress"
"Rosenblog Policy Forum: Truck Driving Scholarships For The Homeless"
"Santa Cruz And The Quest For Sustainable Cool"
"Uptight Gringo to The Rescue In Santa Ana"
"Pit Bull Attacks Raise Questions"
"Animal Rights Wrongs, Vol. 6"
"Oregon's Gay Sheep Experiments: Economics Or Eugenics?"
"Shine A Light On More Than Baltimore's Lightpole Thieves"
"Life Is Harder Today For Texas Dildo Peddlers"
"Chicago Machine 2.0 Afflicted With Fatal Bug"
RACE, & VICTIMOLOGY
"The 'White Privilege' Fetish Of Seattle's Public Schools"
"The Vanishing Notion Of Responsibility"
"Reparations Conferences And Black Ski Trips At UC Berkeley"
"The University Of Oregon's New Racism"
"'Republicans Hate Latinos' Speaker At Everett High School"
"Seattle NAACP: We Didn't Do A Lot, But We Held On"
"Deluded Boston City Council To Take Spanish Classes"
"The Moral Poverty Of Victimology"
"The Racial Politics Of Police 'Use Of Force' Complaints"
"Racial Disparities Hype From Portland Police, & Oregonian"
"What Makes The Homeless Homeless?"
ABORTION, FAMILY & PARENTING
"Pro-Lifers Spell Death For Republican Party"
"Abortion Leaves Alfie Wracked"
"Childlessness Is 'Profoundly Human,' And Now Abortion Is A 'Moral Good'"
"Outtakes From Cosby's Speech To NAACP"
"The Cost Of Absent Fathers To Young Black Men"
"Turning A Blind Eye To Fatherless Black Babies"
"Washington State Kids Who Kill"
"Teen Boys Gone Wild - A Modern-Day Malady"
(U.S.) NATIONAL POLITIX & POLICY
"Defending Our American Way Of Life"
"Immigrants Vote With Their Feet, for U.S."
"CBO Study: Even After Bush Tax Cuts, The Rich Are Still Getting Soaked"
"Rosenblog's Roadmap To Reduced Federal Spending"
"Federal Public Debt As A Percentage Of GDP: Not So Bad Now, But..."
"The Care And Feeding Of Angry Americans"
"Gay Rights Activists Too Strident, Self-Righteous"
"Luddite Plumbers Unions Versus Flushless Urinals"
"The More 'Blink' Decision-Making, The Better"
FURRIN' POLICY & INTERNATIONAL
"Joe Lieberman: Profile In Chutzpah"
"A Primer For Canadian-Based Terrorists"
"The Psychological Ghettos Of Paris"
"Islamist Insanties Intensify"
"Combat Chic: The Fashionable Response To Terrorism"
TECHNOLOGY
"My Advice To Bill Gates: Free Of Charge"
"The Downside Of Personal Technology"
"The Digital Divide And The Orthodontia Gap"
"The Social Libertarian Moralist On Technology, Pornography And Intimacy"
MEDIA
"Airbrushing The News, Vol. 1"
"Al Gore: Dark Days Nigh; Big Brother To Blame"
"Paperless Newspaper No Panacea"
"NY Times' Pet Penguin Is Gay No More"
"AP Hypes Race Angle On Home Loan Data - Oops!"
"Brilliant Is As Brilliant Does"
THE PERSONAL IS POLITICAL
"The Evolution Of A Conservative"
"Hail The Conservative Brotherhood"
CONSUMER
"Bold Tannins, Big Fruit, Explosive Flavors"
"GM Job Cuts Won't Improve Poor Quality"
"Gadgets That Gather Dust, Steal Our Souls"
METAPHYSICAL AND SPIRITUAL
"Jesus May Have Walked On Ice, Not Water"
OUTRIGHT KVETCHING
"What Bugs Me! What Bugs You?"
"I'm Gonna Vent; Please Join Me"
POULTRY BLOGGING (& FOOD 'N BEV)
"Unlike PETA's 'Lettuce Ladies,' I'm Pro-Choice On Meat"
"The Global Hegemony Of Chickens"
"Did You Observe International 'Respect For Chickens Day'?"
"'Respect A Chicken' Recipe Contest Winner Chosen!"
"The Foie Gras Chronicles: Part One"
"The Whole Truth About Head Cheese"
PIMP 'N HO CULTURE
"Son's A Pimp, Daughter's A 'Ho' - OK?"
"The Mainstreaming Of Pimps And Whores"
"Pimp Culture, Ghetto Branding: Fa' Shizzle"
"Pimp My Bathroom, Please, And Pass Me My PimpTone Cellphone"
"Nelly's Grillz Are Foolz Gold"
"Get 'Cho Gold Teeth Grills - From Behind Bars"
MUSIC
"What Ever Happened To Mungo Jerry?"
"....On The 'Familial Feedback Loop' Of Jam Band Culture
ART DAMAGE
"Sundance Documentary Humanizes Seattle-Area Man-Horse Sex Cult"
"Something Smells About The Chinese Corpses On Display In Seattle"
"A Dead Hare, Crotchless Pants And Shamanistic Transgression"
"New Frontiers In Theatre: Princess Diana As Nazi Dwarf"
"The Fatuous Grandeur Of Kiki Smith"
Posted by Matt Rosenberg at 10:17 AM | Comments (0)
September 03, 2005
Carole Migden Perpetrates Legislative Vote Fraud
California Democratic State Senator Carole Migden was on the state House floor lobbying for her Senate Bill 484 this past Wednesday. It's a measure to require cosmetics manufacturers to disclose the presence of carcinogens in their products. Here's what happened, according to the Sacramento Bee's local section front page story "'Ghost vote' spooks the Assembly," dated Sept. 2 (online version here, free reg. req.):
Nobody was surprised that...Migden voted in favor of her own...bill. The problem was she did it in the wrong legislative house...Migden, a San Francisco Democrat, pushed the voting button of a GOP assemblyman who was temporarily away from his desk. Her action violated Assembly rules and drew an angry response from Repulicans...Migden, chairwoman of the powerful Senate Appropriations Committee, declined to comment Thursday...'There's no story there,' she said.
The bill later passed, in another vote taken without her engaged assistance, and awaits the Governor's approval. She later apologized, according to The Bee. Her arrogance is stunning, even for a San Francisco Democrat. If a private citizen is found to have fraudulently impersonated another individual while voting, he or she is subject to criminal prosecution. In the California legislature, a lawmaker gets off Scott-free.
Her colleagues should mount an effort to officially censure Migden for her reprehensible act of political fraud and hooliganism. The entitlement mentality of urban Democrats has never been more nakedly evident. The San Francisco Chronicle, scrupulously balanced on its op-ed pages, but far less so in its Left-leaning regular news coverage, has yet to pick up on the Migden debacle. The same day The Bee reported on Migden's shady "ghost vote," The Chron had her crowing over the partisan Borking of an insufficiently Green gubernatorial air pollution control official. The Chron did report on her cosmetics bill clearing the House (end of this item) but made no mention of her impersonating a Republican legislator.
The Chron's avoidance of Migden's appalling lapse wouldn't be because she's an "out" lesbian who continues to champion gay marriage legislation that would override a state initiative which defined marriage as between a man and woman, and calling attention to her broken ethical compass would infuriate the paper's large gay and lesbian readership, would it?
Nah.
TO COMMENT: The regular "comment" feature is not in operation. E-mail comments to address under "Contact" on main page masthead, and I'll add them, here.
Posted by Matt Rosenberg at 09:26 AM | Comments (0)
September 01, 2005
When Is Looting OK?
Is looting ever OK? Maybe right now, in New Orleans, at least with respect to some basic necessities. Even if you're on vacation, like me, you must know the gruesome backdrop. Thousands are feared dead from Hurricane Katrina, the city is being evacuated, and may have to stay evacuated for months. Damages total some $75 billion, and the impact on oil and thus gasoline prices, may be pronounced. Desperate residents are hijacking cars to escape, and the Superdome has turned into a Hell On Earth for the 20,000 refugees inside. Finally, many people are lacking food, medicine, and basic necessities. AP has more:
As New Orleans has descended into chaos, desperate residents have stolen ramen noodles, loaves of bread, cases of soda -- basic survival needs in a painfully empty city. Others have taken jewelry, TVs and even guns.

The devastation left behind by Hurricane Katrina has raised difficult questions of ethics: When, if ever, is looting OK? When is it acceptable to break the law -- and what happens when law itself breaks down?

In New Orleans on Thursday, Monica Laguard sobbed almost uncontrollably as she placed items she had taken from a store's shelves into plastic garbage bags to take them to her shelter in a nearby school. She was taking children's clothing and snack foods. She could not find water. "I've got to get back to my children," she said. "I've got to get back to my children."

....Outside a Rite-Aid pharmacy where thieves had commandeered a forklift and used it to push up the storm shutters and break the glass, a woman on a bicycle rode up Thursday and asked whether police were making arrests inside. Told no, she said, "I'm a diabetic. I need test strips. I'm down to two. I don't know if my insulin's any good. It hasn't been on ice." Carrying toothpaste, toothbrushes and mouthwash, Earl Baker walked up to a reporter and said: "All of this is personal hygiene. I ain't getting nothing to get drunk or high with."

In the first days after New Orleans flooded, local police took a relatively relaxed attitude toward refugees stealing food, water and other necessities. The police chief and mayor said they understood people were trying to survive.

But as the looters have grown more brazen, law enforcement has begun to crack down, especially when thieves have taken guns or preyed upon innocent people with food and water. By Thursday, National Guard, state and local police were deployed from search-and-rescue operations specifically to restore order to the city.

.....Some of the looters marauding through the city have clearly gone beyond survival needs. On New Orleans' Canal Street, dozens of looters ripped open the steel gates on clothing and jewelry stores and grabbed merchandise. At a Wal-Mart, looters brazenly filled shopping carts with microwave ovens, coolers and knife sets. Some walked out of a sporting goods store with armfuls of football jerseys.

And, most terrifyingly, looters have been breaking into stores all over New Orleans and stealing guns. New Orleans' homeland security chief said gangs of armed men are moving around the city, in some cases shooting at police.

Jonathan Haidt, a social psychologist at the University of Virginia, said some people might see widespread looting and not want to be left out -- to "feel like a sucker."
Triage is the right approach to looters now. Those taking non-essential items, and roaming the streets shooting, and robbing other storm victims, deserve whatever rough justice is meted out to them by authorities.
I have to wonder. If a natural disaster such as a tsunami or severe earthquake devestated my hometown of Seattle, would locals respond in a more civilized fashion than in New Orleans, putting mutual aid above fear and greed? How about in a European city of today? I believe, yes, in both cases. Even before Katrina, New Orleans has suffered from a lawless atmosphere and rampant municipal corruption. This ugliness will stain the city's soul for decades to come.
TO COMMENT: The regular comment feature is not in operation now. However, you can e-mail me your comments on this post, at the address accessed under "Contact," at the top of my "Main" page. I'll add them, here.
Mike Purcell, Port Orchard: I myself feel that if it had happened in Seattle, prior to New Orleans, you would see close to the same type of behavior and human suffering. I really do believe Seattle is not ready in any way for a huge disaster such as an major earthquake. From the mayor on down all you see is flippancy, a city that continues to ignore major problems, gangs, drugs, etc. What makes me feel that it may not go as far as the terrible situation in New Orleans is the close proximity of the military bases in our area. Perhaps some good will come out of this horrible disaster. Washington state goverment should take a good look at what is taking place; one can now see first hand just how fast a society can turn into utter chaos with in a few short days when you think your ready and your really not. With out the military to bring quick order, your out of luck, unless of course, your a tough city like New York and you have a tough no nonsense police department and mayor like Rudy, something Seattle lacks in all departments.
Tom Rekdal: Hobbes makes the basic point early on in The Leviathan. In the state of nature every man has a natural right to everything he judges to be necessary to his own existence. Everything. Since everyone possesses this "right," the situation is one of universal war, leaving everyone's life "poor, solitary, nasty, brutish and short."

If Seattleites and Europeans would cling to the illusions of mutual aid longer than those poor bastards in New Orleans--a dubious supposition, at best--that would only imply a greater capacity for denial, or a greater capacity to imagine themselves rescued back into an orderly state.

What we are witnessing in New Orleans is not merely a breakdown in morality (although it is that, too, of course), but a breakdown in the governmental contract. After spending hundreds of billions of dollars to create a new cabinet department of Homeland Security to anticipate just such an urban crisis as we are now witnessing, one can only despair at the pitiful result. No one at the top saw anarchy coming to Baghdad, and now no one at the top saw it coming to New Orleans.Please, no more commissions to investigate what went wrong. I think we can see what went wrong.
Posted by Matt Rosenberg at 01:00 PM | Comments (0)