August 30, 2005
Inside "Dicky Box" At Burning Man
Social anxiety becomes performance art at the 20th annual Burning Man festival, in the Nevada desert, thanks to the Dicky Box.
At Burning Man, where revelers live by an unwritten code of group participation, Christian "Dicky" Davies, a 27-year-old antisocial from San Francisco, has sealed himself within a transparent 10 x 10 Plexiglas box for the entire weeklong event....It's a serious performance piece to express the isolation he has felt in the "forced fun" environment during his past two visits to Burning Man. Dicky doesn't like to dance to electronica. Dicky doesn't like glo-sticks or pink cowboy hats. Dicky doesn't trust touchie-feelie strangers who want to be his best friend.

But he very much likes Burning Man's desert art, so his roommate Logan Mirto decided to turn Dicky's anxieties into an interactive sculpture that would make him more comfortable on the playa: A clear room with clean white Ikea furniture and a mail slot to accept notes, food and gifts from the community. He can mingle, on his own terms.

And as the unrelenting winds ripped cowboy hats off heads and coated everything in a layer of dust Monday, Dicky remained one of the cleanest humans at Burning Man. "It's kinda nice in here, but my windows are getting coated so I can't see out," he said.
Burning Man ends with the burning of a wooden man. Pretty inspiring, especially for anarcho-syndicalists.
But there's one problem: Burners flying out of Reno tend to track lots of fine, white desert sand through the airport.
How about a hose patrol on the departure-level drive-around?
TO COMMENT: The regular comment feature is not in operation now. However, you can e-mail me your comments on this post, at the address accessed under "Contact," at the top of my "Main" page. I'll add them, here.
Posted by Matt Rosenberg at 11:53 AM | Comments (0)
Back In Mount Shasta
Blogging from beautiful Mount Shasta, California. No, not the top of the mountain, wherein reside the "wee people," but the town of the same name, at the base of the muontain. Here's a view from the southeast.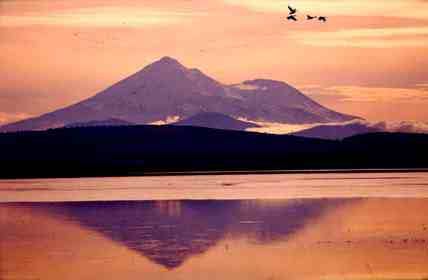 Mount Shasta has become a regular vacation spot for our family, thanks in part to a dear friend in the Bay Area, whom we first got to know in Chicago, way back in the 80s. She and her husband have a second home up here, and generously let us stay there if it's not occupied.
Fall seems to have set in already. Very breezy and cool. We're going to brave a short hike today anyhow. Drove down Sunday from Seattle. The 530 miles took about nine hours, including some pit stops. The late summer evening light over the Siskyous, from Ashland, Oregon south across the state line, was a bright, deep orange-yellow. Pretty immense.
Going around town, I'm reminded again how many mega-churches there are here, in the land of crystals and aromatherapy. Probably a good thing. Conservatives and nature go a ways back, actually.
TO COMMENT: The regular comment feature is not in operation now. However, you can e-mail me your comments on this post, at the address accessed under "Contact," at the top of my "Main" page. I'll add them, here.
Posted by Matt Rosenberg at 11:22 AM | Comments (0)
August 26, 2005
Another Response To "Pit Bull Bloodshed Must End"
Rosenblog reader Genesee Herrick sends this response to my earlier post "The Pit Bull Bloodshed Must End."
I am an owner of a 11 month-old female pit bull. I've had her since she was eight weeks old. She stays in the house with me and is GREAT. I have three other dogs that are outside most of the time (a golden retriever, lab-retriever mix, and a new retriever mix.)

In reference to my pit bull, I have read a lot about this breed. Being incredibly aware of what could possibly put her in an uncomfortable situation, I am cautious and responsible whenever she's in new surroundings. The thought of "what if" never leaves my mind with her or any one of my other dogs.
I have never read anything like some of the things found on this page.

Should I be scared of my own dog? Is she one day just going to snap? The dog that greets everyone with a wagging tail and kisses galore? The dog that has slept in my bed since her first night at home? The dog that has never shown any sign of aggression towards a human being? (other dogs,YES) the dog that I call my best friend? How is it that a dog can just snap? Especially just ONE BREED OF DOG? Does a pitbull possess some weird chemical imbalance that causes them to turn on you?

I understand everyones opinions and comments, but I have read and seen unspeakable things that this breed has gone through. So how is it that a dog that has been FOUGHT, beaten, burned, drug behind a car, mutilated, left for dead all at the hands of a human being mind you, be rescued and adopted out to live the rest of their lives with a family and never display a single sign of aggression?

Christmasghost (ed. - see first comment, at very bottom of above link) I look forward to celebrating my dog's birthday in September when she will be turning ONE YEAR OLD.........gee, I hope she doesn't snap.......????
TO COMMENT: First, there are many comments appended to the above link, and many news links embedded within. You may wish to read some of them to really pick up on the thread. If you'd like to add your views, please do, but you'll have to send me an e-mail to me at the address under "Contact" on my main page, just below the masthead photo. That's because at present, the normal blog "comment" function is not in operation.
Posted by Matt Rosenberg at 11:45 AM | Comments (0)
August 25, 2005
"Bodies, The Exhibition:" Anatomy and Controversy
They're flocking by thousands into Tampa's Museum of Science and Industry to see the plasticized Chinese corpses in "Bodies, The Exhibition." It's quite educational, and has many precedents and corollaries. Including Chinese corpses of questionable provenance, as earlier this year in San Francisco.
Worried that no consents had been granted by family members to display the bodies in Tampa, a Florida state regulatory board voted not to permit the show, but then backed off, along with the Attorney General, because the relevant state statute applied to medical schools, not museum exhibits. Still, it's entirely unclear how the bodies were obtained; exhibit sponsors say the deceased Chinese were "unclaimed or unidentified" and then turned over to Chinese medical schools.
I hope none of the corpses were really members of Falun Gong who died while in the care of the Chinese government, or critics of Beijing.
There was a similar exhibit in San Francisco earlier this year - again, with Chinese corpses of vague origin. I know, I know. There are a whole lot of people in China, and thus, many corpses too. But I am growing curiouser by the day about all these mystery Chinese dead people popping up plasticized, in action poses, in American museums. Why is it never clear where they came from? The Chinese government has been known to censor Internet content and try to monitor e-mail, so I'm sure they can manage to know a dead person's identity, and get the family's permission for the body's public display. Seems to me the world press ought to be finding out just who these "unclaimed" and "unidentified" dead folk are, and how they died.
There may be nothing sinister at play here. Except for the lack of information.
At any rate, the SF show raised concerns among the city's Asian population - like those that Florida officials voiced - that families of the dead persons on display had not given permission. There was also the small matter of leaking fluids, apparently not a problem in Tampa, thank goodness. A proposed SF Board of Supervisors ordinance on displaying remains was going nowhere at last report (bottom of SF Examiner local news round-up article, here).
I can't object to the educational, if graphic, nature of the plasticized corpse displays in San Francisco, Tampa, or elsewhere. But any public exhibit of dead bodies should be clearly sanctioned by the families of the deceased. If that is not possible, defer to the possible unspoken wishes of the dead, and/or their family members, to not have the remains shot full of plastic, posed athletically, and viewed by the teeming masses. After all, would you want that? (OK, then, put a notice in your wallet, and will).
Using the mystery corpses to make money, without explicit permission, smacks of crass commercialism; an infatuation with shock value; and a grave disrespect of the dead.
TO COMMENT: The regular comment feature is not in operation now. However, you can e-mail me your comments on this post, at the address accessed under "Contact," at the top of my "Main" page. I'll add them, here.
Tom Rekdal: Shortly after reading your post on the display of anonymous Chinese bodies, I came across a passage in a new book by John Durham Peters, "Courting the Abyss: Free Speech and the Liberal Tradition" (University of Chicago Press, 2005), pp. 204-205, which in some ways parallels your reflections. Peters believes that the legacy of Rudolf Virchow, a prominent mid-nineteenth century German scientist and polymath who pioneered the art and science of autopsy, reveals something distinctive about the modern (liberal), overly-scientific imagination. I pass it along, without comment, for what it may be worth:

"The public outlet for Virchow's labors was a pathology museum he founded to be a forum for medical education and research. Virchow's collection, which once held 23,000 specimens, many of them personally hand-labeled by him, lives on today in the form of the Berliner Medizin-Historisches Museum. Some 300 of the specimens that once adorned his office remain among the thousand or so on display, having survived World War II and the Berlin Wall.
This hall of specimens is the main attraction: an appalling, diverse, grotesque collection of balloon-like skulls, twisted spines, gangrenous feet. As a viewer it is hard to know whether to weep, vomit, or stare. There is no professional insulation against stuff this strong. Let me put it this way: Virchow's pathological museum beats the raunchiest production of the id by a mile. It presents Lacan's corps morcele according to scientific principles. Virchow's bottled fetuses, a centerpiece of his collection, look blankly back at us from their briny wombs: they are our kind, but suffer the curious abuse of being suspended from decay for the sake of an unsentimental education in the morphological variety of the human tabernacle.
His sepulchral bottles hold some of the strangest things that await the resurrection. What sort of irreverence is it to gaze at what once a mother carried for nine months and gave birth to? What flickering love for fish and fowl once rocked her breast and still hovers about the jars? The museum as an institution, like the institution of medicine itself, tries to preserve us from the smell of our own fishy interest in the disfigured bodies. The museum's very existence presupposes a particular tuning of the soul, an advanced stage in the civilizing process. . . .One swings between wonder at the lavish excess of births, outrage at the public desecration of the dead, compassion for one's pickled kin, amazement at one's own blank tolerance, and a moistly libidinous glee at being alive. Virchow's statement at the public dedication of the museum in 1899 is a central text in the art of abyss-redemption: 'the dead material should be nothing more for us than the illustration of the living.'
He seems to warn against gratuitous fascination, but more important, he is confident that when we face pathological deformity, we will find eyes to see living form. He trusts our powers of sublimation. The doctor facing the specimen impassively is the defining model of objectivity."
Posted by Matt Rosenberg at 02:23 PM | Comments (0)
Thursday Blogburst III
At Pajama Jihad, Nathan Azinger reports on the nascent Washington state initiative drive to repeal the estate tax, a.k.a. "the death tax."
"Oregon: Slightly Less Obese Than The Rest of the Country," is the state's new slogan. Or ought to be, says Skor Grimm.
Mac, at Pull On Superman's Cape, has been travel blogging about Hurricane Ridge in the Olympic National Park. Great digi-cam shots included.
A post from Vancouver blogger and high-tech startup consultant Pieter Dorsman on his family's recent holiday in Seattle. OK, yes, they stayed here at Chez Rosenblog. It has been a delight getting to know Pieter, his wife and kids, and we have the blogosphere to thank. In the above post, Pieter has some good links to some of the places we went, and an example of what passes for political discourse here in Seattle. I'll only add that the menu of home-cooked goodies, over the course of several days, included: tandoori chicken and lamb, vegetable biryani, raita with chat masala; spaghetti carbonara; steaks, lobster mushroom and green pea risotto, and a salad of Black Russian plum tomatoes and Japanese cucumbers in balsamic vinaigrette. At his excellent blog Peak Talk, Pieter's dishing out more of his trademark news and insights on international affairs, as in this post on Indonesia.
The indispensable Saudi blogger Religious Policeman has some tips for the British war on terror.
Seattle writer Doug Anderson tenses up his bow and lets fly an arrow aimed at the heart of today's U.S. anti-war Left. Bullseye!
Moonbattery suggests what sounds like a real winner: the kids book, "Help, Mom! There Are Liberals Under My Bed."
Finally, the incomparably snarky and essential blog Veiled Conceit deconstructs yet another marriage announced in the New York Times weddings and engagement pages, this one between a vet and a techie turned actress, whose standard poodle in distress served as a catalyst for love.
Posted by Matt Rosenberg at 02:05 PM | Comments (0)
Hunter S. Thompson: Pitiful Icon For Aging Hippies
After Hunter S. Thompson, gonzo journalist in severe decline, killed himself earlier this year, I blogged some of the rebuttals to the overblown encomiums foisted by the MSM - here, and here. Now, following the recent cannonized scattering of Thompson's ashes - an event attended by John Kerry, no less - syndicated columnist Jay Ambrose has a dead-on commentary about Thompson's, er, legacy. He is former director of editorial policy for the Scripps-Howard newspaper chain; edited several dailies; and now lives in Colorado, where Thompson also resided.
I certainly agree that Thompson was a highly talented guy with endless and sometimes captivating chutzpah. He had a breezy, engaging way of writing far less likely to bash brain cells to insensibility than many of us who put words on paper. At his best, he exhibited a vivid, eccentric and original imagination that would take you places you never expected to go. To say all of this seems to me to be saying quite a bit, without somehow elevating Thompson to the ranks of a major literary artist or important political thinker.

Yet, having said that much, we come to the other side, the desk-burning side. He could be exceptionally mean-spirited at times, even vicious, capable of a kind of verbal vandalism lacking in any grace or human understanding. He was likely right in a pronounced theme of his that the drug war went too far, but his counter-stand went too far, as well. As much is shown in these much-quoted words of his: "I hate to advocate drugs, alcohol, violence or insanity to anyone, but they've always worked for me."

The fact is they did not work for him. The drugs and alcohol - an immovable, prominent fixture in his social philosophy and life - appear to have ruined him. His writing lost its verve; sometimes, in the later years, it seemed little more than the work of someone stumbling toward being average. His health deteriorated. I can't know how happy his life was, but some press reports indicate a miserable, unholy shambles at times.

The way he finally ended that life - sticking a .45-caliber handgun in his mouth and pulling the trigger while his wife was on the phone with him and his son and grandson were close by in the same house - bespeaks a horrifying moral degradation.

So what we now get is an actor who played him in a movie, Johnny Depp, spending $2 million to finance this tacky, self-adoring memorial that included multi-color fireworks, the skyscraper sculpture of a two-thumbed fist holding a dagger, blowup sex dolls and a bunch of fancy guests. They included other actors, expectedly enough, but also two former presidential candidates: John Kerry and George McGovern.

Maybe those two Democrats attended because Thompson had written favorably about them, but they might have considered an ages-old observation that a society tends to cultivate what it honors, and that Thompson's story is as much as anything about destruction of self and others.
Hat tip to Greg Wallace, at What Attitude Problem?
TO COMMENT: The regular comment feature is not in operation now. However, you can e-mail me your comments on this post, at the address accessed under "Contact," at the top of my "Main" page. I'll add them, here.
Posted by Matt Rosenberg at 10:10 AM | Comments (0)
August 24, 2005
Opus Foosball Game Only $73,000
Via Wired's "Play" section (about halfway down, here, under "You Shoot, You Score!") comes a sleek, customized table soccer game with players looking just like you and yours. And for only $73,000!
Now you can really get in your foosball opponent's face. Players on the Opus soccer game table can be modeled and microcasted based on photographs of you, your friends, and your family. You can pick their uniforms, too. The table (made from hardwood and stainless steel) has a frosted, LED backlit surface that can change colors if you get tired of the standard turf green. There's no referee, but a bubble level ensures an even playing field. Opus: $73,000, www.elevenforty.com.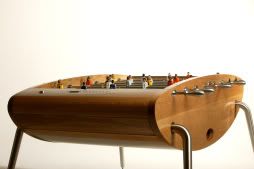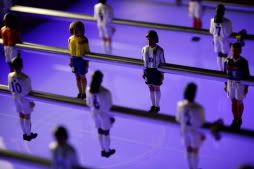 All this for only $73K. As it happens, I'm getting a bit weary of the bulky, inelegant, generic foosball unit in OUR family room. Now that we've repaired the deck and stocked up on blueberry juice, olive oil, and keffir-lime cashews at Trader Joe's, I think we're ready to take the plunge, by golly.
TO COMMENT: The regular comment feature is not in operation now. However, you can e-mail me your comments on this post, at the address accessed under "Contact," at the top of my "Main" page. I'll add them, here.
Posted by Matt Rosenberg at 09:59 PM | Comments (0)
No Judgement Days In San Francisco
Look, I've already made it clear I love San Francisco, even if the local politics aren't exactly aligned with my own. I'm a wanderer, baby, and my kids get dragooned into it, too. (As long as there are some parks, playgrounds and restaurants involved, they're happy). Now, some families - unfathomably, to me - go to Disneyland; we explore The Mission, Bernal Heights, Portero Hill, Pacific Heights, Noe Valley, The Richmond, Sea Cliff, and Sunset.
Even before moving from Chicago to Seattle in 1994, and especially since then, we've visited San Francisco more times than I can count. Lucky I guess, to have friends and family in and around the city, and (for my wife) business there, sometimes.
Just in case you're a Midwesterner or suburbanite whose lingering uptightness about San Francisco's street life, social mileu and moral values are keeping you locked down at Fisherman's Wharf, North Beach and Chinatown whenever you're in the city, Peter Hartlaub has the 411 in today's Chron.
Not only are the food and architecture great, it's a very accepting place. Just stay away from Market Street, only go to Hunters Point in a Hummer, and have fun! Rest assured; nobody's going to lay any, like, judgemental vibes on you, or anything.
Hartlaub writes:
If you're planning to commit a petty crime, drug-related spectacle or even a social faux pas, is there any better place to live than the Bay Area? Sure, we like a good witch hunt, but assuming you don't own a pit bull, join the Republican Party or dunk someone else's severed finger in a bowl of fast food chili, you can pretty much do or say whatever you want with minimum reprisal from your neighbors.

Take the example of former Village People lead singer Victor Edward Willis, who was arrested on drug and gun charges last month in Daly City. While most people east of Mount Diablo reacted to his alleged crimes with scorn, the typical Bay Area resident was simply relieved to hear that one of the architects of "In the Navy" is still alive. While the outsider wouldn't hesitate to throw the book at the musician, the Bay Area resident was more likely to embrace the pseudo cop. Who among us didn't hear of Willis' troubles and consider: Maybe I can get him to sing at my birthday party?

This is a community that chastises the politically incorrect, but is unfailingly forgiving of moral weakness -- which explains why Gavin Newsom and Kimberly Guilfoyle's garish Getty-fabulous wedding attracted way more controversy than their spectacularly failed marriage.
As a matter of fact, there ARE Republicans IN San Francisco. And even if their numbers are not large right now, they seem to be enjoying themselves. Guess they're fairly resilient. Long live diversity in San Francisco!
TO COMMENT: The regular comment feature is not in operation now. However, you can e-mail me your comments on this post, at the address accessed under "Contact," at the top of my "Main" page. I'll add them, here.
Posted by Matt Rosenberg at 11:33 AM | Comments (0)
August 23, 2005
Nasty Seattle Clown Nailed For Attack At "Burning Man" Fest
A Seattle nursing student has been sentenced to a hefty fine and more, for a brutal attack on another man and the theft of the victim's bicycle at the annual counterculture goodvibes festival in the Nevada desert, Burning Man. The disgraceful episode of aggression occured last year; the sentencing just last week. The perp was tracked down because he posted an anonymous e-apology after the victim's friends sought his identity in an online forum.
Dennis Hinkamp endured a beating at Burning Man last year that left him with a broken elbow, a black eye and ongoing nightmares. Late one night, someone jumped him, then punched and kicked him before stealing his bike. His assailant? A 6-foot clown weighing about 180 pounds, with sandy hair. Police were skeptical, to say the least, about the possibility of capturing a clown-faced bike-jacker.

But the Burning Man Internet community brought down that clown, known as Johnny Goodman of Seattle. On Tuesday, Goodman, 28, was sentenced in Pershing County Superior Court to three years probation, ordered to pay a $21,000 fine and told he can't drink or use controlled substances and is subject to random urinalysis. In addition, he is banned from Burning Man for three years.
The judge should've added a community service component to Goodman's sentence: dress up in his clown suit, and clean up the trash outside Seattle's Hempfest.
Incidentally, the San Francisco Chronicle had a staff writer report on the Burning Man sentencing story a day before the Seattle Post-Intelligencer ran an AP version. Can't imagine why the Seattle papers weren't all over this one right away.
TO COMMENT: The regular comment feature is not in operation now. However, you can e-mail me your comments on this post, at the address accessed under "Contact," at the top of my "Main" page. I'll add them, here.
Posted by Matt Rosenberg at 03:33 PM | Comments (0)
Oregon The Mediocre
Portland, Oregon businessman John Barrows let loose recently in Portland's big daily paper, The Oregonian, with a guest op-ed titled "Admit It: We're Mediocre And We Don't Care."
Oregon is an also-ran when comes to education, business competitiveness and leadership. That's apparently what most Oregonians want. Oregonians bristle at strong leadership -- Portland has rejected a strong-mayor system multiple times. And legislators, part-time and uncommitted to change or even hard work, reflect their electorate.

...Portland is one of America's top 25 markets, but only one Fortune 500 company is based here. There's no major, high-quality university, unemployment consistently runs near the top of the nation's worst states -- such as Mississippi and West Virginia -- and child abuse is among the worst, likely because of minimal employment opportunities. Even so, we strive to protect our 19th-century agrarian economic culture by prohibiting growth and development.

So let's just admit that economic, education and social mediocrity is what we want and quit whining when we don't measure up. I don't want to hear about the next "New York-y" restaurant opening in the Pearl. Oregon is not even a qualified "wannabe."

We are not NYC -- not anything like it. We work our eight hours (maybe) a day, abandon the city on summer Friday afternoons, protect our greenspaces as if they were holy shrines, dig 'shrooms from under cow plops, eat dinner early and abandon downtown by 10 p.m. For some reason we fail to have a budget to put (or keep) criminals in jail, but we can open up skateboard parks all over town. It's what we want.
BRENT POTTENGER, 48, Southeast Portland, sales representative - John Barrows has it partially right. We are mediocre in Oregon, but the majority of us do care. I've lived in Portland for over 40 years. It's a naturally beautiful place to live, but I'm thinking about moving. I don't feel I'm getting anything out of my government for the money, and the economy looks like it's ready to further deteriorate. If you haven't already guessed, I'm middle class and tired of a mediocre state and local government. There are a lot of people like me. Who is representing us?

...STANLEY LONEY, 80, Milwaukie, retired sales representative - ....It is so true it is scary. Here is a state controlled by a total lack of leadership and almost total welfare and huge taxes.

...JOHN EMANUELSON, 69, Corvallis, retired recruiter - My wife and I moved to Corvallis almost four years ago, and at first we thought it charming and quaint. But the lack of up-to-date stores and poor service became clear very quickly.
I have an interest in sharing my Christian religion with others, using a church as a platform. But I haven't found a church or a pastor who shares my interest. The pastors I've attempted to work with have no focus, no plan and provide no leadership! It's not coincidental that Oregon leads the nation in lowest church attendance. So, we're giving up. We're moving to Phoenix in early November. We intend to join a large church that's actually breathing.

...PAUL KELLER, 54, Rhododendron, writer and editor - Remember, the Rajneeshees didn't understand or like us much either. Pity. If this beaver-bashing, frustrated developer really loves and misses the thrills and spills of the rat race so much, I've got a one-word suggestion for him: Seattle.
True, Paul, the economy's doing pretty well up here, so - yep - I guess we're basically heartless, soul-bereft capitalists toiling in the gears of the machine.
But Seattle's political leadership is MIA, too.
TO COMMENT: The regular comment feature is not in operation now. However, you can e-mail me your comments on this post, at the address accessed under "Contact," at the top of my "Main" page. I'll add them, here.
Posted by Matt Rosenberg at 02:44 PM | Comments (0)
Jon Stewart: 88 Percent Of TV Shows Stink
Wired magazine interviewed Jon Stewart, acerbic host of Comedy Central's Daily Show, a witty political and cultural review that's loved by just about everyone who watches it. That group doesn't include me because I only have basic cable, and I only got that because - snurvulously - my total monthly bill for high-speed Internet and other "services" from Comcast would be MORE without it. Most of what's on TV is crap, says Stewart, and fancier wired video content delivery systems are basically a yawn. The Wired interview also includes Daily Show producer Ben Karlin.
(Wired): What do you make of the quality of television now?

Karlin: I firmly believe that the number of quality programs on television right now is probably higher than it has ever been.

Stewart: It's a constant level of goodness.

(Wired): What is that level?

Stewart: I'd say it's around 12 percent. I'd say 12 percent goodness, 88 percent crapola. I'm calling it the Goodness Theorem. The goodness is a constant, like pi, and it stays that way. What happens is, as the environment expands around it, the goodness expands at the exact same rate. So the ratio of goodness to crapola remains the same. And the percentage of goodness on network TV is probably the same as 30 years ago.

...(Wired):...there's a lot of venture capital going into video-delivery technologies that could allow more shows to go online. Isn't there something promising about new ways to watch television?

Stewart: Sure. But how much do you need TV to be available in convenient form? It already is convenient - we have the DVR (digital video recorder). Do you need TV on your watch as you walk from your cell phone to your BlackBerry? At what point do we get saturated enough to say, "OK, I get it! We can get anything we want at any time! Let's go sit around a large table and eat a meal in silence"? Sometimes this s*** (is) just overkill.
Thank you, kind sir! Would that the breathless hype-sters of the entertainment and technology trade journals and newspaper business sections pause to truly reflect on thy wisdom, thusly expressed. Video-enabled Net phones are as essential as microwaveable chili and macaroni on a stick.
As if I, or any other actually sentient being, would really want to watch TV on a computer. Lawdy, I can barely stand to turn on the TV in our family room, unless there's a DVD piped into it. Yes, with video search coming online, and with the right network configuration, I guess I'd be able to send selected snippets to my TV for viewing later. If I cared enough to troll the Web for some of the approximately 12 percent of video that's any good, that is. Sorry, I'd rather read a book on my deck. Unplug. Repeat. Unplug. Repeat.....
Here's another thing I don't get. Daily newspapers have TV critics on staff who travel to L.A. almost weekly it seems, to review new shows, at least 88 percent of which, as Stewart notes, are crud. Between these sneak previews and their other articles on TV shows, a huge amount of newspaper real estate and ink is wasted on utter effluvia.
At least TV mostly ignores the newspapers, except to steal real news stories from them.
TO COMMENT: The regular comment feature is not in operation now. However, you can e-mail me your comments on this post, at the address accessed under "Contact," at the top of my "Main" page. I'll add them, here.
Jim Miller: Interesting to see Sturgeon's Law (90 percent of everything is crud) pop up again. Wonder if Stewart knows the origin? Link here. My own view, by the way, is that the percentage varies by field.
Posted by Matt Rosenberg at 11:12 AM | Comments (0)
Castro's Repressive State On Last Legs?
This New York Sun editorial suggests Fidel Castro's Cuba - a failed experiment in socialism and the cult of personality if ever there was one - may be on its last legs.
Freedom is on the march in Cuba, and Fidel Castro seems nervous. Over the past month, he has intensified his crackdown on political dissenters, making arrests at a pace unseen since the last wave of repression in 2003. Now Rene Gomez Manzano, a dissident leader arrested in his bed on July 22, is starting a hunger strike to protest his unjust imprisonment

...The most recent repression traces back to a May 20 gathering at Havana at which at least 150 dissidents demanded democracy and the release of political prisoners. Mr. Gomez Manzano was one of the organizers. After this unusually strong showing, Mr. Castro apparently felt compelled to send in his paramilitary to suppress a small annual opposition commemoration on July 13. A wave of arrests followed just more than a week later.

Since July 22, 50 opponents of the regime have been arrested, of whom 15 remain in jail, including Mr. Gomez Manzano. Seventy-five dissidents were arrested in 2003; 61 of them are still behind bars. The government has launched a campaign of intimidation against other leaders. For example, a crowd of pro-government thugs recently surrounded the house of Vladimiro Roca for several hours, hurling invective at him as they tried to block an anti-government meeting.

Mr. Castro has managed to weather many storms during his 46-year reign, but there's hope that this time might be different. "I think we are at the tipping point," a senior program manager at Freedom House, Xavier Utset, told the Sun. The dissident movement is gaining ground, Mr. Utset said. The movement is developing into a full-blown civil society that is less afraid of the government, a senior policy analyst at the Heritage Foundation, Stephen Johnson, said.
Meanwhile, as starry-eyed leftists from Ashland, Oregon return from Cuba with blindered praise for socialism and neighborhood health care under the maximum dictator, up to 31 more Cubans die escaping the island on a smuggler's boat. Of course, commercial air service for Cubans- who typically each pay smugglers $10,000 for a chance to sneak into the U.S., is still, uh, in the works.
Q: What kind of place won't let people leave?
A: The same kind of place where the government confiscates property upon which dissidents recently gathered.
TO COMMENT: The regular comment feature is not in operation now. However, you can e-mail me your comments on this post, at the address accessed under "Contact," at the top of my "Main" page. I'll add them, here.
Posted by Matt Rosenberg at 09:53 AM | Comments (0)
August 22, 2005
Teen Fashion "Jokes" About Boy Bashing And Pedophilia
From the David & Goliath Fall '05 girls T-shirt line, a tasteful choice joking about pedophilia, the "Lil' Slut" number:
In Target yesterday in West Seattle, I noticed among the girls fashion accessories a pink fabric picture frame emblazoned with the words "Boys Suck." Also a Disney "license character" T-shirt with a skunk, and the words, "Boy Stink...a little." Boy-bashing is literally in fashion, as the Alameda Times-Star has reported.
No parenting expert interviewed suggests that mean-spirited slogans on clothing will destroy a young man's sense of self-worth. They do worry, however, that derogatory and sexist messages contribute to creating a hostile atmosphere.

"If we said that about blacks or Jews or Norwegians even, you'd be stoned immediately," (parenting author and columnist Armin) Brott says. But boy-bashing, at least in some circles, is fashionable. It's also big business. Artist and children's author Jim Benton, the creator of the "It's Happy Bunny" line of stickers, notebooks, air fresheners and clothing, has helped sell millions of products since 2000 through retail chains such as Urban Outfitters and Hot Topic.

Despite the friendly name, the cute smiley-faced bunny character has a bad attitude that's reflected in edgy mottoes, such as "Boys lie and kind of stink..."



When Benton originated It's Happy Bunny, he expected the products bearing his artwork -- including a handful containing anti-boy phrases -- to appeal to young women ages 16 to 26. "It actually turned out to be much broader in appeal than we thought," he says. In the Bay Area, for instance, It's Happy Bunny can be found in shopping malls at Claire's, a nationwide retail chain that targets its accessories to girls ages 7 to 12. "The idea behind it is not to suggest that all boys lie or stink," Benton says. "All I'm trying to do is make people laugh."
So, remember, "it's just a joke," when girls wear T-shirts like this:
The wit of Benton's ouvre is suited to the times: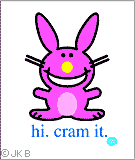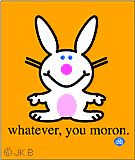 I'll admit there's a lot to be said for garden-variety abusiveness and nihilism. But I'm waiting for the "edgy" adult Ts promoting embezzlement, insider trading, wife-beating, drunk driving, heroin addiction and cop-shooting. I take "joking around" seriously.
TO COMMENT: The regular comment feature is not in operation now. However, you can e-mail me your comments on this post, at the address accessed under "Contact," at the top of my "Main" page. I'll add them, here.
Posted by Matt Rosenberg at 04:42 PM | Comments (0)
Te'Devan, The 6'7 Freestyling Jewish Rapper
There are some street people you know right off you want to avoid. Most of them, in fact. But every now and then - every very great now and then, in my case - there are street people you know you must meet. So it was recently when in downtown Seattle I espied a guy carrying a sign that said, "Six-Foot-Seven Jew Will Freestyle Rap 4 U."
Te'Devan R. Wacha Kurzweil, 26, formerly Jeremy Kurzweil, says he was raised in Shore Hills, New Jersey; the son of a lawyer and comercial real estate broker; and graduated from the University of Michigan in Ann Arbor with a B.A. in psychology. He describes himself as a non-Trustafarian spiritual wanderer, rapper, meditator and healer drawing on the ancient Chinese muscle movements known as Qi Gong, which form the basis for Tai Chi.
The freestyle rap routine goes like this: you suggest a word or theme, and he busts some on-topic rhymes for a few bucks. I suggested the interplay between salmon recovery and economic development in Puget Sound, and he actually delivered some pretty styling, coherent verse. I didn't go for a healing session, and can't offer any endorsement of Te'Devan's healing skills. Generally speaking, I don't buy that stuff.
However, traditional modern medicine is not the be-all and end-all. I hate the way doctors reach for the prescription pads so quickly, and the extent to which we have become a nation dependent on pharmaceuticals for health. The Qi Gong movements, and the individual practice of Tai Chi certainly can have significant health benefits. One central aspect of Qi Gong is breathing. It is to me in no way Fruit-Loopy to remember how important it is to breathe properly - deeply and slowly, exhaling through your nose, not mouth.
I will say this about Te'Devan: the guy is extremely fit, and struck me as bright, positive, funny, sober and centered, to boot. He is breathing life in, deeply.
For crash space on his continuing journey, Te'Devan relies on hosts from couchsurfing.com, one of several social networking sites for free lodgings in people's homes. More about Te'Devan at his couchsurfing.com profile page.
He hopes to get his own reality TV series, but he's not seeking any meetings. It'll come to him, he figures. And it might. He's already been on the Rikki Lake Show, doing some stand-up and some rhymes; and on Blind Date.
On the road constantly, meeting new people daily in his spiritual quest is like running a "metaphysical confession booth," Te'Devan tells me. He explains that people who are too skittish in normal circumstances to discuss spirituality, faith, healing and alternative medicine freely reveal their experiences and openness to these topics, in conversations with him.
Te'Devan is a devout non-materialist. He hopes and expects that one day, with the money earned from his reality TV series, he'll be able to open a series of welcoming residence houses in different locations where "people on unique paths" - meditators, healers and non-toxic activists, for instance - can reside.
Perhaps Te'Devan will land his reality series, maybe on The Travel Channel. If you see him on-screen, remember, you read about him first at Rosenblog.
TO COMMENT: The regular comment feature is not in operation now. However, you can e-mail me your comments on this post, at the address accessed under "Contact," at the top of my "Main" page. I'll add them, here.
Posted by Matt Rosenberg at 12:22 PM | Comments (0)
August 18, 2005
Ex-Santana Aide Sues, Alleging Deva-dippy "Consciousness" Firing
Only in Marin County, California. Bruce Kuhlman, 59, a former personal assistant and later, merchandising manager for rock star guitarist Carlos Santana, is suing Santana and his wife Deborah, alleging wrongful termination based on religious, age and gender discrimination.
The 17-year Santana empire employee had been praised and highly valued for his work, according to his suit. But it seems a guru-type known only as "Dr. Dan" was brought in by Deborah, and "calibrated" Kuhlman's consciousness as too low, and he was eased out. Part of a larger pattern of replacing male employees with females, Kuhlman alleges. More from the Marin County Journal:
According to the lawsuit, Kuhlman was hired as an independent contractor by Carlos Santana in January 1988 to take care of everyday needs for the Santana family. Over time he became more involved in business management, although no formal promotions were made.

By 1998, the Santanas had ended a merchandising agreement with Sony Signatures for licensing and merchandising in favor of starting an in-house division to sell band-related products. Kuhlman claims in the lawsuit that in 2001 he took on the duty of operating the division and was given the responsibility of developing the business, River of Colors. He said he was promised a salary, bonuses and commission on licensing revenue.

Kuhlman said in mid-2002, he received a $13,000 performance bonus and was told by the company's chief financial officer, Ted Jorstad, that he would receive a $25,000 bonus for 2003 if he met budget.

By that time, Kuhlman said Deborah Santana had stopped commending him for his work and overlooked him when she was handing out gifts and awards at a company retreat. Kuhlman claims that Deborah Santana preferred to work with women and constantly "put down" men.

In fall 2003, Deborah Santana told Kuhlman she wanted him to see "Dr. Dan," who came into the office once a month to "calibrate employees' consciousness," Kuhlman claims in the lawsuit. The lawsuit did not further identify Dr. Dan or explain who he was.

At his first meeting with Dr. Dan, Kuhlman was given a chart that explained "the person's emotional view of God É God-View, Life-View, Level, Awareness, Emotion, Process," the suit reads. Dr. Dan also gave Kuhlman literature on neuro-emotional technique and neuro-calibration technique, along with a book called "The Realization of the Presence of God."

Dr. Dan calibrated Kuhlman's "enlightenment/conscious level" as low, but explained that that is typical later in life. Dr. Dan said his treatments could raise his level and make him a better employee. Deborah Santana told Kuhlman she was unhappy with how he was doing the licensing and felt there was something in his subconscious mind that was keeping River of Colors from being successful, according to the lawsuit.

At about the same time, Deborah Santana hired three women in their mid-30s and had them calibrated over the telephone by Dr. Dan without their knowledge, Kuhlman claims. The women were found to have high conscious levels. When Kuhlman told Deborah Santana he was not satisfied with the performance of a new employee who was hired to be his assistant, he was sent to Dr. Dan again to learn to become a better communicator.

In a meeting later, Kuhlman said Carlos Santana said he was unhappy with the progress of the licensing program and said: "Maybe we need to find someone younger to run River of Colors."

....On April 28, 2004, Kuhlman was given a letter from Carlos Santana, saying he was unhappy with his management and that his employment was terminated. Kuhlman said he believes Deborah Santana wanted him replaced because he was a man. In the lawsuit, he claims his assistant became his replacement after he left the company.

Kuhlman claims that by 2004, the only men that were managed by Deborah Santana were himself and Carlos' brother, Jorge Santana. Information on Jorge Santana's employment was not detailed in the lawsuit.

"Both were fired in 2004. Plaintiff was replaced by a much younger woman," the lawsuit complains.

Kuhlman said he believes River of Colors earned a profit of $700,000 to $1 million in 2004 because of his efforts. He said he did not receive a bonus.
The case is proceeding toward trial although, as always, a pre-trial settlement is possible. We'll have to see what the judge and the defendant's attorneys think about the quality of Kuhlman's case. While generally I'm quite skeptical of bias claims and allegations of victimization, this "Dr. Dan" shtik doesn't smell so great.
True, Devadip Carlos has always had a spiritual side, evidenced most clearly in his 1973 collaboration with John McLaughlin - the awesome jazz-rock guitarist - and titled "Love, Devotion, Surrender."
There they are on the cover, dressed in white suits, Carlos with hands humbly behind his back, gazing at a lotus blossom on the ground, or something. On the back, both guitarists are in a reverent pose, Carlos with hands cupped and thumbs carefully crossed, a loopy (or would that be, blissed?) and red-clad Sri Chinmoy extending his arms and blessings to both. Excellent album, by the way, with song titles such as "A Love Supreme," "The Life Divine," "Let Us Go Into The House Of The Lord," and "Meditation." I saw Carlos a year later (1974) at the Auditorium Theater in Chicago. Barely said a word, just played like hellfire.
The Beatles, of course, paved the way in the rock guru department, with Maharishi Mahesh Yogi, who later founded Maharishi University in Fairfield, Iowa. He taught them about "yogic flying," the essence of which they incorporated into some of their subsequent music, along with LSD.
So, like mind-altering drugs, spiritual inspiration may or may not be a great artistic muse. But both seem a poor means of arriving at business decisions.
TO COMMENT: The regular comment feature is not in operation now. However, you can e-mail me your comments on this post, at the address accessed under "Contact," at the top of my "Main" page. I'll add them, here.
Posted by Matt Rosenberg at 10:12 AM | Comments (0)
August 17, 2005
Seattle Shop Caters To Real Lefties
After a stellar $7 lunch at El Puerco Lloron, blogdaughter and I perused the subterranean stores of Seattle's Pike Place Market, known collectively as "Down Under." And it's not entirely crud.
We happened upon Lefty's World, a small specialty shop there selling stuff for Lefties, and I'm not talking about Seattle political activists - they've already got the town's best-known independent bookstore and a bunch of others to choose from.
Lefty's World sells spiral notebooks with the wiry binding on the right - now there's an outstanding product, as any Lefty would testify! They've got other Lefty-friendly merchandise: butter knives, spatulas, scissors, corkscrews, garden shears, and Lefty identity goods such as computer mouse pads and T-shirts.
Among the Ts I liked were, "It's a Lefthanded Thing...You Wouldn't Understand;"
"Hire The Lefthanded - It's Fun to Watch Them Write;"
and "I'm Lefthanded - What's Your Excuse?"
Owner Tom Gardner, 69, tells me he's been in business at The Market four-and-a-half years, and sales have exceeded what he envisioned in his business plan. The typical customer, he says, is a 40ish female who's not lefthanded, buying something for a Lefty family member.
And yes, I'm lefthanded. Like a few other luminaries.
INFO: Lefty's World, 1501 Pike Pl., #311, 206-332-1900. Hours: Tues.-Fri., 10 to 5; Sat., 10 to 6.
TO COMMENT: The regular comment feature is not in operation now. However, you can e-mail me your comments on this post, at the address accessed under "Contact," at the top of my "Main" page. I'll add them, here.
Posted by Matt Rosenberg at 09:04 PM | Comments (0)
Ashland, Oregon Dust-Up Over Intelligent Design
There was a real dung-storm recently in uber-liberal Ashland, Oregon, a place where the right to public nudity is codified in a village ordinance - and the streets are filled with increasingly aggressive panhandlers confronting Oregon Shakespeare Festival-goers and other visitors to the charming, sylvan town.
Yes, a conservative Christian black man, Mike Green, the content editor at the local newspaper, the Ashland Daily Tidings, penned a Web-only piece for the publication, in favor of teaching intelligent design in public school science classes.
Which resulted in calls from readers for censorship of such views. Here is an editorial from the paper about the reaction to Green's column. An excerpt:
Letters decrying the "idiot" author of the column demanded censorship of this position. Most said space in the newspaper should not be wasted on this point of view, even though no newspaper space was utilized.

It's ironic a forum that allows for three different points of view would incite people to such a vociferous reaction. One writer said a conservative with such views shouldn't be allowed to work at the Tidings!
All too typical of our "tolerant" Left Coast "progressives." A day before Green's hot-button commentary, The Tidings published two contrasting opinion pieces by other staffers on Intelligent Design; one opposed to its inclusion in school science curricula, the other, by editor Andrew Scot Bolsinger, in favor of it. Bolsinger noted:
...any responsible educator would hold themselves to a higher standard of fairness, probing their actions to eschew proselytizing for the advancement of critical thinking. Having students who think for themselves is the foremost educational goal.

To that end, acknowledgement of the religious environment that floats in the historical midst of evolution is an important aspect of teaching the science. Likewise, a classroom will not cave to religious fervor by explaining a segment of our culture that touts a concept, lacking in scientific evidence, called intelligent design.

Christians have faith-based schools to teach religious curriculum. Efforts to tout any faith violates the separation of church and state. But during the instruction of evolution, it hurts no one to offer a basic level of explanation as to alternative views of the subject that are prevalent within our culture.
Even Bolsinger's moderate position - similar to posts of mine on I.D. at the blogs Red State and Sound Politics - was likely an affront to the liberal group-think of Ashland and many other similarly-inclined burgs. But going so far as to publish Green's hard-edged piece on I.D. and faith in public life - in this Patchouli/Lexus outpost's daily paper - was downright gutsy. More power to the Ashland Tidings for rocking the boat in a community that badly needs alternatives to one-party ideological rule.
By the way, Mike Green's back at it today in The Tidings - with a great, seriously researched piece which ties together the themes of education spending; academic expectations; and the roles of the family and the individual in minority achievement.
TO COMMENT: The regular comment feature is not in operation now. However, you can e-mail me your comments on this post, at the address under "Contact," above. I'll add them, here.
Tom Rekdal: The choice of any curriculum necessarily involves a decision to teach some things, and, by implication, to exclude others. To describe such an exclusion as "censorship" is merely a confusion of thought.

No competent educational institution still teaches courses in witchcraft or the geocentric theory of the heavens (except, perhaps, Berkeley). Few people would consider this "censorship." Instead it represents discrimination in its primary sense: a selection based upon defensible reasons.

The view that intelligent design should be taught in our schools as a scientific theory is supported almost exclusively by the Discovery Institute and some fundamentalist religious groups. To describe this view as one "prevalent within our culture" is a gross exaggeration, to put it mildly.
"Med": God will create nothing else until he comes back and then he'll create hell. When will one of the evolution believers show me an animal of any species that has evolved (not cross bred/hybrid junk science) since man has been on earth. There are none. If evolution is a fact, why aren't more species "evolving" every day, at least one small animal in 2000 years? Give me the junk science answer to that.
James J. Na Rekdal writes:

"The view that intelligent design should be taught in our schools as a scientific theory is supported almost exclusively by the Discovery Institute and some fundamentalist religious groups."

This is a serious mischaracterization of Discovery Institute's position, and is plain inaccurate. DI position has NEVER been to force schools to teach ID along with, or in lieu of, evolution. DI reps have stated repeatedly that evolution is the dominant paradigm and that ID is a very new, but promising alternate theory. As such, they have maintained that schools SHOULD NOT be forced to teach ID.

In stead, they favor the "teach the controversy approach," in which the best evidences for evolution as the dominant paradigm are taught as well as the scientific evidences supporting some critiques, like the Cambrian explosion and notions about irreducible complexity. In other words, teach evolution but also teach that there are some gaps and possible counter evidences in the theory.

In fact, DI has fought those who have attempted to hijack its position by insisting on teaching "divine design," creationism or even ID itself along with, or in lieu of, evolution. Again, that is NOT DI's position. But critics who never bothered to read DI's position (or have, but don't care to argue the substance) love to keep distorting the actual DI position along with the usual "Christian fundamentalist" ad hominem attack (there are Christians, Jews, agnostics, deists and atheists at DI and in the ID movement, and Bruce Chapman, the DI president, is a Catholic, hardly a bible-thumping fundamentalist).

In fact the real missing story is not about bible-thumping fundamentalists wanting to teach creationism, but about the supposedly objective neo-Darwinists with materialist-bent attacking those scientists with any kind of faith, going so far as to create a hostile work place. Read the National Review article about that here.

It's author David Klinghoffer is Jewish and, in fact, authored a book called "Why Jews Rejected Jesus." Hardly the minion of fundamentalist Christian Right.
Tom Rekdal: Despite Mr. Na's vehement clarification, I do not see how his remarks contradict anything I have said, much less demonstrate a "serious mischaracterization" of the Discovery Institute's position.

I do not know what "forcing" schools to teach intelligent design would mean--something I did not accuse the DI of in any case--but they certainly do advocate teaching intelligent design as a credible alternative to evolution. Calling this a "teach the controversy" approach is merely another way of saying the same thing. Readers can judge for themselves whether there is any important difference.

As for the fundamentalism issue, I do believe it is true that most of the people not directly associated with the Discovery Institute, who support their position on ID, are religious fundamentalists of one sort or another, though not necessarily Christian. No doubt there are some--Mr Na may be one of them--who are not affiliated with any religious sects at all, but they are certainly not large in number, and I do not understand Mr. Na to believe otherwise.
James J. Na: Let me try again. Mr. Rekdal wrote:

"The view that intelligent design should be taught in our schools as a scientific theory is supported almost exclusively by the Discovery Institute and some fundamentalist religious groups."

In other words, Mr. Rekdal seems to believe that Discovery supports teaching ID at schools. This is plain wrong. Read the NYT article about Discovery that appeared Sunday, here.

While it is not an entirely friendly coverage (it is the NYT after all), the article gets one thing right. Discovery does NOT support teaching Intelligent Design at schools (NYT excerpt below):

But even as the institute spearheads the intellectual development of intelligent design, it has staked out safer turf in the public policy sphere, urging states and school boards simply to include criticism in evolution lessons rather than actually teach intelligent design...

Dr. West, who leads the science center's public policy efforts, said it did not support mandating the teaching of intelligent design because the theory was not yet developed enough and there was no appropriate curriculum. So the institute has opposed legislation in Pennsylvania and Utah that pushes intelligent design, instead urging lawmakers to follow Ohio's lead.
"A lot of people are trying to hijack the issue on both the left and the right," Dr. West said.
Indeed, because of the usual media distortions and ad hominem attacks that tie Discovery to "Christian fundamentalists" (which NYT also does), what's often obscured is that Discovery OPPOSES legislation mandating teaching of intelligent design at schools whether in lieu of or together with evolution.
Tom Rekdal: Mr. Na makes yet another attempt to explain that "teaching the controversy" about Darwinian evolution vs. intelligent design does not involve teaching intelligent design. The puzzle persists.

No one thinks it important to teach the "controversy" about a subject if it is generally recognized that one side of the dispute is sheer humbug. Teaching the controversy becomes important only when the outcome and the answers are unclear; there appear to be appealing arguments and credible evidence on both sides, so we lay out the case for both sides and let students decide for themselves--we being so democratic, and all. Perhaps Mr. Na can explain how to teach the controversy over evolution without teaching anything about the intelligent design side of the dispute.

If by not teaching intelligent design the Discovery Institute means only that the Darwinian paradigm will not be entirely cast out of the scientific curriculum and replaced by a wholly intelligent design theory, fair enough. Thanks for small favors. But the effect of introducing intelligent design as a serious rival to Darwinian evolution will be to increase the legitimacy of, and receptivity to such ideas. That, of course, is the whole point of this gambit. It is also why the critics of this approach so often advert to the ad hominem point that so irritates Mr. Na: most of the people pushing this idea have theistic axes to grind.
Posted by Matt Rosenberg at 12:00 PM | Comments (0)
August 16, 2005
Convicted San Diego Politician Gets Labor Council Job
Former San Diego City Council Member Ralph Inzunza, convicted with a colleague on felony charges stemming from a strip-club influence-buying scheme, has a new job. The San Diego Union-Tribune reports he:
"...has been hired by the San Diego-Imperial Counties Labor Council to teach computer, math and language skills to low-income job seekers. Inzunza began his job the first week of August, about two weeks after he and ex-Councilman Michael Zucchet were convicted of federal corruption charges and resigned from the council.

"We have a job and he can do the job very well," said Secretary-Treasurer Jerry Butkiewicz. "It seemed like a perfect fit."...Inzunza was the perfect candidate for the recently vacated position, Butkiewicz said, because he is bilingual, he has bachelor's and master's degrees in social services, and he has been an employer and knows what employers are looking for during interviews.

The Labor Council is extremely influential at City Hall. It's an umbrella group for the region's 110 unions representing 100,000 workers in the two counties. The council, among other things, provides job training to minorities and Spanish speakers and lobbies politicians on labor issues. The council is funded by a combination of member dues, grants, donations and fundraisers, Butkiewicz said. Inzunza won't be participating in politics, Butkiewicz said, nor does he want to.
Of course, his teaching gig may still be short-circuited by a prison term as Ruben Navarrette predicts.
The Union-Tribune again:
The councilmen were convicted of multiple counts of extortion, wire fraud and wire fraud conspiracy in connection with a plot to accept money from a strip club owner in exchange for efforts to repeal the ban on touching between strippers and club patrons.

Butkiewicz denied the job is pay back for a supportive politician who backed unions. "I think people understand the word loyalty in the labor movement. I think Ralph was a big supporter of working class people.
Translation: we'll be helping to bankroll his next run for elective office, in a few years, and calling in a few chits of our own. But tactfully.
TO COMMENT: The regular comment feature is not in operation now. However, you can e-mail me your comments on this post, at the address under "Contact," above. I'll add them, here.
Posted by Matt Rosenberg at 12:53 PM | Comments (0)
The Sanctity Of A Chicken's Life
A Vacaville, California farm animal advocacy group is now safeguarding 700 out of 160,000 chickens to be evacuated from a newly-sold egg farm near Gilroy. They are looking for homes for the 700; the rest, all past-their-prime egg-laying hens, are expected to be killed. In the above-linked story, one animal rescue official says we should stop eating eggs.
A question arises. Are the chicken rescue people, uh, "pro-choice"? (Myself I am pro-choice, but not pro-abortion). If they support the right of a woman to terminate a pregnancy, but seek to prevent the death of farm hens, are they saying a chicken's life is worth more than a human's?
It would kinda seem so, huh?
Excuse me now: time for a big frittata.
TO COMMENT: The regular comment feature is not in operation now. However, you can e-mail me your comments on this post, at the address under "Contact," above. I'll add them, here.
Posted by Matt Rosenberg at 12:08 PM | Comments (0)
Senator Robert J. Mellow Gets All Shook Up
Pennsylvania State Senate Leader Robert J. Mellow (D-Lackawanna), was first elected to that august body in 1970, and is now in his ninth consecutive term. It's hard to be Mellow, but Robert J. should head out to pasture. First off, he really thinks that, yes, as a top state senator, he ought to be paid $133,771.54 per annum. Long hours, big responsibilities, all that.
His longevity has bred not only a sense of entitlement, but contempt for those he serves. This recent news story recounts that he replied to a constitutent's e-mail, which protested his support of a legislative pay raise, with an e-mail of his own, stating:
"Why don't you get a life? Please do not mail my office another e-mail."
The constituent, 72-year-old Camp Hill retiree Bill McIntyre, was somewhat taken aback.
During the e-mail exchange that followed, McIntyre explained to Mellow that as an elected official, he could, and should, expect to continue hearing from him.

Mellow was free to delete or ignore the messages, McIntyre further wrote, signing the response "A Citizen who cares and will not forget."

That brought another response from Mellow: "You are not the only one who will not forget."
What a Putz, and I'm not talking about J.J. either. Now, the only thing worse than no apology for something like this a botched apology. Mellow says through a spokesman that he "regrets" the "tone and words" used in the e-mail and was under pressure from dealing with so many bulk and spam e-mail messages in his inbox. Try the word "sorry" on for size Senator Mellow, and skip the lame excuses.
Senator Robert J. Mellow (not) has confused himself with a Lesser God and has become the poster boy for "The Chilling Detachment of Pennysylvania Lawmakers." Nine consecutive terms. Feh. I think he's ready to become a lobbyist now.
TO COMMENT: The regular comment feature is not in operation now. However, you can e-mail me your comments on this post, at the address under "Contact," above. I'll add them, here.
Posted by Matt Rosenberg at 11:11 AM | Comments (0)
August 15, 2005
Blogs Can Benefit Small Businesses
A new post is up at my other blog, Blog Consulting Pro. The site is devoted to helping non-profit and business folk, as well as political candidates, officeholders and ballot initiative campaigns jump into the blogosphere. This entry is titled, "Blogs Can Benefit Small Businesses." Have a read, and feel free to add to the comment string at the post.
Posted by Matt Rosenberg at 02:59 PM | Comments (0)
Arcata's Commissars Of Entitlement
I've been covering the fortunes and travails of "The Dense Fruitcake That Is Arcata," California at Rosenblog for some time. The hippie and homeless haven - on the state's north coast, through Redwood country - has been getting in touch with its Inner Republican. This is thanks to the reprehensible conduct of the entitled classes, and a city council hopelessly mired in an Ur-60s mentality.
Today's (Eureka) Times-Standard reports on Arcata Endeavor, a non-profit that runs the well-known Arcata Services Center downtown, where all "needy" comers can get a hot lunch, shower, computer access and advice on working the social services system. The article's focus is the Center, so it's not surprising there's only a passing reference to the "sometimes tense debate about homelessness in Arcata."
But that tension - over Arcata's "homeless" - is the real story. Some local observers believe it arises from Arcata's commissars of entitlement, namely several manipulative activists and a local politician who play to the drifting homeless hippie youth known as "drainbows." This latter contingent has traditionally been drawn to Arcata by good weather, plus a (now justifiably diminishing) reputation for "tolerance," public space in which to sleep, the service center, and of course, the top attraction: sticky "bud," or primo Humboldt County grow-op marijuana, some of the very, very best around.
An Arcata city task force on homelessness recently completed its work, made especially painful by the antics of several homeless members of the body, who've tended to see a conspiracy around every corner.
In the end, each of the three homeless representatives left the task force table. One was removed by the council last month. The other two resigned on Thursday.

"My name will not be on this kind of oppression," said former homeless representative Tad Robinson, leaving his seat and stepping to the back of the room where several people stood clapping so loudly that (clergy representative and acting task force chair Tim) Doty called the first of the night's several recesses.

A major point of contention for several speakers was the plan did not include the development of an "autonomous" campground for what some people described as "urban campers."
The ongoing drama has led one prominent local journalist to let loose. The editor of the exceedingly tolerant, always bemused and picaresque local weekly newspaper, The Arcata Eye, has finally reached the end of his rope with the town's commissars of entitlement - including the bombastic homeless advocate Robinson, and a key elected enabler of Arcata's sweeping civic misdirection and laxity, Council Member Dave Meserve. Arcata Eye Editor Kevin L. Hoover writes in the current edition:
The verbal assaults are applied en masse or individually, and no quarter of town is spared the vituperative venom. One day, a few months back, Robinson was lingering at the entrance of a downtown business, smoking in the posted no-smoking zone, when the female co-proprietor showed up with some heavy merchandise to carry in. She asked Robinson if he would move down the way a bit, a civil request to which he responded with his usual rap about how she must be against the homeless, capping the tirade by calling this working woman "bigot bitch." Lovely, eh?

Right on schedule, Robinson was at the next City Council meeting, waving a Bible around and preaching about how we all ought to live like Jesus - you know, like he does.

.....And the mob tried to rule inside as well. Wednesday's council meeting was repeatedly disrupted by people not willing to respect the council, the people or the democratic process. As one guy refused to stop speaking about homelessness, Mayor (Michael) Machi called a recess and summoned police.

So there were the poor cops, looking so out of place in the lobby, drawn into a political situation and taken off the streets, there to keep the so-called activists from behaving like petulant children. Meanwhile, Robinson and his pals gleefully high-fived each other (literally) for having again engineered yet another confrontation, where they where they could pose as the valiant freedom fighters against the police state.

If you like this situation, thank Dave Meserve. He catalyzes, nourishes and encourages these people to ever-lower depths of public obnoxiousness, rewarding them for it. And just wait until he gets his campground. Between that, the sticky bud and the camper-bedraggled forest, Arcata will become this continent's Great Attractor for the howling Tads of the world.

In the olden days, travelers used different tactics to bilk the rural townsfolk. Maybe they sold snake oil, or ran confidence games, selling you band uniforms and even 76 trombones. But today's state-of-the-art grifter works a different, much more rewarding con - they find an ambitious politician like Meserve and regale him with righteous rhetoric. And a light bulb goes on in his head. He'll be their shepherd and they'll be his flock. He'll set them up in a campground, they'll use the address to register to vote, and not only will he (be) a career officeholder, but other similarly configured pols will be elected and form a majority bloc. And then...

To minimize interference while they ramp up the effort, Meserve's agents push our liberal community's buttons. And it's oh so easy. All they have to do is call themselves homeless and oppressed and question our values, and we, the unsuspecting bleeding heart rubes, go all a-twitter with guilt and confusion.

By and large, Arcatans are the kind of people who won't tolerate intolerance, and who insist on compassionate assistance to the poor. The predatory types have turned this open-hearted tradition into a loophole, and use it to play the locals. No one wants to be an oppressor, or ignore a community problem, or marginalize the homeless, and being accused of that kind of thing throws us off balance.
Current and former residents posting at Hippie.com's "Hippie Haven" bulletin board on Arcata are highly critical of the town's underclass. (In the interest of anthropological verity, I am leaving their spelling and typing as is, although some of the selected posts are edited for brevity).
1)...I lived in Arcata for 7 years where I alowed the land to heal me from the inside out. I am still involved with the community there(MATEEL) and with birth activisim, however, when I gave birth to my first child I decided that the rift/raft was too intense for me, cheesy street people persistant, and to me scary as a mom....CALIFORNIA is overated, property is too expensive, and it''s unfortunate for me to hear that parents are worried about their kids out there. REST ASSURE YOURSELF they won''t go hungry @ that food bank! which is keeping all of the street kids fed well. Peace out to all my SPIRITUAL MENTORS. Peaceful states of minds to all seekers. Much LOVE and RESPECT
2) This is a great community. Unless you are a low life scum bag that begs change instead of getting a job. The towns folk are tired of the flood of "bums by choice". Usually freindly inhabitants of this little jewel are making drastic changes to get rid of the human waste that flows into town. Hope all you hippy dippies can either contribute to Arcata or go somewhere else. Everything is not FREE and that includes the buds!!!!!!!!!!!!
3)...f*** those kids, when i lived in arcata they just wanted to crash on my floor and eat my food. ive seen them stand in front of a car with a mom and four kids in it and scream at her for almost running them over, when they were standing in the road arguing with each other.
4)...I love Arcata, I''ve lived here for 12 years. Please, I do welcome all of you that wanna come here for school, to raise your kids, get out of suburbia, etc. BUT...if you''re thinking of coming here because you have no money and hear it''s an easy ride,...I will do my best to personally drive you out of what used to be my personal haven...thanks for ruining it you lazy, trustfunding, wookies...

And...please...do not call these gutter punks ''hippies''---so far from it. I was raised in a grateful dead family in the bay area in a scene where the hippies were true...they contributed to the betterment of all. Far from what we see on our plaza these days.

For all of you f***s that keep recommending camping in our protected environments---GET A CLUE!!!! It''s hardly ''green'' to destroy this beautiful landscape with these ''freaks'' trash and (...human feces), littering what was once pristine. NO, you cannot camp in our community forest---and, ranger bob is not ''evil'' for preventing you from doing so. Stay out of our marsh---which is a huge preserved area that is being destroyed by drainbows, and should be (and has been in the past) an environment for study for many of the wildlife, biology, watershed, etc...depts. for students. THANKS! So ''kind'' of you to destroy some of the last vestiges of protected land on the west coast. How ''conscious'' of you...

When your broke and spanging on the plaza, PLEASE think twice about breaking in and stealing from our struggling small businesses...sorry that you aquired a heroin addiction on your visit to the redwoods, but these struggling folks don''t deserve to pay for it---esp. since you ruined their source of clientele by driving all the decent folks out of the area...

get real, what was once a utupia is now sapped dry from greedy folks like yourself, that are looking for a kind place to freeload...that''s a big difference from free-living...so step off...
5) My son, david, is tree sitting in the Redwoods. We heard from him for the first time in 3 weeks today. If you see him, tell him HI and to call us again sometime soon. He left high school to travel and has been in Arcata for about a month now. He too decided he had enough of people telling him what to do and wanted to travel and see the country. I just hope that he realizes that someday he has to actually grow up. He thinks that "sticking it to the man" is the way to go for now. How interesting that by doing that he is still accepting handouts, food stamps and welfare. How is that being independent? He is accepting things to survive from the same "crappy government" that he wants to rail against.
The homeless task force's now-completed draft plan will be the subject of a community meeting on August 25th, and the city council is expected to approve their own version of the blueprint sometime thereafter. One possible measure is that Endeavor's homeless service center may be moved away from downtown Arcata.
I think what Arcata needs, along with tighter non-profit charity intake standards and some level of social services for the truly needy, is: beefed-up municipal ordinances against panhandling, breaking and entering, unpermitted camping on public lands, and public defecation; actual enforcement of said laws; plus more local jail cells and police. If the latter two require new revenue sources, let voters decide. Local businesses might find it cheaper in the end, taxing themselves to pay for restoration of public order.
In any event, the propertied classes of Arcata can be expected to defend their interests more and more energetically against the Trustafarian "drainbows" who are "spanging" for spare change and sticky bud, trampling marshes, crapping in the woods, and verbally abusing townsfolk and social services volunteers.
More power to the bourgeoisie of Arcata. Arcata represents, in microcosm, the plight of many much larger American cities today, including my home of Seattle. The people who play by the rules always seem to pay, and pay, and pay, for those seeking shortcuts.
TO COMMENT: The regular comment feature is not in operation now. However, you can e-mail me your comments on this post, at the address under "Contact," above. I'll add them, here.
Greg Wallace: As a graduate of Humboldt State, I could see things headed this way back in 1974. It's interesting and only a little amusing to watch from afar and see things pan out the way they are. Oh, well. You reap what you sow. It's hard to feel sorry for anyone in that mess now when we saw it coming 30 years ago.
Posted by Matt Rosenberg at 11:22 AM | Comments (0)
August 14, 2005
Chicago Mayor Daley Feels The Heat, On Corruption
Chicago's political corruption has reached a new peak - or would that be nadir? - under current Democratic mayor Richard M. Daley.
The famous line in Chicago politics, carved in stone during the reign of his father, the famous Mayor Richard J. Daley, was always, "We don't want nobody nobody sent."
Tony Soprano would unnerstan'.
Connections, clout are all. Growing up in Chicago, and working for a good government group investigating municipal corruption, then as as a student intern GOTV organizer for an independent 48th Ward (Edgewater) aldermanic candidate who defeated a Chicago Democratic Machine opponent, and later as a community organizer, policy researcher and media relations specialist on airport issues in nearby suburbs and Chicago, I've had more than a small taste of the Chicago Democratic power imperative.
That helped lay the groundwork for my shift in political sensibilities, although certainly global politics figured in, as well.
Now, Chicago, under Daley I's son since 1989, seems more hopelessly corrupt than ever - as the last week's, month's and half-year's news stories illustrate. The ceaseless black arts of politics were one reason I was happy to leave Chicago for Seattle in 1994, but it just keeps getting worse.
True, under Daley II the city has developed a more progressive veneer. Lots of flowers, bike and walking paths, attention to troubled public schools, and so forth. But, old habits die hard. Daley II is teetering, as corruption scandals mount.
The Christian Science Monitor reports:
A once mundane, now quickly growing, investigation into Chicago City Hall hiring and contracting practices has become a relentless drumbeat of indictments, convictions, and front-page headlines that threatens to topple one of America's most monarchical mayors. It's not that Chicagoans are at all surprised about the idea that patronage, money, and political connections influenced who got jobs. No, what's new this time around, they say, is that people are going to jail for it.

...Even amid Chicago's storied reputation for corruption, this has been an unusually significant and far-reaching investigation involving 30 indictments and 23 convictions. Those charged have included a top official at the mayor's office of intergovernmental affairs and the former deputy water commissioner, who pleaded guilty to taking bribes, shaking down companies for political contributions, and rigging hiring. With a number of cooperating witnesses, including the water czar, the investigation is far from over.

What's remarkable is that for the first time, Mayor Richard M. Daley seems politically vulnerable. His approval ratings are the lowest since he was elected in 1989. Beneath the apparent cynicism over corruption, many Chicagoans seem genuinely to care about the finding and don't accept his repeated statements that he has nothing to do with hiring. One Republican official even offered a $10,000 reward for anyone who could provide information leading to Mr. Daley's conviction. The next election is two years away, but the notion of a legitimate challenger and potential Daley defeat - once a laughable premise - is now an open discussion.

"It is a serious problem, and it's sort of at a tipping point," says Dick Simpson, a former city alderman and political science professor at the University of Illinois in Chicago.
Even the ultra-liberal pro-U.S. Democratic Party British paper The Guardian weighs in with this: "Pressure Grows On Chicago's Teflon Mayor:"
Aaron Wortman aced his interview for the post of truck driver with Chicago's Department of Streets and Sanitation. There was only one problem: he was serving with the United States Army in Iraq when the interview was supposed to have taken place. Another candidate also performed well in an interview for the post of equipment dispatcher in the city. Once again there was a snag. On the day of the interview he was dead.

A judicial inquiry into the hiring practices of Chicago city council has unearthed several examples of fictitious interviews leading to dubious appointments made solely on the basis of political patronage. The scandal, which suggests corruption in city hall, has gradually inched its way towards the door of the Democrat mayor, Richard Daley. Already 30 people have been charged in the investigation and 22 have pleaded guilty and are cooperating. The outcome threatens to bury Mr Daley's 16-year reign over America's third largest city in a pit of ignominy and remove his once unshakeable grip on local power.
The sooner the better. The stench is reaching even to Seattle.
TO COMMENT: The regular comment feature is not in operation now. However, you can e-mail me your comments on this post, at the address under "Contact," above. I'll add them, here.
Posted by Matt Rosenberg at 09:57 PM | Comments (0)
August 11, 2005
My Tourism Blogging Portfolios; And, A Biz Proposal
Proud to have made blogging history by combining upbeat, informative vacation blogging from Michigan with his highly evolved commentary about all kinds of stuff, Seattle-based professional writer and blogger Matt Rosenberg (that's me) hereby presents to you, dear Rosenblog readers - and certain very lucky economic development and tourism marketing honchos - this chronologically-ordered compendium of my Michigan tourism blog posts. And my West Coast tourism blogging portfolio, to boot.
There are two reasons for this momentous occasion.
One: my cousin Susan in Michigan wanted to know how our family enjoyed our recent vacation there, and I wrote all about it on my blog. Here ya go, Susan!
Two: I have a business proposal herein, directed to public sector economic development and tourism officials, and other state, regional and local tourism boosters in the U.S. Take a look, in my posts below, at some examples of what travel blogging can be, then consider hiring me to blog my way across your city, region or state. I'm actually serious.
WHY TRAVEL BLOGGING, ANYWAY? Brochures and relatively static tourism Web sites aren't enough. Who has time to read travel magazines or the travel section in the paper? Besides: they miss at least three-quarters of the places you'd actually be able to visit. Group tours are for the brain-dead, Web searches are often overwhelming, and who really knows what that "charming cottage" smells like, anyway? Where are the good beaches, lodgings, guest ranches, sylvan lakes, hiking trails, lighthouses, food, parks and playgrounds, effervescent small towns, and unique city neighborhoods? Guide books and state tourism agencies can certainly provide a helpful start, but you need more.
Travel blogging - meant to emphasize an honest, independent personal voice, plus consumer-friendly tips, reviews and insights - is evolving as a marketing tool. In fact, Pennsylvania state tourism officials even tried it recently, but were dogged by legitimate criticisms of a phony tone that more closely resembled online tourism brochures. I discuss that story in the last two paragraphs here at my other blog, Blog Consulting Pro.
WHY PAY A TRAVEL BLOGGER WHEN SOME WILL DO IT JUST FOR EXPENSES? Because of V.I.P. treatment often extended to travel writers on "complementary" trips, their objectivity can be compromised. State tourism sites are an excellent resource, but savvy travel consumers want more than an institutional voice, and increasingly, they want it online, and now! By virtue of my "under the radar" approach, professional travel writing experience, and complete editorial freedom, readers will get an authentic voice they can trust. In addition, you get what you pay for. Many bloggers can't write very well. As a professional print journalist, and blogger, I combine the best of both worlds. I am making this proposal not because I want to get complementary travel in exchange for travel blogging, but because I believe professional travel blogging will be increasingly utilized as a tourism promotion tool.
Tourism promotion must move beyond the old "command and control" publicity model, with hierarchical content approval chains. The Internet, and blogs, are rendering that approach obsolete, anyhow. People are likely already blogging about travel in your state, sharing experiences good and bad with anyone who Googles up their posts. State tourism agencies need to get a grubstake in the fast-moving world of blogs.
HERE'S THE PROPOSAL: You'll pay me $2,750 per week PLUS all travel expenses and I'll blog just exactly what I want about my journey. Summer trips will include my wife and two children; you'll cover their expenses as well. My blogging will undoubtedly include, as do the Michigan and West Coast portfolios below, a lot of positive and informative stuff. Great pictures can figure in, as evident in the Michigan posts below. But You, Dear Client, will have no editorial control of the writing whatsoever, a point which will be stated in our contract. All appropriate disclaimers will be noted online. Still with me? OK, good! We'll post my bloggage about your city, state or region at your agency's travel blog (which I can help you conceptualize for an additional hourly or project-based fee).
But this is a two-way street. If you wish, I'll be happy to send along the travel articles I've had published in the Chicago Tribune, Seattle Times, Denver Post, Seattle Magazine, Puget Sound Business Journal, and California CEO. Here's more on my illustrious career (it's a heckuva read, really!); plus online versions of some of the scintillating and provocative non-travel print articles I've had published, here. By the way, don't let my politics get your nose out of joint. Life's too short, and we all love to explore new places. Capiche?
Now, onward.
MICHIGAN TOURISM BLOGGING PORTFOLIO
"Mystery Blogger Stalks Grand Rapids."
"Meijer Gardens Tropical Conservatory: Just The Place In July."
"Community Responsibility Theme At Grand Rapids Black Summit."
"San Chez Bistro's Tapas: Pride of Grand Rapids."
"Beach Pole-Vaulting In Grand Haven."
"Grand Haven Musical Fountain Needs New Music."
"Sleeping Bear Dunes Adventure."
"From Elberta To Grand Marais."
"Pictured Rocks National Lakeshore, Marquette and Petosky."
"Germfask, Michigan: It Can Only Get Better."
WEST COAST TOURISM BLOGGING PORTFOLIO
"Superferries Advance In Hawaii."
"Washington State Ferries: The Good Wait."
"Wringing The 'Soaked Seattle' Meme Dry."
"Seattle Shop Caters To Real Lefties"
"Is There Any Fixing Vancouver's Gastown?"
"The Best And Worst Of Vancouver."
"Best And Worst Of Vancouver: Part Two."
"A Vancouver Shopkeeper's Death Wish For Bush."
"Canadian English Dictionaries Are Vestigial."
To comment on this post or e-mail me about working for you, get to my Main Page and click on "Contact," right under the masthead photo.
ADDENDUM: ATTENTION, FOREIGN TOURISM MINISTERS! This paid tourism blogging proposal also extends to foreign nations and their political subdivisions. However, the weekly fee is $3,225 (U.S.), payable in advance, in U.S. currency only, and drawn from a U.S.-based account only. Plus, if you're one of the Stans, or anywhere in the Middle East, the Persian Gulf or Africa, Burma, Sri Lanka, The Philippines, India, Ukraine, Chechnya, Mexico, Venezuela, Colombia or Brazil (and any other hot spots I think of later) there are a few more conditions. You pay for a top-drawer life insurance policy and comprehensive in-situ health insurance for me, with a clause for guaranteed Lear Jet Medi-Vac air service to a suitable nation if your facilities and personnel are not sufficient for whatever travel-related ills may befall me. You'll also need to expense a bodyguard and translator of my own choosing. And no, I'm not xenophobic. Not in the least. I just like to be prepared.
Posted by Matt Rosenberg at 02:27 PM | Comments (0)
August 10, 2005
Brit Drinking Culture The Problem, Not Longer Pub Hours
BBC reports British judges are worried violent crimes will grow because pubs will be allowed to apply for late licenses, to stay open past the traditional 11 p.m. closing time. But the real problem is that when it comes to their drinking culture, Brits are bunch of yobs. As made clear at BBC's online reader forum on the new law.
I have always found the licensing laws abhorrent. If people are treated like children then they will act accordingly. The sooner we grow up and join the civilised world, the better. Perhaps some period of adjustment will be needed, but in the long-term this overdue change in the law will be a good thing. Is Britain a communist state or one that treats its citizens with respect, like most civilised countries? Matthew, London
I think that people in this country drink to get drunk. There isn't that big a rush at last orders where I live, it's pretty constant throughout the night. Most people who cause trouble tend to go to clubs to continue drinking anyway, and would cause trouble whenever they leave. It's this attitude that needs to be tackled not closing times. Laurence, Luton, UK
The government ultimately created our binge drinking culture by enforcing the licensing laws during one of the World Wars. We rush home from work, eat, go to the pub and then we're left with a couple of hours to drink, so we throw the pints down as fast as we can before closing time. Compare this with the rest of Europe. Slow, responsible social drinking that goes on to 6am or even later. Rob Ford, Fleet, Hants
I live in Santiago, where there is a large British community. Even though pubs here are open till the early hours of the morning, it's mainly the Brits that are drunk at 8pm, due to large intake in a few hours after work. So here they have all the time they want, and are still in a hurry to get drunk. It's a cultural thing I guess. Edwin, Santiago, Chile
I am Mexican student in the UK and I've never seen so many drunk people in my life as here in Britain. In my country pubs and clubs are open 24 hours, and I never saw anything close to what I've experienced here. I believe the rush to finish drinking before closing time is the main factor that drives binge drinking in this country. Jesus Garza, Monterrey, Mexico
Before you change the laws, you have to change the British attitude towards alcohol. Here, it is seen as normal to go out on Friday and Saturday evenings and get drunk till you drop. In many European countries, this is seen as irresponsible and shameful, maybe the sort of thing you do once in a while, but it is definitely not the norm. You can have as many laws as you want, as long as British people won't understand that you don't need to be drunk to have a good time, the situation won't improve. Bea, London
BBC Chef, cookbook writer and real life Cornwall restaurateur and hotelier Rick Stein says the French are more reasonably paced when drinking, but have their own problem: wine chauvinism leads many to drink a lot of crappy French wine, to the exclusion of excellent wine from other countries. Their loss.
TO COMMENT: The regular comment feature is not in operation now. However, you can e-mail me your comments on this post, at the address under "Contact," above. I'll add them, here.
Jim Miller: Your description reminds me of some of the Irish-American guys I knew in Chicago in the late 1960s. I can recall them coming in to work every Monday morning with tales of how drunk they had gotten over the weekend. What struck me, after a while, is how joyless and repetitive
their tales were. It sounds, from what you say, and from what I have
read elsewhere, that many in the UK have the same pattern.
And welcome back. I enjoyed your posts on the trip to Michigan.
Posted by Matt Rosenberg at 05:41 PM | Comments (0)
Calvin Hoang Cat Groped To Escape Fear
Calvin Hoang Cat, a former driving instructor for the State of California, has been convicted on 29 groping-related misdemeanors perpetrated upon female students, and today, sentenced to two years in jail. He reportedly said his abusive lechery in each instance stemmed from fear of having no control over the vehicle, according to the San Francisco Chronicle:
Calvin Hoang Cat, 38, of San Jose pleaded no contest in June to molesting 14 girls between the ages of 16 and 18, resulting in 19 counts of annoying or molesting a child under the age of 18, eight counts of sexual battery and two counts of battery. The molestation occurred between Oct. 28 and Nov. 14, when Cat was working in the (Department of Motor Vehicles) Redwood City office.

...In the probation report prepared by authorities, Cat is quoted as saying that he was driven over the edge by a phobia of having no control while being in a car while someone else was driving. "He said the stress of the job brought out the evil in him," (San Mateo County Chief Deputy District Attorney Steve) Wagstaffe said.

Wagstaffe said the groping often occurred during the parallel parking portion of the driving test, at which time Cat would inform his student that she needed to keep her eye on how close the right rear wheel of the car was to the curb. When asked how one could do that from the driver's side, he would instruct the girl to release her seat belt and lean over. At that time, Cat would grab her breasts, Wagstaffe said. Cat flunked most of the girls who accused him of molesting them, Wagstaffe said.
This guy definitely is in the running for Creep Of The Year - Domestic, Non-Fatal category.
TO COMMENT: The regular comment feature is not in operation now. However, you can e-mail me your comments on this post, at the address under "Contact," above. I'll add them, here.
Posted by Matt Rosenberg at 04:17 PM | Comments (0)
Giant Squids Fingered As Cannibals
Giant squid must be hungry critters to grow so big. They're also cannibals, it seems. This according to scholars at the internationally acclaimed University of Tasmania (where, by the way, researchers are also trying to help Tasmanians better understand their dreams).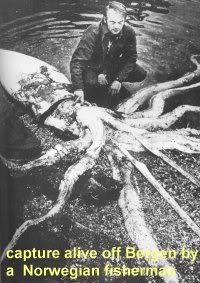 The Irish Examiner reports:
Giant squid may have a taste for something other than hapless sailors: each other. The creatures, enshrined in myth as ferocious beasts that upturn boats and munch mariners, appear to indulge in cannibalism.

Identifying the prey of the giant squid, Achiteuthis dux, is not easy since they finely macerate their food. The digestive systems of most specimens studied have been empty and none of the animals has ever been examined alive.

Now scientists from the University of Tasmania have had an opportunity to analyse the gut contents of a male giant squid caught by fishermen in 1999. They found three tentacle fragments and 12 squid beaks. The only other prey identified was a fish, the blue grenadier.

Earlier evidence of cannibalism in a female giant squid caught in New Zealand waters was dismissed as accidental. It was thought that during mating the male's penis might have strayed too close to the female's beak, with the result that bits were "chewed off". But the new specimen, from the west coast of Tasmania, is male.
Phew. Glad to know that. I'm sure one more such report would have been spun by the Gender Studies crowd as female Giant Squid rising up angry over the phallocentrism of their sub-aqueous cultural paradigm.
TO COMMENT: The regular comment feature is not in operation now. However, you can e-mail me your comments on this post, at the address under "Contact," above. I'll add them, here.
Posted by Matt Rosenberg at 03:36 PM | Comments (0)
August 09, 2005
Little Drummer Boy Of Corvallis Now Blowing Bubbles
In the late summer of 2004, Corvallis, Oregon made national news as a place where - using advanced prognosticating tools - one savvy political seer was able to divine the results of the Bush-Kerry presidential contest. Now, the quaint burg of Corvallis is again in the spotlight.
Judge Mark Donahue of Corvallis Municipal Court has ruled local resident Jim Ellison was not violating the local noise ordinance by beating a drum repeatedly in front of the Benton County Courthouse to protest the Iraq War. Even though there was no dispute that Ellison's percussive plaint could be heard more than 50 feet away and thus was technically exceeding the limit, Ellison is off the hook with Judge Donahue thanks to his First Amendment right to freedom of speech, and a federal precedent involving one Diane Nomad.
Is this a great country, or what?
Ellison adds a nice passive-aggressive twist to the outcome, noting that for now, he's just going to blow bubbles in public to protest the war, but that if he wanted to, he could bring out a "40-piece drum band" to make his point, and once exceed the local noise threshold. Actually he begs an interesting question: would repeated blowing of air raid sirens or foghorns in Corvallis also be an acceptable form of "free speech" protest?
A hint comes from Judge Donahue, who found that a lack of specificity in the local noise ordinance also supported Ellison's acquital.
"The Corvallis noise ordinance prohibits all sounds that meet the listed criteria, and it makes no attempt to include regulations, or tailor its restrictions, so as to achieve the city's interest in peace and quiet and still allow constitutionally protected expression," wrote Donahue.
How about this: Words of protest allowed in public places, so long as they cannot be heard more than 50 feet away. Sounds other than words (drums, chainsaws, recordings of bombs) made as an explicit form of political protest are subject to the same limit, with exceptions granted by permit for politically-oriented concert events (such as "Rock Against Bush," and the odd anti-globalism/pro-Third World microcredit lending thrash-punk fundraiser).
By the way - as a visitor who notices the little things, I've observed that Corvallis, like other cities its size and those larger, can do a poor job of regulating problematic conduct in public spaces. A primary intended and actual use of the public fountain along the attractive Willamette River promenade in Corvallis is that kids run through and also bask in the sprinkler streams of the open air, no-barrier structure, which is adjacent to a walking and bicycling path. But older kids on bicycles have been known to zoom into the fountain, nearly running over the little ones. I know, because this happened to my kids in that fountain when we were visiting Corvallis last year. I had to send the errant cyclists on their way. There was no sign posted, as there should have been, prohibiting bicycle riders from driving through the fountain area. With a well-used bike path nearby, it seems a no-brainer.
Civility and consideration, City Fathers. And specificity.
TO COMMENT: E-mail comments to address accessed under "Contact," above. Comments will be added, here.
Posted by Matt Rosenberg at 11:38 AM | Comments (0)
August 08, 2005
Foie Gras Foes Snubbed By Veterinarians
Boy. Go away to Michigan for a few weeks in July, and a lotta crucial stuff gets through the goalposts. As you'll doubtless recall, I've blogged here before about animal rights activists protesting foie gras production, and trying to make restaurateurs stop offering the delicacy to diners.
Well. Greatly disappointing Maude - er, actress Bea Arthur - the American Veterinary Medical Association isn't down with the anti-foie gras program.
MINNEAPOLIS, July 16 /PRNewswire/ -- In a unanimous decision, the American Veterinary Medical Association's House of Delegates (HOD) has defeated a resolution opposing the practice of force-feeding ducks and geese to produce foie gras.

In their discussion, the HOD considered their obligations to animals, society, and veterinary medicine. However, because limited peer-reviewed, scientific information dealing with the animal welfare concerns associated with foie gras production is available, and because the observations and practical experience of HOD members indicate a minimum of adverse effects on the birds involved, the HOD did not support the resolution opposing force feeding used to produce foie gras.
In the meantime, a Birmingham, Alabama television station offers this recipe for "Seared Foie Gras, Truffled Organic Greens and Red Wine Reduction."
And here maybe some a y'all thought Southren' folk were jes' Backward Bubbas. Wrong-o. Plus which: betcha they'd know what to do with a sage grouse down there, if they've got any.
TO COMMENT: Please send e-mail to address accessed via "Contact," above. Comments will be appended here.
Posted by Matt Rosenberg at 06:32 PM | Comments (0)
Vancouver Wants Yuppies, Addicts In Housing Project
In a crackpot utopian scheme that could only be hatched in Vancouver - and which I in part predicted - the city is planning to redevelop an abandoned, now-government-owned department store into housing for addicts, homeless and yuppies. This Canadian Press (CP) account fails to mention several key points reported in January, 2005 by the local alternative weekly, The Vancouver Courier.
First, the provincial and national governments will be subsidizing this lunacy to the tune of at least $27 million; the city will likely be on the hook for an additional government subsidy. (Private developers are also involved).
Second, one of the non-profits to be operating the low-income housing units also runs the famed, nearby "safe injection site" for chronic needle-using drug addicts.
Third, when the Woodward's store closed (in 1993) the provincial government bought the building. Then the city bought it from the province.
As noted here, the province even turned down a private developer's offer of 8$ million for the property. It wasn't the $18 million they had been expecting (did they overpay?), and the building, as noted above, was later sold to the city.
Here's more from the CP story (second link) above.
VANCOUVER -- A building project bigger than any Vancouver has ever seen hopes to integrate drug addicts, businesses and middle-income earners in one of Canada's most disturbed neighbourhoods....The complex will be truly of mixed use, with low-income housing beside tony market-priced lofts and condos.

The site is being prepared and construction is slated to be finished in 2009, but planners are already thinking about the need for awareness courses to teach neighbours how to live together. Hipsters buying into the more affordable Woodward's condos are going to enjoy the neighbourhood more if they learn about the different mental health issues many residents struggle with and the effects of street drugs, says Cameron Gray, a director of housing for the city of Vancouver.
Sure. I can see it already. Friday gatherings in the community room. Over appletinis and salmon roe canapes, Web designer and arbitrageur loft owners will attend workshops on bi-polar disorders, schizophrenia, and how the inherently classist, sexist, racist biases of capitalism have been linked to addiction and mental illness, according to a new study by the Vancouver Coastal Health Authority. Additional seminars will cover differences between meth-heads and heroin addicts; euphemisms for street drugs; and pustule analysis. Low-income residents including addicts and those engaged in "sex work" will declaim in free verse to their guilty upper-income neighbors, as cable access and later, CBC film crews capture every word.
The downscale tenants will be enrolled in classes to learn life skills and Web design. Some portion will be given jobs doing building maintenance at the development; a lucky few will be given government jobs serving as "liaisons" between the development's low- and no-income tenants on the one hand, and the monied residents, on the other. A university may locate a branch on site, and sociologists will do studies, with low-income residents paid to answer surveys and keep diaries of their experiences.
Nearly all low-income residents of the Woodward's development will remain on the public teat essentially until they die. In time, Victoria, Ottawa, Toronto and Montreal will each replicate the project. In other words, it will be a smashing success.
TO COMMENT: Please send e-mail to the address under "Contact," above. Comments will be appended to this post.
Posted by Matt Rosenberg at 11:38 AM | Comments (0)
August 07, 2005
The Multicultural Mosaic Is Cracked
Writing in the Sunday SF Chron Insight section, urbanist and demographer Joel Kotkin says liberal-leaning cities vulnerable to terrorism need to re-think the whole multi-cultural paradigm because their security is at stake.
The great challenge facing the world's major cities today is finding a way to make life safe for their citizens....history has shown repeatedly that once a city can no longer protect its inhabitants, they inevitably flee and the city slides into decline and even extinction.

While modern cities are a long way from becoming extinct, it's only by acknowledging the primacy of security -- and addressing it in the most aggressive manner -- that they will be able to survive and thrive in this new century...

...most older American cities have lost more people than they have gained since 2000. Families, retirees and immigrants, the key sources of population growth, are largely deserting the urban core....The U.S. cities that have declined most precipitously and consistently are those plagued by the nation's highest crime rates....Now, cities face a different menace. Sadly, many metropolitan leaders seem unprepared to meet today's terrorist threat head-on, in part due to the trendy multiculturalism that now characterizes so many Western cities. Consider London's multiculturalist Mayor Ken Livingstone, who last year welcomed a radical jihadist, Egyptian cleric Sheikh Yusuf Qaradawi, to his city.

Multiculturalism and overly permissive immigration policies have also played a role. Unfettered in their own enclave, Muslim extremists in Brooklyn helped organize the first attack on the World Trade Center in the early 1990s. Lax Canadian policies have allowed radical Islamists to find homes in Montreal and Toronto, where some might have planned attacks on the United States, like the 2000 plot to blow up Los Angeles International Airport.

In Europe, multiculturalism has been elevated to a kind of social dogma, exacerbating the separation between Muslim immigrants and the host society. Not surprisingly, jihadist agitation has flourished in Hamburg, Amsterdam, Madrid, Berlin and Paris as well as London.

If cities are to survive, they will need to face this latest threat to urban survival with something more than liberal platitudes, displays of pluck and determination. They will have to face up to the need for sometimes harsh measures, such as tighter immigration laws, preventive detention and widespread surveillance of suspected terrorists.

They will also need to institute measures that encourage immigrants to assimilate, such as fostering greater economic opportunity for newcomers or enforcing immersion in the national language and political institutions. Militant anti-Western Islamist agitation -- actively supportive of al Qaeda, for example -- also must be rooted out; it can be no more tolerated in Western cities today than overt support for Nazism should have been during World War II.

Technological measures -- from cameras in subway tunnels to radiation- scanning devices at highway approaches to cities -- can also help improve security, as can steps like putting more police and bomb-sniffing dogs on mass transit, as New York has decided to do.

The kinds of policies needed to secure their safety may pose a serious dilemma for great cities that have been built on the values of openness, freedom of movement, privacy, tolerance and due process. Yet to survive, these same cities may now need to shift their primary focus to protecting their people, their commerce and their future against those who seek to undermine and even, ultimately, destroy them.
At the Washington State Ferries dock last weekend in West Seattle with my family, waiting for a car ferry across Puget Sound, I saw a Washington State Patrol officer and a bomb-sniffing dog checking out nearly all of the vehicles in line to board the boat going to vashon Island, and then on to Southworth on the Kitsap Peninsula. They are only required to do random searches, however, which is a concession to numerical realities (especially at the busier docks, such as in downtown Seattle and Bainbridge Island).
And indeed, the randomness of it all was underscored at the West Seattle (Fauntleroy) dock, when the K-9 unit stood down as vehicles began boarding the boat and a late arrival zoomed into line and drove on board without being checked. Perfect modus operandi for a jihadist, I thought. A ferries spokesperson later told me there is a policy that allows officers to deny boarding to last-minute arrivals after the K-9 unit stands down, and that is often done - but that policy is not mandatory.
It should be mandatory. Yet even so - as Kotkin emphasizes - in the end we must attack the cultural roots of jihadist terrorism in the West at least as strenuously as we conduct surveillance and strengthen security.
TO COMMENT: The normal "comment" function has been disabled for now. Instead, send e-mail to address accessed above under "Contact." E-mailed comments will be appended to this post.
Thomas Rekdal: There is much good sense in this post, but also much confusion. We need to separate the question of how best to incorporate Muslim immigrants into the body politics of liberal democracies from the question of how to deal with the security problems presented by Muslim terrorists already within our midst. They are different questions requiring different measures.

To oversimplify a great deal, the principal answer to the first question is not affirmative action or special solicitude for ethnic minorities, but a heavy dose of the sort of classical liberalism that was practiced in this country at the turn of the twentieth century, while the principal answer to the second is the kind of re-thinking of the grounds for liberal tolerance that is now evidenced in Prime Minister Blair's latest comments.

Richard Posner makes a powerful argument in a recent contribution to The Becker-Posner Blog that America has been more successful in integrating its Muslim minorities than Western Europe because of the differences in our labor laws and welfare policies. Economic failure, quite simply, has more adverse consequences here, while the opportunities to avoid it are also greater. Exactly so, and we need even more of these root-hog-or-die social policies. If Europeans wish to limit job growth while subsidizing the people who mean to blow them up, that is their choice; we should not follow suit.

At the same time, we could take a few lessons from the French, and now the Brits, on the proper limits of liberal tolerance for those who have no intention of reciprocating. In 1969, the Supreme Court threw the mantle of First Amendment protection over every form of speech short of a direct incitement to violence in circumstances where it is likely to be acted upon immediately. That was a silly, but harmless ideological excess at the time. It now threatens to be suicidal, as our European friends are already discovering.
David Jackson: Kotkin is conflating a lot of arguments to sell op-eds in this case.

The major cities that lost population so far this decade, aside from the usual Rust Belt suspects, also happen to be many of the cities with major tech concentrations: Boston, Seattle, San Francisco, etc (see Recession, tech). To attribute these declines to security concerns (declines that probably were gaining momentum prior to 9/11; how was YOUR pets.com stock doing in August 2001?), or to liken these population declines to the massive declines of earlier decades, is just wrong. Moreover to somehow link crime concerns to modern terrorist concerns is risible at best. Certainly crime was a part of the decamp from major Rust Belt towns in the 60s and 70s, but still, Mr. Kotkin, can you say race; and economic restructuring?

Your previous commenter is right in that we do a better job of assimilating people than most of Western Europe and mainly for economic reasons. There is very little dole here for newcomers, comparatively. Moving forward we should care substantially more about how immigrants join our society and implement better security procedures, especially for high value targets such as train stations, airports and, yes, ferry terminals. But Kotkin's claxons just ring the bells to call attention to himself.
Posted by Matt Rosenberg at 11:19 AM | Comments (0)
August 05, 2005
Little Milton Was Deep Soul
Little Milton, who just died at age 70, was deep soul. Chess Records recording artist, 60s r&b/blues singer and guitarist Milton Campbell, Jr. had a singularly rich and expressive voice, and delivery.
He did more covers than originals, but it hardly mattered. In an age when blues has become commoditized, Little Milton - born September 7, 1934 in Inverness, Mississippi - was a true original. He just HAD it, and one listen to his rendition of Titus Turner's "Grits Ain't Groceries," will show you, as Milton sings this honky-tonk standard like no one before or since:
If I don't love you, baby

grits ain't groceries

eggs ain't poultry

and Mona Lisa was a man
I'll quote from the re-issue liner notes by Bob Schnieders to "Little Milton Sings Big Blues" (Chess, 1966):
Milton Campbell's early musical influences came from the church choir and gospel groups he belonged to as a boy. Self-taught on guitar, he was woking juke joints and honky tonks around the Memphis area as a teenager; his first recordings were made in the early fifties with Ike Turner's band for the legendary Sun label.
Rolling Stone's article has more:
Blues Hall of Famer Little Milton, who combined the tough electric blues sound of the early 1950s with the punchy, showtime arrangements of R&B, soul and funk, died in Memphis yesterday (August 4) of complications from two recent strokes. He was seventy....As a child he was enthralled with the local guitarists who played at his stepfather's house parties. "I'd be tucked in bed," he once recalled, "but the minute that the guy would hit the guitar, they'd look around and I'd be standing there, little long drawers on."

....Moving from Sun through a succession of iconic labels, including Chess and Stax, Milton grew into a formidable figure in his own right. He scored his first hit, "I'm a Lonely Man," for St. Louis-based Bobbin Records in 1958. His biggest success, the brassy, soulful "We're Gonna Make It" -- a song that became associated with the civil rights movement -- was a Number One hit on the R&B chart in 1965, reaching Number Twenty-five on the pop chart. Milton's emotive take on Willie Dixon's "I Can't Quit You Baby" is said to have inspired Led Zeppelin's own version......

An appearance in the 1973 concert film Wattstax -- his song "Walking the Back Streets and Crying" was included on the soundtrack album -- helped introduce Milton to a new generation of listeners.
Other high points for Little Milton, as least in my opinion, were his recordings of Lowell Fulson's "Reconsider, Baby"; James Brown's "Please, Please Please"; plus "Feel So Bad," and "So Mean To Me."
The two Little Milton recordings I have are "Little Milton Sings Big Blues" (Chess); and "Little Milton: His Greatest Hits" (Chess). They're well worth owning.
Little Milton's performance at the Chicago Blues Festival in the late 80s was one for the ages. I still have a treasured tape of it, thanks to a live broadcast. Milton was in his prime before an appreciate, huge Grant Park audience in a great setting - just back across Lake Shore Drive from the shores of Lake Michigan, with the city's impressive skyline looming only blocks west. Great singing, tight band, stinging guitar - the best of the blues. Having heard so many other performers half-steppin' it through the Chicago Blues Festival over the years, and in North Side Chicago blues clubs, I was blown away. After a long career with many ups and downs, Little Milton put everything he had into that show, in front of a huge crowd, and he OWNED them.
Rest In Peace, Little Milton.
NEW - COMMENT INSTRUCTIONS: The normal comment function is temporarily disabled. Please send your comments to me via e-mail, using the address at "Contact" just below the masthead picture. I will post comments directly at the end of entries, for now.
Posted by Matt Rosenberg at 07:37 PM | Comments (0)
Pimp My Bathroom, Please, And Pass Me My PimpTone Cellphone
Inspired by MTV's car make-over show "Pimp My Ride," public relations flacks hyping fancy bathrooms and e-commerce front-end software are latching onto the "pimp" platform as well.
And now a Canadian company is marketing cellphone ringtones called PimpTones.
Bell Mobility is selling a series of cellphone ringtones called PimpTones that make light of prostitution and refer to women as "bitches," "skanks" and "hoes." The short messages can be downloaded from the Bell website for a $2.50 fee and programmed to sound whenever the cellphone rings.

Unlike conventional ringtones that play melodies or short clips of popular songs, the PimpTones are voice recordings of actors speaking in a street vernacular about "players" and "hoes" (whores). Some of the explicit language in the ringtones is beeped out, but can still be easily understood.

Bell pulled two of the ringtones off its website yesterday after the Citizen called to ask why it would sell a product that seems focused, however satirically, on a profession that exploits women.

The company removed a clip entitled No Love For Hoes, in which a receptionist is heard saying that there are "skanks" and "hoes" calling on line one, and another in which a female voice says, "Money, clothes and hoes is all a player cares about."

But Bell continues to offer others in the same PimpTones series, including a clip with angry male voice saying, "Bi-(BEEP)-ch, do I look like a motherfu-(BEEP)-ing track suit?" (A track suit is slang for a low-class person who wears athletic gear.) "Well, no," a young female voice replies. "Well, quit sweating me, ho!" the man says.

In one clip, a young woman's voice says, "So, Mack-a-ho, your escorts for the Las Vegas Gentleman's Ball have arrived." (Mack is slang for pimp or, in verb form, means to seduce or have sex with.) Other clips use the word bitch and humorously threaten slaps or kicks if the phone isn't answered.

A Bell Canada spokeswoman said the clips were offered in response to customer demand.
Um yeah. I can just see all those Canadians clamoring for PimpTones.
Coming soon: a Great Books series callled "Pimp Your Intellect."
NEW - COMMENT INSTRUCTIONS: The normal comment function is temporarily disabled. Please send your comments to me via e-mail, using the address at "Contact" just below the masthead picture. I will post comments directly at the end of entries, for now.
Posted by Matt Rosenberg at 04:10 PM | Comments (0)
August 04, 2005
Admonitions And Advice
Some admonitions.
Door-to-door solicitors: When I peer through the peephole and say, "Yes?" don't just reply with "Hello," and fall silent. You're not so dynamic and exciting, and I'm not so lonely and stupid, that I'm going to open the door for you based on that. OK? State your business right off, so I can reply, "No, thanks," and you can be on your way. And don't ever start your pitch by telling me you're in some kind of contest, such as "to meet 1,000 people in a week." I don't give a Rat's Ass about your contest. Try something like this instead. "I'm hoping you're dopey enough to buy several magazine subscriptions you don't really need or want, on the spur of the moment." At least you'll get points for honesty.
Lame-brained Seattle drivers: don't cut corners around blind turns in residential neighborhoods. You're going right into the oncoming lane, and asking for a head-on collision one of these days. That goes for the mope in the sports car this afternoon, who flashed me a s***-eating grin, and the taxi driver who brought our family back from Sea-Tac Airport recently.
Restaurant managers: make sure tables are cleared promptly after patrons leave. Nothing looks slacker, in a restaurant, than a pile of dirty dishes sitting, and sitting, on a table.
Transportation Security Agency: cut the PC crap. Do you really need to be making 60-year-old white guys take off their shoes at the airport?
Parents letting their kids use hand-held gaming devices anywhere, anytime, but especially in restaurants, or on airplanes: You're doing a ROTTEN job.
R-O-T-T-E-N.
William Burroughs has some of his own admonitions and advice (raw language advisory).
NEW - COMMENT INSTRUCTIONS: The normal comment function is temporarily disabled. Please send your comments to me via e-mail, using the address at "Contact" just below the masthead picture. I will post comments directly at the end of entries, for now.
Brendan Vaughn: "The key word there is blind. Cutting those corners is legal - but only with a safe visibility. One thing which can help this situation would be the city enforcing the law, specifically with respect to parking too close to intersections. I personally get very annoyed with the number of parking infractions I see each day - but the tradeoff would be having nowhere to park if people were required to park illegally. I benefit from idiots breaking the law. :)"
Posted by Matt Rosenberg at 06:49 PM | Comments (0)
Run, Hillary, Run!
A new Gallup poll shows that for President in 2008, Senator Hillary Clinton (D-NY) would do better than Sen. John Kerry (D-MA) against either Sen. John McCain (R-AZ) or Repubican and former New York Mayor Rudy Giuliani.
But that either Hillary or Kerry would lose by a spread beyond the poll's margin of error to either McCain or Giuliani - who according to the poll, both do well drawing independents into their camps. Sure it's just a poll (a nationwide phone survey of registered voters completed July 28; margin of error 4 percent), and an early one at that. But my gut tells me not only that after '04, a Kerry candidacy would be utterly ludicrous, but that Hillary would be a surefire loser, as well. Too polarizing, too much a Nuevo Yorko carpetbagger, and yet still too Northeast by virtue of her adopted home and tenure in D.C. as whathisname's consigliere.
Whereas Rudy's Northeastness is transcended by his image as a): "America's Mayor" post 9/11; and b): the guy who, pre-9/11, brought order and safety back to the streets of NYC. McCain, of course, is now a favorite whipping boy of the hard-line conservatives for having compromised with Democrats too often. What's fatal to party stalwarts is often attractive to swing voters who can decide elections, however. As another potential Republican contender, conservative Sen. Bill Frist (R-TN) has begun to realize.
That said, McCain still wouldn't fare well, I think. He had his great moment of relevance seeking the GOP nomination in 2000. But if he runs in '08, McCain runs the risk of looking like he's going through the motions, after eight years in a holding pattern.
I'm hoping Rudy gets in, and gets the Republican nomination. Republican NY Gov. George Pataki and Republican MA Gov. Mitt Romney are making noises about running, too. They should think thrice. In national electoral politics, a Northeast affiliation is increasingly a deal-killer, unless you've got some really special saving grace like Giuliani. The Atlantic, however, thinks Romney could be strong.
Another R contender getting talked up is Florida Gov. Jeb Bush. Love your brother Jeb, and maybe even your record as Governor, for the most part. But....don't. We need someone with a different last name in there, bub.
As for the Ds, they're gonna have to do a lot better than Hillary or (again) Kerry, who never really stood for anything but the anti-Bush in '04. How about that Virginia Governor Mark Warner, or Sen. Evan Bayh (D-IN)? As it happens, they were among D centrists at a recent policy agenda confab of the Democratic Leadership Council.
By the way, my headline above is in jest. I'd rather see the Ds put up a strong candidate than a surefire loser, even though I'm likely to vote for the R nominee. What match-up would you like to see for President in 2008?
NEW - COMMENT INSTRUCTIONS: The normal comment function is temporarily disabled. Please send your comments to me via e-mail, using the address at "Contact" just below the masthead picture. I will post comments directly at the end of entries, for now.
Spin Daddy: Matt, I share you desire to see the Ds again become competitive in national politics and hope they can clean house to accomplish this. They will not be successful w/ the likes of M. Moore, H. Dean, etc; if not running the party, than at least being portrayed as the face of the party.
It is terribly important for the country that the Rs get some competition especially in the arena of ideas. The Rs, in lacking this competition, have very little incentive or motivation to get anything of significance on their agenda done (e.g. Social Security reform). (Social Security is) even more outdated and obsolete than the Space Shuttle program.
As to my picks for the Rs in '08, I wouldn't mind seeing a Rice/Watts ticket for the Rs in the next contest. I would love to see Condi wipe the floor w/Hillary in the debates. Including a man like J.C. Watts of OK in the VP spot, (who) could be so important in inspiring the country to get back on track spiritually.
Posted by Matt Rosenberg at 11:23 AM | Comments (0)
Geto Boys' "F*** A War" Is Confused
Here are the lyrics to "F*** A War," about Iraq, George Bush, and black victimology, by rappers The Geto Boys. The Geto Boys are somewhat inchoate in this song, and not just because they confuse profanity for insight. First they excoriate the Iraq War's legitimacy, but then they say they'd end it all quickly, with one big bomb dropped on Iraq.
And people call Bush a "cowboy"!
Posted by Matt Rosenberg at 09:13 AM | Comments (0)
August 03, 2005
A Home Depot for San Francisco?
Despite a nearly 10-year battle by opponents, a Home Depot "big box" store is looking likely to be constructed in San Francisco's Bayview neighborhood, along an industrial stretch, on property where it would replace a closed but very similar, independently-owned store. The San Francisco Chronicle editorial board looks ahead to a possible last-ditch effort by opponents to get the SF Board of Supervisors to override Planning Commission approval of the Home Depot, and correctly argues that the project makes sense.
The focus on tangential symbolic issues at the expense of everyday quality-of-life concerns continues to bedevil San Francisco.
Here in West Seattle, a new Home Depot went in, where a gruesome K-Mart had tanked, on Delridge Avenue Southwest. Our family has shopped at this Home Depot on several occasions. We got a new toilet for an excellent price there, and I'm interested in some of their reasonably-priced, nice-looking light fixtures, to replace an awful, 70s-vintage super cruddy chandelier we've got over our dining room table, courtesy of some prior owner of our house. (Probably the same one who installed brown shag carpet in the family room).
Yet we haven't by any means forsaken the other hardware stores we most often patronize, one independently owned, one a chain. The "big box" Home Depot in West Seattle is appropriately sited, has provided many jobs, and has no discernable downside.
Just as small towns with "big box" rows along the outskirts need to ensure they also have vibrant local business districts (and I'd like to add that Yuba City, California was failing miserably in this respect when we passed through on Dec. 30th and 31st 2002), cities with distinct neighborhood commerce still need the occasional big box, well-sited.
Related Rosenblog posts:
UPDATE: Up the coast apiece from SF, the City of Arcata's Committee on Democracy and Corporations has unveiled draft language for a city ordinance that, if enacted, would mandate a public vote on any big box stores (a.k.a. "formula retail" outlets) proposed there. Why....of course, that's it! It's local voters whom should actually make these decisions, directly, on a case-by-case basis. Especially when their city council is a circus sideshow from the git-go.
Posted by Matt Rosenberg at 04:40 PM | Comments (0)
Motown Diva Martha Reeves Advances Detroit City Council Bid
Famed Motown singer Martha Reeves, now advancing to November's general election as a candidate for Detroit City Council - hasn't been Dancin' In The Streets over policing in the Motor City. She says lack of police presence in the neighborhoods has been a real problem for the city - and one she's experienced firsthand as the owner of 18 properties. The Detroit Free Press has more:
The 64-year-old Reeves moved to Detroit from Alabama when she was 11 months old. She said in a recent interview that her top priority is ensuring the city's neighborhoods are adequately policed. She said she's been unable to fix up some of the 18 old buildings she's acquired since 1999 with the intention of renovating because the neighborhoods are wild areas.

"Junkies and crackheads have been taking down boards and even held some of the workmen at gunpoint until they ran away," she said. "The policing needs to be there, and it needs to be visible."
I like her willingness to invest in the community, and her no-nonsense perspective about public safety. If workmen rehabbing distressed properties can't even be safe, there are serious, serious problems in Motor City. I'd like to hear more from her before November about how to fund more police on the streets of Detroit.
Meanwhile, in a field of four, first-term Detroit Mayor Kwame Kilpatrick and challenger Freman Hendrix advanced to the general election in November, although in the primary yesterday, Hendrix finished 10 points ahead of the controversy-dogged incumbent.
Posted by Matt Rosenberg at 03:45 PM | Comments (0)
August 02, 2005
Seattle Mariners 'Fess Up: We're Boring, So Knit!
Must be a heckuva major league baseball game, huh? These folks are knitting at Safeco Field, while the Seattle Mariners play.
It was all part of Stitch 'N Pitch Night.
Knitters loved it, just as all identity-based subcultures love recognition from the mainstream. Call me a killjoy, but is MLB really hurting this bad? Maybe I'm spoiled, having grown up attending Cubs games in Chicago's Wrigley Field. Nine seasons out of ten the Cubbies were stinking up the joint, but who cared? The atmosphere and conviviality of the crowd and place were quite enough to keep everyone fully engaged.
And maybe that's it: place. Having been to some games at the Mariners gleaming new facility, it really hits me how antiseptic is the entire experience, how programmed and orchestrated to within an inch of its life. Non-stop announcements on the P.A. system, plus silly contests, incessant promotions, and worse, constantly flashing graphics for the fans, on when and what to cheer. It's as if the guiding philosophy is, "Don't give 'em a minute to sit back and relax, or they'll realize how lifeless this place really is!"
Then, of course, there are the Seattle Stiffs who fill most of the seats, and badly need to attend a ballgame in Chicago, New York or Philadelphia in order to grok what is truly appropriate behavior. Hint: free-flowing beer and shouted insults at the opposing team and the home team's overpaid galoots are essential. The design of Seattle's Safeco Field - which puts most fans at a great distance from the players - doesn't help, and neither do the obscene costs of taking a family to a Mariners game.
So all in all, Stitch 'N Pitch Night was probably a perfect fit for Seattle, ignoring the real issues but appealing to the vanity of a particular demographic, one not usually affirmed by pro sports.
In today's Seattle Times letters to the editor, Peter Fessler of Seattle (last item, here) says he can hardly wait for some other, equally inspired promotional nights at the ol' ballpark.
In light of the recent, um, success of the Mariners' "Pitch 'N Stitch Night" ("M's hit one out of park with a night for knitters," page one, July 29), I'd like to propose the following promotional events at Safeco Field:

"Laundry Folding" Night: 10,000 lucky fans get their socks and undies folded by real Mariners players!

"You're The Grounds Crew!" Night: $5 off your ticket price when you rake and water the infield. Perform a stupid dance and receive an extra $5 off.

"No Beer!" Day: The first 25,000 sober fans get to, well, stay sober.

"Tall Guy" Night: All fans taller than the Mariners' Richie Sexon (who's 6'8") get in free. Short people pay double.

"Sleeping Pill" Night: Formerly known as the Mariners vs. the Devil Rays.

See, it's not that hard to do promotions work. I wonder if the Mariners are accepting resumes? If not, they should be.
Some more ideas, all of which will build the team's local audience: Body Piercing Night; Gay, Lesbian and Transgendered Night; Bicycle Messenger Night; Vegan Night; and Republicans Night.
Posted by Matt Rosenberg at 02:09 PM | Comments (2)
Be Cool, Buy The Farm
For teens and young 20-somethings, it's getting harder and harder to be cool. The ante is up, WAY up, and risky stunts are increasingly a way to win notoriety. This translates into status, free beer, babes and occasionally, an early grave. "Car surfing" - riding atop a moving vehicle - has recently killed a 19-year-old college student in Louisville, Kentucky, and another 19-year-old in Sheboygan County, Wisconsin.
The student killed car surfing in Louisville had a 4.0 GPA last semester, according to his father; proof positive of grade inflation.
Car surfing: It's a full-blown phenomenon. As this article about a 2003 car surfing death in Florida notes, an Iowa doctor has even written about car surfing for a medical journal called The Annals Of Emergency Medicine. Another sick thrill growing in popularity now is "the choking game," a get-high-legally form of Russian Roulette. It has resulted in several deaths, as well.
A young practitioner of extreme bicycle stunts explains to the Associated Press the underlying psychology of all this madness.
"My generation is looking to be different; they're looking for ways to be individuals," says Christopher Sorichetti, a 20-year-old from San Diego who's been doing high-flying bicycle stunts since he was 12. "My sport is almost like a rebel sport. For the guys, it's kind of like a bad boy image. You're popular, pretty much, because you're known as a bad boy."

Sorichetti has ruptured a kidney, punctured a lung and broken many ribs doing bike stunts that have gone wrong. And this summer, he broke his right forearm in two places after falling. Still, he plans to get back on his bike when he recovers. "I do it for the feeling of knowing it's dangerous and knowing you can get hurt doing it," Sorichetti says from his hospital bed. "I couldn't see my life without it."

It's an attitude that causes many adults to scratch their heads. But experts say that young people today are wearing their wounds as a badge of courage - and constantly looking for ways to outdo one another. "As stuff becomes more common, then the degree that you have to go to be uncommon - to be unique - is a little more extreme," says Dr. Jeffrey Smith, the orthopedic trauma surgeon in San Diego who put Sorichetti's arm back together.

Others note that young risk-takers may react the way they do because they've grown up with constant stimulation from video games and TV. "They have become adrenaline junkies," says Dr. Lynne Tan, a psychiatrist at The Children's Hospital at Montefiore Medical Center in New York....Technology also has given young people the ability to share their stunts with one another by way of the Internet - whether it be their latest skateboarding trick or an outrageous stunt, such as friends pepper-spraying a buddy for a laugh, or even jumping off buildings.
And here I thought street luge was cutting edge.
Posted by Matt Rosenberg at 11:27 AM | Comments (2)
August 01, 2005
The Social Cancer That Is Grand Theft Auto
Rockstar Games, the publisher of the computer game Grand Theft Auto: San Andreas, has recently come under fire from the U.S. House of Representatives, which has successfully demanded a Federal Trade Commission investigation into possible ratings deception for the embedding into the game of hard core sex scenes, a.k.a. the "Hot Coffee" patch. It can be activated with a downloadable modification now widely circulating on the Internet. Meanwhile, GTA: San Andreas has been effectively banned in Australia for ratings now considered misleading given the hidden content.
Truth in labelling IS important, but as The Boston Herald's teen correspondent Steve Ryan writes today, in the end, what matters most here is not really regulatory action. Rather, the "Hot Coffee" dust-up raises appropriate questions the innate tone of the game's content (even without the added spice); and about the responsibility of parents to exercise good judgement.
The basic concept of the "GTA'' series remains the same from game to game. The player takes the role of a hit-man who, in order to expand his mob or drug empire, must perform favors for various gangs, routinely beat up innocent civilians, steal cars and kill cops. None of this is exactly child-friendly. But it seems only the game's sexual content is worthy of objection. Hidden within "Grand Theft Auto: San Andreas'' and accessible only with a software modification reportedly created by hackers, a pornographic feature has sparked a firestorm the graphic violence never did....Maybe the lewd sexual acts are crossing the line, but no more so than the countless assassinations and vehicular homicides any "GTA'' player will commit in the game....no one is forcing parents to buy these games for their children. If they do not want their children to play it, they should take it away - or better yet, not buy it.
There will probably be few cases explicity known where Grand Theft Auto or any other specifically-named computer game is said to have directly led a player to emulate in real life the despicable online role-playing in which they engage. Although a June murder in a Tapei, Taiwan gaming parlor was directly inspired - according to this report - by a session of the video game, Blade&Sword Online.
But while such direct links are relatively rare, the cumulative impact on some youths of computer and video games (such as GTA) featuring simulated hard-core crime and violence may prove considerable. While most kids can steer the course between fantasy and reality well enough, why would any parent benignly sign off on a fantasy world filled with graphically animated, simu-sociopathic violent crime? Mush-minded Democratic Party moral relativism? Middle- and upper-class absentee parenting? Or, one of the parents works in the "entertainment industry"? Um, yeah, quite possibly - any of the above.
GTA players, as Ryan writes, "perform favors for various gangs, routinely beat up innocent civilians, steal cars and kill cops," and engage in "countless assassinations and vehicular homicides." Methinks that what many of these young gamers really need is a summer in Outward Bound, three hours of nightly cello practice, and community service on weekends. Perhaps it's early yet for clinical treatment including electro-shock therapy, as the Chinese are now dispensing to some young gaming addicts.
Perhaps.
Related post: "Unlocking The Porn In Grand Theft Auto: San Andreas."
Posted by Matt Rosenberg at 06:30 PM | Comments (0)