July 29, 2005
A University of Ottawa professor has received a $135,000 grant to study whether Canada's national capitol should have a "safe injection site," like Vancouver, for injecting drug users including heroin addicts.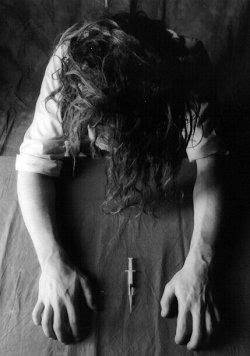 When needles are shared or re-used in street settings, infection risks such as Hepatitis C and HIV are greater. However, Ottawa's police chief is opposed.
Ottawa police Chief Vince Bevan says government research money would be best spent on drug prevention, education and treatment... "They are looking at safe ways for drug addicts to use illicit drugs on a regular basis when the drug use is going to eventually kill them," Chief Bevan said yesterday. "Let's get on with prevention, education and treatment, instead of killing them."

....(Bevan added)..."why are we throwing money into this study when the Vancouver safe site has not been evaluated? Perhaps we could wait for the Vancouver study and see what pieces of it might be applicable to Ottawa. Then take it from there."
Actually, one preliminary study on the Vancouver facility is in, titled "Do Supervised Injecting Facilities Attract Higher-Risk Drug Users?" It was published in the August, 2005 issue of The American Journal of Preventive Medicine, and here's an abstract.
Bear in mind, as reported here, that Vancouver's chronic heroin addict-beseiged neighborhood, the Downtown Eastside, has an estimated 5,000 injecting drug users in residence. The study (see abstract above) reports that over a five-month period after the Vancouver safe injection site opened in that neighborhood, 400 injecting drug users from among a larger group previously surveyed (on their drug use habits, living situations, etc.) came into the facility for follow-up services. Among these visitors 45 percent had "ever" been into the facility before. Many were younger, more active drug users at greater risk of developing blood borne disease infection (such as Hepatitis C, HIV) and drug overdoses.
So, that last part may be a glimmer of good news, as safe needle usage by highly-risk prone addicts can reduce the likelihood of such infections. But given the overall population of injecting drug users in the area, what's needed are at least two things: 1) some clear numbers about total monthly service volume; and 2) far more than that, some demonstrable proof that passing out clean needles is being combined, in Vancouver, with other treatment approaches that actually get most of the subjects off heroin for good.
Lacking that last piece, especially, there is no reason to conclude safe injection sites are anything other than a way for guilty liberals to salve their consciences, while - oh so typically - failing to actually solve the core problem.
Researchers - as is so often the case - are a large part of what's wrong, as well. Instead of a self-serving study titled, "Do Supervised Injecting Sites Attract Higher Risk Drug Users?," we need one titled, "Did Clean Needles And Integrated Addiction Treatment Programs Substantially Reduce The Population of Injecting Drug Users In Vancouver?," or, "Heroin Addiction Cessation, And What Works Best - A Survey Of The Clinical Literature."
I won't hold my breath, though.
Posted by Matt Rosenberg at July 29, 2005 09:55 AM
---