July 30, 2005
Germfask, Michigan: It Can Only Get Better
Driving to wonderful Grand Marais on the Uppper Peninsula of Michigan recently on Highway M-77, our family went through a forlorn looking place named Germfask.
How does a place get named Germfask? The question has been weighing heavily on my mind. Thanks to this new-fangled InterWeb thingmabob, I now have an answer, from ePodunk.
The community was named for the last initials of the eight founders: Grant, Edge, Robinson, Mead, French, Ackley, Shepard and Knaggs
I guess if the founders had been named Smith, Harper, Ingle, Thomas, Horton, O'Connor, Lewis and Elbert, the namers woulda had to come up with some other brilliant approach, huh?
Adding to my Knagging unease about Germfask, Germfask.com turns out to be a stealth address for a local Mormon church's site, despite a highly misleading teaser at the top of the page which says "Welcome To Germfask, Michigan, Heart Of Michigan's Upper Peninsula." More like spleen of the U.P., if you ask me. And - let's be clear - I LIKE the U.P., and the great locals I met, a.k.a. Yoopers.
But, that blatantly phony tourism come-on of your church newsletter Web site doesn't say much for your ethics or piety, Germfask Branch of the Church of Jesus Christ of Latter Day Saints. A-hem.
Since you Germfask Mormons were pretending to have a tourism-related site, y'all could've at least provided a link to what may be the one truly redeeming thing very near to Germfask; Seney National Wildlife Refuge.
UPDATE: At one of my favorite blogs, Dustbury, the indomitable Charles G. Hill (a.k.a. Chaz) not only links to my Germfask post, but in his typically great fashion, provides some serious value-added bloggage. It turns out, as you'll see in this post of his, that Germfask was home to a very special camp of agnostic WW II conscientious objectors.
I'm sure they subsequently purchased many Art Tatum, Lennie Tristano and Lenny Bruce LPs, perhaps got married, had kids, and went workin' fo de Man, with perhaps a small percentage later getting right with themselves and their nation, and enlisting for Korea or 'Nam. Still, I must say I don't hold C.O.s from WW2 in especially high regard. I mean, of ALL wars, sheesh. Yet, love 'em or hate 'em, they ARE part of our nation's history, especially the godless Bolshies in Germfask, arguably the political progenitors of today's Doom And Gloom/Hide In A Cave Left, obsessed with appeasing vicious and deadly Islamicists.
Posted by Matt Rosenberg at 06:30 PM | Comments (1)
"Beer. You. Now."
A classy looking watering hole, auspiciously named the Beveridge Place Pub, lies on California Avenue Southwest in West Seattle. It's on the corner of Beveridge Place, a half block north of the big intersection of California and Fauntleroy Way SW. The block isn't very impressive looking, as there's a large public housing apartment directly across the street (an absurd circular thing that fairly screams "institutional"); plus, flanking the pub, a downmarket bar and a perfectly good but modest looking family-owned video store.
But inside Beveridge Place Pub, it's a whole 'nother story. Great craft beers, nice decor, and a relaxed atmo. Like a place you'd find in the increasingly spiffed-up Alaska Junction business district, a.k.a. the West Seattle Junction. Here's where you come for a good wheat ale in a smoke-free environment, as opposed to the cancer ward with Bud and gambling next door.
Anyhew, it's crispy hot in Seattle as I write, and the chalkboard sign on the sidewalk outside Beveridge Place Pub today said it all: "Beer. You. Now."
Indeed.
Posted by Matt Rosenberg at 05:56 PM | Comments (0)
July 29, 2005
Study to Evaluate Ottawa Safe Injection Site
A University of Ottawa professor has received a $135,000 grant to study whether Canada's national capitol should have a "safe injection site," like Vancouver, for injecting drug users including heroin addicts.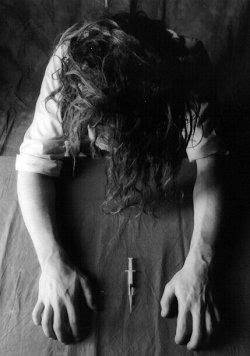 When needles are shared or re-used in street settings, infection risks such as Hepatitis C and HIV are greater. However, Ottawa's police chief is opposed.
Ottawa police Chief Vince Bevan says government research money would be best spent on drug prevention, education and treatment... "They are looking at safe ways for drug addicts to use illicit drugs on a regular basis when the drug use is going to eventually kill them," Chief Bevan said yesterday. "Let's get on with prevention, education and treatment, instead of killing them."

....(Bevan added)..."why are we throwing money into this study when the Vancouver safe site has not been evaluated? Perhaps we could wait for the Vancouver study and see what pieces of it might be applicable to Ottawa. Then take it from there."
Actually, one preliminary study on the Vancouver facility is in, titled "Do Supervised Injecting Facilities Attract Higher-Risk Drug Users?" It was published in the August, 2005 issue of The American Journal of Preventive Medicine, and here's an abstract.
Bear in mind, as reported here, that Vancouver's chronic heroin addict-beseiged neighborhood, the Downtown Eastside, has an estimated 5,000 injecting drug users in residence. The study (see abstract above) reports that over a five-month period after the Vancouver safe injection site opened in that neighborhood, 400 injecting drug users from among a larger group previously surveyed (on their drug use habits, living situations, etc.) came into the facility for follow-up services. Among these visitors 45 percent had "ever" been into the facility before. Many were younger, more active drug users at greater risk of developing blood borne disease infection (such as Hepatitis C, HIV) and drug overdoses.
So, that last part may be a glimmer of good news, as safe needle usage by highly-risk prone addicts can reduce the likelihood of such infections. But given the overall population of injecting drug users in the area, what's needed are at least two things: 1) some clear numbers about total monthly service volume; and 2) far more than that, some demonstrable proof that passing out clean needles is being combined, in Vancouver, with other treatment approaches that actually get most of the subjects off heroin for good.
Lacking that last piece, especially, there is no reason to conclude safe injection sites are anything other than a way for guilty liberals to salve their consciences, while - oh so typically - failing to actually solve the core problem.
Researchers - as is so often the case - are a large part of what's wrong, as well. Instead of a self-serving study titled, "Do Supervised Injecting Sites Attract Higher Risk Drug Users?," we need one titled, "Did Clean Needles And Integrated Addiction Treatment Programs Substantially Reduce The Population of Injecting Drug Users In Vancouver?," or, "Heroin Addiction Cessation, And What Works Best - A Survey Of The Clinical Literature."
I won't hold my breath, though.
Posted by Matt Rosenberg at 09:55 AM | Comments (1)
July 28, 2005
Public Smoking Ban Eyed In Upper Peninsula County
Even in rough and tumble, Manly Man territory such as Michigan's Upper Peninsula, public smoking bans seem to be catching on. Marquette County officials are seriously considering a ban on smoking in public and private workplaces, even if local townships are taking a retrograde stand in favor of workplace puffers. Bar and restaurant workers say they'd like to see any such ban extend to their workplaces too, eventually.
MARQUETTE - Following a long and emotional public comment session, the Marquette County Board's Committee of the Whole Tuesday night recommended approval of a countywide smoking ban in public workplaces. The ban, which would exempt bars and restaurants, would include facilities such as bowling alleys, sports arenas, lobbies, hallways and other common areas in hotels, motels and residential facilities. The Marquette County Townships Association, represented by West Branch Township Clerk Doreen Takalo, voted unanimously in opposition to having their halls included in the ban.

...Former Marquette Mayor Jack Leadbetter said public attitude has shifted to supporting the ban in recent years. "Several years ago we asked the crowd at the Hiawatha Music Festival if they would oppose a smoking ban in the general seating area and a large group raised their hands. We asked again over the weekend and three people raised their hand," Leadbetter said. "I believe public resistance to a ban is dwindling."

Two Northern Michigan University students, one a cocktail waitress and the other a local musician, said although they understand the new ban doesn't include restaurants and bars, they hope it eventually leads to that. "My goal, like many young people, is not to die. Anything I can do not to die, I'm right on it," Nick Young said. "I play music two to three nights a week in a band and in most cases you have to do that in a bar or restaurant. So I'm going against my goal and putting myself at risk of dying by doing what I love, music."

...If final approval is given next week, Marquette County would be the 10th county in Michigan with a countywide smoking ban and the second in the Upper Peninsula behind Chippewa County.
More here, and here, on the contentious issue, from a Washington state perspective.
Posted by Matt Rosenberg at 08:59 PM | Comments (0)
Beware The "Britney Option" On Roberts Confirmation
People For The American Way are urging members to e-mail U.S. Senators to go slow on confirmation of President Bush's new U.S. Supreme Court nominee John Roberts; and they're utilizing a wireless messaging technology first used to build loyalty among fans of teen idol Britney Spears. Sounds strange, sure. But here's the New Yorker with more:
Advocacy groups on both sides of the political fence are again cranking up their phone-bank operations and e-mail campaigns, as they get ready for the showdown. One organization, People for the American Way, is trying something new: an initiative to coordinate thousands of simultaneous calls to the Senate by alerting it's members via cell-phone text messaging, a medium more generally associated with preteen flirting or casting votes for "American Idol" than with progressive activism. The group is calling the operation Mass Immediate Response, or MIR, though at least one political observer has dubbed it the Britney Option.

MIR is the creation of Jed Alpert, a wireless-entertainment entrepreneur, who originally developed the application, in 2001, for a cross-promotional marketing campaign by the electronics company Samsung and the pop star Britney Spears.

At a cost of $19.95 for three months, tens of thousands of the singer's fans (many of them, it turned out, men no longer in their teens) signed up to receive several text messages a week, supposedly from Britney. By selecting a link embedded in each message, subscribers would be led to a recorded message, either from Spears herself ("Hey, it's Britney Spears. Can I just tell you, I had a blast at your party— seriously, your friends are really cool. Next time I have a party, you're totally invited") or from one of the members of her entourage, among them her personal assistant, Alicia, and her bodyguard, Big Rob.

The novel aspect of the technology is its ability to deliver customized messages to registered cell-phone users, based on such criteria as the user's address, date of birth, and, in some cases, musical tastes. For participants in the Britney Spears promotion, this meant getting to hear Spears read their horoscopes every month.

At the height of the filibuster debate last spring, Alpert was volunteering on the phone bank at People for the American Way. One night, after hours of leaving messages on answering machines, being asked to call back later, and getting trapped in long conversations with lonely radicals in the Midwest, he was struck by the inefficiency of person-to-person organizing over landlines. He realized that his wireless technology could be used to instantly mobilize thousands of activists, though they would have to be sorted by where they lived and who represented them in Washington, rather than by the alignment of the planets at the time of their birth. Alpert sold People for the American Way on the idea, and he is now shopping the technology around to other progressive organizations. (He recently changed its name from W.F.X., which stands for Wireless Fan Access, to Politext.)

Last week, on the morning after the Roberts nomination, People for the American Way was ready with its first MIR campaign. Several thousand text messages went out to the cell phones of the group's participating members, urging them to call their senators (by clicking an embedded link) and tell them to "hold judgment until facts are in!"
While I fully support the Roberts nomination, and have previously bemoaned the typically stale, pro-forma jousting over Supreme Court nominations, I must say I admire Alpert's enterprise and respect his motivation, organizationally speaking, at least. As a recovering community organizer myself, I can sympathize with the unspeakable horror he encountered after "hours of leaving messages on answering machines, being asked to call back later, and getting trapped in long conversations with lonely radicals in the Midwest."
Goodness knows, there are plenty of them.
Posted by Matt Rosenberg at 05:59 PM | Comments (0)
National Underwear Day: Why The Islamicists Hate Us?
In case you had forgotten: August 10, once again, is National Underwear Day.
Founded in August 2003, National Underwear Day is an event that evokes the care-free attitude of Sixties 'happenings', when free spirits took control of public spaces as venues for their art, their message. Our message at Freshpair is the belief that underwear deserves a lot more recognition than it gets. Americans spend more than $13 billion on intimate apparel each year and for that kind of money, we feel it is our duty to tell the world. With National Underwear Day, we've taken underwear out of the dresser drawer and into the streets - by sending twenty male and female models out clad only in our finest undergarments.

In the heat of Manhattan summer, our underwear ambassadors wandered through heavily-trafficked locales such as Times Square, Penn Station and Rockefeller Center, modeling some of today's hottest brands for unsuspecting - yet pleasantly surprised - shoppers, tourists and die-hard New Yorkers who think they've 'seen it all'...until now. More than just eye candy, our models conducted various surveys on undergarment choices and asked people to sign a petition which urges official recognition of this underwear-honoring day.

This year, on August 10th, we're doing it again and we welcome all to join in the celebration.
The rest of us, who might not look so hot parading down the street in just our civvies, can show support by wearing them OVER our clothes. Yeah, yeah, that's IT! I can definitely see that catching on - big-time - here in Seattle.

We've taken underwear out of the dresser drawer, into
the streets. Find great deals on bras, and panties, or men's underwear such as
Calvin Klein at the home of National Underwear Day.
Posted by Matt Rosenberg at 12:29 PM | Comments (0)
Bill Lockyer Takes Brave Stand For Free Speech
A group called California Lawyers For The Arts is sponsoring an art exhibit in the cafeteria of the state Justice Department Building, home to Attorney General Bill Lockyer and his staff, which includes a depiction of the United States going down a toilet, and the words, "T'anks to Mr. Bush." More from the SF Chron:
Among the works was one by Stephen Pearcy, a Berkeley lawyer best known for hanging an effigy of an American soldier outside the home he owns in Sacramento with a sign saying, "Bush lied, I died." For this show, Pearcy offered a rendering of the United States sinking into a toilet. Next to it was the phrase, "T'anks to Mr. Bush." That lit a bonfire under the seat of the politically red portion of California, and word roared through conservative blogs and Web sites and from conservative radio talk shows.

...The offended conservatives don't want to censor the pieces inside the building, said Melanie Morgan, a talk show host on radio station KSFO in San Francisco who is heading to the capital to spearhead the exhibit and accompanying rally. "It just doesn't belong in a government building," Morgan said.

...Lockyer spokesman Nathan Barankin...(said)..Lockyer "isn't a fan of that particular piece (involving the toilet),"....nor is he supportive of the political message behind a few of the others.

"But he will not engage in censorship. He has no plans to remove the art (before the temporary display is taken down Aug. 30.)," Barankin said, even if talk show hosts are now referring to his boss as "Baghdad Bill."
What a brave, principled California Attorney General is Mr. Lockyer. Standing tall in the saddle for the right to display, on government property, a depiction of The United States in the crapper, "T'anks to Mr. Bush." One's heart swells with pride.
The underlying issue here is government sponsorship of the arts, which quite often takes the form of subsidies for works both controversial and less so, rather than displays directly placed on government property. Art is wonderful, sometimes. We've got quite a bit of it the walls of our family's home (cheap prints nicely framed, not too many originals; and scads of music recordings.) If you want to talk about Carvaggio, Paulo Ucello, Heironymous Bosch, Salvador Dali, or the ouvres of Boogaloo Joe Jones, Pat Martino, Ellen McIlwaine, The Residents, Pere Ubu, Zani Diabate, and Three Mustaphas Three, I'm game.
But one must seriously question whether it is a core, or even desired function of government to subsidize art. Can't artists stand on their own two feet? And must we assume portions of the public are incapable of approaching art without the benevolent hand of government showing the way?
Additionally, when controversial temporary exhibits such as "A Creative Merger" are placed on government property, it seems there are often messages in certain works that are virulently anti-American.
I know, I know. Art is supposed to make you think. So here's what this imbroglio makes me think. 1) If there is to be government-funded art, leave overt partisan politics out of it...I enjoy a city-sponsored summer concert series as much as the next music hound, just give me Lil' Ed and The Blues Imperials instead of Jello Biafra, OK?; 2) The self-defeating rage of the American Left knows few bounds; and 3) Mr. Lockyer, a Democrat reportedly planning a run for State Treasurer, is really far less interested in free speech than partisan posturing to curry favor with his urban, Bush-loathing base via surrogate "artists" such as Berkeley lawyer Stephen Pearcy.
Posted by Matt Rosenberg at 11:57 AM | Comments (0)
July 27, 2005
By Any Means Necessary, Filch Junk Food
A proposed ballot measure in Michigan, the Michigan Civil Rights Initiative, would end racial preferences in university admissions and public sector employment. It may or may not make the ballot, as a court battle over petition signature gathering looms. But the end of entitlements which misguidedly assume the inferiority of minorities is a hard pill to swallow for diehard libs, and for the City Of Pontiac, which is now being sued by the Justice Department for violating the 1964 (U.S.) Civil Rights Act by automatically giving one-third of its fire department jobs and promotions to minorities and women.
Groups have already formed to fight the statewide initiative to end minority preferences in school admissions and public hiring. One is named By Any Means Necessary, and recently, they showed just what their moniker really means. The Detroit Free Press reports:
Some of the 400 or so Detroit students who attended a boisterous rally at the state Capitol for affirmative action came away with more than a civics lesson last week. They swiped $600 worth of snacks and soft drinks from a cafeteria across the street, according to the owner. "They just stampeded in here," said Patrick McGlinchey, who owns the State Plate cafeteria. He said he and his staff watched helplessly as between 20 and 30 youths from the rally cleaned out entire shelves of pop, chips and candy without paying.

....The high school and college students were bused to Lansing by the group By Any Means Necessary (BAMN) to protest a proposed ballot issue that would end racial preferences, i.e. affirmative action, for university admissions and government jobs.

Some in the group attended a meeting of the state Board of Canvassers, which debated whether the Michigan Civil Rights Initiative petition drive had enough valid signatures for a spot on the 2006 ballot. The cafeteria in the House Office Building, where the meeting took place, is operated by McGlinchey through the Michigan Commission of the Blind. He said he hopes his insurance covers his loss. But he said he might send a bill to BAMN. BAMN organizer Luke Massie said Friday he'd heard of the incident, and intended to call McGlinchey, but had not spoken to the students.
Hang on here. BAMN knew about the incident, and the organizer INTENDED to CALL the cafeteria manager? How about, "pledged to reimburse?" But then, what's a little bit of theft and disorderly conduct? No big deal, man, we're busy fighting institutional racism.
The affirmative action mentality at play - no consequences; free ride; we're a protected class.
Posted by Matt Rosenberg at 09:46 AM | Comments (1)
July 26, 2005
Hallo, Mount Baker!!
Landing in Seattle today, the pilot on NWA 157 observed: look out your window to the north. There's "Baker Mountain," he said.
Uh. Great job, guys...seriously. Bringing that A320 from Minneapolis into Seattle. So smooth. I bow down in respect. Beat the hell outta the DC-9 from Grand Rapids to Minneapolis. THAT was hell. Especically for those in the LAST row.
But. It's called...Mount Baker, not "Baker Mountain." Here ya go: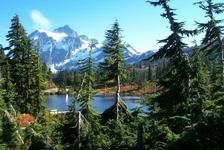 Notice to fashionista tourists: The rule is, NO leather loafers allowed when hiking in these parts. Just so we're clear.
Posted by Matt Rosenberg at 09:43 PM | Comments (2)
July 24, 2005
Pictured Rocks National Lakeshore, Marquette And Petoskey
Our four days in the tiny windswept Lake Superior town of Grand Marais, on Michigan's Upper Peninsula, were sweet. Nice little public beach on a protected bay, Lake Superior beaches right in town, their own maritime museum, friendly locals, plus backroads to sandy-shored lakes where the quiet fairly roars, and to dunes, dunes all all over. Aerial shot here gives some perspective: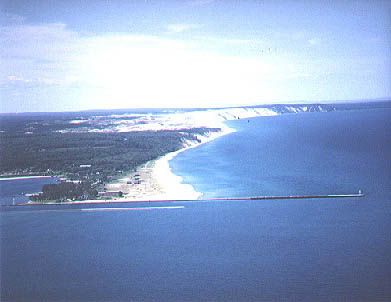 First full day we went out to Pictured Rocks National Lakeshore, or rather a portion of it: the 1.5-mile hike on a smooth trail from the Hurricane River campsite to the Au Sable Lighthouse, passing shipwrecks on the beach. A nice photo essay here from a guy named Kent, who grew up in Northern Michigan.
The next day, a two-hour drive from Lake Superior's southern shores at Grand Marais around to the west, and then starting up northwest along the Lake's left coast, to the U.P.'s largest city, Marquette. More info. here and here.
Lots of old, old architecture as you come into town on Route 28 and then Front Street. Park your car right near Front and Washington and start walking around. Don't miss the candy store on Washington between Front and Third Streets, plus the waterfront city park down the hill on Washington, with an amazing playground, and then a maritime museum beyond. There stands The Silent Service Memorial to the 52 U.S. Navy subs lost at sea between 1941 and 1945, including the USS Darter. It was piloted by a Marquette man, Capt. David McClintock, and played a key role in a Philippines engagement that ended the offensive role of the Japanese Navy.
The bulk of our day in Marquette was spent on a nice sandy Lake
Superior beach a bit north of downtown, but south of the justly famed Presque Isle Park, a 300-acre-plus nature preserve that is the crown jewel of Marquette. Don't miss it. We drove through, and found some Lake Superior scenic-view rocky outcroppings to perch upon for a while. At our beach earlier, people were walking out to some nearby islands, called Picnic Rocks, one (only one, thankfully) covered with squawking gulls. They stayed away from our scrumptious prosciutto-red onion baguette; chicken-pasta-veggie salad; and Greek salad, from Sweet Basil Deli on Third St.
Every where we went, Lake Superior's water looked exceptionally clear and clean. The beach park is called Shiras Park, the downtown waterfront spot with the great playground is Lower Harbor Park: more here from the city's parks web page.
A shout out to fellow Washingtonians and other Pacific Northwesterners: if you haven't been to the northwestern part of The Mitten, or Lower Peninsula; or to the U.P., get on up here. It's right up your alley. Only thing missing is the tall mountains, but the dunes are a nice change of pace on that account.
Today, fortified with a huge and hearty pastie for breakfast, I drove our crew off the U.P., south across the Mackinac Bridge. Lunch at the infamous Legs Inn, then south on tree-canopied M-119 into old-money snooty Harbor Springs, where even four-year olds look you up and down to see if you're sporting the requisite designer leisure-wear. Ah well, that's what you get in a town where the local java emporium proudly displays a newsclip boasting that an airline in-flight mag calls the town the "Cape Cod of the Midwest."
I much preferred our next stop, Petoskey, where we spent a good two hours in the historic Gaslight District, and from where I'm now blogging in a motel with free wireless Net access.
Michigan: a great place to wander.
Posted by Matt Rosenberg at 04:54 PM | Comments (1)
Sharm el-Sheik Bombings Will Strengthen Resolve Against Terrorists
The bombing at the Eyptian resort of Sharm el-Sheik has killed 88, and two different Muslim extremist groups are vying for credit. One says the resort was targeted because of the presence of Israeli tourists. Whichever bunch of bastards is responsible, I'll say what I've said before: terrorism comes from a position of weakness, not strength. And, this will unite the sane denizens of the world (i.e. those opposed to terrorism) even further, against Muslim extremists.
Target The West, and The West will respond. In force.
I was going to blog some more about our family's great Michigan vacation; we're still at it. But it doesn't seem the time.
This incident underscores the importance of choosing (in 2006) U.S. House and Senate members and (in 2008) a president who are fully commited to fighting terrorists and terrorism on their turf and ours; who don't apologize for America's strength and greatness; and who don't make excuses for terrorism.
My prayers to the families of the victims at Sharm el-Sheik.
Posted by Matt Rosenberg at 06:31 AM | Comments (1)
July 21, 2005
From Elberta To Grand Marais
Michigan is BIG. I say that having driven to the far northern reaches of the state. Our family is in a charming little town called Grand Marais, on the shores of Lake Superior, just east of Pictured Rocks National Lakeshore. We came across the Mackinac Bridge yesterday and on to the Upper Peninsula. The bridge, BTW, was built the same year I was born: 1958.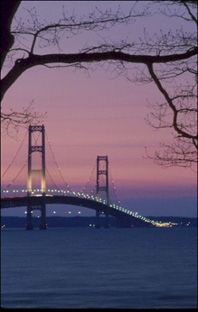 Lemme catch up on a few recommended spots in Benzie County, a ways back south, in and around the twin towns of Elberta and Frankfort on Lake Michigan's eastern shore, where we were staying, just about 45 minutes south of Sleeping Bear Dunes.
Peterson Road Beach, on Lake Michigan is a gem, and probably locals-only. It garners a mention in this useful Michigan AAA magazine piece on the region. You turn left, or west, off M-22 onto Peterson Road, a bit north of Frankfort, and follow a winding gravel road several miles. Parking where the road dead-ends, and a boardwalk down to the huge sandy beach, with dune grasses behind you, and great dune bluffs visible in the distance, to the north. The water must have been 70 degrees; just a tad warmer than Puget Sound, uh. Matt The Wonder Dog leapt through the surf catching frisbees and going under in the process. The Old Fart has got some life in him yet.
Shallow water, sandy bottom made this spot great for our kids, too. Highly recommended. Just bring plenty of sun umbrellas; there's no shade.
Dinner at The Manitou, on M-22, between Crystal Lake and Peterson Road. Great, slightly swank North Woods atmo and fare. Perch, whitefish, trout, pike all excellent; so too the salad with cherry vinaigrette, and especially the Bell's summer wheat ale.
In Frankfort, don't miss the Crescent Bakery; fresh-baked artisinal breads; scads of fresh-baked pastries, great sour cherry smoothies, and gourmet sandwiches. They even have a laptop with wireless Net access for customer use!
In Elberta, back across the Betsie River from Frankfort, don't miss the playground on the riverfront, and just up the hill, the Trick Dog art gallery, where there's great dog art, t-shirts, arty knick-knacks, Cuban sandwiches, Brazilian French Toast, gourmet coffee and baked goods. Generally speaking, I am no fan of dog art (pictures of, not by, dogs). But theirs is great. I hope they add more of it to their Web site, eventually.
Now, we're way up north in Grand Marais, far off the beaten track, even for the Upper Peninsula. Lovely, public access sand beaches on a bay behind a little peninsula fronting Lake Superior, and great locally-made brews and pizza at the Dunes Saloon of the Lake Superior Brewing Company were last night's highlights.
More to come.
Posted by Matt Rosenberg at 06:45 AM | Comments (3)
July 19, 2005
Sleeping Bear Dunes Adventure
Sleeping Bear Dunes National Lakeshore is in the upper left hand part of Michigan's Lower Peninsula.
What a place!
Yesterday we hiked up to a 400-foot-high overlook of the shore, at Pyramid Point, then took a winding trail through the leafy moonscape down to the beach, and found a great secluded spot. We're staying about an hour south, in Elberta. Lots of lakes feeding into Lake Michigan here, and genuine "singing sand," or actually "squeaky sand," on the beach in Elberta. High quartz content, or so I'm told.
If you're in Glen Arbor, an almost-too-cute tourist town in the heart of Sleeping Bear country, make sure to stop in at Cherry Republic. You can get all kinds of cherry ice cream, plus cherry pie, cherry cookies, cherry bread, cherry iced tea, cherry lemonade, BBQ with cherry sauce, cherry chicken salad. And so forth. there's also mail order (link above).
More beach-i-fyin' today, then on to the U.P.
Comment spammers: I'm keeping tabs and doing deletions, and blacklisting. All genuine, on-topic comments welcome, as always.
Posted by Matt Rosenberg at 08:32 AM | Comments (1)
July 16, 2005
Grand Haven Musical Fountain Needs New Music
The musical fountain in Grand Haven, Michigan is a spectacle indeed. It actually sits across the Grand River from the viewing bleachers, on a small rise. The water plumes shoot high, shifting shapes and colors constantly.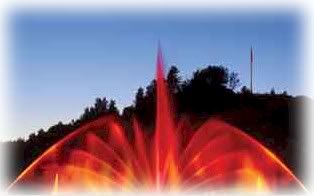 The old-timey music is fairly lame, though. A treacly Gershwin tribute last night was a case in point. The word is alternately that the tenor of the music won't change until the local Old Guard dies, or, make a suggestion.
Well, here's one: Some livelier, more contemporary stuff would really enhance the experience. Maybe some reggae or Nigerian juju. Just what this quaint white-bread community's nightly summer light show needs.
After the show, our two families took a late night stroll down Washington Street, the cute-but-not-not-too-cute main drag of downtown Grand Haven, the air thick with the smell of gyros and the muffled sounds of so-so rock bands in local bars. We ended up in a bookstore jammed with parents and kids awaiting midnight, and the beginning of sales of the new Harry Potter epic. Lots of punch, odd-flavored jellybeans and wizard sticks (pretzels with frosting and sprinkles at one end). Plus intriguing volumes on how to lie your way out of any awkward situation, plus a long whine about motherhood, and several others that left me scratching my head.
Today was one of those great lazy days, where your kids play with your friends' kids all day long, and nobody feels like they really have to DO anything. Except the dads, who did the hunter-gatherer thing, stocking up for dinner tonight and our trip north to Sleeping Bear Dunes, starting tomorrow. Hit the beach here in Grand Haven around 4:15 p.m., for two-plus hours. Perfect timing.
Dinner tonight was choice: best Brats ever, from The Meat Market in Allendale (thanks, Georgette), plus two cool summer salads I whipped up: one of par-boiled, halved baby Yukon Gold potatoes with chopped green onion, celery, fresh basil, sauteed garlic, sweet yellow pepper, Anaheim pepper, and crisp bacon in a creamy Parmesan-Wasabi dressing; another of fresh sweet corn kernels with fresh mint, vine-ripened tomatoes, and a smidge of Serrano pepper, in a dill vinaigrette.
Posted by Matt Rosenberg at 06:48 PM | Comments (0)
July 15, 2005
Beach Pole Vaulting In Grand Haven
Exited Grand Rapids after a hearty lunch at the oldest restaurant in Michigan's second largest city, The Cottage. Get the Cottage Burger, a hefty one-third pound char-broiled baby on a toasty dark rye bun with a smidge of cheese and bacon. Try the chili too; it's muy tasty, and there are four kinds. Many beers on tap, dark wood interior, original art deco mahogany bar. Right next to a 1910 fire station.
Drove out of the 90-degree Grand Rapids heat to the cool Lake Michigan breezes of Grand Haven, a town of about 11,000 on the West Coast. Of Michigan. Sweet, sweet spot. I grew up along Lake Michigan, about three hours southwest of here, in Chicago, and my Chicago beach memories consist of dead alewives stinking up all of Hyde Park on the 57th Street beach across from the Museum of Science and Industry, and a lot of other beach trash, most of it not the human variety.
Here, as you can see, things are a bit different.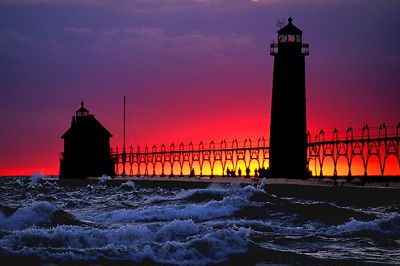 After arriving at the home of our dear friends Bruce and Georgette, and after their kids and ours did the Vulcan mindmeld thing (ongoing at this moment), we walked about three-quarters of a mile down to the beach, through dunes that start in B&G's back yard. The beach, and I believe we were at "Dog Beach," as it's called for obvious reasons, was clean and cool, and ultra-refreshing. Total chill-out. Eventually, we moseyed a bit north to watch the Grand Haven Beach Vault, the world's largest beach pole vaulting tourney (perhaps the only one, as well?).
They had dedicated runways (no slogging through the sand) and all the right gear. Mostly college-age competitors.
An inescapable observation: the women, competing seperately, were vastly inferior, and botched their attempts embarrassingly, about two out of every three times. The men's competition was much more robust, athletically. No darn way around it. Probably something to do with the upper-body strength required for serious pole vaulting.
Nice walk back home through a cemetery, and scrumptious cheese fondue for dinner. Now, off to see Grand Haven's musical fountain light up, and drench the kids.
Posted by Matt Rosenberg at 06:23 PM | Comments (2)
San Chez Bistro's Tapas: Pride Of Grand Rapids
On Fulton Street, just around the corner from Ionia Street and the Heartside Historic District is San Chez Bistro, a world class tapas joint. In Grand Rapids. I offer that opinion having had tapas in Spain for the better part of two weeks, on my honeymoon.
Our family enjoyed squid with bacon, leeks and roasted red peppers; seared rare ahi with harissa sorbet; a salad of shaved cucumbers, succulent tomatoes, and highfalutin' greens; thin-sliced smoked salmon with peppers, capers and tomatoes. Mom and dad each had a mojito. Great setting, very cool music, ranging from Latin jazz to Afro-Cuban, to Raga-hop. There's a bistro next door that occasionally has some piquant live music, such as the Chicago Afrobeat Project.

If you're in Grand Rapids, don't miss San Chez.
Posted by Matt Rosenberg at 07:42 AM | Comments (0)
July 14, 2005
Meijer Gardens Tropical Conservatory: Just The Place In July
A 90-degree-plus day in Grand Rapids, or so it felt. So naturally we headed for the tropical conservatory at Frederik Meijer Gardens, where we saw a Fiji Fan Palm that looked pretty much like this: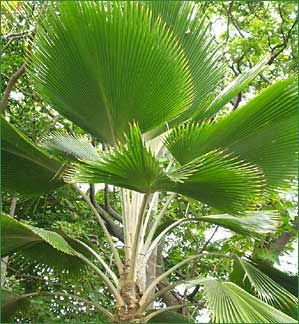 And something called a Travellers Tree, native to Madagascar; a huge, impressive creature.
Actually, while the tropical conservatory, desert conservatory and Victorian garden were all great, the real highlight in today's sweltering heat were the waist-high outdoor pools shaped exactly like the three Great Lakes surrounding the state of Michigan. The kids got to push little plastic boats all around, and it was cooler there.
The huge horse was impressive, as well. The sculpture garden would've been well worth a whirl on a somewhat cooler day; plus there's a good cafe, an indoor art gallery filled now with some really odd bronze sculpture; and a summer concerts series in a beautiful outdoor setting with a fine sound system, and some quality acts, including Jonny Lang on Sept. 1.
Posted by Matt Rosenberg at 05:12 PM | Comments (1)
Community Responsibility Theme At Grand Rapids Black Summit
Grand Rapids has a sizeable black population, as I've seen while visiting here in the last two days. There've been tensions with police, especially after the shooting of an officer last December, and what some felt was harrassment of blacks during the investigation. But after black-on-black violence made headlines in May, black community leaders stood with police in calling for a greater focus on parenting, and promoting self-responsibility. Today, as Jam Sardar of WOOD-TV reports in this news video, there was a major forum held by and for the black community of Grand Rapids, in the Wealthy Theater.
Topics ranged from poverty and parenting, to generational differences (civil rights vs. hip-hop), but the focus was police and blacks. Watch the whole video and judge for yourself. It's good they're covering this stuff, and not totally cowering under a politically-correct shadow. But the sound bites from the forum, while scrupulously balanced, are also a way of hiding behind balance, as "straight news" reports on radio, TV, and in the papers so often do.
And so you get the inevitable (black) guy who says the cops are biased against blacks, the (black) guy who says blacks better step up to the problems in their community, the white police chief who says the same thing, essentially, and the (black) guy who says it's neither, and both.
I'll go with Door Number Two, the fella who said: "Our problem is....we do need to be the police officers of our community." There are probably are some cops in Grand Rapids who could stand to brush up on their interpersonal skills, including the way they relate to minorities. That applies in most places. But so does this: criminals who perpetrate violent crimes must be caught, and, if they are young men or teens, their parents and families are rightly held responsible in the court of public opinion and in the community.
The values of The Conservative Brotherhood are values for all, for the ages.
Posted by Matt Rosenberg at 04:29 PM | Comments (0)
July 13, 2005
Mystery Blogger Stalks Grand Rapids
Here in the former "Furniture City" of Grand Rapids for a few days with my kids and wife (business for her) before a serious Third Coast and Upper Peninsula adventure. Pretty cool town. The kids and I spent a good three hours-plus in the Van Andel Museum Center, on the banks of the Grand River. I'm not a big fan of general interest museums, but this was really well done. A circa-late 1800s Main Street Grand Rapids is beautifully recreated, with print shop, apothecary, gun shop and more. Dioramas of Michigan natural habitats, a great color silent film following the course of the Grand River all the way to Lake Michigan (all footage seemingly shot from a helicopter zooming along fairly close to the surface); great Native American crafts; a special exhibit of paintings and antiques from New England; a vintage carousel to ride on; a massive, fully functional mechanized bell tower-ish clock with all the exquisite inner workings revealed; the story of the Furniture City; and a lot more stuff, including a film from 1960 about the destruction of the landmark, original city hall for "urban renewal."
They're still in the throes of it here, as downtown seems to be about two-thirds gobbled up by construction projects, but there's a reason the battle for urban vitality continues: there's a lot worth saving here. Plenty of vintage buildings remain among the bland modern stuff necessary for offices, conventions and government. Walking around, you hope those newly-rehabbed condos in old, fancy brick buildings on Monroe Square get filled up, and that the many empty storefronts come to life.
Coming out of the museum, we walked back across the river on one of two pedestrian bridges near our hotel, and stumbled into the Amway Grand Plaza, the swank hotel in Grand Rapids. James Watt stayed there. Bush I, Maggie Thatcher and Alexander Haig, too. Came across DeJonge Studio in a shopping plaza of the hotel, where David DeJonge sells portraits. You'll see a few familar faces, such as Newt Gingrich, Antonin Scalia, and JC Watts. He doesn't do too many notable Dems, but he does do families, and veterans and medical professionals, among others. DeJonge has moxie; that's how he got his big break.
Somewhat wilting, back in the 86-degree humidity, we strolled into downtown and found a delightful chill-out spot Cafe Solace on Fountain Street. A full-deal casual restaurant, and coffee bar with fresh baked-there goodies, a library and some great comfy couches to curl up on and read. They're famous for their chocolate chip cookies, which were written up this very day in the local paper. The green tea chai was excellent, and the chef and his wife used to host a local cable public access show called "You're The Chef," where 'jes folks would come on and cook up one of their best dishes while, perhaps, their kids wreaked havoc. Sounds like something the cable food channels ought to consider. Or how about a reality cooking show?
Later, in the evening, the whole family went down to "Blues On The Mall," a Wednesday night summer concert series sponsored by a local radio station. Half the town was out, and it made for great people watching. Plenty of phreaks, goths, punks, serious white trash and misanthropes, plus some more normal looking folk, too. We scored some great pulled pork BBQ sandwiches, and the kids frolicked in a fountain and later got their arms painted (ice cream cone, lizard). The music was pretty hysterical. If you ever get a hankering to see a guy who who has totally mastered the mannerisms of a rock guitar god, but has barely a shred of originality or soul, Anthony Gomes is definitely your main man. The long hair, the poses, the utterly derivative fretboard histrionics, the endless 9th chord vamping, the obligatory thumb-thumping bass solo - all sound and fury, signifying nothing. Dunno exactly why, but I spotted the keyboard player chewing someone out on his cell phone backstage after the first set. He got more space for his licks in the second set. Here's the deal: anytime a guitarist sounds like the second coming of Jimi Hendrix - he's most assuredly not. Except for that lil "Funk-a-billy" ditty, Anthony, your show was a stone cold snore.
Too bad we missed Lil' Ed and The Blues Imperials last month.
We wandered around and passed several street musicians; a really sweaty kilted fellow playing the bagpipes, a desultory duo on guitar and stand up bass, and then I actually heard some blues; two guys on tenor sax and a guy playing alto by the veteran's memorial statue right where Monroe meets Fulton. Sounded like the World Saxophone Quartet there for a few hot minutes.
Beware Western Michigan: the Mystery Blogger is on the loose!
Posted by Matt Rosenberg at 07:18 PM | Comments (1)
July 12, 2005
San Francisco Anti-Recruiting Initiative As Kabuki
Answers.com defines Kabuki theater thusly:
Ka·bu·ki n. A type of popular Japanese drama, evolved from the older No theater, in which elaborately costumed performers....use stylized movements, dances, and songs in order to enact tragedies and comedies.
This description seems to apply rather neatly to the "College, Not Combat" ballot initiative, for which organizers have just submitted 15,000 signatures to officials in hopes that the colorfully emotive, purely symbolic measure will reach San Francisco voters this fall.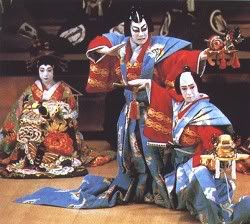 If it passes, members of the San Francisco Board of Supervisors will be able to consider themselves, uh, encouraged, to, uh, oppose, or ah, speak out, or philosophically disapprove of and generally frown upon military recruiting in high schools - even though recruiting cannot be barred, under the No Child Left Behind Act.
I think the proposed initiative is really a backhanded slap at public schools in San Francisco, among other things. Implicit is the idea that gullible, uninformed high-schoolers, despite all those "media literacy" classes, are going to be sold a bill of goods, and enlist - thinking there's no risk at all of military engagement.
As I've said before: suppose recruiting opponents got their wish? DRAFT time.
Oops.
Posted by Matt Rosenberg at 08:31 AM | Comments (4)
July 11, 2005
Russell Simmons Still Stalking The Yogi Vote
Hip-hop and apparel mogul, Live 8 brand-builder, and now yoga video peddler Russell Simmons is still stalking the yogi vote.
In an appearance in Vancouver - where the noted vegan heatedly rebutted rumors his apparel company, Phat Farm, will be redesigning the drab uniforms worn by meat-slinging McDonalds employees - he again trotted out, in modified form, his #1 yoga talking point:
"Imagine if all the yogis in America voted. It would be a much more loving place."
Obviously, Simmons and his communications people read my previous post at Sound Politics, where I gave the Russ-Man some grief for saying, in a yoga-flogging visit to our fair city of Seattle:
If only yogis were the only people in America who could vote...this country would be so compassionate and so giving and so loved...
As I noted, drawing on the Bhagavad Gita, if only yogis could vote in the U.S., we'd all be dead, and soon. But Simmons has engaged in a telling rhetorical shift from wishing that "only" yogis could vote here, to envisioning "all" U.S. yogis voting.
However, this unfortunately raises more questions than it answers. First off, Russ: if all the yogis in the U.S. voted, would it make a spit-lick of difference? And just what is turnout among American yogis presently, Russ? In presidential election years versus off-years? Do yogis vote for King County Executive? Will there be a GOTV campaign directed toward Washington state yogis if the indoor public smoking ban initiative makes the balllot? What percentage of U.S. yogis are illegal aliens? How many illegal alien yogis currently vote in King County? Do yogis lean Libertarian?
I'm just getting started, but I'm going to take a time-out for some deep breathing. By the way, my nine-year-old son can stick his toe in his ear. I think he should be allowed to vote.
Posted by Matt Rosenberg at 09:15 AM | Comments (0)
July 10, 2005
The Cancer Of Islamic Hate
"Islamic Extremists Find British Haven" is the title of a fairly chilling, but not surprising story in today's paper. This brave, very not-PC article by Ken Dilanian of Knight-Ridder, is written following the London subway and bus bombings which killed at least 48, and for which al Qaeda-affiliated terrorists have taken credit. The punch line of Dilanian's piece is that Western "tolerance" of multiculturalism has become negligence. Negligence of the deathly hatred for the West carried by too many young, first- and second generation Islamic immigrants.
LONDON — In Saleem Ali's world, it's all quite simple: The Jews control the global economy. The Americans are murderous thugs. And the British government was behind Thursday's attacks here. Prime Minister Tony Blair ordered it, Ali said in an interview, for the same reason President Bush orchestrated the Sept. 11, 2001, carnage: "To cause panic among the public so that people will hate Muslims."

Welcome to Bethnal Green, a heavily Muslim neighborhood just a few subway stops away from the heart of tourist London. Hardly wild-eyed, Ali, 30, a shopkeeper, spoke with measured eloquence. He stood next to his younger brother and four friends, each of whom echoed his sentiments in tones so lighthearted that a reporter repeatedly asked whether they were joking. Not at all, they said as they excoriated the West and praised al-Qaida.

....Britain's history of admitting large populations of poor, uneducated Pakistani and Bangladeshi immigrants from its former empire — along with a generous asylum policy that has allowed Arab dissidents to claim political shelter — has long made it a haven for Islamic radicals. And while the vast majority of British Muslims are law-abiding, a string of incidents in recent years has put the problem of the country's radical Muslim minority in stark relief.

...Some terrorism scholars argue that British society, especially on the left of the political spectrum, is in denial about its extremism problem. Politicians celebrate Britain's multicultural tableau, they say, without looking too deeply at the segregation and division below the surface.

"Assimilation was never policy, explicitly or otherwise, of the British government," said Michael Radu, who studies terrorism at the Foreign Policy Research Institute in Philadelphia. "They accepted as natural what you may call cultural and religious tribalism, and now it's turning against them. They confuse tolerance with negligence."
Thomas Friedman says that it is the Muslim political culture within Western Islamic communities, including the elders and the religious leaders, that can best end the hate. Failing that, western governments will have to programatically boost surveillance and detention of suspected Islamic radicals, increasing polariziation just as bin Laden wants, posits Friedman.
Posted by Matt Rosenberg at 09:21 AM | Comments (1)
July 09, 2005
Illegal Immigrants Love That Southern Border; Terrorists, Too?
We don't have enough beds in border detention facilities, and would have to pay to send non-Mexican illegal immigrants back to Brazil or Honduras, or wherever else, because "international law" says we can't just bounce 'em back across into Mexico. We give them a "notice to appear" at a hearing and let 'em into the U.S. They rarely show up at the hearings. Nice route for terrorists, don'cha think?
More from Jerry Kammer of Copley News Service:
McALLEN, Texas – In the silvery-blue light of dusk, 20 Brazilians glided across the Rio Grande in rubber rafts propelled by Mexican smugglers who leaned forward and breast-stroked through the gentle current.

Once on the U.S. side, the Brazilians scrambled ashore and started looking for the Border Patrol. Their quick and well-rehearsed surrender was part of a growing trend that is demoralizing the Border Patrol and beckoning a rising number of illegal immigrants from countries beyond Mexico.

...The group was detained overnight and given a court summons that allowed them to stay in the United States pending an immigration hearing. Then a Border Patrol agent drove them to the McAllen bus station, where they continued their journey into America. The formal term for the court summons is a "notice to appear." Border Patrol agents have another name for it. They call it a "notice to disappear."

Of the 8,908 notices to appear that the immigration court in nearby Harlingen issued last year to non-Mexicans, 8,767 failed to show up for their hearings, according to statistics compiled by the Justice Department's Executive Office of Immigration Review. That is a no-show rate of 98 percent.

The problem is that U.S. immigration authorities are short on detention space. They can send Mexicans back across the border within hours. But international law prohibits them from sending non-Mexicans to Mexico. Instead, they must arrange travel documents and flights directly to the immigrant's country of origin. The process, which the U.S. government pays for, takes weeks or even months.

The result is an unintended avenue of entry for a rapidly growing class of illegal immigrants from Central and South American who now see the Border Patrol more as a welcome wagon than a barrier.

...Many Border Patrol agents express frustration over the dilemma. They also worry that the high volume of non-Mexicans is taking up much of their time and might be making it easier for potential terrorists to slip past. Some said they spend much of their 10-hour shift processing non-Mexicans.

...Others with the Border Patrol complained that they are being reduced to little more than gun-toting travel agents in uniforms.
Washington, we have a problem. Well, at least a few guys there get it.
Posted by Matt Rosenberg at 07:57 PM | Comments (0)
July 08, 2005
Unlocking The Porn In "Grand Theft Auto: San Andreas"
A downloadable modification to the popular video game "Grand Theft Auto: San Andreas" unlocks porn that appears to have been built in from the start. Or so it is alleged. More from the SF Chronicle:
A media watchdog group denounced the maker of the hugely popular video game "Grand Theft Auto: San Andreas" on Friday after learning that graphic sex scenes can appear in the game with the help of a freely available Internet download.

The game's plot was already objectionable to many: its main character seeks bloody vengeance on gang-filled streets, firing automatic weapons and picking up women along the way.

After downloading and installing a modification to the game — one of many "mods" available on Web sites maintained by videogame enthusiasts — a new world opens up in which the girlfriends appear nude and engage in explicit sex acts, according the mod's author.

The new content fills in what publisher Rockstar Games left to the imagination in the rated M (Mature) version sold in stores. Sexual content of this kind generally earns videogames an AO (Adults Only) rating, which very few retailers are willing to sell.

Rockstar spokesman Rodney Walker refused to say whether or not the New York-based publisher created the sex scenes. The controversy has prompted an investigation by the Entertainment Software Ratings Board, which determines the rating on every video game sold.

The mod's author — Patrick Wildenborg of Deventer, Netherlands — told The Associated Press Friday that his code merely unlocks content that is already included in the code of each off-the-shelf game, the latest edition of the top-selling "Grand Theft Auto" series.

"If Rockstar Games denies that, then they're lying and I will be able to prove that," Wildenborg, 36, wrote in an e-mail. "My mod does not introduce anything to the game. All the content that is shown was already present on the DVD."

...Within the game's official storyline, the main character earns the chance to have "coffee" with "girlfriends." Wildenborg says his "hot coffee" patch merely toggles a single value in the game's main script — a "censor flag," he calls it, that appears to have locked up several hot and heavy scenes.

"Lock me in a room with a computer, an original San Andreas DVD and a binary-file editor, and I will be able to unlock the stuff in a matter of minutes," he said defiantly.

(National Institute on the Media and the Family founder, David) Walsh said the "hot coffee" scenes are pornography by anyone's definition, and called on Rockstar to "come clean" on whether they programmed the scenes into the game. "This is about kids," Walsh said. "Can you imagine the impact of 13-, 14- and 15-year-old boys literally enacting this scene?"
Oh yeah, I forgot. As David Brooks explained not long ago, controversy over this kind of stuff is merely "kabuki" posturing, and has no bearing on real life, where kids are "raunchy on the surface" but "wholesome within" despite all the hyper-sexualized and criminal-themed entertainment they ingest.
But a recent study by Indiana University medical school researchers suggests violent TV and video game imagery can foster aggressive behavior.
Individuals cannot always count on their free will to avoid certain risks, such as, say, suddenly and horribly violent pit bulls. But they can easily sidestep cigarettes or "Grand Theft Auto: San Andreas."
So in this instance, as in MOST others, I would not support regulatory intervention (beyond the current labelling scheme for mature-content video games, and actual enforcement of same).
Yet I wonder how any parent could be sanguine about their kids playing games like this. Columnist Sandra Paterson, writing about "San Andreas" in the New Zealand Herald, is struck by the game's heinous content, and what it might mean to its many underage players.
On TVNZ's Sunday programme last week, a reporter went to a Wellington boys' high school and asked how many of them had played an R18 video game called Grand Theft Auto: San Andreas.

According to enthusiastic reviewers, who say things like, "this game will own you" and "it feels totally real", it is head-and-shoulders above any other game on the market.

The player takes on the role of a criminal and earns points by decapitating police, raping prostitutes, shooting or slitting the throats of innocent bystanders, stealing cars and beating people with baseball bats, in between visiting strip clubs and crack dens and living a glamorised gang lifestyle.

Anyway, in the senior year, it looked like every hand in the class went up. They had all played it, despite the fact only one of them was 18. The same thing happened at every level, right down to what used to be called the third form.

A survey found 87 per cent of boys aged 15 to 17 had played R18 games and 35 per cent said their parents bought the videos for them.

The programme also featured a young mum who said she was quite happy for her 7-year-old to play it. He "didn't have it in him" to be violent, she said, and she was confident those sorts of games would not affect his behaviour.

Maybe I am over-protective, but I cannot fathom how parents could encourage children to play a game where they pretend to beat people to a pulp and take part in pack rapes, let alone kids so young they are still learning to tie their own shoelaces.

.....The question I found myself asking was: which kids are more likely to grow up aggressive - those who spent hours in a fantasy world committing virtual rape and murder or those whose parents gave them a quick whack on the backside for dishonesty, disrespect or dangerous behaviour?

...if we're serious about reducing violence in society, we should be taking a good hard look at the games our kids are playing.
Yes. But this goes beyond societal penetration of the unfathomably blithe moral relativity that harrumphs about "judgemental" takes on stuff like "San Andreas." I know I am impossibly old-fashioned, but I think there's a crucial distinction to be made between direct and mediated experiences. Pick live thrills (hiking, skiing, kayaking) over simulated video game thrills; pick playing poker versus watching those idiotic telecasts of poker; pick cooking your own food versus drive-thru dyspepsia or microwaved mediocrity; pick Marrakesh versus the DisneyWorld simulation; and choose to blog and critique the news versus simply ingesting it. (Yes, you!)
Posted by Matt Rosenberg at 06:42 PM | Comments (41)
July 06, 2005
The Semiotics Of Gang Affiliation In SCOTUS Nomination Battles
Fighting over Supreme Court Of The United States (SCOTUS) nominations is somewhat like marching in a parade, or "representing" one's gang affiliation.
Myriad pontifications of high-falutin' law profs and pointedly partisan bloggers aside, in the end it's really all about showing the colors, and reinforcing established loyalties via semiotics, a.k.a. the careful deployment of symbolic language - as opposed to actual dialogue, or discourse.
So informed, Chicago Sun-Times columnist Neil Steinberg imagines the letters going out now, over replacing retiring Justice Sandra Day O'Connor on the U.S. Supreme Court. (It's down a ways, in Neil's column today, here).
Attention conservatives!!! Having done so much to try to save our nation from the moral abyss, our president, George W. Bush, now faces his toughest challenge yet: the nomination of a new justice to the U.S. Supreme Court. He needs your help!

The right candidate can solidify our hard-won gains of the past five years and stem the tide of degeneracy. But the wrong person -- a liberal in sheep's clothing -- will continue America's sickening slide toward ruin. If the Democrats prevail, the Supreme Court will approve drive-thru abortions for lascivious teens and allow Affirmative Action to snatch away your job and give it to bus station loafers while encouraging gays to marry in your church and then forcibly adopt your children and convert them to homosexuality.

Don't let it happen! Only direct public pressure can avert this affront to God. Send as much money as you can now to: (........)
And this.
Attention liberals!!! The criminal junta of the Warmonger Bush and his claque of Constitution-shredders are poised to further undermine our personal freedoms with the nomination of a new justice to the U.S. Supreme Court. Our voices must be heard! Difficult as it is to imagine a police state more repressive than our own, it is likely unless you help.

Imagine: a ban on abortions, on contraceptives and on women working outside the home. A return of the draft, racial segregation and girdles. Your children compelled to begin their school day by kneeling on a rail and praying to God.

The risk is real. Only immediate public action will prevent this latest mortal blow to our liberties. Please send a generous donation to: (.........)
For once (OK, twice or thrice) E.J. Dionne is right. President Bush should nominate someone an awful lot like O'Connor, meaning a free-thinking non-ideologue.
Every now and then the Supreme Court rules on something of actual significance, but even so, the implications can be far less important than self-aggrandizing analysts maintain.
Take the recent nasty ruling allowing local governments to take non-blighted private property for the "public use" of economic development. Yeah, it stinks, but just because the Supreme Court allows it doesn't alter by one iota the local political risks that await city officials who pursue such a course.
There still is a check and balance against abuse of such authority. It's called the ballot box.
From a practical standpoint, Bush doesn't have unlimited political capital to spend on O'Connor's replacement, either. Play it smart, W, and split the difference.
Posted by Matt Rosenberg at 07:20 AM | Comments (6)
July 04, 2005
Sunni Leaders Urge End To Voting Boycott
Sunni clerics are urging their followers to stop boycotting electoral politics in the emerging pre-democracy that is Iraq. One analyst interviewed by the Washington Post, Iraqi political scientist Subhi Nawzen Tawfik, believes the announced Sunni decree could lead to a weakening of the resistance. First, some background.
Several Sunni Muslim clerics have prepared a decree calling on members of Iraq's disaffected Sunni Arab minority to vote in coming elections and participate in the writing of a new constitution, a prominent Sunni leader said Monday.

Adnan Dulaimi, who heads the Sunni Endowment, the government agency responsible for Sunni religious affairs, said the framers of the decree, or fatwa, would seek the support of other groups in the fractious Sunni community. If broadly embraced, Dulaimi and other Sunni leaders said Monday, the decree could pave the way to full political participation by a segment of Iraqi society that boycotted elections in January and has scant representation in the current government.

The push for the fatwa, together with formal approval by Iraq's National Assembly on Monday of the addition of 15 Sunnis to the committee writing the new constitution, suggested that slow and often contentious efforts to bring Sunni Arabs into the political sphere were beginning to bear fruit. The Shiite Muslim-led government of Prime Minister Ibrahim Jafari has encouraged Sunni Arabs to embrace politics and to abandon the deadly insurgency that Sunnis from Iraq and foreign countries have waged for nearly two years.

....The Sunni Arab leadership, traditionally more fractious than the Shiites, began moving away from rejection of politics and the new government in April, when the influential Association of Muslim Scholars supported a fatwa calling on Sunnis to reverse course and serve in Iraq's nascent security forces. The fatwa announced today by Dulaimi would call for Sunni participation in writing the constitution, a draft of which is to be written before Aug. 15; for all Iraqis to vote in the next election, which would be held Dec. 15 if the constitution is prepared on time and ratified in an October referendum; and for Sunnis to serve on the country's electoral commission.

The Muslim scholars' support for the new fatwa, while crucial, could prove elusive; the group has maintained that no Iraqi government can be considered legitimate unless U.S. and other foreign military forces leave the country, or at least set a deadline for doing so. Dulaimi said in an interview today that "we will contact the Association of Muslim Scholars and urge them to join the initiative, and we hope to reach a compromise that satisfies all."
On that deadline-for-leaving part, uh, we'd like to, really, but it's gonna take some time. And we clearly see the Sunnis blinking first, wanting a seat on the train that's leaving the station, with or without them. The deadline for U.S. departure from Iraq is pretty clear: when we decide that the Iraqi security forces we're training can stand on their own.
Another pivotal Sunni group, the Iraqi Islamic Party, immediately voiced support for the proposal. Noting that the party was among the first Sunni organizations to encourage voting in the next election, Tariq Hashimi, the party's secretary general, said that Sunnis' respect for religious leadership ensured that "if a fatwa is issued to urge people to participate, this will help to improve the legal and political situation of the elections and the constitution. It will also help to end the confusion in the Iraqi community. People are confused whether the constitution and elections are legitimate or not."

Subhi Nawzen Tawfik, a political science professor at the University of Baghdad's International Studies Center, called the initiative "a very important development." In addition to redressing the imbalance of political power brought on by the Sunnis' "strategic mistake" in staying away from the January election, he said, it would appeal to Sunni insurgents who took up arms because they believed the current political system was imposed on Iraq by foreign powers.

"There is no doubt that the Sunnis make up the core of the real, original resistance against occupation, a distinction which no one can dispute," Tawfik said. "Thus, when the head of the Sunni Endowment calls for serious Sunni participation, and makes an appeal for calming down the situation, his appeal will be heeded."
There will still be many large and bloody bumps in the road. The threat of ending up on the ash heap of history does that to people. But something terribly important and worthwhile is happening in Iraq, even though it doesn't conform to today's cut-and-dried notions of risk and reward. Our own nation's birthday today serves up an important reminder: freedom isn't free.
Posted by Matt Rosenberg at 09:34 PM | Comments (0)
July 03, 2005
Jesse Jackson Jr. To Challenge Daley For Chicago Mayor?
Please don't confuse Jesse Jackson Jr. with his famous father. Junior is a U.S. Congressman representing the south side of Chicago plus some 30 mostly hurting towns just south of the city. Dismayed by corruption and cronyism under the reign of Richard M. Daley as Chicago Mayor, Jackson has been making noises about mounting a challenge to Prince Richard. But if he is to take the plunge, Jackson wants allies to register at least half of the 650,000 unregistered Chicago voters he believes are out there.
And among other things, Jackson has been a strong booster of a third Chicago airport south of the city, a proposal that is still alive some 20 years after it was proposed, with private financeers at the ready now. (Full disclosure: I worked for an intergovernmental agency of towns near O'Hare Airport from 1988 to 1994, which suppported the so-called Peotone Airport).
One thing I like about Jackson is his willingness to call B.S. on the Chicago Democratic machine, a quietly venal agglomeration of pin-striped crooks and politicos who want all the economic development pie, and all the contracting pie, for themselves. This bunch, and Daley's close ties to them, has everything to do with Chicago airport politics.
Here are some excerpts from today's Chicago Sun-Times article on Jackson Jr.'s speech yesterday to several hundred supporters at Operation Rainbow/PUSH's headquarters.
In his sharpest attacks to date, U.S. Rep. Jesse Jackson Jr. (D-Ill.) harshly criticized Mayor Daley on Saturday, saying his administration was plagued by "corruption and greed and malfeasance,'' and said the mayor's father was closer to average voters than the current mayor.

Before a boisterous crowd of a few hundred supporters at Rainbow/PUSH headquarters, the atmosphere had the feel of a campaign rally. But Jackson said he hadn't made up his mind on whether to run for Daley's job in the 2007 election -- although he did say any candidate would need at least $4 million to unseat the mayor. He would not give a timeline for making a decision.

Jackson also took jabs at other elected officials, including state Attorney General Lisa Madigan, whom he accused of dragging her feet on weighing in on the legality of transferring state land for a third regional airport; state Senate President Emil Jones (D-Chicago), Jackson's former political rival, who Jackson said hasn't done enough for his South Side district, and the Illinois Democratic Party in general for being too beholden to corporate interests.

...the rally was as much a bid for support for building a third airport near Peotone -- which Jackson said will bring 15,000 jobs to Chicago's south suburbs -- as it was an attack on the mayor. With developers committing $200 million to the project, Jackson criticized city and state Democratic leaders for not moving more quickly. "We have a free airport that could be built almost immediately, and they ... don't want it because it's not part of the corrupt system for handing out jobs and contracts,'' he said.
Speak Truth to Power, JJJ! I hope Jackson runs. Daley II needs a swift kick in the rear.
Posted by Matt Rosenberg at 11:22 AM | Comments (1)
July 01, 2005
Kari Smith's Tattoo For Tuition: Lame-Brained Deal?
I've written previously here about forehead billboards, but...Good God Man! I didn't mean to encourage anyone, really I didn't! All the same, a Utah mom got her forehead tatooed with the name of a Canadian online gambling site, in return for $10,000 to cover private school tuition for her academically-struggling 11-year-old son.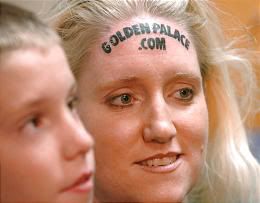 That'll getcha all of two years tuition Mom, if you're very lucky. Then, when junior's ready for high school, and later, college, what? Auction off some more skinspace for tuition? Or maybe arrange a big drug deal? Inquiring minds will want to know.
This kid: he'd better amount to something, that's all I can say.
Posted by Matt Rosenberg at 09:27 PM | Comments (5)
The West Is The Best
San Jose has passed Detroit as the U.S.'s 10th largest city, part of a continuing population shift south and west.
Our family moved from Chicago to Seattle 11 years ago, and despite Seattle's somewhat goofy politics, it was the smartest thing we ever did. Better air quality, less traffic (I know, that's getting worse here), and natural surroundings that are out of this world, like Mount Adams, in southern Washington.

Overall, a less frenetic pace, and more humanity, even if natives are exceedingly well-mannered but somewhat icy. That last part hasn't been a problem because a lot of our friends here are like us: from somewhere else.
I was born in Connecticut, lived in New Hampshire (ages ago...OK, in the early 60s, as a little kid, and it was beautiful), went to school near Boston, lived in Cambridge and then for a short time before I recovered my sanity, Washington D.C. I love NYC, and the southeast U.S. coast, especially off-the-beaten-track spots that I'll save for another day.
But I've long felt the eastern seaboard, and the NE U.S. is just too damn used up, crowded and grittty. I'm a tie-dyed-in-the-wool Pacific Northwesterner now.
The trick, in and around places like Seattle and Portland, will be facilitating future population growth. People are coming whether we like it or not. They're going to need housing, transportation and water, and they are most assuredly not all going to be buying $350,000 in-city starter homes.
Why are they coming? Because Jim Morrison was right.
The West Is The Best. From The Doors, "The End:"
The west is the best

Get here and we'll do the rest

The blue bus is calling us
The blue bus is calling us
Driver, where you taking us?
Driver, where ARE you taking us? Will continuing growth in Central Puget Sound spell......the end? I don't think so. We have to be careful, but there are plenty of good folks who will make sure that happens.
Posted by Matt Rosenberg at 02:33 PM | Comments (0)
Shut Up And Drive
Chicago is banning cell-phone use by drivers, but hands-free car cell phone devices will be allowed, and research indicates the risk is still high because it is conversation by drivers which often distracts them and causes accidents.
So maybe it's time to ban talking while driving?
Yeah, that's it.
Posted by Matt Rosenberg at 10:43 AM | Comments (2)